egy.com suggests following articles
EGY.COM - HISTORICA
WOMEN WHOSE HUSBANDS RULED THE REALM
EGYPT'S FIRST LADIES
by Samir Raafat
March 2005
this article was plagiarized in part or in total in several Egyptian and regional newspapers + Gezira International TV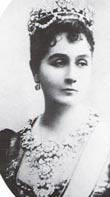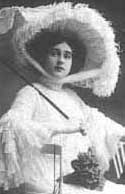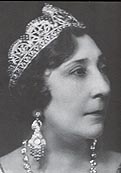 1879-1919: Princess Amina Ilhami, Countess May, Sultana Melek, Princess Shuvekar Ibrahim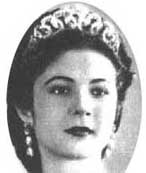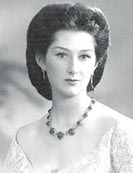 1919-1953: Queens Nazli, Farida and Nariman, Princess Neslishah (also spelt Neslişah or Neslisah)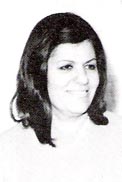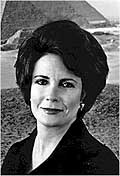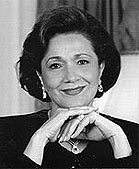 1955-2005: First Ladies Tahia Abdel Nasser, Jehan al-Sadat, Suzanne Mubarak
---
Consorts of Monogamous Egyptian Heads of State
From Khedive Mohammed Tewfik To President Hosni Mubarak
Khedive Tewfik (r. 1879-92) + Princess Amina Ilhami (born 24/05/1858) a cousin

Khedive Abbas Himi (r. 1892-1914 ) + Ikbal Hanim (born 22/10/1876) a vassal (div.); + May von Torok (born 15/6/1877) Hungarian countess who changed her name to Djavidan Hanem

Sultan Hussein Kamel (r. 1914-17) + Princess Ayn al Hayat Ibrahim his cousin (div.); + Melek Tourhan (born 27/10/1869 and married on 26 December 1886) a Circassian vassal, the adopted daughter of Khedive Ismail's third wife the Kuthcuk Hanemefendi

King Fouad (r. 1917-36) + Princess Shuvekar Ibrahim a cousin (div.); + Nazli Abdel Rehim Sabry (born 25/6/1894) French grandfather Anthelme Seve

King Farouk (r. 1936-52) + Safinaz "Farida" Zulfikar (born 5/9/1921) a commoner (div.); + Nariman Sadek (born 21/10/1934) a commoner (div.)

Prince-Regent Abdel Moneim Abbas Hilmi (1952-53) + H.I.H. Princess Neslishah Osmanoglou (born 2/2/1921 - d. 2 April 2012) granddaughter of last Ottoman Sultan

President Mohammed Naguib (r. 1953-54) (d. 28 August 1984) + Aicha Mohammed Labib

President Gamal Abdel Nasser (r. 1954-1970) + Tahia Kazem-Boghdadi (born 1920) Iranian father Kazem Boghdadi and Egypto-Iranian mother ? Kassem

President Anwar al-Sadat (r. 1970 -1981) + Ikbal Madi (div.); + Jehan Safwat Raouf (born 29/8/1933) English mother Gladys Cotterill

President Hosni Mubarak (r. 1981 - ) + Suzanne Saleh Sabet (born 28/2/1941) Welsh mother Lily May Palmer

---

The last satin-and-silk harem belonged to Khedive (Viceroy) Ismail Pasha who ruled Egypt from 1863 to 1879. Heretofore, the Walda Pasha (ruler's mother) was the most powerful woman in the realm often acting as political mentor for her potentate-son. Starting with Ismail's first-born son, Mohammed Tewfik Pasha, monogamy became the rule rather than the exception for Egypt's heads of state. The role of First Lady was thus introduced in a Middle East increasingly influenced by Western culture.

This is about 12 women who in varying degrees influenced Egypt's destiny.
SECURING THE DYNASTY
In an age when motherhood gave a woman her only acknowledged career, the primary role of Egypt's royal consorts was to provide an heir and spare, ensuring the perpetuity of the Mohammed Ali dynasty.
Guaranteed two sons from his sole-consort Ikbal Hanim whom he divorced later on, Khedive Abbas Hilmi took Countess May Von Torok for his second wife. Although it was said at the time that the countess was more of an affair than a traditional union, the couple were officially married in 1910 with the Grand Mufti and Poet Laureate Ahmed Shawky among the witnesses. A photo of Countess Torok still hangs on the wall of the upper floor bedroom of the Shawky Museum in Giza.
Fifty years later, King Farouk felt compelled to remarry to secure an heir to the throne, his first wife having borne him three daughters.
ORIGINS & BACKGROUND
The last endogamous consort was Amina Ilhami, wife of Khedive Tewfik. Hers would also be the first monogamous marriage contracted by an Egyptian viceroy. Consorts who came from within the Mohamed Ali clan were naturally highborn enjoying a gilded existence from childbirth. The same can be said for Countess May who belonged to the minor Mittle-Europa aristocracy (read separate article).
Queen Nazli and Queen Farida belonged to the elitist turco-circassian ruling class. Besides being daughters and granddaughters of senior officials, they each had a prime minister for a maternal grandfather--Mohammed Cherif Pasha and Mohammed Saiid Pasha respectively. Moreover, Queen Farida was the niece of renowned artist-painter, Mahmoud Saiid.
Except for Queen Nariman all of the above consorts were of mixed or foreign ancestry.
In principal the intermarried members of the Mohammed Ali clan were of Turko-Balkan stock. Countess May on the other hand, is up-and-down Hungarian. And while Queen Nazli is of French-Greek extraction through her maternal grandparents, both Ikbal Hanem and Sultana Melek were imports from the northern Ottoman provinces. As for Her Imperial Highness Princess Neslishah, she is the result of a six-century bloodline of imperial Sultans and Khans.
Of Egypt's four post-monarchy First Ladies, Tahia Abdel Nasser was the daughter of a Persian immigrant whom we find listed in the 1914 Commercial Directory as a carpet merchant at Rue Neuve (Souk al-Samak al-Kadim), which at the time was the principle carpet-selling district . The story goes that when cadet-officer Gamal Abdel Nasser asked her hand in marriage in 1944, her father, Mohammed Ibrahim Kazem-Boghdadi, allegedly sought the blessing of his sometime benefactor Abdel Hamid Kazrouni Bey, the then-honorary head of Egypt's small Persian community which included Tahia's Persian relations the Ismail Alis, the Hassan Mustafa Iranis and the Kassems, all of them in the carpet trade with shops on Opera Square and in the Khan Khalili bazaar.
On the other hand, First Ladies Jehan Raouf and Suzanne Sabet came from educated urban middle-class backgrounds. Both sets of parents were carbon copies of one another. Both paternal grandfathers came from Upper Egypt and both Jehan and Suzanne's respective fathers pursued medical studies in the United Kingdom while in their twenties opting for British brides. As though by coincidence both brides were born in 1904 and their respective fathers were called Charles Henry!


On 2 September 1924, at Ecclesall Bierlow in the county of Derby (UK), Safwat Raouf, a 25 year-old medical student at Sheffield University, married music teacher Gladys Cotterill, daughter of Charles Henry Cotterill, a Sheffield City police superintendent. Three months later their first born son Magdi was born in Liverpool. Jehan was born in Egypt in August 1933.
Ditto the Sabets. At Islington, London, on 16 March 1934, Saleh Sabet, a 29 year old medical student at Cardiff University, marries the 29 year old Lily May Palmer, a trained nurse working at The Infirmary on Camden Road, Islington. The daughter of colliery manager Charles Henry Palmer, Lily May grew up in Pontypridd, Glamorgan in Wales, hence the Welsh connection.
It was in Upper Egypt that Jehan's father safwat Ahmed Raouf started his career as a director in the Public Health Department. It was also thereabouts that Saleh Mustafa Sabet, Suzanne's father, started off as a pediatrician.
Suzanne's great-grandfather Ali Sabet, an irrigation engineer in Assiut, fathered several sons all graduates with respectable white collar jobs in the civil service: agricultural engineer, police commissioner, harbor-master, penitentiary doctor, telephone inspector, banker. It was around the time when Ali Sabet died (1935) at his Cairo home on Shubra Avenue No. 150, that his grandson was on his way back to Egypt to start a career as an MD hakim-basha in Qena where he was responsible for the town's childrens' hospital. It was also in Qena that his son Mounir was born in October 1936. Later, Saleh Sabet would set up practice in the town of Minya where his daughter Suzanne was born in February 1941.
In Egypt the Raoufs and the Sabets raised their offspring in non-traditional style giving their respective daughters the benefits of a first rate western education.
Whereas the age difference between their respective mothers and fathers was almost insignificant both future First Ladies married military men more than 10 years their senior.
In a country historically known for its religious diversity where Christians make up approximately 12% of the population we note that aside from Countess May, Anglo-Egyptians Jehan Raouf and Suzanne Sabet have one Christian-born parent each.
EDUCATION & TRAINING
From Khediva Amina Ilhami to Sultan Melek, Egypt's consorts were educated at home their worldly knowledge limited to what they learned from their benign nannies and stalwart European governess'. The overall curriculum was limited to languages (French, English, German, Turkish and Arabic), basic history and rudimentary arithmetic. There was also piano, painting and sewing.
Not members of the Mohammed Ali clan, Queens Nazli, Farida and Nariman attended elementary and primary schools. Nazli Abdel Rehim Sabry first went to the Mere de Dieu School in Cairo and later to the Dame de Sion in Alexandria. Farida, whose father was a High Court judge in that coastal city, went to the Dame de Sion. French nuns supervised both boarding schools.
It was different with First Ladies Jehan al-Sadat and Suzanne Mubarak. The former grew up on the Island of Roda attending the nearby Church Missionary Society School run by an English headmistress. Since Suzanne's family lived at No. 15 Abdel Moneim (Garnata) Street in Heliopolis, it was normal that she enroll at St. Claire's. This was a strict girls-only Heliopolis prep school operated by Mother Mary Cecilia and a band of Franciscan sisters, where neglecting to wear straw hat and pom-poms was a punishable offense.
After guaranteeing a first class education for their respective children, both Jehan and Suzanne sought and obtained university degrees.
At 46 Jehan received a much-publicized degree in Arabic Literature from Cairo University where she eventually lectured. At about the same period Suzanne Mubarak enrolled at the American University in Cairo where she obtained a BA in Political Science (class of '77) supplementing it with a Masters in 1982.
Unlike previous consorts Jehan al-Sadat and Suzanne Mubarak benefited from several years of priming as wives of incumbent Vice Presidents. In their position as Second Ladies they had enough time to envisage their future roles. The advantage of-course is that Suzanne had Jehan for an intimate mentor.
All of the above consorts were teenage brides married off between the ages of 15-18 the two exceptions being Countess May and Queen Nazli.
Except for Jehan al-Sadat and Countess May, all of the above marriages were arranged with the alleged consent of the teenage brides.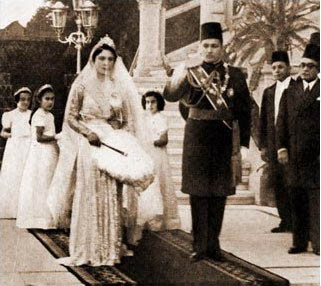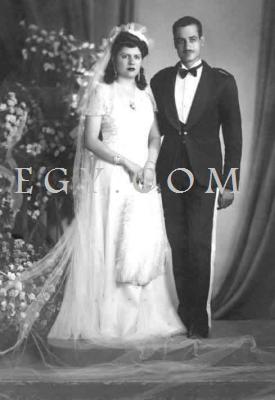 wedding photos of Queen Farida with King Farouk (1938); Tahia Kazem-Boghdadi and Gamal Abdel Nasser (1944)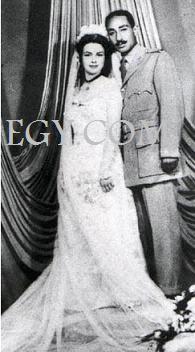 Anwar Sadat with first wife Ikbal Madi (1940); with second wife Jehane Raouf (1949) seen here with her father Dr. Safwat Raouf, her mother Gladys Cotteril and her brother
Ikbal Madi never made it to first lady while Jehan did for 10 years
husbands in military atire
ROLES & ACTIVITIES
Aside from attending ladies-only state functions such as royal weddings/receptions and opera premiers, Khedivas Amina Ilhami and Ikbal Hanim had no official public role. On the other hand their travels within Egypt by private train were increasingly reported in the dailies as were their departures to and from Egypt by private yacht. The former was nicknamed Um al-Mohsenin or mother of the givers in view of her generosity. She was directly involved with the creation of charitable foundations including the landmark Mohammed Ali Foundation in the early 1900s. A spin-off of this foundation was the Mohammed Ali Hospice or "Mubarra" as it was better known.
Every now and then an item would appear in the local papers about a princess of the ruling family donating money or land to public charity. Hence we read this item in the Egyptian Gazette dated 3 December 1909. "The khedivah-mother has been pleased to place under her patronage the 'International Society of Alimentary Assistance to Native Patients'. Moreover her highness has granted the Society a monthly subvention of LE 10."

The third sole-consort, Countess May, appeared in public functions disguised as a man and often played hostess to the khedive's guests. She also visited Alexandria's hospitals during WW1 bringing solace to wounded soldiers. Countess May took a keen interest in the construction and design of certain royal palaces. More liberated than her Egyptian counterparts she received mixed company at her Mostorod residence north-west of Cairo.
With the arrival of Sultana Melek we read in the social pages that like her two predecessors she attended performances at the opera albeit seated in a loge separated from the rest of the audience by a musharabeya or a wall of wooden lattice.
Confined to the palace through most of King Fouad's reign, Queen Nazli was nonetheless allowed to attend opera performances, flower shows and other ladies-only cultural events. She accompanied the King during part of his four-month tour of Europe in 1927 and was much feted in France in view of her French origins. With the introduction of parliament in 1923-4 the queen was among the royal attendees at parliament's opening ceremony seated in a special section of the guest gallery.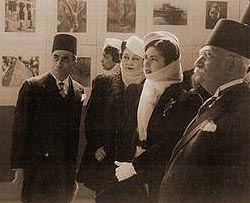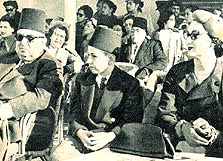 Queen Farida at photo exhibit with senate president Mohammed Mahmoud Khalil Bey to her left; Princess Neslishah at sports tournament with Regent and son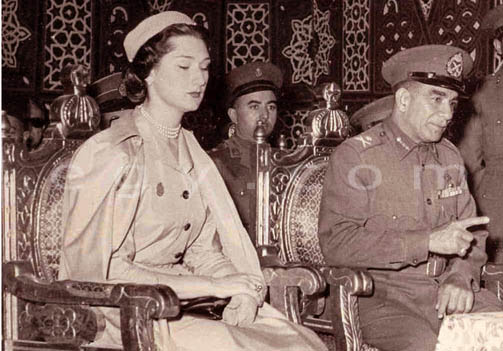 1953: rare photo of (HIH Princess Neslisah) wife of Egypt's regent with premier Mohammed Naguib
who became Egypt's first republican president a few months later (photo courtesy Prince Abbas Hilmi)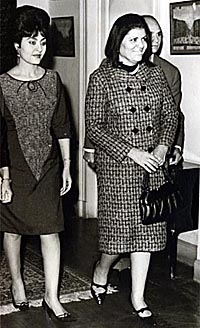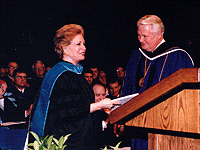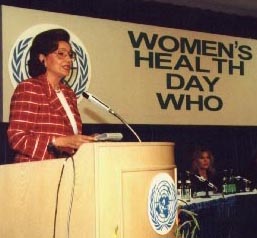 Four Egyptian First Ladies: Tahia Abdel Nasser accompanied by Fathia Rizk the Egyptian-born wife of Ghana's president Kwame Nkrumah; Jehan al-Sadat receiving honorary degree, Suzanne Mubarak addressing UN forum
Despite three pregnancies during her 10 years as queen of Egypt, Farida Zulfikar went public in the sense that she accepted the honorary chair of the Red Crescent Society as well as several noted charities and educational organizations where she appeared at fundraisers and commemorations. She was also honorary president of the Feminist Union and the New Woman Alliance, two organizations aimed at improving the status of women in Egypt. Under her patronage the Egyptian Girl Guide Company played an important role in community affairs. Queen Farida was also present at art exhibitions and presided at receptions for foreign dignitaries thus fulfilling tasks implicitly recognized in postscripts adopted by the April 1923 Constitution regarding the role of queen of Egypt.
King Farouk's second consort was similarly active despite the fact she was pregnant for the short time she was queen.
In view of the ambiguous situation as to who was in control of Egypt's destiny, the few official appearances by Princess Neslishah in her capacity as consort of Prince Regent Abdel Moneim were strictly related to charity work. Like her immediate predecessors she was seen at sporting events including polo matches, the races at Gezirah Sporting Club and the international tennis tournament final. The regency lasted ten months in all.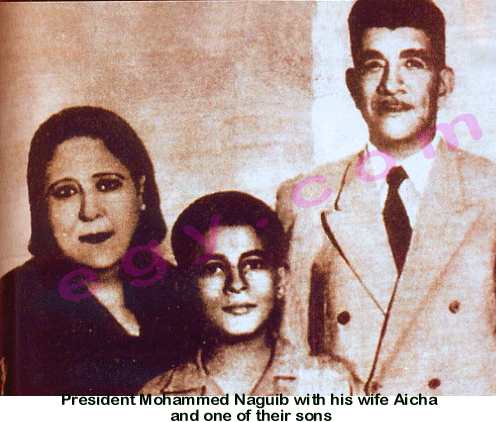 There are no records on hand evidencing public appearances of the first republican First Lady, Aicha M. Labib, the invisible wife of General Mohammed Naguib whom he married in August 1934. She died anonymously on 19 December 1970, fourteen years ahead of her unlucky husband.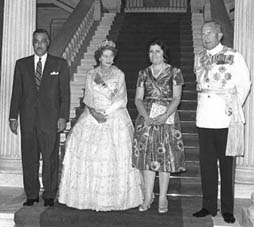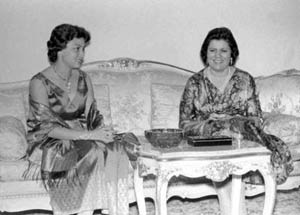 rare appearances of Tahia Kazem: with Queen Frederika and King Paul of Greece (L); with Asian First Lady (1958)
If by virtue of the longevity of Nasser's administration Tahia Kazem was seen now and then, it was always in the shadows of her larger than life husband. Her rare, self-conscious cameo appearances were either as the mother of five children or as the dutiful wife walking next to or behind al rais. When she did appear at official functions she did so as the fumbling hostess to wives of foreign dignitaries. The otherwise withdrawn Tahia never gave a speech and was never seen presiding at a public event.
Deciding to "reign" as First Lady, Jehan Raouf quickly broke off with the dutiful stay-at-home persona of her predecessor. She retained a full time press secretary, accepted numerous public engagements and gave willing interviews to the local and foreign media. Such was the overload that a mistake was made one day when one of her interviews inadvertently appeared in a cult magazine.
The arrival of bilingual Jehan al-Sadat on the local scene coincided with the coming of global television. Exploited by the Western media she was portrayed as the full partner of Anwar al-Sadat in his political, social and economic endeavors. "Anwar Sadat's only rival for popularity among Egyptians these days is a safe and sure ally: his wife Jehan Sadat," wrote Time magazine in 1974 under the title 'Egypt's Liberating First Lady'. It was almost as if the American media had created the post of 'Egyptian First Lady'. Jehan became an overnight celebrity abroad and nothing appeared to have delighted the President more than to hear the international community sing her praise.
Aside from championing her husband's political views, Jehan al-Sadat took a pro-active stance regarding family planning and the emancipation of women in Egypt. To her credit Jehan spearheaded legislative bills one of them nicknamed Jehan's Laws by her detractors. Alas for Jehan her calls for women's rights set off multiple controversies in a country swinging precariously between accelerated westernization and Islamic militancy.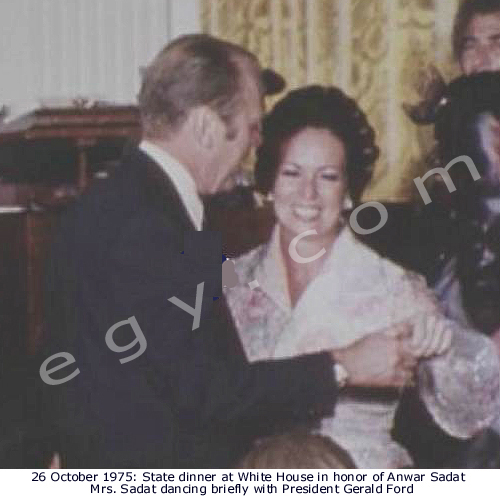 much too modern for Egypt's conservatives
During state visits abroad Jehan got her share of the limelight whether at Washington's White House or Tehran's Gulustan palace. With the recent arrival of satellite television her biggest statement yet for women empowerment came during a short transit in Saudi Arabia when President Sadat and his consort descended from the presidential plane and proceeded to shake hands with a dumbfounded House of Saud welcome committee. This was a first in the ultra-conservative Wahabi kingdom where women are relegated to the dark ages. By that unprecedented act Jehan propelled herself onto center stage as far as Gulf women were concerned.
But no good deed goes unpunished. Jehaní's conservative-minded enemies within the Arab World were quick to describe her as a ruthless Marie Antoinette who was the real power behind the president. True or false, history will regard her as the most influential Egyptian First Lady in the 20th century.
First Lady Suzanne Mubarak took up where Jehan al-Sadat left off. At first she limited herself to charity work preferring not to attract the same kind of harsh criticism leveled at her predecessor. With time her timid appearances multiplied and soon enough the public re-accustomed itself to Egypt's First Lady becoming a daily staple in the printed and electronic media. Going the whole nine yards, Suzanne Mubarak is the first republican era First Lady to directly address the nation via television.
Whereas Jehan Raouf confined her activities within Egypt, Suzanne Sabet, in addition to local activities, participated in international forums and UN sponsored conferences particularly those dealing with women and children. Later would come several initiatives such as Reading for All, a program meant to curtail widespread illiteracy while encouraging children to learn and produce; the National Council for Women; and Women for Peace, an international initiative that "seeks to enhance the active participation of women in the decision and peace making processes."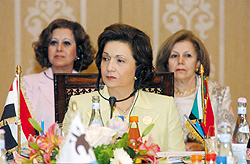 Suzanne Mubarak chairs regional conference at Sharm al-Sheik
Suzanne Sabet has also been influential on issues that concern her deeply such as the causes of terminal disease and early cancer detection. State-owned media commentators have given her high marks for the care and energy with which she pursues issues like education and preservation of Egypt's national heritage. There is also that lingering impression that she is a growing influence and the privileged advisor to the aging septuagenarian president. Whether or not Suzanne Sabet overstepped her role as consort will be for history to decide.
A former ministerís wife who knew Jehan Raouf and Suzanne Sabet both professionally and socially, remarked that the difference between the two ladies is that the former was "socially intelligent and bint balad" meaning gregarious and street smart, while the latter was "irrevocably scarred by vivid memories of Sadatís assassination." Both ladies were present at the 1981 Six October parade when Sadat was killed by members of his armed forces. From that day onwards, "the security-conscious Mrs. Mubarak unwittingly distanced herself from the general public -- family members came first and she felt it her duty to shield them from the outside world, hence perhaps her perceived aloofness especially when compared to her convivial predecessor."
WIDOWHOOD AND DIVORCE

Unlike divorcees or widowers among the royal consorts, Ikbal Hanem did not lose her prerogatives protocol-wise. Similarly, her replacement Countess May Von Torok continued to receive a pension from the Privy Purse even after her divorce papers came through in 1914.
As seen in the above table, Countess May, Sultana Melek, Queens Nazli and Nariman, and First Lady Jehan al-Sadat, were all second wives. The 'first' wife in each instance had already received her divorce papers and was free to remarry. This was the case with Princess Shuvekar who remarried four times and Queen Nazli who secretly concluded a morganatic marriage. Following her divorce from the deposed Farouk, Queen Nariman remarried twice. On the other hand, Ikbal Hanem, Queen Farida and Sadat's divorcee Ikbal Madi never remarried.
After widowhood or divorce the above consorts' careers were extremely varied. If the divorced Countess May became a dilettante author and a self proclaimed artist traveling from one European capital to the other, the widowed Sultana Melek shuttled with her kalfas between Europe, Lebanon and Luxor. In Cairo the aging Sultana would hold an outdated a-la-Turca court in her zany Heliopolis palace opposite Villa Baron Empain.
The still attractive Queen Nazli made the best of her widowhood. After several salacious affairs in Egypt leading to a rift with her son, she moved to the United States where she was feted as a Hollywood-type queen. She died in California where she was buried a Catholic in 1978.
Following her divorce ex-Queen Farida became a reputed painter holding numerous exhibitions in Lebanon, Europe, the United States and much later, in Egypt where she settled in a small apartment on Road 14 in the suburb of Maadi. She died in 1988. After her divorce from King Farouk, Queen Nariman, re-married a successful Alexandria doctor with whom she had a son. Divorced once more, she remarried a retired officer in Heliopolis. She died from brain tumor complications in February 2005.

Widowed in 1979 Princess Neslishah lives with her daughter Princess Ikbal in Turkey residing in Istanbul's trendy district of Ortakoy. Over the years, "Sultana" Neslishah, as she is often portrayed in the Turkish and foreign media, has become a celebrity with a growing number of Turks regarding her as the living symbol of the country's glorious Ottoman past.
Widowed in 1970, former First Lady Tahia Abdel Nasser remained a conventional homemaker hardly heard from until her death in March 1990.
Former First Lady Jehan al-Sadat did the guest-speaker rounds in the United States accepting honors paid to her assassinated husband. Later on she received a teaching post in a prestigious East Coast university making her the first Egyptian consort to hold a regular job. A hit with America's TV breakfast shows she wrote an excellent book 'A Woman of Egypt' in which she walks the talk in a thoroughly engaging manner.
DYNASTIC LEGACY AND BITTER PILLS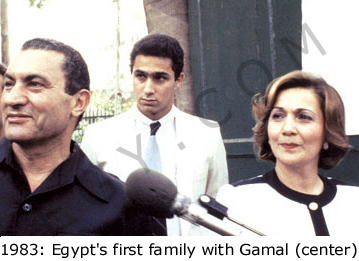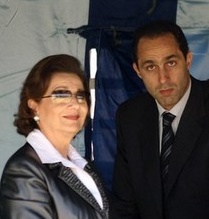 2006: Suzanne Sabet with heir apparent Gamal Hosni Mubarak born 27 December 1963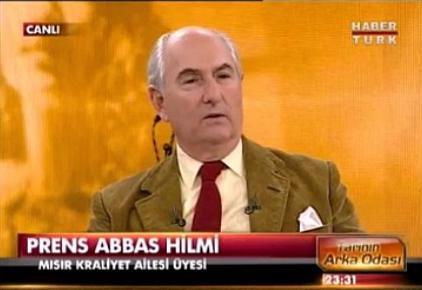 April 2012: Prince Abbas in 4-hour interview on Turkish television shortly after the passing of his mother HIH Princess Neslisah
From the above consorts only the sons of Amina Ilhami and Queen Nazli reigned over Egypt -- Abbas Hilmi II and King Farouk respectively.
Except for Suzanne Sabet's son Gamal Hosni Mubarak, none of the other consorts' male progeny pursued political careers. Princess Ayn al-Hayat's only son from Sultan Hussein Kamel abdicated his rights to the throne preferring instead to become a Sufi mystic. Queen Nariman's son Ahmed-Fouad dabbed briefly in sinecures before succumbing to an emotional trauma. He now leads a retired life in Switzerland. Princess Neslishah's alleged ambitions to place her son on the throne of Egypt as Abbas Hilmi III were high-jacked by Colonel Nasser Ėa repeat of how her own father, Prince Omer Faruk, lost his chances as Ottoman potentate when General Mustafa Kemal (Ataturk) toppled the Sultanate. Tahia Kazem-Boghdadi's three sons reportedly went the route of fat commissions and mega-contracts, occasionally bailed out by their father's Libyan leader-for-life disciple. Jehan Raouf's only son Gamal al-Sadat is a part time businessman part time sinecurist.
---
NOTES:
From among the wives of Egyptian heads of state between 1879 and 2005 one remains curiously anonymous. Besides being a housewife and the mother of General Mohamed Naguib's children, Aicha Mohamed Labib made no public appearances during her husband's short administration. She is therefore not mentioned in this brief study.

During its long history Egypt has had several iconoclast consorts and several ruling God-Queens. If Nefertiti is best remembered from the first category, of the second, Queens Hatchepsut, Cleopatra and Shagaret al-Durr are excellent examples.

Women of Egypt from different ethnic and religious backgrounds who became first ladies abroad: Princess Fawzia (King Farouk's sister) became Empress of Persia; in turn Malak Faizi (1936) and Faiza al-Tarabolsi (1948) married Abd al-Illah Ali Ibn al-Hussein Prince-Regent of Iraq; Dina Abdelhamid Oan was Queen of Jordan when she married Hussein Ibn Talal; Fathia Halim Rizk (died May 2007) an Egyptian Copt from the district of Mattaarieh who married President Kwame Nkrumah of Ghana on 31 December 1957. Aura Simha Ambache an Egyptian-born Jew became first lady of Israel as the wife of Haiim Herzog; Lili Solomon Cicurel married the head of the French government Pierre Mendes-France; Alia Lamloum, second wife of King Idris of Libya from 1955 to 1957.

Co-Queen of Libya for just under three years, Alia Abdel Kader Lamloum a daughter and granddaughter of distinguished Egyptian Bedouin notables of Libyan origin married 5 June 1955 and divorced 27 April 1958 (source al-Ahram 29 April 1958 and 2 September 2010)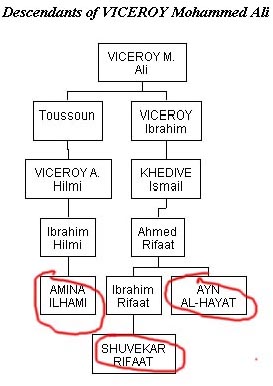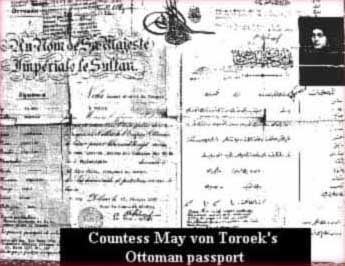 Countess May's Ottoman passport; below: wedding certificate evidencing her Moslem name Djavidan Hanem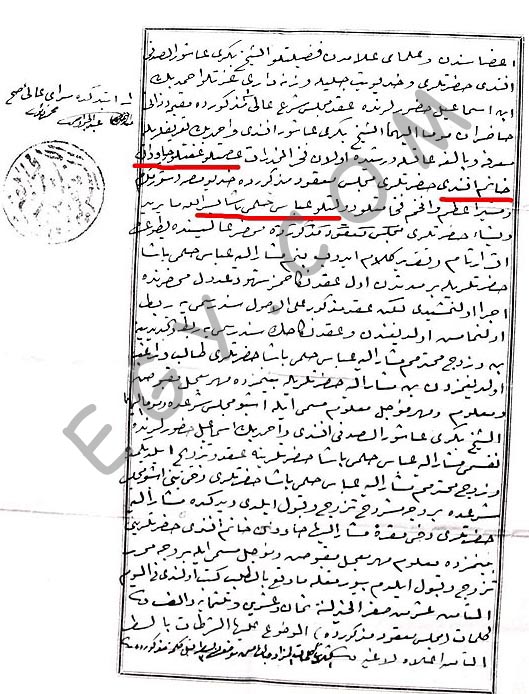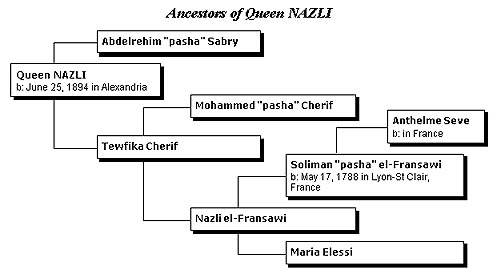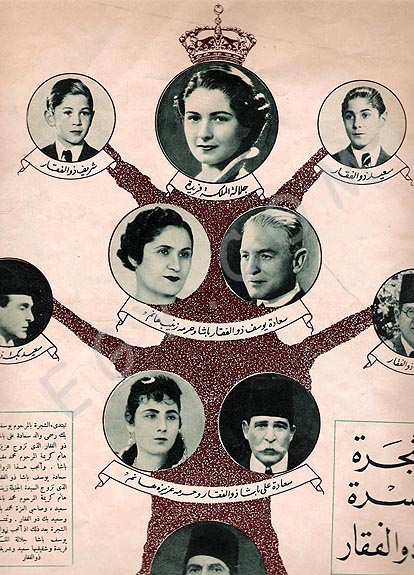 Ancestral trees of Queens Farida and Nariman (from Mussawar and Image magazines)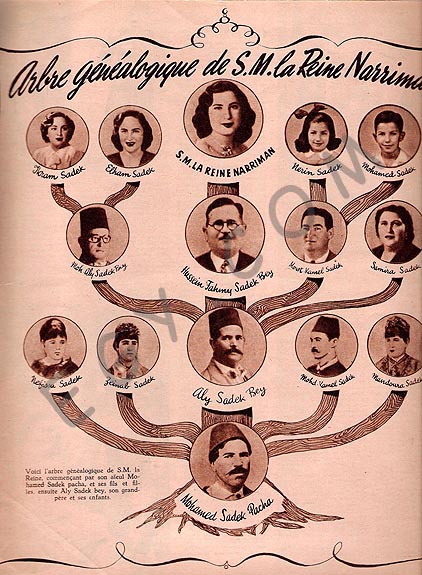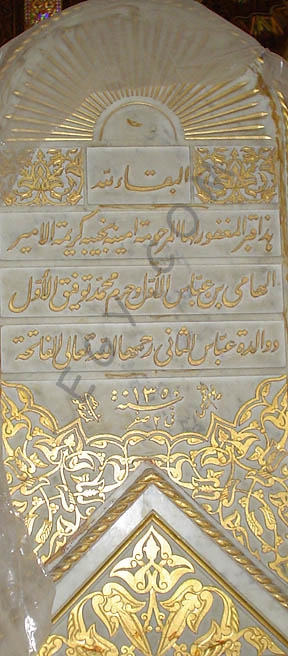 tombstone of Egypt's last Walda Pasha and first First Lady Amina Ilhami at the Khedivial Cemetery at Afifi, Cairo
---
UPDATE 1 July 2012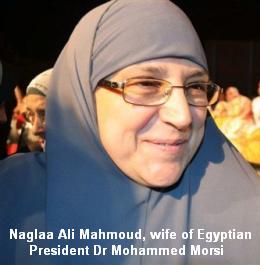 Associated Press article on Mrs Naglaa Mahmoud Ali
wife of Egptian President Dr. Mohammed Morsi on the occasion of his assuming Egypt's presidency on 30 June 2012
---
Reader Comments

Subject: Gamal Mobarak
Date: Fri, 04 June 2011 05:05:11 +0200
From: Nadia Mahmoud in Sweden

Thank you for prompt reply. Very interesting about Egypt's Persians. My next question, What about Gamal Mubarak? I searched the net and didnít find anything regarding his personal background, likes, dislikes. Amazing how little is known about someone who wanted to become Egyptís next president!

Answer by author of article:
Dear Ms. Mahmoud
Here is something than might be of interest to you. I worte it for an American magazine last February... click on Gamal Mubarak

---

Subject: Mrs Suzanne Mobarak
Date: Sun, 30 April 2011 19:16:25 +0200
From: Nadia Mahmoud in Sweden

I read article with interest especially now Suzanne Mobarak is the detested ex-first lady. After being in power for over 35 years including time she was wife of vice president, why is no one writing anything in her defense? Where are all the people who used to lick her a*s like Farkonda Hassan, Leila Takla, Mushira Khattab, Farouk Hosni and the rest of her fans? Why are they silent? It seems to be that Egypt was governed by a bunch of profiteers who later turned out to be ungrateful cowards.
You mention that Gamal Mobarak was heir apparent, like being a crown prince in England. How come we never saw one single picture of his wedding? What kind of transparency is this? Prince William and Kate were seen by 2 billion the day of their wedding. This only means one thing. Gamal was the secretive prince of darkness who only mixed with vampires.
Please publish.

---

Subject: Egypt's Iranians
Date: Oct, 10 2005 11:11:22

Is there an Iranian community in Egypt?

Answer by author of article:
Late in the 19th century several Persians settled in Egypt. From among those families: Abdelgawad, Mishki, Asfahani, Agami, Amir-Agha, Ismail Ali... click on more

---

Subject: Egypt's First Ladies
Date: Thurs, 22 Sep 2005 16:14:36 -0700 (PDT)
From: Reader

A certain Osman plagiarized your excellent report on Egypt's First Ladies in Egypt's opposition weekly paper al-Dostour (September 2005). He took the liberty of translating it into Arabic mentioning you once and adding his own malicious comments.

---

Subject: First ladies... Jehan Sadat
Date: Fri, 29 Apr 2005 12:12:56 -0700 (PDT)
From: Salma Abdelfattah

I was told by people who know Jehan Sadat that her mother was Maltese... Now you tell us she's British. Who to believe?

Well, Ms. Salma I guess you'll have to believe me and believe Mrs. Sadat who clearly mentions in her book that her mother is from Sheffield. Unlike our local periodicals and rumormongers, when I write an article I try to research my subject material to the best of my abilities rather than accept someone else's say-so. In order to lay your mind to rest re: alleged Maltese ancestry of Jehan al-Sadat I'm posting her mother's marriage certificate for your perusal.
The story behind Jehan al-Sadat's mother being Maltese may be due to the Free Officer's wanting to distance themselves from everything British especially during the early days of the 1952 military coup. This sentiment of playing down any British connection is also evident with Suzanne Sabet. For instance in her 24 January 1978 obituary, Lily May Palmer's name isn't mentioned. Instead she is referred to simply as "the wife of Doctor Saleh M. Sabet". Neither is there any mention of her mother's side of the family. Perhaps had she taken up a Moslem name (Fatma, Zeinab, Roukaia or Khadiga) she would have featured. But this is only a supposition.

Jehan al-Sadat (Mrs. Anwar al-Sadat)
click here to enlarge above photo
click here for Gladys Cotterill's birth registration record.
click here for Magdy Raouf's birth registration record.

---

SUZANNE SABET (Mrs. Hosni Mubarak)


photos courtesy Ramzi Izzet - Annie Ross

for reproduction of Lilly May Palmer's marriage certificate click here
for reproduction of Lilly May Palmer's obituary click here


---

Subject: First ladies... Queen Farida
Date: Sun, 17 Apr 2005 12:12:56 -0700 (PDT)
From: katie osullivan

While I was living in Lebanon (1955-1972) I was involved with a sketching and painting group of four to six women, mostly of American, British and French nationality. I believe it was sometime in the 60's that one of our members brought ex-Queen Farida into our group. She was living in Lebanon at the time and we understood she was married to a dentist or doctor and living in impecunious circumstances. We had a problem of not knowing how to address her since she had remarried and she didn't give us any clues so since we often were sitting shoulder to shoulder sketching etc. we just talked to each other without addressing her by name or title. She seemed sad because she hadn't been allowed to see her daughters who were growing up under ex-King Farouk's guidance. I seem to remember that she hoped to meet them in Turkey in the near future. At that time she was still an amauteur artist and interested in using just black and white in her artwork.
Many years later, in the 80's she came through Houston where I was living and I received an invitation to an exhibition in which she used her title 'Queen' .She was sought after by Houston society for the week that she was here. In your biography you said she never married again and also said that the ex-queens received pensions which surprised me considering what I had been told concerning Farida..

---

Subject: First Ladies
Date: Wed, 30 Mar 2005 22:49:07 +1000
From: Aziz Moustafa

I have received this article from a friend and liked it very much. It just gave me nostalgia being in Australia for more than 35 years. My maternal grandad (Mohamad Onsy Pacha) was chief justice at the Mixed Courts and a friend of Counselor Youssef Zulficar Pacha. I have been twice in their mansion (two blocs away from us) with my grandparents, once for lunch and once for tea. I met Safinaz a number of times. That was about 1938/9. I was only 7 at the time.

---

Subject: Walda Pasha
Date: Wed, 16 Mar 2005 09:33:22 (GMT)
From: Amir Sobhy

If Gamal Mubarak is still a bachelor when he becomes Egypt's next president, does that make his mom a Walda Pasha? I don't know about others who have read this incisive and carefully documented study, but I personally fretted when I came to its end. Why? Because this study instilled in me a sinking feeling that we are currently witnessing a revival of the monarchy, at least in spirit if not in title. The twin eras of Nasser and Sadat were just a hiatus in between two episodes sharing common affinities. To my knowledge, this research is the first in kind which dissects and highlights origins of our recent First Ladies. I find that tracing back these origins in such indisputable manner, simply fantastic.

---

Subject: First Ladies.
Date: Tue, 15 Mar 2005 15:54:16 +0000 (GMT)
From: Hussein Omar

I write to you again to ask about one of your articles. I was wondering why you chose to eliminate Mrs Barakat and Mrs Mahanna from your list of first ladies since their husbands held equal positions to Prince Abdel Moneim in the Regency Council 1952-3.
Thanks

reply: The entire regency period lasted 10 months and the co-regents had resigned early on.

---

Subject: First Ladies (Suzanne Mubarak)
Date: Mon, 14 March 2005 18:46:12 +0100
From: W. James

Suzanne Mubarak had a cousin living outside Bangor. Her name is Olive Roberts.

---

Subject: First Ladies -- Anecdotic fact on Queen Farida
Date: Mon, 14 Mar 2005 09:16:25 +0100
From: Jean-Louis Tamvaco

Safinaz "Farida" Zulfikar (born 5/9/1921), was educated in the French girls' institution of Notre-Dame de Sion, in Bacos Ramleh Alexandria. At the time of my birth, my family was dwelling in rue Notre Dame de Sion. My mother and her sisters had been educated in this institution, as well as my father's younger sister, Marguerite "Margot" Tamvaco. The NDS admitted boys in their kindregarten, so I was very early sent to school as a demi-pensionnaire (half boarder) and spent three years there. This was very convenient, all I had to do is cross the narrow Notre Dame de Sion Street and enter into the park through a small backdoor. I was later told that the future Queen Farida had been my "guardian angel", as were called the senior girls who were supposed to preside at the head of supervise the little ones' table in the "réfectoire". I admit that I now do not remember her looks very clearly, but can say she was very sweet and lovable.

---
Email your thoughts to egy.com
© Copyright Samir Raafat
Any commercial use of the data and/or content is prohibited
reproduction of photos from this website strictly forbidden
touts droits reserves