egy.com suggests following articles
EGY.COM - HISTORICA
AN UNHAPPY PRINCE
By Samir W Raafat
February 2011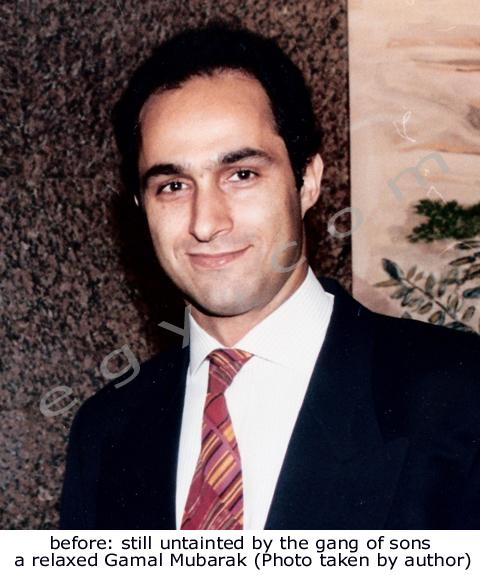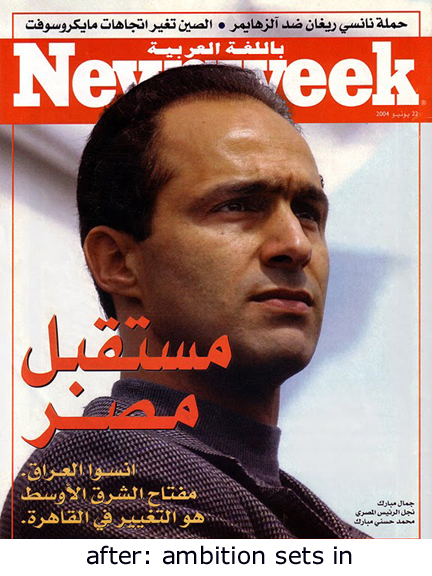 God Janus or Oedipus Rex? Gamal Hosni Mubarak born 27 December 1963
Gamal joined Bank of America (BofA) in the mid-1980s when his father, President Hosni Mubarak, was still in his first term. Keeping him company in the back rows of the credit platform were two other AUC graduates. Sharing the same forename they were nicknamed (ST) Short Tarek and (TT) Tall Tarek in view of their contrasting stature. In time, both Tareks became leading international bankers, ST based in Singapore and TT at the head of Egypt's leading commercial bank.
Quick to capitalize on his prize employee, BofA's regional manager, Sam Zavatti, became front page material seated next to Egypt's president with the by now familiar captions: Mubarak discussed Egypt's financial future with senior American bank official… etc. He was later transferred to the Far East rising swiftly through the ranks of the world's largest bank. The man had delivered.
Gamal's bank colleagues described him as polite and courteous yet a long way away from a mingler. And before they had the chance to lighten him up, the silent coworker was transferred to the bank's headquarters in the City of London. A few years later we read that a consortium of international banks led by BofA was discounting Egypt's foreign debts at some untold profit. Lacking transparency the deal reeked with rumors claiming Gamal, in a private capacity, was among those who benefited from the deal. The tittle-tattle gained momentum when an Egyptian BofA colleague, allegedly sharing the spoils, abruptly resigned. Recognizing a couched gag order he withdrew from the public eye starting a stud farm outside Cairo.
Egyptians frequenting Gamal in London characterized him as courteous and polite—not the 'eat, drink and be merry type.' Those who wanted to befriend him would either ambush him at the Carlton Tower Health Club or surprise him at some nearby Sloane Street bistro. He was not the bar-hopping type.
Upon returning to Egypt Gamal joined the board of one of the privileged banks. Very quickly he was sucked into the noxious gang of sons. This is a group of western educated bankers-middlemen out to make a quick buck. The coming out party took place in the smart Maadi villa of a former Citibanker where eager husbands and wives queued up to greet the 'surprise' guest with the grinning-besides-himself-host making the introductions. Years later that same banker claimed he hardly knew Gamal when asked about his relationship with the now fallen prince.
The above guests were the engulf-and-devour crowd whose informal temple was the American Chamber of Commerce a.k.a. Amcham. The more sophisticated among them became Davos habitués with Gamal as their guru or 'Baba'. To all the sky was the limit. Compulsive opportunists, they quickly saw advantages in crowning Gamal their nominal leader. The gullible Icarus took hook, line and sinker without hesitation. No due diligence, no second opinion, no weeding out the bloodsuckers from the… bloodsuckers.
The rest is history. An over-protected, naïve, averagely intelligent younger son of a President-for-life, becomes the nation's Wunderkind. Not to be left behind, the aging glued-to-their-seat apparatchik jumped on the hereditary scenario bandwagon. Together, the two groups concocted the notorious I-Plan (inheritance plan). Syria was a slam dunk model. In a repressed Arab World governed by geriatric hair-dyed dictators, it was becoming an acquired right that the sons succeed their persidential fathers. More importantly the Damascus scenario broke the heretofore sacrosanct military barrier with a civilian son assuming power from his officer father.
As heir-obvious Gamal was addressed with adulation by ministers and generals alike. His Amcham buddies meanwhile called him 'boss' addressing him with the reverence usually reserved for popes. It looked like each new business deal pushed Gamal further away from reality and deeper into a virtual world populated by the new rich. It was as though the president-to-be had forgotten he was in a country weighed down by a 40% illiteracy rate and a much higher percentage living under the poverty line.
As the gang of sons continued to prop up Gamal's image through expensive media campaigns, his inner circle forgot to give him one imperative advice. SMILE. Smile and the world smiles with you, scowl and you shall forever be alone.
Anyone from Madison Avenue could have told Gamal a bilingual matinee idol does not make for a class politician. It was imperative that the boss supplant his lack of charisma with conviviality and a sense of humor; a trait so important to the easy going Egyptian public. Instead, the princely Gamal took on a dour appearance, not unlike that portrayed by his schoolmistress-type mother, first lady Suzanne Mubarak.
Misled and misguided the not so street-savvy Gamal could no longer differentiate between fact and fiction. This was apparent to keen observers who infrequently ran into him during formal or informal social gatherings. All agreed the uncrowned prince recoiled from making small conversation and seldom reached out to new faces. There was no conviviality or generosity of spirit, which is perhaps why his apologists were quick to invoke inherent timidity. Timidity... well, perhaps, but according to Voltaire "It is only through timidity that states are lost."
One observer relates how at an exclusive 12-person seated dinner on the occasion of a visiting European crown prince, the well-groomed Gamal never smiled. Neither did he engage others in conversation even though the guestlist comprised a selection of Egyptian luminaries. Instead, he spent the evening conversing with the only other National Party adherent present who by the way, had come to the dinner uninvited! A former MP, she kept addressing Gamal as "Your Excellency" singing Suzanne Mubarak's praise during the entire evening. For the dumbfounded onlookers the dinner had turned into a revolting brown-nosing fest. The sad part was that the presidential hopeful didn't seem to mind.
The same observer ran into the prez-hopeful in other social and professional settings, both inside and outside Egypt. The conclusion was the same. A polite courteous Gamal aloof from proximate company. Each time it was as though he was looking for an exit strategy from the here and now. One of these 'here and now' was in Aswan. The town was in season, its hotels populated with tourists, local visitors and VIPs who attending the official opening of the town's new museum. Rather than press flesh with the eager-to-know-you public, Gamal was a jumping jack flash avoiding press and public alike. Whenever a sighting was reported, by the time his would-be admirers arrived he had already left. In this one instance it was easier to dialogue with President Mubarak himself than to exchange three words with his Jimmy-boy.
The most recent encounter was in 2008, at a fashionable Italian island resort populated by the rich and famous. Having recently wed an heiress 19 years his junior, one expected Gamal to be more relaxed enjoying the confidence a good-looking spouse can bring to a marriage. Not so. The uptight polo-shirted groom seemed tenser than ever holed up behind his mobile phone, so much so that during an open-air concert starring Andrea Bocelli it was Gamal and not the performer who seemed blind to his surroundings. The Boss was there only in body, his mind elsewhere, wherever his mobile phone took him.
Ignoring holiday banter, economical with smiles and avoiding conversation with anyone outside his narrowing circle, the heir-obvious remained unapproachable. There and then the observer concluded this was one very unhappy human irrevocably duped by self-serving elements within his limited entourage. Should he ever become president he would no doubt project his unhappiness onto his 80 million subjects.
---
From : Bunny Schiller
Date: 14 May 2012
Subject: OLD HABITS DIE HARD
In or out of power some things never change.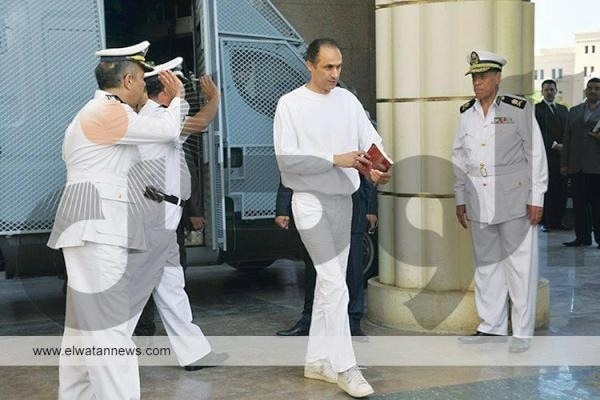 ---
From : Asma Barrada
Date : January 9, 2012
Subject : Your article on Mubarak II


I'm almost certain the female NP at the seated dinner is Laila Takla. Typical.


Email your thoughts to egy.com
© Copyright Samir Raafat
Any commercial use of the data and/or content is prohibited
reproduction of photos from this website strictly forbidden
touts droits reserves