egy.com suggests following articles
Several of my articles on Garden City were plagiarized word for word by novelist MEKKAWI SAID (winner of the Egyptian State price for literature!!!!) and re-published under his own name in a three-part series in El-Masry El-Youm daily in September 2015.
Cheers to our "talented" literature prize awardee. Your pain his gain !!!
EGY.COM - MAADI

HOW TO MASSACRE A TOWN LANDMARK
by Samir Raafat
Cairo Times, 23 March 2000
---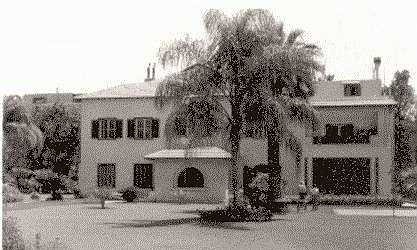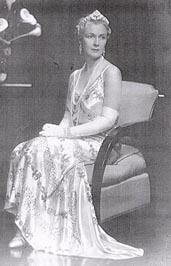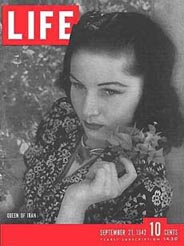 former occupants of massacred landmark: L-R: Princesses Karima Halim, Fawzia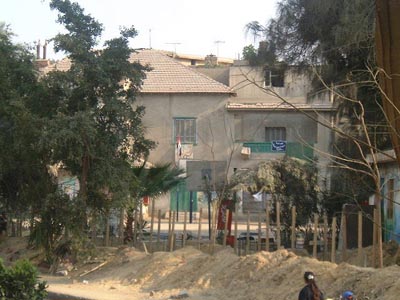 same villa-turned-state-school surrounded by trash and filthy annexes (2000)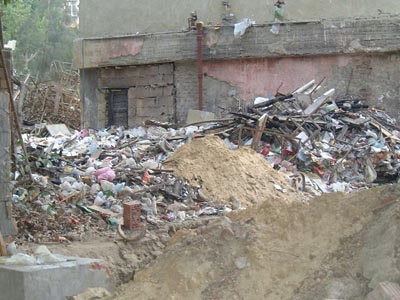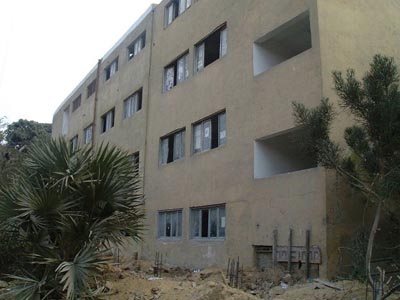 When they tell us computers are insinuating themselves in every state school and that we're on the fast lane to join information highway, I say wishful statistics.
Wishful statistics naturally concocted by the usual suspects--that deceptive bandwagon of praise-writers and regime cohorts who seek cushy careers promoting their one-man audience. In fact, they are so totally wrapped up with regime-promotion they lost touch with bleak reality. Otherwise they would've asked themselves, what use are school computers if you can't provide students with the basics of decent existence.
Misleading and manufactured "statistics" go back to the totalitarian '60s when at every given opportunity we heard recitations of how thousands of free state-run schools had opened in this, that or the other calendar year. Even as these phantasmic utterances hatched out of presidential lungs, praise writers were already echoing them in a sycophantic chorus across the state-controlled media. Missing however, were some vital footnotes.
The power-hungry elements failed to elaborate on how tomorrow's educators were conscripted like cattle into the ministry of education. This new variety of forced labor was the price tag that came with free elementary, secondary and university education.
Likewise, presidential snivelers made no mention that new schools were made possible only because the government had an abundance of confiscated and sequestrated palaces, townhouses and country estates.
Which brings us to the former empress's Maadi villa--a landmark tragedy if there was ever one!
What should have ordinarily become a town landmark with at the very least a plaque evidencing "the Empress of Persia lived here" is today a source of shame to all decent citizens. It is also an ugly stain on the so-called ministry of education, particularly as it persists on trumpeting its contrived statistics in a country where illiteracy remains at a conservative 35 percent!
Rather than concoct phony-baloney numbers, concerned officials had better see for themselves how, after pulling down the wall surrounding the perimeter of the Maadi Preparatory School for Girls, the ugly truth revealed itself in all its splendor.
Try to imagine mounds of compacted rubbish everywhere. An accumulation of filth, refuse and garbage so large, that it was obvious that even the most desperate among Maadi's donkey-driven garbage collectors stayed away.
Yes, this is where we are supposedly going to install the next generation of Pentium-driven computers!
Long before it became a government school this was the homey colonial villa of a British geologist in the service of the Egyptian administration. It was one of 26 Maadi villas designed in the 1920s by Ariston St. John Diamant; also credited for the design of AUC's Ewart Memorial Hall.
Somewhere along the way it was acquired by a member of the Rashad family before it became home to Princess Karima Halim, a great-granddaughter of Viceroy Mohamed Ali.
The villa's last occupant-owner was Princess Fawzia of Egypt ex-Empress of Iran.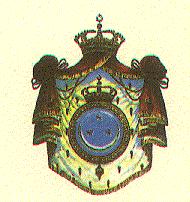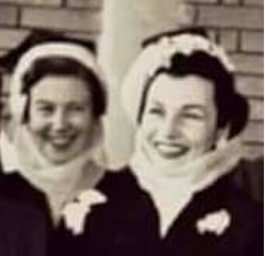 Princess Fawzia with Maadi neighbor and Lady in waiting Siadat Raafat
Eventually the much ballyhooed imperial marriage soured and at the behest of her brother King Farouk, Princess Fawzia abandoned the Peacock throne and returned home. Rather than reside in a royal palace, the ex-Empress opted for tranquil existence in Maadi. She lived there for the next 10 years in almost anonymous existence.
I say anonymous because aside the renaming Menashe Avenue, Sharia el Amira Fawzia (today Moustafa Kamel), little else changed in Maadi with her arrival. No fanfare, no security detail and no noisy motorcades! A stunningly beautiful lady relocating in an unpretentious townhouse, dedicating her free time to a variety of humane charities!
Stripped of her title after 1952, the ex-Empress was allowed to reside rent-free in her confiscated suburban house of Alexandria. The rest of her assets became government property, which is how the Maadi villa became in the very early 1960s, another ministry of education prop in the rapidly emerging Potemkin-esque setting.
Mind you, Maadi School for Girls was not the first government lodger. Before came a sorry succession of other state schools' each subtracting rather than adding to the surrounding panorama. But one thing for sure, in the days when it was al-Azhar College for Girls hardly any mohagaba--scarfed schoolgirls could be seen around and that was in the 1960s and early 1970s.
Concomitant to the spiraling increase in students was a frantic ministry of (un)education running out of space. A stopgap measure led to the building of hideous annexes (some collapsed during the October 1992 earthquake) on rapidly depreciating properties. Another solution was the introduction of afternoon shifts. Clearly, educational logistics had reached a new breaking point.
Meanwhile, at the Maadi Preparatory School for Girls, decibels coming out of the crammed classrooms were reaching sound-barrier proportions. Indeed, anyone walking by any government school cannot but take note of the peculiar syllabus taught to Um El Dunya's future generations. Obviously, our valiant educators are stranded in the '60 teaching vintage propaganda and obsolete arithmetic.
Walking down ex-Amira Fawzia Street the other day it was alarming to overhear a frantic history teacher bellowing to her students how "King Farouk was a rapacious despot. He and his family lived in large opulent palaces and were totally removed from the poor and hungry people."
So much for humbug history lessons.... worse still should you ever hear the other rubbish that is handed out to our future generations most of it punctuated with ignorant interpretations from the Holy Scriptures peppered with messages of intolerance... a curriculum made-up in the Dark Ages no less.
While we all want the ministry's statistics to be true, one cannot help being skeptical knowing our educational system remains paralyzed in the propagandist rhetoric of the 1960s. That our human resources are surrounded by hazardous garbage dumps. That our ramshackle schools rather than figure as propaganda items could have easily been part of our country's 20th century heritage so that post-Pentium generations won't think so badly of us on ALL counts.
But then does ANYONE among our praise-writers and statistics-makers really care? Certainly not! They prefer instead to live in blissful denial in a Potemkin-esque environment they helped create.
---
ISMAIL CHIRINE - Milestone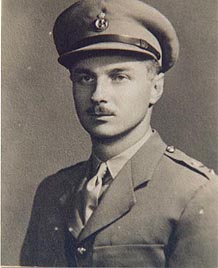 FAMILY STATUS
Born: October 17, 1919, Switzerland
Died: June 16, 1994, Alexandria
Father: Hussein Chirine Bey, landowner
Mother: Princess Amina-Bahrooz Ibrahim-Rashid Mustafa Fadel 1886-1947
Spouse: Princess Fawzia Fouad 1921-2013 (daughter of King Fouad)
Children: Nadia (1952-2009); Hussein (1955-2016)
Siblings: Mahvech Hussein Chirine, Shehra Ismail Ratib

EDUCATION
Nassriya preparatory school
Stanford College, UK
BA Economics Tripos 18 June 1940, Trinity College, Cambridge, UK

CAREER:
August 1940-July 1944 National Bank of Egypt
13 August 1945 employee council of ministers
15 February 1946 honored with title of Bey 2nd degree
21 July 1948 promoted to liason officer between army and council of ministers
7 February 1949 appointed President of Royal Air Force Club
19 November 1949 awarded Order of the Nile
1949 appointed secretary of political department at council of ministers
5 May 1950 appointed honorary aide de camp to privy council
6 May 1951 awarded Order of Ismail 2nd degree
22 July 1952 appointed minister of war in Naguib Hilali Pasha's two-day government (cabinet resigned 24 July same year)
24 July 1952 retired
---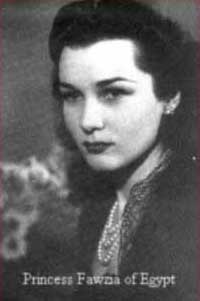 above: Princess Fawzia Fouad with 1st husband Shah Mohammed Reza Pahlevi of Iran. Below: relaxed moment with 2nd husband Ismail Chirine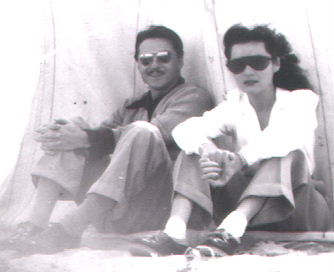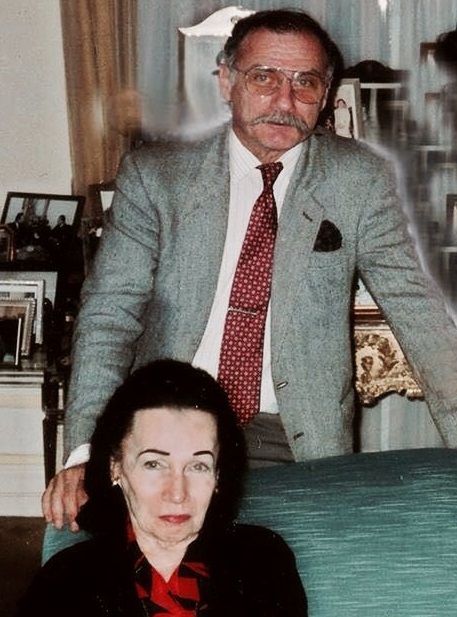 Princess Fawzia and her son Hussein Chirine (photo taken from Tino Zahedi website)
---
---

Reader Comments

Subject: AUGUST 11,2002
Date: Sun, 11 Aug 2002 18:26:10 -1000
From: Paul Driscoll

My name is Paul Driscoll. I live on the Big Island of Hawaii. I was surfing the net and found the site about Amira Fawzia. Very interesting. The information was amazing and her picture on the cover of LIFE Magazine, incredible. I was wondering if you had any information on the ship that was named after her. It was a Coast Guard and Research vessel that was used by the Egyptian Fisheries organization. When was the ship built? Why did they change the name of it to El Quseir. I'm a little confused, she seemed like a nice person, was this all a result of the take over and nationalization of the Suez Canal by Nasser? I read this site and it was like a cloud was removed from, my head. 1952 was about the time that Nasser took over and the military growth of Egypt took place prior to the 1956 War. Just incredible! So awful, the Maadi residence was really a nice place. I got the feeling the lawn is gone. Are you familiar with the ship named for Amira Fawzia. I feel enlightened with regards to the name change. El Quseir, is the port on the Red Sea that was the ocean contact for Sharm El Sheik (I think). Any info on the ship would be greatly appreciated. Thank you kindly for your time and attention to this request Paul Driscoll
Bx 383342, Waikoloa,Hawaii.96738.

---

Subject: Residences or schools ????
Date: Thu, 16 Mar 2000 11:46:14 -0500
From: Mohamed ElShafie

Mr. Raafat, your article about Princess Fawzia's villa should open the door for more investigations. For instance look what happened to:

1- Sultana Malik's Palace in Heliopolis on Uruba Street.
2- Misr El Gadida el Thanawia For Girls
3- Nasriya School on Champolion Street

There are many more examples including those buildings taken over by various ministries. What comes directly to my mind is Ismail Pasha Abaza palace, now the Ministry of Construction!

There's nothing wrong with re-adaptive use of historic buildings and landmarks. In fact this should be encouraged provided they are PROPERLY maintained so that the coming generations can enjoy them as a source of pride. To let them run down until they are unrecognizable is, as you say "a source of shame for all decent Egyptians."

Mohamed ElShafie
Field Technical Specialist
Oracle Corporation - Canada Inc.


---

Subject: Royalty and coffee!
Date: Wed, 12 Apr 2000 19:58:33 -0400
From: CD oddas.com@sympatico.ca

A question came to my mind while looking at the picture of Princess Fawzia. Ever since my grandfather gave me a stamp commemorating the birth of the "Prince Héritier" --I was a kid collecting stamps in 1952-- I kept wandering about King Farouk's son. After the Revolution and Farouk's death(?) in Italy, I never heard again about his son. So for years and years this old question was dormant: what happened to the Prince. Yesterday it all came back to me. I was complimenting a female colleague who was dressed in black and red (tarbouche red!) and told her she looked like Princess Fawzia and that she was wearing King Farouk's colours... Soon a small clique (ya'ani shella Canadeya) of physicians gathered and we took bets (capuccinos of course!). The lady started arguing doubting me when I told her that the princess was beautiful. So subito presto I took her and the group of unbelievers to visit egy.com, soon we were on your site looking at pictures of the princess. They were amazed... I won my bet.
Anyway, one thing led to another and we wandered what became of King Farouk's son. So the old question came back to me. He was born in 1952 and should be 48 by now. Do you know anything about him? And what became of his mother and aunt?
Best regards,
C.D.

---

Subject: Villa Tewfiq
Date: Wed, 24 May 2000 15:28:47 -0700
From: Pataki Zs?fia

It was an excellent article about the Villa Fawzia. I am sure, it would interesting to you to visit one day the Villa Tewfiq in Helwan, today a part of a girl school.
Sincerely Yours,
Laszlo Kakosy


---

Subject: Regarding "How To Massacre A Town Landmark - 3/23/00)
Date: Sat, 17 Jun 2000 20:19:10 -0700
From: M. Topsakal



Ismail Chirine (1919-94) 2nd husband of Princess Fawzia; his mother Princess Amina Bahrouz Fadel who died in a plane crash

I was shocked, just as many of your readers must have been, to see the condition of what used to be the villa of Mr. & Mrs. Ismail Shireen.
It is accepted that buildings, like people, come and go with time. To see or know of someone tortured and left to die is always a cause of concern in civilized communities. Similarly, to see such an historic landmark being massacred in plain sight is also a cause of concern. Is there an Amnesty International for Historical Landmarks? There ought to be one.
I read one of the comments following your article about how beautiful Princess Fawzia was; well her husband, Ismail Shireen, was also very handsome. He was an officer, a gentleman and a scholar. A rare combination these days.
I was in Cairo when the Egyptian government seized the Maadi villa. For it became law in the early 1960's that no member of the royal family was allowed to own more than two houses. Well during that time the Shireen's had only two houses, one in Alexandria and one in Maadi. The property in Alexandria was much bigger than Maadi's and consisted of the main residence, the stables and servant quarters.
Someone in the Egyptian government went the extra mile for the sake of socialism, and decreed that the property in Alexandria really consisted of two houses, the main residence and the servant quarters, even though they both had one street number. The Shireen's were immediately found in violation of the law. The Shireen's were given a choice: give up one of the buildings in Alexandria or the villa in Maadi. They opted to keep the Alexandria property intact. Ismail Shireen did not want to give up his servants quarters, not because it was in use, but merely for his fear that it might be turned into a Coast Guard barrack or a school, just a few feet from the house that Princess Fawzia wanted to live in, in seclusion.
When the Maadi villa was seized, Ismail Shireen was allowed to visit his home to take his personal belongings. Imagine how one would feel violated when someone breaks-in into one's home and takes away something. So just imagine how Shireen must have felt going inside his seized villa at that time. Shireen inquired from his government escort if he could move some of the furniture to his house in Alexandria. He was told that that could be arranged provided he paid the asking price!
M. Topsakal
Sunnyvale, California

---
Email your thoughts to egy.com
© Copyright Samir Raafat
Any commercial use of the data and/or content is prohibited
reproduction of photos from this website strictly forbidden
touts droits reserves