Years later the villa was sold to jurist Amin Abbas al-Mahdi who later headed Egypt's Conseil d'Etat, the highest judicial body in the land. When he moved back to Manial with his wife Shatsi, al-Mahdi often leased his house to foreign diplomats. By far the most entertaining were the Argentinian Vera-Ortiz family. Together with their parents Katcho and Anneken, the Vera-Ortiz siblings Sasso, Carlos (Cai), Alberto (Beto), Patricia (Pati) and Gonzalo formed Maadi's finest musical band between 1968-71. Their garden parties were second to none. Herself a gifted artist, Anneken captured some of Cairo's bucolic scenes on canvas.
In the mid-1990 the house was cruelly pulled down so that the remaining footprint together with the adjoining garden made way for a totally disproportioned edifice which is still with us today as the Republic of Korea embassy residence.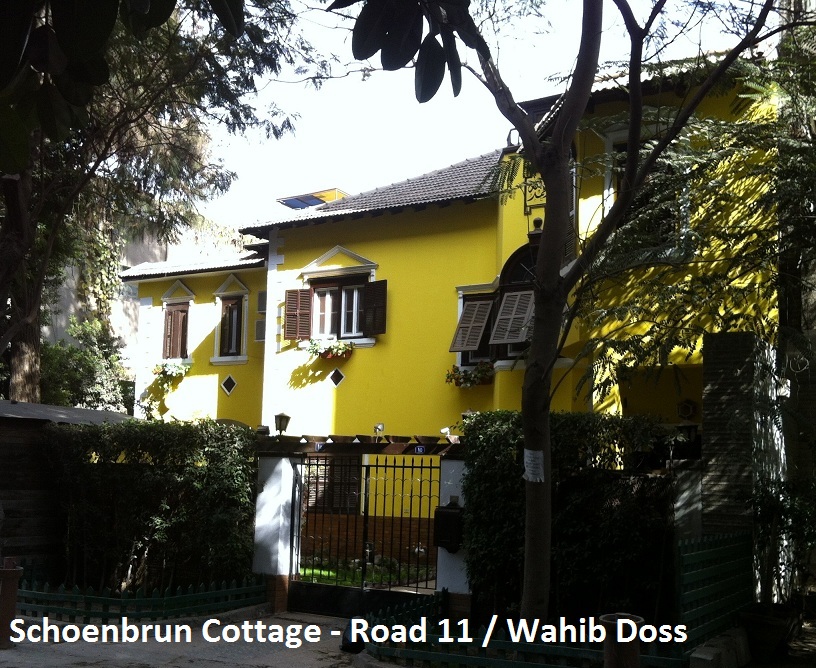 Colors allegedly inspired by Schoenbrunn Palace outside Vienna, Austria. The present owner (2012-3) and long-term Vienna resident painted the exterior of his Maadi villa in shades of lemon.

GPS coordinates: latitude 29.9602 longitude: 31.2594
find villa on google map
---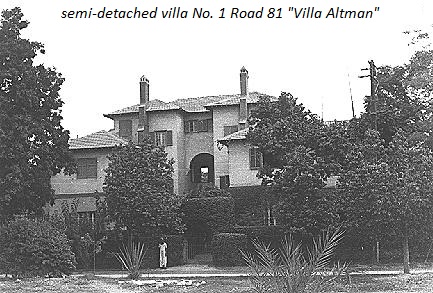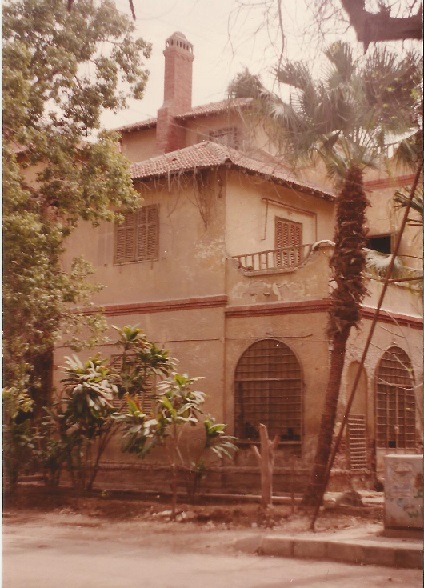 photo courtesy Tarek Sharara
This early pre-WW1 semi-detached Maadi villa was named after its first occupant Richard Altmann who hailed from Central Europe. Importing pumps from Germany he converted from Judaism to Islam and formed an Egyptian family after separating amicably from his first wife Fanny Lifschitz, whose father Paul Lifschitz, owned a dozen or more properties in Maadi. Fanny's paternal aunt, Elizabeth "Lotte" Altmann, was Stefan Zweig's second wife and his partner in suicide in Petropolis, Brazil, on 23 February 1942. Assimilated liberal Jews they felt the world had turned on its head and decided they no longer wanted to be part of it.
Fanny and Richard Altmann are buried in the interdenominational German Cemetery near Malek al-Saleh underpass, Old Cairo.
A longtime latter day resident of this semi-detached villa was architect Mahmoud al-Hakim and his wife Zaza Murtada.
GPS coordinates: latitude 29.9569 longitude: 31.2577
find villa on google map
---
THE FOUR MIZRAHI VILLAS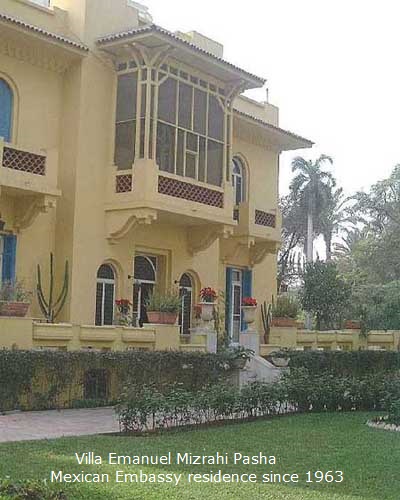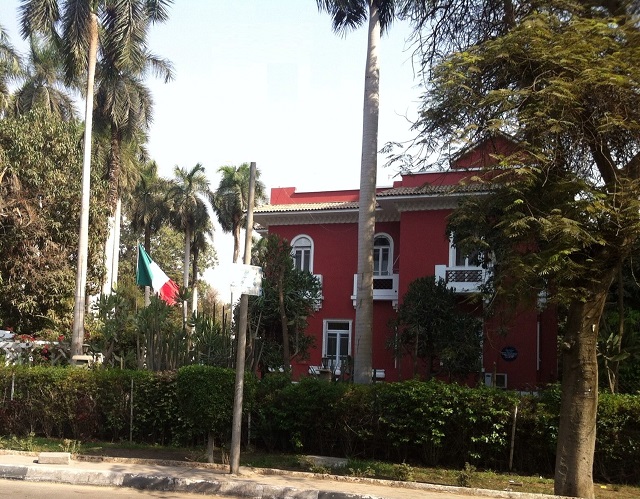 MIZRAHI VILLA 1: Villa Mizrahi on ex-Mosseri (Orabi) Square belonged to history's last Jewish pasha Emanuel Mizrahi Pasha and his wife Leah Samuel Assayas. In the early 1960s, in order to save it from a government takeover, the pasha's daughter leased it to the Mexican government. The first Mexican ambassador to live there was Jorge Castaneda who was subsequently his country's foreign minister and noted jurist.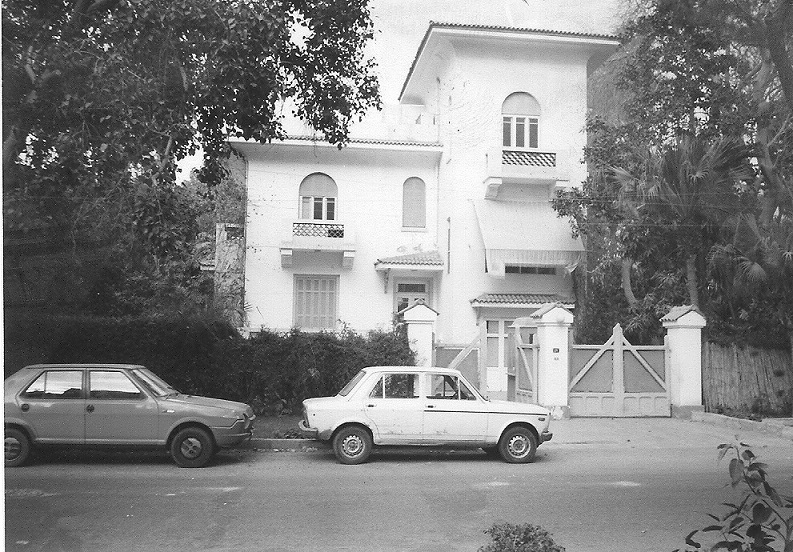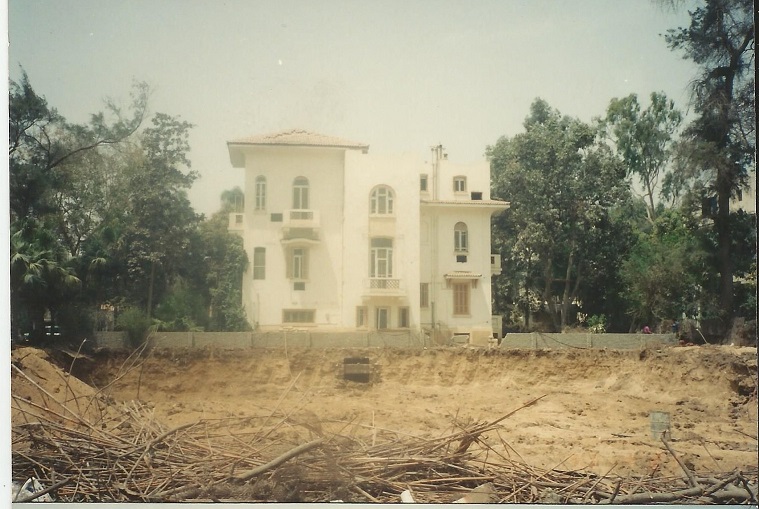 MIZRAHI VILLA 2: fronting Road 18 with its large garden reaching road 81. For several years it was home to Emanuel Mizrahi Pasha's daughter Lydia with her husband Raoul Farahat and their children Indji and Jean.
Sometime residents of this villa included Abdel Aziz Sharara Pasha with his wife Hanaar and their five sons: Ambassadors Eyup, Youssef, Mohammed and engineer Omar and musicologist Tarek; also a tenant in this villa was AUC Professor John Rodenbeck with his wife Buffy and son Max author of Cairo City Victorious. First to go was the villa's garden. Eventually the villa itself was pulled down in 1993. Garden and villa made way for three high rise apartment buildings in the by now proliferating Rocaca style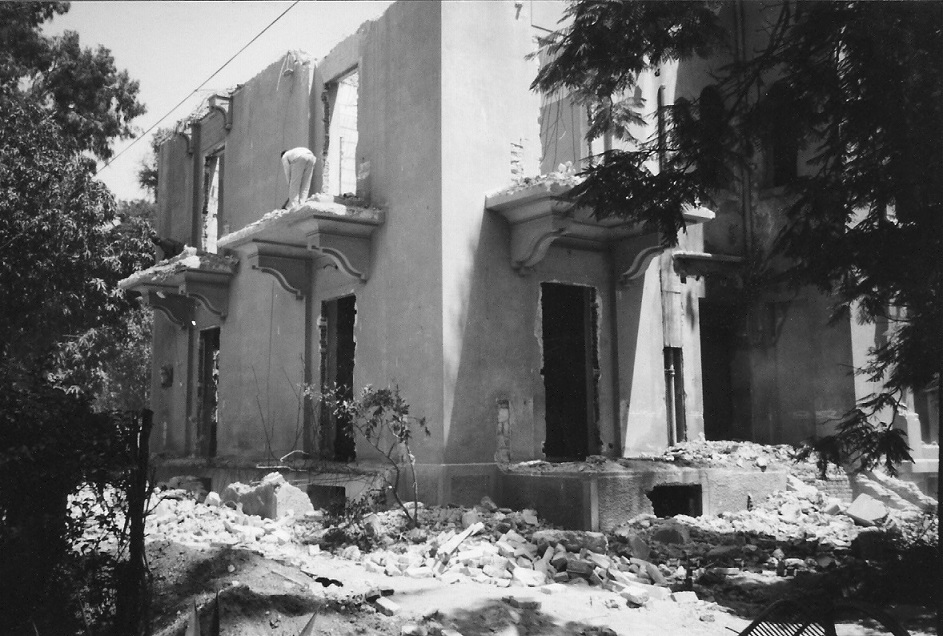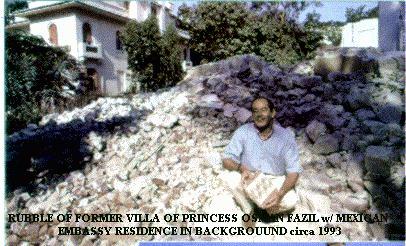 MIZRAHI VILLA 3: following the death of Princess Ulfet Osman Fazil, the long-time resident of this corner Mizrahi villa overlooking Mosseri Roundabout, it remained semi-abandoned having been occupied by squatters falsely claiming to have purchased it from Emanuel Mizrahi Pasha. Lydia Mizrahi's attempts at recuperating her remaining three villas having failed, the illegal squatter sold it to a developer who immediately pulled it down in 1993-4 to make way for an apartment building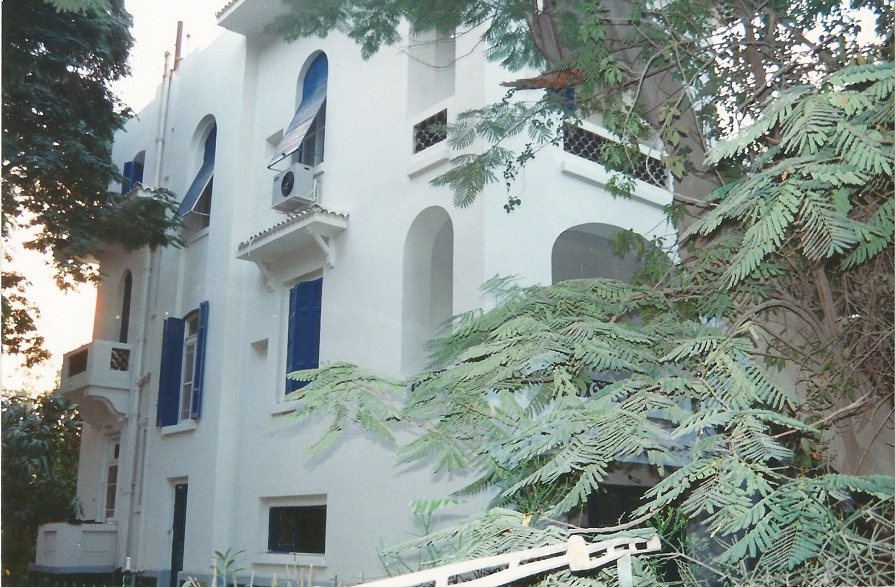 MIZRAHI VILLA 4: The fourth villa which interrupts Road 19 is still with us today leased to the Swiss Embassy. Previous occupants de marque included Seifullah Yussri Pasha and his third wife Princess Zeinab Hilmi and later Ambassador Hussein Rady Bey and his wife Princess Nimetullah Halim and their daughters Amina and Faiza. Later, during the Nasser era, a corrupt woman MP "acquired" part of its garden during and proceeded to construct an unsavory apartment building in the villa's garden.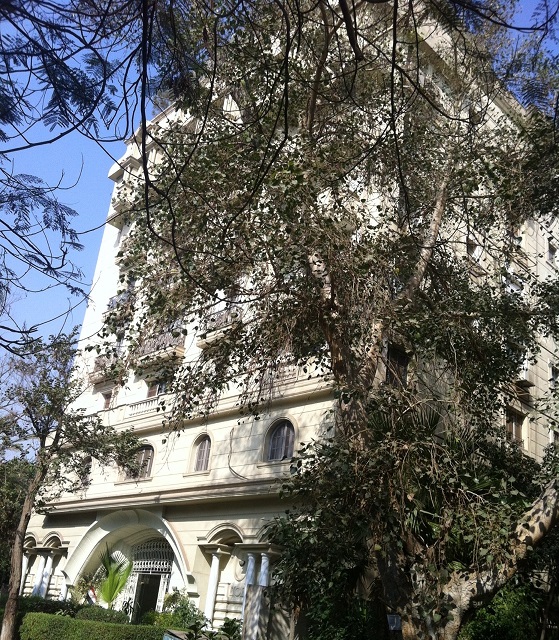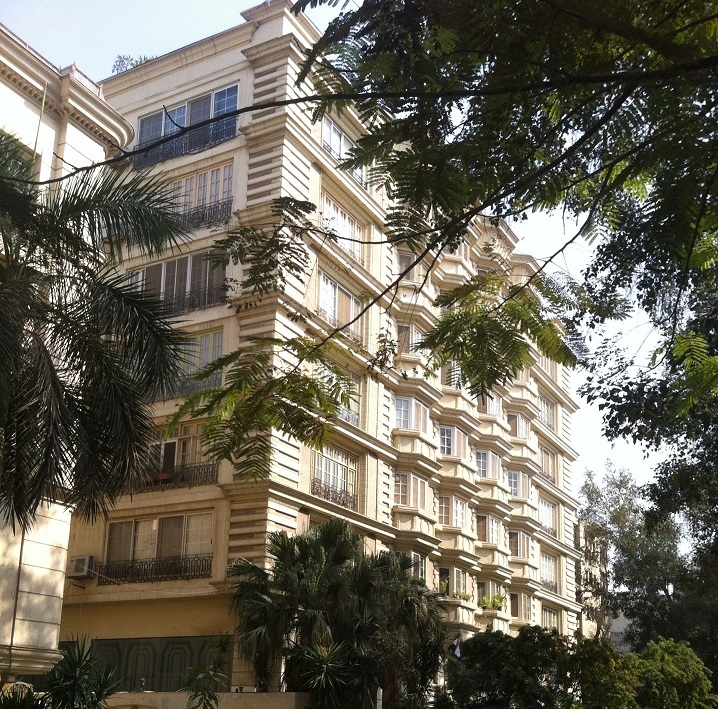 Buildings gradually replacing Maadi's villas: the shape of things to come as evidenced on Road 18 on the former Mizrahi property
GPS coordinates: latitude 29.9630 longitude: 31.2661
find villa on google map
---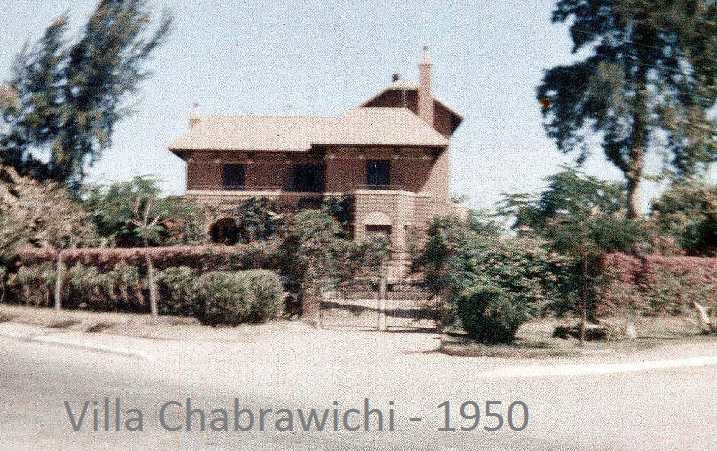 This pre WW2 villa was always known by the name of its second owner the perfume king Hamza Chabrawichi Bey. It was therefore not surprising that the man who knew Grasse (France) well to have one of the most flowery gardens in Egypt. Even the surrounding sidewalk was a festival of colors and fragrance especially during Sham El Nessim when Chabrawichi Bey gave the largest garden lunches ever.
The first owner didn't live there for long, dying shortly after his arrival in Maadi. He was the prominent minister of finance and cotton expert Ahmed Abdel Wahab Pasha. In homage to his services to the country Colvin Avenue was renamed Abdel Wahab Avenue, only to be changed again after 1956 to Port Saiid Street. By that time Abdel Wahab's wife, the formidable Zeinab Khashaba Hanim, had sold the house and left Maadi altogether.
One of the longest-term tenants of Villa Chabrawichi showed up in Maadi in 1980. The occupant was easily recognized in view of the blue and white flag sporting a Star of David, for Villa Chabrawichi had become the residence of Israel's ambassadors to Egypt up until 2000.
GPS coordinates: latitude 29.9602 longitude: 31.2652
find villa on google map
---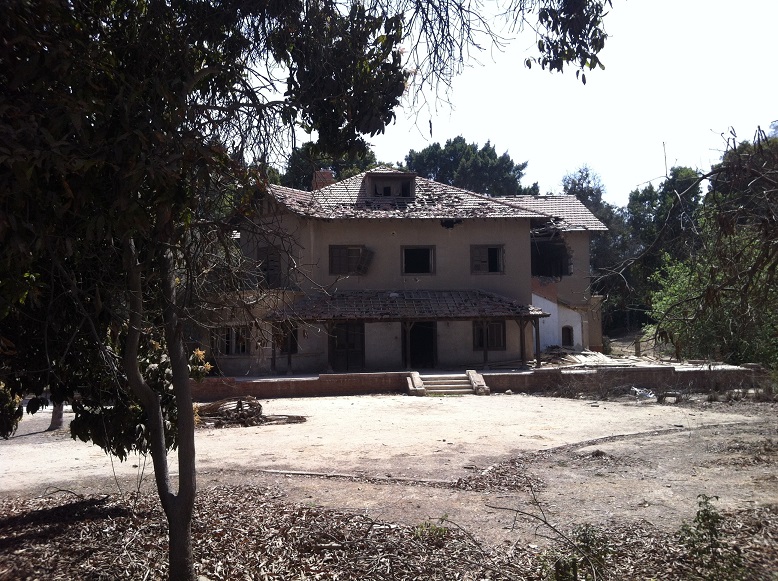 One of the first villas you encounter while driving down Maadi's incoming flyover is Villa Hilali Pasha. Hardly anyone remembers its rich history starting with its first occupant General Drury Blakeney the director of the Egyptian Railways. During WW1 it was a hospital for the Australian army. After the war it was home to Thomas Frederick Stevens a British bank director before being purchased by Naguib al-Hilali Bey who would later become famous as Hilali Pasha, King Farouk's last prime minister. Many years later Hilali's heirs sold the villa to a Gulf developer who is obviously waiting for it to collapse so he can build several high rises on this one-acre prime property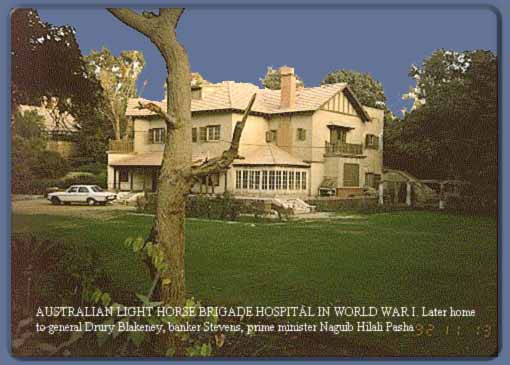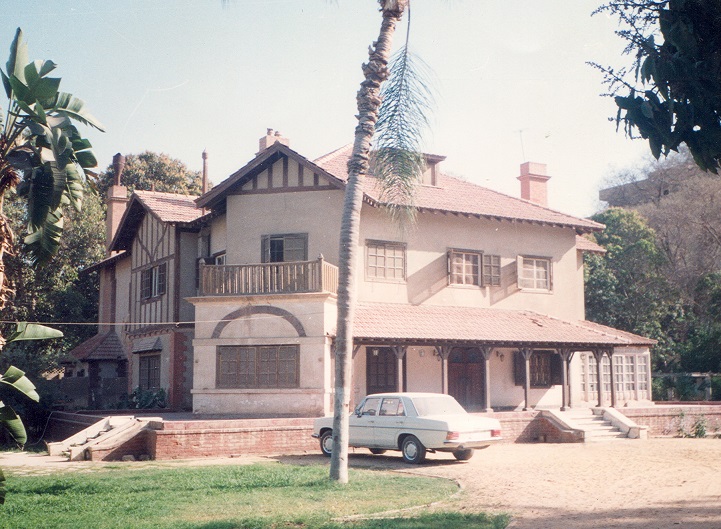 GPS coordinates: latitude 29.9600 longitude: 31.2611
find villa on google map
---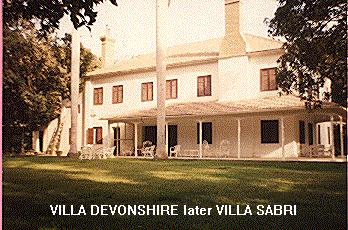 Contiguous to Villa Hilali is Villa Sabry still in pristine shape. Originally this colonial villa was built for George Gilett Hunter Pasha a British army officer (and nephew of Lord Kitchener) who was a sometime governor of Sinai. Sold to lawyer Devonshire it became known as Villa Devonshire. Henriette better known as Mrs. Devonshire was the legendary scholar-guide famous for her Islamic and Pharaonic tours of Cairo, which eventually became the title of her wonderful book "Rambles in Cairo." The villa was sold in 1928-9 to Baligh Sabry Bey who lived and died there along with his wife Dawlet A. Chamsi. Their four sons and daughters were 1930-40s swimming/diving/water polo champions at the nearby Maadi Sporting Club, one of them (Omar) representing Egypt at two Olympics. Another (Ali) was prime minister and later vice president of Egypt. The house was sold in 1958 to a member of the Azaam family (Abdel Rahman Pasha) who was the Arab League's first secretary general. His heirs still own the villa today
GPS coordinates: latitude 29.9594 longitude: 31.2613
find villa on google map
---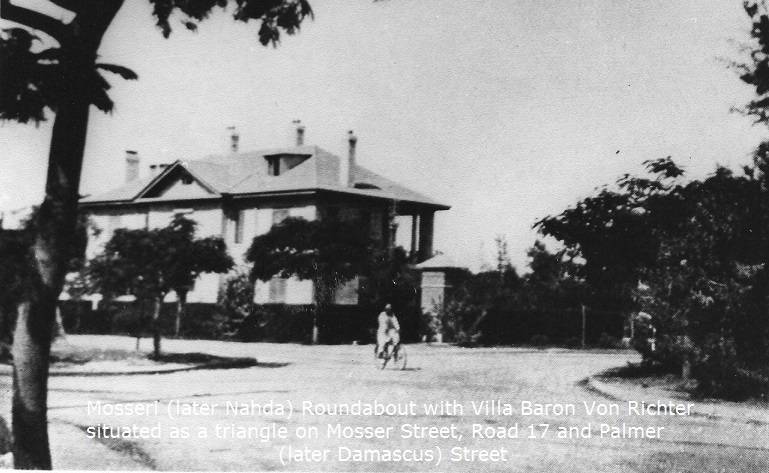 Villa Baron Von Richter. The German baron was a banker and the pre-WW2 president of the German community. Considered an enemy alien by the British, he spent the war years in the Foreigner's Prison near Boulak in downtown Cairo. One of his last VIP guests in 1939 was Goebbles, the German minister of propaganda. Several years after the war the villa was sold to Turkish-Egyptian Yehya Aref Mardin and his German wife Guzine. Very shortly after Yehya Bey died in 2005, aged 100, his only son Bulent ("Shatsi") sold the villa to an urban development company owned by MP Mohammed Morshedy. The villa was immediately pulled down to make for way for an eventual apartment building.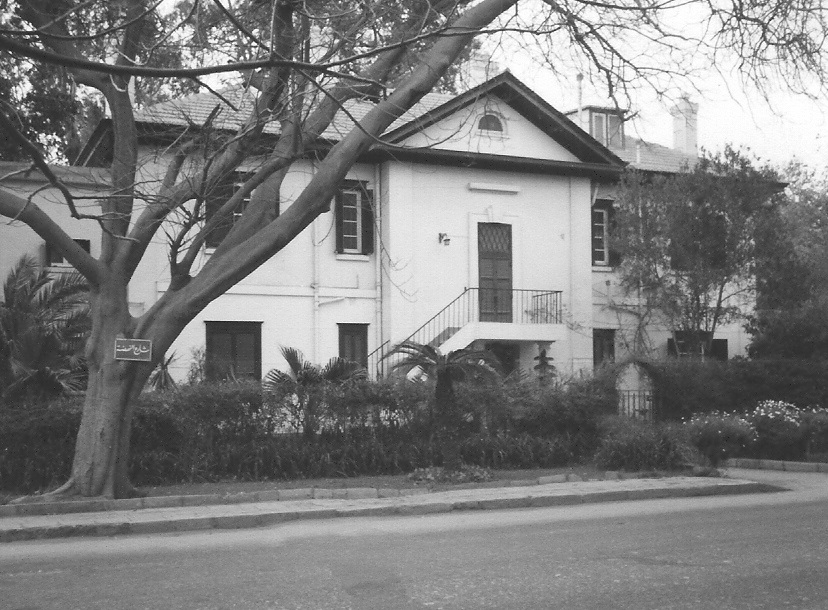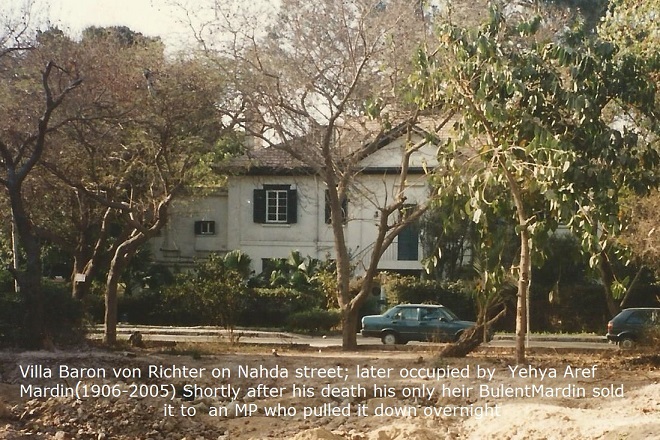 GPS coordinates: latitude 29.9629 longitude: 31.2651
find villa on google map
---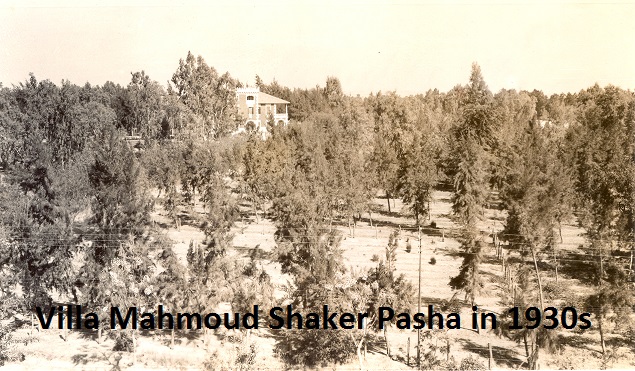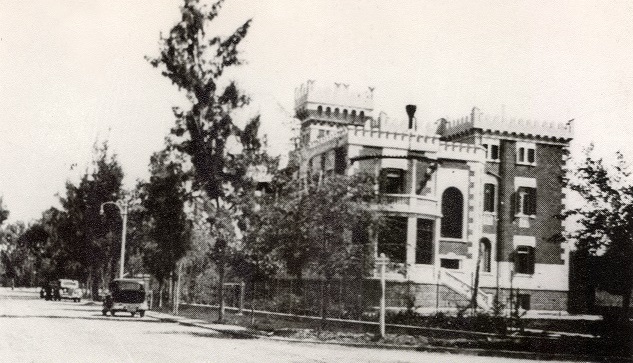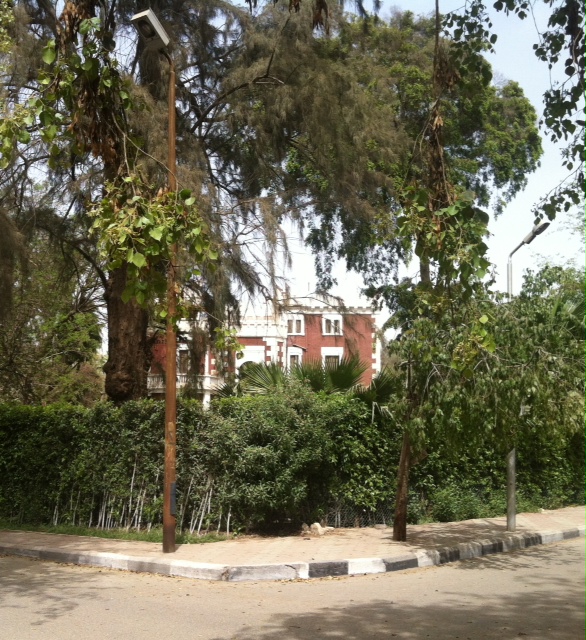 One of Maadi's two palatial villas. It stands at the northern end of Orabi (ex-Mosseri) Avenue designed for account of Sir Mahmoud Shaker Pasha head of the Egyptian State Railways. Shaker Pasha later sold his villa to a relation, Hussein Wassif Pasha a sometime governor of the Suez Canal district. The house was soon enough inherited by his only son Kamel Wassif who lived there with his wife Fawkia El Orabi and their two daughters Nirvana & Nanice. Wassif sold it circa 1962 to the Sudanese government which turned it into a residence for its ambassadors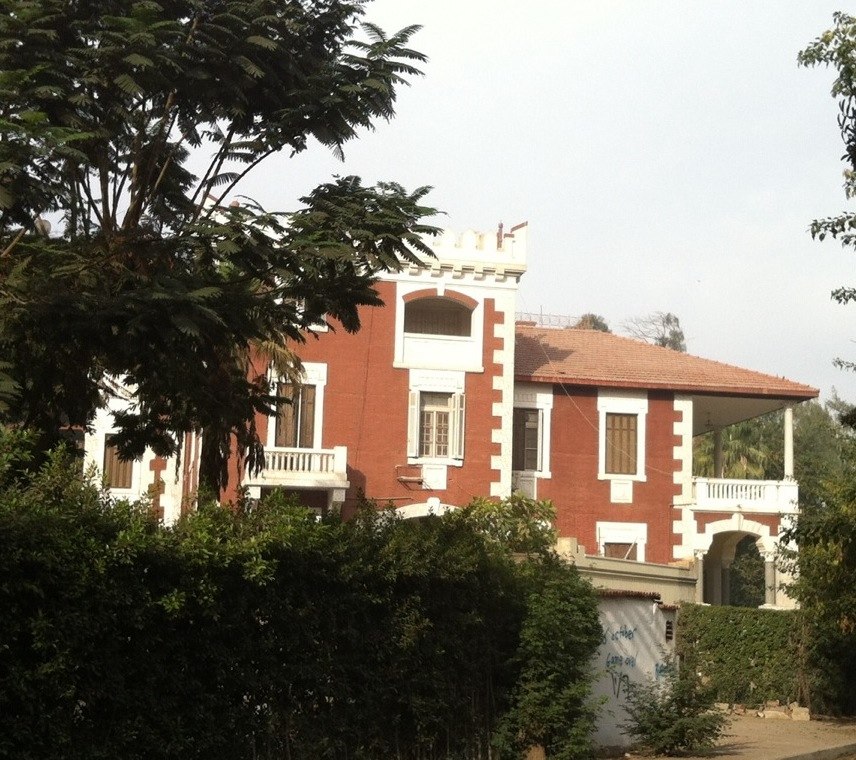 GPS coordinates: latitude 29.9654 longitude: 31.2665
find villa on google map
---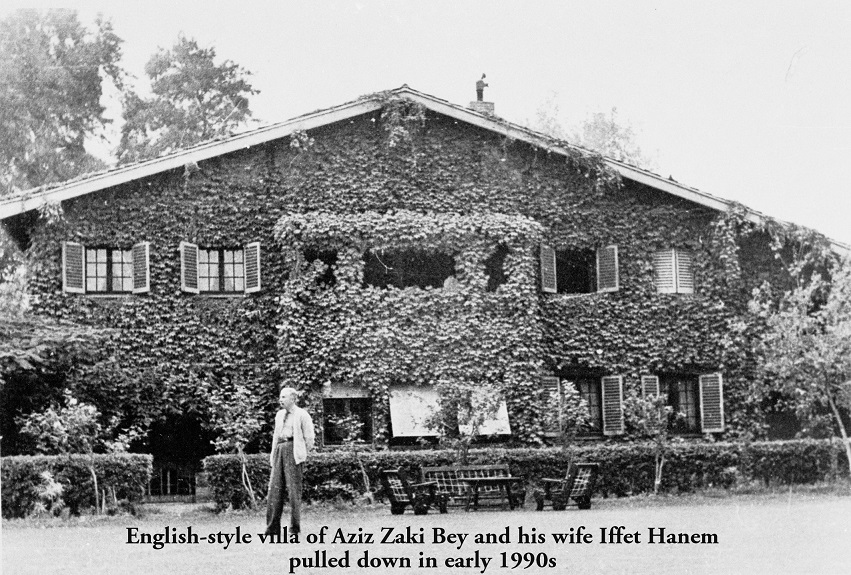 Built in the 1930s by the English-born dean of Cairo Univeristy's school of architecture, this was the home of Aziz Zaki Bey and his wife Iffet Helmy. Therein they raised their three children: Kadreya "Tata", Nawal "Nanou" later Princess Toussounm and Tarek. Their unique English style garden won many prizes. Later the house was leased to the Colombian ambassador and subsequently to Coy Squires, the american head of Conoco Egypt. The cottage was pulled down in the very early 1990s to make way for two villas belonging to the Robert Dayoub sons.
GPS coordinates: latitude 29.9568 longitude: 31.2644
find villa on google map
---
This pre-WW1 villa best reflects the changes that took place in Maadi of the 1980s and 1990s. For almost sixty years it was home to Al-Mukattam publisher Fares Nimr Pasha, his English wife, his only son Albert, and his two daughters: artist Amy wife of Sir Walter Smart, and Katie wife of historian George Antonious, author of "The Arab Awakening" . Today the villa and part of its garden is the Maadi branch of the National Bank of Egypt while the rest of the property, as evidence by the photo, is a large apartment building.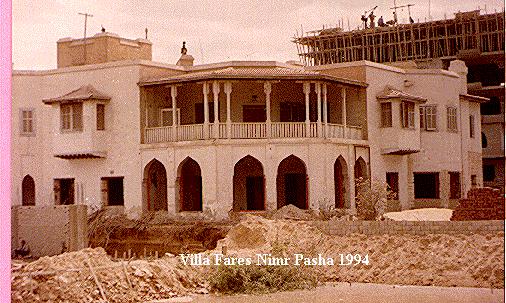 GPS coordinates: latitude 29.9616 longitude: 31.2586
find villa on google map
---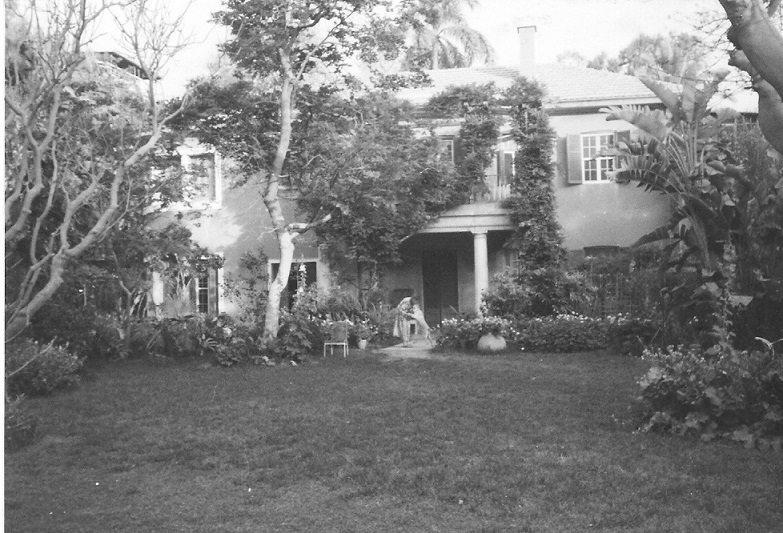 Winner of several annual "best garden" trophies the English garden of Moeine al-Arab Bey and his British wife Safeyah (nee Grace Weigal) was second to none. The house was sold by daughters Elham and Souraya in early 2000 and was pulled down to make way for a large uncompleted apartment building fronting Mosseri (Orabi) Avenue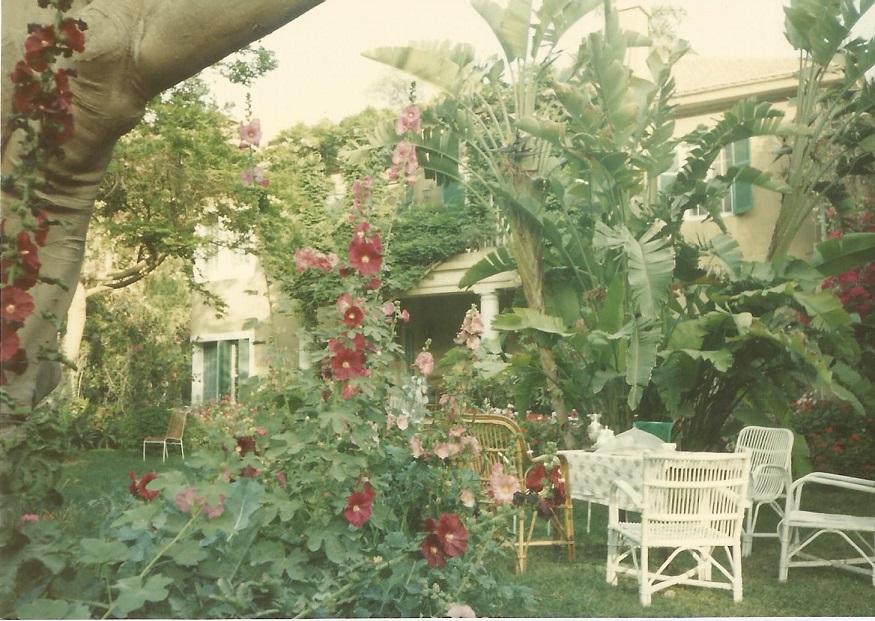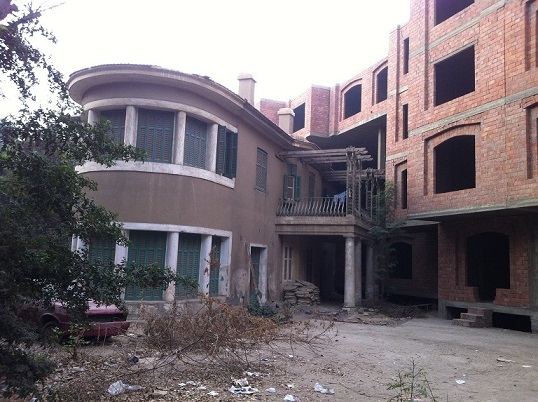 GPS coordinates: latitude 29.9644 longitude: 31.2663
find villa on google map
---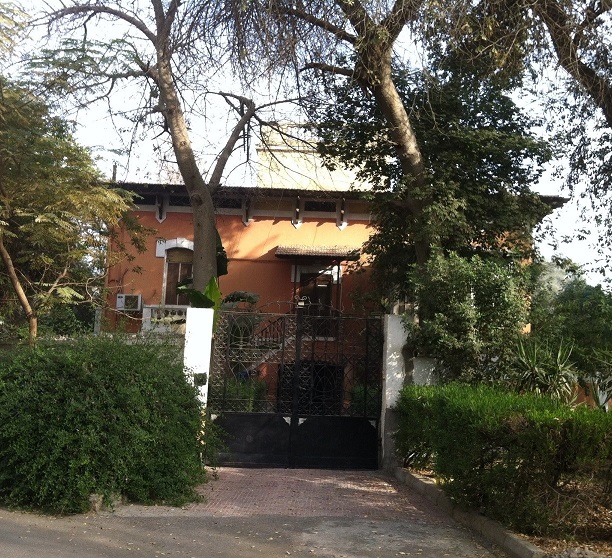 Villa on Port Saiid Avenue designed by Max Perdikides for engineer George Goulimis. Both men worked for the Sugar refinery company in Komombo which is perhaps why this villa is a replica of the ones built as rest houses for the directors of the sugar company in Upper Egypt
GPS coordinates: latitude 29.9599 longitude: 31.2672
find villa on google map
---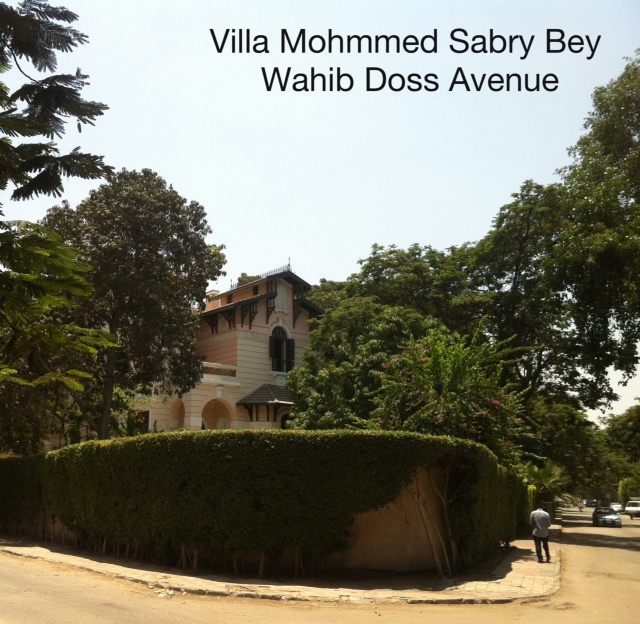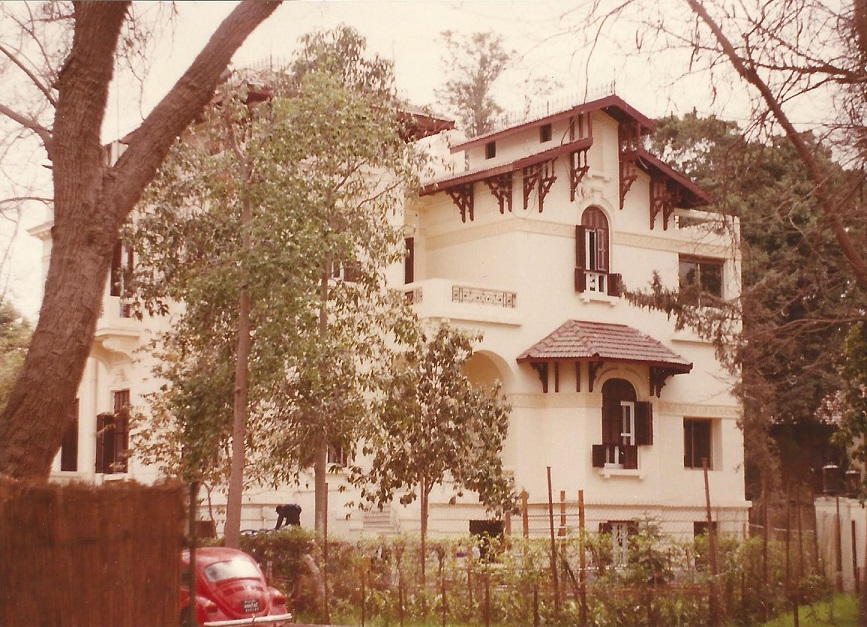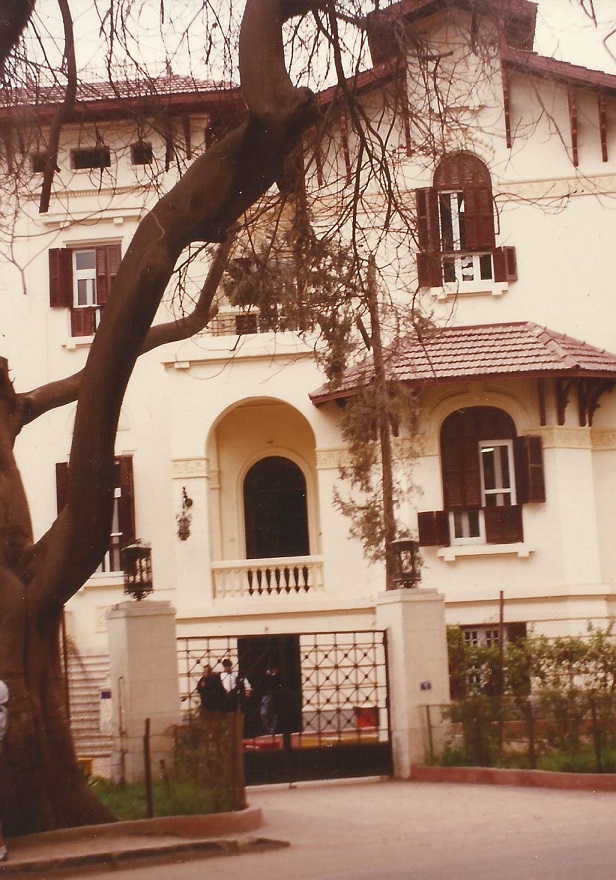 photo courtesy Tarek Sharara
Mohammed Sabry Bey and his wife Samia Fathi Hanum were among Maadi's earliest Ottoman-Egyptian residents. It was there that their grandchildren Inal, (Mohab died in infancy), Samia, Hesham and Nadia Sabry were born. Originally an elevated basement and one-floor villa, another floor was added by architect Ali Labib Gabr to accommodate Mohammed Bey's second son Mamdouh and his Turko-Syrian bride Galila al-Jabri. In the 1960s the villa was purchased by Yemeni exiled politician al-Bidani who added an extension to the villa's western side. In the early 2000s it was leased to the Embassy of Kazakhstan up until 2012.
GPS coordinates: latitude 29.9624 longitude: 31.2606
find villa on google map
---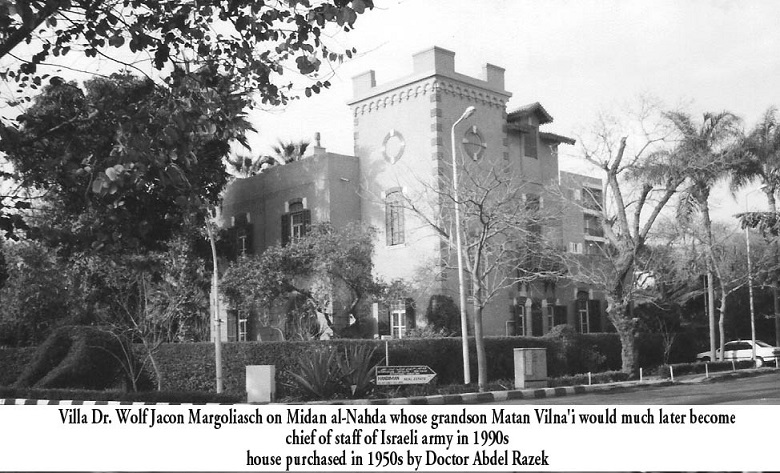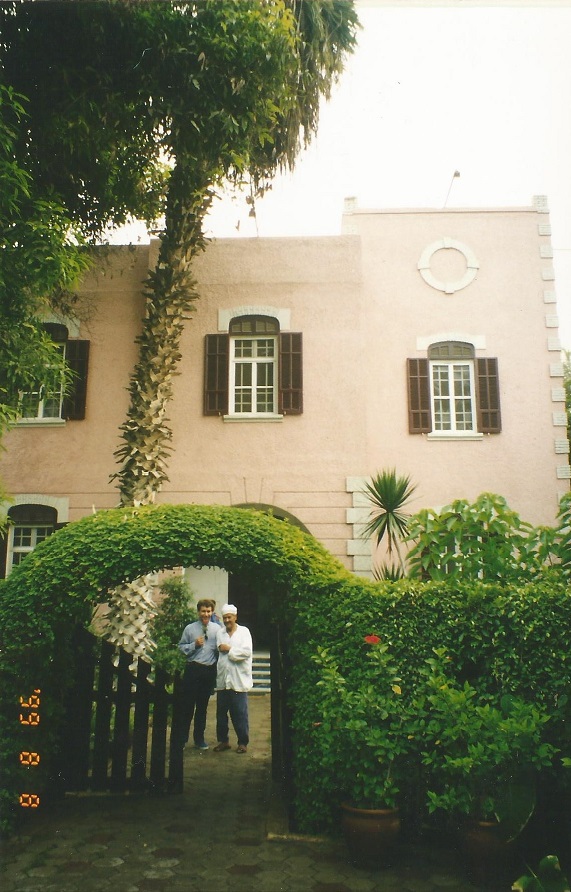 GPS coordinates: latitude 29.9616 longitude: 31.2626
find villa on google map
---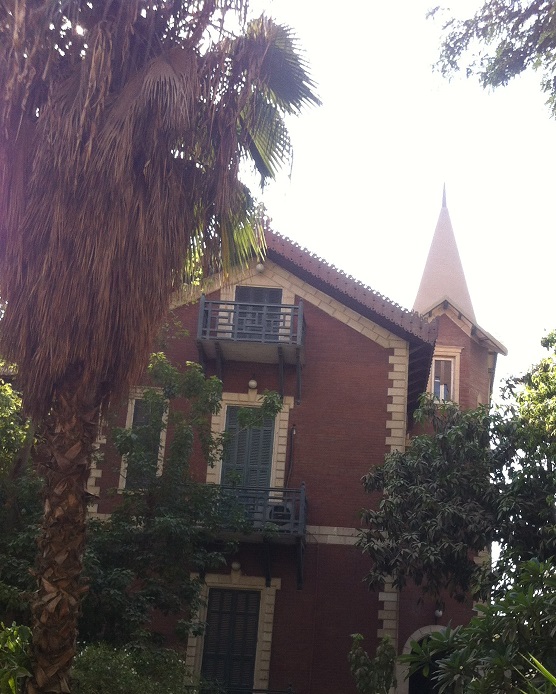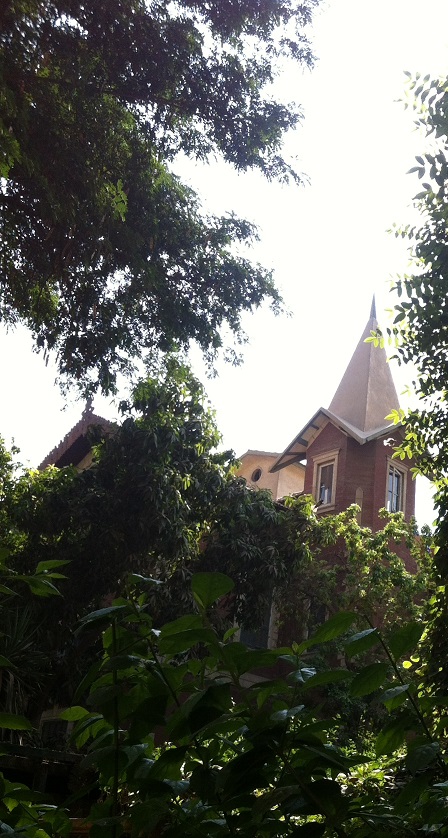 Originally owned by C Pilavachi this Alpine villa on Road 6 was purchased by the Zaki A Rustom family
GPS coordinates: latitude 29.9576 longitude: 31.2578
find villa on google map
---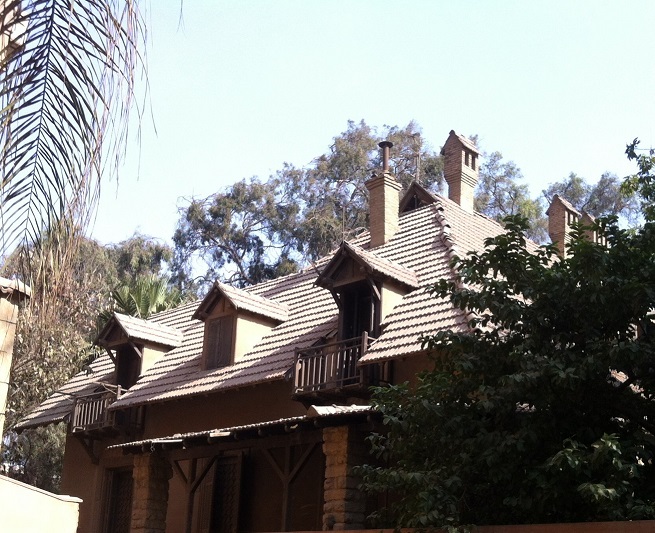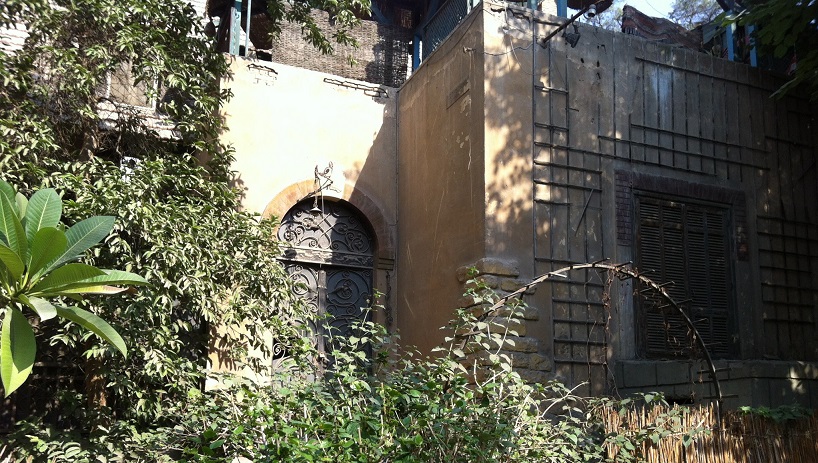 derelict and abandoned on Road 12 this was once the pre-WW1 home of Austrian contractor Karl Franz Schejnoha who worked with Austrian architect Edward Matasek who owned the neigboring villa. Divided into three separate units (basement, first and second floor) the villa was leased out to a pot-pouri of tenants.
GPS coordinates: latitude 29.9601 longitude: 31.2616
find villa on google map
---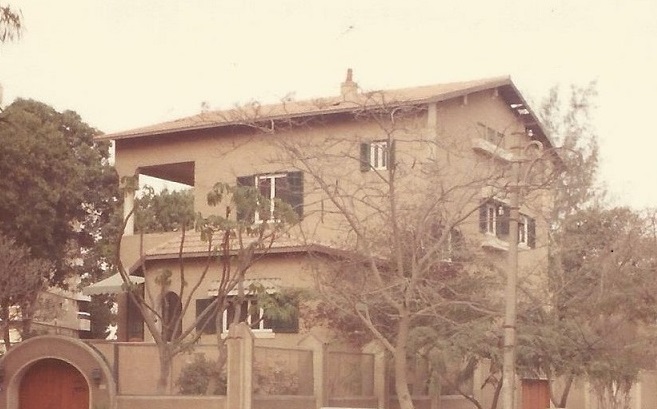 Villa of Counselor Mahmoud zaki Bey and his wife Elsa Pasches. Originaly this villa on Port Saiid Street belonged to Swiss national Mr Winkler of Torah Cement Company. Designed for him by Max D Perdikides the villa's last known owner was Mrs Tato Aboulezz widow of Maadi's notorious green-eyed general
GPS coordinates: latitude 29.9599 longitude: 31.2691
find villa on google map
---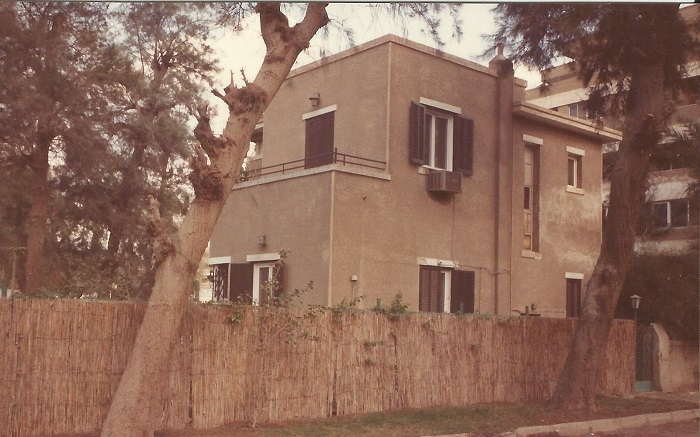 Small villa on Port Saiid Street corner Roads 19 and 84 once upon a time occupied by Galal Kashmiri and his wife Marise Mizrahi
---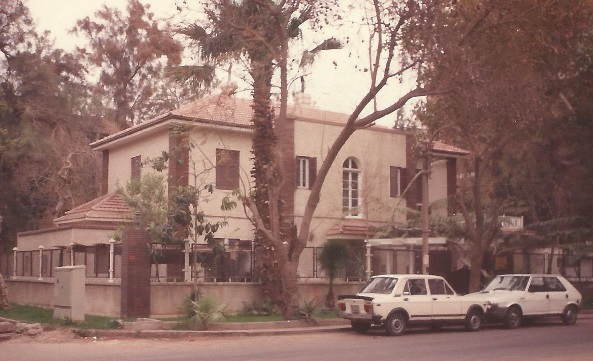 Villa of Counselor Abou-El-Enein Salem Bey on Road 83 corner 17. Sold to Aziz Ezzat and later resold to Fatma Metwali. Today it is the Embassy of Ukrania having succumbed to several structural changes. Its original garden made way for the Abou-El-Enein Salem Building home to his heirs
GPS coordinates: latitude 29.9593 longitude: 31.2664
find villa on google map
---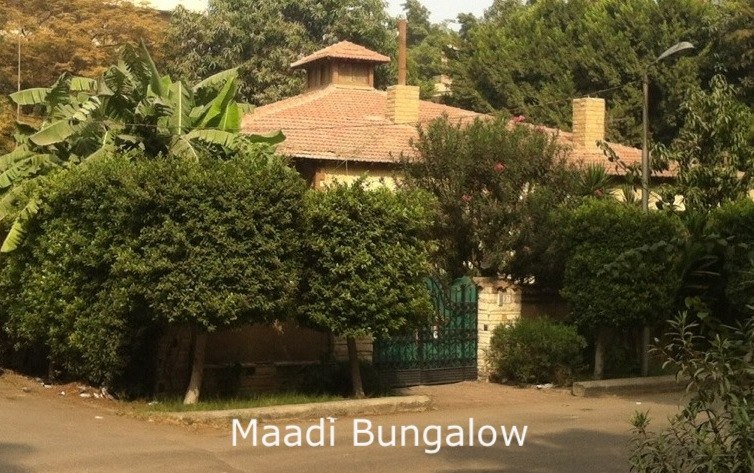 During the world economic depression of 1929-30 EDLICO constructed eight wood & brick bungalows characterized by their colonial wrap-around balconies. The bungalows were sandwiched between the Khashaab Canal and Road 15 next to the Maadi Sporting club.
GPS coordinates: latitude 29.9629 longitude: 31.2623
find villa on google map
---
Pre-WW1 house designed by Austrian architect Edward Matasek for himself. In turn it was purchased by the Swiss family Peyer and Khoury Haddad who changed its name from Villa Helvetia to Villa Electra. Its last owner was the American Embassy for account of its diplomats among them a certain Eugene Trone described in political memoirs as a CIA agent. The embassy sold the villa in an auction in the 1990s. The developer who purchased it built Maadi's tallest high-rise overlooking Police Station Square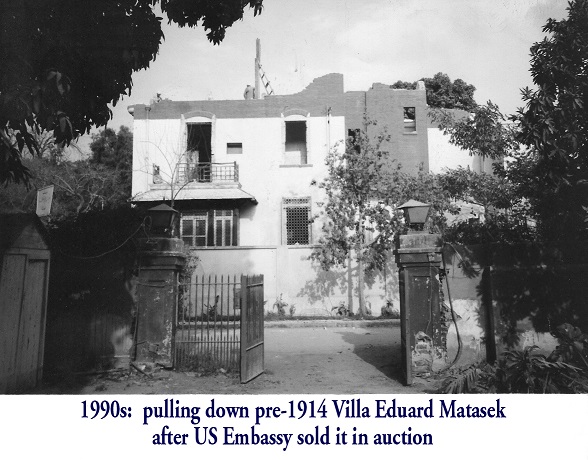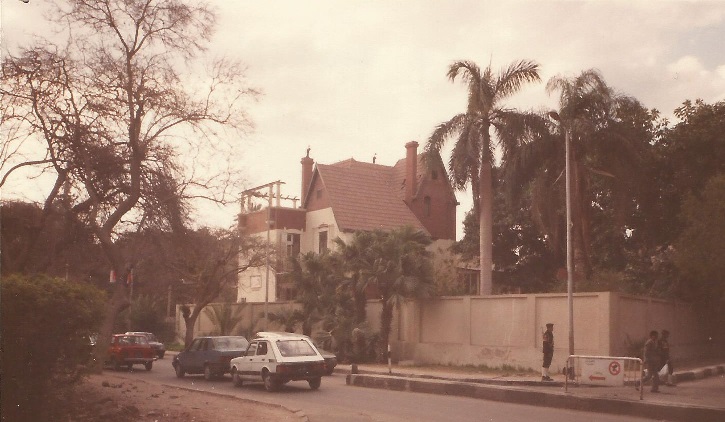 GPS coordinates: latitude 29.9605 longitude: 31.2614
find villa on google map
---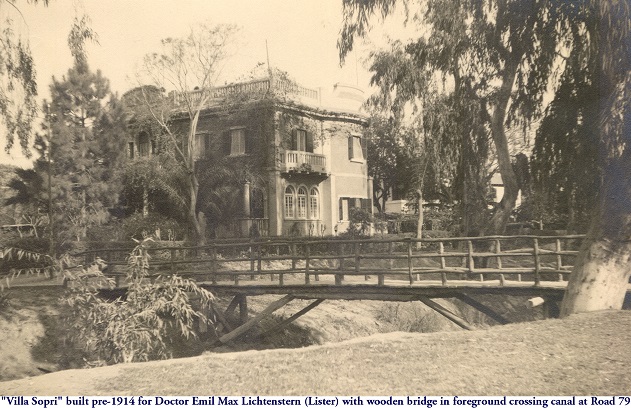 designed by Austria architect Edward Matasek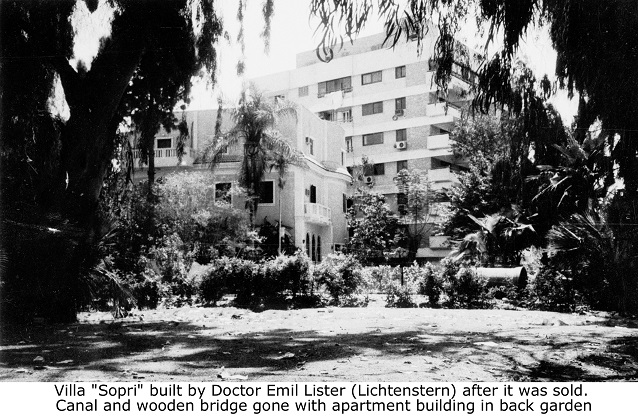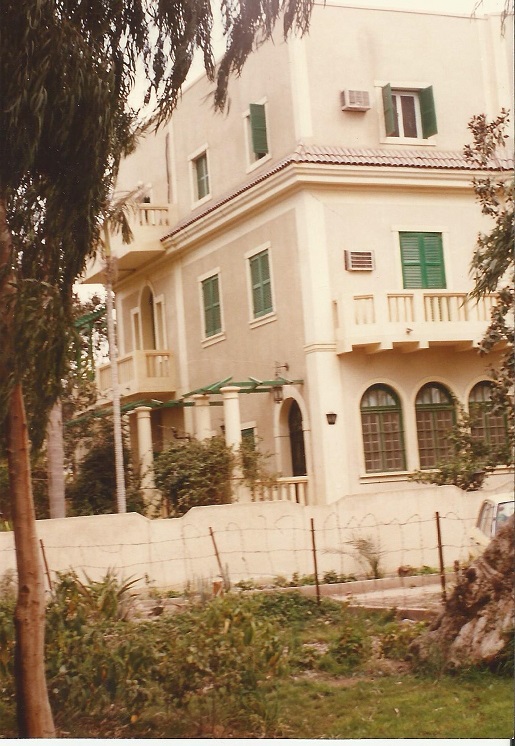 photo courtesy Tarek Sharara
a floor added by the Adham Ragab family atop Villa Lister
GPS coordinates: latitude 29.9621 longitude: 31.2620
find villa on google map
---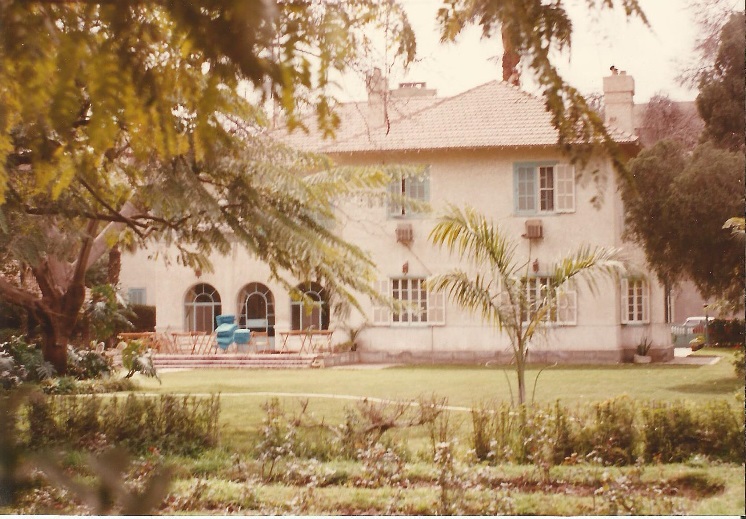 photo courtesy Tarek Sharara
One of Maadi's earliest villas facing the Khashaab Canal, "The Craig" belonged to John Crawford nicknamed the Duke of Maadi. Crawford who was a managing director at the National Bank of Egypt between the 1920s and 1940s, was also chairman of the Maadi Sporting Club and a board member of EDLICO. He died in Egypt and is buried in Old Cairo. His villa was purchased by accountant Issa El-Ayouti and now belongs to his heirs.
GPS coordinates: latitude 29.9614 longitude: 31.2607
find villa on google map
---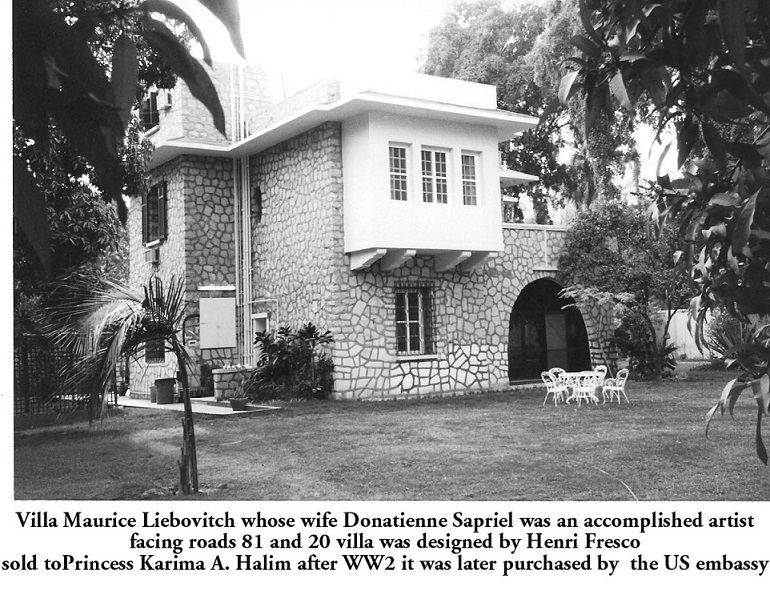 GPS coordinates: latitude 29.9614 longitude: 31.2683
find villa on google map
---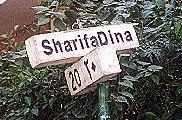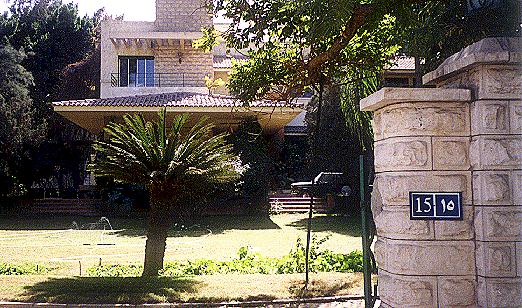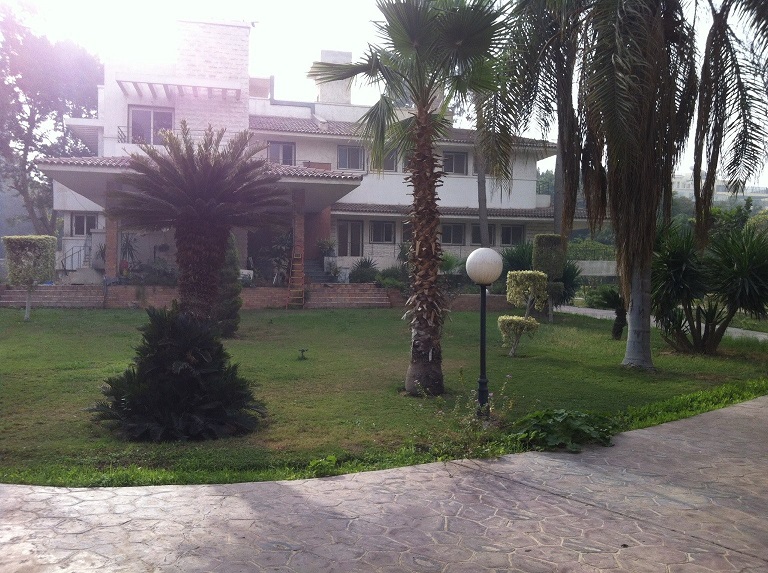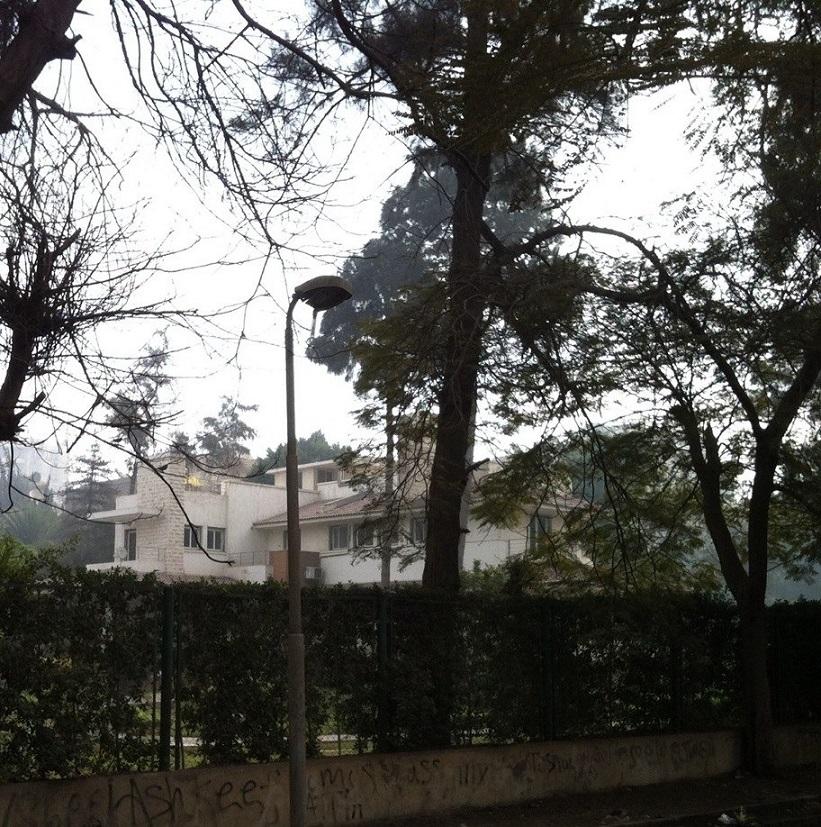 The Hashemite villa of Maadi standing on Queen Dina Street and what was then the Maadi desert was so named because its occupant, al-Sherifa Dina Abdel Hamid Oun of the noble al-Hashem clan of Mecca, was the sometime Queen of Jordan when she wed her distant cousin King Hussein Ibn Talal. The villa was designed in 1950 by architect Yehya Mustafa.
This eastern corner of Maadi was nicknamed "Little Turkey" since everyone who lived there had a direct connection with Istanbul. To begin with Queen Dina's mother was the Turco-Tcherkess Fakhriya Birav. Next door, in a coquettish villa also designed by Yehya Mustafa, lived her sister Fakhriya and her husband Emin I. Chirine Bey. Decades later, their grandson Emine Chirine would become a member of the Turkish parliament before falling out of favor with the ruling AKP. Unfortunately, Villa Chirine, which stood across from the Hashemite Villa, was torn down and replaced in the 1990s by an apartment building.
Across the street west of the Hashemite villa was the Moorish-style villa of Prince Mohammed-Ali Ibrahim of Egypt \and his wife HIH Princess Hanezadeh, a granddaughter the Ottoman Empire's last Sultan. Their house became CAC's second home before moving in the 1970s to its present Digla HQ. A fourth neighbor was al-Sherifa Burkan, a member of the out-of-favor Ghaleb branch of the aforementioned Hashemite clan of Mecca, hence their exile in Istanbul in the late 19th century. Burkan Hanimeffendi lived with her husband Abdou Shafei Bey and their daughter Ghada in a handsome adjacent villa on Road 23. Living with them was the Hanimeffendi's elderly black slave Menakshe who had accompanied her mistress when the latter exchanged her childhood neighborhood in Istanbul for Cairo's leafy suburb.
All of the above were securely guarded since a unit of the Haggana or Camel Desert Patrol, was stationed right behind the Hashemite Villa.
The Hashemite Villa was restored in 2006 when it was leased to Lukoil a leading Russian oil company.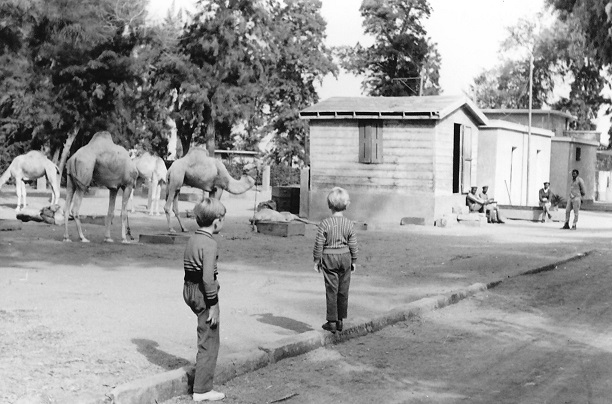 photo courtesy Mr. Richter
GPS coordinates: latitude 29.9664 longitude: 31.2677
find villa on google map
---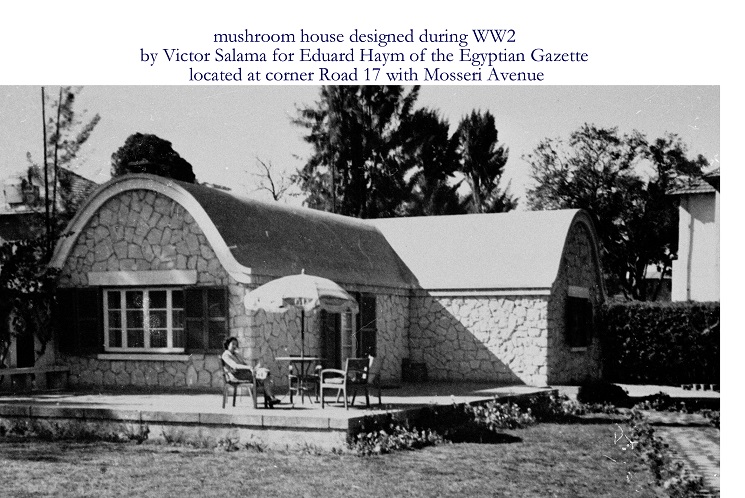 This unique villa located at the corner of Mosseri (Orabi) Avenue and Road 17 was constructed during WW2 by architect Victor Salama who alone accounted for a dozen villas constructed in Maadi. It was the home of Egyptian Gazette editor Edward Hyam. The "mushroom" villa was destroyed in the 1970s.
GPS coordinates: latitude 29.9619 longitude: 31.2651
find villa on google map
---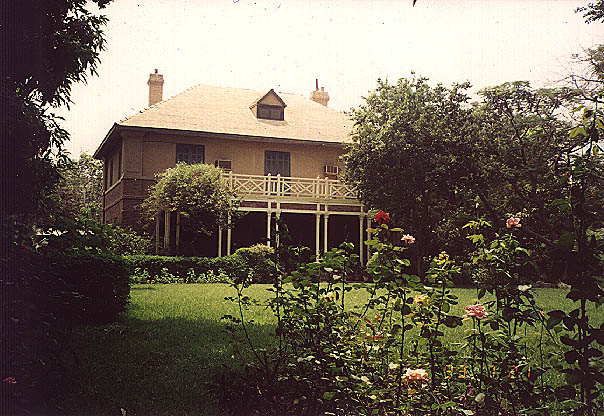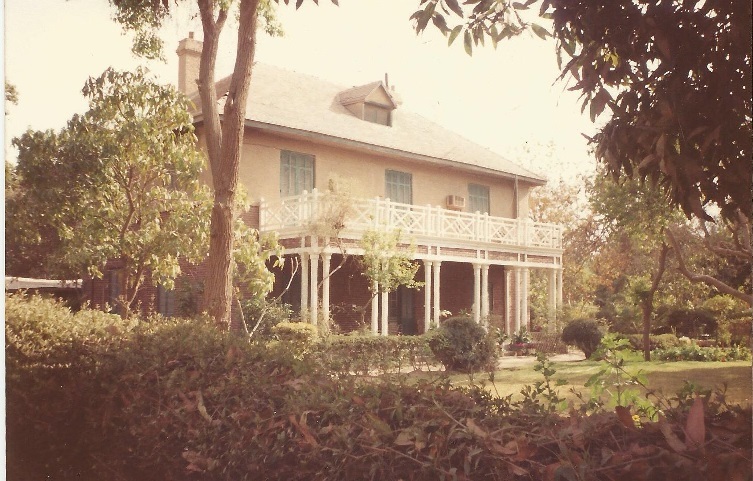 Villa fronting Roads 15 and Mosseri (later) Orabi Avenue occupied in turn by Shirley Dale followed by Mohammed Saiid-Khalifa Bey and his wife Fardos E. Chirine. Years later they leased it to banker-economist Ali El-Gretly and his Scottish wife May and their children Hassan, Laila and Soumaya. It was replaced in 1995 by a large apartment buildings
Villa was replica of the one that housed the secretary of the Gezira Sporting Club for a long time occupied by Fardos Chirine's cousin Major Ahmed Mourad
Replaced in 1999 with... (see below)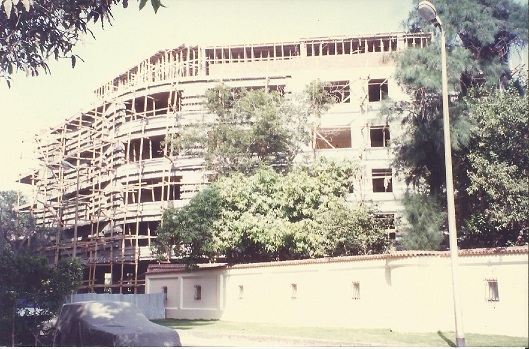 GPS coordinates: latitude 29.9594 longitude: 31.2648
find villa on google map
---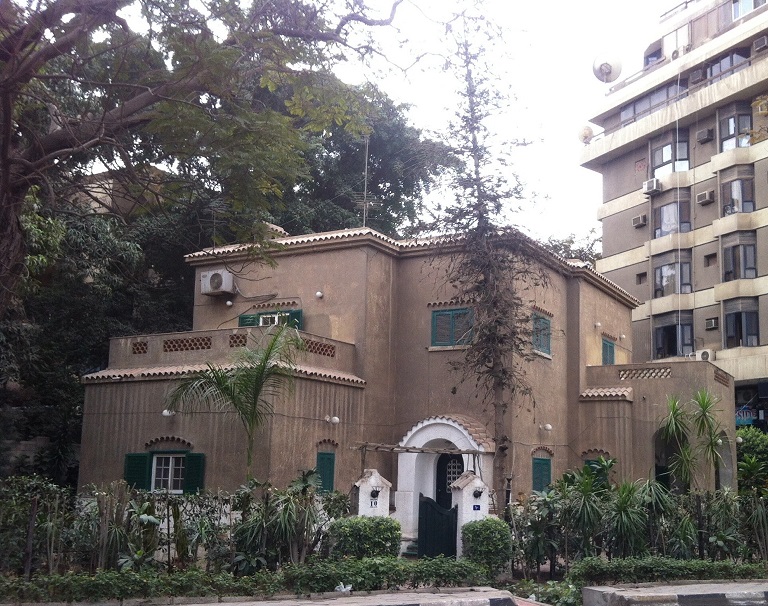 Originally painted white this villa on Damascus Street was called "Le Merle Blanc" home to pre-1952 tourist department director Bahgat Chimy Bey and his wife Yvonne. This was also one of the many villas leased to the notorious villa-hopping Arab League administrator Fawzi al-Ghossein (Palestinian) and his wife Raafat Sami Mardambey (Syrian) along with their children: Bashaar, Bassaam, Boshra, Basima... They liked to poke at the villa's name calling it "Le Merde Blanc", which is more what it looks like today... In its better days this was the elected residence of successive managers of the Scandinavian Airlines (SAS) when it still flew to Egypt
GPS coordinates: latitude 29.9632 longitude: 31.2621
find villa on google map
---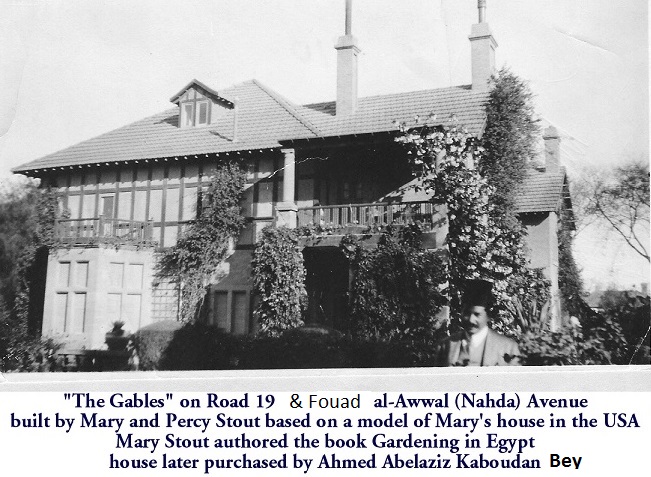 ---

how a Provencal"bastide" turned into a prison-like "bastille"
This Ausguste Perret inspired villa on Road 19 belonged to Rolfe Friedrich, the sometime Swiss director of Torah Cement Company and a stepson of its chief executive Ernest Trembley who lived in another smart villa across Road 19. Famous for his desert fox hunts Rolfe lived in his pseudo ranch with his Belgian wife Rosemarie, a daughter of Sugar Company director Henri Naus Bey. The villa was later purchased by the USofA government and is today known as "Maadi House" a social club for the American Embassy dependents, which is why it looks like a Guantanamo-like annex, its high security fence shooting upwards whenever America's international credibility spins downwards. The last heightening took place in 2013 so that the villa is no longer visible from the street. In any case the villa was structurally changed so many times that it no longer looks like its original self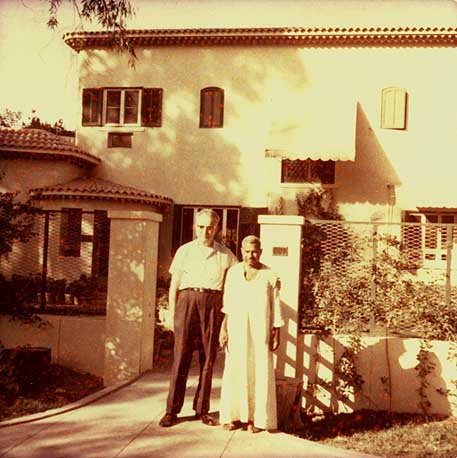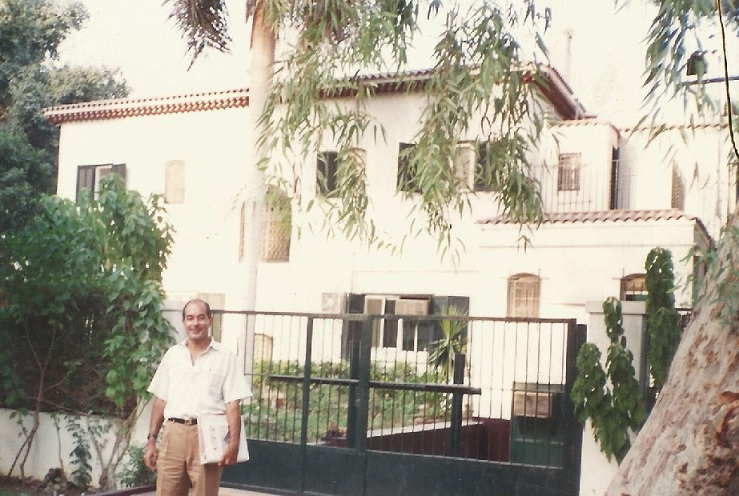 GPS coordinates: latitude 29.9613 longitude: 31.2681
find villa on google map
---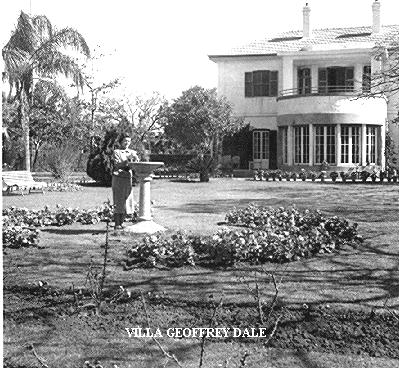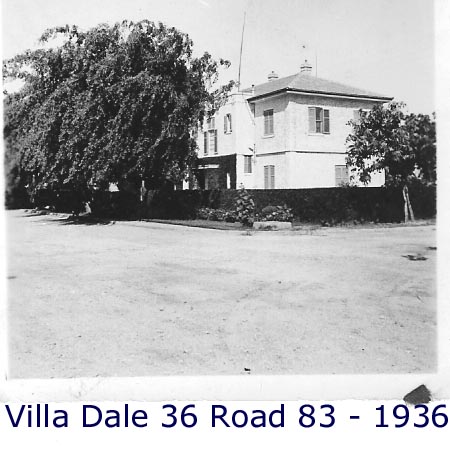 This Maadi prototype company villa was occupied in turn by Tom and his son Geoffrey Dale, the longtime British directors of the Egyptian Delta & Land Company (EDLICO) which created Maadi. After Geoffrey's departure in 1955 the house was taken over by Free Officer Gamal Salem. Years later it was replaced by a high rise building at corner of Road 83 & 17
GPS coordinates: latitude 29.9594 longitude: 31.2668
find villa on google map
---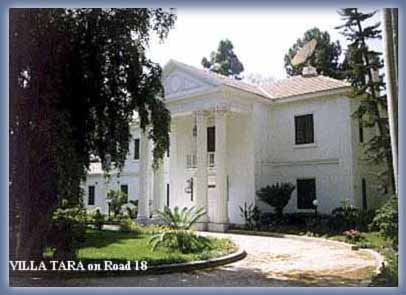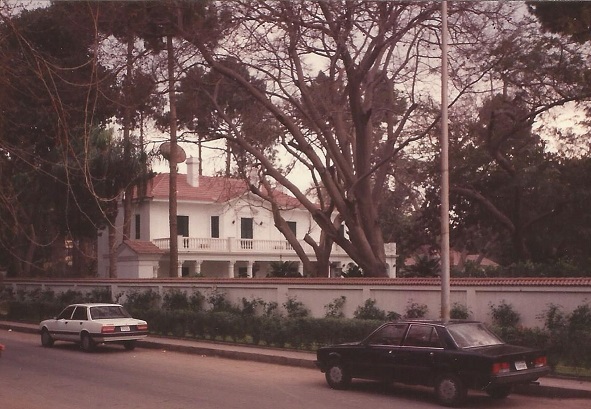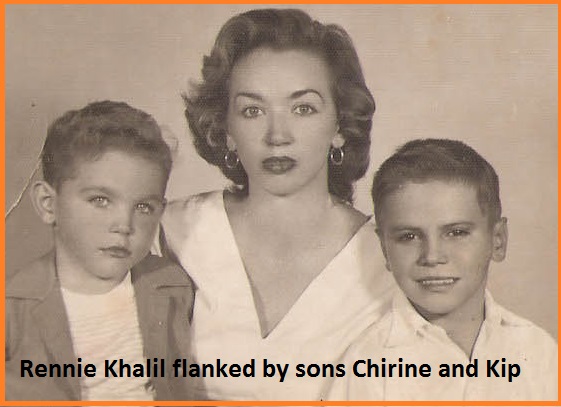 Successive owner-occupants of this pre-WW2 prototype villa include Suez Governor Fouad Chirine Pasha and his large progeny, tennis champion Andre Jabes and, in the early 1950s, FAO's Khalil Reda and his American wife Renne with their sons Kippy and Chirine. Hailing from New England Mrs. Reda introduced structural changes transforming the villa into a virtual "Tara" (Gone with the Wind) look-alike. Following the departure of the Reda family the villa was sold to a Gulfie
GPS coordinates: latitude 29.9646 longitude: 31.2641
find villa on google map
---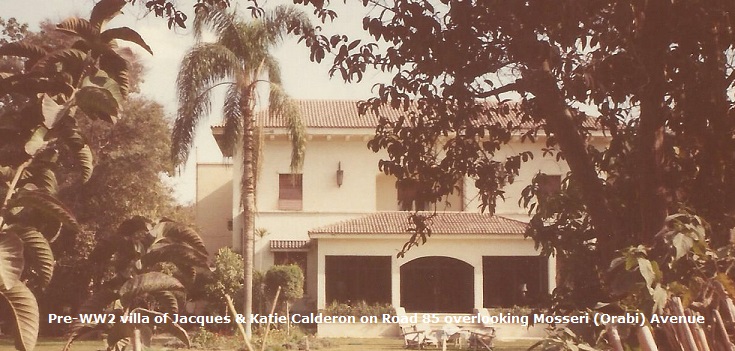 Jacques Calderon was Cairo's largest purveyor of musical instruments with a handsome shop in downtown Cairo. The childless Calderon and his wife Kathie agreed that following their death the house should revert to the Cairo Jewish Hospital, a leading charitable organization founded by the elders of the Cairo Jewish community in the 1920s. When the hospital ceased to function in its original capacity following the 1956 Suez War, the villa became the temporary property of a caretaker institution until further developments. When Sadat invited Egypt's former Egyptian Jews to reclaim their assets in Egypt, the villa suddenly became the property of a lawyer who announced he had purchased it from Calderon's widow, only Kathie had died several years earlier!!! Sadly, this was another recurring instance when an abandoned Maadi villa or piece of land was 'purchased' by an unscrupulous lawyer or an opportunist general from an absentee ghost.
GPS coordinates: latitude 29.9585 longitude: 31.2650
find villa on google map
---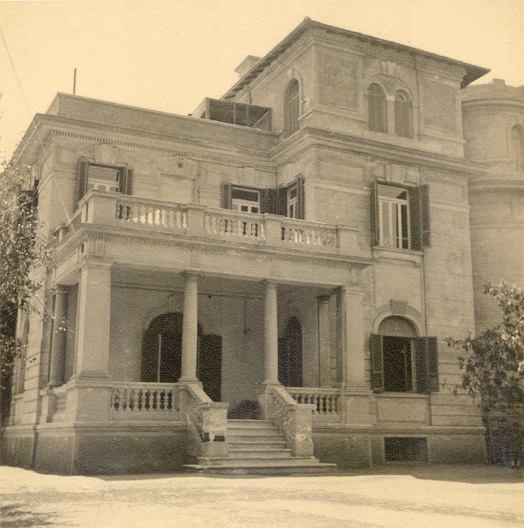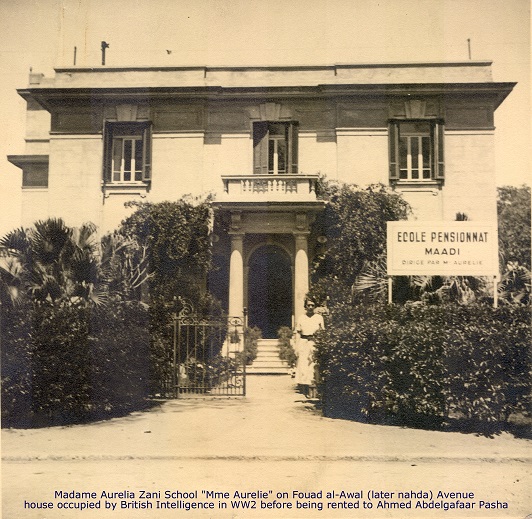 Large manor house on Fouad al-Awwal (Nahda) Avenue which in turn housed Madame Aurelia Zani's boarding school and during WW2 had the dual use as HQ for the British army's Long Range Desert Group--LRDG (forefather of the SAS) and a temporary interrogation facility. In the 1950s until he died the house was leased by politician and minister of agriculture Ahmed Abdel Ghaffar Pasha. The house was replaced with two apartment buildings in the 1990s adjacent to an empty plot of land
GPS coordinates: latitude 29.9617 longitude: 31.2632
find villa on google map
---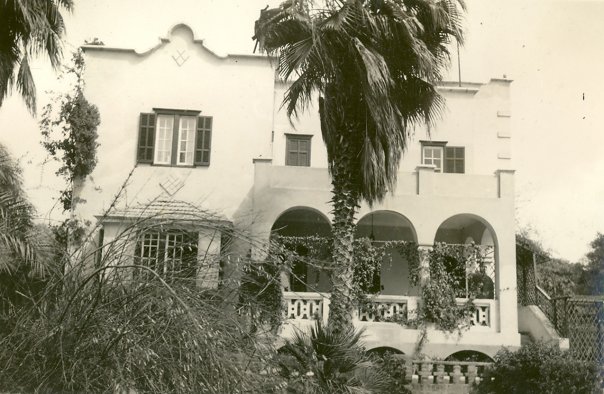 Villa originally home of army medic Doctor-Colonel Charles Stuart Spong before selling it to Doctor Hassan Shaheen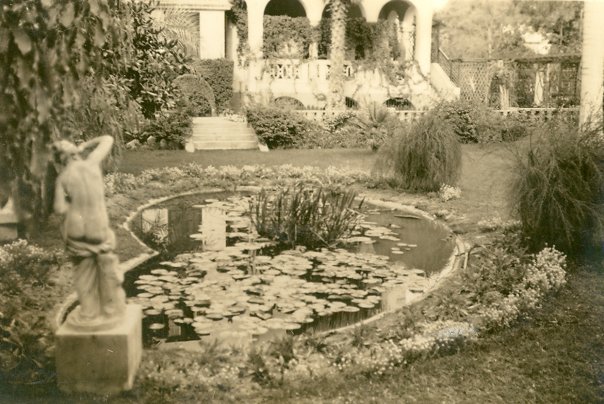 photos courtesy of Hanifa Sadek granddaughter of Shaheen Pasha and proofreader/editor of Maadi 1904-62; History & Society in a Cairo Suburb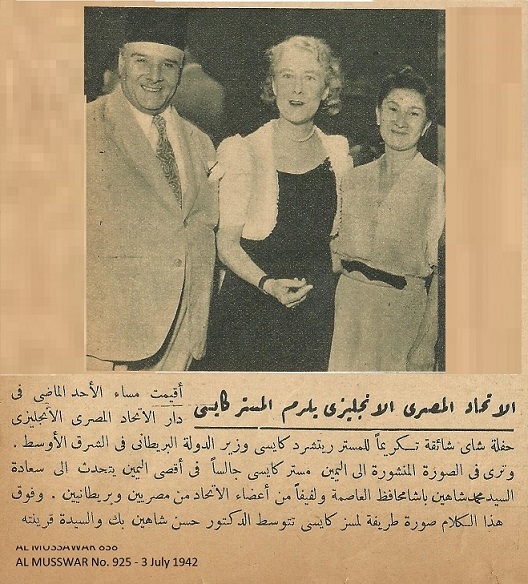 Better known as Villa Shaheen, this large villa with its one-acre garden belonged to Doctor Hassan Shaheen Pasha and his wife Samira Rifaat. It was there that Maadi's distinguished pre-WW2 residents raised their two sons Omar and Medhat and daughter Mona. A third son, Samir Shaheen, sadly died in situ following a tragic accident. Torn with grief, the Shaheens would occasionally rent out their large villa preferring to stay in a pension. Eventually they commissioned architect-relation Mahmud al-Hakeem to build them a small cottage in a corner of their garden. After the passing of the Shaheen seniors, two of their offspring moved to the Hassan Shaheen art-deco apartment-building "Nile View" in Zamalek. Architect Medhat Shaheen would soon move back to Maadi after building himself a small villa in the south western corner of Villa Shaheen's garden. He would later immigrate to Canada
Prominent Maadi tenants of the large Shaheen villa included Sir Henry Maitland Wilson WW2 commanding officer of the British army in Egypt and later the American CIA operative whose book A Game of Nations was an international bestseller. His son, Miles Copeland Jr. who attended Maadi's CAC, would soon make music history in the United States. The villa, which still stands at the corner of Roads 6 and El Nahda, is now the residence of South Africa ambassadors.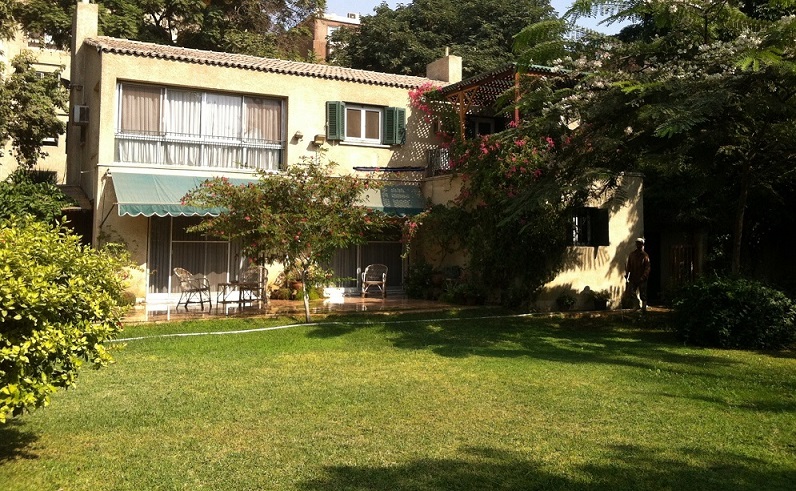 Annex to Villa Shaheen Pasha designed by Mahmoud al-Hakim and occupied in the 1960s by Medhat Shaheen's mother-in-law Elsa Paschkes (Madame Mahmoud Zaki Bey). It is today the home of Shaheen Pasha's granddaughter Hanifa Sadek
GPS coordinates: latitude 29.9581 longitude: 31.2574
find villa on google map
---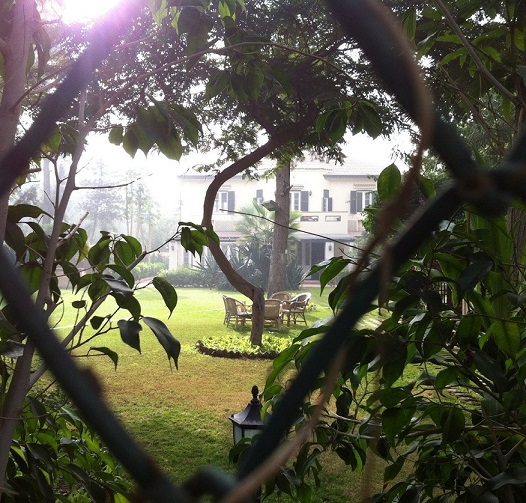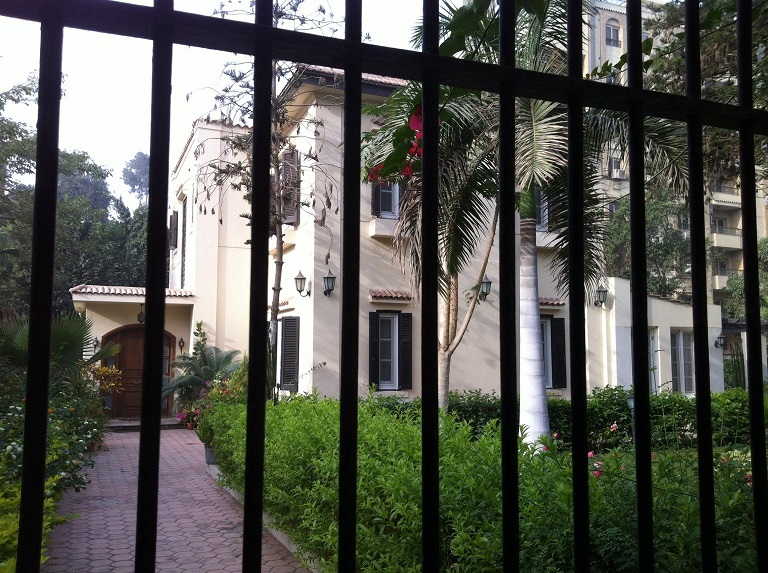 Villa on Road 20 reserved for the successive provosts and presidents of AUC originally. This home was originally owned by Victor Abramino Gheriani
GPS coordinates: latitude 29.9653 longitude: 31.2652
find villa on google map
---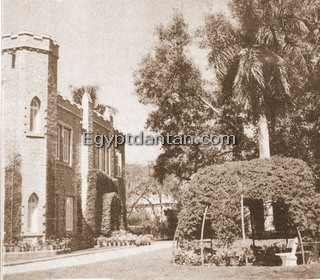 Greystone Manor built for and by John Williamson
photo courtesy Max Karkegi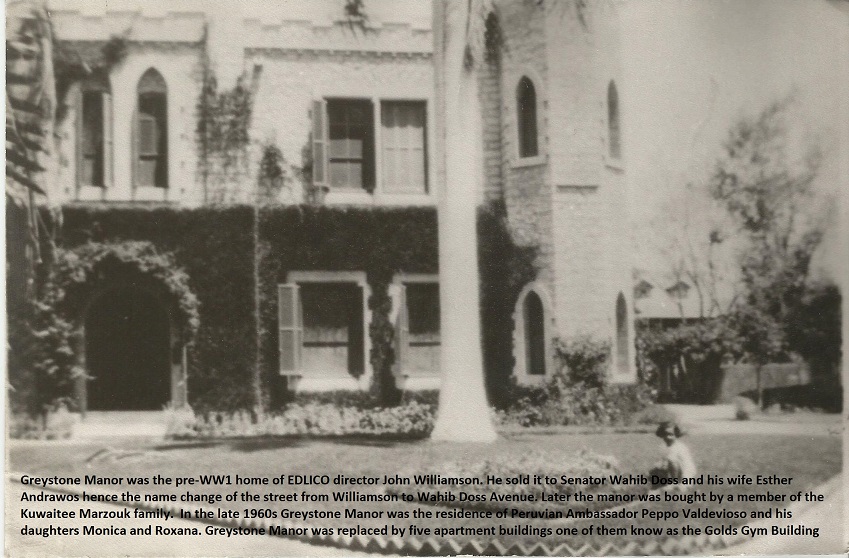 ---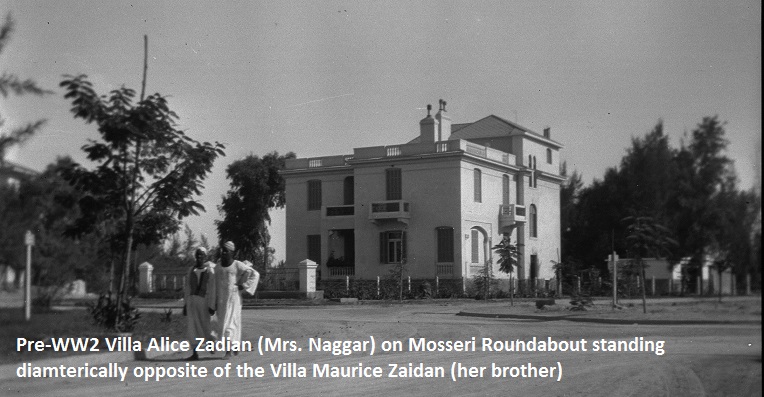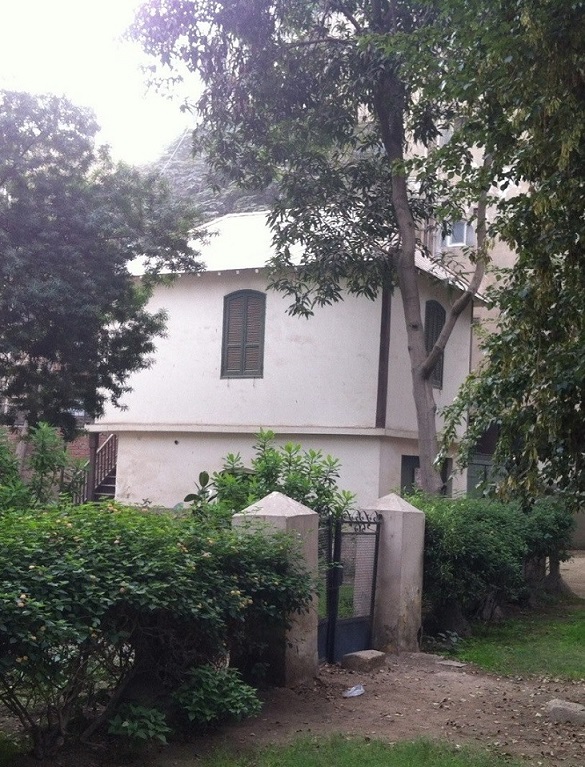 Several sons or nephews of famous historian-publisher Gorgi Zaidan who founded Dar al-Hilal chose Maadi for their elected place of residence forming the nuclei of the Levantine families (Zaidan, Mirshak, Diab, Naggar, Sabet, Kfoury, Khoury-Haddad, Maghrabis, Tabets, Haddad and Nimr) in that suburb. Above the home and carriage house of Alice Zaidan (Mrs. Afif Naggar); below the home of her brother Maurice Zaidan and his wife Olga Nicolas Diab
GPS coordinates: latitude 29.9626 longitude: 31.2656
find villa on google map
---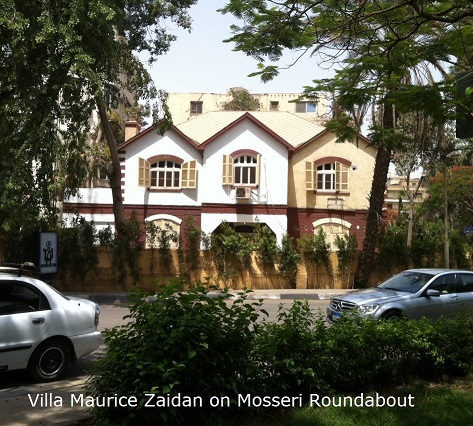 GPS coordinates: latitude 29.9633 longitude: 31.2658
find villa on google map
---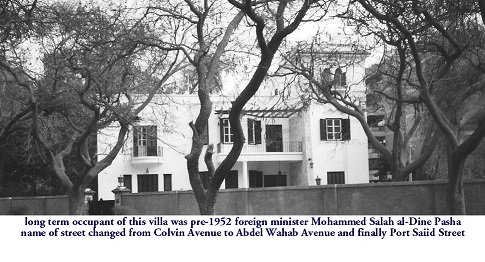 GPS coordinates: latitude 29.9609 longitude: 31.2630
find villa on google map
---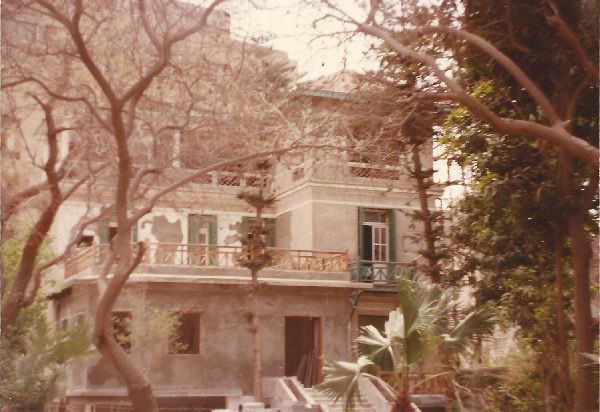 photo courtesy Tarek Sharara
Occupying a triangular plot fronting Road 82, Road 6 and Rolo Avenue (renamed in 1965 Sad al-Aali Street), this early 1920s villa was built for the British Maudsley family. It was sold in 1927 by the Lucovitch heirs of Annie Mathilde Maudsley to Frenchman Lucien Lefrere the longtime director of the Credit Lyonnais Bank and a vocal supporter of the Free French during WW2. He continued to live there until the 1950s. Purchased by Essawi Khadr and Olga Popovitch his Yugoslav wife, the villa was home to his outgoing German-educated three daughters (Amal, Nadia, Nirvana) and only son Ahmed (Greena). In the 1980s Ahmed decided to build a horrific apartment building in the back of the house forever changing the streetscape of this part of Maadi.
---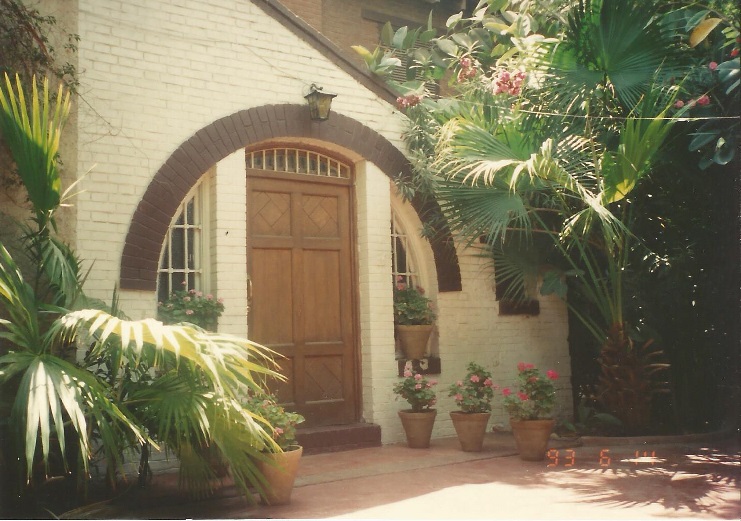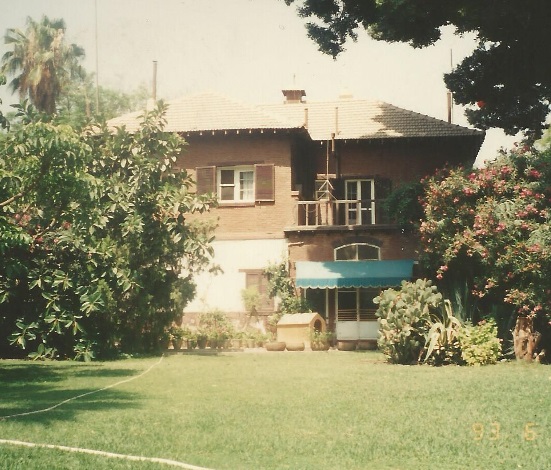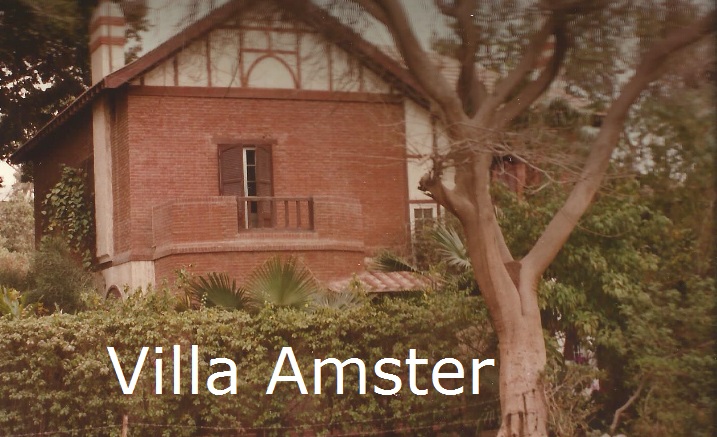 Pre-WW1 villa on Williamson (Wahib Doss) Avenue designed by Edward Matasek for fellow Austrian Rudolf Ferdinand Amster and his wife Frau Hedwige, a competent performer at the organ. Close members of the entourage of the exiled Khedive Abbas Hilmi for whom Amster was a private secretary, Maadi's Austrians were faced with a choice of either selling their property and departing Egypt or face sequestration and incarceration. The Amsters sold their house to Henry Bentley, a Briton. Years later the house was purchased by Aicha Sirhank and her husband Ibrahim Rashad. In the 1980s and 90s it was leased to the Goethe Institute director
GPS coordinates: latitude 29.9619 longitude: 31.2604
find villa on google map
---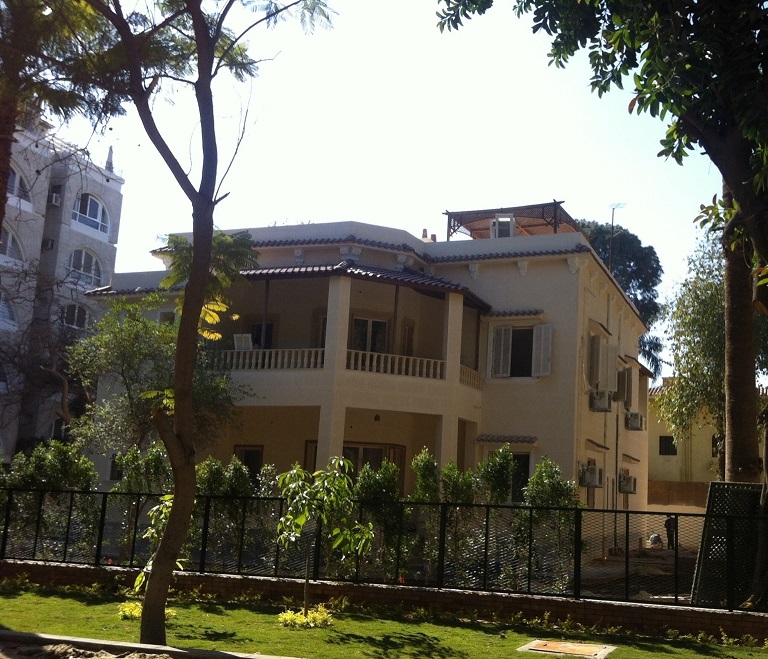 Villa (Edmond & Emilie) Tatin so named after its original occupant. It was constructed in pre-WW2 Maadi on land belonging to Cairo merchant Max Rotschild (no relation to billionaire Rothschilds in case you wondered) who lived in the lovely one-floor villa designed by Carl Schenoja facing Mustafa Kamel roundabout. Because they owned the western strip of land running south on Road 15 from Menashe (Mustafa-Kamel) Square all the way to Road 87 it was there that Max and Renee Rothschild built two villas for their two daughters Emilie (Emmy) and Elisabeth (Lilly). Eventually the daughters and spouses relocated in Australia and beyond. The entangled ownership deeds to their villas, in view of sequestration of enemy alien assets, ended up on lawyer Hector Liebhaber's desk for quick disposal. Villa Tatin was subsequently purchased by Ahmed al-Nahas whose father was connecteed to Maitre Liebhaber professionally. The building in the background belongs to Ahmed's brother Mustafa al-Nahas
GPS coordinates: latitude 29.9557 longitude: 31.2676
find villa on google map
---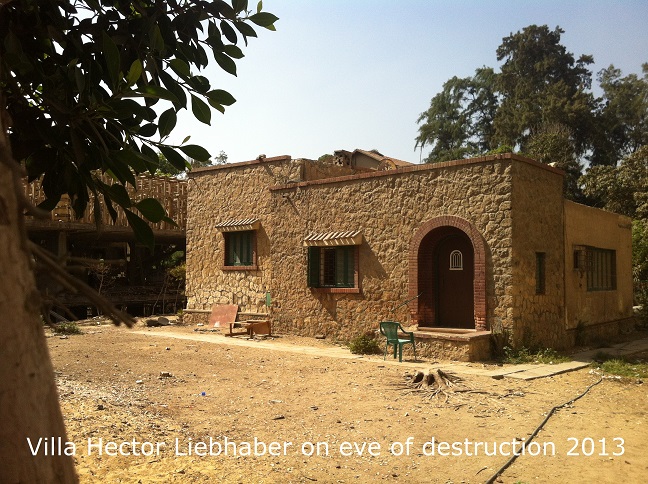 Photo was taken in 2013 the day before a bulldozer flattened what you see. This villa on Road 17 was where lawyer Hector Liebhaber lived before he died in the 1970s. Aside from being a founding member of the Maadi Community Association Rabtet el-Maadi created in the mid-1950s by Mustafa Musharafa, Moiene al-Arab, Wahid Raafat and other Maadi residents, Liehaber was the lawyer of preference for many Jews who hurriedly departed Maadi in the 1950s and 60s planting their asset files on his desk with instructions "See if you can find us a good sale!" When Liebhaber departed this world the files found themselves in the hands of "clever" lawyers who proceeded to cut deals with the absentee owners. And this is how much of Maadi's properties changed hands and legs.
---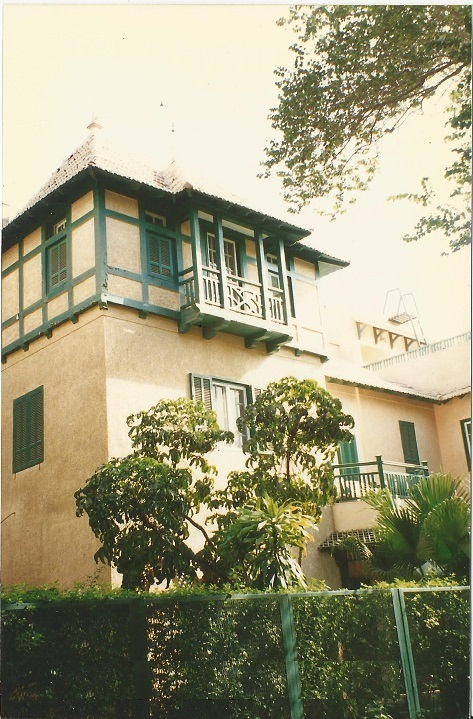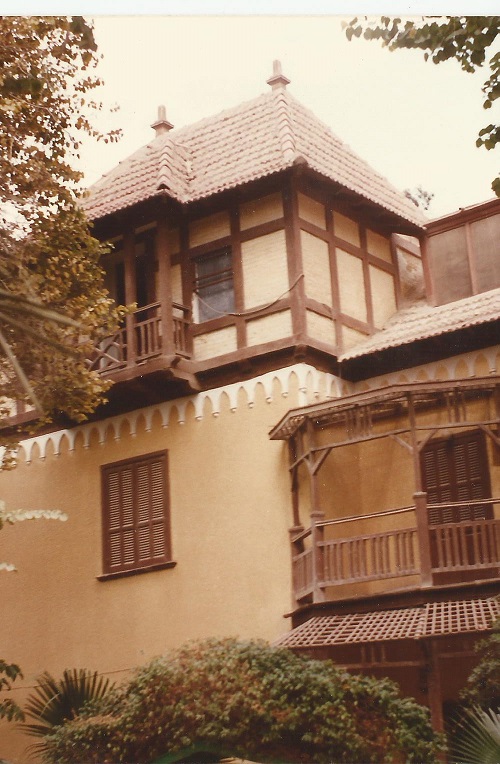 This house on Road 13 overlooking the Khashaab Canal (when it was still there) was originally the home of the Bernhart Louis Grumberg family before being acquired by Maadi's leading real estate entrepreneur Paul Ruben Lifschitz. Much later it became the property of the Sherei family from Upper Egypt
GPS coordinates: latitude 29.9619 longitude: 31.2609
find villa on google map
---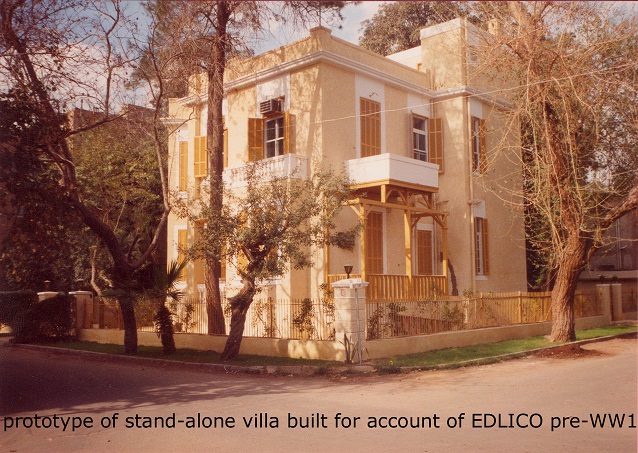 GPS coordinates: latitude 29.9595 longitude: 31.2642
find villa on google map
---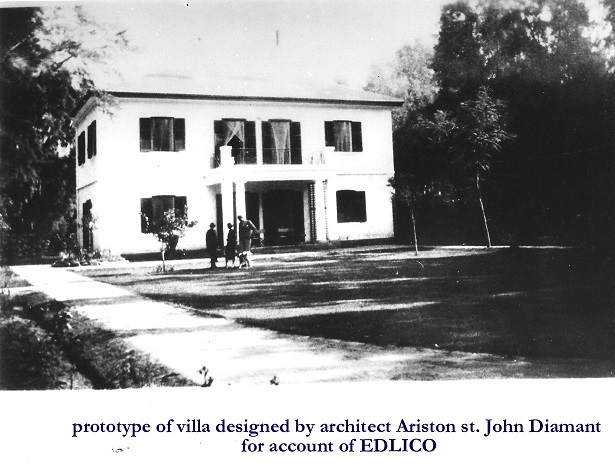 GPS coordinates: latitude 29.9595 longitude: 31.2641
find villa on google map
---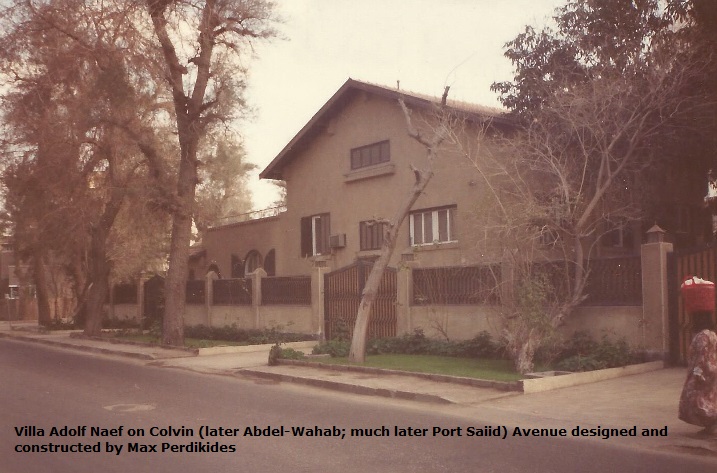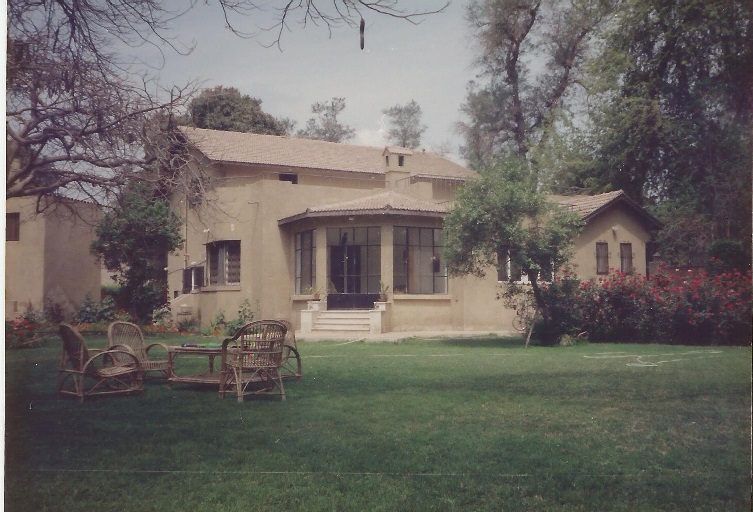 Max Dimitri Perdikides was a prolific Maadi architect with many of its villas designed in his inimitable style
---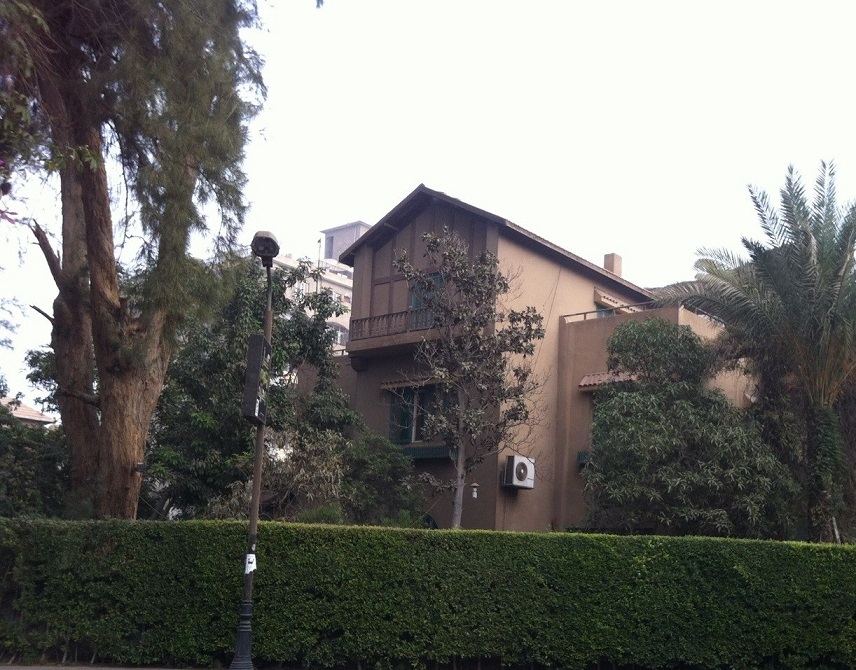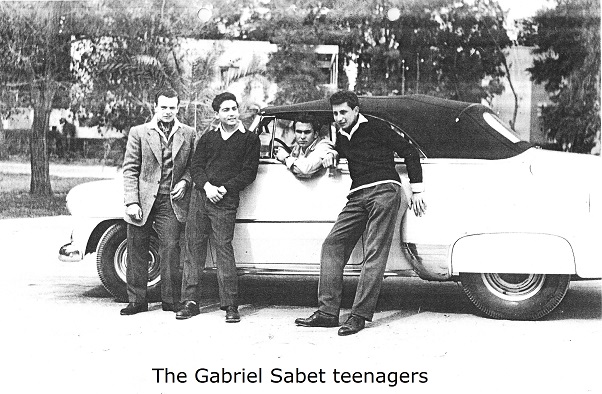 This abandoned Villa on Port Said Avenue and Road 16 saw better days when Max D Perdikides built it for the Gabriel Sabet family. Following the wave of 1962 socialist policy sequestrations, like many of their ilk, the Sabets left Egypt. In 1963 the villa was leased by the government-appointed sequester to the Peruvian Embassy as a residence for Ambassador Agusto Morelli and his children Charo, Teresa and Xavier Morelli. They left in 1966. Lacking a legal claimant the abandoned villa was appropriated by squatters in the 1970s leaving it in an advanced state of deterioration. Where are the descendants of Gabriel Sabet, one may ask
GPS coordinates: latitude 29.9606 longitude: 31.2654
find villa on google map
---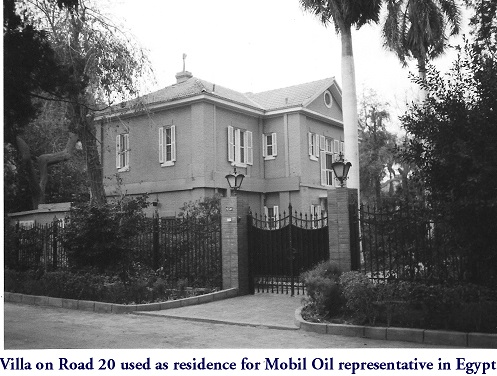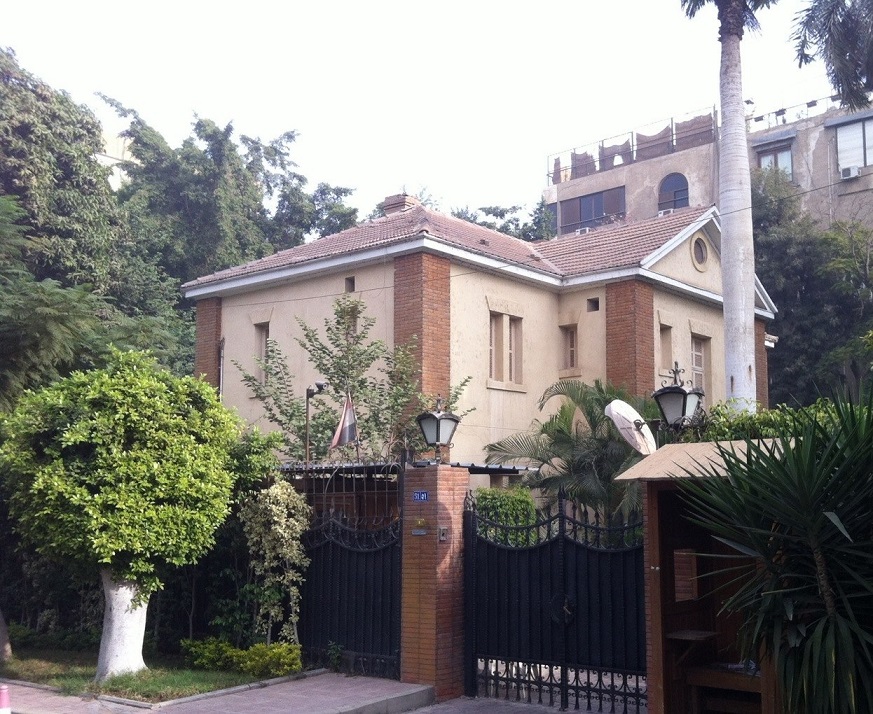 ---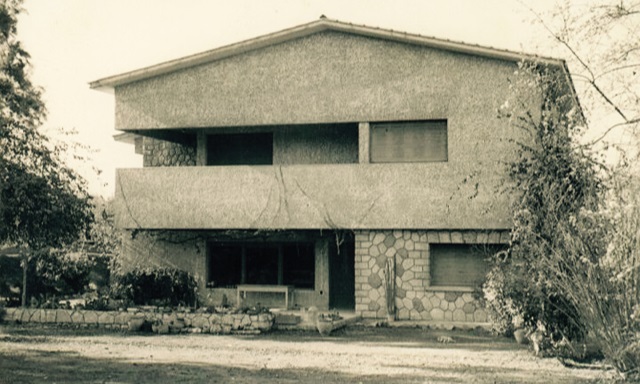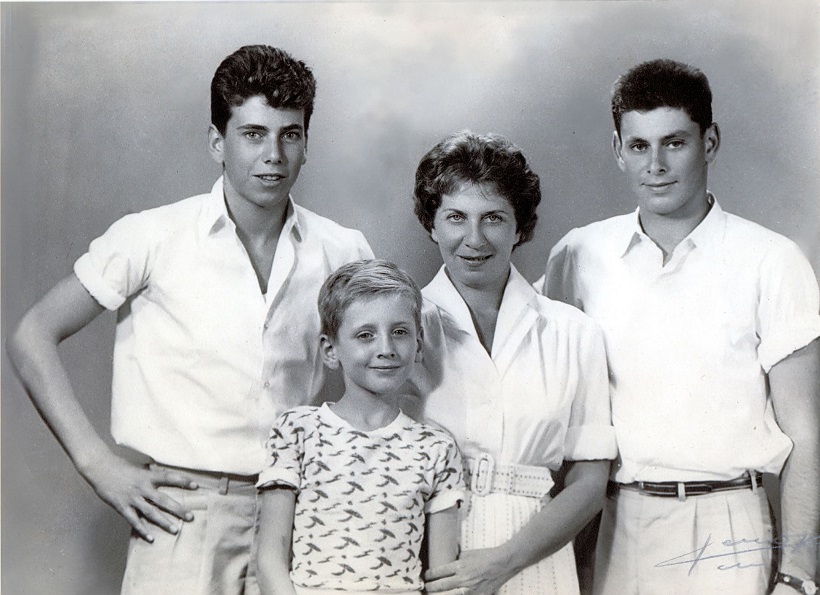 Villa Ramez on road 84 built in 1952 for the Ramez-Zukermann couple and their three sons Ali, Kamal and Hussein. Of German-Ottoman-Egyptian stock the Ramez kids topped the list of Maadi's dapper teenagers. Villa Ramez is presently the residence of the ambassador of the Philippines
GPS coordinates: latitude 29.9584 longitude: 31.2681
find villa on google map
---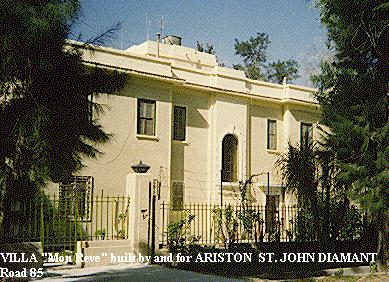 "Mon Reve" is one of Maadi's very early villa build by EDLICO architect Ariston St John Diamant for himself and his family. Later residents of this Road 85 villa included Belgium Baron Daniel Rolin of the mega contracting company by the same name. It was later purchased by car dealer Gregorakis.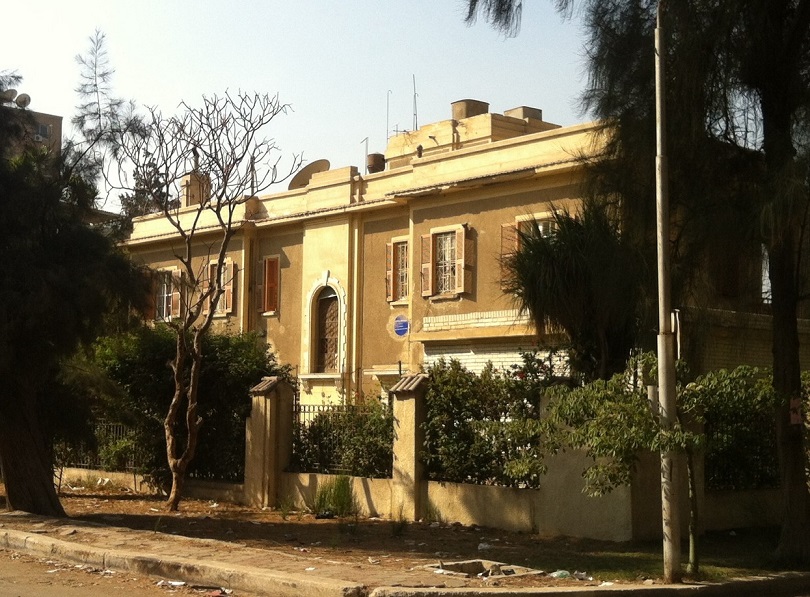 GPS coordinates: latitude 29.9572 longitude: 31.2680
find villa on google map
---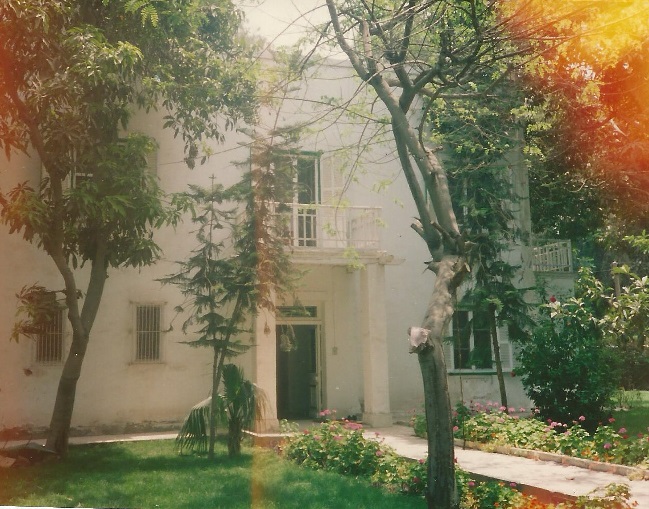 Presently leased to the Israeli Embassy by a contested third party, Villa Woodley Page is located on Menashe (Mustafa Kamel) Avenue where it intersects Road 11. The current story is that through very suspect manipulations by a notorious Maadi real estate agent in collusion with a neighbor of Villa Arif, the rightful owner of this villa was hoodwinked. It would therefore be interesting to see the results of a careful title and deed search. Heirs of Andree Arif (the villa's last official owner) are Collette Arif and Olivier Sthioul-Arif who live in Europe.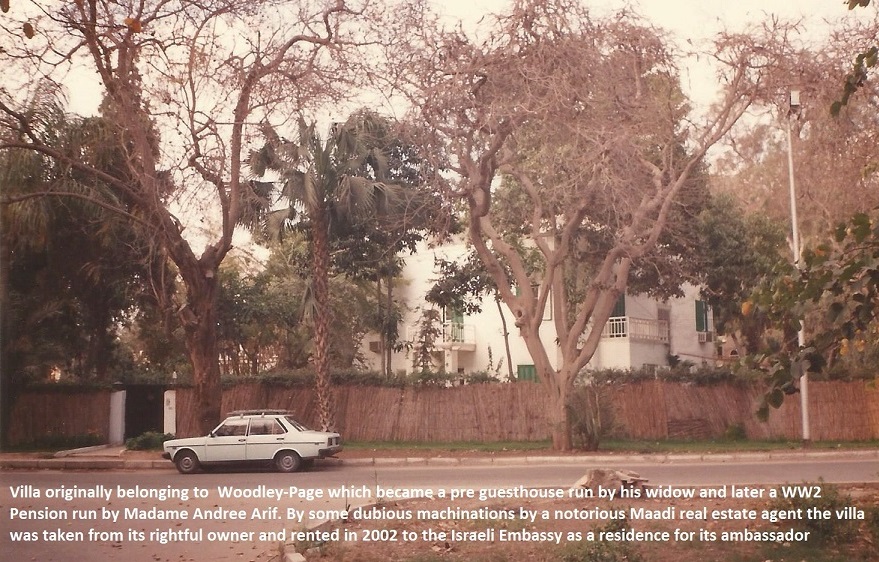 GPS coordinates: latitude 29.9585 longitude: 31.2618
find villa on google map
---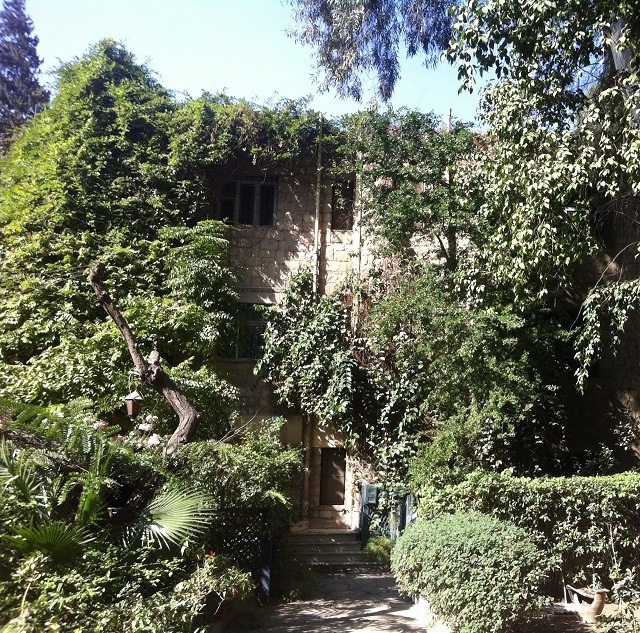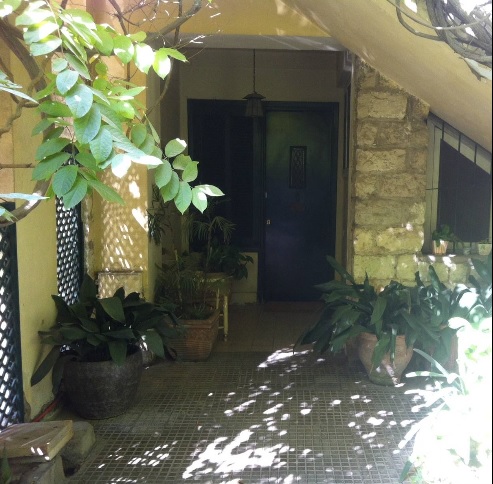 This discreet two-story Immeuble de rapport on Road 85 was built shortly after WW2 by architect Victor Salama for his aunt Henriette Dayan. Victor Salama was responsible for designing and constructing over 15 villas in Maadi all of them characterized by their tell-tale stone structure. Salama's own villa faces Road 19, right next door to his aunt's stone building. In the 1950s Madame Dayan's property was purchased by squash champion Hisham Hassanein and his wife Rosemarie Klopp. While Hisham was the son of world famous desert explorer/court politician Ahmed Hassanein Pasha, thus a grandson of Princess Shuvekar and Seifullah Yussri Pasha, Elizabeth was the daughter of Luxembourg's leading artist Nikko Klopp. Today the building is shared between landlord Seifullah Hassanein and his lovely wife Funny Bahgat, and long-term top floor tenant Magda "Madida" Safwat (Mrs.Mebed).
GPS coordinates: latitude 29.9582 longitude: 31.2698
find villa on google map
---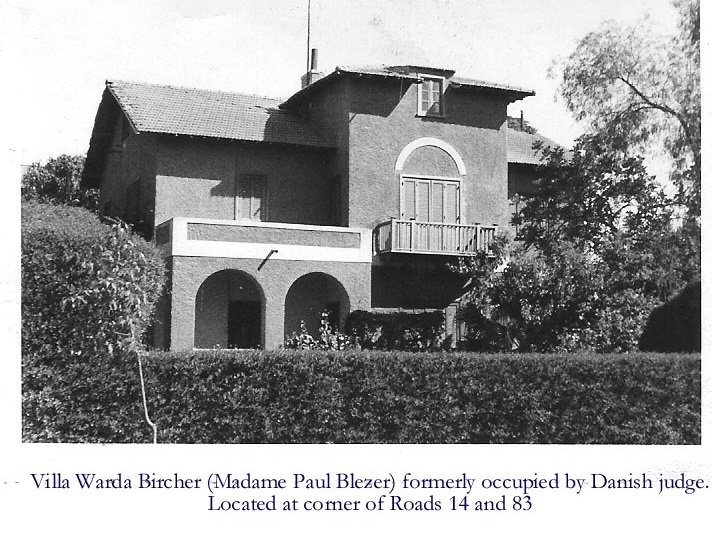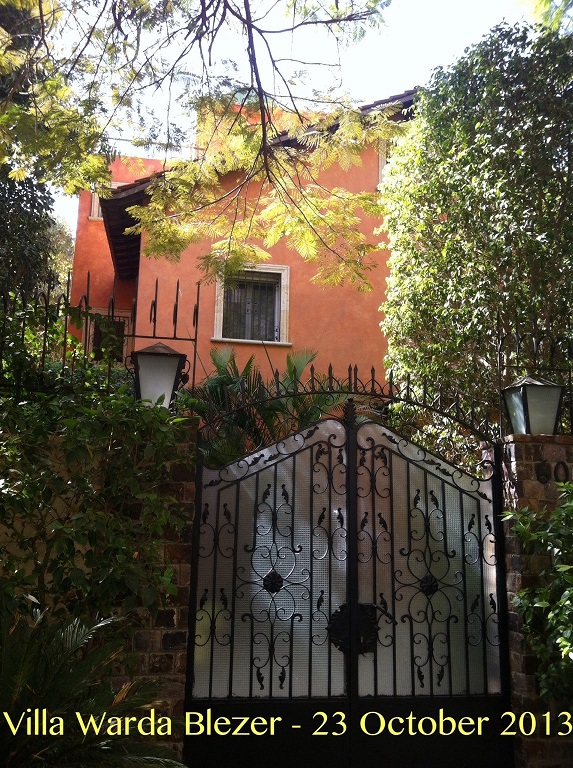 Originally built in the 1920s for Judge Niels Andrea Boeg, a Danish national, this villa became famous when a subsequent owner moved in the Swiss horticulturist Madame Warda Blazer (born Warda Bircher) author of "The Garden of Hesperides" and "The Palm Tree". With her Luxembourg-born husband she tended to her internationally famous botanical garden by the Nile in al-Saff south of Helwan. Warda lived to the age of 101 becoming the dean of Egypt's Swiss community as well as Maadi's oldest resident. Following her death the villa was acquired by Syrian Youssef Takla who restored it selling it to a a member of the Syrian Akram Egga (westernized to Ojay) family shortly after having been totally restored by Syrian real estate developer Youssef Takla. Takla and Egga were not the first Syrians to live at this address having been preceded in the 1950s by the Salem family with their children Betty, Eileen and Samir
GPS coordinates: latitude 29.9589 longitude: 31.2641
find villa on google map
---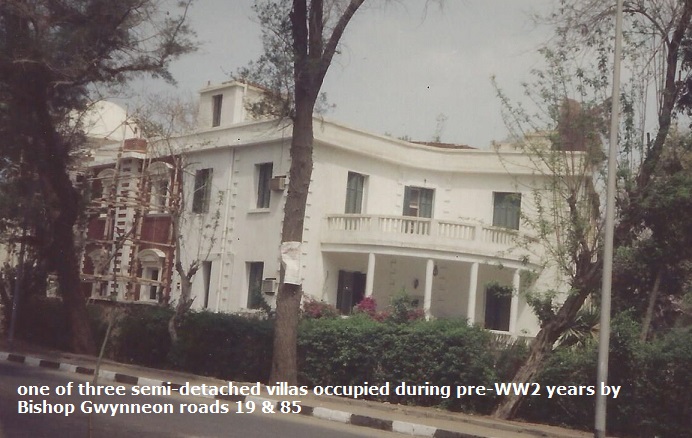 GPS coordinates: latitude 29.9600 longitude: 31.2685
find villa on google map
---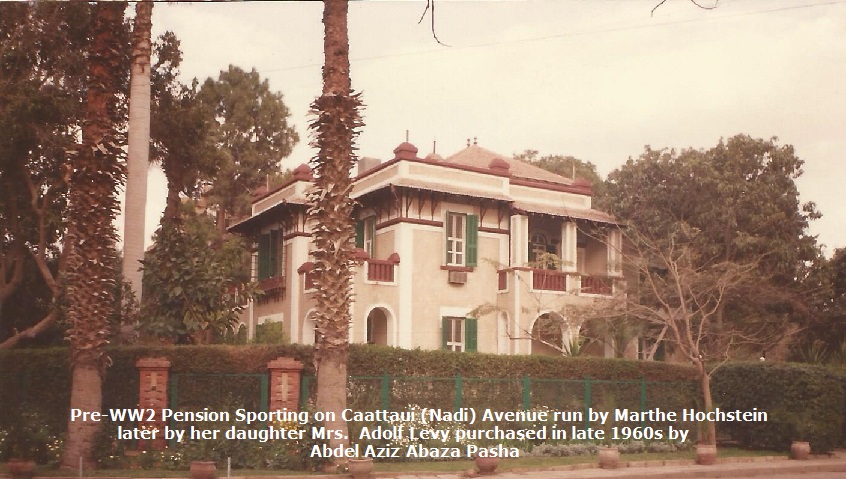 GPS coordinates: latitude 29.9624 longitude: 31.2631
find villa on google map
---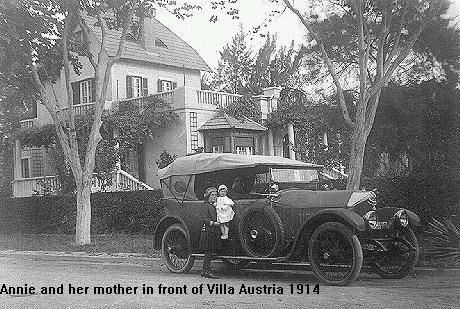 Pre-WW1 Maadi resident Joseph Max Lichtenstern had fellow Austrian Edward Matasek design his villa with Karl Schenoja as contractor. Famous the world over the Lichtenstern & Harari postcards specialized in Egypt and the Middle East. These were printed in the Lichtenstern printing house in Bulak. His daughter Annie Gismann lived in the villa until her death in the 1996.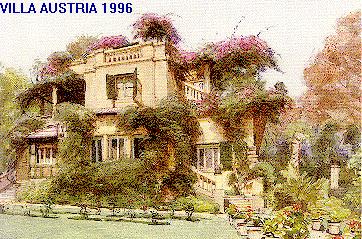 GPS coordinates: latitude 29.9622 longitude: 31.2592
find villa on google map
---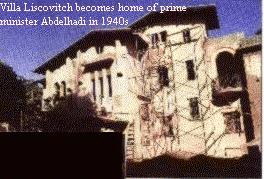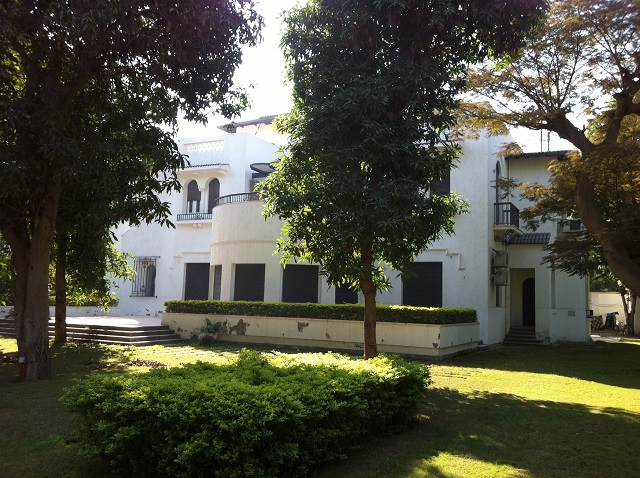 Originally built in 1937 by architect Ali Labib Gabr for Dr. Hussein Erfan and his wife Rawhia al-Chawarby, this California-style villa on Road 85 very soon became the Home of the Liscovitch family headed by Isaac Liscovitch a leading Cairo Jeweler and sometime president of the Cairo Ashkenaz community. It was in this home that his daughter Tania married Joseph "Noussi" Clement Pardo in 1941. The house was later sold to Ibrahim Abdelhadi Pasha Egypt's sometime post WW2 prime minster. In the 1980s the house was purchased by ponzi-scheme money launderer Al-Rayan and was sold in an auction following his arrest
GPS coordinates: latitude 29.9574 longitude: 31.2689
find villa on google map
---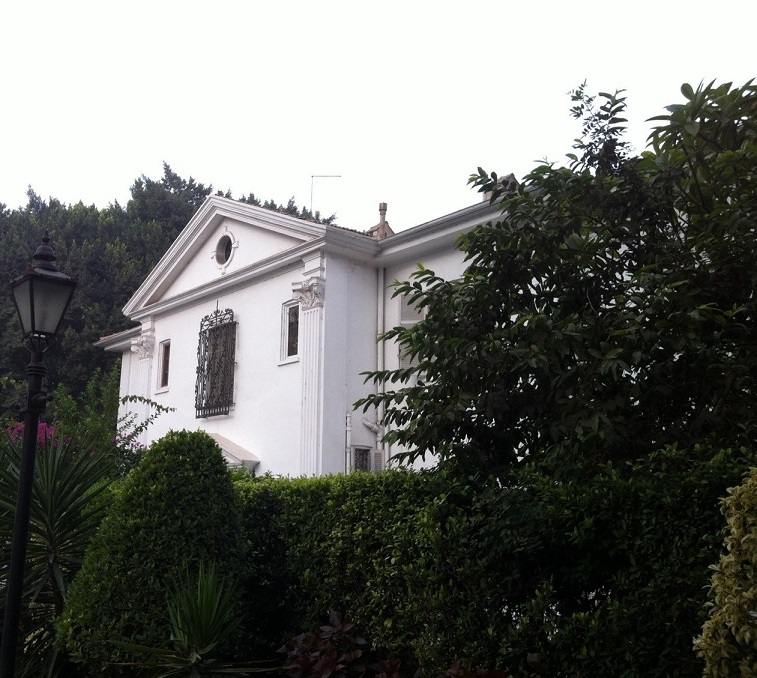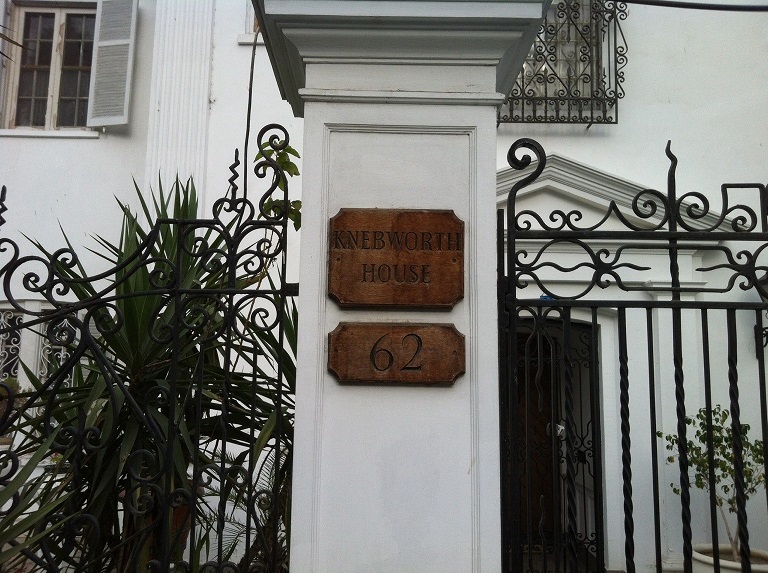 Al Nahda Avenue home of contractor Madbouli and his British wife. The house was named after the stately gothic mansion built outside London for Edward Lytton who coined the phrase "The pen is mightier than the sword."
GPS coordinates: latitude 29.9637 longitude: 31.2667
find villa on google map
---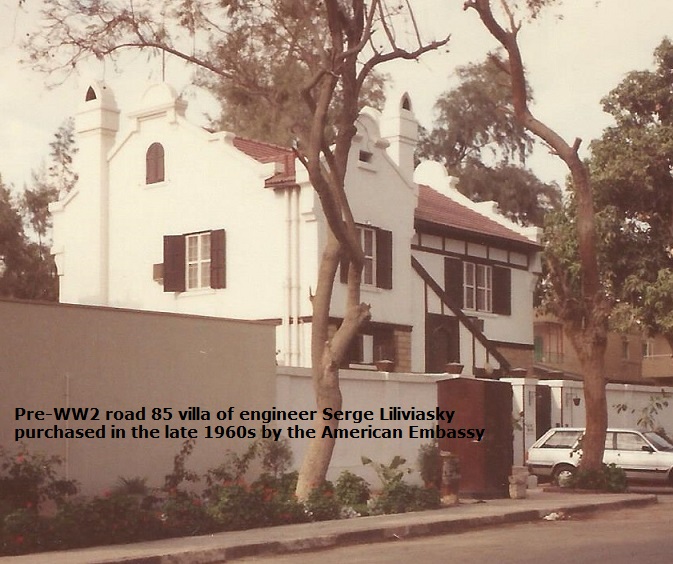 home of Serge Simon Leliviasky subsequently purchased by the American Embassy which added a new wing but in the same style
GPS coordinates: latitude 29.9603 longitude: 31.2683
find villa on google map
---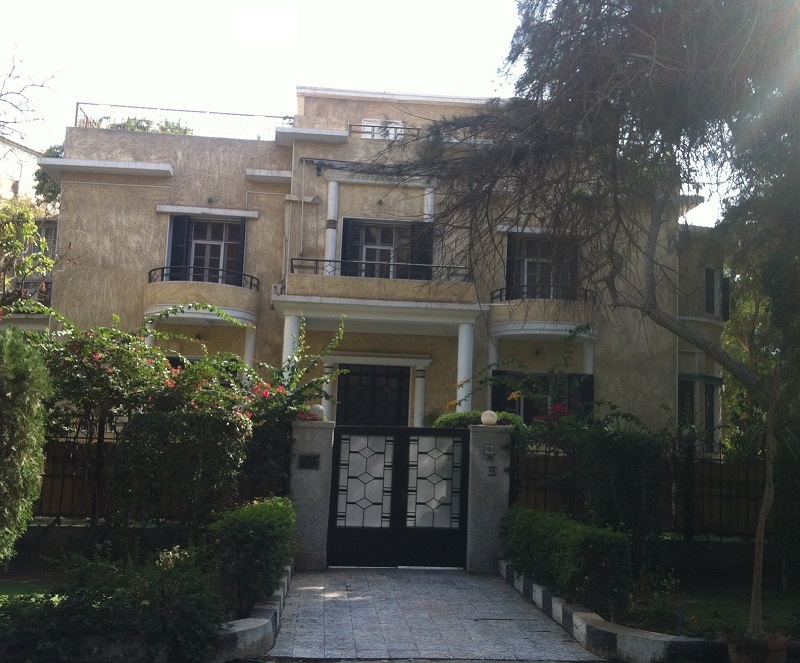 This pre-WW2 villa on road 85 in the art-nouveau style was originally the home of the noble Ashraafs from Hedjaz, it was home to al-Sherifa Naima Sadek and her children al-Sherifa Hazma and al-Sherif Baz. Shortly after Hazma celebrated her marriage to Saudi ambassador to Egypt Mohammed Ali-Reza she perished in a car crash near Deauville, France. Thereafter the villa changed owners with almost every season. One of the longer term residents was Maher Nour and his wife Fatma Abdelghaffar and their three children Nadia, Ahmed and Aicha.
GPS coordinates: latitude 29.9578 longitude: 31.2696
find villa on google map
---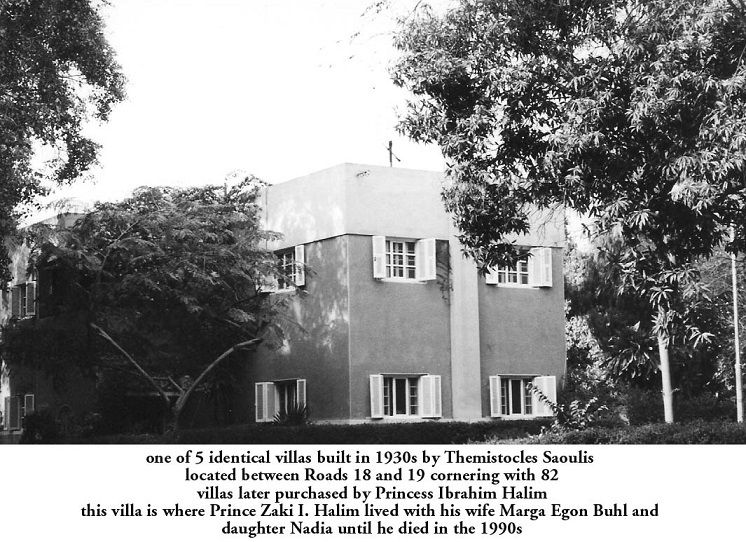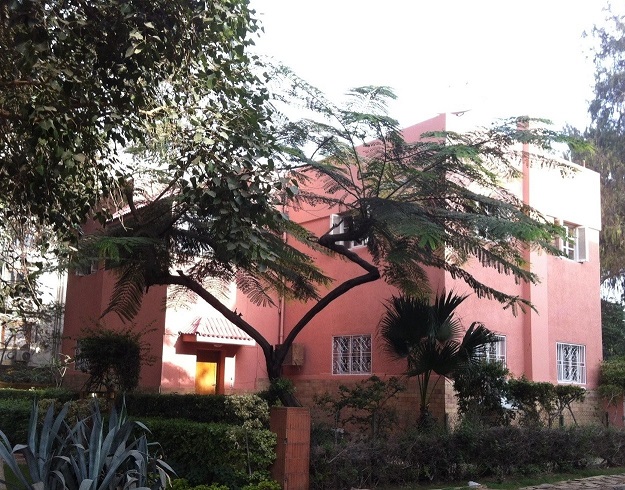 Recently painted in pink, this Saoulis-built villa cornering Roads 18 and 82 was briefly home to al-Nabila Nevine Abbas Halim and her playboy husband Salah Orabi. In 1953 the state confiscated the villa from Princess Ibrahim Halim selling it in a public auction in 1962 (see document at bottom of page item No. 6).
GPS coordinates: latitude 29.9611 longitude: 31.2672
find villa on google map
---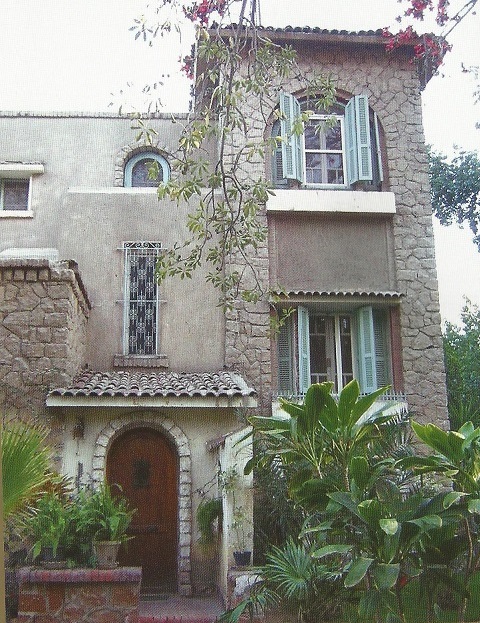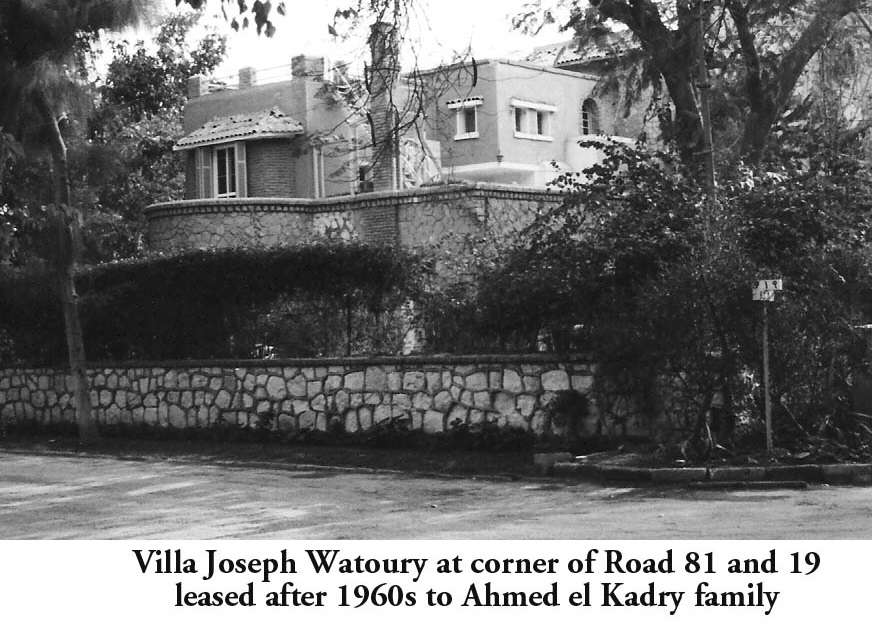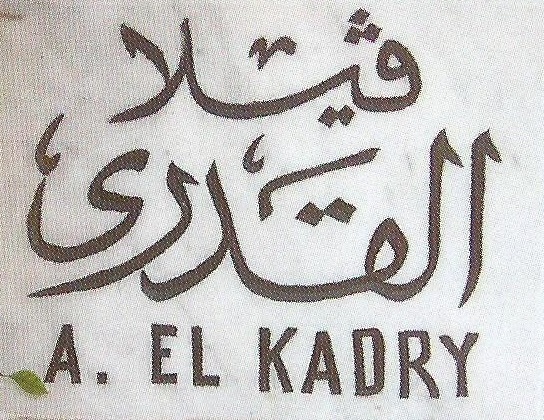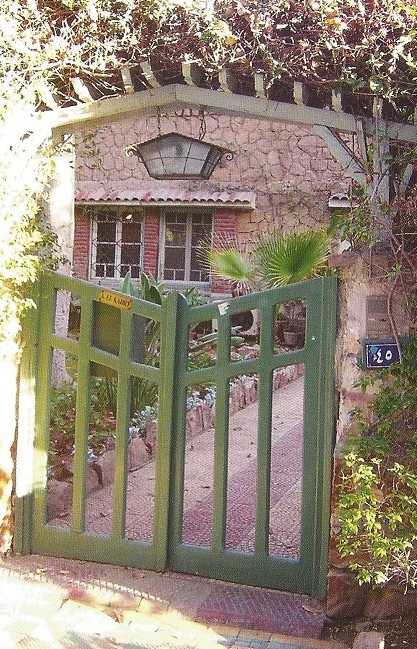 Villa Joseph Watoury on Road 81 corner Road 19. Originally a one-level cottage, Watoury added a second floor when he made Maadi his principal residence. After he left for France in the 1950s the house was leased by Ahmed El Kadry Bey and his Swedish wife Inger. They lived there on a semi-permanent basis alternating between Stockholm and Maadi until 2005. The garden was axed in 2009 by the subsequent owner to make way for an apartment building. Thankfully the old villa is still there.
GPS coordinates: latitude 29.9610 longitude: 31.2677
find villa on google map
---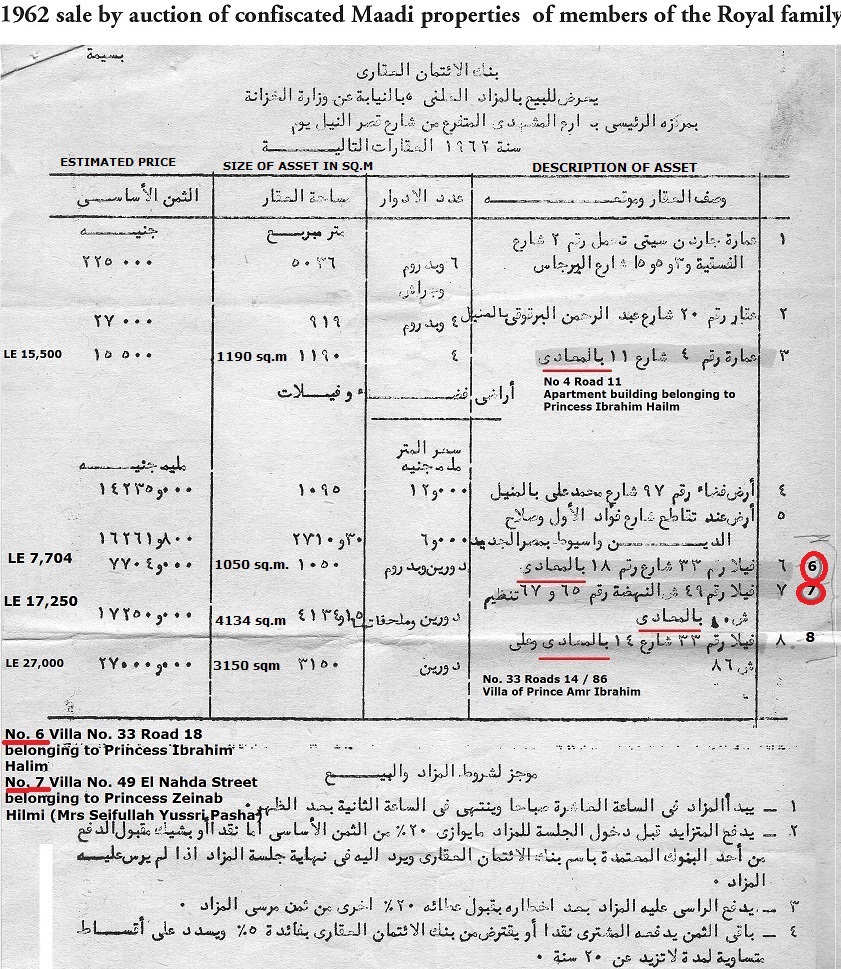 The above document issued by the Credit Foncier bank (Ministry of Finance) surrounding the 1962 public auction of confiscated properties formerly owned by members of the Egyptian royal family gives us an accurate figure of the cost per square meter in Maadi Sarayat estimated between LE 8.57 (eight pounds and fifty seven piasters) and LE 4.17 (four pounds and 17 piasters) AND THIS INCLUDES THE VILLA STANDING ON THE PROPERTY. WITH POSSIBILITY TO PAY IN INSTALLMENTS OVER 20 YEARS AT 5% INTEREST !!!!
---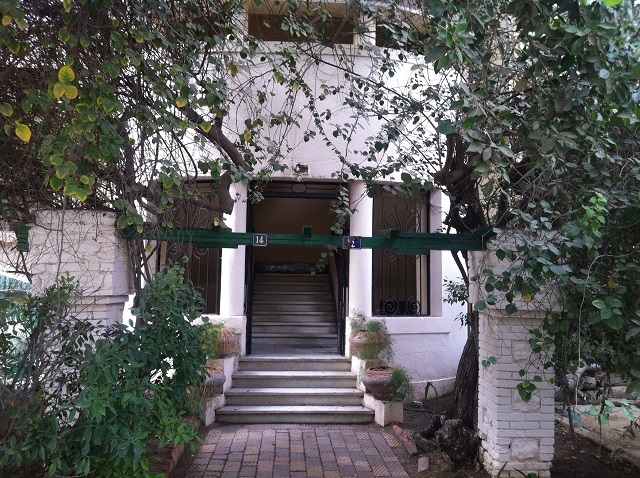 Hidden behind an overgrowth of trees and bushes No 14 Mosseri (Orabi) Avenue wants to remain forgotten. No one knows its complete story and if someone does, he'll keep it to himself. Here's why. This three-story apartment building was originally a Wakf (trust) set up by Meyr Y Biton and his wife Regina Shama Levi. Together they had founded the adjacent Maadi Jewish temple in 1934 on what was heretofore a vineyard. At the time it was common knowledge among the temple's worshipers that following the couple's death income from No 14 would guarantee the temple's upkeep. Any leftover funds would be equally distributed between two Jewish charities: The Goutte du Lait and the Israelite Hospital on Queen Nazli Avenue. However, a war would come between No 14 and the Jewish temple and charities. Because she was a French national the assets of Meyr Biton's widow were sequestered following the 1956 Suez War. Hence the ownership of the building became the subject of complicated international law versus local jurisprudence. To this day the rightful ownership of this trust-that-never-was is still to be intelligently settled. No wonder the present occupants of this building want to remain anonymous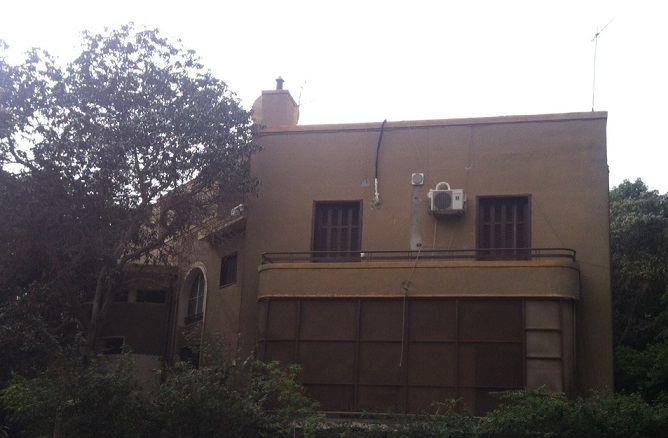 former occupants of The House of Secrets includes Laila Nagatti, the Simhouns, His Imperial Highness Ali Vasib Efendi from Istanbul and his wife Princess Mukbile Sultan, and an alleged foreign spy
GPS coordinates: latitude 29.9586 longitude: 31.2643
find villa on google map
---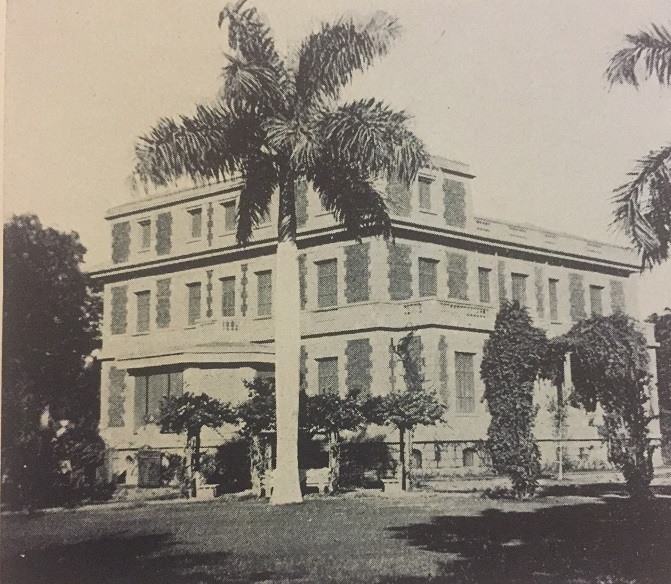 definitely Maadi's largest villa belonging to Senator Taher Lozi Bey and his wife Wahiba Sirhank, the niece of safya Hanem Zaghloul. The villa was purchased in the 1980s by the American government which later decided it was not compatible with the requirements of its envoys in Egypt and proceeded to re-sell it in an auction.
GPS coordinates: latitude 29.9619 longitude: 31.2609
find villa on google map
---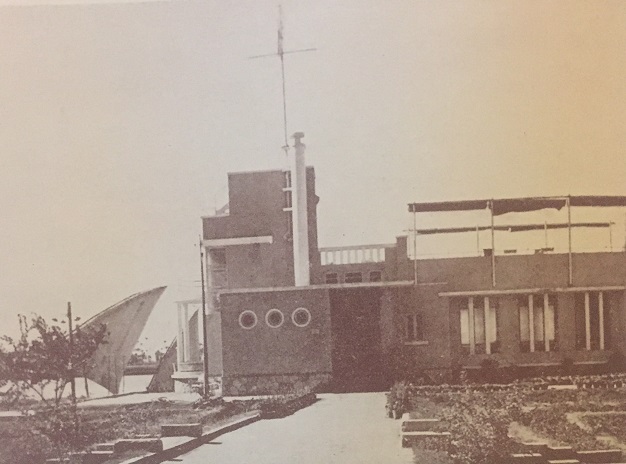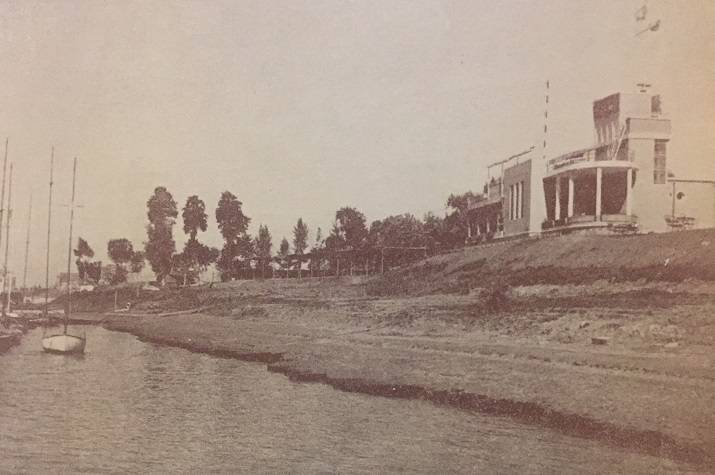 the front and back of the original Maadi Yacht Club clubhouse before it merged with the Maadi Sporting Club.
---
IF YOU'VE REACHED ALL THE WAY DOWN HERE AND STILL WANT MORE CLICK ON MAADI
AND IF YOU HAVE A PHOTO YOU'D LIKE TO ADD TO THIS COLLECTION SEND IT TO egy.com AND YOU'LL BE DULY CREDITED FOR IT

Email your thoughts to egy.com
© Copyright Samir Raafat
Any commercial use of the data and/or content is prohibited
reproduction of photos from this website strictly forbidden
touts droits reserves