egy.com suggests following articles
EGY.COM - PERSONALITIES
R.I.P. ANNIE GISMANN 1911-96
by Samir Raafat
Egyptian Mail, March 23, 1996
Annie Gismann 85, née Anna Marie Lichtenstern, passed away in Maadi last week after a short illness. She was buried next to her parents in Old Cairo's former American Cemetery.
Born in Vienna on October 2, 1911, Annie arrived in Maadi with her parents, Joseph and Irma Lichtenstern, when she was barely a few weeks old. Except for the occasional voyage and her two years at Ann Arbour University in the United States, Annie spent her entire life at Villa Austria, No.19 Road 12. Annie's uninterrupted existence in Maadi made her the town's uncontested doyenne.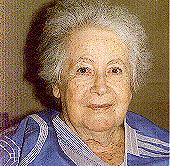 Even though, I too am a lifetime Maadiite, I only came to know Annie late in her twilight years. Because four decades separated us we had little in common and our paths had never crossed. When we finally met it was only because of a shared interest for our hometown. Annie was its longest survivor and I was in the process of researching Maadi's history. And since Annie arrived in these parts just five years after Maadi's creation in 1907, she was the person I wanted to meet at all cost.
It wasn't easy, this fated first meeting which took place in early 1992. Despite being formally introduced by a mutual octogenarian friend, Annie was very suspicious of my motives. "Why did I want to know about Maadi?"... "Why was I writing a book on a town which had fallen on such hard times."... "Who was really financing this project?"... "How could she be sure I was not a tax inspector." Moreover, Annie made it clear from the start that she was far too busy to waste her time with an amateur whom she had never heard of before. Furthermore, journalists were not her favorite specie. The list of why she shouldn't talk to me was long.
At some point during this intimidating interrogation she ordered me to stop talking while she was interrupting! At the end of her soliloquy she asked to see what I had written so far and then, perhaps, she might consider helping me.
This had been my unlucky week. A few days earlier I had met with the village idiot and now I had come face to face with the town's tyrant. Two non-starters in less than a week. No wonder there are hardly any books on Zamalek, Garden City, Heliopolis, or Helwan!
Sometime earlier I had been subjected to a different kind of interrogation by a senior member of the Maadi Company in his dismal quarters on Road 7. The meeting took place in a large office full of blinking telephones and a TV blaring away. A male secretary was constantly shuffling in to whisper 'crucial' tidbits in the bureaucrat's receptive ear. After the mandatory ahlan wa sahlans and the unavoidable cup of Turkish coffee it became clear I was suspect in these parts. Perhaps the senior manager thought I was a government inspector disguised as a researcher. Having explained what I was up to, the rejoinder was most discouraging. "Was I really that credulous to write a book no one will read." and, "Who cares about this town's history. Write something about the wonderful things we built in New Maadi or these magnificent buildings on the Autostrada."
I painfully realized the bureaucrat and I were culturally and esthetically miles apart. In the end he asked me for a letter without specifying from where and from whom. Yes, the company needed a letter before I was allowed to study any pertinent documents related to Maadi's creation! The senior manager had never heard of CD-ROM, public domain, title and deed searches etc.
I never returned, until one day in 1995, four years after the effectual encounter, I received a call from the senior manager's successor. It appears they want to translate my book on Maadi into Arabic in time for the new millennium. He also mentioned something about the company privatizing.
Back now to Annie Gismann.
A few months after my first encounter with Annie she called. "This is Annie Gismann" a voice hollered. Although not deaf herself, Annie believed anyone who spoke on the telephone was. "Come and see me!"
I showed up at Annie's apartment located above what had been the original Villa Austria. Because she had been bedridden for the last two years her entire world had shrunken to one room where she spent her days in a wooden bed surrounded by papers, books, fat dictionaries, magazines, cut and paste material, a sewing kit, video tapes, an old typewriter, maps, and everything else you can think of. Not wanting to be totally dependent on her two maids, all her worldly possessions had to be within reach. Meanwhile, the maids Dewlat and Sayeda were at her beck and call. With time they had grown used to her authoritarianism. Had it not been that Annie spoke fluent Arabic, the maids would have ultimately spoken one of the several European languages Annie mastered: French, English and her mother tongue German.
Before going over, I had reviewed my Maadi notes in order to impress upon Annie I was no amateur. I also arranged a long list of pertinent questions only she had the answers to. It worked! Annie was impressed and reluctantly opened up.
This fruitful second meeting was followed by many others whereby a friendship grew and the four decades and generation gaps that separated us were quickly breached. One thing didn't change though, I was still not allowed to talk while Annie interrupted.
Annie's story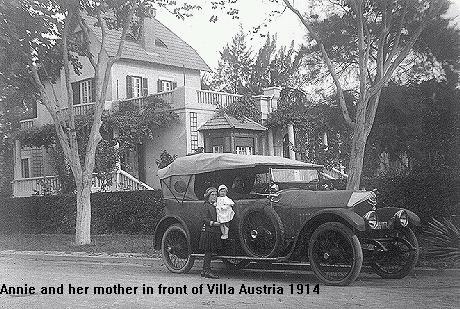 Although a few British families had preceded them by a margin of four years, the Lichtensterns were among the first West European Jews to settle in Maadi in 1912/13. By the time WW-I broke out there were a dozen Germanics living in beautiful houses with large evergreen gardens intervisible from one another with Villa Austria at their epicenter. As we shall see, Annie's neighborhood consisted of a very interesting lot.
At the corner of Road 79 and 11, not far from Villa Austria, which is the name Annie's father had christened his new home, were the de Cramers. Erwin de Cramer was the product of an Austrian father and a British mother. His wife Lucy was half Italian half English. Erwin had come to Alexandria by way of Smyrna (today Izmir). Lucy meanwhile had come to Cairo as a young girl because her father, senator Guido Adamoli was with la caisse de la dette which oversaw Egypt's finances ever since Khedive Ismail bankrupted Egypt. Erwin was into gardening and Lucy was a fanatic musician.
On Road 12 at the corner with Williamson Street (now, Wahib Doss) were the Amsters They were from somewhere in Germany. While Herr Rudolf Ferdinand Amster was into medicine, Frau Hedwig was into music. She and Lucia often performed at the British Residency (now Embassy) soirées in Kasr al-Dubara. Perhaps this is why when WW-I broke out in 1914 the de Cramers were allowed to remain in Egypt and their property spared confiscation. Not so lucky were the Bitters. Annie's other neighbors. Herman Heinrich Bitter, his wife and their two daughters, Hilda and Greta, lived just around the corner from Villa Austria. After its confiscation by the British authorities, their house was sold in a public auction.
After the war the Bitters were given meager compensation. Perhaps this is why Herman died when he did. A young and bitter man.
Contiguous to Villa Austria was the quaint house of pharmacist Aldo Johanovich. He too came from some obscure corner of the Austro-Hungarian empire. There were several others like him who took refuge in Maadi. So what we end up with at the eve of Germany's declaration of war in 1914 is a regular little Maadiberg on the Nile!
During the war things changed in Maadi. Germans and Austro-Hungarians were no longer welcome. In December 1914, immediately after British formally announced their Protectorate over Egypt, the Army of Occupation through its British commander deported and sequestered enemy resident aliens (British enemies, that is). Some, like the Amsters liquidated their assets and left before the crunch. Once in Europe, Herr Amster became advisor to Egypt's last khedive, who having become a political liability, had been exiled by the British and replaced by a more complying uncle.
In 1914, the Lichtensterns were summering in Vienna. Stranded, they waited out the rest of the war away from Maadi. Annie believes her father joined some kind of auxiliary unit in the Austrian army.
During their forced absence, Villa Austria was commandeered by the British army which passed it on to Gurkah soldiers serving under the Union Jack. It was mostly thanks to the Lichtenstern's faithful servant Mohammed al-Saul, that nothing was removed from the house and that Irma's fine lingerie -- part of her trousseau -- was safe in Villa Austria's basement.
But what had brought the Lichtenstern's to Egypt in the first place?
According to Annie, her father suffered from lung problems, a common occurrence in post industrial Europe. Penicillin and vaccines were still considered science fiction. Following the advice of his Viennese doctors, Joseph Lichtenstern relocated in the closest and most civilized terra firma south of the port of Trieste, then Austria's main gateway to the warmer climates of the Mediterranean.
Joseph Max Lichtenstern (1876-1958) arrived in Egypt at 19. After a short apprenticeship, he set up shop in the Mousky, then the commercial hub of Cairo. His was a haberdashery selling goods imported from Austria along with paper and printing material. He rose to fame when he launched his illustrated tourist postcards under the label Jos. M. Lichtenstern which afterwards was renamed Lichtenstern & Hararri. Because Egypt was a popular tourist destination, there was considerable demand for postcards. Having prospered Joseph's next venture was finding an appropriate bride and starting a family.
Joseph and Irma were betrothed in her native Sarajevo. Together they decided to settle in what was they considered an affordable new suburb a few kilometers up the Nile conveniently linked to Cairo by a reliable railway. The new town and the fast railway were owned by two sister companies under British management. Both the Egyptian Delta Land and Investment Company and the Egyptian Delta Light Railways were administered by Anglo-Egyptians, a term used to denote the British administrators of Egypt before and during the Protectorate.
As advertised in the local press, land in Maadi was sold at easy terms: buy now, pay later.
A compatriot of Joseph's Edouard Matasek, had recently built two villas on Maadi's Road 12. Perhaps he could build a third one up the same road for Joseph Lichtenstern.
After the war, the Lichtenstern's returned to Egypt to pick up the pieces. Villa Austria was given back to them by the British Army of Occupation only because Joseph claimed affiliation with the new state of Czechoslovakia. But the postcard business was finished. During his long absence someone had taken it over and anyhow, tourism was on the decline.
During the interwar period Joseph entered several joint ventures not all of them successful. Because of a failed partnership with an Italian which aimed at manufacturing marble-mosaic, Villa Austria had to be mortgaged and part of its garden sold to ward off the creditors. One of the benevolent guarantors was Joseph's sister in law, Mrs. Emil Lichtenstern.
Annie was fond of recounting how, when he first set foot in Cairo early in the century, Uncle Emil spent a few worrying hours riding his rented donkey up and down al-Azhar Street searching for his brother's office. Somehow, the amused native merchants recognized him as the brother of al-Khawaga Youssef and quickly led him to the correct address: Lichtenstern & Hararri, Hosh Issa, Mousky.
Emil was Maadi's first post WW-I doctor working out of his house "Villa Sopri" (also built by Matasek) located at the corner of the Khashab Canal and Road 79. Between them, the Lichtenstern brothers expanded Maadi's Austrian community, first with the arrival of Annie followed in 1920 by her sister Helen "Leni" and then with the arrival of Emil's children Eric and Marcie (Marie Elizabeth).
While Eric spent his formative years abroad, his sister and two cousins stayed behind. They were raised as full-blooded Maadiites. During their childhood and teens, the Maadi Club, the Nile and the surrounding landscape were their only known habitat. The city of Cairo was a distant continent. And when the time came to tie the knot, they did it in Maadi. In April 1932, Annie married Othmar Gismann, an Austrian gentile who practiced in the Cairo law firm of (Hector) Liebhaber & (Fritz) Dahm. The marriage lasted four years but even after the divorce Othmar stayed on in Egypt up to the eve of WW-II. When he finally left he did so aboard the last civilian liner to sail from Alexandria.
Conversely, one of the first passenger boats into Alexandria after the war brought Joseph Lichtenstern's shattered eldest sister who had miraculously evaded the holocaust in an Austria gone mad. The morally broken Tante Sophie Plaschek led a quiet unobtrusive existence in Maadi until the day she died.
At one point the Lichtensterns, shortened their name to Lister which was easier for everyone else, especially for Maadi's growing Egyptian population.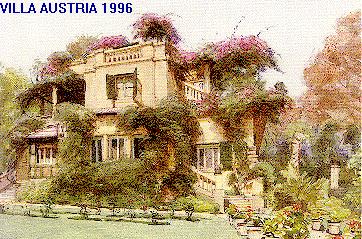 Luckily for the Listers, they spent the entire WW-II years in Maadi watching from afar how their country of origin was tearing itself apart. Their good standing within the community and their long residence in Egypt spared them the humiliations of imprisonment or the inconvenience of sequestration such as the kind that befell most of their local countrymen. The Listers had no bone to pick with the Allies. In fact, Joseph's younger daughter, Leni, would later marry a former British officer by the name of Christopher "Kit" Bindloss from who she would have identical twins named Ann and Helen both of whom (naturally since they were twins) were christened at Maadi's Community Church (St. John the Baptist).
After the war, the elder Listers retired. Dr. Emil, al doktor al almani, as he was fondly called by his numerous patients, wound up his surgery. Except for Annie, the younger Lichtensterns went to Europe with their wartime English spouses. Leni, stayed behind in Maadi for a while since her de-commissioned husband had joined Shell Oil.
It was long before the war when Annie realized that even though she never made it through medical school she was a devoted malacologist. Working with top professors in the field such as Dr. Claude Barlow of the Rockefeller Foundation, she specialized in Bilharzia. Her other passion was collecting desert rocks.
For Annie, Sinai was her own private backyard. Years after year she returned making new forays into her beloved peninsula. It had not yet become the fashionable destination it is today. The Bedouins knew her well.
After the war and following Dr. Barlow's departure, Annie taught German at the Goethe Institute. But whenever there was any spare time she was off to the desert. With Sinai occupied after the June 1967 war the opportunity had come to re-discover the Western Desert.
One day, even as Annie approached 80 yet still running off on her adventurous treks in her reliable Russian Niva jeep, her legs gave up. An irreversible paralysis set in confining Annie to her bed for the remainder of her life. A terrible calamity especially for a compulsive outdoor person. But where her legs couldn't take her, Annie's mind was forever alert attracting people to her home. She was bank of knowledge.
During her bedridden years, Annie collaborated in several scientific and botanical publications. One of her last works was in concert with the Movenpick Hotel where she contributed, corrected and edited a detailed account of Sinai's flora and fauna. A first edition of her work was very well received. A second edition was ordered.
In her spare time Annie kept tabs on her several friends and acquaintances many of whom she supported morally and financially. As a witness to her will and privy to her verbal codicils I noted the length of her bequeaths. None of those who served her family were forgotten. Even the nonagenarian cook who had long since left her employment is accounted for, his kafan or shroud paid up. The often cash-strapped Annie was generous up to the very end.
Annie and I became good friends. When the Maadi book came out in May 1994 we celebrated with Austrian wine. In typical Annie fashion she rebuked me about certain passages and yet, somehow, the assortment of Maadi stories brought back fond memories of the once sleepy magic town that was her childhood, her youth and her twilight years.
I had finally met with Annie's approval!

Reader Comments

Subject: R.I.P. ANNIE GISMANN 1911-96
Date: Thu, 08 Nov 2001 14:18:45 -0500
From: Vin Morgan

I am an independent scholar working on the papers of American paleontologist Walter Granger (1872-1941) who collected in the Fayum in 1907 and who met Richard Markgraf then. I did not know Annie Gismann, but I have copies of some of her materials and correspondence regarding Richard Markgraf (d. 1916) and fossil-hunting in the Fayum. Can you tell me anything more about Markgraf (date of birth, etc.), how he lived and worked, and/or where I can photographs of him? Thank you.
Vincent L. Morgan, J.D.
Managing Co-Director,
The Granger Papers Project
http://www.nh.ultranet.com/~granger


Email your thoughts to egy.com
© Copyright Samir Raafat
Any commercial use of the data and/or content is prohibited
reproduction of photos from this website strictly forbidden
touts droits reserves