../
egy.com suggests following articles
EGY.COM - JUDAICA
CASA MANGA: HOME OF THE LAST JEWISH PASHA
By Samir Raafat,
December 1997
On account of its mango color and Hispanic inhabitants, Maadi's regulars call it Casa Manga. They are referring to the residence of senor Hector Cardenas, the incumbent Mexican Ambassador to Egypt. Both Hector and his wife Martha Suarez, are consummate artists. He is into painting with several exhibitions to his name and la senora Cardenas is into flower arrangements some of which have been immortalized on canvass by her husband.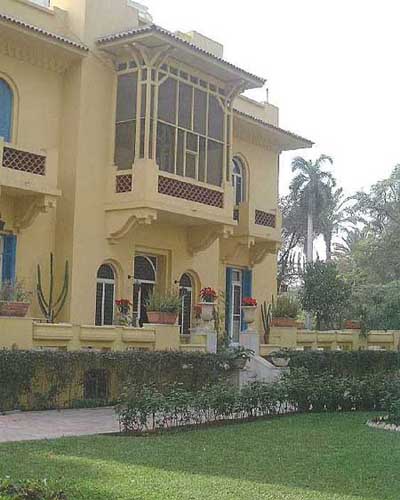 Flowers have never been wanting in Maadi's largest patch of green. And lest anyone thing this unique three-acre garden of hesperides is Cardenas's doing, suffice to say it existed long before Egypt established relations with the United States of Mexico back in the 1960s.
Casa Manga along with its three identical and contiguous siblings were built in the late 1920s by lawyer Emanuel Mizrahi. One house was for himself and his piano-playing wife Leah Assayas, and one each for his son George and daughter Lydia. No one knew for whom the fourth house was destined, but as it turned out, it was leased out to Princess Ulfet Fadil, a divorced Egyptian princess who lived there with her Russian lady in waiting, Madame Schallenberg, until they both expired in the 1960s.
George A. Mizrahi (later spelt Misrahy) never occupied his house preferring to relocated in the United States with his young bride Nimet Cattaui. His sister Lydia on the other hand married an accountant-mathematician, Raoul Farahat, and turned her house on Road 18 into a giant studio. In her youth Lydia had studied art under the French master André Lhote and later under Maadi's homegrown Swiss artist, Margo Veillon. Most of these sessions took place in a delightful gingerbread-like studio tucked away at the far end of Mizrahi's beloved garden.
The stone-built studio was also where Lydia took refuge. The fair rebel would spend many hours with her pet monkey Manolli and her avant-garde friends most of whom would have never met with her dominant father's approval.
One particular friend, the son of a rich Jewish financier, had visions of painting Egypt's entire political scene red. In fact Henri D. Curiel was the unofficial architect of Egyptian communism. Many years later he would lend his support to the bloody Algerian War of Independence. Later, he would offer his family mansion on Zamalek's Hassan Sabri Street to serve as Algeria's first embassy to Egypt.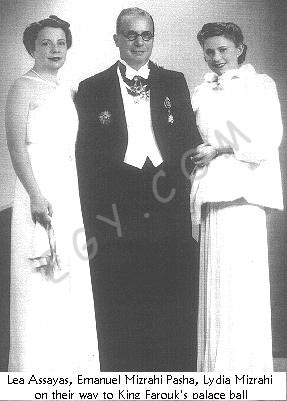 Another one of Lydia's friends was the Syrian Père Ayrout, whose contractor papa worked for Baron Empain and helped build Heliopolis. The prodigal son took to traveling by donkey around Upper Egypt's underprivileged countryside preaching love and compassion. Lydia accompanied the Born Again preacher on one or two of these neo-biblical wanderings.
A infrequent visitor was the much older Hassan Fathi, father of Egypt's revival architecture. His dream was to paintbrush Egypt's rural landscape with arches and dome-topped mud-brick houses. He called it the architecture of the poor. A living testimonial to his visions exists today in New Mexico.
The members of Lydia's inter-denominational coterie knew what they wanted. But whatever their purpose and motives, all were inspired at one time or another by the Mizrahi garden.
Emanuel Mizrahi, whose origins can be found in Istanbul, was a hard working self-made man. His Cairo law firm Mizrahi & Rosetti (originally Pezzi & Rosetti) was one of the best which is probably why it was handpicked by King Fouad to handle all matters concerning the khasa malakia--royal privy estates. Not surprising therefore that Mizrahi received the honorary title of 'pasha' by separate decree in February 1940. If anything the act of royal recognition was to make Emanuel Mizrahi the last Jewish pasha in history.
But long before he earned this unique distinction, Mizrahi Pasha made local history some other more colorful way. When he was not working, Mizrahi Pasha's attention focused entirely on his garden. Amongst his horticultural treasures the leading cactus collection this side of the Atlantic. Even Crown Prince Mohammed-Ali Tewfik, whose own gardens in Manial Palace was second to none, came to Maadi for the singular purpose of taking back with him a cactus sapling from the Mizrahi nursery.
Other habitués included the chief gardeners of Zohria's Jardin des Plantes. Which is how these gentlemen first came into contact with the Bird of Paradise, introduced into Egypt by Mizrahi Pasha when he accepted payment in kind from a South African client.
There were also Mizrahi Pasha's wonderful royal palms, those grand white-trunked splendors adorning the front lawn of Casa Manga. What exactly did the pasha have in mind when he landscaped this section of his garden, planting his palms in an unintelligible yet symmetric formation. Was this some freemason sign for the benefit of the skies? Like Britain's Stonehenge, we can only speculate.
Beyond Mizrahi's royal palms everything becomes clearer. The pastoral well, the quaint gazebos, the fish pond, the cluster of tropical trees, the underground wartime shelter hidden under an overgrowth of African weeds and the exotic plants from distant Indian Ocean islands. All are set in a festival of colors punctuated by beds of roses where each one of these scented flowers is identically different from the other.
As he grew older, Mizrahi's legs gave way making it more and more difficult for him to make his garden rounds. Bent on attending to his floral beauties, the pasha would buckle himself in his favorite chair and, fly-swish in hand, have his two of his most trusted servants carry him around like they would an African chieftain.
But in the end the pasha would have to let go when his health took a turning for the worse. Medical attention being sought in France it was the ultimate parting with his floral trophies in 1961.
Lydia and her family followed him into involuntary exile in Summer 1963.
During Nasser's regime of terror which seemed bent on breaking up the social register, Mizrahi's four houses were sequestered on account of his son-in-law Raoul Farahat. Was it because he was a partner in the British accounting firm of Russel & Co. No one knows to this day. It is thanks however to some eleventh hour maneuvering by Lydia that her father's house and garden were saved from the clutches of an uncompromising state gone madly socialist. The sivler lining was that Jorge Castaneda (1921-97) and his wife Naomi Guttman-Rosenthal had fallen in love with the place.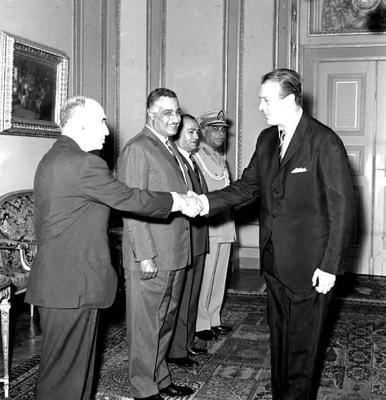 Ambassador Jorge Castaneda presenting his credentials to President Gamal Abdel Nasser in 1962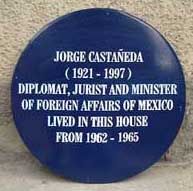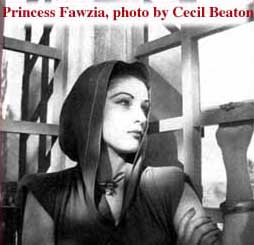 Castaneda, Mexico's first ambassador to Egypt, had been scouting for a house in Maadi just about the time when Nasser decided to de-privatize the country stripping it of its wealth. Perhaps it was Mizrahi Pasha's Yucatan cacti which did it, but in any case, Villa Mizrahi was leased out in 1962 to the government of Mexico and, since that day, Casa Manga has been under that country's protection.
Mizrahi's three other villas were not as fortunate. Two were purchased under dubious circumstances and illegally pulled down in 1994 to make way for three high rises. The third--which is thankfully still there leased out to the Swiss consul-general--was seized in the late 1960s by a rapacious female member of Nasser's rubber stamp parliament. Once installed, the "honorable" MP promptly built an unsavory building in the villa's front yard. No one dared contest the validity of her title and deed. The reign of terror was in full bloom. Maadi's villas were among the first to suffer.
Meanwhile, at Casa Manga, depending on the Mexican ambassador in residence, Maadi's largest garden vascillated between kaleidoscopic Springs and discordant Autumns. Fortunately, the villa has been blessed with pro Spring incumbents since 1995. But as apartment and office buildings continue to replace villas, the fear remains: Should the Mexicans one day abandon Casa Manga, beautiful as they are, all we may be left with of Mizrahi's flowery legacy are Ambassador Cardenas floral paintings.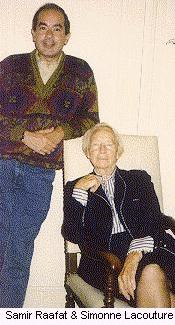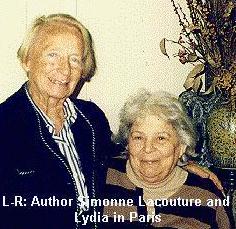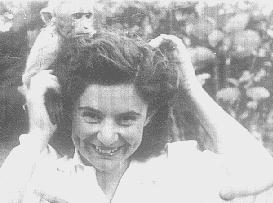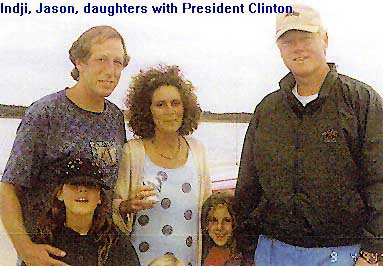 I visited Lydia Mizrahi at her rustic Rue du Dragon duplex in Paris in October 1992 and again in May 1998. Her daughter, Inji Farat-Lew, lives in Martha's Vineyard, New England, with her husband Jason (MD) and three daughters: Olivia, Isabelle and Sophie.

Lydia' s son Jean, lives in France with his wife and their two kids.

Remarried to an American Lydia's brother George became a scientific researcher and a distinguished member of the American Physiological Society. A NIH Career Investigator George A. Misrahy helped found the Deafness Research Lab which later became the Sensory and Developmental Physiology Research Lab at Hollywood Children's Hospital in Cailfornia. According to his sister, George died in the United States in 1963 (or 1964) following an alleged lab infection sustained when he was experimenting with vaccines. He was survived by four daughters.

A widow since 1988, Lydia is in litigation with those who squatted and/or usurped her Maadi property. She is also contesting the fact that the property she inherited from her mother--in whose name the four villas were--was actually sequestrable.

In 2000, the son of Ambassador Castaneda, Jorge Cataneda Jr., was nominated by President Vincente Fox as Mexico's Minister of Foreign Affairs.
Email your thoughts to egy.com
© Copyright Samir Raafat
Any commercial use of the data and/or content is prohibited
reproduction of photos from this website strictly forbidden
touts droits reserves