egy.com suggests following articles
Several of my articles on Garden City were plagiarized word for word by novelist MEKKAWI SAID (winner of the Egyptian State price for literature!!!!) and re-published under his own name in a three-part series in El-Masry El-Youm daily in September 2015.
Cheers to our "talented" literature prize awardee. Your pain his gain !!!
EGY.COM - LANDMARKS - CAIRO - HELIOPOLIS
by Samir Raafat
Cairo Times, 18 March 1999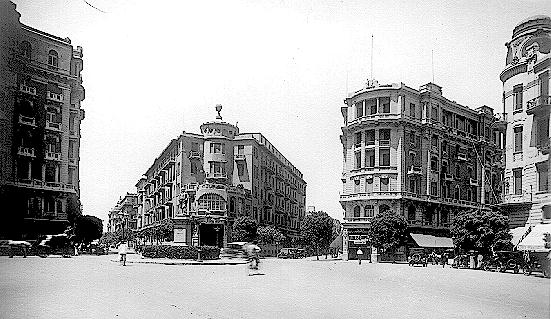 Khedive Ismail was quick to heed that Europe boasted dozens of "platzs," "piazzas" and "squares" honoring its princes and generals. While Vienna and Berlin had Teutonic Kaisers and V-shaped generals, Paris had someone of consequence at almost every major intersection. In London's Trafalgar Square there is that perched admiral of Abou-Kir fame.
Egypt's reply was not late in coming. Soon enough statues of Ismail's father and grandfather--Ibrahim and Mohammed Ali--were erected on Cairo's main squares. Both claimed lists' of victories the length of your arm. Yet a city as big as Cairo could do with more than two generals. Enter Mohammed Laz-Oglu (Lazoghli) and Soliman al-Fransawi.
If both newcomers were foreign, their allegiance to Egypt's ruler was unquestioned. The first hailed from the Black Sea region of Laz known best for its fierce warriors; precisely why this Beira-type administrator suited Mohammed Ali so well. Whenever the latter was busy subduing Syria, Hedjaz or the Sudan, Mahmoud Laz Pasha kept ruthless vigil back home lest anyone hanker designs on the Viceregal throne.
Soliman Pasha, is Egypt's fabled French-born general. He proved to the world that Mohammed Ali's arsenal was second to none. Although Jean Anthelme Seve (1788-1862) a.k.a. Soliman Pasha al-Fransawi never made it beyond middle ranks in Napoleon's armies, in Egypt, as Bimbashi Soliman, he made big time giving credence to that inexplicable phenomena: Egypt's propensity to bring out the best in expandable mortal imports.
In return for his dedication, the converted Frenchman was showered with medals, gifts and elevated positions. In 1872, a life-size statue of the pasha dressed up in Zouave costume was earmarked for erection at the epicenter of Cairo's emerging European district. It's author? French sculptor Henri Alfred Jacquemart (1824-96) also responsible for the four Kasr al-Nil Bridge lions as well as the equestrian statue of Mohammed Ali (erected on 11 August 1872) at Alexandria's Place Mohammed Ali. It was also Jacquemart who allegedly authored Mahmoud Laz-Oglou's statue at the Cairo plaza by the name. In Paris Jacqumart authored the "Sphinx en pierre de la Fontaine du Chatelet" and the "Dragons de la Fontaine St-Michel".
The statue's base is reportedly the work of Louvet.
Soliman's greatest honor was posthumously awarded in 1922 when his great-granddaughter Nazli Abdelrehim Sabry became the first modern-day Queen of Egypt. This ultimate recognition would also be the general's undoing when xenophobic republican officers with not a single victory to their name ordered the removal of Soliman Pasha's statue. In their effort to erase the preceding era, the military junta proclaimed the 19th century conqueror "guilty of royal association!" As a result General Soliman is today wallowing in some obscure corner of a little visited museum.
Yet as much as the establishment willed against it and despite four decades of Talaat Harb, Soliman's memory lives on. The superceding name-change, which took place on 12 February 1964, failed to wipe out the old warrior so that even young taxi drivers who never saw the statue will take you straight to Sharia Soliman Pasha whenever asked.
But when it comes to the history of the Midan, that's another story.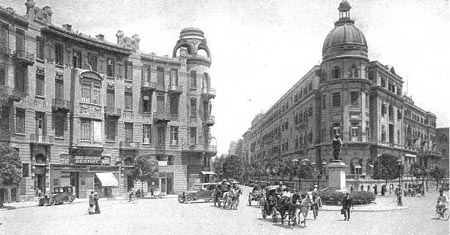 Senator Michel Ayoub Pasha (director of Alexandria customs and Stock Exchange) Building; Soliman Pasha Street; Savoy Hotel operated by the George Nungovitch Group and built on land owned by Prince Gamil Toussoun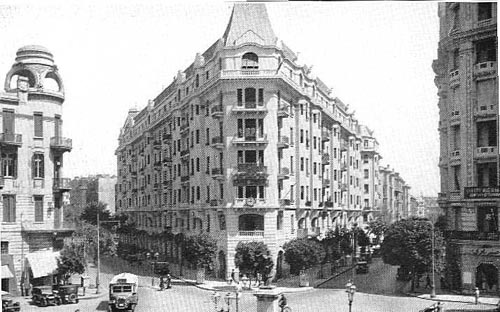 Baehler Building replaced Savoy Hotel circa 1930
Because of its commanding position at the intersection of three important avenues with seven important belle epoque buildings overlooking it, Midan Soliman Pasha is one of Cairo's most prominent squares. Ask any patriarchal motorist and he'll tell you about its glitz, glamour and gaudiness.
He will recount how history paraded under Soliman Pasha's nose whenever funeral corteges of Egypt's Greats marched by during the first half of this century, from Midan Ismail (now Tahrir) to the Kekhia Mosque located at the end of Kasr al-Nil Street. He will evoke the day when Lord Allenby strutted around the tree-lined square at the head of his triumphant regiments with planes flying above celebrating the defeat of the German-backed Ottomans in Palestine and Syria, those very same adversaries Soliman had conquered a century earlier. He may even recall the failed December 1919 assassination attempt of Egypt's last Coptic Prime Minister Youssef Wahba Pasha. And how the would-be Coptic assassin had been waiting for his prey at the nearby Café Riche located on the ground floor of the Tawakol Building at No. 17 Soliman Pasha Street.

al-Ahram advertising sale of Mohammed Ali Tewfik Palace on Midan Kasr al-Nil later renamed Midan SOliman Pasha, much later renamed Midan Talaat Harb
the prince moved to his new neo-Islamic palace on the island of Manial al-Roda in 1906
In those days the celebrated café-theatre extended from its present location all the way to the Midan. Then like now, hardly anyone recalled that most of the area southeast of the square was where the garden palace of Mohammed-Ali Tewfik stood. But as buildings cropped up all over the place, the perimeter wall surrounding the garden no longer ensured the prince's privacy. Thereupon he decided to purchase a large tract of land in Manial al-Rhoda where he erected his new neo-Islamic palace with its unique garden.
Acquired by the Egyptian Land Company in 1904-5 the old palace was cleared and the land parceled out and sold in 1921-2 to Café Riche's Greek owner Michel Politis. Thereon Politis established a garden theatre where Um Kalthum and other rising singers performed for paltry sums.
Fin de siècle tourists knew Midan Soliman Pasha well. To begin with it was home to the Savoy Hotel where titled lords and ladies stayed before it was transformed into British army headquarters during WW-1. Later Swiss hospitality Czar Charles Albert Baehler would pull down the Savoy in 1924-5 replacing it in 1929-30 by two blocks of handsome apartment flats.
During the interwar years Egypt's beautiful people would rendezvous at either Groppi or Locke's off Rondpoint Soliman Pasha. Following a savoury repast, or perhaps before high tea, they converged on the nearby French-catered boutiques or leafed the latest ouvrage at Feldman & Liebovitch's "Au Bouquiniste Oriental" then situated on the ground floor level of No. 6-8 Midan Soliman Pasha.
For sure Cairo's leading bookshop was domiciled in one the city's most interesting examples of 1900s Art Nouveau architecture. Even if Immeuble Michel Ayoub Pasha (Nos. 6 -8 Midan Soliman Pasha) has since lost much of its grandeur along with its unique corner turrets, in days gone by this singular building housed Cairo's best medics, the cleverest Parisian couturiers and for some time was home to Egypt's golden youth. The latter eagerly escalated the building's three floors to attend Lucien Robert's famous ballroom dancing classes.
Meanwhile, at the abutting 1900s Gresham Court and Building (No. 20-22 Soliman Pasha Street) designed by Ariston St. John Diamant, British barristers--when Mixed and Consular Courts were still around--exchanged judiciary gossip. During WW-II, Gresham Court became home to the popular YMCA where British and Allied officers found welcome entertainment, relief and companionship.
Just like the Savoy several other original structures disappeared from the Midan superceded by newer buildings. For instance, Mazza's Immeuble Sednaoui replaced an older building which itself had squatted on part of the former garden of Palais Moise Cattaui Pasha.
Another newcomer on the Midan was the semi-circular building built in 1926-7 (designed by Desiree Wartza?) on what had been Cafe Riche's garden. The choice piece of land fronting the square had become the property of the sons of Jewish broker David Adda--Joseph and Leon--who sold it in 1927-8 to Gaston Homsy a Syrian businessman from Aleppo. Acquired in 1946 by the Chams Company, the building was subsequently purchased by the French insurance La Paternelle. The private sector having been nationalized in July 1961 the building is today the property of Misr Insurance Company (the story of this singular piece of property is typical of much of Cairo's other belle époque properties). Notwithstanding who owned the land and when, the fact remained that No. 1 Soliman Pasha Square would forever separate Café Riche from the famous square.
Squatting on what had been a small 19th century Karacol--police station hence the square's original name of Midan al-Karakol, was the imposing Standard Life Insurance building then run by Sir Scott Moncrieff. Also located at No. 14 Soliman Pasha Street, on its first floor, was the popular Cercle Rissotto--Italian Club where fascios held rowdy meetings in the years preceding WW-II. Decades later Air France and its associate Air Liban would move into the rejuvenated building's ground floor extension.
Another romantic milestone in the Midan's repertoire was the highly mediatized arrival in 1925 of the Mazza-designed Groppi Building adding another landmark to a city gone wildly cosmopolitan. Just as they had attracted considerable attention when they were first exhibited at an international fair in Paris, the Swiss chocolatier's unique mosaics designed by A. Castaman continued to be the subject of animated conversation by Groppi's international patrons. Cairo's Greeks meanwhile congregated then, as they still do today in much smaller numbers, to the lovely Greek Club located in the building's first floor.
Cairo's baby boomers may tell you how Groppi made history again during the burning of Cairo in January 1952. This was when Soliman Pasha square was the venue of wild mobs circling around the fabled statue waving flags shouting "Ingilizi Out." It was on this occasion that the sweetest scent Cairo would ever know, filled the air when the sugar and chocolate supplies of the celebrated teahouse were set on fire.
New events, some more revolutionary than others, would shortly make another kind of history: the renaming of streets, midans and public buildings, and the removal of any visible features evoking the recently defunct monarchy.
The banishing of Soliman Pasha in order to honor Talaat Harb not only resulted in the prejudiced removal of a cultural landmark, but by so doing we've done away with a little bit of history from the continent's oldest capital.
Is that what patriotism and political power is all about?
---
For other Cairo statues click here.
Read about Soliman Pasha's FOGOTTEN ARC
The original Soliman Pasha Street was the one we know today as Sabry Abou Allam and which late in the 19th century was renamed Sharia Game'a Sharkass. Thereafter, the road running from Midan Ismail (now Tahrir) to Midan al-Tewfikia (now Orabi) was christened "Soliman Pasha Street."
- According to a leading commercial directory Café Riche at No. 17 Soliman Pasha Street (opposite the Standard Life Insurance Buildings at No. 14 Soliman Pasha Street) was established circa 1914 by a Mr. Bernard Steinberg (owner of first Carnaval de Venise shop). However deeds and titles in the custody of the café's present owner Mr. Magdi Abdel Malik evidence that it was a Mr. Pierre-Henri Ressigné from France who was the Café's first proprietor.

Café Riche was acquired in or around 1916 by a Greek national, Mr. Michel Politis, whose major problem in those days was obtaining a license allowing him to operate an orchestra. To be noted that during the first half of the 20th century a large percentage of café owners in Cairo's European district were Greek.
---
Click here for a 1914 map of Midan Soliman Pasha and surroundings.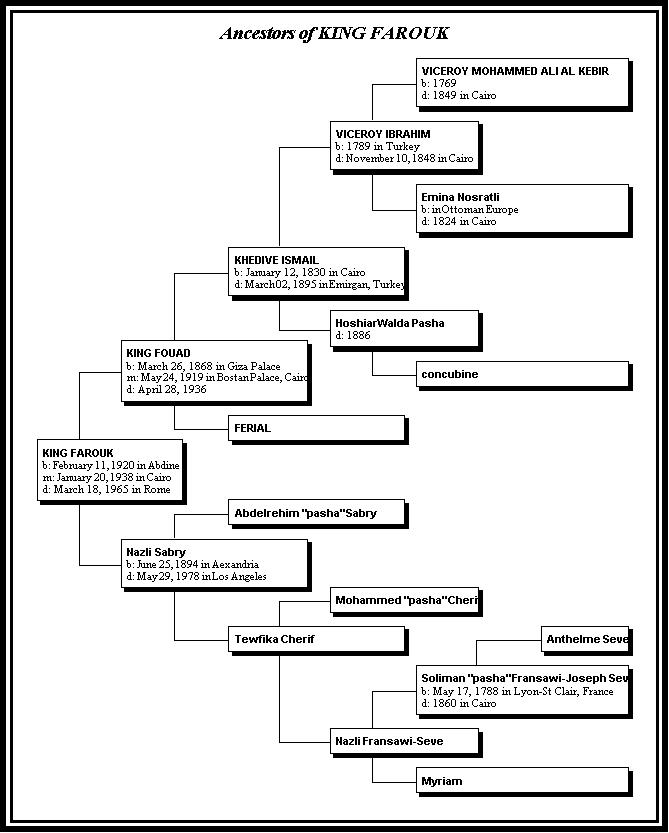 Reader's Comments

Harry Enfenjyan
Date: February 22, 2008

I was born in Cairo 60 years ago in 1948 at No. 8 Midan Soliman Basha on the last floor--the "soutouh". My name is Harry, and I'm Armenian living in Armenia. I've visited many places of interest but nowhere have I found a square like Midan Soliman Basha. Now I'm sure that my next visit will be to my incomparable and beloved Egypt. After 45 years of absence, I still recognize the pictures but unfortunately I didn't find the "obbas" where as achild we played many interesting and unforgettable games. What happened with the two obba's (cuppolas) on the top of the building? And why are all the windows and shutters closed?

---

Subject: Midan Soliman Pasha - rare photo
Date: Thu, 1 Aug 2006 12:44 2:13 +0000
From: Tarek Sharara



I took above photo from the back of my car in the 1960s during interim period between Soliman Pasha and Talaat Harb. It shows a "tinman" standing on a new pedestal marked "Iron & Steel". The tinman was symbolical of Egypt's industrialization and of the iron and steel factory recently inaugurated near Helwan.

---

Subject: Soliman Pasha
Date: Thu, 25 Jul 2002 10:42:03 +0000
From: Mahmoud Sabit

I have an addendum if you will on the Midan especially the background to the Savoy Hotel.
Formerly the area from the Midan to the National Hotel I believe was the palace of Mohamed Sabit Pasha, inclusive of the Savoy. Mohamed Sabit Pasha was the grandfather of my father, and he had served in the capacity of minister from about 1867-1884 in the portfolios of Justice, Awkaf, Education and Interior.
He was also the Minister of Interior during the Clifford Lloyd Crisis of 1884. He had also been Khedive Tewfiks envoy to Istanboul at the time of the Orabi Crisis, his agenda was to bring about Ottoman Military Intervention which was considered far preferable to British Military intervention. In any case this was his palace, and at some point in about 1899 or 1900 he had given the point of his garden that was on the Midan to one of his friends, to build a house adjacent to him.
His friend who was one of the Princes whose name escapes me, had many gambling debts, and sold the property to a developer who built the Savoy Hotel. The house was sold when the old man died in 1903 because the family did not like these hotel guests to have a balcony view over their garden.
One of the events that happened at the house of Moh. Sabit Pasha was that he was an avid chess player, and one year he organized a chess match at his house with the then World Chess Champion Steinitz. He invited this Steinitz to stay with him, and organized a simulteanous chess exhibition match. And then played three games with him, one of which he won. (If Steinitz "lost" the game through politeness, history has not recorded).
Moh. Sabit P. had nine sons, his sixth was Abdel Rauf Sabit Bey who was married to Princess Chivekhar, his eight'th son was my grandfather.

---

Subject: Memories of Cairo - Heliopolis and Alexandria
Date: Thu, 27 Dec 2001 10:34:43 -0500
From: Elvira Dentes

It was wonderful to read all the inputs on Cairo and Alexandria, especially the inputs and vivid pictures of my youth at Midan Soliman Pasha. I lived at 21 Soliman Pasha St., (Shaldjian Building) next to the Baehlar Building, and every single picture seems so vivid in my memories. Of course the pictures are dated 1930, and the latest one dated year 2000 seems quite deteriorated. I left Egypt in 1957 and am living in Venezuela for the past 44 years. I work at the Canadian Embassy in Caracas since 1982, i.e. almost twenty years. I looked in your website of Zamalek, and the pink house where Farida lived for some time and now it is the residence of the Canadian Ambassador. It's a small world!
Samir, I am, seeking desperately to get in touch with my best friend (we grew up together), her name is Lydia Diab, she won a beauty contest in 1955 as "La Reine du Cotton". She married an Egyptien several years ago and her husband was Hassan El Hamamsy. They lived in Zamalek.

---

Subject: Soliman Pasha
Date: Mon, 7 Aug 2000 21:49:21 +0200
From: sylvie gimbrere

Read with a lot of interest I read your article about Soliman Pasha and some other articles. I am very interested in Soliman Pasha as during several generations in my family they tell we are related to this Soliman Pasha. When I read the story the similarities what is told in our family is particular. We also are from French origin. At the time I am doing research for the genealogy of our family. Until now I didn't succeed to find the link between our family and the Seve-family. Do you know when and where Jean Anselme was born and with whom he was married. Did he only get one daughter or were there more children? Perhaps that can bring me further with my research.
Yours faithfully

---

From: david@harari.org
Congratulations for a very attractive web site in which you have gathered a lot of very interesting material about the 50's and earlier years in Egypt which brought back a lot of memories. I grew up very close to Midan Soliman Pasha, and by seeing the picture of that square was quite a shock! Thank you for this work and this site. I'll pass on the word to many of my friends, who also grew up in Cairo before the "exodus" of 1957 and following years and I am sure they'll enjoy visiting the site. Keep up the good work, please!
---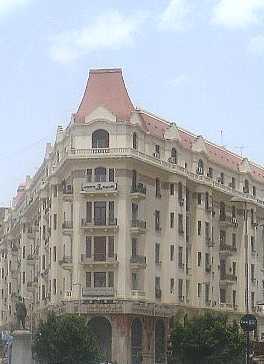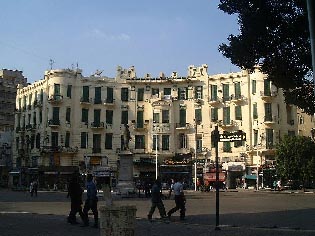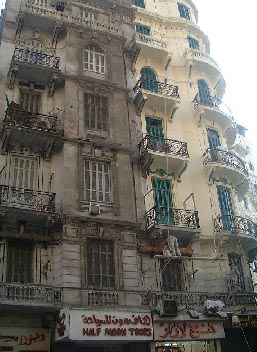 pictures of Midan Soliman Pasha taken in 2000
Email your thoughts to egy.com
© Copyright Samir Raafat
Any commercial use of the data and/or content is prohibited
reproduction of photos from this website strictly forbidden
touts droits reserves