egy.com suggests following articles
Several of my articles on Garden City were plagiarized word for word by novelist MEKKAWI SAID (winner of the Egyptian State price for literature!!!!) and re-published under his own name in a three-part series in El-Masry El-Youm daily in September 2015.
Cheers to our "talented" literature prize awardee. Your pain his gain !!!
EGY.COM - MAADI
MAADI'S FORGOTTEN ARC DE TRIOMPHE

by Samir Raafat
Egyptian Mail, September 28, 1996; Cairo Times, September 4, 1997
---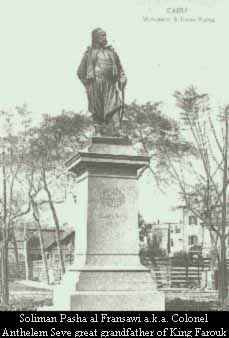 close up of Statue of Soliman Pasha in downtown Cairo's main square
Hidden from the public in the dusty playground of Maadi's Lycee al-Horeya, stands a fragment of Egypt's 19th century history. Neither the school's students nor its principal know what it is, save that it is the stone archway of Soliman Pasha al-Fransawi. How it got there is a mystery. Where it came from is asking too much.
Born Joseph François Anthelme Sève (1788-1860), in his country of adoption he became Soliman al-Fransawi or The Frenchman. He was Viceroy Mohammed Ali's (r. 1805-48) celebrated French-born general in the days when Egypt's realm spread northwards into the middle of Anatolia and southwards beyond the inky depths of Sudan. Even al-Hejaz and what is today the Kingdom of Saudi Arabia, then a collection of tribes with tatty flags, was part of the Egyptian empire. But before all this came to be, Soliman Pasha founded Egypt's first modern military academy.
In those days, it was customary for Viceroys to reward their generals with two large tracts of land, one in Cairo, the other in a rural area. While the first usually became the recipient's official residence, the second was a source of considerable income. This munificent remunerative system was not without its benefits for the country at large, for it invariably led to the embellishment and expansion of Cairo as generals built new palaces. But more importantly, the ruler was guaranteed the allegiance of his often unruly officers.
Soliman Pasha's Cairo property was situated in Misr al-Ateeka (Old Cairo), directly opposite the ancient Nilometer and the contiguous palace belonging to Ibrahim Pasha, the Viceroy's eldest son and successor. The view the Frenchman had was second to none for Ibrahim had turned the entire island of Rhoda into a virtual botanical garden. Beyond the imported flora flowed the Nile's larger branch along endless palm groves crowned in the distance with the Giza pyramids. History could also be found behind Soliman Pasha's palace, whether in the shape of the Hanging Church, a relic from the ancient Roman town of Babylon, or Amr's Mosque in Fostat, considered to be Cairo's first Moslem house of prayer.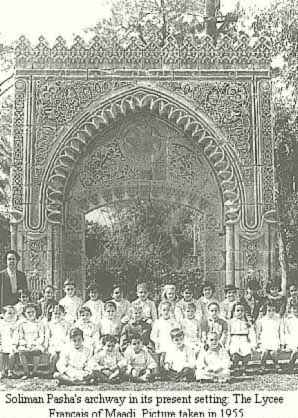 The Arc saved and relocated at Maadi's Lycee Francais
Soliman Pasha's pseudo-Islamic palace was built around 1822 and redecorated in 1835 by the Saint-Simonian Macherot. Mentioned in some detail in Jacob August Lorent's book "Egypten, Alhambra, Tlemsen, Algier Reisebuilder (1861)", the author does not shirk from referring to the Franco-Egyptian general as a renegade. How could a French officer forsake Napoleon's service to join the Egyptian army and then convert to Islam! The disaproving Lorent situates Soliman Pasha's palace somewhere near Cairo "where it breaks the monotony of the oriental street with its three extraordinary doors [archways] proving once more that Mohammed Ali's Egypt had not entirely succumbed to European values and architecture."
From various contemporary sources we learn that Soliman Pasha's guests included many local dignitaries as well as Europe's top visiting brass and learned scholars. An endless string of 19th century raconteurs and travel writers also called. One of them, Gustave Flaubert, visited Major-General Soliman al-Fransawi in 1849 describing him as one of the most powerful men in Egypt.
The palace would outlive its owner by 93 years and was still standing when Soliman Pasha's great-great-grandson, King Farouk, left Egypt in July 1952.
It was shortly after the sun had set on Egypt's monarchy that architect Victor Bondi Salama noticed the former Nileside palace of Soliman Pasha in the process of being demolished. The old corniche road to Maadi was about to be widened and several blocking structures had to go. The conservationist in the junior partner of Dominioni, Rossi & Salama, Architects, took over and before he knew what he was doing, Salama negotiated a deal rescuing the palace archway from the demolition crew's hammer.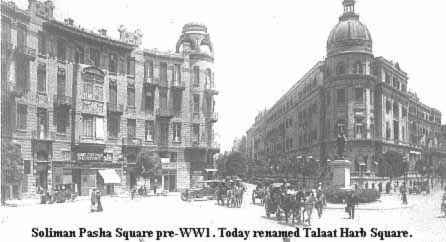 Statue of Soliman Pasha in downtown Cairo's main square
Stone by stone Soliman Pasha's archway was dismantled, numbered and whisked to temporary safety. Unfortunately, the archway's high base had to be sacrificed. Far too big for removal by a lone defender of the past. With the palace gone and the corniche widened, the rest of the land was earmarked for new developments including a handsome Neo-Islamic secondary school and a collection of unsightly apartment buildings. Only the Pasha's nearby mausoleum was spared. If you're not driving too fast, the derelict structure can be glimpsed at the end of one of the alleys perpendicular to the corniche. Although in bad shape, one can still admire its appended cast-iron masterpieces designed last century by Carl Wilhelm Von Diebitsch.
Three years after Farouk's abdication, Victor Salama gifted the archway to Maadi's new French-run Lycée Français. From that day onwards the school featured the handsome archway as a backdrop for its annual class pictures. Yet none of the students knew how this wonderful piece of craftsmanship had been saved or how it had ended up in a French language school. By the same token, hardly anyone realized that some of the world's most important generals, poets, authors, musicians, philosophers and noblemen had once marched beneath it.
Extraordinary luck gave Soliman Pasha's archway a second chance. And in some circuitous turn of events, history is thus acknowledging France for having given Egypt one of its most distinguished military officers.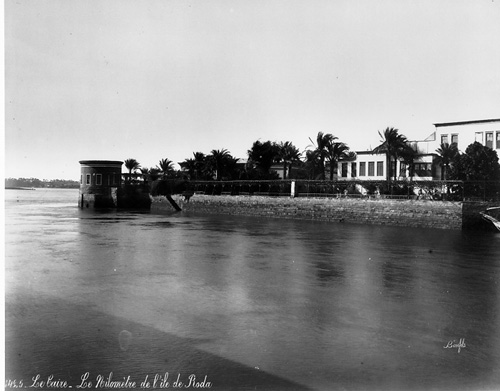 View of Nilometer from Soliman Pasha's house in Old Cairo
Email your thoughts to egy.com
© Copyright Samir Raafat
Any commercial use of the data and/or content is prohibited
reproduction of photos from this website strictly forbidden
touts droits reserves