egy.com suggests following articles
Several of my articles on Garden City were plagiarized word for word by novelist MEKKAWI SAID (winner of the Egyptian State price for literature!!!!) and re-published under his own name in a three-part series in El-Masry El-Youm daily in September 2015.
Cheers to our "talented" literature prize awardee. Your pain his gain !!!
EGY.COM - LANDMARKS - CAIRO - HELIOPOLIS
PUBLIC STATUES AND MEMORIALS IN MODERN EGYPT
1870-2003
by Samir Raafat - December 2002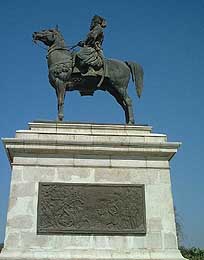 L-R: Viceroy Ibrahim Pasha at Midan Al Opera
Soliman Pasha Al Fransawi in Zouave costume. His great-granddaughter married Viceroy Ibrahim Pasha's great-grandson
The equestrian statue of Viceroy Ibrahim Pasha (1789-1848) at Midan Opera, Cairo, since 1872, is the work of Charles Henri Joseph Cordier (1827-1905).
The statue of Soliman Pasha (1788-1860) by Henri Alfred Jacquemart (1824-96), depicts the French-born officer (a.k.a. Colonel Jean Anthelme Seve) in Zouave costume. It stood on the square by the same name from 1874 until 12 February 1964. The statue is today located in the Citadel's Military Museum.

Jacquemart is also responsible for the equestrian statue of Viceroy Mohammed Ali in Alexandria ordered in April 1869. Upon completion the statue was exhibited at the Champs Elysees before being shipped to Egypt and subsequently put in place on August 11, 1872. The statue was unveiled a year later on August 16, 1873. The base of the statue is the work of Louis-Victor Louvet (1822-1898) executed and perhaps modified in Alexandria by Ambroise Baudry.
Four lions, also designed by Jacquemart, were originally meant to stand guard by the statue of Mohammed Ali. Instead, they were fattened and lengthened by two meters and placed at the opposite entrances of Kasr Al Nil Bridge in Cairo.
Statue by Alfred Jacquemart of Mohammed Laz-oglou Bey (pronounced Lazoghli locally), near Parliament House, commemorates Viceroy Mohammed Ali's trusted minister of war who hailed from the region of Laz situated on the Turko-Georgian border. Because Laz-oglou died in 1928, before Jacquemart's time, the sculptor in 1874-5 relied on a look-alike that worked as a water vendor in the souk.
The statue of Frenchman Auguste-Edouard Mariette Pasha, located in the garden of the Egyptian Antiquities Museum, is designed by Denys Pierre Puesch. Revealed during large ceremony on 18 March 1904


Al-Ahram 8 February 1938; admirers rallying around Mustafa Kamel statue at school by same name in Khoronfesh

Even though it was on display at the May 1910 Paris exhibition of Fine arts, for colonial-related reasons and fluid party politics the French-made statue of Nationalist Mustafa Kamel Pasha (1874 - February 10, 1908) was only unveiled by King Farouk on 14 May 1940 at Suares Square aptly renamed Midan Mustafa Kamel. The unveiling was brought about thanks to the efforts of a group of professors from al-Azhar and Cairo Universities (including the author's father Dr. Wahid Raafat) who rallied the government to their cause on 7 February 1938 when they initiated a symbolic vigil by the still statue warehoused statue at the Mustafa Kamel School in Khoronfesh.

The 2.8 meters bronze statue is the work of Leopold Savine in co-operation with atelier René Fulda, Fondeur d'Art, Paris. The statue itself cost LE 1,140 and was slapped with a 10% custom duty tax when it arrived in Port Saiid aboard an Austrian ship on 20 December 1913. Nevertheless, the monies (LE 3250) collected back in 1911 surpassed by far the cost the balance going to the school named after Mustafa Kamel.


Egypt's Awakening by Mokhtar

Statues of Prime Minister Saad Zaghloul Pasha (1857-1927) in Cairo and Alexandria, and the 'Egyptian Awakening' opposite University Bridge, are the works of Mahmoud Mokhtar (b. 1891 - d. 28 March 1934). The Egyptian Awakening stood at Midan Bab Al Hadid from 1925 until 1955, when it was replaced with the larger than life statue of Ramses II.


Ahmed Maher Pasha

Statue of Prime Minister Ahmed Maher Pasha (1888 - assassinated in parliament on 24 February 1945) is reportedly the work of Mohammed Hilmi Youssef (the name 'Hilmi Taher' is etched at the base of the statue itself under the left foot). There was no unveiling ceremony in February 1950.
The five-meter bronze statue of industrialist-financier Talaat Harb Pasha, at Midan Talaat Harb (ex-Soliman Pasha), was sculpted by Fathi Mahmoud. It was hoisted atop the adjusted base in March 1964.
Statue of Nationalist Mohammed Farid Pasha in Ezbekieh Garden is the work of Mansour Farag (b. 1910).
The Statue of South American nationalist Simon Bolivar at Midan Kasr Al Dubara was unveiled on February 11, 1979. Attending the inauguration of the revamped Midan was Venezuela's first lady, Dona Blanca Rodriguez de Perez, who arrived especially for the occasion. The 500-kilogram, 2.3-meter high bronze statue is attributed to Venezuelan sculptor Carmelo Tabaco; the accompanying pedestal is the work of his countryman, Manuel Silveira Blanco.
A smaller statue commemorating nationalist Jose de San Martin can be found in Mohandiseen next to the Shooting Club. Martin was responsible for the independence of the southern part of the South American continent.
The 1928-9 bronze bust of Sheik Abdel Rehim Demerdash Pasha placed at the entrance of Ain Shams Medical School is the work of Anton Haggar (1893-1962). Other public works by Haggar include the busts of prime ministers Ahmed Maher Pasha (1945), Mohammed Mahmoud Pasha (1941) and Saad Zaghloul Pasha (1927). The bust and mask of sculptor Mahmoud Mokhtar (1935; Modern Art Museum). The busts of Al Ahram's CEO Daoud Barakat (1930), Sheik Salama Hegazi (1931), Actor George Abyad (1948), department store czar Samaan Sednaoui (1945; School entrance on Ramses Street), poet Khalil Motran (1947) and founder of Coptic Hospital Guirguiss Anton Pasha (1949).

CAIRO ARRIVALS SINCE 2002

Statue of General Abdel-Moneim Riyad (1919-69) by Farouk Ibrahim unveiled in July 2002 by Prime-Minister Atef Ebeid. The gawky bronze statue stands in the rear of the Egyptian Antiquities Museum.
"Bedaya" (Beginnings) inaugurated by Giza Governor Mahmoud Abou-Leil on April 15, 2003 on Tahrir Street, Dokki. Sculpted by Mahmoud El Mahdy the statue depicts two banded horses. Another Mahdy creation "African Soccer Union" is located in 6th of October City, west of Cairo.


Prime Minister Atef Ebeid unveils statues on June 16, 2003

Statue of Dean of Arabic Literature Taha Hussein (1898-1973) by Professor Hussein Kamel unveiled on Monday June 16, 2003. The 3.55 meter-high bronze statue faces Al Galaa Bridge, Giza.
Three-meter statue of Poet Laureate Ahmed Shawki by sculptor Sayed Abdou Selim unveiled on June 16, 2003 by Egypt's PM at the intersection of Dokki and Missaha Streets.
Four-meter statue by sculptor Sayed Abdou Selim of Nobel Laureate Naguib Mahfouz placed at Giza's Midan Sphinx in Mohandessine and unveiled by Egypt's PM on June 16, 2003.
Statue of Um Kulthum by sculptor Tarek Al Komee unveiled 6th of July 2003 by Cairo's governor, Abdelrehim Shehata on the occasion of the 4th anniversary of the Cairo Governorate Day. Statue is located in Zamalek not far from the diva's last residence on Abou Al Feda Street.
Statue by Farouk Ibrahim of Sheik Omar Makram overlooking Midan Al Tahrir unveiled on 8 July 2003 by Prime Minister Atef Ebeid.
statue of medieval Central Asian scientist Ahmad al-Fargoniy by D. Raveshan inaugurated by Uzbek president Islam Karimov on 19 April 2007 at the Manasterli pavilion garden in Manial al-Roda Island. Al-Fargoniy was responsible for the design and rehabilitation in 861 AD of the new Nile Nilometer replacing an older one.

---

ALEXANDRIA

Completed in October 1935 Khedive Ismailís bronze statue was unveiled by King Farouk three years later in Alexandria on 4 December 1938 in the presence of Cavalieri Luigi Fedrizoni head of the Italian senate.
Sculpted by Pietro Canonica (1869-1959) the statue was a gift to the city by Alexandria's Italian community. The pedestal was designed in Roman style by superintendent of the palaces Ernesto Verucci Bey.

In Alexandria's Al-Hurreya Square in the vicinity of the Shallalat Gardens and Alexandria Stadium stands on a granite pedestal, an equestrian statue representing Alexander the Great. Sculpted by artist Constantinos Baliou Loghos the statue was shipped to Alexandria aboard a Greek warship and officially unveiled in October 2002 to coincide with the opening of Biblioteka Akexandrina.


1903 statue of Nubar Pasha by Denys Pierre Puech displayed first unveiled in June 1904 and much later moved to courtyard of Alexandria's Mohammed Ali Theatre designed in 1921 by French architect George Parcq; below: at its original location in main Alexandria Square


Mohamed Ali on square by same name

---

ABROAD

Prince Amr Ibrahim on behalf of King Farouk attended the December 6, 1949 unveiling of Viceroy Mohammed Ali's statue in the latter's birthplace of Kavalla in Northern Greece. The statue designed by Dimitriadis was allegedly a gift by the Greek community.

---

WHEN WILL THESE STATUES, COLONIAL MONUMENTS & MEMORIALS RESURFACE?

Aviator Louis Pierre Mouillard (1834-1897) by Laplagne. Statue erected atop a black basalt base in 1912 not far from the Heliopolis Grand Hotel. Mouillard is celebrated at the Smithsonian Museum, Washington, for his fixed-wing glider.
While in Paris in July 1952, Mohammed Mahmoud Khalil, former senate president and president of Les Amis de L'Art, examined several prototypes of sculptures of Viceroy Mohammed Ali. The selected statue was to be erected in Cairo on the occasion of the bicentennial of Mohammed Ali in 1954. The project was mooted after the fall of the monarchy.

Colossal statue of Ferdinand de Lesseps by Emmanuel Frémiet (1824-11/09/1910) installed at entrance of the Suez Canal at Port Saiid and unveiled on 17 November 1899 in the presence of Khedive Abbas Hilmi together with Countess Ferdinand de Lesseps and her son Charles de Lesseps. Prince d'Arenberg represented the Suez Canal Company. The statue was forcibly removed with TNT on 23 December 1956. Recently restored thanks to the Paris based Association des Amis du Canal de Suez a.k.a. Friends of Ferdinand de Lesseps, the statue now stands in a small garden of the Port Fouad shipyard awaiting its belated reunification with its original pedestal. Other works by Frémiet include a statue of Jeanne d'Arc at Place des Pyramides, Paris and an equestrian statue of Emperor Napoleon overlooking Lake Laffrey 30 Km south of Grenoble. click here for other photos.
War memorial to the honor of the Australian and New Zealand soldiers on ex-Sultan Hussein Wharf, Port Said.
Queen Victoria memorial in Port Said.
The New Zealand Memorial of Maadi removed after 1956.
Memorial to Anzac soldiers in North Coast.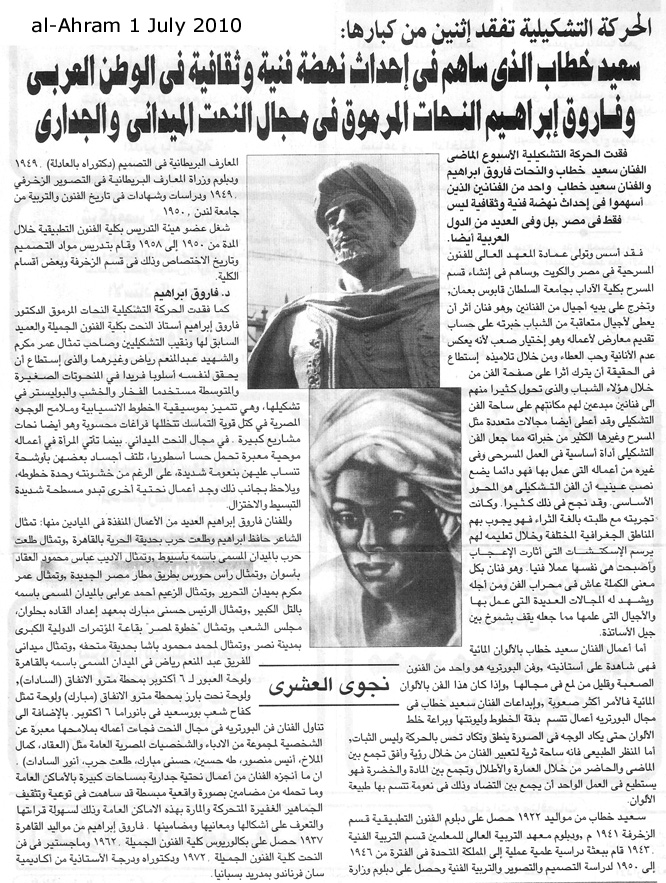 Email your thoughts to egy.com
© Copyright Samir Raafat
Any commercial use of the data and/or content is prohibited
reproduction of photos from this website strictly forbidden
touts droits reserves