egy.com suggests following articles
Several of my articles on Garden City were plagiarized word for word by novelist MEKKAWI SAID (winner of the Egyptian State price for literature!!!!) and re-published under his own name in a three-part series in El-Masry El-Youm daily in September 2015.
Cheers to our "talented" literature prize awardee. Your pain his gain !!!
EGY.COM - LANDMARKS - CAIRO - HELIOPOLIS
WHO BUILT THE PALACE, COUNT DRACULA OR BARON EMPAIN?

by Samir Raafat
Egyptian Mail, May 6, 1995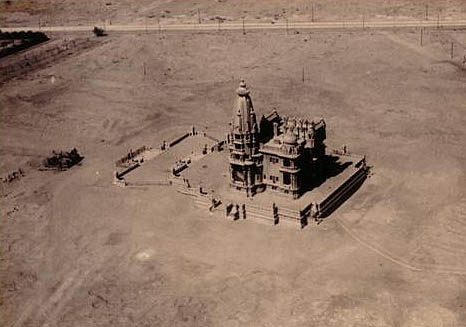 Baron Empain Palace (photo courtesy Judith MacBeth)
EVER SINCE THOUSANDS of bats moved into Heliopolis's most famous landmark, Baron Empain's Hindu Palace became the subject of innumerable reports some of them stranger than the building itself: "Quibbling Gulf heirs talk of transmogrifying the pseudo-Cambodian-Tamil pagoda into a Caesar's Palace with gambling casino, Liberacci-like performers et.al. Or, how about, "Brussels based Eurocrats deliberate the merits of turning the Belgian baron's heirloom into a spectacular EuroMed center!"
Back in Cairo the Egyptian government is still undecided between turning the palace into a desert museum or designating it a Pantheon for Egypt's Greats. But the report which gets highest marks is a recent headline claiming the palace dungeon--formerly the baron's servants quarters--is where Cairo's black-clad tattooed devil-worshipping youth hold lusty orgies, skinning cats and drawing rats blood in the process. Makes you wonder whether the palace was built by Baron Empain or Count Dracula.
Turning in his black granite crypt beneath the nearby Byzantine Basilica is the palace's creator, the Belgian-born industrialist, Baron-General Edouard-Louis-Joseph Empain (1852-1929). To him we owe the creation of Heliopolis back in 1906-7.
It was shortly after Empain ordered the construction of Heliopolis that he commissioned French architect Alexander Marcel, a member of the prestigious French Institute, to build him a Hindu palace on an artificial elevation so that from his prospective terrace, the Baron could watch Heliopolis rise against the backdrop of the 4000 year old Giza pyramids.
Shielding the Baron from lesser mortals were his lofty neighbors. To his left, facing Avenue Baron which stretches southwards towards the pious Baron's Basilica, was the Arabesque palace (now military HQ) of Boghos and Marie Nubar Pasha. He was the son of Nubar Nubarian, the wily Armenian who served several khedives as chief minister and often referred to as Egypt's Bismarck. Well-connected, Nubar fils facilitated Empain's acquisition of 6000 acres of empty desert at one pound an acre. In return, he was appointed an execitive director of Empain's budding Egypto-Belgian empire.
Diagonally opposite the Hindu Palace stood the residence (today a school) of Sultan Hussein Kamel who reigned over Egypt between 1914 and 1917. A childhood friend of Boghos Nubar Pasha he was the only Egyptian monarch to live in Heliopolis. His widow, Sultana Malek, occupied the palace until the 1950s.
Empain truly beleived the devil was in the detail, which is probably why he gave his workers, employess and advisors, and even his architects, a hard time. Hence the palace's exterior was the sole responsibility of Marcel. Influenced by a Cambodian Temple, he reproduced a motley of busts, statues, elephants, snakes, Buddhas, Shivas and Krishnas. The elaborate interior meanwhile was the responsibility of Marcel's French associate, Georges-Louis Claude. Previously the magical duo had constructed and decorated the Oriental Pavilion attached to the Royal Palace of Laeken in Belgium. Later they created an entire Far Eastern complex for the celebrated Paris Exhibition.
Although dwindling in numbers there are those who still remember when the landscape surrounding the Hindu Palace was a wonderland festooned with ascending green terraces, each with its own set of erotic marble statues and exotic vegetation. As guests negotiated the terraces on their way to the grand steps leading into the awesome palace foyer, they unconsciously sensed some mythical Deus watching from the palace's dark interior. These theatrics pleased the Baron to no end. He had accomplished the impossible. In a letter to his mother, Claude relates how the marveled Baron "Had no more criticism in store since we last met.".
Three generations of Empains occupied these premises. The austere first Baron Empain entertained all of Egypt's hotes de marques including King Albert and Queen Elizabeth of the Belgians during their pre WW1 visit to Egypt.
The last to live there were Janine and Huguette Empain who much preferred the lounges of the trendy Heliopolis Sporting Club or the Roof Garden of the old Semiramis Hotel to the somber halls of their grandfather's palace.
In between the first and last Empains there was the playboy son, Baron Jean Empain. He took to entertaining his guests either at the Heliopolis races or at his innumerable palace balls where he cut a dashing figure with his multiple consorts. It was an American cabaret dancer, Rozell Rowland a.k.a. Goldie, who finally nailed him to the altar. The 'prince' and the showgirl met in a Cairo night club where she performed painted entirely in gold.
The palace was sold by its owners in 1957.
Forty years later the sheen of this inimitable structure has gone. It hasn't just faded. It's been systematically stripped away. Gone are the fresco murals and massive gilded doors. Gone also are the balustrades, the beautifully designed parquet floors and the gold plated doorknobs. Even the famed Belgian mirrors were wrenched from their sockets. Replacing the once gilded ceilings are bat droppings and soiled graffiti making it impossible to believe this was once the nexus of economic power and the toast of the international café society.
No doubt incredible stories will continue to come out of this palace and its lost fortunes. None however will be more far-fetched than the one about the priceless architectural treasure left to decay and crumble in full view of every minister, VIP, tourist and other air passenger as they motor up the airport road on their way in or out of Cairo. Indeed, truth is often stranger than fiction!
UPDATE :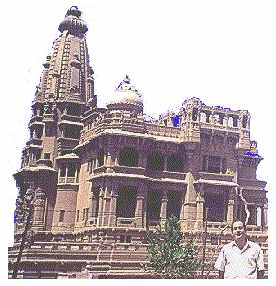 Just one month before the official centennial celebrations of Heliopolis (1905-2005), Akhbar al-Yom (19 March 2005) announced the state had recently acquired the Baron Empain Palace from its incumbent owners the Ali Reza family of Saudi Arabia with the intention of turning it into a museum. As to how the palace was 'acquired' was not mentioned.
This announcement comes in the footsteps of the March 9-11 visit by first lady Suzanne Mubarak to Belgium, the birthplace of Baron Edouard Empain. Mrs. Mubarak is the honorary president of the Heliopolis Association, a quasi watchdog group, which aims at maintaining and preserving the special character of the city of Heliopolis
Regretfully Mr. Aboul Seoud's journalistic abilities are confined to praise-writing. History is most definitely not his forte. His sorry attempts to give readers a perspective of the palace and its origins fall short of conveying the real story. Instead, he relates ludicrous fables riddled with factual inaccuracies and fictitious dates.
In one of his less harmless concoctions, Aboul Seoud claims that an envious Sultan Hussein Kamel of Egypt tried to coerce the baron into offering him his palace. And in order to get out of the dicey situation the latter built him another palace nearby. Well Mr. Aboul Seoud, the palace was built and inaugurated several years BEFORE the Sultan ascended the throne of Egypt in December 1914. Moreover, the blueprint for Heliopolis was prepared and put into execution BEFORE the palace was built and not vice-versa!
If on the one hand we should disregard Aboul Seoud's fables, we must nevertheless digest with graciousness the archetypal journalistic flatteries he showers on the First Lady. We should rejoice that thanks to her the inimitable palace is saved and that once again it shall shine as a beacon of the extraordinary architecture Empain's Heliopolis has become world famous for.
For Ahram Weekly's coverage on related story click here
Picture of Hindu palace with writer of this article in foreground.
This article has been plagiarized (unlawfuly copied and passing it on as her own) by Heba Fatteen Bizzari in her write-up entitled The Baron's Palace Fables, Legends and Controversies. http://culture.infomideast.com/culture18.html
---
---
Reader Comments



Subject: Empain Palace article
Date: Sat, 12 Sep 1998 16:48:00 -0400
From: Claus L. Harding

Just a quick note to say that I enjoyed your informative piece on baron Empain's unique home. Having just returned from 3 weeks in Egypt, I was of course intrigued by this "Citizen Kane"-like structure, and your article gave me the first real information about the baron and his house. I want to locate literature about him and his life; he sounds like something of an eccentric. Thanks again for a good read,
C.H.A. Video Productions,
Washington DC.

Email your thoughts to egy.com
© Copyright Samir Raafat
Any commercial use of the data and/or content is prohibited
reproduction of photos from this website strictly forbidden
touts droits reserves