egy.com suggests following articles
Several of my articles on Garden City were plagiarized word for word by novelist MEKKAWI SAID (winner of the Egyptian State price for literature!!!!) and re-published under his own name in a three-part series in El-Masry El-Youm daily in September 2015.
Cheers to our "talented" literature prize awardee. Your pain his gain !!!
EGY.COM - ZAMALEK
ZIONISM ON KAMEL MOHAMMED STREET
by Samir Raafat
Egyptian Mail, September 11, 1993, updated 1996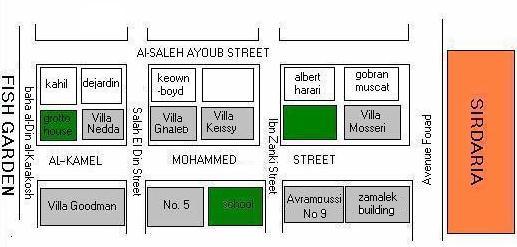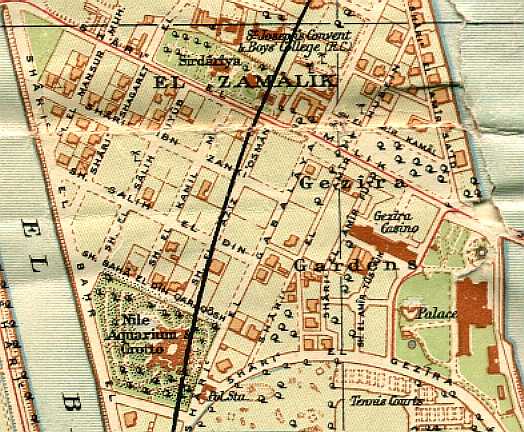 ---
PEACE negotiations between Israel and its Arab neighbors continue to make headlines. While these events are beyond the scope of this article the following lines will reveal how, in pre-Israel days, hawks and doves of the Zionist illuminati were either residents or frequent visitors in Egypt. Some visitors even stayed at Hotel-Pension Tel-Aviv on Ibrahim Pasha (now, Gomhouria) Street in downtown Cairo. Because the list of Zionist presence in Egypt is so long, this article confines itself to a Zamalek street that tells part of this all too forgotten story.

Al-Kamel Mohammed Street stretches northwards from Hadiket al-Asmak (Fish Aquarium), up to the 26th of July Street (ex-Fouad al-Awal) intersecting Salah al-Din and Ibn Zanki along the way--for whatever reason Zamalek's town planners named most of the streets in this part of the island after Mamlouk chieftains.

Early this century al-Kamel Mohammed Street was flanked by fields. Subsequently and as Zamalek grew these were carved up into 12 plots of half an acre each presumably for villas with gardens. Regretfully, few of the first houses--some of the island's finest-survived the urban onslaught of the 1970s. But in the days when Cairo's population was below two million, al-Kamel Mohammed was just another shaded residential roadway with a handful of inhabitants.

Several large villas stood at opposite ends of al-Kamel Mohammed Street. If the three villas (numbers 1, 3 & 4) overlooking Hadiket al-Asmak at the south end are gone, the villa at the northern end of the street is still standing albeit neglected. This is No. 12, a white neo-Islamic villa surrounded by a shrunken garden facing (across 26th of July Street) what was once the famous Sirdaria. This was the name given to the residence of the British Commander of the Egyptian Army before it became the Anglo-Egyptian Union and after 1952, an Officer's Club and public theater.

What had once been a villa at No. 1 became an apartment building built during the interwar period. It is there that banker-businessman Hector de Cattaui died. He was a son of Moise Cattaui Pasha the long-standing president of Cairo's Sephardic Jewish community. Members of his family had little to do with Zionism. For generations they had been part of the top echelons of Egyptian society and saw no need to exchange gracious living for life on a kibbutz.

Things were however different at No. 3 where Cattaui's cousins lived.

Named after its original British occupant, Villa Goodman (No. 3 al-Kamel-Mohammed) had become the residence of Maitre Aaron Alexander, an affluent Ashkenazi Jew with origins in Znin, Poland. A successful lawyer at the Mixed and British Supreme Consular Courts, Alexander was legal advisor to and board member of several British concerns in Egypt: Shell Oil, the Egyptian Delta Land Company, English School, to name a few. His legal chambers at the Savoy Chambers were considered amongst the best in Cairo so that amongst his clients we find the Khediva-Mother, Messrs. Rothschilds and the Suez Canal Company. Alexander's wife Victoria "Vicky" Mosseri was a niece of Moise Cattaui Pasha and a sister of banker-magnate Elie Nessim Mosseri.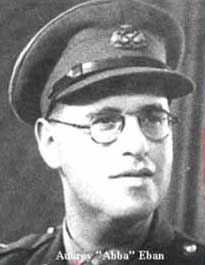 The Alexanders and their three children -- Athur-Lionel, Anthony-Nessim and Eileen -- led a socially active life. As president of the Rotary Club and a dynamic promoter of Eretz Yisrael, Villa Goodman was the venue for large receptions and visits by important Zionists including British cabinet minister Isaac Hore-Belisha and Chaim Weizmann both of whom dropped by whenever in Cairo. In fact Maitre Aaron often accompanied Weizmann during his meetings with Egyptian government officials.
Alexander and his brother Morris, a well-known lawyer in Alexandria, had come to Egypt from Cape Town in 1913. Both married into the local cosmopolitan Jewry and like many Eastern European co-religionists from South Africa, the Alexanders were beset with the creation of a Jewish homeland in Palestine.
Although a member of the assimilated elite of Egypt's haute Juiverie, the Egyptian-born Vicky Alexander began to see things Aaron's way. Soon enough she became co-chairperson of the annual WIZO (Women International Zionist Organization) bazaar held at Groppi's or the Shepheards Hotel; fund raisers that were widely attended by Egypt's best society ladies of all faiths.
Although wary of Zionist intentions ever since the publication of Lord Balfour's letter to Lord Lionel Walter Rothschild, in which the British minister conveyed His Majesty's Government's view "with favor to the establishment in Palestine of a national home for the Jewish people," successive Egyptian governments continued to tolerate WIZO's existence in Egypt.
For sure, Zionism in those days was regarded by Egypt's unsuspecting intelligentsia simply as the yearning for an ancestral homeland by groups of scattered Jews, in today's terms the equivalent of a Red Indian crusade aspiring to take over New Jersey. Ever since the first Zionist congress in Basle in August 1897, Zionist meetings were periodically held in Cairo and Alexandria. Between 1900 and 1904 the Cairo meetings took place at Hotel du Nil and were duly reported in the local press. For instance in 1903 al-Ahram tells us the guest speaker Mr. Hornstein, was advocating that Jews must "first organize themselves before creating a Jewish homeland in Palestine." This was 14 years before Balfour made his famouls delaration.
Local politicians meanwhile found comfort that at the time of Balfour's 1917 declaration, Jews in Palestine were a mere 8% of the entire indigenous population owning less than 5% of the entire territory. What, therefore, was all the fuss about? And anyway any serious misgivings by the more skeptical Egyptian statesmen were countered by assurances from the British Foreign Office that the borders of British Mandated Palestine and the status quo of its overwhelming Arab Moslem-Christian majority were guaranteed by H.M. Government and thus in "safe hands." Aaron Alexander and his crowd were therefore welcome to go aspire and dream as they pleased.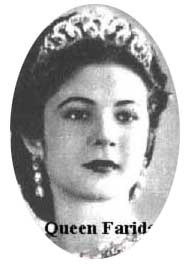 Maitre Alexander died at age 58 of a fatal heart attack on 12 September 1945 while hosting a dinner for visiting colleagues at Cairo's elegant Mohammed Ali Club. He would never learn of the creation of Israel and the several bloody wars conflicts which followed. Neither would he know that after resting in the Mosseri graveyard of Bassatine (outside Cairo) for several years, his remains would be exhumed and shipped to the United Kingdom. Even though he couldn't claim an iota of Anglo-Saxon ancestry, Aaron had always felt British.
A few years after Maitre Alexander's death, Villa Goodman was sold, demolished and replaced with the twin Wadie Saad buildings designed by Albert Zananiri.
The Alexander children were exceptionally bright as evidenced by their English School report cards. It was expected therefore for Eileen Alexander (d.1986) and her siblings to pursue their studies in the UK, she at Girton College Cambridge and the brothers at something equally distinctive.
Not overly concerned about her daughter's academic achievements, Vicky and Eileen's maternal Mosseri aunts waited in eager anticipation for news from England. They had learned through the international Jewish "tom tom" that Eileen had met several eligible bachelors. One of them, Aubrey Eban (born Solomon), had the perfect credentials. Not only did he sport an Anglo-Saxon education, a characteristic frantically sought after by the Anglophile Levantine, Coptic and Jewish bourgeoisie of Egypt, but his natural Eastern European father, Abraham Meir Solomon, had been a prominent Zionist in the Cape. Perhaps he had known Alexander Sr. Their references were practically identical.
Despite the absence of any romantic attachment between Aubrey and Eileen, in her innermost fancy Vicky Alexander thought she heard wedding bells. Fate intervened on Vicky's behalf when Eban, now an officer in the British army, arrived in Cairo in February 1942. But a few months later, news from London announced Eileen's engagement to a friend and Cambridge colleague, Gershon Ellenbogen. They were married in London on March 26, 1944, where the Alexanders kept house at No. 9 Marley Road, Swiss Cottage..
In April 1943 Eban was again posted in Cairo this time to the office of the minister of state for the Middle East, first under Richard Casey and then under the unfortunate Lord Moyne who was brutally murdered in November 1944 in front of his house on Hassan Sabri Street, Zamalek. His assailants were two Stern gang terrorists sent over by Yitzhak Shamir (afterwards, Prime Minister of Israel) to finish off the man the Zionist establishment regarded both anti-Jewish and unsympathetic to the Zionist cause.
Lord Moyne's murder may have been a source of discomfort for Major Eban. Once again he had had to come to terms with that annoying split allegiance syndrome. On the one hand his patrician British superiors represented everything the young officer liked to emulate. On the other there were these two young Jews with a mission who, not unlike Eban, viewed the redemption of Eretz Yisrael in political rather than religious terms.
Yet it was never a question of Eban's English upbringing being tempered by his sense of Jewish responsibilities. The short of it was that an uninterrupted thirty year exposure to the British way of life amounted to naught when it came to race and Zionist convictions. "I belong there, but I have to be here" sort of thing. A rationale non-Jews fail to understand to this day.
For a few weeks, Aubrey Eban and Gershon Ellenbogen --who had rejoined British Military Intelligence in the Middle East-- shared a flat belonging to the Alexanders at "Zamalek Building" at No. 11 al-Kamel Mohammed Street. They were looked after by the Alexanders' old cook Adele and their manservant Saiid. It wasn't long after his arrival that Eban was madly enamored with the proverbial girl-next-door.
Opposite Zamalek Building lived the Ambaches, a Yishuv family of East European descent. Engineer Simha Ambache and his wife (born Steinberg) had three daughters and a son, Nahman. They had come to Cairo from the Canal Zone where Simha ran a prosperous contracting business. Their home at No. 12 al-Kamel Mohammed Street belonged to the late Jacques Mosseri, another one of Vicky Alexander's relations. Ever since his Cambridge days, Jacques had been an impassioned supporter of Chaim Weizmann. Upon returning to Cairo in 1913, Jacques headed the Zionist organization in Egypt. Because of his premature death in 1934 he too never saw the fulfillment of his dream or the swearing in of his champion as Israel's first president. (Had he lived to be 90, Jacques Mosseri would have seen his house become the property of the al-Tobeish family who later leased it to the Saudi embassy.)
On 1 January 1945 Aubrey Eban was engaged to the Ismailia-born Suzy Ambache who had just graduated from the American University with a Bachelors of Arts in Social Science. Their subsequent March wedding was solemnized by Senator Haim Nahum Effendi. In his splendid blue and black robes Egypt's Chief Rabbi looked like something out of a Cecil B. De Mille movie.
Eban's wedding had unwittingly assembled the future leadership of Israel. Perhaps it had something to do with some Zionist conclave taking place in Cairo at the time.
Standing side by side at Eban's wedding reception were Egyptian notables, the pillars of the local Jewry, senior British officers, and Cairo's leading and visiting Zionists. Among them was Israel's future prime minister David Ben Gurion (born Gruen, a Polish-Russian Jew from Plonsk) and his wife Paula. Also there was Theodor "Teddy" Kollek a Viennese Jew destined to become the Mayor of West Jerusalem.
The newlyweds spent their honeymoon touring the ancient sites in Luxor and Aswan. Destiny would soon take them all over the world before settling in Herzlia outside Tel Aviv where they live in comfortable retirement today; Eban writing books and memoirs when he is not touring the American television studios or attending UJA (United Jewish Appeal) dinners.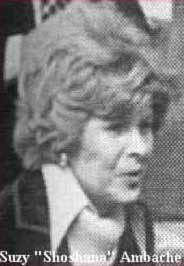 Suzy Ambache Eban returned to her birthplace on 25 December 1977 during the visit to Ismailia of Israeli Prime Minister Menachem Begin. He had asked her to come along when he learned she was born there. Eban, who was absent at the historic Begin-Sadat encounter, had by now fulfilled most of his ambitions. In conformity to his beliefs he had Hebraized his name to Aba so that it was as Aba Eban that in May 1949 he raised the Star of David at the United Nations in New York evincing the creation of the Jewish State. Eban was his country's Permanent Representative to the UN and sometime ambassador to Washington for the next 10 years.
Almost one year after the Eban-Ambache wedding a second al-Kamel Mohammed resident married yet another rising anglophile Eastern European Zionist serving in the British army. While visiting the Ambache home in Zamalek the groom-to-be had been smitten by Suzy's younger sister Aura. Aura's marriage to Vivian 'Chaim' Herzog took place in Palestine a few months after their initial meeting.
"It was love at first sight" she would fondly recall in an interview many years later. By which time Aura had become her country's first lady when the son of Isaac Herzog former chief rabbi of Ireland (also the first Ashkenazi chief rabbi of Israel) had become the 6th president of the State of Israel in 1983.
The Alexanders, the Ambaches and the Cattauis were not the only wealthy Jewish residents on al-Kamel Mohammed Street. There was the Salonika-born Ovadia Mercado Salem a sephardic Jew who had purchased the splendid villa at No. 5.
Before WW-II No 5 al-Kamel Mohammed had been the headquarters of the Deutsches Archaelogisches Institut headed by renowned archeologist Professor Botschart and later by Professor Hermann Junker. Had it not been for his tight schedule Josef Goebbels would have probably stayed there while visiting Cairo in April 1939. Instead, the German Minister of Propaganda had tea with Junker under the Giza pyramids.
Following Junker's hurried departure at the outbreak of WW-II the villa was occupied briefly by an Egyptian Pasha before being purchased in 1943 by its next owner, Ovadia Salem.
A self made man who started out as an errand boy at Beinisch jewelry in Mousky, Salem worked for Lloyds Bank before forming with Alfred Cohen and Alfred Perez his Société d'Avances Commerciales S.A.E.--Sherket al-Taslifat al-Togareya. Soon enough Salem became principal shareholder in the Chemla Department Stores (ex-Chemla Freres) which was later managed by his son-in-law Youssef Peppo Simha (1906-94).
Those who recall 'monsieur Ovadia' or 'khawaga Salem' as he was alternately called by his employees, described him as a shrewd operator who recognized a good deal when he saw one. Others claimed he wasn't too popular with insurance companies in view of several doubtful claims. But it would be due to his alleged Zionist sympathies that Ovadia Salem was subsequently interned in Huckstep east of Cairo following the first Arab-Israeli War of 1948. This was also when all his assets were summarily frozen except for his villa which was luckily in his wife's (a cousin) name and temporarily leased to a crestfallen Queen Farida following her separation from King Farouk.
Salem was not alone in his internment. With him were some 500 Zionists, an equal amount of communists, some of them Jews, and a larger amount of Moslem Brothers. The overflow of prisoners were sent to al-Tor in Sinai and Abu Kir, east of Alexandria. But with the arrival to power of the Wafd Party, things improved dramatically. Consistently treated better than their fellow Moslem Brothers inmates, Salem and his Jewish colleagues were released with the proviso that those with foreign passports leave Egypt. Ovadia Salem who had acquired Egyptian citizenship chose to remain. With interests in many companies including the famous Misr group of companies, Ovadia was an accepted pillar of the Cairo business community.
When Ovadia Salem died in March 1958 he was living in the Albert Harari Building at No. 11 Ibn Zanki. His heirs sold No.5 to the Canadian government which transformed it into the official residence of Canada's ambassadors to Egypt. (Contiguous to the Canadian Embassy Residence is the Franciscan-run kindergarten and primary school).
Besides Jews and Zionists who lived on al-Kamel Mohammed Street during the interwar years there were other residents as well. Abdelhamid Ghaleb Bey, a son of a former khedivial governor of Cairo owned the house at No. 6 al-Kamel Mohammed. His heirs would lease to the Embassy of Rumania in the 1960s. One of the oldest villas on the street it was damaged by the October 1992 earthquake prompting its new owners--the government of Rumania--to replace it with a five-story chancery and residence.
Next to the Rumanians is the ornate redbrick house which belonged to Mahmoud Fahmi al-Keissy Pasha a former Minister of Interior. Sometime in the 1980s a grisly vertical building shot up in between the two villas which had heretofore occupied the southern part of the rectangular block. At about the same time the Libyan government purchased the Keissy Villa annexing it to their adjacent embassy fronting Saleh Ayoub and Ibn Zanki Streets.
Across the street from the Rumanians still stands Villa Nedda (No. 4 al-Kamel Mohammed) built by tobacco baron signor Carlo Grassi. Aside from being the president of the long time Italian Chamber of Commerce, Grassi was head of the Cairo Fascio before WW-II. Both Grassi and his wife Nedda Mieli were great entertainers always happy to show off their fine art collection. Today their house is the Embassy of Morocco.
Between Villa Nedda and the Fish Gardens stands the 1950s Lakah Building which replaced part of "Grotto House" once upon a time the residence of a Major Duncan McCallum of the British diplomatic service.
Two "bed and breakfasts" were also located on al-Kamel Mohammed Street: Pension Cromer at No. 9 (the elegant Evangel Avramoussi Building designed by Caligopoulo) and Pension Zamalek at No. 11.
Also at No. 11 was the Dutch Legation in Egypt with Baron Bentinck presiding before WW-II.
Amazing but true. On one short street lived--not necessarily at the same time but up to 1950--an Italian fascist, a Nazi sympathizer, several Zionists, an English major, an enterprising Judeo-Levantine financier, Egyptian notables, a minister of interior, a future first lady and a former queen.
---
The author of this article would like to thank Mr. Anastase Avramoussi for minor corrections.


Email your thoughts to egy.com
© Copyright Samir Raafat
Any commercial use of the data and/or content is prohibited
reproduction of photos from this website strictly forbidden
touts droits reserves