egy.com suggests following articles
Several of my articles on Garden City were plagiarized word for word by novelist MEKKAWI SAID (winner of the Egyptian State price for literature!!!!) and re-published under his own name in a three-part series in El-Masry El-Youm daily in September 2015.
Cheers to our "talented" literature prize awardee. Your pain his gain !!!
EGY.COM - ZAMALEK
THE HOUSETHAT SHRUNK
On Zamalek's Hassan Sabry Street

Samir Raafat
Cairo Times, 28 September, 2000
---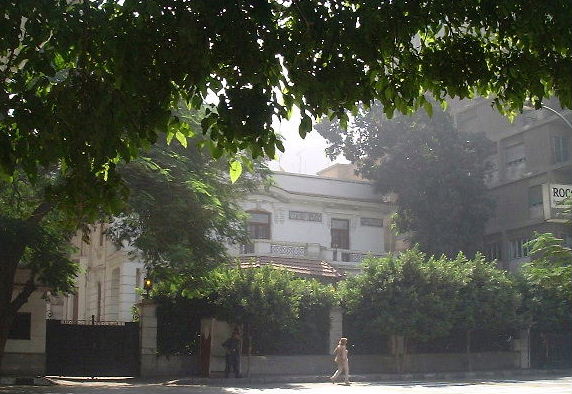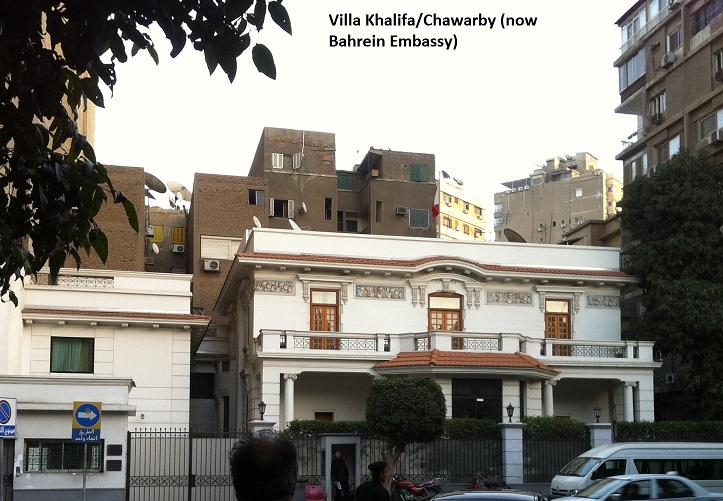 Straddling a 6,200 sq. meters garden sometime before WW2 was a smart Mediterranean villa designed in the mid 1920s by Micehl Libermann for account of landowner Mahmoud Khalifa. A Russian Jew, Libermann is credited with several Zamalek villas of the same genre and period, yet this particular one stood out for account of its geographical location. It dignified the island's main residential street: Sharia el Gabalaya.
But as is typical of any suburb Cairo, the present and the past have diddly in common.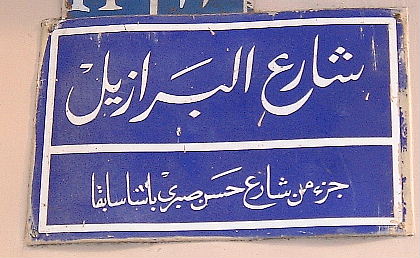 Street sign evidencing how part of Hassan Sabry Street became Brazil Street
For starters the transmogrified street on which the villa stands changed its name three times. In the 1940's Gabalaya became Hassan Sabry Pasha Street so that three decades later the section east of 26th of July (ex-King Fouad Avenue) would become Sharia el Brazil. Talk about geographic schizophrenia! The villa itself changed owners, colors and sizes so many times, writing its legend would require an open-ended sabbatical at the Title and Deed Bureau.
To make things simpler let's start with the here and now, filtering backwards through the decades.
Devoid of the surrounding garden, the stand-alone villa is today the Embassy of Bahrain at No. 15 Brazil Street. Compressed between two large grubby buildings it overlooks the length of Ismail Mohammed Street. And if the only way to visit its interior would be to apply for a visa, let me tell you nothing therein resembles the original layout. I know this for a fact because I once worked at No. 15 when it was the Cairo headquarters of Bank of America, the world's then-largest bank.
I clearly remember how Cairo's start-ups and upstarts had come to No. 15 hat in hand looking for soft loans during the heyday of Sadat's frenzied infitah. Besides easy money they found eager tellers standing at large wooden counters and the inevitable gray-suited clerks tapping on calculators and adding machines behind glass doors. Everywhere you looked dull green carpets and matching curtains looked back. The upstairs section boasted three impersonal executives offices and two restrooms also drenched in soylent green. Except for two elegant chandeliers there was little else to remind you this had been a home for the posh and the toplofty.
During its banking-a-go-go days the villa had turned from yellow to white. It had taken a month to paint its exterior. It would take another three weeks for the paint to start peeling. And with the permission of its owner Madame Tarabishi, a prefab floor was added on the villa's roof as the bank expanded its portfolio and chased after its bad debts.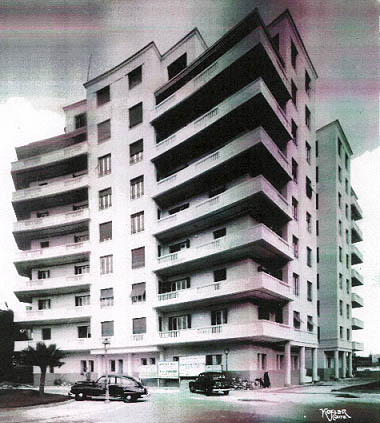 Sidky Pasha Building designed by Albert Zananiri in 1946-7
Several tenants earlier No. 15 had been home to the Embassy of Afghanistan when Talibans and Mujahedeens were still in the never-never. Kabul's next-to-last envoy to Cairo during the Afghan monarchy was Moussa Shafik. It was an unlucky day when the debonair diplomat was nominated his country's chief minister. He would be liquidated along with his country's political elite soon after.
Many years earlier, No. 15 had been leased (perhaps sold) to Taher Pasha, a member of the Egyptian royal family. The pasha's move to Zamalek was prompted by the sale of his beautiful "el-Tahra palace" enabling King Farouk to offer it as a gift to his first wife Farida Zulfikar. (Much has been written about Tahra lately with regards to the daughters of King Farouk laying claim to their mother's estate.)
We now come to No. 15's original proprietor. According to his son Mr. Ibrahim Khalifa, a retired corporate consultant in Washington DC, the house (then listed as No. 71 Gabalaya Street) had been surrounded by approximately 6,000 sq. meters of rich soil converted into gardens. "There was no Midan at the end of the street." He is referring to Midan Sidki at the convergence of Brazil, Mohammed Mazhar, and Aziz Abaza Streets. "This was part of the garden as was the land now occupied by the buildings on either side of the villa."
Then, like now, politicians were closet town-planners.
Fronting the Nile across the narrow Aziz Abaza Street (in turn ex-Prince Saiid and ex-ex-Ma'had al-Swissri Street), stood the villa of Ismail Sidki Pasha. Upon becoming prime minister a decree unexpectedly appeared whereby a square--Midan was created opposite his residence at the expense of the existing garden. The new square was baptized, Midan Sidki. Later Sidki Pasha would replace his own villa with an apartment building No. 17 Aziz Abaza Street.
Because of some unforeseen liquidity crunch part of No. 15's garden was sold to Salvatore Cicurel Bey. "Thankfully he kept it intact for weekend visits" recalls Khalifa. "This latest development meant we were surrounded by Egypt's department store Czars, for somewhere to the west stood the large villa of Levi de Benzion." That too would later disappear.
As he bicycled to the National Club—Nadi al-Ahli, the only tall buildings Khalifa saw were several five-story constructions on 26th of July Street and the daunting 'Gabalaya House' on Hassan Sabry Street. "Wherever you looked you saw front doors with gardens." These were the days when Gezira island was a dormitory and its streets an open-air playground.
---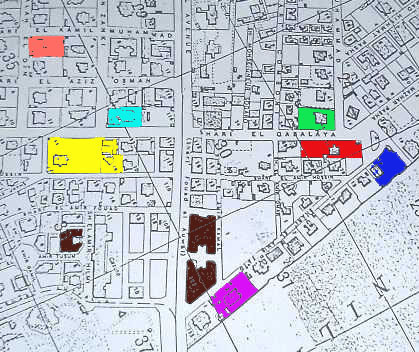 1936 Map of Zamalek; Villa Khalifa shown in red
Red= The House that Shrunk
Green = The Algerian Embassy--Villa Curiel
Blue = Villa Sidki Pasha
Pale Blue = Gabalaya House
Brown = Baehler Mansions
Yellow = Palais Toussoun
Purple = Villa Hug
Pink = Canadian Embassy--Pretty in Pink


Reader's Comments

Email your thoughts to egy.com
© Copyright Samir Raafat
Any commercial use of the data and/or content is prohibited
reproduction of photos from this website strictly forbidden
touts droits reserves