egy.com suggests following articles
Several of my articles on Garden City were plagiarized word for word by novelist MEKKAWI SAID (winner of the Egyptian State price for literature!!!!) and re-published under his own name in a three-part series in El-Masry El-Youm daily in September 2015.
Cheers to our "talented" literature prize awardee. Your pain his gain !!!
EGY.COM - ZAMALEK
by Samir Raafat
Cairo Times, 28 October 1999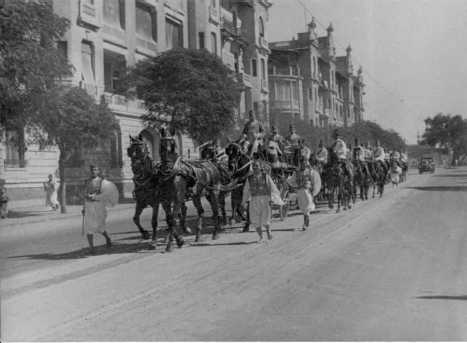 1946: accompanying Syrian Prime Minister Gamil Mardam to his country's Embassy his carriage passes opposite Zamalek's Baehler Mansions on 26th of July Street. Old Boulak (Abou El Ela) Bridge seen in background. (Photo courtesy of Salma G. Mardam collection)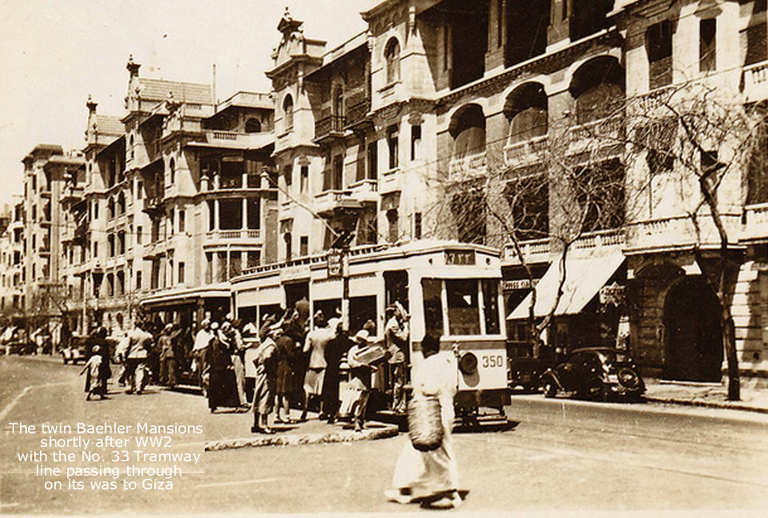 No. 157 & 159 Baehler Mansions on Fouad Al-Awal Avenue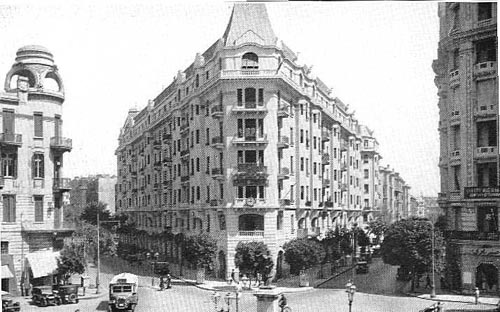 Baehler Building on Soliman Pasha Square, downtown Cairo
---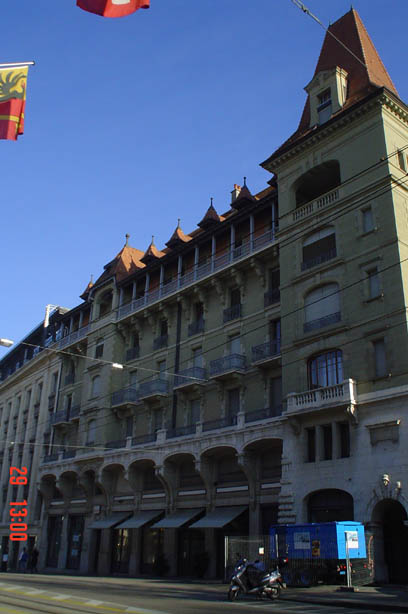 (above-below) same style buidling on Geneva's Rue de la Corraterie No. 5 built in 1901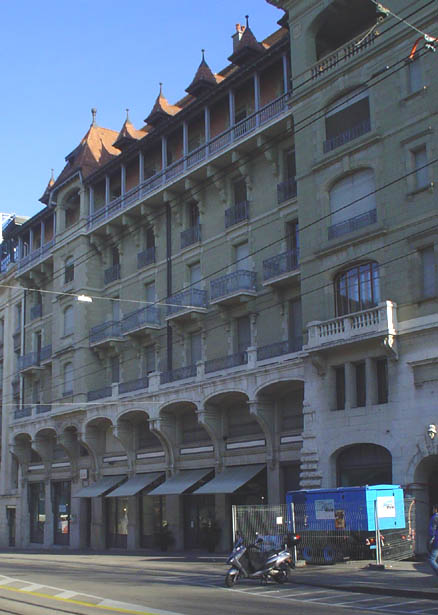 ---
Baehler Passage, Baehler Buildings and Baehler Mansions have long been part of our urban lexicon yet few recognize the origins of this Swiss name. Few realize that when Mr. Charles Baehler died on 12 September 1937 from appendicitis complications in Lucerne, not only did Egypt's tourist and hotel sector suffer a deep blow, but Cairo's metropolitan skyline would never be the same again.

One of Baehler last creations was the downtown Baehler Buildings which overlook ex-Soliman Pasha (now Talaat Harb) Square. Built between 1927-29 these deluxe tenements replaced the Savoy Hotel and its attachments which included the Savoy Chambers. For a long time the Savoy had been one of colonial Cairo's most important business and residential addresses. It was there that British-owned companies established their representative offices and it was at the smart Savoy Hotel that the British army set up its GHQ during WW1.

The Savoy complex was barely three decades old in 1924 when it was pulled down. Its new owner, Charles Baehler cleared the way for his own personal understanding of what an interdisciplinary urban construction should be. In fact, nothing of that scale had been seen in downtown Cairo, yet. And if the city center lost one of its leading hotels, the father of Egypt's hospitality industry superseded the Savoy with the neo-classic Metropolitan (later renamed Cosmopolitan) hotel just around the corner, off Kasr el Nil Street.

True to a lifetime dedicated to hotels the Cosmopolitan was Baehler's last contribution to Cairo's urbana.

Baehler's downtown plaza consisted of six semidetached buildings (blocs A through F) each with its own entrance. In total, the buildings contained 130 deluxe apartments some conceived as offices, the rest residential. The ground floors were partitioned into 72 shops each with a separate basement. The general style was fin de siecle Parisian. Although the name Vogt was mentioned, it is not yet clear as to who exactly was the project's main architect. On the other hand, the two north-western blocs (aka as the Chaldijian Bldgs) evidence a plaque with the name of Leon Nafilyan "architecte Paris 1934."

The Baehler Arcade (or passage as it soon came to be called) could have been a miniature version of Rue de Rivoli in Paris. Crawling with premium boutiques, the arcade sheltered the best haberdasheries, the finest lingerie, the trendiest men's wear and the artiest painting galleries in town. As for the showrooms fronting Soliman Pasha or Kasr El Nil Streets, these were game to the highest bidder.

No doubt, Baehler knew something or two about proportions, harmony and streetscape. Which is perhaps why his commercial lease contracts spelt out in the clearest of terms the "do's and don't" regarding storefront merchandising, promotional lighting and window displays. There was no thought yet that someone would dare append a medical signpost to his balcony grill or pockmark his façade with leaking ir-conditioners. Surely our man would have had multiple coronaries should he have known the chaos that would succeed his rigid cahier des charges. One consolation is to Baehler's ultimate credit, his downtown building features on the cover of Paris Along the Nile, a recently published book evoking Cairo's belle époque architecture.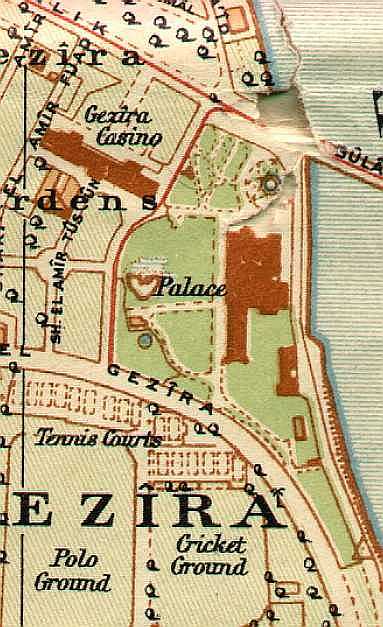 Preceding Baehler Buildings and Baehler Passage in downtown Cairo are two of the handsomest structures on Zamalek's 26th of July Street.
By now everyone on Zamalek Island has either had a pizza at Maison Thomas, or purchased a cold Stella from the nearby al-Ahram Beverages (Beer) depot. Welcome to Baehler Mansions built early this century on land carved out from the former khedivial palace gardens.
Realizing Cairo was expanding westwards towards the Nile, Charles Baehler, owner of the Gezira Palace Hotel (today Marriott Hotel) took up his option to buy more of the island's agricultural land enabling him to form an urban development company. The new district of Zamalek was born.
Whether he was too busy or much too expensive renown court architect Antonio Lasciac was not on Baehler's shortlist of building designers. Yet it was to Lasiac's son in law Alex Skynder of Skynder & Skynder that the Swiss hotelier turned to when he decided to build in Zamalek two grand buildings separated by a circular landing or outer court. Here too we find the splendiferous elevator cages, the lofty vaults, the ornate brickwork and the decorative details. Note also the endless foyers conceived in the days when capitalists weren't preoccupied with returns per square meter.
Here again Baehler would be aghast at the vulgar additions forced upon Zamalek's two grand ladies with no consideration whatsoever to the existing totality. Once again time was unkind to Cairo's belle époque architecture but Monsieur Baehler may find some comfort in learning that Cairo's most photographed interior is domiciled right there at Baehler Mansions, home to Egypt's leading decorator Ihab Shafik. Moreover, Baehler, a leader in Egypt's food & beverage hospitality industry, would be delighted to know that world celebrated cookbook author Claudia Roden (daughter of Cesar E Douek and Nelly Sasoon) was raised at No 159 Avenue Fouad.
Zamalek's Gezira House a.k.a. Emaret al-Yemeni thus re-named after a latter-day owner is also a Baehler creation. Designed in 1908-9 by Ernest Jaspar of Heliopolis fame, this building can claim to be the island's first immeuble de rapport--apartment house.
If for half a century Gezira House overlooked an attachment to the Gezira Palace Hotel (later Casino Zamalek - Lotfallah Salamlik), today it stands on Michel Lotfallah Street opposite All Saint's Cathedral in and advanced stage of rigor mortis. True, there are the usual evidences here and there of individual and uncoordinated initiatives to bring it back to life yet not enough to give comfort to Baehler or his like-minded kith.
It would not hurt if Gezira House's present owner, a well-known Cairo millionaire-plutocrat, took a leaf out of the Swiss man's book so that someone, somewhere, one hundred years from now may remember him warmly as one does the great Charles Baehler.
---
FACTOIDS: CHARLES ALBERT BAEHLER 1868-1937
Born in Thoune, Switzerland 10 June 1868
21 October 1889 Charles Baehler arrives in Cairo.
In 1904 acquires controlling interest in the Egyptian Hotels Limited founded in 1897.
In 1906 forms Upper Egypt Hotels Ltd. with five hotels in Luxor and Aswan including Winter Palace (which Baehler built) and Cataract. One of the company's general managers in the 1930s was Anton Badrutt. Later he would run the Kulm Hotel of St. Moritz, Switzerland.
In 1907 creates Electric Light and Power Supply Company which feeds 2,500 horsepower worth of electricity to Shepheards Hotel and outlying district.
In 1908 purchases additional land on Gezira (ex-Boulac) Island and creates new urban district of Zamalek.
In 1910 acquires controlling shares in Semiramis Hotel which he immediately enlarges.
In 1925 Egypt Hotels agrees to manage properties of Grand Hotels Company (ex-Nungovitch Group) for 25 years. With the Continental, Mena House, Helwan and San Stefano joining the fold, Baehler in control of most of Egypt's leading hotels with aggregate of 4,000 beds.
Between 1927-29 constructs Baehler Mansions in Zamalek (now owned, one each, by the Chishini family and former minister Aded Abdel-Baki) and the Baehler Buildings in downtown Cairo (now the property of Insurance companies).
In 1928-9 opens Metropolitan (later Cosmopolitan) Hotel off Cairo's Kasr el Nil Street; launches small hotel in Fayoum.
In 1929 constructs King David Hotel in Jerusalem (decorated by A. Hufschmied of Geneva).
1933 and after, Baehler-Reinhart Challenge Cup fought out on tennis courts between Cairo and Alexandrian Swiss residents.
An avid art collector and sportsman, Baehler also prominent racehorse owner. With wife Madeleine Damster, Baehler resides at Red Court Villa on Hassan Sabry (ex-Gabalaya) street. Moves to Villa Lotus No. 20 Dar El Chefa Street Garden City. (Villa Lotus illegally pulled down in 1996 by present owner which led to firing of Cairo's deputy governor).
In Switzerland resides at Chateau Neu-Habsburg (medieval Habsburg fort) at Meggen. In the 1970s Raoul and Simone Baehler sell chateau to Switzerland's press baron, the Ringier family.
Described as "a robust man" by his peers Baehler nevertheless dies in Switzerland on 12 September 1937 from post-operative complications. Sons Rene and Gaston remain in Egypt. Rene, who cut a dashing figure with spouse Aurore Souwaya on Cairo's dance floors, takes over Metropolitan Hotel. Rene Baehler also remembered for having founded the Keigel Klub Kairo (KKK).
Survived today by Baehler descendants Oscar, Raoul, Marise, Robert, Bernard...
(Note: Metropolitan Hotel later renamed Cosmopolitan)
According to Max Karkegi, now living in France, one of the twin Baehler Buildings on Zamalek's 26th of July Street was purchased by his father (the late Nicolas Karkegi) from Rene Baehler in 1950 and re-sold in 1955.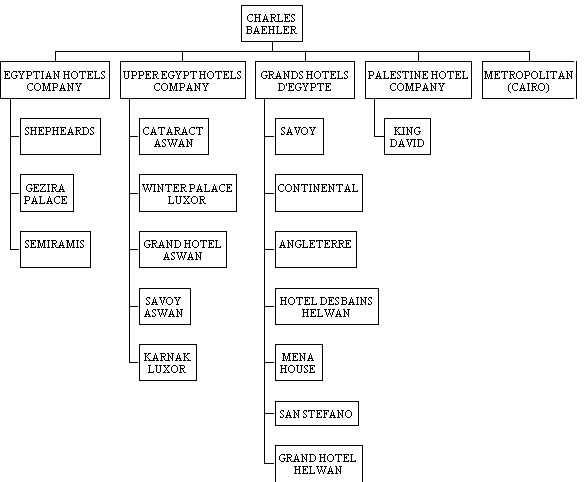 For more information on Charles Baehler type "Baehler" in this site's search engine.
---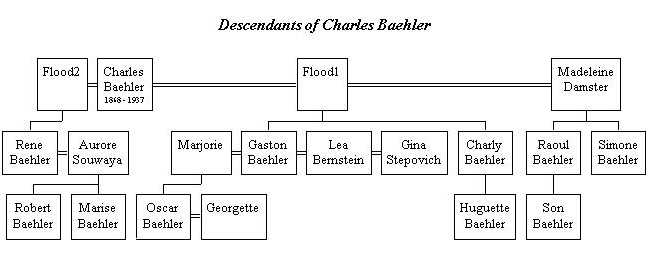 Reader Comments

Subject: Cairo Hotels' History
Date: Thu, 09 Sep 1999 09:26:16 +0200
From: Laurent Ballif

I was very pleased to find the different articles you wrote in the Cairo Times about the hotels at the "Belle Epoque". In fact, it's part of my family's life, because I'm the nephew of Mr Oscar Baehler, little son of Charles Baehler.
Oscar Baehler has always lived quite modestly, although most of the members of my family knew about an incredible story of egyptian domains and so on. He is now 76 I think, has lost his wife recently, and I have had much more contacts with him these last weeks. He told me more precisely about his childhood, when he was left by his parents in different parts of Switzerland with nannies, without seeing his parents for months. He later studied in different countries, mainly in Europe, but still lived quite alone and never had money for himself. He told me that he could luckily get from his uncle a certain amount of money at the beginning of the 50ies, but he was so accustomed to live quite frugally that he spent his whole life sparing this initial "fortune" (a bit more than 100'000 U$).
Our family could hardly believe what he used to tell us about the richeness of his grandfather when we saw how modestly he was living. He worked all his life in a garage as attendant at the mecanical reception, earned a quite modest loan, and didn't spend anything: practically no foreign trips, no luxus, nothing. About his father, living then in England, and his mother-in-law, he practically never said a word, seemingly having cut most of the relation.
That's why I began, some months ago, to try finding some more precise informations about this "grand-grand-uncle" of mine, and I already found that he created a quite well-known "school of hostellery" in Egypt, that was called (in an old swiss paper from the beginning of the century) "l'Ecole Baehler". And now all the informations I got from your articles about Mena House, The First Semiramis Hotel, A Bridge Minsunderstood, Soliman Pasha Square are the confirmation of all these stories we used to consider a bit like a fairy tale.
My uncle Oscar Baehler is not very interested in making these times reappear, but I'm sure he would appreciate to hear about it. And I intend to hear about it as much as possible, as I'm found of genealogy and try as much as possible to learn from my living family before exploring archives.
Nevertheless, I would be pleased to hear from you or from your work about this aspect of egyptian history. I live in the region of Montreux, in Switzerland, where the tourism is born at the beginning of the 19th century with the first english mountain climbers and the Rousseau or Byron Romantics. We still have lots of palaces from the end of the 19th, and I studied the story of these great hotel owners and pionniers. In fact, I'm rather proud that my own family was kind of the same type in the same time.

Laurent Ballif
General Secretary of the Institut de hautes études en administration publique
Campus universitaire de Lausanne
Rte de la Maladière 21
1022 Chavannes (Switzerland)


---

j.damster@skynet.be
Wednesday, January 02, 2002 6:43 PM

I am trying to reconstruct the saga of the Damster family. I knew that Charles Baehler married Madeleine Damster, daughter of Gustave Ludovic Damster, Goldsmith but am totally unaware of what they did when leaving Brussels at the begin of the XXst century. I just know that Gustave Ludovic created a model of the vessel owned by his brother. Do you believe that Raoul or Simone, when still alive, would be able to give me some details about their mother ??
Phone : 00 32 2 768 20 56
On the Net : www.damster.be


---

Subject: Charles Baehler
Date: Mon, 3 Apr 2000 10:47:38 +0100
From: "Lewis Said" lewis@portsaid.co.uk

I have recently been introduced to your website which I find "exhilerating." I was the third generation born in Port Said of Maltese descent. My great-grandfather started the first Ship Water Supply company in the Canal Zone. Like many others, I left Egypt in 1956. I started collecting old postcards of Egypt and now have about 40,000 (many duplicates). I am writing a book on these cards. I am interviewing a number of people who used to live in Egypt. Amongst them, is the Simonini family of Port Said who owned/leased/managed the Casino Palace Hotel, Continental, Marina Savoy, Eastern Exchange and many other establishments. I am told Silvio Simoni spent three years apprenticeship in Ismailia c.1892/4 where he worked with Charles Baehler at the `Hotel des Voyageurs chez Bastro. I have not found this information anywhere else and wonder if it is correct. I agree with you that obtaining information in Egypt is extremely difficult. Officialdom is not very helpful and one meets with apathy to enquiries made. For instance, I have postcard of the Sphinx Bar Sphinx Bar founded by David Garrick Longworth, an American who also founded the social magazine also called The Sphinx. The premises were on Kasr el Nil Street. I found a reference to it in a novel which as such, the information cannot be relied upon to be factual. Any idea on how to get details of when it was built, its history etc. I believe it was burn down in 1952. I also have a card of the Italian `Club Risotto` and I cannot find anyone who can remember it.
Any help would be appreciated.
Regards,
Lewis Said

---


Subject: Baehler Mansions Zamalek
Date: Mon, 4 Sep 2000 14:44:39 +0300
From: Amr El-Essawi <aelessawi@darcairo.com>

I've lived in the Baehler Mansions Zamalek since 1956. It would be interesting to know who lived there in the early years. It must have had a colorful history. It is said Mr. Baehler himself lived in the apt I live in # 34. (I don't know how true this is but apt. was modified from other apts. early on). It was also said that the apt. next door had the Chief Rabbi of Egypt as a tenant till 1955 or so--The Hakham. Other tenants also included Shams Badran (minister of war 1967) and Mr. Baehler's financial manager among others. You mentioned Mr. Ihab Shafik in your article too. It is so sad the building reached its present state both aesthetically and functionally, but its grandeur shines through nevertheless.


---

Subject: Charles Baehler
Date: Thu, 23 Nov 2000 17:08:36 -0800
From: "Maryse Zeitouni" <MARLANDERS@peoplepc.com>

You've brought back so many memories with your article on Charles Baehler. I was born and lived at 3 Rue Baehler for 19 years. I remember the Cinema Radio on the Soliman Pasha side and Lappas (I think) on the Kasr-El-Nil side. Keep up the good work ...


Email your thoughts to egy.com
© Copyright Samir Raafat
Any commercial use of the data and/or content is prohibited
reproduction of photos from this website strictly forbidden
touts droits reserves