egy.com suggests following articles
EGY.COM - HISTORICA
STELLA'S GRANDPA 1897-1947

Samir Raafat
Egyptian Mail, Saturday, June 14, 1997; Cairo Times, May 14, 1998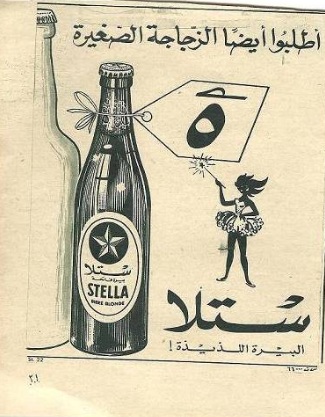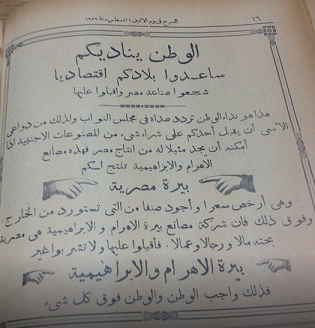 1927 Support Egypt's economy campaign: BUY LOCAL BEER
Even the most abstaining teetotaler heard of the golden liquid in the green bottle sporting the yellow label and blue star. To her credit la blonde or Stella, as Egypt's leading beer was called for half a century, survived a whopping recession, two world wars, a coup d'etat, sequestration and, more recently, a spate of religious conservatism.
The older generations may still remember how, if arak was not available, the affordable Stella (6.5 piasters per bottle in the 1940s!) took precedence at the Kit-Kat, the Dahabia, the Parisienne, Chez Badia or Casino al-Shagara, Cairo's most popular digs in the pre-1950 era. Not a Christmas or Shabat passed where Stella was not present on the table whenever guests appeared. Sham al-Nessim would invariably mean fessikh and Stella.
Some old timers even argue that it was thanks to Stella that Aussies and Kiwis defeated the Pils-drinking Krauts at Alamein!
Incorporated in Belgium--home to the world famous Stella Artois--the first producers of the Egyptian Stella opened shop in May 1898 under the name Crown Brewery Company of Cairo. But in order to avoid confusion with its older Alexandria sibling by the same name, the directors quickly decided on a name change: Société Anonyme Brasserie des Pyramides (Pyramids Brewery). For several decades thereafter, the fortress-like beer plant in the district of Bein al-Sarayat remained one Giza's most famous landmarks. Fortunately, the plant is still with us today.
Pyramids Brewery's first public share offering comprised 15,000 shares priced at FF 100 each. Due to high start-up costs, the company was obliged to launch a second share issue in November 1904 bringing total shares on the market to 20,000. But with careful investments and the combination of Belgian know-how and equipage, Pyramids Brewery gradually displaced existing mom n' pop beer manufacturers and stood up to famous imported brand names including Bremen's Burton Beck & Co. and the widespread Guinness Stout.
At first, treated Nile water was used for the production of the golden ale, but finding it was not up to the required standard, Pyramids Brewery resorted to aquifers. Another change in keeping with growing demand was the necessity to keep a constant stock of 6,281 hectoliters with a guaranteed four-month storage period to ensure quality. All these changes came with a hefty price tag, yet by year-end 1906, Pyramids Brewery made it into the black showing a profit of FF 164,023 with a 30% increase in overall production. Board chairman Chakour Pasha could now toast his fellow directors Messrs. L. Carton de Wiart, Florent Lambert, J. Debonne, Alfonso Colucci and L. Dumonceau. And with 34 brasseries and beer halls already registered in Cairo, there would be many toasts to come.
In Alexandria meanwhile, beer drinkers were more than satisfied with their own local brew. They had a choice between ale produced by the Swiss Bomonti Brothers of Karmous, near Alexandria's Mahmoudia Canal, or that which was marketed by the Alexandria Crown Brewery Company launched at Ibrahimieh in 1897.
It would take a series of mergers and acquisitions--the first in 1909 and the last on Christmas day 1922-- before the emerging Bomonti & Pyramids Beer Company could call itself Egypt's leading brewery. By then, Stella beer had become the symbol of reliability and good times.
Things got even better when a million thirsty Allied soldiers passed through Egypt during WW2. By its fiftieth year, Stella beer had become an international brand name without ever leaving Egyptian territory.
After the war, with a capital of LE 192,875, Bomonti & Pyramids Beer Company underwent major changes in conformity with the New Company Act requiring larger Egyptian representation on company boards. This was when Cotton King Mohammed Ahmed Fargahli Pasha also became known as King Beer reference to his becoming the first Egyptian to run Bomonti & Pyramids. It was about this time that the company entered into a technical-assistance agreement with Heineken.
In July 1953, a year after the hurried departure of another king--Farouk of Egypt--the "Bomonti" in the company's name was dropped and the "Pyramids" arabized to Al Ahram.
More changes still when, in 1962, Ahram Beverages along with Egypt's entire private sector succumbed to sequestration and nationalization. Crown Brewery Company of Alexandria, which had so far resisted merging with its Cairo nemesis, did so by ministerial decree. Competition and quality suffered as government appointees, free from shareholder accountability, were coerced into importing the company's needs from the Soviet Union and its Eastern satellites.
The era of a flat, stingless Stella had arrived.
It was during this time that the non-alcoholic brand "Birell" was launched as a means of placating growing anti-secular sentiment calling for the summary prohibition of the golden ale. A compromise was found when alcoholic beverages were banned from non-touristic sites and during the month of Ramadan. But time was on Stella' s side.
By successfully launching Egypt's first ever GDR financing in 1997, Ahram Beverages Company found itself at the center of media attention and at the vanguard of Egypt's move towards privatization. Despite those who had exaggerated Stella's demise, the golden froth is today the beacon of economic change. Another beer-making milestone achieved in time for Stella's 100th birthday.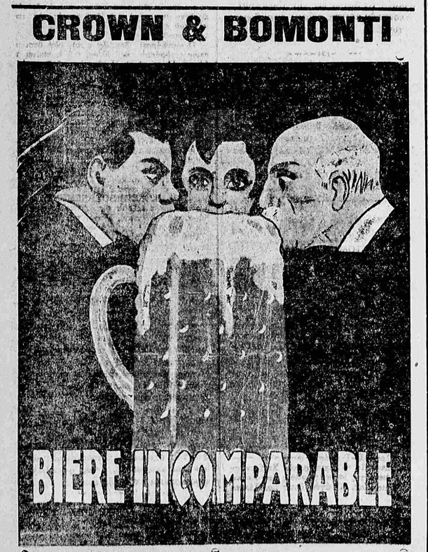 a 1928 advertisement in the Alexandria Greek-language newspaper TACHYDROMOS (courtesy G.LIVADAS)
Email your thoughts to egy.com
© Copyright Samir Raafat
Any commercial use of the data and/or content is prohibited
reproduction of photos from this website strictly forbidden
touts droits reserves