egy.com suggests following articles
Several of my articles on Garden City were plagiarized word for word by novelist MEKKAWI SAID (winner of the Egyptian State price for literature!!!!) and re-published under his own name in a three-part series in El-Masry El-Youm daily in September 2015.
Cheers to our "talented" literature prize awardee. Your pain his gain !!!
EGY.COM - GARDEN CITY
GARDEN CITY:
A Retrospective PART 4
by Samir Raafat,
September 17, 1998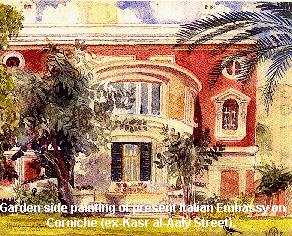 11 June 1940 shall forever remain a milestone in Garden City's history.
The day before, in a bellicose speech from a Venice balcony, Mussolini declared war against the Allies. Within 24 hours Italy's ambassador Count Mazzolini took leave of Prime Minister Aly Maher. In accordance with wartime custom the Italian embassy property on al-Kasr al-Aaly Street (the Corniche) was left in the custody of a neutral power. As he stepped out of the compound with 191 diplomats and personnel in tow, the Italian envoy instructed his hired help that Swiss flag notwithstanding everything should remain in place. Mazzolini was confident they would all be back on the heels of the Fascist legions victory in a matter of two weeks.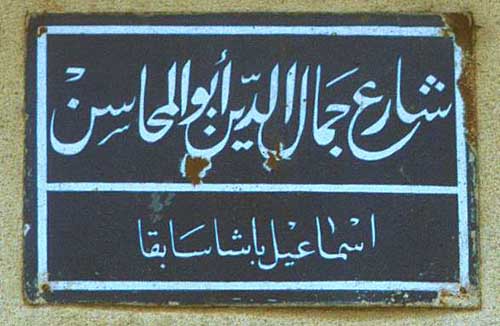 A few blocks away, at No.24 Ismail Pasha Street, naturalized Italian banker-industrialist Elie Nessim Mosseri Bey was also vacating his Garden City mansion. Having succumbed to a fatal heart attack the day before he was ferried across town to the splendid family vault in Bassatine.
For the Garden City community, Mosseri's death was a critical loss. To the pasha-politicians he had been a dependable no-questions-asked source of funds during election time. To the pasha-businessmen he was the best connection on Egypt's blue chip boards. To Garden City's wealthy Jews, he was a a respected elder of their thriving community. It also didn't go unnoticed for Garden City's residents that the handsome 20-year-old King Farouk took to cheering up Helen Polymires, Mosseri's tantalizing Greek widow.
Things were also changing down the road from the Mosseri mansion.
As British military staff swelled to unprecedented wartime proportions, accommodations were found post haste so that the entire area around the British Residency in Kasr Al Dubara was spoken for within a matter of months. Surplus personnel were therefore moved inside Garden City where entire apartment buildings were requisitioned for the khaki-clad arrivals. Garden City's anglophile elements so welcomed the military brass they willingly loaned villas to senior officers.
Other Garden City residents opened their "at home" gatherings to anyone above the rank of captain. George Wissa Pasha's villa on al-Kasr al-Aaly--designed by architect Mario Rossi--became a favorite Allied rendezvous with the basement converted by his spouse into a "Rest & Relief" nightclub.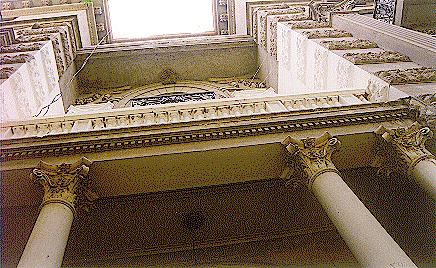 In July 1941 cables out of London announced that the newly nominated nominated Minister of State for Middle East Affairs would be arriving in Cairo shortly. While the Reuters cable implied Oliver Lyttleton would be the first in the history of British administration to run an overseas ministry, it failed to report that Garden City's No.10 Tolombat Street had been selected as its headquarters. Where only the clatter of the King's ceremonial open carriage had interrupted the town's silence during its practise runs, Tolombat Street would unexpectedly become the venue for endless outriders and unmarked military vehicles.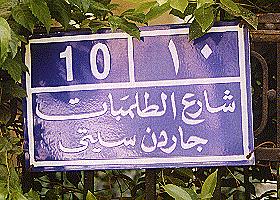 Apropos of the four colonnades which festoon No. 10 Tolombat's stately foyer, the new ministry was referred to in secret dispatches as "Gray Pillars." On the other hand, senior officers nicknamed it "No.10," an allusion to the British prime minister's official London residence. The locals, meanwhile, knew the building simply as the Assicurazioni. A plaque at the entrance evidenced that the building was insured with the Trieste-based insurance company by that name. The only reference to the building's owner, Omar Sirry, was made in the form of his initials, which were incorporated into the beautiful iron grill above the main door.
At any time of the day, visitors to Gray Pillars invariably ran into a Balkan prime minister, an exiled European royal, a former head of state, an American general or a leader-in-waiting: Iraq's ill-fated future prime minister Nuri Al Said, Britain's Anthony Eden, France's Charles de Gaulle, and World Zionist Organization leader Chaim Weizmann all stopped by during the war. In fact it was at No.10 that Lyttelton and de Gaulle initialed the 7 August 1941 covenant paving the way for Syria and Lebanon's independence with special post-colonial privileges to France.
No 10 Tolombat Street would be headed in turn by Lyttelton, Richard Casey and Lord Moyne. (It was as Lord Moyne was returning home from No.10 when he was gunned down by two Zionist terrorists in Zamalek.) If any building in Garden City deserves to be listed as a national heritage monument, Gray Pillars is surely the one. It meets all the requirements: distinctive style, historical significance, sound condition and architectural merit.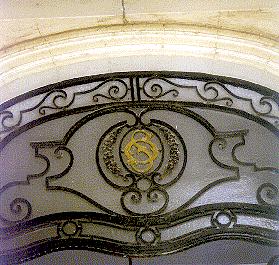 Winding roads leading to and from Gray Pillars were guarded by Allied soldiers who made routine checks on passers by. This was considered a blatant provocation by some of the British ministry's proud neighbors particularly for someone like the openly pro-German Prince Abbas Halim.
An intermittent resident at his in-laws at No.3 Tolombat Street, Abbas Halim was considered an agent provateur by the British. Unlike King Farouk who kept his sentiments in check, his cousin was considered a troublemaker by some members of the royal entourage who did not take too well to Prince Halim's vocal support of the Workers Union. It came as no suprise therefore when the prince was summarily interned at the "suggestion" of the British ambassador Sir Miles Lampson. As a result of Halim's arrest and the ongoing war, No. 3 Tolombat was leased to Lampson's friend, Alexander C. Kirk, America's wartime envoy to Cairo.
With Allied soldiers swaggering in and out of Garden City, empty plots were turned into footbal and cricket pitches giving the opportunity to local teenagers to stage quick "Sieg heils" before dashing for cover. In their unsophisticated way, Garden City's golden youth were expressing publicly a sentiment that many of their pasha parents voiced privately: war or no war, the imperious Britons had overstayed their welcome.
Reproduction of painting of 1929-built Italian embassy courtesy of Ambassador Francesco Aloisi de Larderel.
Gray Pillars from author's collection
No 10 Tolombat Street, Garden City" from author's collection.
"OS" (Omar Sirry) from author's collection
go to PART 5
Reader Comments

Subject: http://www.egy.com/landmarks/98-09-17.shtml
Date: Mon, 3 Jun 2002 21:24:24 +0200
From: E. Brooke Whitaker

Samir,
I came across your landmark articles in the subject website. I wanted to let you know that the information you provide is fantastic. I used to live in Cairo (1993-1999) and tried without luck to find a map or guide to famous landmarks in Cairo when I was there. You should get AUC to sponsor a book of both old and current photographs of the places you mention with your commentary. It would surely be a good seller.
I also wanted you to know that the famous Gray Pillars at 10 Tolombat was the exact place where Capt. David Sterling founded the Long Range Desert Group (operating out of Siwa Oasis) which very soon thereafter turned into the British SAS. Yes, the SAS was founded in Cairo in that building. I know an old guy in London who joined the SAS in that building during the war. The Long Range Desert Group/SAS fired the first shots in WWII on a raid into Libya.
Seriously, you did a fantastic job. Don't let it get lost on the web; turn it into a book.
Best regards,
Email your thoughts to egy.com
© Copyright Samir Raafat
Any commercial use of the data and/or content is prohibited
reproduction of photos from this website strictly forbidden
touts droits reserves