egy.com suggests following articles
Several of my articles on Garden City were plagiarized word for word by novelist MEKKAWI SAID (winner of the Egyptian State price for literature!!!!) and re-published under his own name in a three-part series in El-Masry El-Youm daily in September 2015.
Cheers to our "talented" literature prize awardee. Your pain his gain !!!
EGY.COM - GARDEN CITY
GARDEN CITY:
A Retrospective PART 5

by Samir Raafat,
October 1, 1998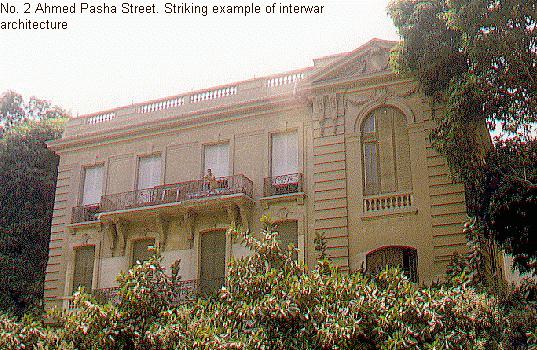 Manasterly Bldg. No. 2 Ahmed Pasha; Hotel Particulier style designed by George Parcq in 1923
Neither the Great War nor the global financial crash of 1929-30 held back Garden City's architecture onslaught where no two structures look the same. Villas and immeubles de rapport (luxury low rise apartment blocks) mushroomed across the district as Cairo's ranking architects battled over who was going to erect the grandest and largest.
For sure, architectural "follies" of Egypt's rising bourgeoisie were slowly taking shape. As if reflecting Egypt's bias against Britain, Cairo's fashionable community avoided colonial villas, choosing instead a synthesis of neoclassic, Venetian palladium and Gothic pastiches amidst a festival of Art Deco.
The most coveted architect at the time was undeniably Antoine Lasciac. Whereas in downtown Cairo he specialized in Islamo-Venetian buildings (Banque Misr among others), in Garden City the Trieste-born creator of the "Sherif Sabry Palace" indulged in classical paladia with all the playful trimmings.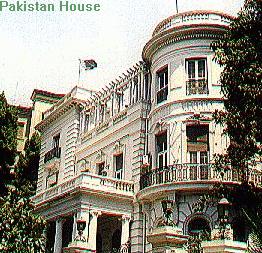 The neighborhood's Francophile Syrian-Lebanese elite meanwhile opted for Georges Parcq. Having already designed the imposing Sednaoui emporium on Khazindar Square, Parcq was commissioned by Elias and Joseph Sednaoui to build their respective Garden City villas. In his unpublished journal Elias Bey describes his purchase in 1916 of a plot of land on Warchet al-Tombak Street from banker Aziz Bahari. Elias Bey exalts the fact that it overlooked the British legation as though a justification for the higher price of LE3.25 per square meter. Six decades later his villa, now temporarily famous as the former American Embassy Library, would sell for the alleged sum of LE 16 million pounds--LE10,000 a square meter.
Another Parcq mansion gone the embassy route is "Pakistan House." Built for industrialist Emile Jacobs in 1935, it was subsequently purchased by Aga Khan III who in turn gifted it to the Pakistan government.
Parcq is also credited for the Maratos Building at No.6 Walda Pasha (built in 1914); the Cassab Building at No.14 Saraya Al Kubra, completed in 1925; and the two Sabet buildings on Ismail Pasha Street and Midan Ismail Pasha built in 1925.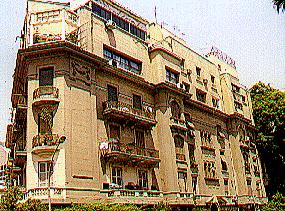 During Prince Ahmed Seifeddin's involuntary exile to Turkey, his Cairo daira (privy office) commissioned an Italian architect to design three of the neighborhood's most celebrated apartment structures collectively known as the Seifeddine Buildings. While two of these overlook Kasr al-Aini Street (Nos. 68 and 88), the third (No.1095 Corniche Al Nil) overlooks the Nile. First generation tenants fondly remember the monarchy days when bowwabs stood guard in their striking, crown-embroidered red kaftans. When the Prince died in 1937, his assets passed on to his sister, the Princess Shuvekar. The following year she commissioned Guiseppe Mazza to build her four semi-detached buildings on Bergas Street which she promptly christened "The Elhamy Buildings" in honor of her fifth husband Elhamy Hussein Pasha.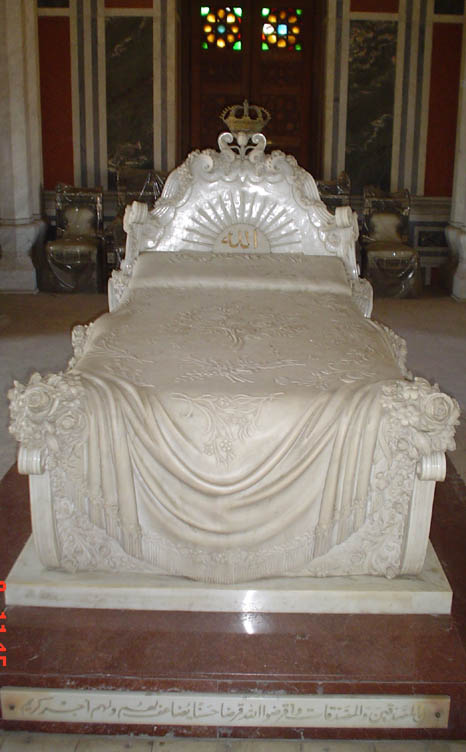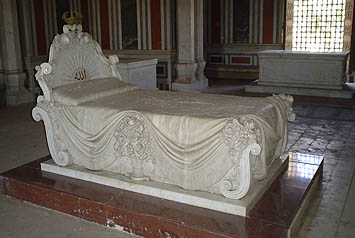 fond of Italian architects Princess Shuvekar commisioned Italian sculptor Batagllia of Florence to design her tomb in the shape of a bed made entirely of Carara marble
We meet Mazza again at No.5 Naguib Ibrahim Pasha Street, a classical concrete building commissioned in 1929 by Air Liquide's agents in Cairo, Georges and Elie Muscat. Mazza is also credited to have designed the villa of Naguib Boutors-Ghali Pasha (today the Indonesian Embassy) on Aicha Taymouriya Street.
An interesting extant Venetian villa in the south-central section of Garden City was built for Menasce-Sapriel at No.1 Tolombat Street. Rather than accommodating a visiting Doge it was instead leased to Princess Iffet Hassan during the final days of Farouk's reign. For the past decade, the rundown building doubles as an Arab League Library. Its garden meanwhile has given way to ramshackle auto repair shops.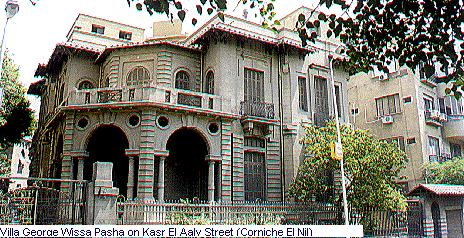 Other celebrated Garden City architects include Michel Libermann, creator of the 1926-built Villa Naguib Sarruf at No.6 Ahmed Pasha Street, and Raoul Zehery, builder of the broad 1934 art-deco building at No.2 Tolombat Street.
The purest art-deco structure however can be found at No.18 Dar Al Shifa Street, built by Nubar Kevorkian in 1930.
Less attractive from outside, yet harboring palatial interiors, is an immeuble de rapport at No.9 Hod al-Laban, built in 1922 by Limongelli for himself.
Another architect famous for his international-style is Antoine Selim Nahas. His two adjoining works at Nos. 14 and 16 Nabatat were commissioned by Shafik and Edouard Mitry, founders of Dar Al Maaref. The latter building boasts a unique foyer which uses natural material for its lighting system, an innovation which Nahas repeated in several other interwar buildings, commissioned by Syrian entrepreneur Sabet Sabet.
At No.5 Ahmed Pasha stands the pride of Garden City's interwar collection--the palatial mansion of Abdelaziz Badrawi Pasha, Egypt's wealthiest pre-1952 landowner. Designed by Leon Azema (co-designer of Palais de Chaillot, Paris), this excellent illustration of stylized Art Deco was home to American ambassadors in the 1960s before it was purchased by the Embassy of Japan.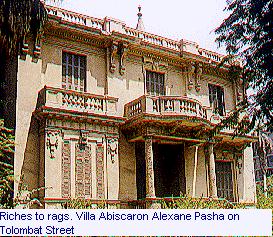 An architectural walk through Garden City reveals many other handsome interwar buildings, including some whose architects and designers are regretably unknown. Topping this list are the three adjacent Smouha-Ades Buildings at the corner of Ismail Pasha and Nabatat Streets; the Ades Building (No.20 Ismail Pasha), which houses the Fulbright Commission; and the Palacci-Naggar-Ades Building (No.23), which lost part of its classical facade when the Egyptian American bank sought to introduce a separate street entrance.
Equally impressive is the Albert Mizrahi Building at No.12 Ibrahim Naguib Pasha subsequently sold to tobacco-king Matossian, later to Korahsi Pasha, and recently restored by a subsequent ownerwho leased the ground floor to the Austrian Ambasador. Also in that league is the less fortunate Massouda-Barukh Building at No.3 Saraya Al Kobra. Many of these buildings' contractors were Italian. However, considering an excellent track record in Heliopolis, it's no surprise that Les Entreprises Leon Rolins of Belgium were Garden City's finest.
Photos from author's collection.
Top picture at corner of Ahmad Pasha and Ismail Pasha Street. Original tenants: Egizio Borsa, Edy Isel Ventura and Felix Jabes.
Pakistan House and Cassab Building also designed by George Parcq.
Villa Wissa attributed to architect Mario Rossi built originally for court physician Mohammed Shahine Pasha. Once widowed he sold it in the mid-1920s to Coptic notable George Wissa Pasha.
Villa Abiscaroun Alexane Pasha architect unknown.
A senior Egyptian diplomat claims the Indonesian government was offered the former Garden City villa of Naguib Boutros Ghali Pasha to be used as both residence and chancery as a reciprocal gesture after President Sukarnoe asked the wife of Egypt's first Ambassador to Jakarta to look around, pledging that any building to her liking will be a gift as a residence to future Egyptian Ambassadors. The lady opted for a nice, colonial style building which was, and still is, a national heritage monument with a plaque to that effect appended at the entrance of the building.
Distinction should be made between the Damascus Ades (Smouha & Naggar) and the Ades of Aleppo
go to PART 6
Email your thoughts to egy.com
© Copyright Samir Raafat
Any commercial use of the data and/or content is prohibited
reproduction of photos from this website strictly forbidden
touts droits reserves