egy.com suggests following articles
EGY.COM - COMMUNITY
Cairo's Un-Real Estate Market
Mona Foda, Owner of Egypt's First Women-only
Real Estate Agency Speaks Out

Samir Raafat
Community Times, March 1, 1998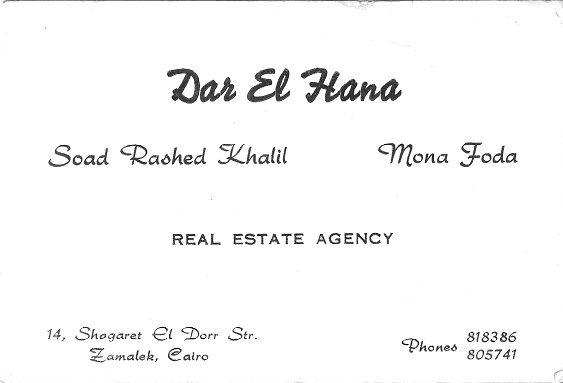 "The market has come a long way since the day I closed my first deal with a Peruvian diplomat 25 years ago," says Mona Foda, senior partner of one of Cairo's oldest real-estate agencies. "In those days my boss and I operated through a tom-tom and messenger system because telephones were down most of the time."
This was also the time when Foda recovered from a failed marriage in Canada.
When she traveled to Switzerland in her late teens, Foda wasn't sure if she was ever returning to Egypt, let alone one day take over Cairo's first women-only real estate agency. A pre-1952 senator's daughter married to the grandson of interwar Prime Minister Ismail Sidki Pasha, Foda now envisaged a new life away from a country which had gone socialist and where her peers didn't know where their next monthly earnings would come from. These were the scary 60s.
Following the birth of their first child Foda and husband moved again, this time to Canada where she made a short-lived attempt at professional life. It wasn't easy since all she had going for her was the equivalent of a high school certificate. And with the birth of a second son, there was no question of getting a regular job. The marriage meanwhile went up in smoke so that it was as a single mother that she made the downhearted return journey home.
The Egypt Foda found was different from the one she left. A change in regime and the jubilant aftermath of the 1973 October War had seen to it. Moreover, the boom-bust cycle was taking a turn for the better. Cautious optimism prevailed everywhere.
After a short stint in a fashionable boutique, Foda learned that Mrs. Soad Rashed was looking at expanding her real-estate agency. Established circa 1961, this was the first woman-run agency in the history of Cairo's real-estate market, a trend followed years later as more ladies of leisure joined the trade. That Soad was far ahead of her competitors is an understatement. Besides her natural beauty, engaging smile and reassuring voice, she spoke several languages. Raised in Vienna by her Istambulite mother Soad spoke Turkish and German with ease. Add to it French, English and Arabic, Rashed was the ultimate polyglot. A leading Cairo hostess in her own right, our attractive real estate pioneer was sought after by Western and Latin-American embassies--hence Soad was the first to know regarding diplomatic departures and arrivals. Most definitely she had cornered a very lucrative niche within the real estate market.
As business expanded Rashed sought assistance from like-minded multilingual persons. Two candidates responded. Mona Tewfik Badrawi, the chain-smoking daughter of Egypt's largest nationalized landowner, and Nadia Akram Ojjeh, the bubbly daughter of a Paris-based Syrian tycoon. Mona Foda would be the third.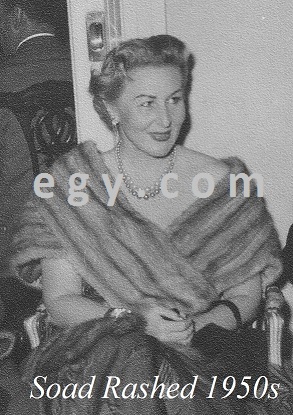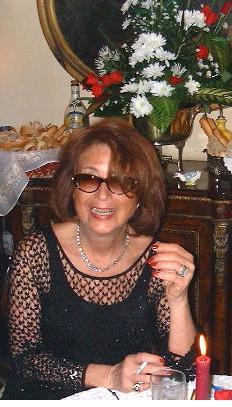 Cairo socialites Soad Rashed and Mona Foda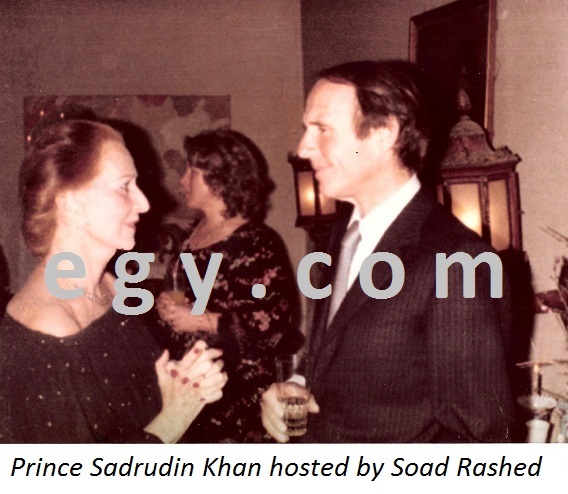 A quick learner, Foda joined the firm in the mid-70s just as business was taking off. Lebanon had gone to war with itself and deluxe refugees were streaming into Cairo. The new arrivals coincided with the vertical magnification of the relative new district of Mohandessine. Unlike most other clients, the keefik cheriiii crowd were a cash-ready clientele looking for a place to lay anchor. Deals in those days were a snap. Heretofore, the agency dealt primarily with exacting foreign diplomats who were interested in either Garden City, Zamalek or Maadi. All three districts boasted a western flavor about them: Garden City with its grand mansions and hotels particulier style , Maadi with its garden villas and foreign schools, Zamalek where almost every smart building had a view of the Nile or fronted the famous Gezira Club.
The late '60s and early '70s were known in the trade as the tight years. These were the pre building-boom days when demand for upmarket real estate far exceeded supply. Fortunately for Rashed and her jaunty team, they knew most of the villa and luxury apartment owners who, at the time, represented a cross-section of Egypt's ancien regime. For economic reasons, many among them were obliged to rent out their premises while they themselves rented smaller apartments. In this respect Rashed's agency had an edge on its competitors who otherwise had to rely on the trade's single most important source of information: the boab Egypt's version of what in Europe is commonly known as concierge.
Save for Rashed and one or two professional real estate offices including Khourys of Zamalek, the 60s were characterized by mom & pop type setups. No surprise then that Maadi's earliest agents worked out of makeshift kiosks, coffee shops and bicycle stands.
It was Sadat's infitah (open door policy) which jump-started the 1970s building boom that supplanted a decade and a half of private sector construction freeze. Overnight apartment houses went up as more and more people capitalized on the avalanche of foreign arrivals, mainly bankers, corporate and oil executives, and platoons of white collar experts. The rental market flourished. Moreover, there was an emerging class of Gulf money itching to get in on the building boom. With time, real-estate supply far outdistanced demand.
The building map of Cairo was changing irrevocably.
While the 1960s and early '70s were characterized by a western clientele in search of villas and grand "style" apartments, the '80s saw a rush for everything modern, from aluminum French windows and en-suite bedrooms to air-conditioned kitchens... all the neoteric trimmings. Curiously, the mid '90s saw a return to old refurbished apartments preferably with high ceilings, parquet and chimneys. In fact, to this day, Zamalek's Union, Lebon and Ali Labib Gabr buildings remain top of the line. In the same league but with four decades separating them are the modern al-Abd and al-Gamal buildings. The 30 story-plus al-Abd overlooks the Gezira Club, comes with a garage and fire escape, has security service (a big thing now), and offers five and four bedroom configurations. Equally important, al-Abd boasts a service elevator and a standby generator.
As more four and five bedroom configurations come on stream—even if the rooms are smaller and box-shaped—what remains scarce are the one-bedroom units. Foda claims there is a growing demand for European and New York type studios especially from single expats or those who prefer to leave their families behind.
Another phenomena, says Foda, is the declining amount of balconies and terraces. On the one hand apartment owners like to incorporate their balconies into the flat for dust and noise considerations, while on the other hand, foreign renters specifically request open balconies in order to take in Egypt's sunny round-the year climate.
Today, business is conducted by fax, cellular and car phone. Even internet and electronic mail is coming into play, says Foda, who has had intermittent recourse on her two sons, Ali Marei, a married Coca Cola executive in West Africa, and Hussein who did his own stint in real estate before getting into environmentally friendly transportation—the economical and silent Vespa.
Although the GMZ (Garden City, Maadi, Zamalek) districts still represents a major portion of real-estate business, agencies are looking more and more at the Pyramids area, well beyond Giza's sought after Nileside. With the growth of industrial parks and satellite towns like 6th of October City west of Cairo, new arrivals want to live close to their place of employment. Furthermore, the opening of new foreign schools on Cairo's periphery has taken away from Maadi's educational exclusivity.
As Cairo quickly expands into the outlying desert, Foda and others in her profession realize it is impossible for any one agency to cover both the metropolitan area and the new gated settlements on Cairo's periphery—derided by some as 'deluxe ghettos', which is why more and more intra-agency deals are now made on a split commission basis.
With regards to the first years of the next millennium, Foda expects a surge in demand for Cairo's outer regions. Her agency has already been approached by Katameya luxury home owners who are putting their villas on the market presumably for those with a penchant for golf. "It could be that with the unprecedented availability of new suburban developments we will see a drop in prices in the GMZ area."
According to Foda, certain things in her line of business haven't changed. "For starters, in the absence of state-sanctioned guidelines, we still rely on the integrity and honesty of the persons we deal with. Secondly, the time factor. Lucky is the day you clinch a deal on your first outing. Conversely, you can visit 30 potentials and no dice. There is also the customer who wants it all: Nile AND pyramids view, five bedrooms, central air-condition, Jacuzzi, the whole works, but alas has no corresponding hard cash!"
There are also the risks of the trade such as the lessor who renegades on the deal or one who refuses to pay the standard commission. There is the recurring renter who holds the real-estate agent responsible whenever anything goes wrong in the rented unit. And there is the collapse of a deal even as the contract is about to be signed, either because of poor communication between lessor and lessee, or because of interference of an overzealous lawyer who wants a piece of the action.
Also according to Foda, the state of the real estate market is giving rise to growing concern. Will the expansion of activity and the astronomical rise in price levels, which have characterized the last 15 years, continue? And to what extent is the market influenced by internal factors, such as government-land sales and the pace of construction? There are no easy answers.
One particular feature which distinguishes the real estate market from "normal" markets—such as those for tomatoes, televisions—where 'the lower the price, the greater the demand', is how when real estate prices rise more people are led to buy more apartments and other properties. Conversely, falling prices are always accompanied by lower demand and lower activity.
Whatever the reason for the above phenomenon it ultimately means everyone in the business of building and selling homes, offices and factories, has a vested interest in prices going up. Agents, who realize their profit from volume rather than the absolute price level, favor rising prices especially since falling prices coincide with the shriveling volume of transactions.
From personal experience Foda will tell no boom lasts forever. Real-estate, like all markets for hard assets, is a cyclical business tied to the overall economy. There are ups and downs with only their intensity and volatility varying from one cycle to another. "To this day there has been no expert assessment on the state of the local market so that many analysts consider the going residential prices illusory." A situation which in turn leads everyone to ask whether we are in fact dealing in an "unreal" estate market rather than the "real".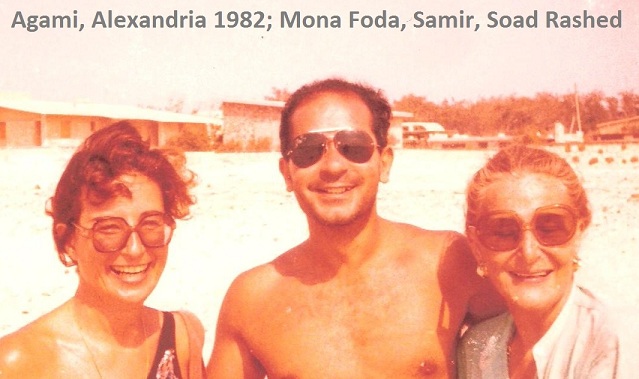 author of article with Cairo's pioneer real estate agents in 1982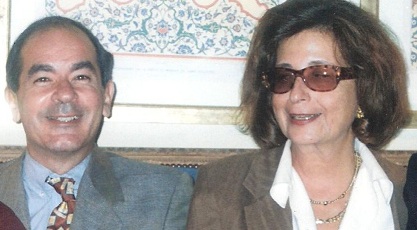 ... with Mona Foda shortly before she passed away on 17 November 2000 after a long fight with cancer
---
Reader Comments
As a result of above article I received several queries regarding real estate pioneer Soad Rashed who fascinated many members of her generation. Which is why I compiled the following write-up on Soad's family. Since most of the characters are of Tcherkess origins I chose the following title: IT HAPPENED AMONG CIRCASSIANS


Soad Rashed's uncle General Ali Sait Akbaytugan with Mustafa Kemal Ataturk in 1926
Email your thoughts to egy.com
© Copyright Samir Raafat
Any commercial use of the data and/or content is prohibited
reproduction of photos from this website strictly forbidden
touts droits reserves