egy.com suggests following articles
EGY.COM - COMMUNITY
IT HAPPENED AMONG CIRCASSIANS
The Family of Hayriye Melek HunÁ

researched by Samir Raafat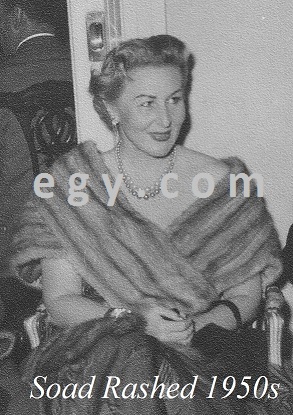 Egypt's social icon of the 1940s and 50s

From her parents Soad is pure Circassian and hers is a long connection between the Caucasus in southern Russia and Egypt. The more recent arrival from Istanbul was her mother Neciye HunÁ a.k.a. Negiye Mohammed Sait.
It was during a pre-WW1 Istanbul-Alexandria crossing that Negiye Hanim met Rashed Fahmy Bey, a well to do Egypto-Circassian landowner who had once been superintendent of Prince Jameel Toussoun's Teftish, or estates. During this fated three-day sea voyage the smitten couple impulsively decided to get married. But Fahmy, a Circassian-born escapee raised in the Cairo home of Talaat Pasha, was already married to Zeinab Hanim herself a Circassian from the Shevki family. Together they had had three daughters, Aleya, Effat and Fatma-Neamat. The latter, Fatma-Neamat, would become internationally famous in 1942 as the first female founder of an Egyptian Party dealing with womenís lib. She was also a founding member of the Egyptian Journalist Syndicate having published several magazines dealing with social an family issues.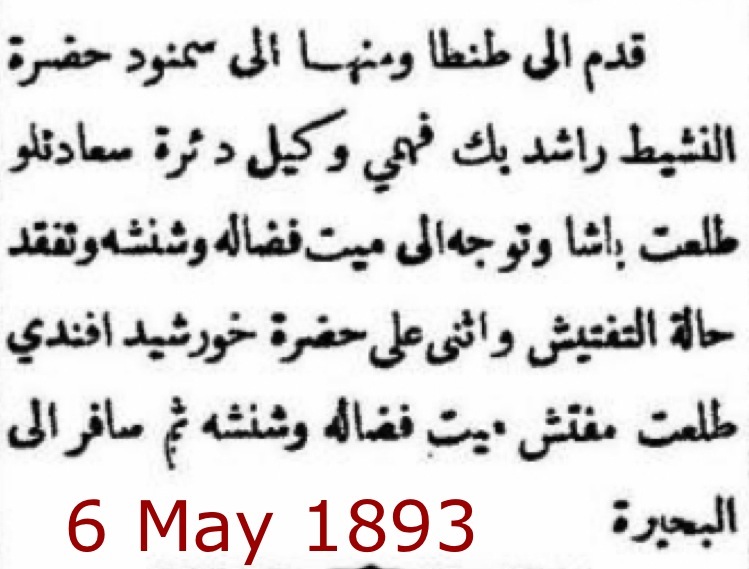 Al Ahram 6 May 1893 reporting that Rashid Fahmy Bey superintendent of Talaa Pasha's plantations was on an inspection tour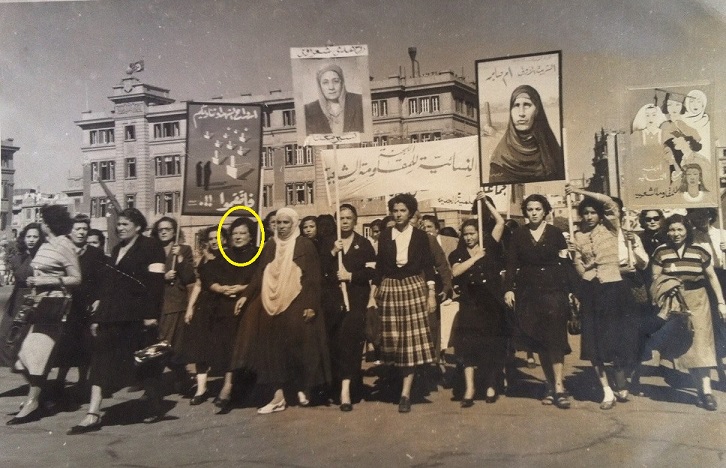 Fatma-Neamat Rashed Fahmy leading a women's demonstration in Cairo's Abdeen Square in 1936
Note no one is wearing the hedjab in those days except in old photos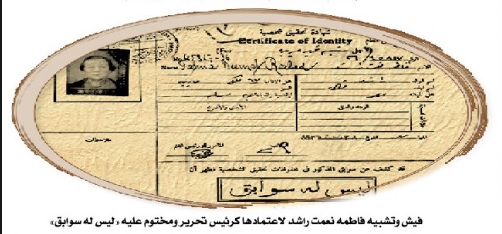 certificate of good conduct issued by ministry of interior enabling Fatma-Neamat Rashed Fahmy to issue her first magazine
The fact that he was already married did not seem to deter Rashed Fahmy or his adventurous new bride. Invigorated by his new conquest, the fifty-something Rashed Fahmy sired Adel (his only son) and Soad. He died in the early 1930s while at his 200-feddan property in Samanoud, somewhere near Mansoura in the Nile Delta. Negiye Hanim survived him by another thirty years and was buried in Cairo.
Negiye Hanim had four sisters and two brothers all beneficiaries of a generous wakf or trust, left behind by an uncle, Hasan Yakub Pasha, the third husband of Khedive Ismail's daughter Princess Jamile-Fadile (Cemile-Fazile in Turkish). Because the trust consisted mainly of agricultural properties in Egypt, hence the attraction of that country by Yacub's heirs. But with the dissolution of the monarchy in Egypt in 1952, the wakf and all its assets were confiscated by the state.
By far the most beautiful of the HunÁ siblings was Faika Hanim. In her mid-teens she had spent time in the Sultanic harem in Istanbul courted by one of the Shehzades, or Imperial Ottoman Prince. The courtship over she traveled to Syria where she wed Nafie El Jabri Pasha of Aleppo. Prematuraly widowed, she traveled with her infant daughter to Egypt. It was soon after that she wed her mother's wealthy Circassian cousin Ishak Hussein Bey elevated to pasha on 10 October 1919. Ishak pasha was a prominent member of the Egyptian Olympic Committee. A tall well groomed man, he lived in a saray in Mattaria outside Cairo where he owned several Arabian thoroughbreds some of them winning races held in sporting clubs across Egypt.
One assumes Faika Hanim lived happily in the company of her new husband, her infant Syrian daughter Galila, and Hasan-Tahseen, her handicapped brother who died in February 1944 while in residence at the Ishak Hussein saray. Ishak Pasha died the following May.
It was in his Cairo and Alexandria sarays that the pasha helped raise Faika Hanimís only child. And as Tcherkess tradition demanded, a suitable husband was eventually found for the young girl. But when that marriage crumbled following the death-by-typhoid in Alexandria of Galilaís infant son Mohaab, she divorced her Turco-Egyptian husband, Mamdouh Sabry Bey, and took on a new spouse, the Syrian Safouh al-Mo'ayed from the Al-Azm clan of Damascus with whom she had a son, Nafei Safouh al-Mo'ayed al-Azm.
Undoubtedly, the more famous of the HunÁ sisters was author Hayriye-Melek HunÁ (d. 24 October 1963 Istanbul) who co-founded The Circassian Women's Support Organization in 18 May 1919. Hers is a long story best told elsewhere.
Negiye Hanimís military brother was Ali Sait Akbaytugan Pasha (1872 Manasa - 1950 Ankara) of the 1918-19 Yemen campaign soon to become the Empire's last Circassian-born commander. Conversely, with the declaration of the Turkish republic, General Ali Sait also became one of its first Circassian generals and a companion of Mustafa Kamal. His landmark Akbay-Tugan building on Siraselviler Street in Istanbul's famous Cihangir district was bequeathed by his childless widow to the DarŁashafaka benevolent association in the 1980s.
As already mentioned, Negiye and her husband Rashed Fahmy had a son, Adel, and a daughter, Soad. Adel Rashed was raised on his fatherís farm in Samanoud after an unsuccessful parcours in several Viennese (Austria) schools all of which refused to keep him for apparent misbehavior. His only claim to fame is the number of wives he let down. Among them we find a German and a member of the Egyptian royal family el Nabila Emine Amr Ibrahim. Another wife who was also a fellow gambler by the name of Aida Reda complained bitterly of how he was a compulsive womanizer and an irresponsible partner.
As for Soad Rashed Fahmy, she passed away in Cairo on the 4th of December 1992 after a long fight with cancer. Having won many battles during her adventuresome life she ultimately lost the most important one. She is survived by a son, Amr M. Khalil.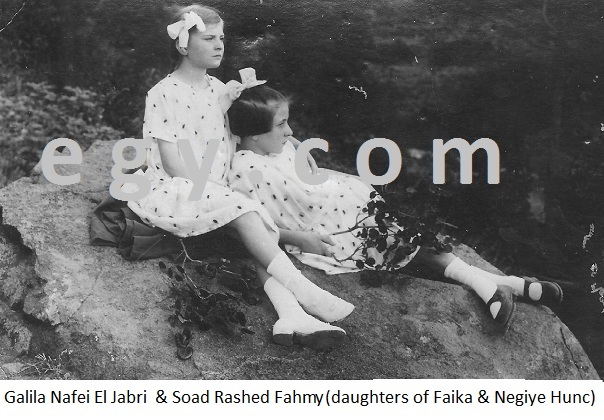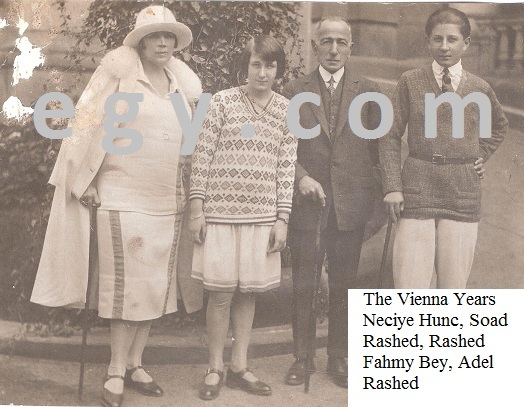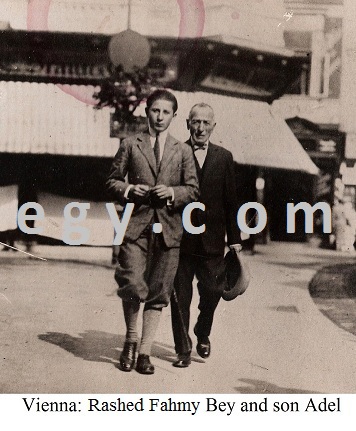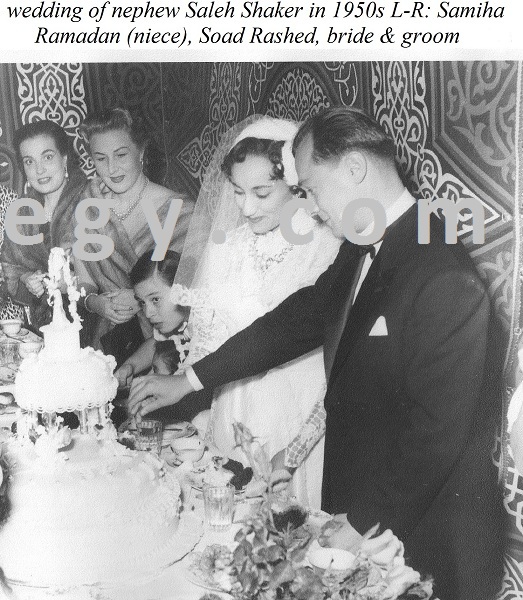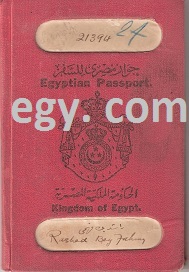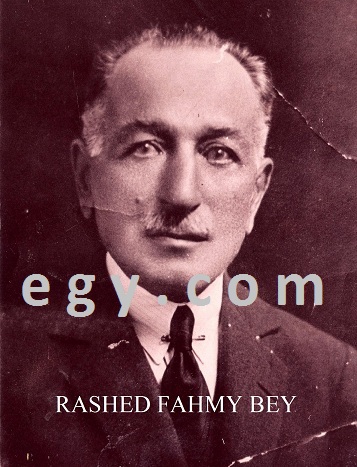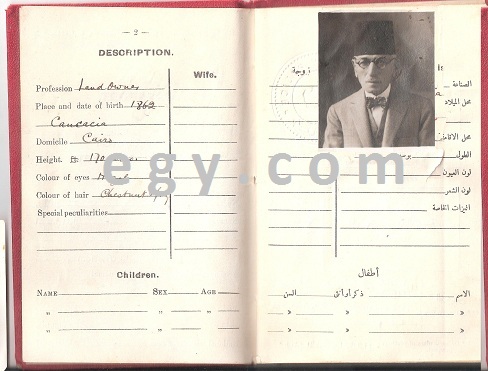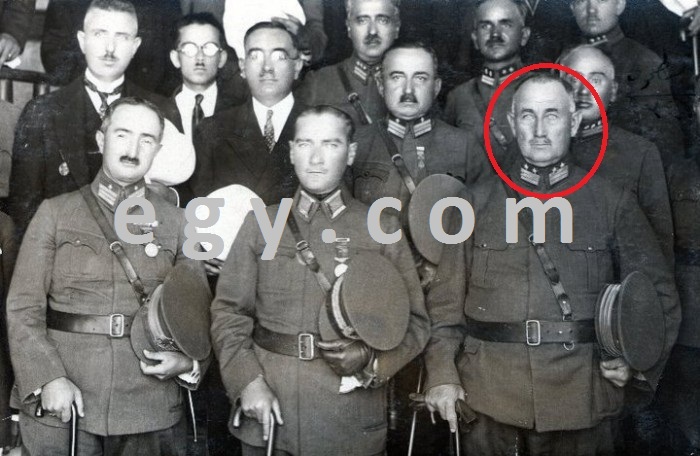 Soad Rashed's uncle General Ali Sait Akbaytugan with Mustafa Kemal Ataturk in 1926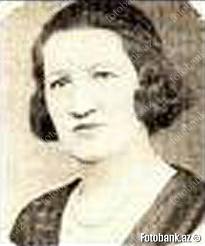 Soad Rashed's aunt Circassian activist-author Hayriye-Melek (above)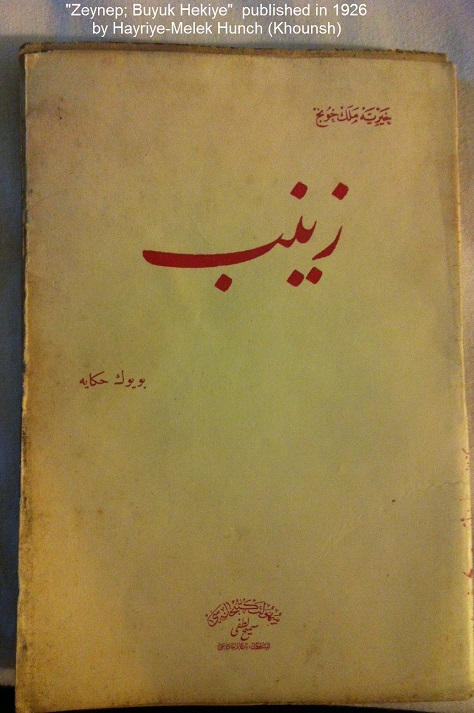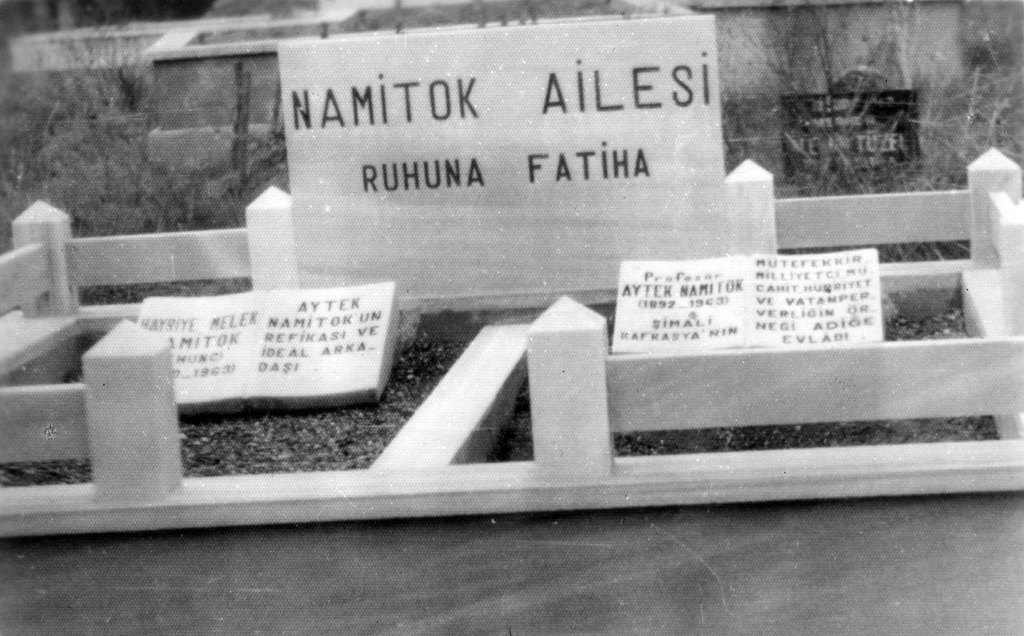 translated obituary below. Her remains lie in section 3 (ada 3.) in the historic Karacaahmet Cemetery in Uskudar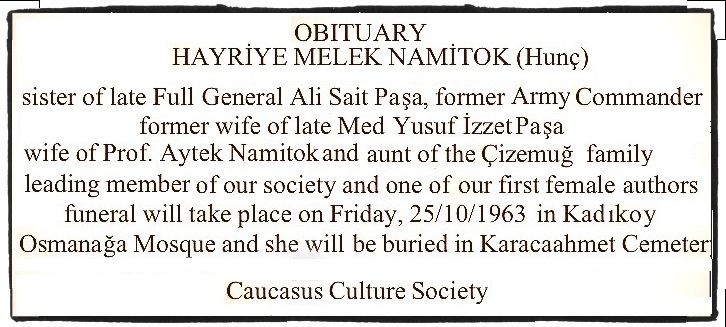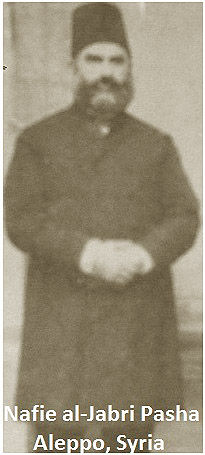 Fayka HunÁ's Syrian husband father of their only daughter Galila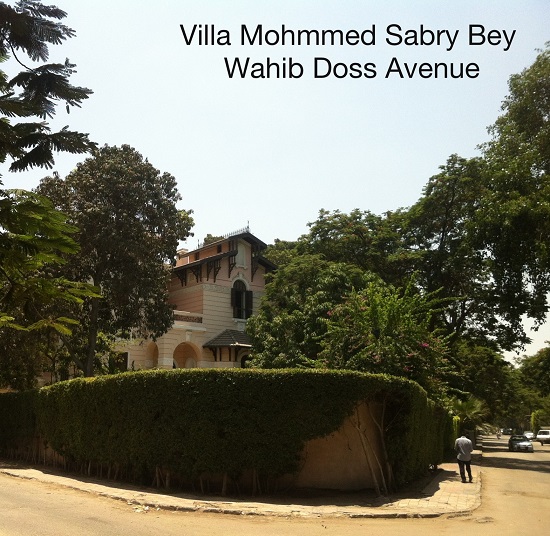 Maadi villa where Faika HunÁ's daughter Galila El-Jabri lived with her first husband Mamdouh M. Sabry bey and their only son Mohab who died in infancy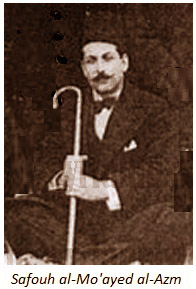 Galila's second husband the Syrian Safouh al-Azm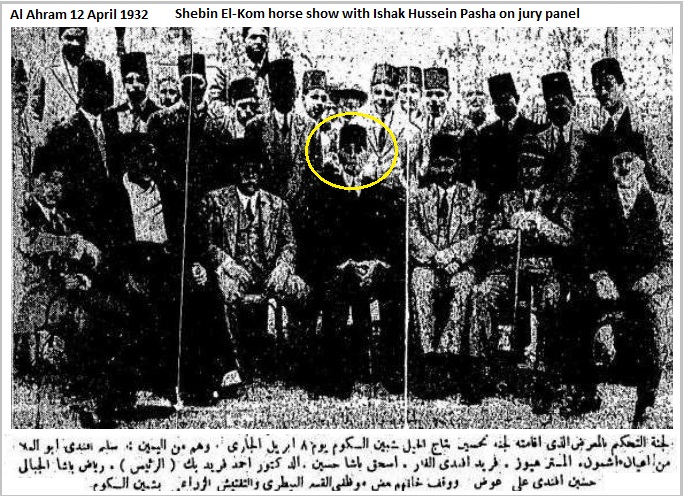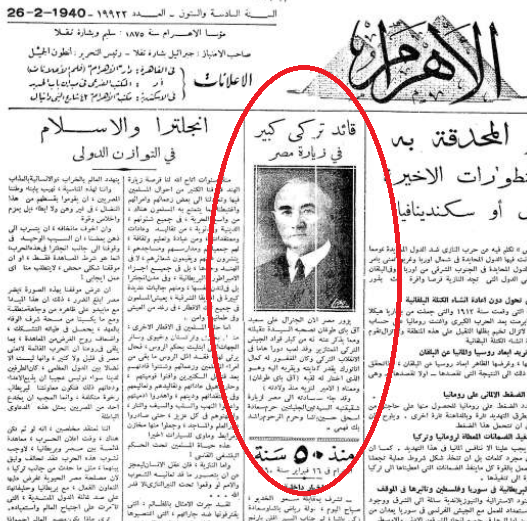 Front page al-Ahram 26 February 1940 announces arrival in Cairo of Ali Sait Akbay-Tugan "senior Turkish military commander" and his wife on a visit to his sisters Madame Ishaak Hussein Pasha and Madame Rashed Fahmy. According to al-Ahram the name 'Akbay-Tugan' was conferred on General Ali Sait by the late Mustafa Kemal Atatuk for his important role in the creation of the Turkish republic.
below - Al-Ahram 2 March 1940: Reception held in honor of senior Turkish military commander seated next to his brother in law Ishaak Hussein Pasha (dark glasses)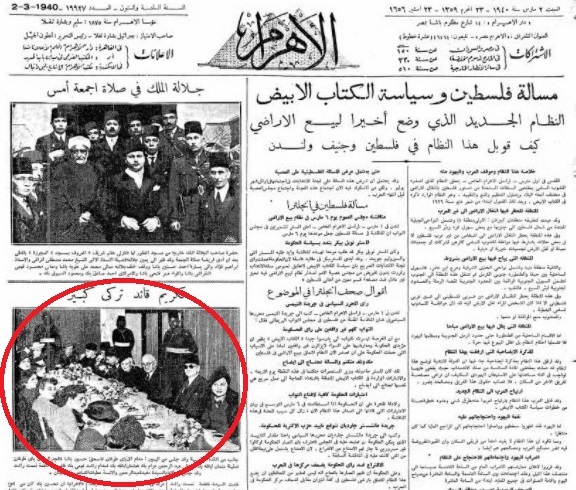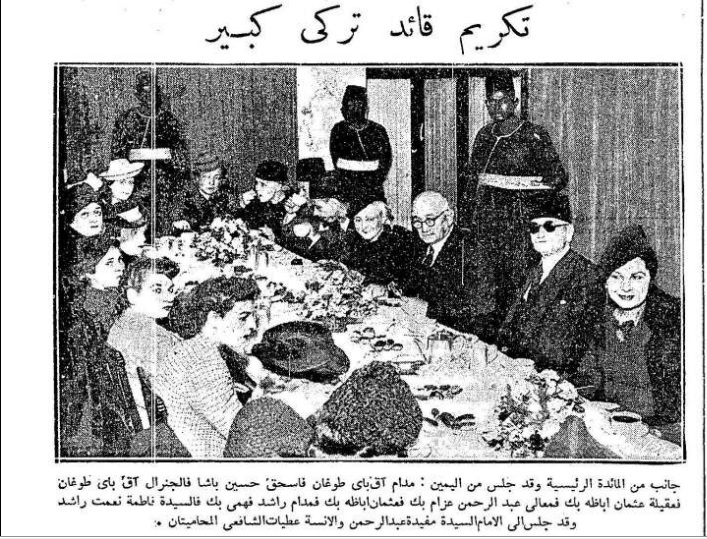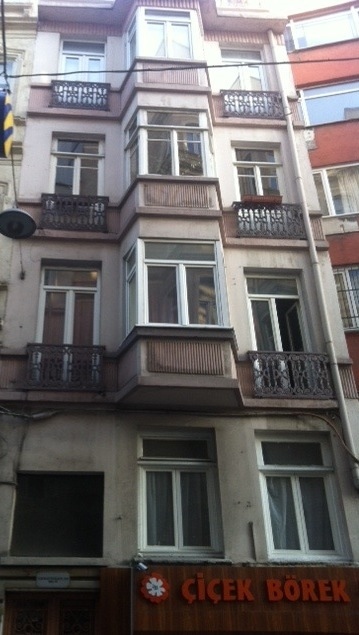 General Ali Sait Pasha's Akbaytugan building on Siraselviler Street, Istanbul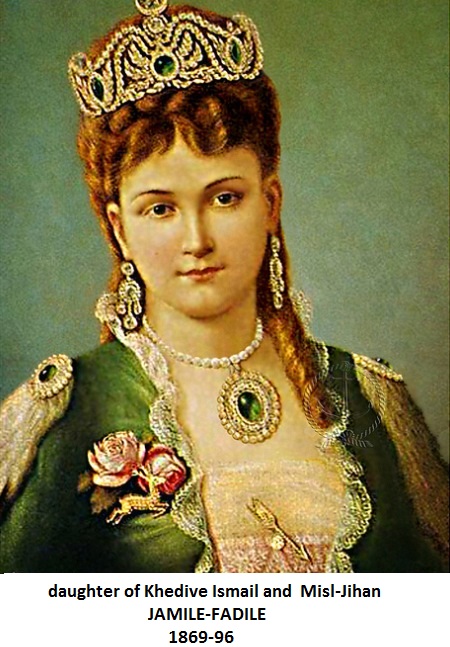 wife of Hasan Yakub Pasha
the mystic and at times eccentric poet-princess died estranged from her family and was buried on the hills of Sultan Eyup, Istanbul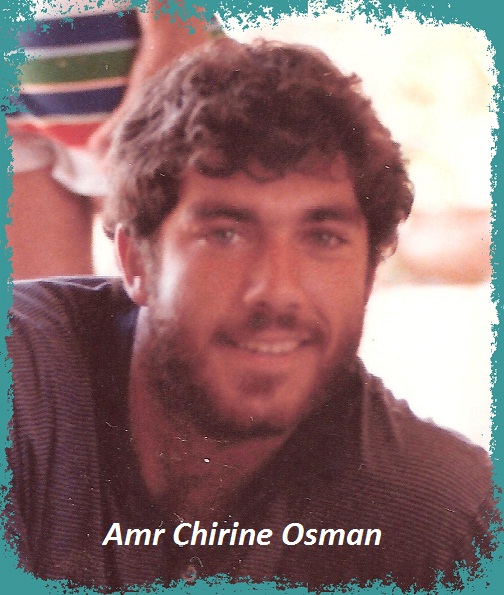 great-great-grandson of Fatma-Vildan (sister of Hasan Yakub Pasha and aunt of Hayriye-Melek HunÁ)

family tree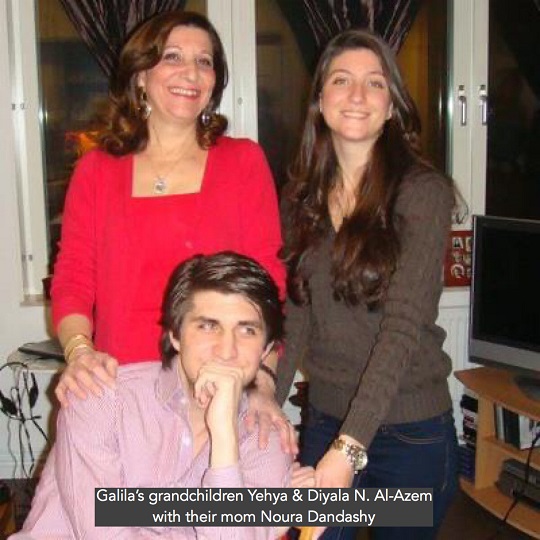 Faika HunÁ great grandchildren Diyala and Yehya Al-Azem with their mom Noura Dandashi
egy.com extends its thanks to Samiha and Nawal M. Ramadan for loaning photos, Muge Vildan-Shirin for supplying genealogical data, Inal O. Sabry and Amr Khalil for corrections, Hussein A. Omar for sharing clippings and Meral Care for attemtpting to locate Hayriye Melek's tomb in Istanbul which apparently has disappeared!
Email your thoughts to egy.com
© Copyright Samir Raafat
Any commercial use of the data and/or content is prohibited
reproduction of photos from this website strictly forbidden
touts droits reserves