egy.com suggests following articles
EGY.COM - COMMUNITY
FROM MAG-ARABS TO AL-MAGARY
A Look At Egypt's Hungarians

by Samir Raafat
EGYPTIAN MAIL, April 13, 1996
DURING HIS RECENT VISIT, President Arpad Goencz of Hungary inaugurated a new exhibit at the Agricultural Museum commemorating its first two directors both of whom were Hungarian. On an aside to President Mubarak, Goencz asked that an additional memorial plaque commemorating a Hungarian poet be placed at the former Tewfik Palace Hotel of Helwan. An unusual request since hardly anyone remembers the hotel let alone its original owner Tewfik Pasha, the former Khedive of Egypt. But then this is no ordinary president for Goencz, aside from being the politician that he is, is first and foremost a leading author-intellectual of his country, history and culture being two of his fortes. Before becoming his country's chief executive he was vice president of the Hungarian Pen Club and to this day is honorary chair of Hungary's writer's union.
While the fate of Goencz's request remains unknown, here are meanwhile some snippets on some of Egypt's better known Hungarians.
THE KHEDIVE'S PARAMOUR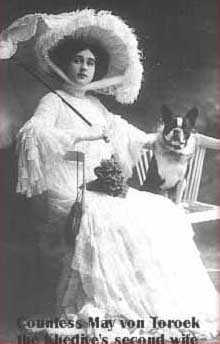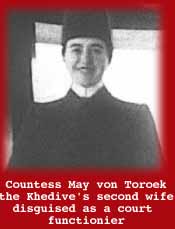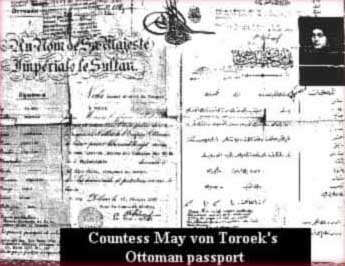 The Magyars or Hungarians as we know them today came to these lands during Egypt's 19th century economic boom. But in those days they were called Austro-Hungarians and tabled as such at the Imperial Austrian consular registrar in Cairo and Alexandria.
The most important arrival was the khedive's (second) wife, Countess May Torok von Szendro (1877-1968). The princely couple had met twice when Abbas Hilmi II was a student at the Theresianum in Vienna. The third and decisive encounter took place per chance in 1900 at the Grand Hotel in Paris. The khedive was then 27 years old, married to a member of his mother's household and a father. This did not preclude him from falling passionately in love with the beautiful May. His idyll with the Hungarian countess lasted 13 years.
Even before their official marriage in 1910, Countess Torok became a Moslem changing her name to Djavidan. As Abbas Hilmi's favorite spouse she participated in many of his activities, travels and official functions. But since Ottoman custom precluded members of the harem from appearing publicly, the countess would attend some state functions dressed up as a man.
The khedivial couple divorced in 1913 one year before Abbas was deposed by the British.
(For more on Princess Djavidan and the khedive read Queen For A Day Ahram Weekly, October 10, 1994)
THE HUNT FOR THE LOST OASIS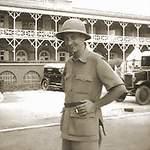 The interwar period saw the appearance of another eminent Magyar on the Cairo scene. His name was Ladislas E. Almasy.
By profession Alamasy was an explorer, geographer and daredevil pilot extraordinaire. Like their explorer father, the Almasy brothers were already famous in Hungary even before they arrived in Egypt.
Laszlo and his older brother Janos operated out of Castle Bernstein, a medieval fort-like castle situated in Austria's parochial Burgenland, which borders Hungary. But of the two brothers it was Laszlo who was the familiar face in Cairo.
In the days when European aristocracy and Egyptian princes hunted pheasants and gibier in large estates bordering the woods of Hungary, Egypt's Prince Youssef Kamal was a regular at these events. His middleman for these grand affairs was Laszlo Almasy whose own pedigree gave him entrees both sides of the Mediterranean.
It was through Laszlo that Prince Kamal and his entourage arranged for the best hunting lodges money could buy. "Acheter une chasse, was what they called it" remembers Victor Semeika, the onetime protege of the prince. "One thing led to another and Almasy was soon piloting his small private craft for another Egyptian royal --Prince Kamal al-Dine-- whose passion it was to explore the western desert." Their mission? To hunt for the lost oasis of Zarzura!
One of the greatest desert explorers Laszlo Almasy knew the Libyan desert like the back of his hand. It was between 1932-36 that he made his epic discovery of al-Gilf al-Kebir, a granite massif as large as Switzerland. As it turned out, the Gilf was once the habitat of prehistoric humans long before the African Sahara had dried up.
It was also during a trip into Egypt's Nubian outback that Laszlo Almasy pitched his hypothesis that Magyars were brought to Nubia by the Ottomans in the 16th century to act as border patrols. (Turkey occupied Hungary from 1529 to 1687). As five hundred years separate us from that period, the browning of the Hungarian descendants makes it difficult to confirm Almasy's theory. Perhaps the lost Mag-Arabs could be the subject of an anthropological study in the near future.
Almasy was a prominent member of the Royal Egyptian Geographical Society where many of his discoveries and theories were discussed and published. Almasy's association with Egyptian royals opened many doors so that just before his premature death the Hungarian adventurer was recommended for the post of director of Egypt's Desert Institute by non other than King Farouk.
Ladislaus de Almasy died in Salzburg on 22 March 1951 where he was also buried.
Years later, Almasy would be portrayed as an explorer, soldier, lover and spy in Michael Ondaatje's book The English Patient and in the award winning film by the same name. Almasy is also one of the daredevil heroes in an earlier WW2 thriller by Ken Folett entitled The Key To Rebecca.
IN BED WITH GIPPY TUMMY
When WW2 broke out, Almasy joined the Hungarian air force. His alleged Nazi affiliations were never proven unless these had to do with the fact that his brother Janos and Adolf Hitler were simultaneously courted by the flighty British aristocrat Unity Milford. And it was only when Rommel planned his African campaign that Laszlo's erudition of the Western Desert was suddenly in great demand.
Laszlo's famous wartime missions took place in May 1942 when he planted a German agent in Egypt via a grueling overland route, which spanned the entire Western Desert ending a few kilometers from Assiout. As Follett explains in his thriller, it was thanks to the Hungarian explorer that John Eppler was smuggled into Cairo only to be caught a few months later in Agouza. His rented houseboat was conveniently moored next to the one belonging to Egypt's notorious belly dancer Hekmat Fahmy. Eppler's Mata Hari-like neighbor had lured several members of the British high command to her celebrated floating lair. The salacious wartime pun which emerged was that whenever one of these senior officers failed to appear in time at his office the following morning, his secretary would announce straight-faced that General So-and So was in bed with Gippy-tummy!
A GREAT DEPARTMENT STORE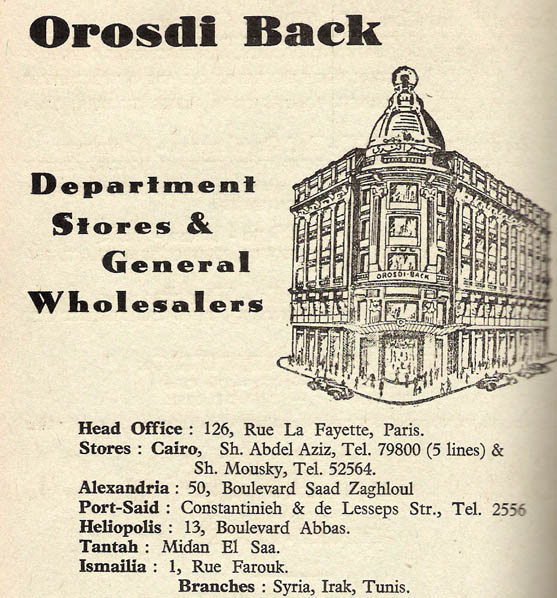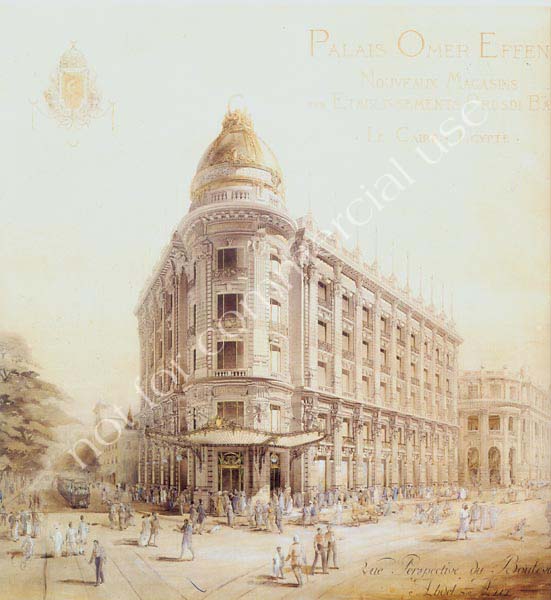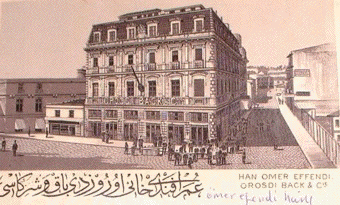 Orosdi-Back stores in (L-R) Cairo and Istanbul. Istanbul's store was erected on what was a former han--khan part of a Vakfi (Wakf) of Omer Effendi himself a member of the Ottoman Sultanic family. Cairo's store was erected on the Street named after Ottoman Sultan Abdel Aziz (1830-76). Below: French trade Logo of Orosdi-Back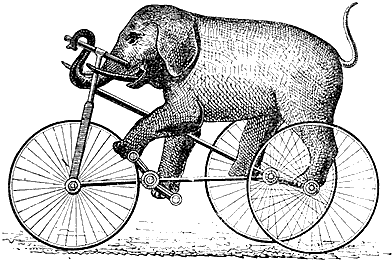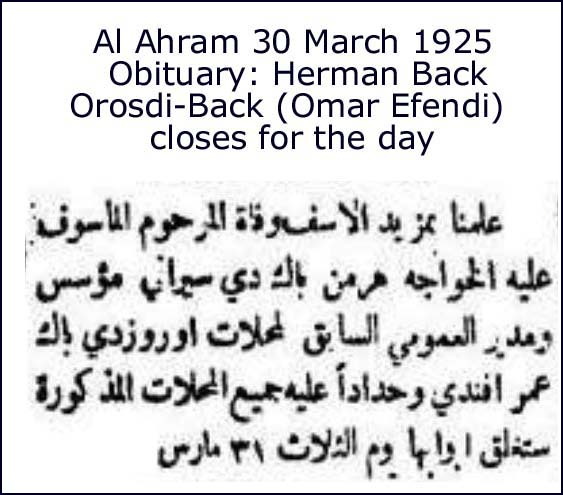 Three years after they opened their first European store in Vienna's 1st district Leon Orosdi and Hermann Back opened their store in Egypt circa 1896. While the Vienna store disappeared the one in Cairo is still with us today albeit under a defunct state run ownership/management.
Some older Cairenes may still remember Orosdi-Back, that famous turn-of-the-century department store which early on added the Turkish-derived a.k.a "Omar Effendi" to its name. The six-story rococo department store designed in 1905-6 by Raoul Brandon (1878-1941) stands at the corner of (Sultan) Abdelaziz and Rushdi Pasha Streets, a powerful architectural testimonial to the Cairo that was. In its better days when it was still a private sector company the globe above the building was seen kilometers away as it shone its powerful beam each night beckoning wide-eyed patrons.
In 1909 Hermann's son Philippe received a minor ennoblement from emperor Franz-Josef, a belated recognition for Back's sponsorship of several archeological excavations in Egypt as late as 1907. By then the Frenchified Orosdis and Backs were more prone to be seen in Bagatelle, Paris then in Leopoldstadt, Vienna. Armed with their wealth eventually the Orosdi-Back descendants made into the old European aristocracy changing their religion in the process.
Keen WW1 observers remarked that it was only due to the owners' foresight of having re-registered their company in France as Orosdi-Back Ltd., that they avoided near-certain sequestration in Egypt. They couldn't have been more right. Most other department stores owned by fellow Austro-Hungarian Jews including Mayer, Stein, Stross and Tiring--all with headquarters or branches in Cairo, Alexandria, Khartoum or Port Said--were either expropriated or sequestered by the British Army of Occupation, which had declared British martial law in Egypt. Since that time Cairo's Orodsdi Back was headed by a French director--among the last ones to have run this prestigious establishment was Monsieur Jean Mallet.
What Philippe Back had started in terms of Hungarian participation in Egyptology continues to this day under the sponsorship of several Hungarian academic institutions. Thanks to Dr. Laszlo Kakosy and to his students from Budapest's Eotvos University, several discoveries and excavations were conducted in Luxor. The Hungarian team's main scientific interest centers around Thoth Mountain, which boasts the only temple in Egypt built on a peak. Hungarian academics are also involved with the tomb of Djehutimes, the onetime overseer of the Royal granaries of Amon and royal scribe during the time of Ramses II. Djehutimes's tomb is situated near the necropolis of the Nobles in Luxor. Dr. Kakosy's wife, Eva Girgassy is currently translating in Magyar some of the poems found in the tomb of Djehutimes.
In today's Egypt no knows who Philippe Back was or of his relationship to the famous department store bearing his name. He is nevertheless immortalized on the walls of Cairo's main Synagogue on Adly Street having donated funds for its erection at the turn of the 19th-20th century.
(For an excellent read on Orosdi Back refer to Professor Uri Kupferschmidt's essay "The Orosdi Back Saga: European Department Stores and Middle Eastern consumers")
STAYING BEAUTIFUL MAGYAR STYLE
Other Magyars who made a name for themselves in Egypt were Count and Countess Nemesh. The countess was famous for her children-wear couture and her annual pre-teen fashion shows. There were also the trend setting Vincent and Marthe Windischgratz (Hungarian branch) born of royal blood. "She looked like she had walked out of a Winterhalter portrait" is how the statuesque Princess Marthe was described by someone who knew her well. There was also artist Gyula (Jules) Balint. His works were among the more famous private collections in Cairo and Alexandria. King Farouk commissioned several portraits by Balint. Meanwhile, members of the Cairo jet set wanting to emulate the great looking models in Balint and Winterhalter's paintings visited the Maadi or downtown clinics of Hungarian doctors Paul and Helen Balog, Cairo's leading dermatologists.
(For details on Balint refer to Hungarian Ambassador Juhasz who wrote a paper on the artist's years in Egypt)
MAGYAR MOBILE
1960s commuters must remember Cairo's Ikarus trolley buses that sped quietly through the city's main thoroughfares. In a sense, these pollution-free vehicles were a continuum of the famous Ganz diesel trains that ran the Helwan - Bab al-Louk route or the Ganz-pulled luxury air-conditioned train carriages, which operated the Cairo-Alexandria itinerary and nicknamed al-Magary. All three carried the proud "made-in-Hungary" label.

Reader Comments

Date: Sun, 2 Apr 2006 18:31:20 +0200 (CEST)
From: Lajos Németh - email: lajosapu@freemail.hu
Subject: almasy

My name is Lajos Nemeth from Hungary, and a good friend of the Count Szecheny family in Hungary, making biography of one famous family member, Sigismund Szechenyi.
I did find a remarkable work of you on the internet where the most interesting fact was me the name of Mr. Semeika, who described at many pages in the book of Mr. Szechenyi. They had great times together in Cairo and in Kenya as well. I was completely surprised to learn that he had been alive in the late 90's, and decided to ask you if he still alive or not, ten years later after your interview.
Even if he died, I would be interested in very much to receive his family's address, giving me a chance to ask their support with old pictures or written accounts, connected to my studies.
Thanks a lot for your kind response!
Best regards,
Lajos Nemeth
(actually from Cairo, I am leaving back to Budapest tonight )

---

Subject: Orosdi Back descendants
Date: Mon, 11 October 2004 11:03:10 -0400 (EDT)
From: Luli Ismail

Orosdi-Backs's French descendants Nicole, Yolande and Blandine are the granddaughters of Charles de la Forest-Divonne and Blandine Nompere de Champagny. Their maternal aunt was married (and I think divorced) from Francois de Treil de Pardailhan.

---

Subject: Laszlo Almasy
Date: Wed, 29 Aug 2001 03:06:10 -0400 (EDT)
From: Richard Bond

My grandfather knew Laszlo and there are a few points I want to correct. Uwenat and Gilf al Kebir were already known to the Egyptians Bedouins who sort of took them for granted. Kemal ed Dine wrote an article on the caves for National Geographic before Laszlo ever went to Egypt. Laszlo distinguished himself by going to each cave recording the decoration. As for Hungarians in Egypt there was a village of them descendants of a Nile janizary garrison Laszlo spent some time with.

---

Subject: magarabs
Date: Mon, 6 Aug 2001 00:38:58 +0200
From: Walid

i reas your article FROM MAG-ARABS TO AL-MAGARY Since i live in Hungary And I have a travel agency here I would love to know more about this please if you can email me sites or about the article you think I should read concerning this subject. thank you
Dr. Walid Abou Samra
Email your thoughts to egy.com
© Copyright Samir Raafat
Any commercial use of the data and/or content is prohibited
reproduction of photos from this website strictly forbidden
touts droits reserves