egy.com suggests following articles
Several of my articles on Garden City were plagiarized word for word by novelist MEKKAWI SAID (winner of the Egyptian State price for literature!!!!) and re-published under his own name in a three-part series in El-Masry El-Youm daily in September 2015.
Cheers to our "talented" literature prize awardee. Your pain his gain !!!
EGY.COM - ZAMALEK
THE PALACE OF PRINCE AMR IBRAHIM
Samir Raafat
Cairo Times, February 4, 1999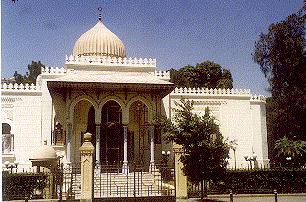 Just like the rest of his kin al-Nabil --Amr Ibrahim painfully realized on 9 November 1953 he was no longer king in his own castle. His villas, palaces and hunting lodge had, as of 10:00 pm the previous day, become state property by order of the Revolutionary Command Council.
In exchange for his bounteous assets, "citizen" Ibrahim was under due consideration by a special sub-committee for a state pension, the equivalent of which would barely meet the cost of his monthly electricity bills.
Among the prince's more visible assets was No. 16 Gezira Street, Zamalek (next to the Marriott, opposite the Gezira Club). If the palace's exterior awed all who drove by, its interior was no less munificent. Ditto for the encircling garden.
Designed in the 1920s by Garo Balian, a namesake of famous Ottoman court architects--one of them of Dolmabahche palace fame, this particular structure was conceived as a neo-Islamic monument that would transcend time and space. Which is precisely why No. 16 was departed in style and character from the usual assortment of contrived Trianons and Venetian pastiches.
Built at a time of rising nationalism and economic opulence No.16's discreet wooden mashrabeyas replaced French bay windows; domes with symmetric designs took precedence over guilded ceilings with pastoral impressions; Cararra marble displaced parquet; and beautiful ceramic faience doubled for a gallerie de glaces (mirror gallery). Lunging from high ceilings were exquisite oriental mishksas and lanterns, a welcome change from ormolu and crystal de Boheme. As for the dining room, well, it has to be seen to be believed.
It was in his Zamalek bijou that the widowed prince raised his three daughters--Nimetallah, Amina and Indji-- quite a daunting task for someone who had himself wholly missed out on family life.
Still a toddler in 1906, the prince lost his father in a motor accident in Epernay, France. Shortly thereafter he was separated from his mother when she became Madame Serge Yorketvitch having re-married a Russian diplomat from St. Petersburg. By so doing Princess Saliha Hilmi not only forfeited her copious Egyptian assets but more importantly she lost all rights to her infant son and daughter. The Egyptian court took a very dim view of those members of the family who married outside their religion.
Years later, the prince's own wife died prematurely from an overdose. "Sure thing, No. 16 was not a merry dwelling" recalls a friend who frequented Effendina--his lordship.
Things changed when the prince re-married Nejla-Hebatullah, a stunning Turkish royal half his age. In Ottoman times, betrothal to a sultan's daughter or granddaughter earned the bridegroom the lofty title of Damat. But since Imperial Turkey had exited history in the 1920s, it was actually the bride's family who was on the lookout for a ruling house with which to ally itself. What better opportunity than the Mohammedan dynasty of Mohammed-Ali?
It was the Turkish sultana's turn to be unhappy at No. 16 Gezira Street. Too noisy, she complained, especially after Belgian entrepreneur Monsieur Rolin constructed for Monsieur Maraspini a behemoth building next door at No. 14. (The building would subsequently be purchased by a Nationalist Chinese who in turn sold it to Joseph de Piciotto before it was taken over by an insurance company following the sequestration bout of the 1960s.)
"Almost as soon as No.14 was completed, the nickname Elephant & Castle' was coined to denote the two adjacent structures" recalls socialite Kadria Foda who moved into the Elephant even as it was being completed in 1938. "One day after WW2" recalls Foda, "the princely couple simply moved out. They committed a buyuk firar, or great escape, as they say in Turkey."
His daughters already married, the prince and his bride moved to the quieter suburb of Maadi, in a concrete yali-type mansion not unlike those overlooking the Boshporous.
No. 16 Gezira Street temporarily vacated, it was easy picking for Nasser's Revolutionary Council once it got started on its confiscation binge. To his good fortune the ex-prince was out of the country at the time so that he missed out on the fabled April 1954 auctions when royal movable assets were either pilfered or sold at ten cents the dollar. Topping the list were his priceless holdings.
It would be under another president when No. 16 made history again, but this time there was no talk of confiscation and auctions, only murmurs of art theft and interpol in a city bereft with rumors.
But it was when Sadat assumed Egypt's leadership in 1971 that No 16 was drastically changed. Realizing that he needed an executive wing next to his Giza riverfront mansion Sadat ordered the emptying of the house across the street. Soon enough large government vans arrived on Kafour Street and proceeded to empty the Mr. & Mrs. Mohammed Mahmoud Khalil Museum of its contents. Its paintings and sculptures were redirected to Prince Amr Ibrahim's former Zamalek palace earning it the new name of the Mr. & Mrs. Mohammed Mahmoud Khalil Museum in exile.
No sooner had the public gotten used to the new impressionist venue when rumors about a missing Van Gogh painting 'Vase and Viscaria made the Cairene rounds. To this day, how the Dutch master's work was lost and subsequently found outside Egypt, remains a puzzle.
It was during President Mubarak's endless reign that the displaced Khalil collection made it back home amidst much fanfare and celebration. Ambitious plans were in store for the now emptied palatial gallery. And if one were to believe the reports coming out of the Ministry of Culture, in a matter of months, possibly weeks, the president is due to inaugurate a completely refurbished Amr Ibrahim palace (renamed Gezira Art Center), designated as Egypt's first ceramics museum.
---
For more about the prince Amr Ibrahim's grandfather click The Much Debated Death On The Nile


Reader Comments


Another famous painting "Two Faces" allegedly by Peter Paul Rubens was stolen and recovered under mysterious circumstances in 1967. The painting was on exhibit at the Gezira Museum when it disapeared. Speculation at the time pointed its finger at the then-minister of culture.

---

True or not, the one thing Prince Amr left is this gorgeous palace that speaks of its owner's fine taste for architecture and Islamic arts. The building awesome style was only matched by its furniture and antiquities, which included hand woven pieces dated back to the Abbasi Khalifa "Al Motei le Allah".

The palace hosted the Anglo-Egyptian negotiations that took place in 1953-1954. Afterwards, the new regime thought of nothing better to utilize this rare architectural piece d'art than to turn it into a public youth club for the poor! It took many years to realize the terrible waste and restore the palace to a better fate*.

Amr Samih Talaat

Email your thoughts to egy.com
© Copyright Samir Raafat
Any commercial use of the data and/or content is prohibited
reproduction of photos from this website strictly forbidden
touts droits reserves