egy.com suggests following articles
Several of my articles on Garden City were plagiarized word for word by novelist MEKKAWI SAID (winner of the Egyptian State price for literature!!!!) and re-published under his own name in a three-part series in El-Masry El-Youm daily in September 2015.
Cheers to our "talented" literature prize awardee. Your pain his gain !!!
EGY.COM - ZAMALEK
ZAMALEK'S TOWER OF SHAME

Samir Raafat
Cairo Times (unedited version), April 16, 1998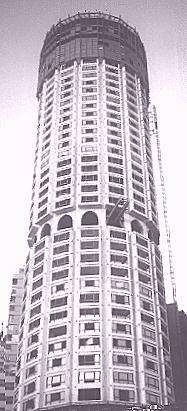 What if Cairo's incumbent governor decided to make a new millennium gift to the nation's capital?
What if he could for instance rid the nation's capital from one of its worse ever eyesores sending a clear message to urban culprits, past and present, that the days when anyone could do as they pleased with the city's skyline, were over.
By so doing the governor would have made history despite himself.
Personally, I couldn't think of a better message and a more welcome gift than ordering the destruction of one of Cairo's most visible landmarks--the Tower of Shame. I'm referring to the 50+ story cylinder-like building at the intersection of Zamalek's Gezira and Hassan Sabri Streets, across from that assortment of ramshackle sheds that calls itself a police precinct.
Standing where it does this monstrosity is an inspiration to those who defy sensibility, intelligence and good taste.
The Tower of Shame is the brainchild of Mr. Khaled Foda, a former undersecretary who, in his civil service days, worked under Hassaballah Kafrawi the then-minister responsible for billions of pounds worth of reconstruction and new settlements projects.
Disregarding the 'how' and 'when', let's say Mr. Foda's fortunes took a timely turning for the better and that the Tower of Shame is one of his many 1980s watershed trophies.
Likewise, let's not ask whether Mr. Foda heard of Isaac Newton. For the time being his building defies the law of gravity. One hopes it will do the same if exposed to seismic tremors or some other form of natural catastrophe.
And talking of man-made disasters, it is my belief that the Tower of Shame could become the curse which Zamalek may never recover from. For the time being the building stands empty and desolate earning the ire of those who drive beneath it.
But how much longer will that building remain inactive?
For sure its owner is pushing all available buttons to breathe life into it. According to a source close to the governor, not a day goes by without someone of consequence calling on Foda's behalf for this or that permit or license.
Look at it this way. Besides safety hazards and other anomalies, the building has no garage to speak of which means if it should ever be used as an apartment building where each tenant owns two cars or more, the resultant traffic jams will make Ramadan rush hour look like a midnight picnic.
The other option is that the Tower of Shame becomes home to a five-star hotel, a project, which as we speak is most likely in the offing.
Fine. But do we really need an hotel which stands 50 stories high, hugging two narrow streets barely seven meters wide each?
We only have to look at what happens whenever a tourist bus heaves out of the Marriott Hotel parking lot and how things get ten times worse when the school-mums rush over to nearby maternities and nurseries to collect their loved ones. How it becomes absolutely chaotic at the entrance and exit of the nearby Gezira Club during teen rush hour.
Can you fathom what it will be like if you throw in thirty additional tourist buses, forty eager taxis, a dozen rentals, and 150 private cars each time there's a Tower of Shame wedding?
OK, so the Tower of Shame's owner is ready to negotiate a lucrative deal with any interested party in order to create an underground garage, be it under the Gezira Sporting Club, the Fish Garden or the ratty precinct.
But the question remains: Why didn't Foda negotiate the parking problem BEFORE he took it upon himself to reach for the sky. Who gave him the go-ahead for so obvious a problem-maker.
Of-course there is something we don't know. I asked two former prime ministers and several cabinet members who live in Zamalek and whose incumbency overlapped Kafrawi's -- if they were ever involved with issuing Mr. Foda his building license. All denied vehemently. One even claimed he had deliberately stonewalled the building permits.
Well, if not them, then whodunit?!
In any case the megacylinder is there, sneering at Zamalek's heavyweights and so-called politicos, those who saw it coming yet did nothing about it. It is there impudently waving its monstrous middle finger at all those who failed to question how an ex-government employee of known limited means could so blatantly vandalize their island.
Its presence will always remind us that because of our persistent empathy, we've allowed smug mediocrities to float to the top and ultimately govern us.
And yes, the Tower of Shame is there so that in the next millennium all will realize how it was open season for architectural terrorism in the 1980s and 90s. And that one fateful day, when a fire breaks out on the 48th floor and 30 Swiss and Japanese tourists are trapped and charred, we will be painfully reminded that accountability where it counts most was non existent.
In the next few years, encounters with this ugly concrete and glass reality will not be a happy one.
Lamentably, Zamalek's inhabitants have but themselves to blame.
It was their collective silence that made it possible for the likes of Mr. Foda and his accessories to have it their own way.
Mr. Governor, if you want to make history, remove the Tower of Shame.

Reader Comments


Subject:the tower of shame
Date: Wed, 2 Feb 2005 11:15:55 -0800 (PST)
From: Mourad Mourad caution_hot_dude@yahoo.com
My name is mourad mourad I'm 20 years old and I think the tower of shame is something that destroyed the look of zamalek!! I live near the tower of shame and everyday i wake up it's there!!! it depresses me!!!!!!! i hate it!! At least when they do something do it good not such an ugly building like what tower and even if its ugly at least painted good!! have the sense of colors!! hehe its just soo funny.. anyway its not his problem it's the problem which is going all around the country!! and plz don't stop ur writings they are amazing!!
---
Subject: Tower of Shame
Date: Mon, 01 Jun 1998 09:52:28 +0000
From: Ellis Setton
Organization: Ellbarb Pty Ltd

I had to let you know that I always get a kick out of reading your articles; in particular, "Zamalek's Tower of Shame" is a real eye-opener. Like you, I ask myself: how did the responsible authorities give the owner a permit to build this monstrosity?
Kindest regards
---
Subject: Tower of Shame...how true
Date: Thu, 30 Apr 1998 00:31:57 -0700 (PDT)
From: mourad rouchdy

On Tower of Shame I used to always mention to anyone who wanted to hear, that there was no garage, where will the cars go? How short sighted...etc. I always got laughs, people thought I was soft on the brain, because I wasn't talking Export/Import, big bucks projects etc.. (the time was '78)
Regards
---
Subject: Tower of shame.
Date: Fri, 08 May 1998 01:24:37 +0200
From: Said Samir
Organization: Roxy Computer Center

If you think removing it will solve the potential problems, I don't agree. For reality's sake it isn't going to be removed. No one dares. It's a big waste to remove it. Actually a political solution is not recommended in this case. Let economics solve the problem. Who is going to buy an apartment there?! No one that is a little wise will.
Email your thoughts to egy.com
© Copyright Samir Raafat
Any commercial use of the data and/or content is prohibited
reproduction of photos from this website strictly forbidden
touts droits reserves