egy.com suggests following articles
Several of my articles on Garden City were plagiarized word for word by novelist MEKKAWI SAID (winner of the Egyptian State price for literature!!!!) and re-published under his own name in a three-part series in El-Masry El-Youm daily in September 2015.
Cheers to our "talented" literature prize awardee. Your pain his gain !!!
EGY.COM - ZAMALEK
A BRIDGE MISUNDERSTOOD
and other Cairo crossings

by Samir Raafat
Egyptian Mail, Saturday, April 29, 1995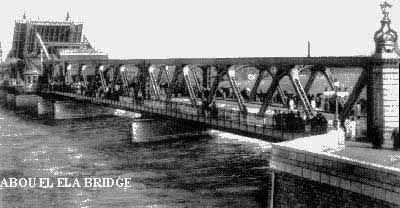 Abou El-Ela Bridge before it was removed in 1998
Its designer did not jump from it and contrary to local parable the landmark Abou al-Ela Bridge linking Gezira Island to Boulac used to open daily for Nile traffic from 12:00 to 12:45 and again from 15:00 to 15:45. No openings on Sundays. The ornate span-type metal Boulac Bridge (susbequently renamed Fouad Bridge and later Abou al-Ela) did however stop opening several years after its inauguration but that had more to do with lack of proper maintenance rather than faulty engineering.
As for the romanticized legend which claims Alexander-Gustave Eiffel (1832-1923) designed this bridge and later took his own life when it failed to open... not true!! If for consolation alone, Eiffel is however the author of the suspended mini-bridge gracing the Giza Zoo, which is still there today although not open to the public for safety reasons.
If anyone is to be credited for this landmark Nile crossing it should be American engineer William Donald Scherzer. Not only did his Chicago firm design Boulac Bridge, but it was Scherzer who invented its ingenius rolling (bascules) and locking mechanism used for opening it to fluvial traffic. As for the bridge's French connection, that was limited to the manufacturing of steel girders by the well-known company of Five-Lilles, and to the steel beams which produced by the famous French conglomerate Schneider.
The Scherzer bridge building was chosen at the suggestion of a commission charged with the examination of the tenders for the construction of Cairo's new river crossing. The commission's recommendations were submitted in 1908 to the adjudication committee headed by a Mr. Perry, the then-Undersecretary of State for Towns & Buildings. In turn, Perry referred the report to another commission made up of Messrs. Webb, Undersecretary of State for Irrigation; Macauley Bey, General Manager of the State Railways; and Mr. Holt, Sub-Director of the Cairo Polytechnic School.
Erecting the 274.5 m. long and 20 m. wide bridge was no easy feat. Construction took three and a half years with the foundations laid at 18 meters below sea level (33 m. below Nile level). In the pre-High Dam days, the portion of the Nile that ran through Egypt was a potent body of moving water, its strong currents and giant swirls, especially during high flood, causing serious challenges to bridge constructors. Several piers, large girders and wide spans had to be put in place before the bridge could be opened for business.
In sharp contrast to the pomp and ceremony surrounding the inaugurations of Cairo's older bridges or the multiple celebrations at the opening of the Aswan and Qena Reservoirs when the Khedive and his guest, the Duke of Connaught, attended, Boulac Bridge was quietly opened to the public in July 1912. Summers in Cairo were hot and the entire government had moved to Alexandria the previous April. Khedive Abbas Hilmi II (r. 1892-1914) was summering in Europe with his Hungarian wife and Lord Kitchener, Egypt's de facto ruler was attending an important meeting in Malta. It was left to Ismail Sirry Pasha, the Minister of Public Works, to cut the ribbon on their behalf.
A month later, on August 18, 1912, Cairo's press corps was entertained to a magnificent champagne breakfast buffet at the Giza tramway station courtesy of Fritz de Lancker, the director of the Cairo Tramways Company which had partially financed the Boulac Bridge. Together, they celebrated the launch of the new "Ataba al-Khadra - Pyramids" tram route No. 3 by way of Boulac and Zamalek bridges.
Since the Belgian-owned Tramway Company generated its own electrical supply for the running of the trams, it was from its power plant in Boulac that it supplied the 500 Volts needed to operate Boulak bridge's opening mechanism. In fact, very little power was required to operate Scherzer's bridge owing to its unique rolling lift action which almost eliminated friction, and the overhead concrete counterweight which balanced the main lift span.
Of the lift type, it took two minutes for the bridge's two central movable spans to roll back on their wheels into a vertical position, thus allowing the waiting Nile traffic to sail through a 27 m. wide opening.
That part of Zamalek traversed by tram Route No. 3 was owned by the Egyptian Hotels Company then controlled by Swiss hotelier Charles Baehler. Baehler's company also owned the Gezira Palace Hotel (today, Marriott) whose parks and gardens covered most of Gezira-Zamalek's central area.
Quick to cash in on the island's imminent real-estate boom, Baehler commissioned his architect Alexander .H. Skynder (son-in-law of renown court architect Antonio Lasciac) for the construction of several villas and three imposing apartment blocs, two of them he christened Baehler Mansions and the third was called Zamalek Mansions (today Yemeni Building). All of three overlooked the new Boulac Avenue which now boasted a tram. A grand suburb was in the making and to enhance the new township of Zamalek, a special side track was laid bringing the tramway right up to the Khedivial Sporting Club (now Gezira).
OTHE CAIRO BRIDGES
Almost as soon as the Boulac Bridge opened to land and fluvial traffic, it was time for the 10.5 m. wide, 406 m. long, manually operated Kasr al-Nil Bridge to undergo intensive renovation. Built in 1869-71 by Linant de Bellefonds with the participation of France's Five-Lilles Company, Kasr al-Nil was the Nile's second metal bridge ever. It had been preceded by the railway crossings of Benha and Kafr al-Zayat built in 1854 by railroad engineer Robert Stephenson.
Heretofore, the toll bridge of Kasr al-Nil had been more than adequate for pedestrians and horse-drawn carriages. But with the coming of the motor car, repairs were undertaken by the Cleveland Bridge & Engineering Company in July 1913, to replace the floor boards with reinforced concrete blocks and the widening of the pavements. The work took six months. From that time onwards Kasr al-Nil bridge remained Cairo's main crossing point to Giza up until April 1931, when it was dismantled to make way for the present arch-type steel bridge. This time around, Cleveland Company lost out to its British rival Dorman Long & Co. Ltd., the designers and builders of Australia's famous Sydney Harbor Bridge.
The cost of the new 382 m. long Kasr al-Nil bridge was 308,000 pounds sterling. Although in appearance it looks like a fixed bridge, it was designed so that a 67 m. span section could swing open within 3 1/2 minutes. The imposing granite pylons at either end of the new bridge complementing the two pairs of lions belonged to the original crossing. Originally, the Kasr al-Nil lions were supposed to have stood guard around Mohammed Ali's statue in Alexandria, but Linant de Bellefonds thought better of it and brought them to Cairo to stand guard on his Kasr al-Nil bridge.
The new Kasr al-Nil bridge was constructed in a record period of 30 months. During this time, a daylight steam ferry service operated every half hour between a pier below the Semiramis Hotel and the embankment south of the Pont des Anglais. This bridge, later renamed Evacuation (al-Galaa) bridge, was built with Belgian assistance in 1913. Meanwhile suggestions of what to do with the old Kasr-al-Nil Bridge were pouring in. One of these suggested that it be reassembled in Luxor for the benefit of tourists wanting to cross the Nile. The authorities voted down the suggestion. The crossing in Luxor would be carried out by felucca or ferry as it had been for the last millenniums.
On June 6, 1933, King Fouad inaugurated the new 20 m. wide Nile crossing at Kasr al-Nil renamed Khedive Ismail Bridge in memory of the King's father during whose reign the original bridge had been erected. To commemorate the occasion, Dorman Long's representative offered King Fouad a golden pen and inkstand in the shape of the new bridge. On hand at the Gezira end of the bridge were cabinet ministers, Egyptian and foreign notables as well as the accredited diplomatic corps.
Also attending the new bridge's inauguration were members of the large British colony residing in the fashionable suburbs of Zamalek and Garden City. The latest addition to Cairo's skyline was especially welcome to them as it reduced the distance between downtown Cairo and the Gezira Sporting Club foregoing cumbersome detours via Boulac Bridge and the dusty Boulac Avenue. Both had been renamed Fouad al-Awal on February 4, 1932, in honor of the reigning monarch. It would be two decades later, shortly after the toppling of King Farouk and the ending of almost 70 years of British occupation, that Fouad Bridge (ex-Boulak) was renamed Abou al-Ela Bridge in honor of Sheik Hussein Abou al-Ela whose shrine stands nearby.
Cairo's other pre-1952 Nile bridges were located at the perimeters of Cairo. There was the 586 m. long span type Khedive Abbas Bridge linking Giza to Rhoda Island and the much smaller ones of al-Malek al-Saleh and Mohammed Ali, linking Rhoda island to Old Cairo and Kasr al-Ainy respectively. Constructed by the firms of Sir William Arrol and Co. of Glasgow and Messrs. Head Wrighton and Co. of Thornaby-on-Tees, UK, these bridges were inaugurated by Khedive Abbas on February 5, 1908.
There was also Embabeh Bridge. Although tenders for this veteran 500 m. carriage/railway box-girder bridge were submitted in January 1913, by the time the Belgian engineering firm Baume & Marpant completed its construction, Embabeh bridge's chief sponsor under whose reign a record number of Nile crossings were constructed, had been exiled into history. According to the British who formalized their protectorate over Egypt in December 1914, the pre-German Abbas Hilmi was no longer acceptable as hereditary sovereign of the land. Although no official reason was given at the time, it was well known that the bridge building Khedive had been fishing in troubled waters.
---
Other Scherzer-type Rolling Lift bridges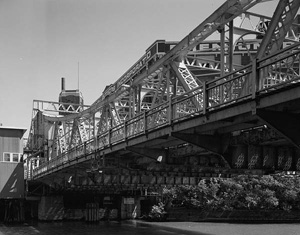 Cermak Road Bridge, Chicago. Note the similarities with Abou El Ela Bridge, Cairo
Cermak Road Bridge in Chigago, USA (listed a historic landmark)
Queensferry Bridge in North Wales, UK
Smith's Falls, Ontario (declared a national historic site)
Third Street Bridge, Brooklyn, New York
Ortega River Bridge, Jacksonville, Florida

Reader Comments

Subject: scherzer bridges
Date: Sun, 21 Mar 2004 03:54:42 -0000
From: michael knowles

I have found this article while searching for Scherzer bridges, of which there is a fine example at Queensferry in North Wales. It is a double-leaf Scherzer rolling-lift bridge opened in 1926, electrically operated and with a total length between abutments of 400 feet. It provides a clear opening of 120 feet but was immobilised after the construction of a new four-lane bridge alongside it in 1962.
Michael Knowles M Sc

---

Date Sent: Saturday, March 09, 2002 2:04 AM
From: kareem osman
Subject: abo-el ela bridge

I'm doing my graduation project nowadays (faculty of applied arts -graphic section) and my projec will be -hopefully about the forgotten project of reconstructing abou el ela bridge..and turning it to an art gallery....so if you can help me to find more data of any kind about this great bridge i would be gratefull to you. i need mostly ..photos and drawings of that bridge before they take it down ,so is there any site that has those kind of photos?!!

---
Email your thoughts to egy.com
© Copyright Samir Raafat
Any commercial use of the data and/or content is prohibited
reproduction of photos from this website strictly forbidden
touts droits reserves