egy.com suggests following articles
Several of my articles on Garden City were plagiarized word for word by novelist MEKKAWI SAID (winner of the Egyptian State price for literature!!!!) and re-published under his own name in a three-part series in El-Masry El-Youm daily in September 2015.
Cheers to our "talented" literature prize awardee. Your pain his gain !!!
EGY.COM - ZAMALEK
NATIONAL SPORTING CLUB
Nadi Al Ahly - 100th Anniversary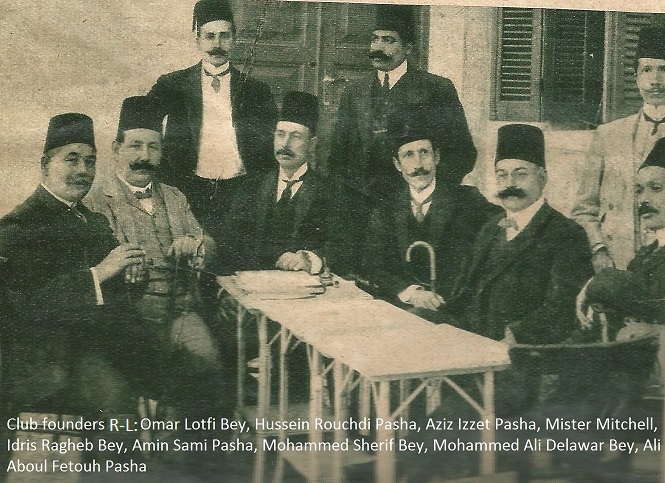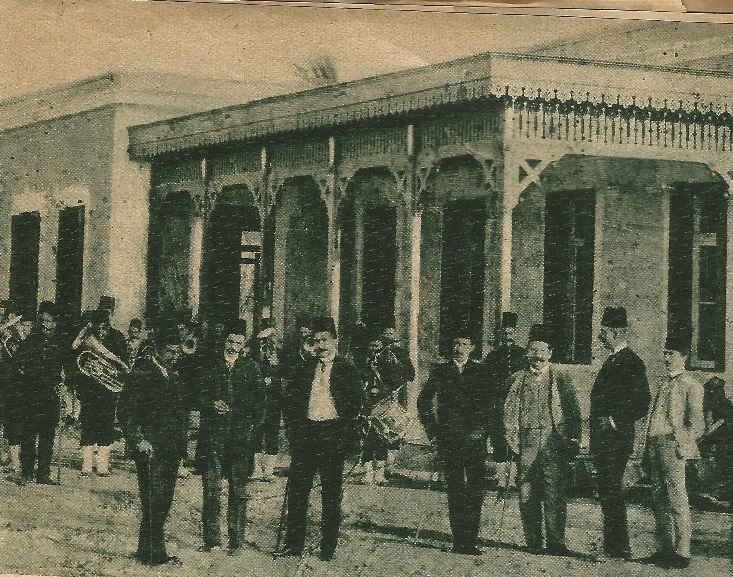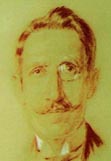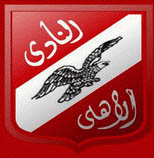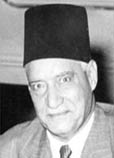 Aziz Izzet Pasha and Ahmed Aboud Pasha
NSC's first and last Egyptian pasha-presidents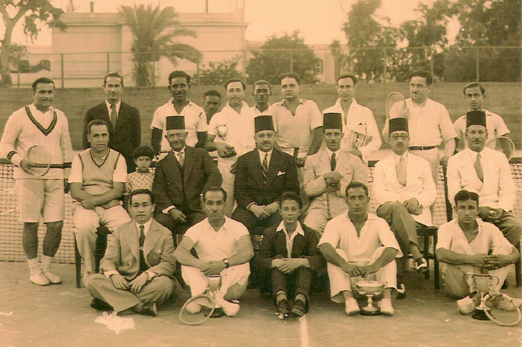 tennis team 1940s
The only Gezira island institution that can rightly claim to have forerun the founding of the Zamalek township by two decades is the Gezira Sporting Club, which of course merits an entire book. But for the time being letís briefly dwell on its younger neighbor the National Sporting Club--Nadi Al Ahli.
In an interview published in Al-Mussawar's 9 April 1937 on the occasion of NSC's 30th anniversary the then-club secretary Mohammed Sharif Bey recounts how, thanks to Omar Lotfy Bey's suggestion, the National Athletics Club--Nadi Al Ahli lel-alaab came into being in 1907. It would be a few years before the name changed to National Sporting Club.
Lotfy, then a senior member of the Department of Education was concerned that young Egyptian graduates, especially those, who had returned from scholarships in Europe, had nowhere to go for sports and leisure activities. Thus their preference of coffee houses for lack of playing fields.
His like-minded colleagues immediately picked up on Lotfy's suggestion to create a social and sports club. A petition was presented to the government's financial advisor, Mr. Mitchell Aines, who quickly agreed; recommending that a de novo board be formed post haste. Similarly, four feddans and eight and a half Kirats (about 17,000 sq.m.) were set aside on the island of Gezira at a symbolic rent of one piaster per annum.
In order to raise capital for start-up expenses and a modest infrastructure, bearer shares were issued and divided among the club's founding members.
First to subscribe was Aziz Izzet Pasha, Egypt's future ambassador to the UK. Next came a dozen or so Pasha-politicians many of whom would soon occupy senior cabinet posts: Hussein Roushdy, Abdel Khalek Sarwat, Idris Ragheb, Ali Abou Al Fotouh, Amin Sami, Daoud Rateb, Ahmed Fouad Anwar, Fouad Sultan and Engineer Ismail Sirry. The latter kindly volunteered to design, free of charge, the clubhouse and other such amenities. Later the Rateb family would donate the necessary funds for an additional all-purpose building.
The club's first president and treasurer were ,Mitchell Aines, an Englishman, and Mohammed Ali Delawar, an Indian-Egyptian. And to audit the accounts there was Egypt's rising financier Talaat Harb who would later on, in 1920, spearhead the creation of Banque Misr and the Misr group of companies.
Despite the monies raised, the club was still short of cash and ultimately had recourse to the Ministry of Education for financial assistance. Enthused with the idea of a club for young Egyptians, the minister disbursed the amount of LE200. In token of its appreciation, the club board offered him the post of first honorary president. Hence Saad Zaghloul Pasha's name would forever be associated with Egypt's National Club.
When Mitchell Aines resigned as president, he was befittingly replaced with the club's principal benefactor Aziz Izzet Pasha.
By the end of WW1, when minister of justice Abdel Khalek Sarwat Pasha (later prime minister) was elected president of NSC's board, membership had reached 263 underscoring how sports had become an important social and political focal point.
The state through its rulers gave Egypt's national soccer team their unconditional support so that by the 1930s the NSC had already produced world class soccer players many of who would become legendary. Even then the NSC could lay claim to being the oldest soccer club in both Africa and the Near East. (In 2000 it was named the African "Club of the Century" by the Confederation of African Football)
Among the early NSC trophies was the prestigious Prince Farouk Cup. Together with the Egyptian National Soccer League Cup, the Farouk was disputed by a growing number of Egyptian soccer teams. High on the growing list was NSC's arch rival the Amalgamated Club (al-Mokhtalat) which changed its name to Farouk Sporting Club-FSC in 1941 before becoming the Zamalek Sporting Club--Nadi Al Zamalek in 1952.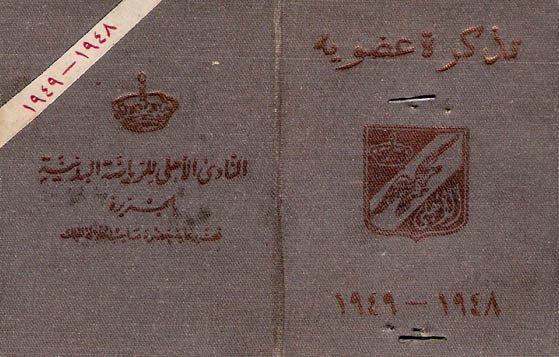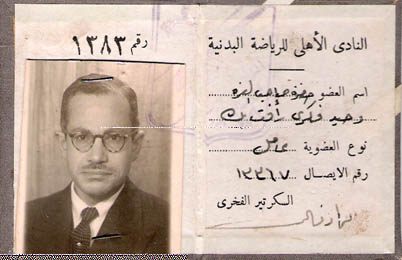 example of membership card in the days when the NSC was still under the King's patronage
---
EXECUTIVE PRESIDENTS 1907-52:






the pasha-presidents: Abdel Khalek Sarwat, Gaafar Wali, Mohammed Taher, Ahmed Hassanein
Mitchell Aines
Aziz Izzet Pasha
Gaafar Wali Pasha
Abdel Khalek Sarwat Pasha
Mohammed Taher Pasha
Gaafar Wali Pasha (twice)
Ahmed Hassanein Pasha
Ahmed Aboud Pasha

the officer-presidents:

Salah Dessouki
General Abdelmohsen Mortagi (twice)
Ibrahim al-Wakil
Mohammed Saleh Selim (several times)
Abdou Saleh al-Wahsh
EXECUTIVE BOARD
1907:
President Mitchell Aines; Honorary President Saad Zaghloul Pasha; Secretary Mohammed Ali Delawar Bey; Treasurer Talaat Harb Pasha
1941:
President Gaafar Wali Pasha; VP Ahmed Fouad Anwar Bey; Secretary Sayed Daoud Rateb Bey; Treasurer Riad Shawki; Board Memmbers Prince Ismail Daoud, Fouad Abaza Pasha, Kamel El Wakil Bey, Mohammed Mahmoud Bey, Abou Bakr Rateb Bey, Mac'Duff Simpson
1950:
President Ahmed M. Aboud Pasha; VP Fouad Siragedine Pasha; Secretary Murad Fahmy Hussein; Treasurer Abdelmoneim Wahby
---

Reader Comments

Date: Friday, March 17, 2006 5:53 AM
From: Moreen le Fleming Ehly

Your article on the National Sporting Club brought back many a happy memory. I spent frequent afternoons running the hundred and two hundred metres, as well as swimming in the pool and learning judo under the tutelage of one of Egypt's top wrestlers. Today is my birthday, I am seventy seven years old, but the memory of those days is as fresh as ever. I hope many of the younger generation continue to uphold the standards of sportsmanship learned so long ago.


---

Date: Wed, 8 Mar 2006 18:29:55 -0500
From: Andre Weiser
Subject: National Club

Just read your article on the Club National. Spoke to my dad about it. He was a member from before the war through 1957. My brother and I both learned to swim in the swimming pool there. I have an old newspaper article and photograph that shows me beating my younger brother in a 400 meter race at the club's track when I was 7 and he was 6.
My dad had so many good friends at the club. Many of whom had become high ranking military officers and secret police officers. Even the governor of Cairo who was also a customer of my dad's pharmacy. Thanks to their loyalty, kindness and influence, our life as jews in Cairo in the 1950's was still somewhat bearable.
Best Regards,
Email your thoughts to egy.com
© Copyright Samir Raafat
Any commercial use of the data and/or content is prohibited
reproduction of photos from this website strictly forbidden
touts droits reserves