egy.com suggests following articles
Several of my articles on Garden City were plagiarized word for word by novelist MEKKAWI SAID (winner of the Egyptian State price for literature!!!!) and re-published under his own name in a three-part series in El-Masry El-Youm daily in September 2015.
Cheers to our "talented" literature prize awardee. Your pain his gain !!!
EGY.COM - ZAMALEK
WHITE HOUSE ON THE NILE


by Samir Raafat
January 2005


Embassy Row: Saudi Embassy (Tewfik Doss Pasha House) center
Because of the Pasha's intervention, Guido Gavassi refused to append his name to the villa he had just designed in Zamalek. This was 1929-30 and the pasha in question was Senator Tewfik Doss, the presbyterian scion of a well to do Coptic family in Assiut, Upper Egypt. His new villa, overlooking the Nile on Mohammed Mazhar Street (No. 11), was built in the Italo-Gothic style, which, according to Gavassi, could not indulge a wrap-around balcony on its first floor. Nevertheless, the pasha remained adamant, much to the Italian architect's dismay.
"As it turned out,", recalls his youngest daughter Laila (a.k.a. Lilly) 65 years later, "this protrusion became our favourite spot. It was there, on that wonderful balcony overlooking the Nile, that together with my sister and four brothers, we gathered for breakfast and afternoon tea while admiring the wondrous river flowing beneath us. During high flood season it felt like we were on a houseboat."
Today, the Tewfik Doss mansion is better known as the Saudi Arabian ambassadorial residence. Sold to the Saudi government in the 1960s lock, stock and multiple Aubussons, it also came with a collection of life-size naked Italian marble statues adorning the 3000 sq. meter garden. All this for the paltry sum of LE 70,000! These were hard times when sequestration, confiscation and nationalization were rampant. Discretion and low profile were of the essence.
The mansion's new Saudi occupants proceeded to add an entire floor plus a huge outdoor Nileside esplanade. Painted over in white with new columns, trimmings etc added here and there (minus the naked statues), the mansion looks like a White House sur-Nil. No doubt this is one of the grandest Cairo mansions, especially since there are only 14 villas of its kind directly situated on the Nile embankment.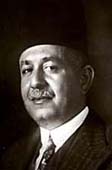 Lilly and Tewfik Doss Pasha (1882-1950)
A lawyer by profession, and like many of his peers, Tewfik Doss indulged in party politics. But unlike most of his generation, Doss was not a Wafdist preferring to join the royalist Liberal Constitutional Party instead.
Twice, during King Fouad's reign, Doss held cabinet posts. It was in his capacity as minister of communication-transport in 1931, that he welcomed the Graf Zeppelin to Egypt, and in the same capacity, played official host to the ground-breaking ceremony of the new Kasr El Nil Bridge.
The new bridge would have a cataclysmic impact on the island of Zamalek transforming it from a suburb into a bona fide Cairo district.
Up until WW2 the island was a laid-back bedroom community. Vegetables and fruits were purchased from the northern tip of the island where farms were still in evidence. "Gardeners also came from these farms," says Lilly. "We had no use for a bowab since it was those very same fellaheen who mounted guard on our entire district."
Tewfik Doss's neighbours, although of comparable standing, were sometimes a nuisance. "There was no sympathy between Elias Awwad Pasha and my father!" exclaims Lilly. The aggravation, which led to a bitter court case, began when Awwad decided to build his house too close to the Doss property thus obliterating part of the view.

The Awwad house at No. 13 Mohammed Mazhar Street, has several interesting stories attached to it. For instance, its renown French designer Auguste Perret (photo), rather than personally inspect the area's layout, preferred to mail the villa's drawings from Paris; the architect of Avenue Montaigne's art deco Theatre des Champs Elysées was obviously a busy man!
Informed that Awwad's plot of land stood on a Nile embankment, Perret proceeded to place the front door on the Nile side, thinking perhaps Cairo had no streets and guests arrived by boat. Understandable, therefore, when the villa's orientation was reversed during the early phases of construction so that its main facade now overlooked Mohammed Mazhar Street.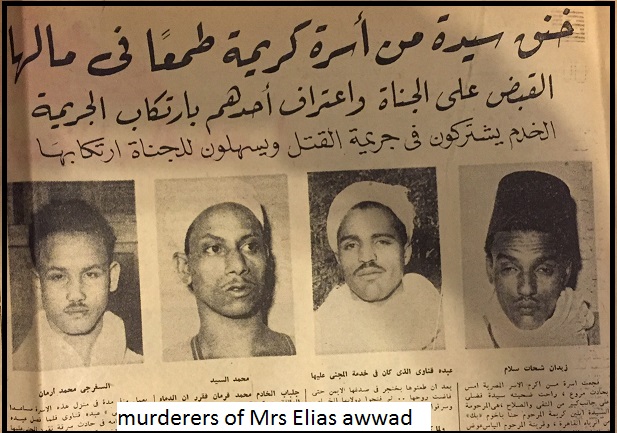 Years later, the Awwad house was the scene of both a suicide and a brutal homicide, which earned it the reputation of being haunted. While the former casualty was Elias Awwad's sibling, it was his widow, Helen Hanna Bakhoum, who was brutally murdered by her hired help on 17 March 1954. "She was not known to be generous," was Lilly Doss's only comment on this gruesome affair. Lilly failed to mention how a former hired help at the Awwad residence had been in collusion with one of Wahib Doss's servants, thus enabling the murderers to penetrate into the Awwad residence via the neighbouring Doss mansion.
In any case the haunted house was sold by Elias Pasha's heirs: lawyer Pierre Awwad and his wife Dorothy Cox, and Engineer Youssef Awwad and his wife Isabelle Barois. Years later it was torn down and replaced by the bunker-style Swedish Embassy.
Another neighbouring villa that eventually became "that noisy embassy next-door" is that which belonged to Finance Minister Ahmed Abdel Wahab Pasha and his first wife Ra'aya Hassan Faizi, before it was acquired by the Iraqi government.
Lilly Doss also remembers Madame Sati Topalian-Chaker. She was the Armenian lady across the street who owned an exquisite collection of objets d'arts. When Lilly asked the suave Middle East director of Wagons, why he had married such an unattractive woman, Monsieur Janig H. Chaker explained that his first wife, a raving beauty, had run off with her lover. So, this time around, he was taking no chances! The Norman-style Chaker Villa "Les Eucalyptus" built circa 1928 is today the Armenian Embassy courtesy of Madame Sati's estate.
What about the Doss mansion, what interesting stories did it conceal?
Not many, according to Lilly, or is it that she doesn't care to probe into her family's past? In any case, she had the following little nugget to spare.
The crown prince of Ethiopia was a serial visitor whenever in Cairo. On one such visit it was rumoured he had asked for Lilly's hand in marriage. The bond between the Tewfik Dosses and the Haile Selassis, besides being one of religion, was also one of trust and respect. Which is why the Negus's grandson spent all of 40 days in the house by the Nile to recuperate from a chest condition.
But what does it take to run a house of that size, especially one where dignitaries of high calibre are frequently entertained? The reply came with a lot of laughter from a Lilly who, at upper-eighty something fends for herself in an 8th floor apartment in Garden City. "We had at least 13 hired help not including the makwagi (ironer/drycleaner) and the ghassala (washerwoman). Almost all of them were live-in. It was very much the upstairs-downstairs saga. The highest monthly wages in those days was seven pounds."
When Tewfik Doss Pasha entertained, he did so generously but with an edge for local colour and taste. He did not shirk from adding Taamia, Fool (beans), Adss (lentils) and Bossara to the general fare next to the roasted duck, the turkey, and the stuffed lamb. "The first plates to be wiped out were our national dishes," says Lilly proudly.
"Naturally father entertained political figures, leading industrialists as well as family friends and relations." There were also the many Assiut cousins who visited at length during Sham el Nessim week. Lilly's maternal grandfather, Habib Shenouda Pasha, was the sometime Coptic omda (mayor) of Assiut in the days when Egypt's southern capital sported twin omdas, a Copt and a Moslem.
There were also the charity events hosted by Lilly Doss. In 1936, along with several like-minded women, she created the Society of Tahseen Al-Seha. Regular supporters at Lilly's fund-raisers were primo belly dancer Tahia Carioca and singer/actress Asmahan.
Since Tewfik Doss Pasha was a director of several blue-chip companies, it was not unusual to find the captains and kings of Egypt's economy gathered at his house. Most were privileged guests at the annual Ramadan Iftar which was a long-time tradition at the Doss mansion, a clear show of solidarity among Moslems and Copts.
Not a regular at the Doss mansion was Sir Miles Lampson, the dominating British ambassador. He regarded the pasha as an undesirable pro-German element "and a prime candidate for house arrest," cackles Lilly. "The animosity came from father's wartime off the cuff remark that the German Luftwaffe was superior to the RAF."
Another wartime stance that earned the pasha British antipathy, was his designation as defence lawyer for the two Zionist terrorists who murdered Lord Moyne in 1944. But since the culprits readily admitted their crime there was no defence case to be made. All that remained was "for justice to hang them slowly" a phrase largely attributed by the frenzied press to the pasha-politician from Assiut.
Tewfik Doss Pasha died in 1950 and was buried with all the honours due his stature and rank. "Thank God he did not live to see the dismal changes that took place a few years later!" exclaims Lilly with a sad look in her usually sparkly eyes.
Email your thoughts to egy.com
© Copyright Samir Raafat
Any commercial use of the data and/or content is prohibited
reproduction of photos from this website strictly forbidden
touts droits reserves