egy.com suggests following articles
Several of my articles on Garden City were plagiarized word for word by novelist MEKKAWI SAID (winner of the Egyptian State price for literature!!!!) and re-published under his own name in a three-part series in El-Masry El-Youm daily in September 2015.
Cheers to our "talented" literature prize awardee. Your pain his gain !!!
EGY.COM - ZAMALEK
Villas Power And Politics
by Samir Raafat
Cairo Times, 18 January 2001
---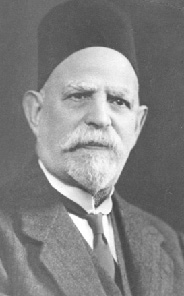 patriarch Sir Ismail Sirry Pasha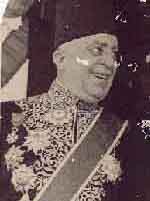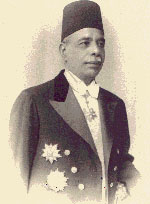 The Pashas: (L-R) Hussein Sirry, Kamel Nabih, Sir Abdelhamid Soliman
---
If one were to toy with elite political culture, the district of Zamalek during the interwar period would be an excellent place to start. Whereupon the island was once a nursery for exotic plants during Khedive Ismails' reign, by the time his grandson ascended the throne in 1936, Zamalek had become a hothouse of prominent pashas. By 1940, almost each one of its shaded streets boasted an ex- or incumbent prime minister, a former minister, court chamberlain or physician, a Speaker of the house, an undersecretary or a senior magistrate.
Likewise, when Prime-Minister Hassan Sabry Pasha unexpectedly died in November 1940, while reading the speech from the throne, one third of his coalition government lived in Zamalek. But then the entire cabinet in those days consisted of about 12 ministers compared to today's 40-something many of whom remain in moot anonymity.
Just as Sabry had lived in a villa overlooking the Zamalek street that would soon bear his name, four out of his 15-member cabinet were neighbors. Foremost among them were Engineer Hussein Sirry Pasha who headed public works and the able Abdelhamid Soliman Pasha running finance. And since the latter ranked No.1 on the ministerial pecking order, it was to him that the royal condolence--Royal Proclamation No 65 for 1940--was addressed. But when it came to the choice of a new Prime Minister it was to Soliman's brother-in-law that the King turned to. A son of a famous khedivial minister of public works and proficient credentials notwithstanding, Hussein Sirry (made a pasha on 26 March 1936) was also the Queen's uncle by marriage; matrimonial alliances in those days still counted for something.
Whereas Sirry Pasha and another brother in law, Undersecretary Kamel Nabih Pasha, lived in ex-government villas designed in 1906 by Ernest Richmond, Abdel Hamid Soliman Pasha, rather than pay the going price of LE 4,000 for an identical Richmond-designed villa, preferred to build his own. Luckily for us today two out these three villas survived. Villa Sirry is today the beautiful blue and white Tunisian ambassador's residence standing at the corner of Shagaret el Dorr and Ibn Zanki, and Villa Soliman is home to the forbidding, tight-lipped Embassy of North Korea, No. 6 Saleh Ayub Street.
As for Nabih Pasha's house that stood opposite Villa Sirry, it made way for an apartment bloc designed by architect Mahmoud Riad for account of a member of the wealthy Serageldine-Badrawi family. One of its most famous post monarchy occupants was the Speaker of the House, Engineer Sayed Marei, hence denoting that the island had not yet lost out on its political importance.
According to AUC Library Consultant Chafika A. Soliman (Mrs. Galal El Hamamsy), the Pasha's youngest daughter, it was her father who in 1928-9, designed the family homestead. Handsome yet unpretentious, the neo-classic symmetrical house boasted two items seen from the outside: the de rigeur wrought iron and glass gate containing a large "S", and a large glazed glass panel depicting the Four Seasons.
The varied interior included an inimitable escalier d'honneur devoid of any bonding material and made entirely from wood. And since most of the craftsmen came from as far away as Aswan and Italy, temporary living accommodations for these clever artisans had to be provided in the yet undefined garden.
The house was spacious enough to accommodate Chafika's parents, her many sisters and a younger brother. "I was born in a makeshift bedroom in the villa's topmost floor for the simple reason that construction was still in progress. And as was customary in those days, society ladies seldom gave birth in hospitals. Instead, it was for the leading gynecologist to make home deliveries."
When Chafika's father died in 1945, the house was sold to press baron Shukry G. Zaidan of Dar al-Hilal. Two decades later the Zaidans would in turn sell the villa to the North Koreans who replaced the garden's pond, gazebo and gatekeeper's loggia with unsightly office buildings.
One event Chafika remembers vividly is the wedding of one of her sisters. "It seemed like everyone turned up to what amounted to an all-night affair with Um Kulthum singing away."
With family, power and politics being what they are in the Middle East, it was fait accompli that everyone turn up at the wedding of the daughter of Egypt's seven-time minister. And since Madame Abdelhamid Soliman was now related to King Farouk by marriage, several royals were also present notwithstanding those who overtly held the pasha in high esteem for among others, his successful re-organization of the Egyptian State Railways.
Seldom had the relationship between palace and government been at such a high.
In his family memoir "In The House of Muhammad Ali," the late Prince Hassan Hassan fondly evokes Abdelhamid Soliman Pasha, who for a time had represented the Majlis al-Balaat (Privy Council) in affairs that concerned him and his older brother Prince Ismail.
"We had a tutor, Sir Abdel Hamid Soliman Pasha, a charming gentleman with the most suave manners, an inscrutable smile and a bronze-colored face, and hands that shook slightly when holding his coffee cup or lighting his cigarette. He was living in an extremely handsome home which is now an embassy."
---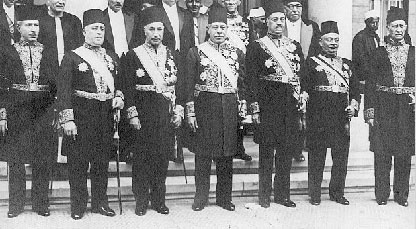 Hassan Sabry Pasha cabinet
---
DESCENDANTS OF Sir ISMAIL SIRRY PASHA

1 Ismail Sirry Pasha, Khedivial Minister of Public Works
.. +Chafika Badr
......... 2 Saneya Sirry
......... 2 Mahmoud Sirry
......... 2 Hussein Sirry Pasha, Minister of Public Works; Prime Minister
............. +Nahed Mohammed Saiid, daughter of Prime Minister Moh. Saiid Pasha; Queen Farida's aunt
.................... 3 Adila "Doddy" Sirry
.................... 3 Ihsan "Nini" Sirry
........................ +Mohammed Hashem Pasha, Minister of State in Sirry's 4th Cabinet 3/11//49 - 12/1/50
.................... 3 Nevine Sirry
......... 2 Hamed Sirry
......... 2 Fatma Sirry
............. +Sir Abdelhamid Soliman Pasha, Minister of Public Works
......... 2 Ahmed Sirry
......... 2 Moustafa Sirry
......... 2 Aicha Sirry
............. +Mohammed Kamel Nabih Pasha, Minister of Public Works


Reader Comments

---

Subect: Sirry Pasha Family Tree
Date: Wed, 17 Jan 2001 08:10:28 -0500
From: M. Shafie in Canada

One of my resources when I lived in Egypt was Safhet El Wafeyat in the Al-Ahram newspaper. But you must have many other sources. Did you think about making a web site for all these Egyptian family trees !!! You can make money too from this... Think about this, After 1952 many members of these families left the country, by now they must have their third generation who were born out of Egypt. Some of this generation (if not all) will be interested to know their roots, either for family dignity or hertage reasons. So, if you can create this web site, which will have the main family names (like Sirry, Abazza,.... etc.), that will attract people to search their roots. Then if these people will be more interested to dig more, they have to pay fees.
Email your thoughts to egy.com
© Copyright Samir Raafat
Any commercial use of the data and/or content is prohibited
reproduction of photos from this website strictly forbidden
touts droits reserves