egy.com suggests following articles
Several of my articles on Garden City were plagiarized word for word by novelist MEKKAWI SAID (winner of the Egyptian State price for literature!!!!) and re-published under his own name in a three-part series in El-Masry El-Youm daily in September 2015.
Cheers to our "talented" literature prize awardee. Your pain his gain !!!
EGY.COM - ZAMALEK
No 10 Taha Hussein Street
Libermann's OPUS
by Samir Raafat
Cairo Times, 26 October 2000

---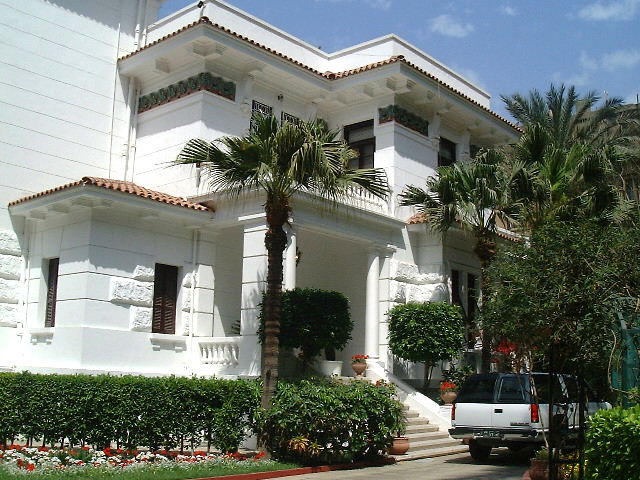 No. 10 Taha Hussein (ex-Willcocks) Street built in 1925
Libermann, a name we grew familiar with during US 2000 elections, was already prominent in Cairo during the interwar years. It belonged to an architect accountable for some of the more fashionable 1920s and '30s apartment buildings and villas scattered across the nation's capital. Most became homes to foreign ambassadors, chancelleries and corporate headquarters as original owners moved into smaller and more affordable premises.
In Giza a Libermann-designed villa was the residence of Swedish and Dutch ambassadors in the 1940s. Another villa down the same riverside street was home to Brazilian envoys during the 1970s. Bahrain's small embassy on Zamalek's Brazil Street was yet another Libermann creation. According to the plaque on the villa's façade it was built in 1924 as were several of Libermann's villas across the city including that which is today official headquarters of Citibank on Garden City's Ahmed Pasha Street.
Perhaps our incumbent minister of culture is not aware the villa he occupies offices on Shagaret el Dor Street in Gezireh is itself a Libermann composition.
More popular with Cairene society is the white Mediterranean-Bauhaus villa on Taha Hussein Street, Zamalek. But even before its successive American occupants rendered it famous with their Fourth of July celebrations and coveted dinner parties, N0. 10 made history in view of the people who lived there.
Just as No. 10 was not always US government property, Taha Hussein Street was not always known by that name.
Ever since the ambassadorial residence was moved inside the US Embassy compound in Kasr el Dubara, No. 10 reverted to what it had been prior to 1967: the official residence of senior US diplomats. Today it is the temporary home of DCM (deputy chief of mission) Reno Harnish and his lovely wife Leslie.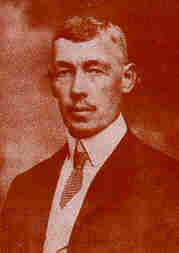 Consulting an old Zamalek map we learn this street was originally named Rue (Sir William) Willcocks so named in honor of a British irrigation and hydraulic engineer responsible in part for the construction of the Aswan Reservoir in 1898-1902. Willcocks (b.1852; see picture to the right), who later became chairman of the Cairo Water Works Company was also president of the Anglo-Egyptian Land Allotments Company which was instrumental for the urbanization of Zamalek (then known as Gezireh) early in the 20th century. Which is why he must have moved from Helwan to Zamalek where he reportedly lived in "Villa "Oleander" probably located at what is today No. 20 Taha Hussein Street (the César Levy Buiding). In fact his home is the title of one of Penelope Lively's non-fiction novels 'Oleander Jacaranda.'
And since the island of Gezira-Zamalek was the elected place of residence of several other irrigation engineers, many of its streets were named after them: Rue Sir Scott Montcreiff (now el Mansour Mohammed) Street and Sir William Garstin became Mahmoud Zaki Alley. The Egyptian names remained unchanged: Mohammed Mazhar Pasha, Ismail Mohammed Pasha and Mohammed Thakib Pasha.
If Willcocks was famous enough so that a street and a sporting club (south of Gezira Sporting Club) were named in his honor, Taha Hussein was Egypt's celebrated classicist and sometime minister of education. Hence, when the time came to get rid of everything British, Willcocks became Taha Hussein.
Whereas the name change evidenced Egypt's de-colonization, ownership of No. 10 went the other direction.
Prior to becoming US territory in 1949-50, when DCM Gordon H. Mattison moved in, the villa had always been occupied by senior Egyptian party politicians.
According to AUC professor Amina el Lozi it was her mother's relation who commissioned Libermann in 1924-4 to build No. 10.
"Abdel Halim el Alaili Bey was Secretary of the al-Ahrar el Doustouriyin Party. He married to Fatma el Lozi, who besides being a lady of many talents was an excellent pianist" recalls Lozi.
As it turns out, the land Alaili Bey purchased for his intended villa belonged to the Rustum family, who, by their name, indicate that although they were not politicians, they were membes of the of the Ottoman upper class.
Alaili Bey died unexpectedly the result of an abscess in the throat. When Fatma el Lozy herself fell sick and passed away, her marriage having been childless, the villa passed on to Fatma's father and heir Abdel Fattah el Lozi Bey who sold the villa circa 1938 to the Barakat family.
This time around No. 10 became a Wafdist stronghold given that the new owners featured prominently among the founders of that party---its patriarch, Fathalla Barakat Pasha having occupied several cabinet posts.
Eventually it was one of Fathalla Pasha's sons who took over No. 10. And as was customary then, if you couldn't find a bride within your own stock you married within the larger Wafdist family. Which is why the elderly scion took for a wife a daughter of Hamdi Seifelnasr Pasha, himslef a Wafdist elder and sometime minister of defense and agriculture. Through her mother Siham was a great-granddaughter of Viceroy Mohammed Ali.
The young bride had little in common with her fat, elderly tarboushed husband 25 years her senior. Rather than bring up a family she raised rabbits in the villa's garden. Widowed circa 1948-49 the childless Siham lived on for a few more months at No. 10 with her mother Baheya Rateb before the villa was sold by the Barakat heirs to the US government circa 1949 for LE 40,000 (US$ 120,000 in those days).
Thereafter a string of American diplomats moved in and out of No. 10 some remembered more than others; each adding part of his persona so that from time to time the villa changed colors and makeup. But it was only after the resumption of relations with the US following Nixon's visit to Egypt in 1974, that No. 10 became home to US ambassadors. They were successively Hermann Frederick Eilts, Alfred Leroy Atherton, Nicholas Alexander Veliotes, Frank G. Wisner II and Robert H. Pelletreau.
Neighbors like to point out how, when the head of the American Interest Section at the Spanish Embassy, Donald Clayton Bergus, lived at No. 10 Taha Hussein all it took was one visible policeman to guard the place. This was when relations between the United States and Egypt were at there lowest. Yet when the situation reversed in 1973-4 and as Egypt and Uncle Sam became the best of friends, walkie-talkies, defensive walls, crowd barriers and hefty concrete blocs gradually appeared so that they became an integral part of villa's exterior décor.
But what of the architect Michel (a.k.a. Max) Libermann whose name is barely visible above No. 10 Taha Hussein's main doorway? Who was he and where did he come from?
Alas, not much can be found about what must have been a very private man. Even though he catered to Cairo's best, unlike his Greek, Italian and French architect colleagues he is nowhere to be found in the colorful 'Who's Who' (Mondain Egyptien) of that period.
Neither is Libermann very present in the records of the Cairo Jewish rabbinate evidencing that he was not an active participant in his religous community.
The less talkative commercial directories list Libermann between 1930-55 as Michel Libermann, architect. His offices in downtown Cairo were located in the ex-Marconi Bldg. No. 18 Madabegh (later renamed Cherif Pasha) Street. In 1955 Libermann appears in a commercial directory this time sharing offices with architect Joseph Levys at No. 48 Kasr El Nil Street.
From architect George Khoury-Haddad who as a fresh graduate apprenticed with Libermann in the early 1950s we get a physical description of the man. "He was short, bald and suffered from a nervous tick constantly shaking his neck."
As for family life, Libermann didn't have any. He never married, first living on his own and much later moving into an apartment house he built for his sister on Taha Hussein Street. "His family consisted of a sister married to advertising agent Silvio Matattia of 1 Borsa El Gedida, Cairo and another sister married into the Alroyo family" remembers Khoury-Haddad.
Like many of his immigrant colleagues, Libermann conversed in French and Italian and broken Arabic. "Despite his German sounding name, I never heard him speak German" recalls Khoury-Haddad.
---
Author of article wishes to thank Leslie Harnish (wife of DCM Reno Harnish) who showed such keen interest in the origins of No. 10 Taha Hussein Street and did so much to embellish it. It was also during Leslie's occupancy that the villa's magnificent stairway glazed-window by Italian artist Albano Macario of Torino, was brought back to its original state.
Thanks also to AUC Professor Amina El Lozi, Architect George Khoury-Haddad and Ahmed Seifelnasr.
---
Villas and buildings designed by Michel Libermann.
Villa Bindari Pasha (1925), Nile Street, Giza. It stands next to "Villa Castro" occupied by late president Anwar al-Sadat. (source: plaqued)
Former Brazil Embassy residence, Nile Street (corner of Sobhi Pasha) Street, Giza. (source: plaqued)
Villa Sarruf-Shoucair Pasha (1925), Ahmed Pasha Street, Garden City now home of Citibank. (source: plaqued)
Apartment Bldg No. 5 Taha Hussein Street, Zamalek, for account of Libermann's brother in law Mr. Silvio Matattia. The building presently owned by Aleya el Ayouti. No. 5 is Libermann's last known address in Egypt. (source: plaqued)
Villa Alaili Bey, No. 10 Taha Hussein Street, Zamalek , presently owned by US Embassy; residence of DCM. (source: plaqued)
Building No. 5 Mahkamma/Privat (later Mohammed Saqib Pasha) Street. "Lozi Building" (a.k.a "Immeuble Henon") presently (year 2000) up for sale by its owners the Henon sisters: Marie-Louise and Christiane, the French granddaughters of Caisse de la Dette's Monsieur Achilles Adrien Henon Pasha.
Villa Khalifa (1924) No. 15 Brazil Street (now Embassy of Bahrain) built for Mahmoud Khalifa. (source: plaqued)
Villa "Clouet" now occupied by ministry of culture on Shagaret el Dor Street where it joins Gabalaya Street, Zamalek
Villa Taher Lozi Bey in Maadi. (source: George Khoury-Haddad)
at the twilight of his career he was commissioned to build the Pepsi Cola plants in Cairo and Alexandria. (source: George Khoury-Haddad)
Semi-circular redbrick building on Moustafa Kamel Square (source: George Khoury-Haddad)
Michel Libermann was responsible for the structural refurbishing of "Villa Helvetia" (a.k.a. "Villa Matasek") on Maadi's Road 11 subsequently purchased by the US embassy. Villa pulled down in 1996-7. (source: George Khoury-Haddad)
Email your thoughts to egy.com
© Copyright Samir Raafat
Any commercial use of the data and/or content is prohibited
reproduction of photos from this website strictly forbidden
touts droits reserves