egy.com suggests following articles
EGY.COM - VICTORIA COLLEGE
WEDDING CELEBRATIONS FOR A LOS ANGELES PASHA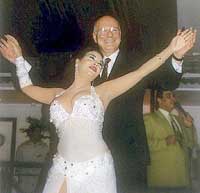 Flying in from all over the globe, friends and family of Elmo-Kimball Electronics magnate Elie Moreno (Victoria College class of '56) formerly of Cairo's 21 Soliman Pasha and presently of Wilshire Blvd. Los Angeles, celebrated his post-nuptials to childhood sweetheart Odette Tawil formerly of Cairo's Imeuble Baehler, Rue Kasr El Nil.

As Andre Arcache put it so well, this is a story book wedding where successful boy who makes good IN DUE TIME marries beautiful girl next door! Hmmm... reminds us of Paul Anka's song (or was it Neil Sedaka?) "And they called it Puppy Love".

Celebrations took place aboard Le Pasha in Cairo on 22 November 1998. Casual chic nothwithstanding, it only took for the belly dancer to make her appearance to the sounds of sensual seductive drums and the whole entourage succumbed. Grannies and grandchildren took to the dance floor... "c'est plus fort que nous... c'est dans notre sang!" exclaimed the bride's aunt Colette Tawil.

Meanwhile the Tawil gangsta from New York wondered out aloud if the gyrating Fifi would go home with them.

After touring Cairo's landmarks and visiting old haunts, the 100+ wedding party cruised the Nile aboard a chartered "loveboat" sailing between Aswan and Luxor.

Elie is the son of the late Joseph E. Moreno of Moreno & (Leon) Mazza founders of "Fer et Metaux et Constructions Metalliques" of Boulac. If Elie's mother (Sarah Benyacar) couldn't make it from California in view of her advanced age, the rest of his extended family (three generations in most cases) flew in en masse as did Odette's sizeable tribe.

In attendance were from London and New York the Hayats, the Benyacar-Pontremoli cousins, Esther Habib, Helene Sasson (Mrs. Marco Benyacar) with daughters Tania Wilkie and Kelly (Mrs. Michael Green); Enid Danon-Mazza from LA., Cookie Belilos from Milan, Maurice Eskinazi from Brazil and Maurice Iskinazi (bis) from New York, Cohen, Samir Guirguiss et.al .... Many of the guests had once lived on Soliman Pasha or Kasr El Nil Street.

Old Vic guests--residents of Egypt--included families (Tal) El Badrawi, (Amr) El Sherif, Seragedine, (Ahmed) El Nahas, (Bimbo) Shousha, (Hani & Hazem) Seif El Nasr, Amr (El Alfy), Loza, (Samir) Youssri and... Indjy Fahmy from Bronxville, NY and Cairo.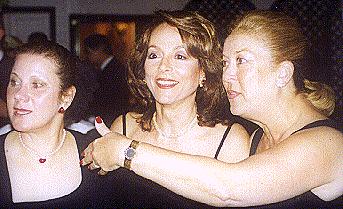 ALF MABROUK YA AREES WA AROUSSA!
photos
top: Eli Moreno with top bellydancer Fifi Abdou at Le Pasha
bottom: Odette flanked by Arlette Moreno and sister Susie to her right

Email your thoughts to egy.com
© Copyright Samir Raafat
Any commercial use of the data and/or content is prohibited
reproduction of photos from this website strictly forbidden
touts droits reserves