Victoria College Photo Album 2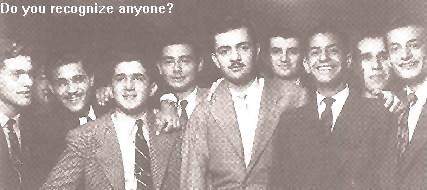 YES I RECOGNIZE Morris Shama, who now lives in Montreal, extreme right; George Papadopoulo 3rd from right; the others are familiar but cannot remember their names.
Victor Kyan
Left VC in 1945.
In the photo "Do you recognize anyone?", the third person from the left is the late Elie Yazgi and the second person from the right is the late Guy Bahari.
Antoine Bassili
VC Alexandria 1942 - 1952

---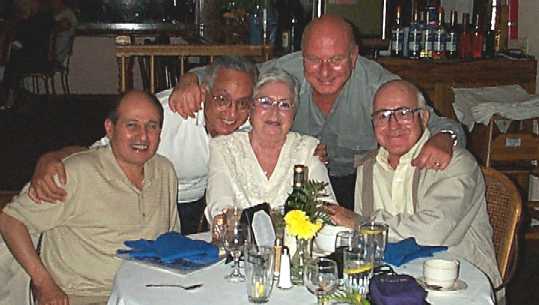 Last night, the Old Vics Talaat Badrawi, Adly Shukry (Girgis), Ramzi Mankarious and myself including the wives had dinner with Moreen Ehly (ex-Moreen LeFleming), the famous kindergarten teacher, and her husband Bob Ehly. Had a wonderful time remembering the good old days and updating ourselves on the different life paths. Of-course, we were most anxious to hear about her life and here's what we gathered:
1. She was born in Egypt/
2. She was Miss Egypt in 1947 (She promised to find a photo.)
3. She left VC in 1949...didn't go to Maadi but went to work for the British Council.
4. Met Bob (stationed at the US Embassy in Cairo) at the Heliopolis Sporting Club.
5. Left Egypt in 52 or 53, went to London and married Bob.
6. Bob leaves for the US and she is reunited with him on the Ralph Edwards show as a surprise event shown live on TV.
7. Has lived in Southern California since 1953 except for a couple of years when they lived in New Orleans.
8. She has 2 boys and 1 girl
9. She has a form of Muscular Dystrophy and is taking large doses of steroids...has difficulty walking.
I'm sure there's more; but I'll let the other guys comment on our dinner. One thing's for sure, Adly Girgis is in love again!! He told her how he used to hide behind the trees to get a glimpse of her and was always hoping the winds would blow her skirt up so he could get an even better LOOK. It was a lot of fun.
Elie Moreno
---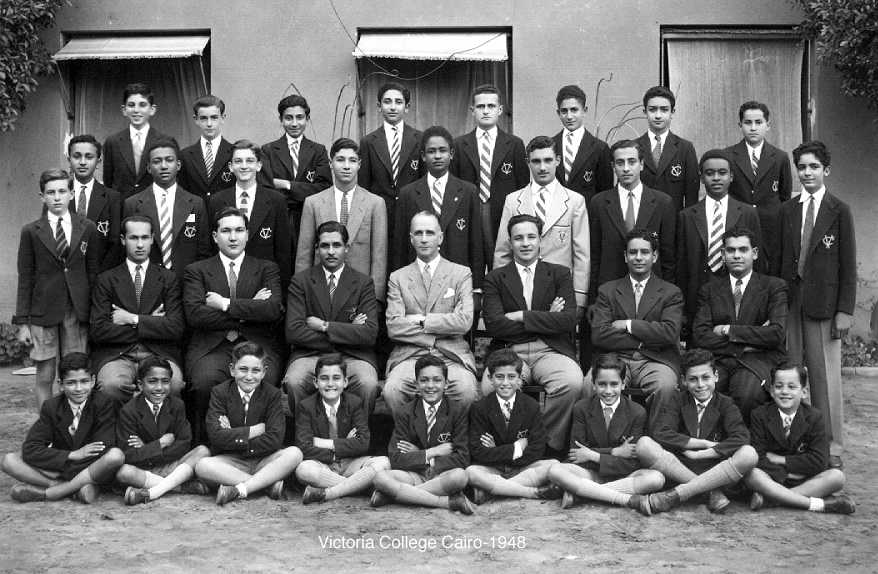 From: David A. Bolaffi
You don't know me but my father, Andre Bolaffi, is an "Old Vic" (VC Cairo 1948) and is counting the days for the next reunion. I've shown him the VC web pages and he is having fun looking at the names and photos. I'd like to add a contribution from San Francisco.
I've 6 that I've scanned but I'll send one photo now to make sure it goes thru ok and if so, please let me know so i can send the other 5 (one at a time of course so not to "clog up your connection"). Was able to caption 2 of the photos as there was information on the back sides (alas dates only, no names) so if any of you can fill in the missing info...
Will be giving the photos on disk (both mac and pc formats) for my dad to bring to the reunion but I figured why not get a head start.
please let me know if the photo makes it and if you'd happen to remember my dad. Many Thanks
David
---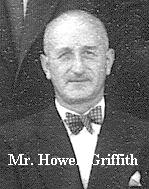 ---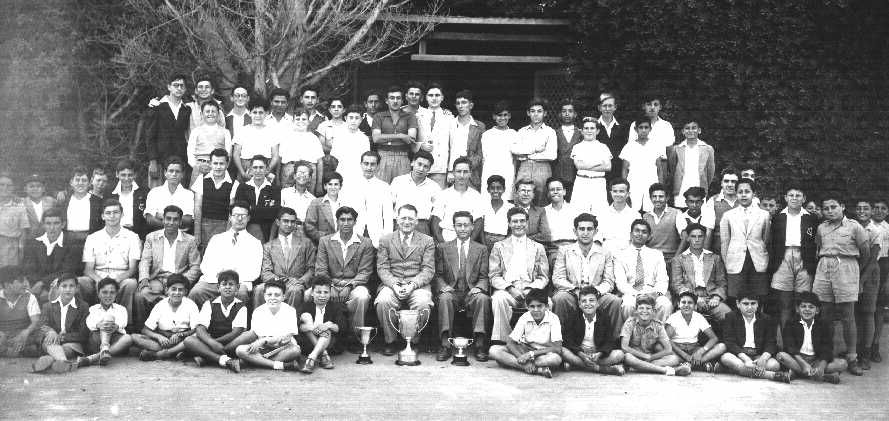 a photo dating about 1942-43
First row, right hand side of Mr. Hill (left side looking to the photo) are: Dikran Izmirlian and Guy Maakad.
On the Left Hand side of Hill (right side of the photo) are Theodore Klat, Oswald Schmeil and Leon (Levon) Topouzian.
In album 2, "a photo dating about 1942-43," I believe my father, Armen Kutchukian, is in the second row from the front, seated third from the right. And I think his brother, Zaven Kutchukian, is in the second row from the front, seated second from the left.
Hope this helps,
Claudia Kutchukian
Toronto, Canada
---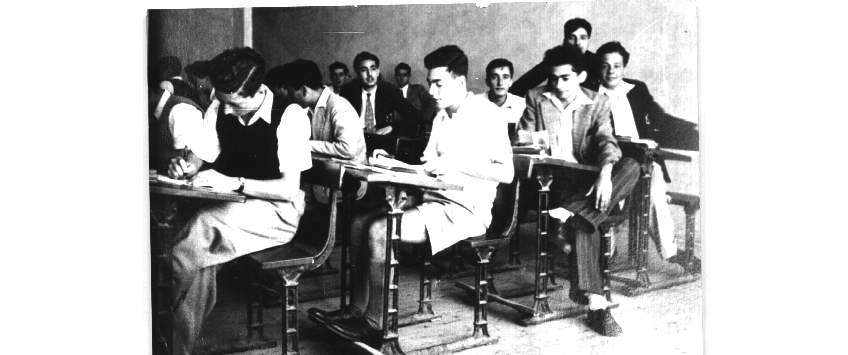 LOWER VI: Front row to back: Arie Schlosberg (M.D. in Tel Aviv) - Ayoub (location unknown)- Youssef (Gaby) Shaheen - (Film Producer in Cairo), John Galatti (CEO Spinning-weaving, now retired in Athens);
Standing: Hagop Kehaian (Bank Executive - Alexandria, now retired). Right of Youssef Shahine and seated is Herbert Smith now M.D. in Australia