egy.com suggests following articles
EGY.COM - PERSONALITIES
MAX KARKEGI
10 September 1931 - 20 August 2011

"On entre, on crie et c'est la vie
On crie, on sort et c'est la mort
Un jour de joie, un jour de deuil
Tout est fini en un clin d'œil." Voltaire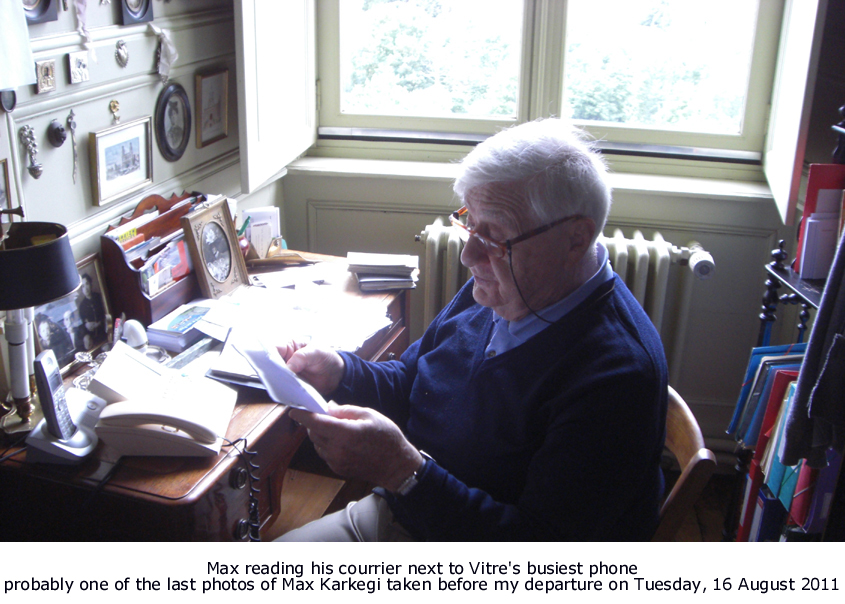 "Mon Cher Samir, voila des années que j'attends ta visite. Je me fais vieux, alors viens vite, avant qu'il ne soit trop tard." Tel est le courrier pressant recu de Max Karkegi en juin dernier.
Max et moi nous correspondions depuis des années, échangeant avec passion des détails sur l'Egypte d'antan. Lui de m'envoyait de vieux clichés et des cartes postales, je lui donnais de l'information et des histoires. "Nous formons une équipe idéale, se plaisait-il à dire, pour tout ce qui concerne l'Egypte du XIXème et du XXème siecle. Mon site Egypte d'antan et le tien Egy.com, c'est un couple indéfectible."
Ce n'est que bien plus tard que nous avons découvert que nous avions un autre intéret commun : la généalogie. Ses ancetres étaient plus pittoresques que les miens, reflétant tout l'empire ottoman d'Alep à Damas en passant par Silivri-Istanbul et Leipzig. Tout cela se fondant évidemment dans le chaudron cairote; c'est ainsi que nous nous sommes apercus que nos grands-parents maternels avaient été collegues dans l'industrie du sucre de Kombo-ombo en Haute Egypte en 1910. Incroyable !
Je me suis donc enfin décidé et ne prenant qu'un seul bagage de cabine – je voyage léger – j'ai pris Air France jusqu'a Paris puis le TGV pour la ville pittoresque de Vitré en Bretagne ou Max et sa merveilleuse épouse et compagne Magdeleine habitent dans leur charmante demeure du XVIIeme siecle, batiment de pierre de trois étages plein de coins et de recoins et d'une multitude de chambres sous les toits – cadre revé pour un auteur, chercheur et collectionneur.
Alors que les murs de tant de maisons en France sont tapissés de papiers peints frappés de la fleur de lys ou de je ne sais quoi, chez Max au 42 de la rue Notre Dame ce sont les livres qui recouvrent toutes les surfaces. Tout ce qui a été écrit sur l'Egypte – en quelque langue que ce soit – est la, a coté de milliers de cartes postales égyptiennes, d'un siecle de coupures de presse, d'annuaires épuisés, de Who'Who, d'annuaires de la noblesse, sans oublier les photos, les cassettes, les disques…. Tout y est . Max a quitté l'Egypte en 1965 mais il avait gardé l'Egypte dans la peau….
Impossible de savoir ou regarder d'abord dans cette caverne d'Ali Baba. Avec Max, comment se concentrer sur tel ou tel objet, tel ou tel sujet, sans partir immédiatement en tangente sur un autre sujet ou un autre objet, avec de fréquentes pauses café dans la vaste cuisine, seule piece ou les livres n'étaient pas admis!
Et pendant tout ce temps le téléphone sonne, sonne, tous les amateurs de souvenirs du Caire appellent des quatre coins du globe. "C'est Habibi Aboul Amayem au palais Yildiz a Istanbul, il veut des détails sur un saray a Shubra." Deux minutes plus tard: "C'est Habebti Azza Heykal de la Sorbonne, elle veut parler de la situation en Egypte." Puis vient l'appel de Sa Majesté (Le prétendant au trone d'Egypte Ahmed Fouad) qui part pour la Turquie, suivi par une tres longue conversation avec "l'adorable" princesse Melekper... La liste est encore longue… Pas de doute, le téléphone de Max est le plus occupé de Vitré!
Les nombreux admirateurs de Max et les derniers membres de la famille royale, qui tous appellent Max familierement par son prénom gardent le contact avec celui qu'ils appellent "irremplacable". N'est-il pas devenu au fil des ans un expert sur tout ce que l'Europe compte et a compté comme familles régnantes? D'ailleurs cela n'a rien d'étonnant: n'est-il pas marié a la descendante de l'une des plus anciennes familles de France, alliée a des souverains de la renaissance ainsi qu'en ligne indirecte (par la famille Vergers de Sannois) a l'impératrice Joséphine ?
J'ai passé cinq merveilleuses journées chez Max, fouinant dans ses trésors, rencontrant ses amis locaux et notamment l'indispensable Loic Le Cabellec, déjeunant a son petit restaurant favori (le Chene Vert) et visitant les ruines médiévales de la région, sur un arriere plan de discussions interminables sur la vieille Egypte dont Max faisait partie.
Hélas, les plus belles choses ont une fin.
Le mardi 16 aout Max et Magdeleine m'ont conduit en voiture a la gare qui date du Second empire toute proche ou j'ai pris a six heures du soir le chemin du retour par Londres via Paris. Nous nous sommes jurés de nous revoir l'an prochain a la meme époque pour mettre au point le lien entre Egy.com, et Egyptedantan.com.
Quatre jours plus tard, alors que je franchissais la douane du Caire, j'ai consulté mes messages sur mon portable égyptien. Le premier était de Melekper Toussoun. Il avait été prévu qu'elle allait me succéder dans la chambre d'hote de Max au deuxieme étage, ce qui m'avait obligé à laisser l'endroit parfaitement en ordre. Je me suis inquiété: aurais-je laissé une paire de chaussettes sous le lit?
Mon sourire s'est évanoui en lisant le message. "Max nous a quittés aujourd'hui à 13:30. Il laisse un vide effroyable que nul ne pourra combler."
En un instant j'ai compris que ma derniere rencontre avec mon ami n'était pas un hasard ni un simple échange d'idées entre deux personnes partageant un meme idéal. C'était bien plus. C'était l'adieu que Max pressentait et qui l'avait poussé a m'envoyer son urgent message. Il me semblait l'entendre me dire: "Viens vite, avant qu'il ne soit trop tard." La nouvelle éclairait d'un jour nouveau ce qu'il avait pu me dire a propos de legs, de testaments et d'authentifications, toutes choses qui m'avaient paru prématurées.
Lors de l'un de nos entretiens Max m'avait expliqué qu'avec l'aide d'une amie commune, l'admirable Mercedes Volait, il avait trouvé un site idéal pour sa collection qui n'a pas de prix: la Bibliothèque Nationale de France. Il s'était ainsi assuré que l'oeuvre de toute une vie serait préservée.
Bien que nos pensées a tous vont a Magdeleine ainsi si cruellement frappée, je suis sur que comme moi, tous ceux qui ont connu Max seront soulagés de savoir qu'alors que sa vie foisonnante a pris fin, désormais les papier, livres et séries documentaires sur l'histoire de l'Egypte devront quelque chose a Max Nicolas Karkegi et a son oeuvre. Comme cette terre du Nil qu'il aimait tant, il nous survivra a tous.
Max, merci du fond du coeur
Maadi, dimanche 21 aout 2011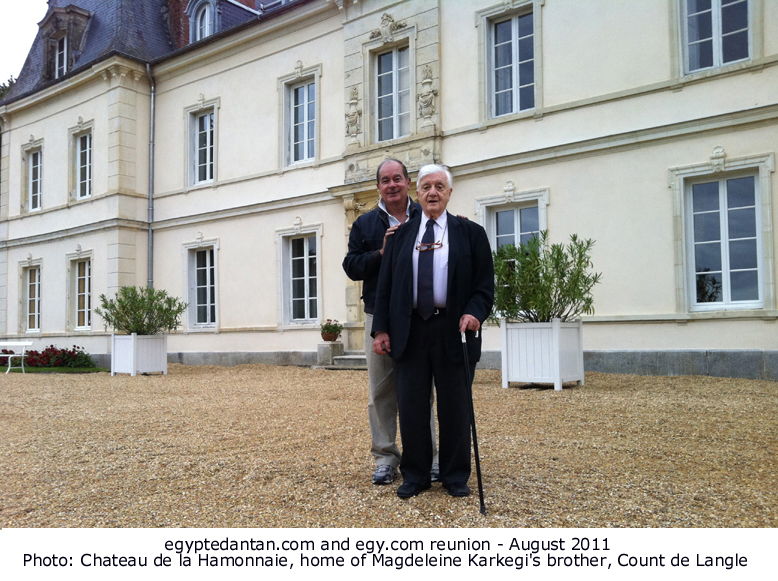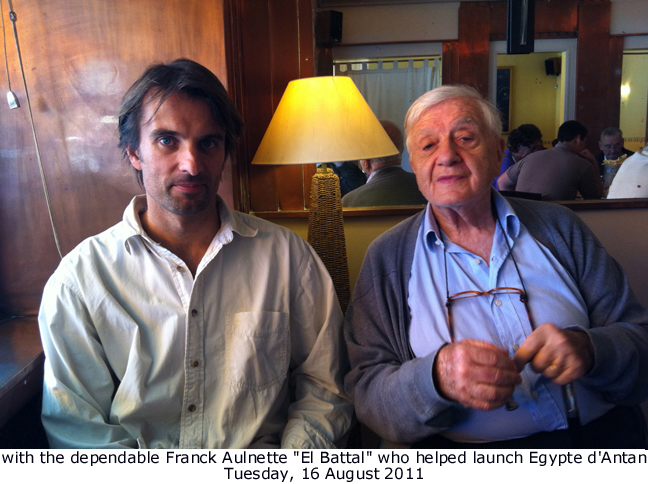 ---
"Mon Cher Samir, I have been waiting for your visit several years. I am getting old, so hurry up and come before it's too late." These were the words in Max Karkegi's compelling email last June.
Over the years Max and I were pen pals in the modern IT sense. Intermittently we excitedly exchanged information on Egypt's bygone days. Max with photos and postcards and me with content and stories. "The perfect team," he would often say. "We compliment one another regarding the chronicling of Cairo's 19th and 20th century. "Egypt d'Antan and egy.com are an unalterable couple."
It was much later when Max and I learnt that we also shared a common interest in genealogy. His own was by far the more interesting in view of his colorful ancestry which mirrored the Ottoman Empire from Aleppo to Damascus passing through Silivri-Istanbul and yes, Leipzig. The adagio melting pot was of-course Cairo. This was also how we discovered that both our maternal grandfathers were colleagues at the Kom-ombo sugar industry in Upper Egypt back in the 1910s. Amazing!
Finally, came the day when I packed my carry-on (I travel light) and flew Air France to Paris and then TGV'd to the picturesque town of Vitré in Bretagne where Max and his wonderful wife and companion, Magdeleine, have a charming 17th century three-floor stone-house with endless nooks and crannies and multiple attics—the perfect setting for an author-researcher-collector.
Whereas most country homes in France are wall-papered up and down and back and forth with fleurs de lys and what-not, Max's residence at No. 42 Rue Notre Dame is wallpapered with books. Every last book written on Egypt in any language and on all subjects is already there. Add to it thousands of Egyptian postcards, a century of paper clippings, out of print commercial directories, who's who and peerage volumes, plus photos, videos, CDs... all of them dealing with Egypt. You name it he's got it. Max may have left Egypt in 1965 but the motherland was still very much under his skin.
Where to begin looking in this treasure trove? With Max it is impossible to concentrate on any one item or subject. Instead we go off on multiple tangents with mini coffee breaks in his ample kitchen, the only book-free zone in the house!
All the while there is the forever ringing telephone with every last Cairotica researcher calling from across the globe. "It's Habibi Aboul Amayem calling from Yildiz Palace in Istanbul! He wants to know about a saraya in Shubra." Two minutes later, it's "Habebti Azza Heikal from the Sorbonne calling to discuss the situation in Egypt." And then there was the call from "Sa Majesté" [the former King of Egypt Ahmed Fouad] who is off to Turkey, followed by a long chat with "l'adorable" Princess Melekper etc. Most definitely Max's phone is the busiest in Vitrè!
In between the welcome interruptions there are the calls from Max's many fans and the remaining members of the Egyptian royal family all of them on a first name basis with Max l'irremplacable, who, over the years, has specialized in heraldry of both extant and extinct ruling families of Europe. Not surprising for someone who is married to a member of one of France's oldest families with ties to several renaissance monarchs as well as a direct line (through the Vergers de Sannois) to the legendary post-revolution Empress Josephine.
My eventful stay at Max's lasted all of five wonderful days rummaging through his memorabilia, meeting his local friends including the indispensable Loic Le Cabellec, lunching at his favorite local restaurant and visiting the medieval neighborhood. It is August and the days are long. There was of-course the endless chit chat about Egypt's bygone days of which Max has become an integral part.
But all things beautiful have en end.
On Tuesday, 16 August, Max and Magdeleine drove me to the nearby 'Second Empire' railway station at 06:00 pm for my return trip to London via Paris. Promises were made that we'd re-unite same time next year. There was still unfinished business regarding the coupling of egy.com and Egyptedantan.com.
Four days later, as I passed through customs control at Cairo airport I checked my messages on my Egyptian number. The first message was from Melekper Toussoun. Since she was to have been the next occupant of Max's second floor guestroom, I made sure to leave No. 42's Blue Room squeaky clean. Did she find anything amiss? Had I left a pair of socks hanging on the towel rack?
"Max passed away today at 13:30," read the message. "He is irreplaceable and we shall all miss him."
There and then, I felt that my recent encounter with Max was not a passing event neither was it an ordinary exchange between like-minded souls. It was much more. It was a farewell and Max knew it, hence the urgency of his last emails… His fated words "Come see me now, I might not be here next year," kept ringing in my mind. And all this talk about legacy, wills and authentication, which seemed at the time so premature.
In one of our conversations Max explained that with the help of a mutual friend, the incomparable Mercedes Volait, he had found a wonderful home for his priceless collection: The National Library of France. This way he was sure his lifetime achievements would not go to waste.
While our thoughts today are with a greiving Magdeleine, like me, I am sure all who knew Max will find consolation that even if his rich life came to an abrupt end, henceforth, every paper, book, documentary or TV series dealing with Egypt's history will owe some credit to Max Nicolas Karkegi. Like the Egypt he loved so much, he shall survive us all…
Thank you Max…
Maadi, Sunday, 21 August 2011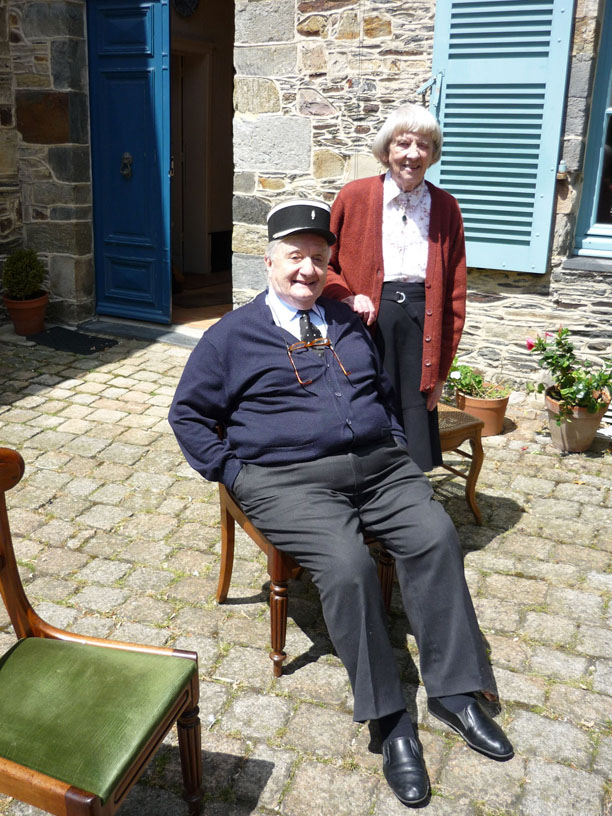 Countess Magdeleine with Max wearing Loic's kepi on their front porch July 2008 (photo courtesy Phil LLoyd)
---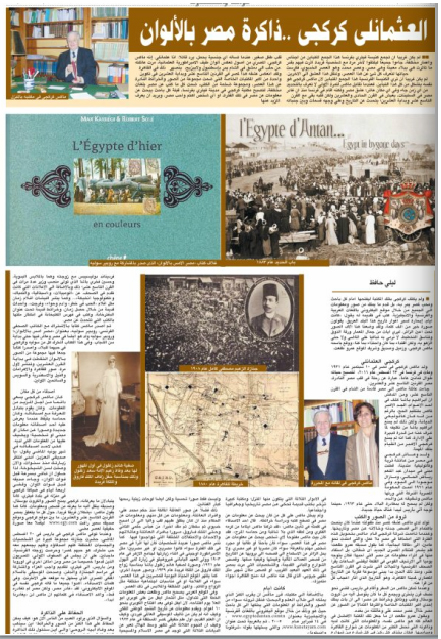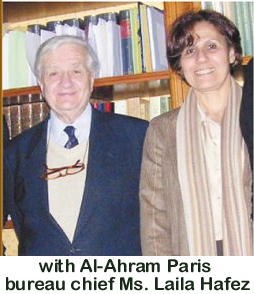 links: al-Ahram 30 September 2011 "The Ottoman Max Karkegi... Egypt's living Memory" by Laila Hafez
Email your thoughts to egy.com
© Copyright Samir Raafat
Any commercial use of the data and/or content is prohibited
reproduction of photos from this website strictly forbidden
touts droits reserves