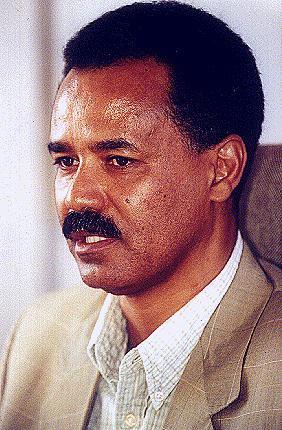 Soon after we landed at Asmara's Lilliputian international airport, something-or actually the lack of it--started to goad me. Seven days later--still no pictorial evidence of President Isaias Afwerki. Not even in government departments, offices and ministries could we find an official photo of Eritrea's leader. Ditto the modest but immaculately clean offices of the ministers of foreignaffairs, information and social affairs.
Not only was the nation's dapper president absent from street banners and posters, but he was nowhere else to be seen. It was, in short, not what one would expect in a Third World, African or Arab country, where larger-than-life facsimiles of the leader frequently adorn airport roads, entrances to towns and every strategic intersection. Climactic scenes of the patriarch looking down over his flock or of the Commander-For-Life guiding his people through their everyday lives were, in this case, altogether absent.
My curiosity quickly got the best of me. Maybe I could catch Afwerki on the country's only TV channel. No luck. There too, the president was missing. Nor was he to be found in the pages of his country's weekly papers. Surely the information minister knew that, all other responsibilities aside, publicizing his chief's picture was his raison d'tre, especially as the country was about to celebrate the eighth anniversary of its hard-won independence from Ethiopia.
Despite Afwerki's conspicuous absence, the Eritreans I spoke to appeared to genuinely love their sandal-clad president, who they said can be found, not infrequently, sitting at the corner café or walking unescorted down the capital's main street. The man is so accessible--when he's not out of the country--that all it takes is a phone call and you can have yourself a one-on-one with the country's first citizen.
And what about policemen and state security guards-where were they? During an entire week, in which I spent most of my free time walking around the capital city (pop. 400,000)--not such a difficult thing to do once you get used to the 2,500 meter altitude--all I saw were a couple of uniformed bike-cops. And yet motorists routinely stopped at the "halt" signs and respected the unmanned traffic signals.
As for the 20-odd embassies and international organizations accredited to Eritrea, these are unguarded. The presidential palace meanwhile, appeared to be protected by a detail consisting of two uniformed men in a wooden kiosk. I couldn't help but wonder: was this really an embattled African state?
When I asked Yassin, the twenty-something operator of Eritrea's only dive club, what he thought of the war, he replied that he'd had enough. Like many of his 3 million compatriots, Yassin had joined Eritrea's guerrillas at the age of 13, and he grew up fighting a protracted war of independence against the country's giant neighbor to the south. Today, without any particular political agenda in mind, he intends to partake in his country's tourism development. To this end he enrolled in diving schools in Sharm Al Sheikh and Eilat. (Both Egypt and Israel are vying for influence in Eritrea.)
Eritrea is blessed with a virginal coast, rugged lowlands and semi-tropical highlands, Yassin's chances are good. While the country lacks primary resources such as oil, its tourist potential is great. First, there's Asmara itself. The nation's capital is a small town characterized by an extraordinary concentration of Bauhaus, art deco and well-kept Italianate buildings from the colonial era. The additional presence of several 1930s Fascist-style public and commercial buildings bespeaks a history once closely entwined with the unsteady politics of Italy. With a few touch-ups here and there, parts of the city could almost replicate Miami's famous South Beach.
Meanwhile lofty baroque churches and loudspeaker-free mosques abound in the downtown area, testifying to the country's multi-religious and tolerant side. This is also a place where beer is cheaper than bottled water.
Except perhaps for the abundance of bars, Asmara reminded me of the Maadi of the 1950s--a clean, quiet, colonial suburb where green was a way of life rather than an exception. But unlike what happened to Maadi--wanton destruction and architectural terrorism--zoning and building codes are alive and well in both Asmara and the coastal city of Massawa. Moreover, the general cleanliness is overwhelming.
Eritrea's principal port, Massawa boasts a charming old Ottoman quarter, a legacy left when Egypt's Khedive Ismail annexed Eritrea's lowlands back in the 1870s. Today, South Korea's Daewoo conglomerate is leaving behind its own architectural imprint. Everywhere you look there's construction. "Signs of better things to come," explained our enthusiastic Massawan guide.
Swimming in tepid harbor water clearly isn't one of Massawa's highlights. Beachcombers must travel by fast boat to any one of the many islands off the coast, with a choice of terrific sandbars along the way.
Massawa can be reached from Asmara by road or rail, and either way takes you through breathtaking terrain and dizzying canyons. But the historic train journey-from balmy, green highlands to bare, humid lowlands--would have to be the highlight of any Eritrean vacation. The unique Puffing Billy and its quaint wooden wagons make for the definitive primeval train ride. Although this is not a made-for-Disney production, the amazing locomotive is reconstructed in its entirety from abandoned interwar steam engines.
Most welcome also is the lack of tourist harassment. You can roam Asmara or Massawa without an official, or an unwelcome, self-appointed, escort. True, you might run into the occasional moneychanger, but they can be quite useful given the double-tiered exchange rate.
This is also a country where flashy cars and opulent hotels are few. If Eritrea has a nouveau riche class, then it's keeping a low profile. Sustained mostly by remittances from abroad, the country has so far enjoyed a unique debt-free status, insulating it from the greedy forces of globalization, the IMF and Pizza Hut. Yet because of the war, this insularity is expected to change as the country moves deeper inside the woods financially. It's only a matter of time before Eritrea's age of innocence disappears.
I left Eritrea still not knowing what Afwerki looked like. But it wouldn't be long before I had my chance to see him. In its ongoing attempts to rekindle a Horn of Africa peace initiative, Egypt was playing host to the Eritrean leader. So there he was, Isayas Afwerki, on the front page of all of Egypt's state-run dailies, standing next to President Mohammed Hosni Mubarak.
Away from his turf, the publicity-averse president of Eritrea had temporarily joined the publicity fray.