egy.com suggests following articles
EGY.COM - PERSONALITIES
A PHOTOGRAPHER BACK IN THE LIMELIGHT

by Samir Raafat,
January 21, 1999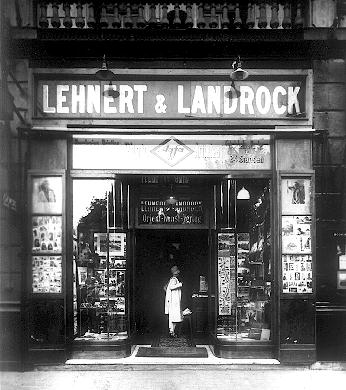 What do Lehnert & Landrock, the Mubarak Public Library and Islamic scholar Annemarie Schmimel have in common? Precious little, up until they come together on 30 January at an extraordinary photo show put on by Canadian photo-buff Chris Langtvet. Not a man to hide his feelings, Langtvet is on a high. He's discovered a treasure trove, and intends to put it on exhibition next week.
As it stands, Lehnert & Landrock, the noted bookshop on Cairo's Sherif Street, holds the rights to a remarkable collection of hundreds of black-and-white glass plate images dating back to the first quarter of this century. Up until now, a spare number of these oriental delights have either been reproduced in illustrated postcard form or as wall calendars and souvenir gimmicks. These can be found at upscale bookstores, at the Egyptian Museum and at specialized postcard shows and collectors postcard markets all over the world. "This [exhibition] will be the first time a large part of the collection--at least 40 prints--will re-surface in its original state of high-quality workmanship," exclaims an enthused Langtvet. Several prints will be on display at the same time at the Goethe Institute.
Applying tender loving care with tools and technique used a century ago, the Canadian artisan is currently reproducing three plates a day, as well as making high-quality prints, in his lab in Old Cairo--a long tedious process, but not without its rewards. Listening to Langtvet talk, one imagines he's breathing life into the apocryphal Sleeping Beauty. Aside from the obvious pleasures of midwifing Lehnert and Landrock's unique collection back to the living, the windfall benefits from such an endeavor would be any photo-buff's Elysium.
According to geologist-turned-librarian Edward Lambelet, current proprietor of Lehnert & Landrock, the origins of his glass plate collection go back to 1904 when his Saxony-born step-grandfather Ernst Heinrich Landrock (1878-1966) ran into Rudolf Franz Lehnert (1878-1948) in Switzerland. Close in age and both of Central European stock, the two men shared a passion for photography. With time, Lehnert, the greater traveler of the two, became the consummate artist, his photo-seeking lens forever searching for faces and places, and Landrock became the diehard administrator of their growing partnership.
The original Lehnert & Landrock photo shop was situated in Avenue de France, Tunis. It lasted 10 years before being forcibly closed by order of the French governor-general in 1914. Martial law had been declared across the French colonies, and enemy aliens--including German and Austro-Hungarian subjects--saw their property either confiscated or sequestered. Still on one of his lengthy treks of the Maghreb hinterland, Lehnert was not aware that war had broken out. Upon his return to Tunis, he discovered his shop and glass plate library had been closed, and he was not allowed access to them.
Shortly after, on 4 August 1914, he was made a prisoner and sent to an internment camp in Corsica. Landrock, meanwhile, was stranded in Switzerland and trying desperately to find ways by which to rescue his friend. Before long, the two were re-united in Davos, where Lehnert met Eugenie Schmitt, whom he wed. As the war came to a close and as European borders shifted once more, the Lehnerts found themselves unwitting citizens of the newly created Czech Republic. Fortunately for Lehnert & Landrock, the Lehnerts' new homeland was an ally of France, and complex bureaucratic proceedings with the French authorities eventually led to the return of the confiscated glass plates. Lehnert had by now acquired French citizenship through his Alsace-born wife, but that did little to keep him on French territory. The time had come to move to Cairo, then a bustling capital of a pseudo-British colony. But first, the recovered plates were re-engraved in Leipzig. Having lost them once, the partners were not about to risk losing them again.
In Cairo the partners' working arrangement was déja vu: Lehnert traveled around the country photographing faces and crowded urban landscapes, while Landrock set up shop in the Benanni Building at No.21 Maghrebi Street. Postcard fever had swept across Europe and America during the first decade of the century, and Lehnert & Landrock were by no means the first to sell photos of the world's foremost tourist-Mecca. Others had taken the lead. In 1898, Joseph Max Lichtenstern of Vienna had launched a postcard company, Cairo Postcard Trust, from his Mouski-based laboratory. Lichtenstern would later sell the company to Max Ruddman, another Central European.
It's hard to differentiate between the two sets of works--Lichtenstern's and Lehnert & Landrock's--despite the two decades separating them. Though photography matured in the interval, both companies applied similar techniques, and both utilized the same imported chemicals and printing paper. Their postcards and photos were invariably serious and reverential. There were the Pharaonic shrines or the Islamic monuments, the pausing Nubian nude or the resting Ottoman hanem, the donkey-riding vendor, the European quarter and the Khedivial Opera House. Yet, while Lichtenstern had limited himself to postcards, Lehnert & Landrock branched out into the entire photo gamut--postcards, larger-sized photos, greeting cards and fine art prints.
But business was hard, and competition was mounting. To make matters more complicated, Franz Lehnert pined for the Sahara and Morocco's bleak Rif. The partnership was dissolved in 1930 when Lehnert returned to Tunis, where he became a renowned portraitist. Landrock found himself the sole owner of the Cairo shop, the attached photo lab and the forever-increasing inventory of glass plates. The retail outlet soon moved to its present quarters on the spacious ground floor of the Samer Al Debs Building at No. 44 Sherif Street (formerly Madabegh St.). Faced with sluggish sales and mounting competition, Landrock made attempts at risk-spreading and diversification in the form of German books. But the looming of World War II quickly put an end to that venture. Ernst Landrock retired to southern Germany on the eve of the war, leaving the business in the hands of his Swiss-born stepson, Kurt Lambelet--a timely transfer of assets which ensured the survival of the photo shop.
Lehnert & Landrock was listed as a "postcard" retail store in all pre-World War II commercial directories, but by 1949, the company appeared in the Egyptian Directory as a "library" offering "technical & scientific books, maps, subscriptions to periodicals from all countries, and Photostat copies in 1 minute." An elderly client who has frequented the shop since the late 1940s points out that little has changed in the last 50 years, except perhaps that there's no photocopy machine available today. "But it is at L&L that you can find the best guide books and fine maps," he confirms. To a non-discerning outsider, the octogenarian shop does seem to be locked into a '50s time warp. The Sadat years brought few if any of the archetypal Infitah developments to Lehnert & Landrock--and ever since, the shop has staunchly resisted going hi-tech. "Our clients like it this way," says Dr. Edward Lambelet, who joined his father in 1979. As a veteran staff member laments: "We're lucky we have a fax machine--and that was only put in recently."
Not so surprisingly then, it was amidst cakes of prewar dust that Dr. Edward discovered the black-and-white photo plates in 1982. One by one, the fragile negatives were removed from the store, identified and catalogued. Attempts at reproducing the firm's old prints from the newly rediscovered plates were an immediate success. Demand snowballed when a story on the Lehnert & Landrock treasure trove appeared in the French periodical Liberation, prompting a renewed interest in old printing techniques. Exhibitions were organized in Switzerland and France, and the book Lehnert & Landrock, l'Orient d'un Photographe appeared in Lausanne in 1987. And as interest in the glass plate negatives continued to mount, it was decided to export the more risqué plates from "conventional" Cairo to the Elysée museum in Calvinist Lausanne.
It was in 1995 that Concordia University's Chris Langtvet turned up at Lehnert & Landrock's doorstep. Soon enough, serious attempts at reproducing the glass plate negatives themselves began in earnest, so that the work of the masters could become available for the next generation of users. Producing contact prints from old large-format negatives using 19th-century technology is no easy feat in a world that has gone digital. Top-quality silver gelatin photographic paper (Forte PW14) has to be imported from Hungary. And to stand the test of time, the final product must be toned in selenium, which gives it a warm, rich look in addition to extending its archival life. Currently Langtvet is training an eager apprentice in the old techniques. Everything must be done as it was 70 years ago.
Back in 1904, Lehnert exclaimed to Landrock, "My pictures will still be in use after 200 years." Concerning at least the first 100 years, the turn-of-the-century photographer was dead right. "They are constantly being used in a variety of publications," points out Langtvet. "Photography has long been neglected as an art form, and a project such as this one can become a major cultural event," says the Canadian photographer. On 30 January, a special collection of Lehnert & Landrock prints will be exhibited at the Mubarak Library for the first time. Itself an architectural landmark, the library was built a year after Franz Lehnert left Egypt. This particular exhibition is devoted to Lehnert's Orientalist photographs, accepted in their time as portrayals of arcane life in the Muslim world. There's no argument over the topic of the presentation. As it always has been in the past, Orientalist themes remain a subject dear to all who cherish the Middle East of a century ago.
The exhibition's timing is also right. Planned to coincide with the opening of the annual Cairo International Book Fair, it complements a major event that brings a diversity of cultures--and all the separatism and strife that often characterize human relations. As it happens, a principal speaker at this year's Book Fair is Germany's leading Islamic scholar Annemarie Schimmel, and though she has nothing to do with the photos, she'll be giving a talk at the Mubarak Public Library on the exhibition's opening day. What better guest of honor than someone considered in Europe to be the most unbiased Western scholar on Islam?
---

Reader Comments

Subject: Lehnert and Landrock
Date: Fri, 1 Feb 2002 12:04:51 -0800
From: Eric Pinkel

I recently read your feature article "People" on egy.com. Several years ago while in Cairo I stumbled across up 3 large Lehnert and Landrock Prints, all of in excellent in condition. I immediately fell in love with there beautiful depiction of the pre-industrialized middle east and it's people. The are all now display in my library and often the topic of discussion between close friends. Recently, I began to consider there value, not for purposes of sale, but simply to know. If possible, could you please point me in the direction of someone who may know the value.
Thank you
---
Subject: Cairo Times article on Lehnert and Landrock (21 January 1999)
Date: Sun, 09 Apr 2000 22:03:43 +0800
From: Keith Kaney

I just read your article on Lehnert and Landrock on the internet. It was very interesting and informative. Can I check whether you know if the present shop in Cairo sells any of their original pre-war postcards, as I collect early North African postcards?
Many thanks in advance,
Canberra, Australia
---
Subject: Lehnert and Landrock photographs
Date: Tue, 19 Oct 1999 16:23:06 -0400
From: Akhtarzandi, Emily

Wonderful article! I'm interested in purchasing some of the reprints of the photographs. Do you know if the store has a catalog by chance? I'm sure the store doesn't have a Web site! If you have any details, please send me an email. Thanks!

Emily Akhtarzandi
National Journal Group Inc.
1501 M Street, NW
Washington, DC 20005

Email your thoughts to egy.com
© Copyright Samir Raafat
Any commercial use of the data and/or content is prohibited
reproduction of photos from this website strictly forbidden
touts droits reserves