egy.com suggests following articles
EGY.COM - PERSONALITIES
Cairo's belle époque architects 1900 - 1950
compiled by Samir Raafat
This is an on-going attempt to digitize Khedivial Cairo's (1880-1960) architectural history. Started in Summer 1998 this is by no means an accurate or complete listing which is why it is constantly updated. Please email name of architect(s) or Bldg(s) you feel should be included, or any corrections you consider appropriate.
Thank you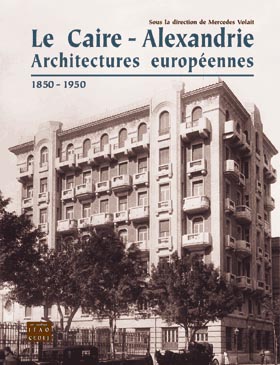 Cover of book compiled by Mercedes Volait (co-edition IFAO/CEDEJ 2001)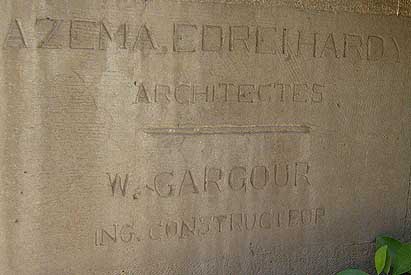 A very special thanks to

Mercedes Volait for her cooperation and inspiration

and thanks also to

Carla Burri, Cynthia Mynthi, Faiza Hassan, Hamish Cowell, Rudolf Agstner, Selim Nahas, Donat Agosti

and

George Khoury-Haddad George Arbid, Hoda Serag El Dine, Hussein Shahine, Linda Baladi, Luciano Prinzivalli, Madeleine Barnoti, Marcella Stern, Marrianne Guillet, Maurice Menashe, Mireille and Arlette Shebib, Mohammed Awad, Andre Weiser, Vittoria Buffo-Larderel Michel Boutros-Ghali, Amy Matouk, Myrna Zananiri-Toutounji, Nick Warner, Nihal Tamraz, Pascal Garret, Paul Geday, Paul Reuber, Selim Sednaoui, Stephen Papastephanou, Talaat Badrawi, Victor Salama

without whose efforts the memory and achievements of the following architects would be a thing of the past!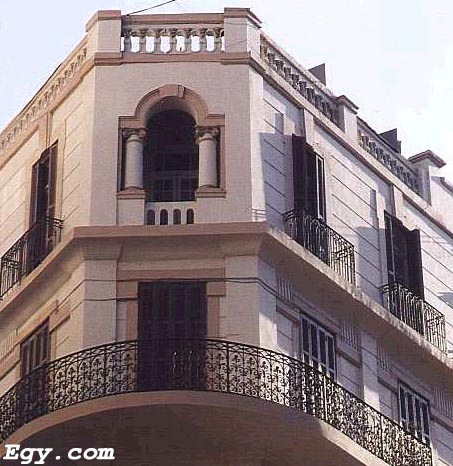 Spiro Bldg on Kasr al-Nil Street
FOR A LIST OF PRE 1937 CAIRO BUILDINGS SORTED BY CONTRACTORS CLICK HERE
---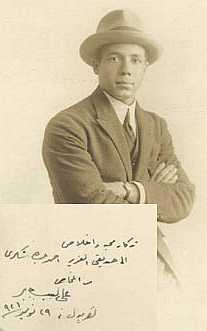 Ali Labib Gabr was Dean of the School of Architecture of Cairo University.
SOME OF HIS WORKS
Ali Labib Gabr Bldg, Ibn Zanki Street, Zamalek
Villa Erfan-Liscovitch, Road 85 Maadi
Ali Hussein Bey Ayoub (1940), No. 25 Abu El Feda Street, Zamalek,
Lebanese Embassy in Zamalek (1939) Mansour Mohamed Street,
Yehya Bldg (circa 1951) in Zamalek where composer Abdel Wahab lived
Villa Dr. Mohammed Reda (as of 1949 Indian Embassy residence), Mohammed Mazhar St. Zamalek.
remodelled Villa Murro Pasha on Ibn Zanki Street, Zamalek
Possibly the Giza governorate HQ, Pyramids Road.
Two peculiarities make the Indian Embassy residence on Zamalek's Mohammed Mazhar Street special. Firstly because it was designed in art-deco style by leading Egyptian architect Ali Labib Gabr. Secondly, because in a city of 16 million this villa is one of 14 such properties with direct access to the Nile and therefore an endangered specie. Originally the villa belonged to Dr. Mohammed Reda who sold it in 1949 to the newly independent government of India. The first Indian ambassador to live there was Assaf Ali Asghar Fayzy at whcih time the villa was both residence and chancery.
Sources: incl. Seif el Rashidi, Zetta Ragheb
---
href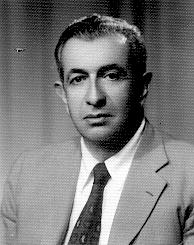 Antoine Selim Nahas, born in Cairo on 27 August 1901, was by far the most prolific architect of his generation. His father, Selim Nahas, owned a textile factory which he later passed on to Antoine's younger brother Robert before the latter sold it to Robert Hosni who proceeded to expand it.
Nahas was educated at Cairo's College des Freres (much later in his career he would build the extant College in Daher). Later, as a member of the Mission Scolaires Egyptienne en France he, joined l'Ecole Centrale des Art et Manufactures in Paris graduating in July 1925. Subsequently he enrolled in l'Ecole Nationale des Beaux Arts where he taught after graduating in June 1930.
Nahas's first project was the design of Beirut's national museum circa 1930. It was in Lebanon that he met Gladys Shoucair whom he married before moving to Cairo in 1934 where their son Selim was born.
In Cairo, Nahas established his practice at No. 13 Cherif Street (10th floor) and later at No. 19 Kasr al-Nil Street (4th floor). Aside from his private practice, Nahas was Chief Architect for the Ministry of Education. He also obtained a professorship at Fouad (now Cairo) University's faculty of (Fonoun al-Gamila--Beaux Arts. During his tenure he obtained the privilege for FG graduates to receive a diploma from the Beaux Arts in Paris after spending one year there. It was during his teaching career that he traveled to Lebanon for the execution of several prestigious public and private projects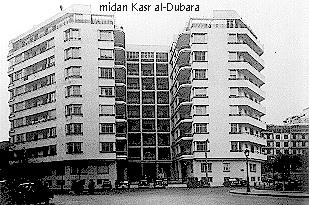 Nahas lived successively at (I) Villa Sobhani on Dokhoulieh Street (where Sheraton Giza stands today), (ii) in a roof-flat at No. 3(?) Rue Maspero, and (iii) in a self-designed Dokki villa he inherited from his brother Michael.
Following the 1961 nationalization and sequestration laws, Nahas, at the instigation of textile magnate Francois Tager and a cousin, Raymond Homsy, relocated in Rome where he started an urban development project. The Italian venture ultimately failed for lack of sufficient funds. Two years later, Nahas relocated his practice in Beirut's Union Bldg in the Art et Metier district. He was subsequently appointed dean of Lebanon's Institut National des Beaux Arts
Nahas's last architectural achievement was the design of an extension for Beirut's National Museum, the same museum where he started his prolific career three decades earlier.
Nahas died in Beirut on 15 November 1966.
Some of his works:
CAIRO and GIZA:
Abdelhamid Bey Kazrouni Bldg, Azhar Street (this was Nahas's first building after graduation)
Aziza Abdelmalek Bldg, Midan Sheraton, Giza
Air India (ex-Soussa Bldg.) Bldg, corner Tahrir Street and Soliman Pasha Al-Chams Bldg, Kasr al-Dubara
Al-Chams Bldg, Mubtadayan
Aziz Abdel-Malek Hanna Bldg, Midan Sheraton, Giza
Aziz Bahari Bldg I & II, Midan al-Tahrir
Aziz Bahari Bldg, Midan Moustafa Kamel ex-Suares
Badrawi Bldg, Bab al-Louk
Belair Bldg
Bissada Bldg (1951)
Borg al-Giza (Abou al-Fotouh) Bldg, Nile Street, Giza
Choucha Bldg, Fouad Avenue
College Des Freres, Daher
Doss Bldg (1935), Soliman Pasha/Fouad Avenue
Farid al-Atrash Bldg, Nile Street, Giza
Francois Tager Bldg, Corniche al-Nil, Kasr al-Dubara
Inji Zadeh Bldg (1938), Ramses Street
LEBON Bldg, Gabalaya Street, Zamalek
Leon Chaldjian Bldg, Bloc A & B, Soliman Pasha & Baehler Streets (with participation of L. Nafilyan)
Mirshak Bldg, Giza
Mirshak Villa, Nile Street, Giza
Mitry Bldgs, 14 & 16 Nabatat Street, Garden City
Naus-Eid Bldg (1938), Kasr al-Nil Street
Nitocrise Bldg
Paul Lifschitz Villa, Midan Mosseri, Maadi
Protestant Church (behind Mogamaa), Kasr al-Dubara
Sabet Bldg, Garden City
Shooting Club, Dokki
Shoucair Bldg, No. 13 Cherif Street
Taleb Bldg, Fouad Avenue
Tawil Bldg
Wahba-Choucha Bldg, Cherif Pasha Street opposite Ex-al-Ahram
Bldg facing Wakf Institution also known as Emaret al-Lewa
Al-Mukawlun Al Arab Bldg on Adly Street
OUTSIDE CAIRO:
Mahalla al-Kobra Factories
LEBANON:
Albert Pharaon Villa -- Alley
Farid Shoucair Villa, Aley 1935
Francis Kettaneh Villa, Aley (with green roof)
Jordan Bank, Rue Picot, Beirut
Lebanese Parliament (possibly in collaboration with architect Mardiros Altounian, executed by Elias al-Murr.
National Museum, Beirut (co-architect Pierre Leprince Ringuet; museum features on Lebanese currency)
Sami Shoucair Bank (never executed)
Sehnaoui Bldg and bank, Kantari Street, Beirut
Associates and employee at Antoine S. Nahas practice between 1944 -1956
Eugene Nuzzo (Italian) (Chief Architect)
Guy Marcinhes (Swiss) draftsman)
Kamal Hajjar
Shafik Hosni
Michel Takla
Samir Matar
Mrs. Esther Nahmias (Chief Administrator)
Some of the contractors who executed major projects:
Baron Rolin
Simplex (Freres Hettena)
Al Shark ( Freres Vidon)
Hassan Aboul Fetouh
Guirgossian
Office Employee in Beirut:
Cherif Nassif (architect/designer)
Eugenio Nuzzo held the chief architect position in Mr. Nahasí office during the second half of the forties and the fifties. During WW2 Nuzzo, an Italian national, was interned by the British at Al-Fayed concentration camp in the Ismailia district. Nuzzo left Egypt in 1960 for Italy. He re-met Antoine S. Nahas in Rome where they discussed a new venture, which did not take off unfortunately. During the sixties and seventies, Nuzzo participated in several projects in Italy and other European countries. Ultimately, he became chief architect of the Exhibition grounds in Via Cristoforo Colombo in Rome (Fiera di Roma). He died in Rome, Italy in March 1982.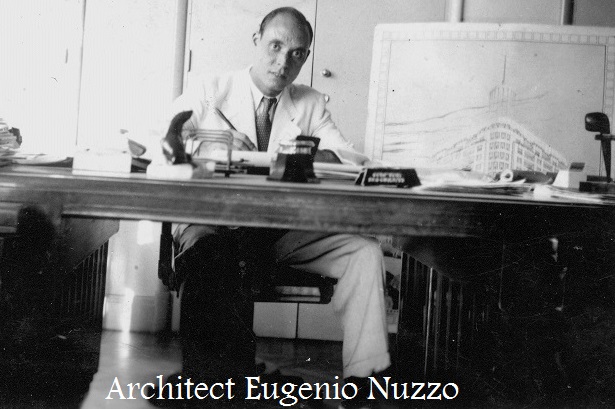 Sources: Selim Antoine Nahas (New York), al-Emara Magazine, Linda Baladi (Paris), Talaat Badrawi (Cairo), Frank Nuzzo, Italy
---
Born in Gorizza, it is today disputed whether Lasciac was an Austrian or Italian subject. Considered one of the more prolific architects during Khedive Abbas Hilmi's reign. Promoted to Senior architect of khedivial palaces following the death of Farbricius Pasha.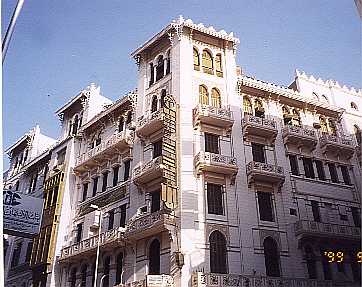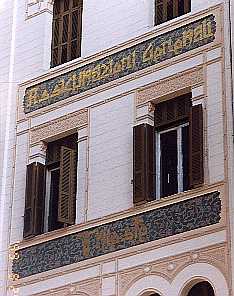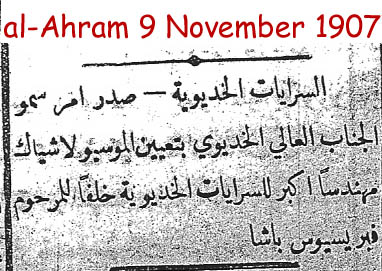 SOME OF HIS WORKS
Adly Yegen aka Sherif Sabri Palace, Garden City (demolished)
modified Asicurazione de Trieste Bldg, Kasr al-Nil Street
Banque Misr, Mohammed Farid Street
Ibrahim Hilmi Palace (now, Part of Ein-Shams University, Abassia
Khedivial Bldgs, Emad al-Din Street
Omar Sultan Palace, Bab al-Louk district (non-extant)
No. 9 Naguib el Rihani Street (1928)
Palais Suares (non-extant)
Said Halim Palace, Maarouf, Cairo (later Nasriya school)
Prince Gamil Toussoun (a.k.a. Princess ss Nimet Kamal al-Din) Palace (Foreign Affairs), Kasr al-Dubara
Youssef Kamal Palace
Mazloum Pasha Palace, No. 13 Mazloum Pasha Street (Villa pulled down in 1935 after serving as a Lycee Francais)
Zafaraan Palace (later Ein-Shams University
altered Hidiva Saray in Bebek, Istanbul
praticipated in construction of Tchibukli near Istanbul
Sources: Luciano Prinzivalli, Italy; al-Emara Magazine; others. MORE
---
Brother of architect Francesco Battigelli who reportedly authored the Arc de Triomphe in Alexandria and Khedive Ismail's mausoleum. Born in Trieste in 1838 and died in Vienna in 1898.
SOME OF HIS WORKS
Zogheb Villa on Kasr al-Nil Street (with collaboration of Max Herz)
Extension of Rudolf Hospital in Abassia (along with his brother Francesco)
Sources: Rudolf Agstner
---
French architect member of the Institut.
SOME OF HIS WORKS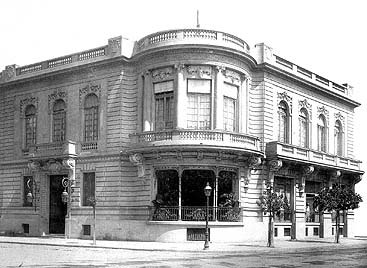 Allegedly designed by Alexandre Marcel
Basilique Cathedral, Heliopolis

Baron Empain Hindu Palace, Heliopolis

Sources: Pascal Garret
---
Offices at No. 33 Emad al-Din, Cairo
SOME OF HIS WORKS
Badrawi Bldgs (Fathi & Mansour) Nos. 4 and 8 Saleh Ayoub Street, Zamalek
The Albert Harari Bldg at corner of Ibn Zanki and Saleh Ayoub, Zamalek
Villa Malak el Hefni, Giza
Badrawi Bldg opposite Zoo on Giza Street

Villa of Hamed Zaki Pasha, former minister of economy, Heliopolis.
Sources: Talaat Badrawi; Youssef Hamed Zaki
---
Assicurazione General de Trieste Bldg (b. 1939), corner of Abdel Khalek Sarwat and Mohammed Farid, downtown Cairo
Sources: Victor Salama
---
British subject from Smyrna.
SOME OF HIS WORKS
Savoy Chambers off Kasr al-Nil
Agricultural Bank
Gresham Insurance Bldgs off Soliman Pasha Square
Oriental Hall at the American University in Cairo
Barclays Bank, Mousky
Sources: Twenty Century Impressions of Egypt
---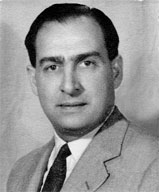 SOME OF HIS WORKS
Auberge des Pyramides, Avenue des Pyramides
Auberge du Lac Fayoum (Karoun lake; inaugurated by Winston Churchill)
Dar al-Chifaa Hospital, Abassia
Dar al-Hilal printing & publishing house (founded by George Zaidan), Lazoghli
Freda Court, 10 Montaza Street, Zamalek
Chourbagi textile factories
Ismail Sidky Pasha Bldg, Maa'had al-Swissri Street (now Aziz Abaza), Zamalek,
Paul Rostom Bldg, Hadika Street, Garden City
Sheik Saad al-Abdallah al-Sabbah (Kuwait) Bldg originally Albert Zananiri Bldg. Before it was sold in 1961, 7 Hassan Sabri, Zamalek
Wadie Saad Bldg, Salah al-Din Street, Zamalek
Zaidan (Emil & Shoukri) Bldg, Abdel-Khalek Sarwat, Street
Elie Sednaoui Bldg, 6 Adly Pasha, Street
Villa Elie Sedanoui, Ruffer Street, Rouchdi Pasha, Alexandria
Zaidan (Emil & Shoukri) Bldg, Midan al-Tahrir
Zananiri (a.k.a. Lappas) Bldg, No. 2 al-Selouli Street, Giza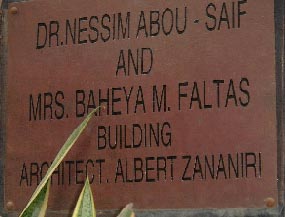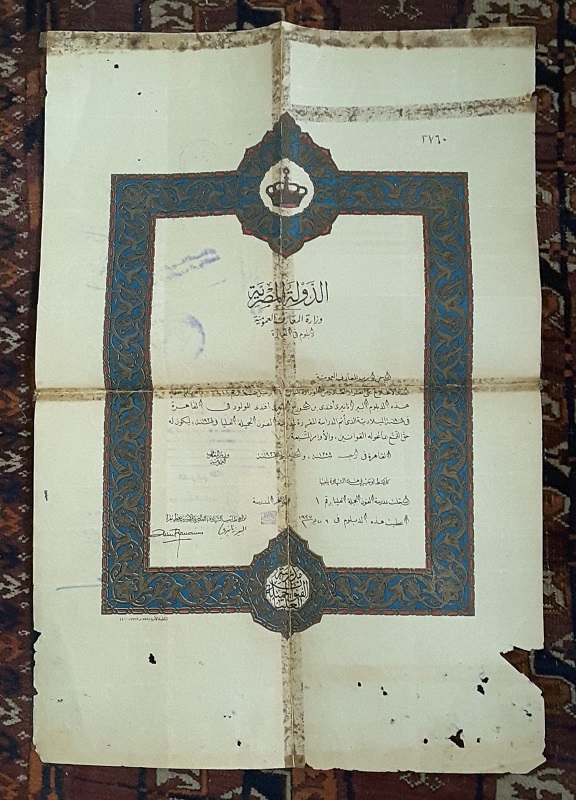 1927 diploma from Ecole des Beaux Arts
LEBANON & EUROPE
Grand Séminaire of the Greek Catholic "Melkite" Church, Lebanon
Greek Catholic Patriarchate in Abra, Tripoli, Lebanon
Michel Farah villa, Jounieh, Lebanon
Episcopal College "Khalil Moutran", Baalbek, Lebanon
1020 Via Cassia, Rome
Immeuble Commerciale, Rue du Rhone, Geneva
Etangs du Corot, Les Yvelines, Paris
CLICK HERE FOR PHOTOS OF ALBERT ZANANIRI'S BULDINGS
Sources: Irene Rostom, Myrna Zananiri-Toutounji, Nevine Zananiri, Kamal Tamraz, al-Emara Magazine, Liliane Sednaoui-Tager, Joseph Debanné.
---
SOME OF HIS WORKS
Evangel Avramoussi Bldg, No. 9 al-Kamel Mohammed Street, Zamalek
El Sayed Mohammed Bldg, Wabour Fransawi Street

---
SOME OF HIS WORKS
?? Bldg, 26th July/Hassan Sabri, Zamalek
?? Bldg, Bab al-Louk
Ayrout Bldg, Cherif Pasha Street
Bldg Shawarby Street
Ayrout Villa, Zamalek
Mosseri Buidling (now Mofti) on Shagaret Al Durr St., Zamalek
Bishara Bldg, Nile Avenue
Halim Doss Bldg, Midan Shafakhana
Ibrahimieh Secondary School, Garden City
Kahil Bldg, Kantaret al-Dikka
Bldg Gamal el Dine Abou El Mahassen, Garden City (1951)
Villa Valadji, Heliopolis
---
DIMITRIUS FABRICIUS PASHA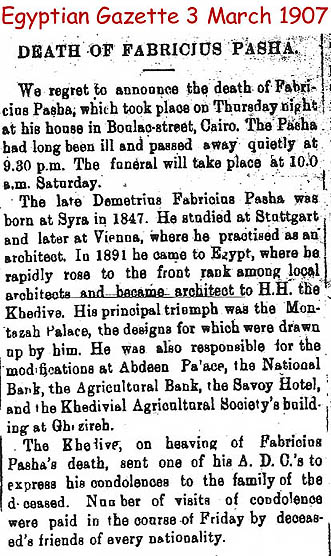 Died on 3 March 1907 at his house in Boulac. Occupied post of director of khedivial palaces.
SOME OF HIS WORKS
major restorations to Abdeen Palace follwoing the major fire of 1891
Montazah Palace 'Salamlik'
1903 National Bank of Egypt HQ on Cherif Pasha Street (extant)
modifications to Abdeen Palace
Savoy Hotel (extant)
Agricultural Bank (extant)
Sources: various
---
Austro-Hungarian architect born in Vienna on 18 March 1867 died in Alexandria 31 October 1912. Opened offices in Cairo with Maurice Cattaui. In his younger days, Matasek had either worked for, or been apprenticed to, famous Austrian architects including Wieser, Lotz, Fellner and Helmer. In Cairo he designed several commercial and residential Bldgs including the main Jewish Synagogue in downtown Cairo and the Austro-Hungarian Rudolf Hospital in the now popular district of Shubra. The first is already listed and the second has been disfigured over the years. Matasek is said to have taken part in the design of the Credit Foncier's Cairo headquarters (today Arab International Bank). Its principal designer however was Max Herz Bey the dean of the Austrian architects in Cairo. Herz was responsible for several government-commissioned Bldgs before WW-1 among them the Islamic Museum. He was decorated on 11 August 1912 receiving the title of pasha.
SOME OF HIS WORKS
Chaar Hashamayim Synagogue (b. 1902-4), Adly Street
Suares/Casdagli Villa, Midan Kasr al-Dubara
Mosseri Villa, Soliman Pasha Street (demolished)
Matasek Villa, Maadi (demolished)
Robert Rolo Villa, Kasr al-Dubara (burnt down)
Austro-Hungarian Hospital in Shubra
Saleh Sabet Villa (?)
Ahmed Khairy Villa, (AUC??)
Hassan Khairy Villa (?)
Saleh Sabet Villa (?)
Immeubles for the Societe Belge de l'Ezbekieh Co., Emad al-Din
Sources: Twentieth Century Impressions of Egypt, Rudolf Agstner, Maria Stern
---
Belgium architect responsible with Alexandre Marcel for most of original Heliopolis in 1907-14
SOME OF HIS WORKS
Heliopolis Palace Hotel, (now Presidential Palace--Kasr al-Orouba)Heliopolis.
Offices of Heliopolis company, Heliopolis
Gezira Mansions ("Imaret al-Yemeni") (circa 1908), Zamalek
Contractors: Leon Rolin & Padova; Ferro & Dentamaro
---
SOME OF HIS WORKS
Abdin Palace additions between 1919-36
Governorate of Cairo Bldgs, Abdin
Kobbeh Palace facade
Montaza Palace Haramlik (Alexandria)
Music/Puppet Theatre b. 1929), Ramses Street
Tomb of Walda Sultana in Rifai Mosque
Sources: Luciano Prinzivalli, Italy; al-Emara Magazine. MORE
---
Born in Trieste
SOME OF HIS WORKS
Alleged to have participated in construction of the Old Shepheards Hotel
Sources: Rudolf Agstner
---
Born in Lovasbereny, Hungary, 17 August 1857 died (Lithuania?) in 1941.
SOME OF HIS WORKS
Stein Department Store Bldg off Midan Attaba al-Khadra
Sources: Rudolf Agstner
---
French architect who left his mark across Cairo's European quarter starting with the pre-WW1 Sednaoui department store on Midan Khazindar. On occasion collaborated with Jacques Hardy and Max Edrei. His widow survived him occupying penthouse at Nile View No. 18 Saray al-Gezira Street, Zamalek.
SOME OF HIS WORKS
Cassab Bldg (1925), 14 Saray al-Kobra, Garden City
Credit Foncier Egyptien Villa now Mubarak Public Library (b. early 1930s), Giza
Emile Jacob Villa (b. 1935), Kasr al-Aali (Corniche), Garden City
French Embassy chancery (b. 1936-7), Giza (with collaboration of Jacques Hardy)
Martatos Bldg (b. 1914), 6 Walda Pasha, Garden City
Sednaoui, Elias Villa (b. 1919) 13 Ahmed Pasha Street, Garden City
Sednaoui, Joseph Simon Villa (b. 1914), 13 Tolombat Street, Garden City
Sednaoui department store, Midan Khazindar
Setton (or Sabet) Bldg, No. 2 Ismail Pasha Street (b. 1929), Garden City
The two Setton (or Sabet) Bldgs, No. 3 Midan Ismail Pasha (b. 1929), Garden City
Manasterly Bldg No. 2 Ahmad Pasha Street (b. 1923), Garden City
Hassan Shahin Pasha Bldg "Nile View" (b. 1930s) No. 18 Saray al-Gezira Street, Zamalek
Shahin (Negm al-Din) Bldg, Hoda Sha'raawy Street
National Insurance Bldg, Midan Moustafa Kamel (ex-Suares), Cairo
Union Vie de Paris Bldg, Avenue Fouad
Bldg. at corner of Emad el Din, Alfy, Saray el Azbakia and Bustan el Dikka Streets
Sources: Some Bldgs are plaqued; Kamal Tamraz
---
SOME OF HIS WORKS
Groppi's Bldg, Midan Soliman Pasha
Elhamy Hussein Bldgs (b. 1938), Garden City
Sednaoui Bldg (circa 1929), Midan Soliman Pasha
Airways (BOAC) Bldg (circa 1930), Midan Tahrir
Apartment Bldg near Banque du Caire(circa 1930), Adly Street
Gobran Apartment Bldg, Ibrahim Naguib Street (corner Saraya al-Kobra Street), Garden City
Sources: Bldgs are plaqued
---
Alleged descendant of Ottoman court architect Krikor Balyan of Dolmabahce fame, Garo (b. Istanbul, 1872; d. Cairo 1948), came from a family of architects. In view of internal unrest in Turkey, he relocated in Cairo working for Dimitri Fabricius Bey, the then-architect of the Ministry of Public Works and the Royal Court. Balyan later set up his own practice in the Green Bldg, No. 4 Midan Tewfik. Survived by a son, Harustan.
SOME OF HIS WORKS
Amr Ibrahim Villa (b. 1922), 16 Gezira Street, Zamalek
Chemla Department Store, Fouad Avenue, Cairo
Cicurel Department Store (original), Fouad Avenue, Cairo
M. Green Bldg (b. 1910), Avenue Fouad/Midan Tewfikia
Matossian Bldg (b. 1904), 4 Talaat Harb, Cairo (neo-baroque)
Shakkal (name given to bldg with shop bearing same name), Talaat Harb Street
Philipossian Villa, Heliopolis
Bassna Sha'raawi/Mahmoud Sami Pasha Villa, 12 Tolombat Street, Garden City
Union Bldg (with participation of Max Edrei) in Zamalek (Bldg. contractor Shaker Arida)
---
Gaston Rossi is a Descendant of Elia Rossi Bey, doctor to the khedive. Partnered up with Victor Salama and Paolo Caccia Dominioni. First partner was Count Henri de Heller.
SOME OF HIS WORKS
Cinema Metro in Cairo and Alexandria
Cinema Kasr al-Nil, Kasr al-Nil Street
Kom-Ombo Mosque, Kom-Ombo
Hotel Continental & Galleries, Opera Square
Chester Beaty Villa, Pyramids Avenue
Hanan Villa, Zamalek
Victor Salama Villa, Dokki
Cerva Factory, Heliopolis
S.E.P. Offices in Dokki
Immobilia Buidling (With Max Edrei), Cherif Street, Cairo
Automobile Club, Kasr al-Nil Street
Elie Mosseri Mausoleum in Bassatine
Bajocchi (Albert) Villa, Road 17, Maadi
Sources: Victor Salama, Vera Rabinovitch-Bajocchi
---
SOME OF HIS WORKS
Philipous Bldg, Mahmoud Azmy, Zamalek
---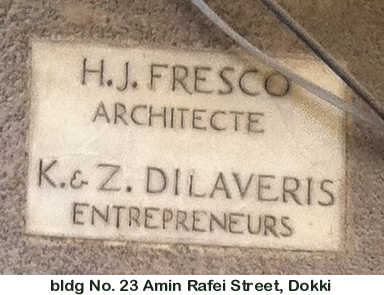 SOME OF HIS WORKS
Lebovitch Villa, Road 81, Maadi
Philippe Drakidis Bldg, Midan Ismail Sidky, Zamalek
Emmanuel Appel Bldg, Tantah Street, Heliopolis
Bldg at No. 18 Aziz Osman, Zamalek
Bldg at No. 36 Mansour Mohammed, Zamalek
Bldg No. 20 Gezira Street, Zamalek
Embassy Court, Gabalaya Street, Zamalek
No. 23 Amin El Rafei Street, Dokki
---
Architect of Victoria College Alexandria.
SOME OF HIS WORKS
ITALO-EGYPTIAN Bank, Kasr al-Nil Street
Zogheb Bldg (b. 1903) on Opera Square (corner of Kasr al-Nil and Abdel Khalek Sarwat Pasha Streets.
---
Born in Vienna 26 May 1872 died in New York 10 July 1933
SOME OF HIS WORKS
Abdin Palace extensions in 1892
Sources: Rudolf Agstner
---
Born in 1880.
SOME OF HIS WORKS
French Embassy Residence (formerly Villa Sinot Hanna), Giza
Wassef Boutros-Ghali Pasha Villa, Giza (non-extant)
Bldg on Kasr el Nil Street atop Cinema Kasr el Nil
Limongelli Bldg, No. 4 Hod al-Laban, Garden City
Sobhani Villa (replaced by Giza Sheraton)
Sacred Hearts Church (1930) on Abdel Khalek Sarwat Street (corner Ramses Street)
Salesian Institute at Rod al-Farag
Villa Philomene
Villa Mohammed Ali Tewfik Pasha (later Villa Achilles Henon Pasha) today Helwan University Music Academy on Shagaret el Dorr Street, Zamalek
Subject: Fr. Maximous El Antony
Date: Sun, 20 May 2001 11:47:25 +0300
From: "Maximous El Antony"

There is a very important Bldg should be included in your list in Cairo , The Church of St. Mary in Zeitun, Cairo. It was built by DOMENICO LIMONGELLI in 1925, supported and ordered by Tawfik Bek & his sister Victoria , the sons of Ibrahim Khalil Pasha.
Sources: Michel Boutros-Ghali, Amin Fakhry Abdel Nour, Fernand Sobhani, Marie-Louise Henon
---
Luigi Manham was the son of an Austrian Lloyd employee. Born 25 March 1869 (Alex?) and died in Cairo 20 July 1957. Changed nationality from Austrian to Italian in 1923.
SOME OF HIS WORKS
Villa Mahmoud (now Russian Embassy) Midan Sidky, Zamalek
Villa Sabet on Maadi's Road 9 where it intersects Road 83
Sources: Omniya 'Bobby' Foda (Mrs. Hassan Mahmoud); Rudolf Agstner
---
SOME OF HIS WORKS
Contractors: Guissepe Garozzo & Francesco Zaffrani
---
SOME OF HIS WORKS
Sometimes worked with other architects including Leon Azema, Jacques Hardy--friends from their French army days when all three were taken prisoners together-- and Garo Balyan.




Cinema Radio (with participation of Garo Balyan), Soliman Pasha Street
Union Bldg in Zamalek (with participation of Garo Balyan). Bldg contractor Shaker Arida.
Ernest & Grace Wissa Bldg, Adil Abou Bakr Street, Zamalek
Green Villa
Karkegi Bldg, (Tunis Embassy), Saray al-Gezira Street, Zamalek
Immobilia Bldg, Cherif Pasha/Kasr al-Nil Street
Justice Palace, Fouad Avenue
Chaker Khayatt Bldg (1938), Adil Abou Bakr Street, Zamalek
Hettena Bldgs, Abdel Khalek Sarwat Street (ex-Queen Farida; Manakh)
Mohammed Shahine Pasha Bldg, Sheik Hamza Street, Cairo
F. Nahas vaults in Melchite Cemetery, Old Cairo (with collaboration of J. Hardy and Leon Azema)
Villa Rolo (Goethe Institute), Alexandria (1926)
Contractors: M. Gargour
Sources: al-Emara magazine, Victor Salama (Paris), Max Karkegi, (Vitre, Bretagne, France)
---
Born Miksha Herz on 19 May 1856, in Otlaka, Hungary. Studied in Budapest. Came to Egypt as a tutor for the children of the proprietor of Hotel Du Nil. In 1882 worked in Egypt at the Wakf ministry then under Julius Franz Pasha (chief court and Awqaf architect during reign of Khedive Mohammed-Tewfik became pasha on 26 February 1885) whom he replaced in 1888. Deputy Head of the Committe. Died in Zurich on 5 May 1919.
SOME OF HIS WORKS
Cairo Islamic Museum (1903) Note: this Bldg is also attributed to Alfonso Manescalo in the book Early 20th Century Architecture in Cairo by Sakr
Rifai Mosque (expansion works) 1906-11
Zogheb Villa aka Danish Legation
Herz Villa, Sheik Barakat Street, Kasr al-Dubara
Credit Foncier Egyptien Bank (designed by Carlo Francolini), Abdel Khalek Sarwat
Nestor Ginaclis Palace (decoration works), Midan Khedive Ismail (later Tahrir)
Egyptian pavilion at Chicago exhibition --theme: Cairo streetscape.
Sources: Rudolf Agstner
---
SOME OF HIS WORKS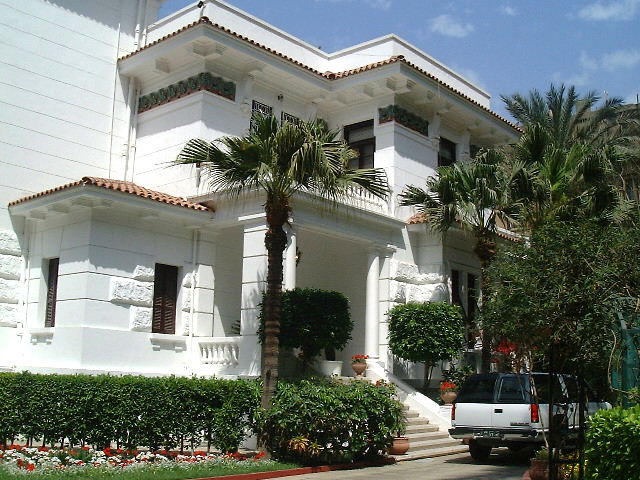 Michel (aka Max) Libermann's offices were located at ex-Marconi Bldg. No. 18 Madabegh (later renamed Cherif Pasha) Street, in downtown Cairo where the National Bank of Egypt stands today
Although Libermann catered to the upper class specializng in villas and medium-sized apartment Bldgs, at the twilight of his career he was commissioned to build the Pepsi Cola plants in Cairo and Alexandria.
Reportedly a Russian Jew, Libermann was single. He is described by his sometime assitant and aide 1948-53, George Khoury-Hadad, as as a short, bald loner who suffered from a nervous tick (constantly shaking his neck). His family consisted of a sister married to advertising agent Silvio Matattia of 1 Borsa El Gedida, Cairo.
In 1955 Michel Libermann shared offices with architect Joseph Levys at No. 48 Kasr El Nil Street.
Semi-circular redbrick Bldg on Moustafa Kamel Square (sourc: George Khory-Haddad)
Villa Bindari (1925), Nile Street, Giza, next to "Villa Castro" occupied by late president Anwar al-Sadat)
Former Brazil Embassy residence, Nile Street (corner of Sobhi Pasha) Street, Giza
Villa Sarruf-Shoucair (1925), Ahmed Pasha Street, Garden City (now home of Citibank)
Apartment Bldg No. 5 Taha Hussein Street, Zamalek, for account of Libermann's brother in law Mr. Silvio Matattia. The Bldg is presently owned by Aleya el Ayouti. No. 5 is also Libermann's last known address in Egypt.
Villa Alaili, No. 10 Taha Hussein Street, Zamalek (presently owned by US Embassy; residence of DCM.
Bldg No. 5 Mahkamma/Privat (later Mohammed Saqib Pasha) Street. "Lozi Bldg" (a.k.a "Immeuble Henon") presently (year 2000) up for sale by its owners the Henon sisters: Marie-Louise and Christiane, the French granddaughters of Caisse de la Dette's Monsieur Achilles Adrien Henon Pasha.
Villa Khalifa (1924) No. 15 Brazil Street (now Embassy of Bahrain) built for Mahmoud Khalifa
Villa now occupied by Ministry of Culture on Shagaret el Dorr Street, Zamalek
Sources: plaqued; Ibrahim Mahmoud Khalifa; George Khoury-Haddad
---
SOME OF HIS WORKS
Central Bank of Egypt with participation of J.p. Sergeant
La Genevoise, 26th of July Street
---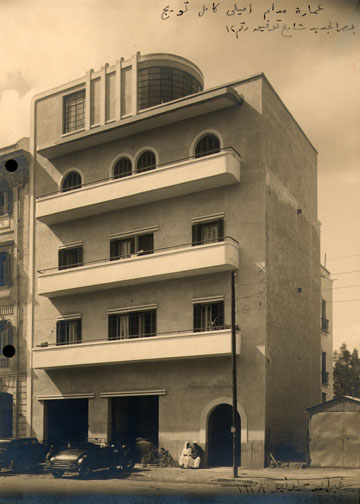 A son of Abraham Menasche, Moise (or Maurice) was born in Cairo on 18 December 1907. He studied at College des Freres 1926-27 before joining l'Institut Philotechnique in Paris where he graduated in March 1931. Married to Germaine from whom he begot Albert, Benoit, Nanda and Sylvain. Lived at 10/12 Tewfik Street, Heliopolis and later at No. 5 Seket al-Fadl, Cairo, near the French Consulate. Menasche died in Paris in September 1960.
SOME OF HIS WORKS
No. 12 Tewfik Street, Heliopolis for account of Emilie Kamel Toueg
Villa of widow N. Abou-Heif in Cairo (1935/36) (contractor Moh. Hassan Allam).
Villa of Leon Regenstreif (driector of Davidson & Regenstreif) in Giza in 1931.
Villa of Mrs. Soumaya Farid on Massoud Street, Dokki (1938)
Villa of Mohammed Atta Moustafa Bey, Massoud Street, Dokki (1936)
Villa of "Lewa" Mohammed Hafez Atta Pasha, No. 29 al-Kalaa Street, Heliopolis
Bldg of Ahmed Saleh Abdullah on Fawzi al-Motei Street, Heliopolis (1935)

Sources: Jacques Menasche
---
Chief Architect @ Ministry of Public Works, most prolific during last two decades of monarchy.

at work on a new mosque
SOME OF HIS WORKS
Graduate in Paris, France from L'Ecole Nationale Supérieure des Beaux-Arts and l'Ecole Nationale des Travaux Publics de l'Etat.

Better Known Works

Cairo University

Numerous Primary & Secondary Schools (e.g. school on the Corniche in Old Cairo)

Mausoleum of Prime Minister Saad Zaghloul

Mausoleum of Prime Minister Adly Yeken Pasha

Mausoleum of Prime Minister Ismail Sidki Pasha

Mausoleum of Prime Minister Mohammed Mahmoud Pasha

Mausoleum of Minister Aziz Izzet Pasha

Mausoleum of Senator Ali Shaarawi Pasha

Church and mausoleum of Minister Naguib Mahfouz Pasha

Medical Society "Dar Al Hikma" Headquarters on Kasr Al Aini Street

Engineering & Architectural Society Bldg on Ramses Street

Young Muslim Association Bldg

Benevolent Muslim Society Hospital

Egyptian Women Union Bldg on Kasr Al Aini Street

Agouza Hospital

Bridge at Montazah Palace in Alexandria

Exhibition Bldgs (Grand & Petit Palais) in Exhibition Grounds, Zamalek

Residence of Dr. Naguib Mahfouz Pasha, Garden City

Mansion of Justice Minister Mahmoud Ghaleb Pasha, Pyramids Road

His own villa, No. 1 Saiid Zulfikar Street, Manial Al Rhoda.

Numerous villas and apartment blocs

Manufacturing plant at Ghamrah for account of United Yeast Co. LTD., Manchester

Annexes of Haram Al Sharif, Mecca, Saudi Arabia

Mosque in Medina, Saudi Arabia

Three royal Palaces in Riyadh, Saudi Arabia

Villas of Cherif Sabry Pasha in Alexandria (English countryside style).
Positions Held
Chief Architect of Royal Palaces 1930-52
Director General of the State Bldgs Department 1926-39
Director General of Cairo Town Service 1939-45
Director General of Alexandria Municipality 1945-49
Minister of Public Works 1949-50
Director General of Cairo Municipality 1950-52

Decorations Received

Title of pasha in 1946
Grand Officer of the Cordon of the Nile
Commander of the Legion d'honneur, France
Grand Officer of the Order of the King of Greece
Grand Officer of the Order of the King of Albania
Grand Officer of the Order of Humayun, Iran
Grand Officer of the Crown of Italy
Sources: groundbreaking plaques; Moustafa Fahmi Pasha family
---
SOME OF HIS WORKS
Sarpakis Bldgs, Midan al-Tahrir (ex-Ismail)
Georgalas Frères Bldgs, Madbouli Street
Sources: Plaques
---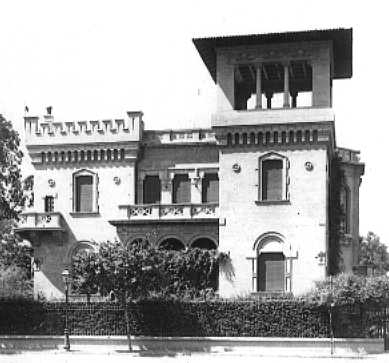 SOME OF HIS WORKS
Assem Villa, Zamalek
Atta Afifi Villa, Giza
Bahy al-Din Barakat Villa, Giza
Ganage "Gabalaya" Bldg (b. 1920s), Hassan Sabri Street
Gaston Weiser Bldg, Souk al-Tewfikieh Street
George Wissa Villa (b. 1920s), Garden City
Omar Makram Mosque
Zamalek Mosque near Zamalek Bridge
Sources: Andre Weiser (New York), Ahmed Sidky and others.

---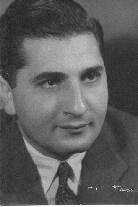 Born in Cairo on 28 November 1915, Naoum Shebib was one of the leading Egyptian architects of his time. He graduated in 1937 with honors from Cairo University. He also obtained from the same university a post graduate diploma in Soil Mechanics & Engineering (1954) and another in Structural Engineering (1956). Between 1941 and 1970, Shebib conducted his practice as an architect, structural engineer and contractor. His integrity and expertise were highly valued in both his profession and among the community. He employed fourteen people whereas the number of workers on construction sites reached several thousands. In 1971, Naoum Shebib relocated in Canada with his family, where he lived until his death in 1985.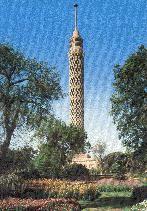 His most remarkable realizations have been the following:

Cairo Tower (b. 1961)

Al-Ahram Bldg (b. 1960s)

Sabet-Sabet Bldg (b. 1958) in Garden City

Radio Tower (b. 1954), Rouchdi Street, 22 floors.
Immeuble Charles Kuentz (1955), No. 5 Boulos Hanna Street, Dokki

Cairo Tower

The Cairo tower on Gezira Island, was the highest concrete structure in the world when it was completed, standing 187 meters tall. Shebib was the project's architect in chief, structural engineer and its global contractor. In 1961 the tower's official inauguration took place. The design of the tower is of Pharaonic influence appearing in the shape of a tall lotus flower made up of 8 million small mosaic lozenges. As the lozenges ascend towards the top of the tower, they are stretched on a vertical axis creating an impression of an upward movement enhancing the figure of the lotus flower. With a diameter of fourteen meters, the tower rests on a steel-reinforced concrete slab, the dimension of which is quite impressive. At the time of its construction, more than five hundred workers were required.
The Cairo Tower is also characterized by purity of lines and by the truthfulness of primal material. The absence of any superfluous decorations and the utilization of the naked concrete bring the viewer's eyes and attention to yet another symbol of eternal Egypt. At the top of the tower, one finds a revolving restaurant, a cafeteria and a belvedere from which numerous tourists can admire the Cairo panorama.
al-Ahram Bldg (b. 1960s)
Al-Ahram Bldg is home to the leading Arab newspaper. Here also Shebib was the project's architect in chief, structural and site engineer. The surface of this Bldg is 30,000 square meters which includes space occupied by the editorial, printing and administration services, as well as the public areas.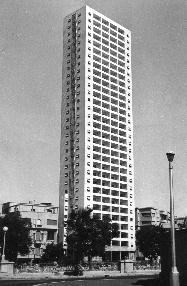 The two first skyscraper apartments of Cairo

Sabet-Sabet Bldg -- 31 floors a.k.a. Belmont Bldg (b. 1958) on Corniche-al-Nil, Garden City.
Concrete dome roofs for several Bldgs, such as cinemas or factories
In 1946, Shebib built the concrete dome roof of the 800 sq.m. Ali Baba Cinema, in the Boulak district using a technology that he subsequently patented. It consisted of a unique method whereby the concrete roof of a Bldg is poured onto a mould on the ground and, once the concrete has set, is slowly raised into position to a height of 12 meters with the use of jacks. A similar dome roof, supported by only eight pillars, was used in the construction of De Sotos' Sales & Service Bldg for account of the Cairo Motor Company.
OTHER PROJECTS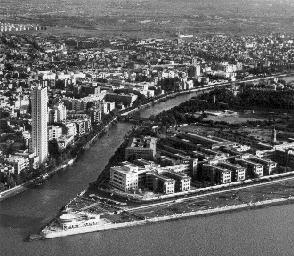 Shebib realized in various districts of Cairo several construction projects including apartment Bldgs, schools, churches, factories, commercial Bldgs, cinemas, individual residences and villas. His projects made good use of structural elements of various types, such as mushroom structural supports, and thin concrete shell vaults. The latter became his expertise as of 1946. Although various types of foundations were used, he developed a special type of concrete ground slab foundations that made good use of thin vaults in the shape of hyperbolic paraboloids.
Shebib also developed a pyramidal type of foundation. Besides the scientific aspect of his work, one should note his management qualities that enabled him to successfully supervise projects worth up to US $5,000,000 value of 1960's).
Sources: Arlette Naoum Shebib, Mireille Shebib-Aube, Linda Baladi, Madeleine Barnoti

---
SOME OF HIS WORKS
Abdel Aziz Kaboudan Bldgs, Maadi
Sapriel Bldg (b. 1930), 18 Dar al-Chefa, Garden City
Sources: plaqued
---
SOME OF HIS WORKS
Youssef Cattaui Pasha (b. 1922), Garden City
Nessim Ades Villa (b. 1925), Garden City
Taverna-Bertolissi Bldg., Soliman Pasha Street, Cairo
Tewfikieh Mosque (near Kafr al-Zayatt) built for account of Abdallah Izzet.
National Bank of Egypt - Hamzawi Branch, Mouski
Homsy Bldg (b. 1925), Souk al-Tewfikia
Sources: Denise Selim Amoun, Luciano Prinzivalli
---
Born 3 October 1881 in Jagendorf, Austria (today, Krnov, Czech Rep.)
SOME OF HIS WORKS
Tiring Department Store (b. 1911-13), Attaba
Ali Ibrahim Pasha (MD) Villa (b. 1920s), Tolombat Street, Garden City
Tiring contractor Leon Rolin Fils.
Sources: Rudolf Agstner, Laila Serag al-Din
---
French citizen who headed the Bldgs Department at the ministry of public works.
SOME OF HIS WORKS
French Consulate 'Maison de France' Cairo (b. 1925)
Sources: Bourse Egyptienne
---
Count Paolo Caccia Dominioni ((Nerviano, Lombardia 1896 - Rome 1992)) was the son of Italian diplomat Carlo Dominioni who served in Alexandria and Ports Said before retiring in 1927.
Dominioni son is best remembered in Egypt for his Italian Mausoleum of Alamein inspired by Frank Lloyd Wright's Gugenhiem Museum in New York. Dominioni spent a good part of his professional life in Egypt. Towards the end of his Egypt career he set up office on Soliman Pasha Street's Cinema Metro Bldg together with Victor Salama and Gaston Rossi.
Dominioni was a nephew of a Cardinal-Secretary to Pope Pius XI. He received a papal title of count. He was also a reserve colonel in the Italian army during the Ethiopia campaign and later in WW2. He married late in his life. On 20 October 2002 at El Alamein, Dominioni's widow received the highest Italian decoration from Italy's president Campi.
SOME OF HIS WORKS
Cinema Metro, Soliman Pasha Street
Villa Gabriel Takla,Tombak Street, Garden City
Villa Bacos, Abou al-Feda, Zamalek
Villa al-Salama, 12 Ahmed Hishmat Street, Zamalek (demolished)
Technical Communal School, Champolion Street
Surgery section of Italian Hospital, Abbassia
Embassy of Italy, Ankara, Turkey
Italian memorial in Alamein
Sources: Victor Salama (Paris)
---
Syrian.
SOME OF HIS WORKS
Ahmed Hamdi Villa, (b. 1939), Giza
Anderson Villa, Giza
Cassab Villa, Giza
Elias Ghadban Bldg, 11 Nabatat Street, Garden City (assisted by arch. Aklimandos)
Elie Curiel Bldg (sold in 1949 to Dr. Mohammed Reda), 15 Nabatat, Garden City
Debane Villa, Heliopolis
Emil Kahil Villa, Heliopolis
Farid Saad Bldg, Misr Street, Heliopolis
Hatwell Villa, Heliopolis
Khouri Bldg, Maarouf
Tamraz (Edouard) Bldg, No. 20 Saray al-Gezira, Zamalek
Tamraz (Edouard) Villa, No. 5 Mohammed Mazhar, Zamalek (replaced with Berzi Bldg in 1980s).
Sources:al-Emara magazine, Mrs. Isabelle Boulad-Kamal Tamraz
---
SOME OF HIS WORKS
Orosdi-Back department store, Abdelaziz Street,Cairo
Villa Hug, Maa'had al-Swissry Street, Zamalek
Sources: plaqued (Orosdi-Back)
---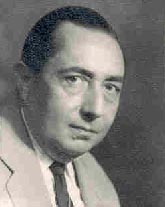 SOME OF HIS WORKS
Apartment Bldg No. 2 (b. 1934) Tolombat Street, Garden City
Cloister and Sanctuary of Ste. Therese de l'Enfant Jesus at Choubrah for the Rev. Peres Carmes Dechausses in 1949
Raoul E.Zeheri was indeed one of the most prolific architects and builders in Cairo, having built many private villas and apartment houses throughout Egypt. He was also involved in the Bldg of cement factories and various projects for La Compagnie des Tramways in Cairo. He died in 1975 survived by two daughters one of whom lives in Oak Lane, Texas.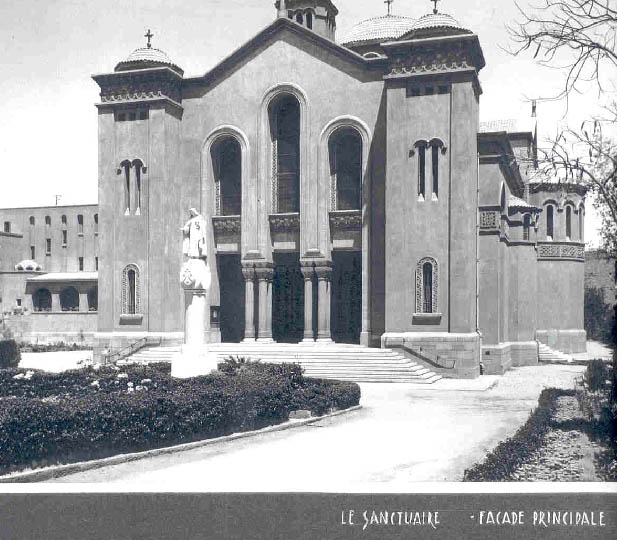 Sources: plaqued and daughter of Arch. Zeheri
---
SOME OF HIS WORKS
Virginia Boulad Bldg (b. 1932-3), Corniche El Nil (next to George Wissa Villa), Garden City
Hisham Mehrez
---
SOME OF HIS WORKS
Ali Sadek Bey Villa now Wafd Party HQ (b. 1930s), Nawal Street, Dokki
---
Born in Naples 13 March 1903 and brought to Egypt in 1910. Studied at Leonardo da Vinci and graduated from Milan's School of Engineering. At age of 15 worked as draftsman for Yorkshire Engineering Company in Cairo. In 1926 joined the firm of Ahmed Aboud Pasha. Built several Bldgs and villas especially in Koubeh Gardens where a street was named after him.
SOME OF HIS WORKS
A. Monti MD Bldg, Ramses Street
Sources: Luciano Prinzivalli
---
SOME OF HIS WORKS
(Chaldijian Bldgs (a.k.a. part of Baehler Bldgs) Soliman Pasha Street (b. 1934; see plaque)
---
SOME OF HIS WORKS
Davies Bryan Bldg (b. 1911), Mohammed Farid Street at corners Adly and Sarwat Street
---
Born in Cairo on 27 June 1910 Victor del Burgo died in 1998. He had studied at College des Freres, Khoronfish then with Professor Fritz Popper. Worked with Allgemeine Oesterreichishe Baugesellshaft before joining the Ministry of Public Works.
SOME OF HIS WORKS
Cinema Diana (1930), Alfi Street
Orouba Villa, Heliopolis
Mattossian cigarette factory, Giza
Al Ghazzal Mosque in a factory in Mostorod

---
SOME OF HIS WORKS
Nineteen official Public Works Department houses in Zamalek circa 1906-7 (some of those which remained (Ibn Zanki and Shagaret al-Dor Streets) still used today by British Embassy)

---
SOME OF HIS WORKS
Villa Abdel Baki El Kocheri, Abou El Feda Sreet, Zamalek

Sources: El Emara Magazine
---
SOME OF HIS WORKS
Neo-pharaonic "Chawarbi Bldg" on Ramses Street corner of 26th of July

---
SOME OF HIS WORKS
Serageledine-Badrawi Bldg at corner of Shagaret El Dorr and Ibn Zank Streets, Zamalek
Arab League Headquarters

---
SOME OF HIS WORKS