egy.com suggests following articles
EGY.COM - PERSONALITIES
THE MASS
From The 60's Music Scene

Samir Raafat
Egyptian Mail, October 4, 1997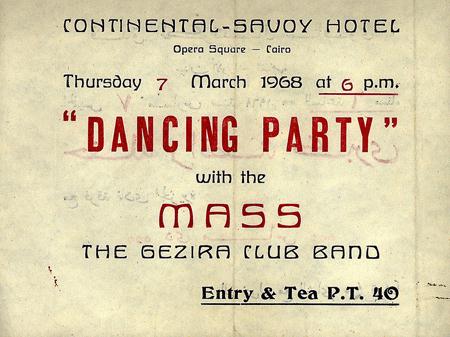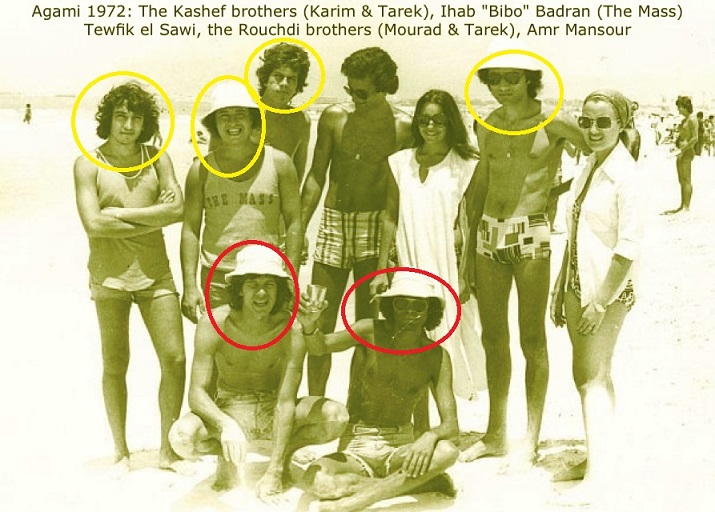 Years later: Murad Rouchdi and Amr Mansour two leading members of The Mass in red circle and groupies in yellow
A YEAR, almost to the day flashed by since the passing of Mohammed Shebl. Remembered mostly as a striving film director and popular radio talk-host, few knew him as the artistic director of The Mass, Egypt's celebrated pre-punk '60s pop band. While Shebl himself neither played or composed music, he was the definitive authority on Beatlemania. And in the days when The Mass had all the trappings of a rave R&B band, Shebl liked to see himself as its Brian Epstein -- Epstein of-course being the notorious manager of the Beatles.
The Mass was co-founded in 1965 by Mourad Rouchdy and Ali Hazzah, two gangly teenagers who grew up in the shadow of Gezira Sporting Club and French language schools. Both had British mothers. While blameless and clean cut when compared to their opposite numbers on Carnaby Street or Woodstock, in a sense, Mourad and Ali were Cairo's original habbies (Hippies), having picked up the new mood early on in London. The reason why they chose the name The Mass had nothing to do with physics or subterranean Catholic leanings; it was simply the first letter of the founders names: Mourad and Ali, with the 'S' belonging to a certain Mohammed Sadek a.k.a. Sos, who had a remarkable voice and whose singing career spanned all of two months.
When Mourad and Ali started The Mass, the only local competition was Mediterraneo muzak (Enrico Marcias, Pepino de Capri etc.) mimicked by groups like Les Petits Chats and the BlackCoats. More daring and less commercially minded, The Mass initially played hard core rhythm & blues with lots of Stones and Animals thrown in. Considered at the time the more talented members of the band, Mourad and Ali wrote some good early tunes. Had they stayed together, who knows, they might have become the Jaegger / Richards of the Arab world!
When they looked for another guitarist, Mourad's mother suggested the brother of one of the girls she gave English Private lessons to. Her name was Amina Salmawy. When Ali and Mourad auditioned Ashraf, he brought along a quiet, shy boy called Tarek "Ricky" Nour. It was 'shy-guy' Ricky who shortly after suggested the band bring in a drummer called Marwan Hammad (a future radio Cairo DJ), but in a hastily arranged meeting at the Gezira Club, Ali and Mourad insisted on keeping Amr Mansour, the band's original percussionist.
Thirty five years later, Ali, now a New York executive, remembers how in their teens, Mourad and Amr spent many hours over many many months practicing at his place at No. 3 al-Fardos Street, Zamalek. Living in the apartment directly below Ali's was the Arab Worlds' uncontested crooner/composer al-musicar Mohammed Abdel Wahab. "We could hear his orchestra at midnight rehearsing. Conversely, Abdel Wahab could hear us play our electric guitars." Rather than fuss over loud twangs and incessant thumping, the well-mannered Abdel Wahab occasionally complained to Mrs Hazzah about the little footsteps that Ali's brothers would make when running about during siesta hour.
When Abdel Wahab's famous composition of 'Inta Omri' was performed for the first time in Cairo, Um Kalthoum's adoring public was quick to note that the maestro had made good use of the electric guitar. "The new sound" concedes Ali, "was most probably happenstance or musical coincidence." Nevertheless, Ali was amused that after having spent some time perfecting a particular riff on his balcony which was directly above Mohammed Abdel Wahab's bedroom, the maestro had come out with a new song that featured an extended electric guitar intro. "I am not implying that Abdel Wahab borrowed that riff, but simply that he had possibly -- for the first time -- envisioned the possibility of a melody played by an electric guitar." Although Ali failed to mention it, it is well known that Abdel Wahab had on several occasions freely borrowed melodies from European classics.
Because Ashraf Salmawy and Tarek Nour were four or five years older than Mourad and Ashraf, they were considered the band's 'elders'. In that period in one's life, a year or two either way made a huge difference. The newcomers liked what they saw and admired the 'juniors' musical equipment particularly Ali's big red amp, nicknamed 'The Computer' and which Ashraf later bought. There was also Mourad's cool Vox amp and Ali's six-string Hofner. As for Amr Mansour's rickety drum set, it was nothing to write home about. The rest of the instruments, were cheap Woolworth type electric guitars plus a junky organ. Despite their rough-and-tumble props, the band could whip up a young crowd and sing. And sing hit tunes The Mass most certainly did, much to the joy of the first ever generation of Zamalek and Maadi groupies.
Cairo's hippies in various degrees of beads, stringy hair and pointed high heel shoes adored The Mass and showed it. At every concert they turned up en masse screaming and shouting. The animate group was their direct link to the throbbing music scene in Europe and America. It was during these pop concerts that they could vent out their adolescent confusions, excitement, anger and pain. And so it all started in the middle of Winter 1965-66 when The Mass started playing gigs at AUC and private parties. On one of their earlier gigs the band was paid a bottle of whisky which Ashraf and Ricky promptly finished -- "a bit of Mass trivia few know about" says Ali.
With each new gig, The Mass's popularity soared and the audience swelled. Yet, soon enough, confrontation started to brew internally over the Beach Boys croony type of music that Ashraf and Ricky favored (Tarek Nour's high voice and falsetto was suited to that), while Mourad and Ali were into grittier stuff.
Having spent several summers in London hitting the Clubs, including the Kinks and the Hollies, Mourad and Ali were heavily influenced by British music -- but not the Beatles. Mohammed Shebl, who eventually became the group's PR, social secretary and unofficial spokesman and whatever else which had to do with publicity, would invariably become the band's resident Beatles expert. He made sure that any one gig was heavily laden with songs by Lennon, Harrison and McCartney. Shebl also insisted on putting out a fan club and a magazine that cost The Mass a couple of nights' earnings and was the cause of some resentment within the group. "However, looking back on the magazine today with one's children, it was 200 LE well spent!" says former Mass lead guitarist Mourad Rouchdy who now resides in the Gulf.
The Mass's official outing could be attributed to the hugely successful 1966 Christmas concert at the Gezira Club. From then on it was the music gravy train for this first 'all-Egyptian albums band'. Each month there was a choice of dance or concert. The most popular venue was the Cosmopolitan Hotel ballroom and the live concerts at any one of Cairo's sporting clubs. And then there was the annual talent show at AUC's Ewart Hall. Summers found the Mass playing in swinging Agami either at the Palace or Chez Georges. The Mass would become Cairo's pop icon of the mid '60s.
Ali's immigration to the United States in early 1967 made it possible for Ricky and Ashraf to take over. By then Ricky had adopted his Mick Jaegger look that would follow him into adulthood, when, as the successful Americana advertising agency boss, he would make himself into a kind of logo.
Almost thirty-five years later, and London-based Salmawy is the only member of The Mass who still plays music, performing in various London bars and supper clubs. The group's original leader, Ali Hazzah, is an executive in the New Media Division of a major national telecom firm headquartered in New York. Former 'Shy-guy' turned 'Tricky Ricky' Tarek Nour, Ali's self-driven successor and for a time the band's unofficial leader, is also in media. His trademark western jingles turned his company - Americana - into the hottest advertising agency in Egypt. The tall lanky Mourad Rouchdy, who swayed so many faint hearts as he strummed his guitar, staring at the crowds from behind Blues Brothers glasses, immigrated to Canada but is today a senior consultant in the Gulf.
The Mass also had its share of tragedies. Sometime in the 1970s, the group's jumping Jack prankster Amr Mansour took a bad fall in the Cub Med swimming Pool. He spent many years completely paralyzed as a result. He died in the 1980s while an In Patient at the Nour And Amal Rehab Center. Mohammed Shebl, faithful to the Beatles until the end, died unexpectedly on October 2, 1996, as he was putting the finishing touches to a documentary which he had just directed.

Reader Comments


The Skyrockets at the Nileside Casino al-Shagarra and seen eating probably delicious fool'n tamia sandwiches in the 1960s.

For Les Petits Chats click on U-TUBE http://www.youtube.com/watch?v=JrwDFjoX41o&feature=related

Date: Sunday, May 13, 2007 3:56 PM
From: Paola Filinesi
Subject: SKYROCKETS - Casino El Shagara..!!!

I am the daughter of one of the fist members of the "Skyrockets" band mentioned in Mr. Bishara's post. I was born in Cairo, and my father Beppi Filinesi kept the band until the late 60's. I thought of attaching a couple of photographs of the band from those days which include Mr. Bishara and my father in the very early days and then other members who joined later. My warmest regards

---

Subject: Re : The Mass
Date: Tue, 11 Oct 2005 19:11:25 -0700 (PDT)
From: ingaloly spettil

Hi, I was so happy to read your article about the Mass, my name is Monica from Germany and myself and several other Germans spent a number of years in Cairo and were followers of the Mass. Your article brought some great memories of some of the best years of our lives, and we all remember Ashraf, Ricky, Morad and Amer very well, we also remember Sadik and his famous Red Mercedes (German cars are the best, haha) .... We were very sad to hear the news about Amr, hope you send our warmest regards to all the Mass and thank them for some great memories.

---

Subject: Hi
Date: Thu, 31 Mar 2005 04:22:14 EST
From: Lesley
Hi, ot was so lovely to read all about the days my ex husband spoke of with so many warm memories. Ashraf has now retired from music making and has a lovely family. Regards

---

Subject: Minor addition/correction + appreciation!
Date: Sun, 21 Oct 2001 17:35:06 -0400
From: Mike Smith

A correction I need to make but not with you,(I don't think?) is the fact that I too played with The Mass! I think Amr needed a good set of drums so I let him use mine and I played from 1972-1973 probably a dozen performances. Ricky (Tarek) could verify I'm sure! I graduated from CAC in Sep 73 and returned to the US to attend school, but I have always remembered very fondly my wonderful experiences in Egypt and all the great people I met. Thank you

---

Received: 1/25/01 7:30:36 PM
From: Dusan Stojanovic
Subject: The mass

Hi,
There was a big group of Yugoslavs living in Cairo at the time who remember the Mass with great joy. We also remember that one of our people, Ratko Zivkovic, played for them occasionally (I'm Gonna Wait Till the Midnight Hour ...) It was a real nostalgia trip while reading your article. Yours,
Dusan Stojanovic in Cairo 1962-69
(Now Associated Press correspondent from Belgrade)


---


AND THERE WERE THE SKYROCKETS TOO!

Subject: Great Job!!
Date: Sun, 26 Oct 1997 04:55:30 -0400
From: Michael Bishara

Just wanted to let you know how much I've enjoyed reading your Egyptian Gazette columns. They're incisive, serious, funny and wonderfully written. I emigrated from Egypt to the U.S. in 1961, after graduating with a degree in Aeronautical Engineering from Cairo University. I also founded Egypt's first rock and roll band (by the name of the Skyrockets). We played at the Heliopolis Palace, Auberge Al Ahram, Casino el Shagara, and the Nile Hilton. The band is no more; members live in Abingdon, Virginia (me), Los Angeles, California (Asaad Kelada and George Nageeb), Montreal, Canada (Oscar Cressaty), and Sydney, Australia (Mario Martorano); Peppi, the sax player died last year in Athens, Greece. Asaad is a director in Hollywood, having directed several successful productions on TV and stage. He lives in Studio City, a Los Angeles suburb.

Oscar recently retired from full-time work as a sales executive in Montreal. He has 3 sons.
Mario lives in Sans Souci, a Sydney, Australia suburb with his wife, Enid. He is also retired. He has one son, an executive with a French Bank in Hong Kong.

I married my sweetheart and left for the US in 1961. We had one son (he grew up to become a computer engineer and now lives in Denver, CO). After receiving my doctorate I worked in the space industry for a while. During that time I lived in Los Angeles and took part in the integration of systems on the Lunar Rover and on Skylab. After that industry crashed, I returned to Virginia as an engineering educator, then administrator. I retired in 1995 and am presently a consultant, and enjoying it thoroughly.
Believe it or not, the 4 of us reunited last March in Los Angeles for the band's 40th anniversary. It was glorious fun! Also present was George Nageeb, whom you probably also saw in 'Bab el Hadid'. We intend to carry this habit on. We're older, grayer, and some of us have less hair. But music is still a lot of fun. Let's keep in touch.
Michael Bishara


---

Subject: The 60's music scene in Egypt
Date: Sun, 05 Oct 1997 10:33:59 +1000
From: wassef

Your article brought back some lovely distant memories. I wonder how many Egyptians around the world would have remembered it with the fondeness I remembered it with.
Reda G Wassef
Sydney- Australia

---

Subject: MUSIC IN CAIRO
Date:
Fri, 14 Jul 2000 19:15:58 -0500
From: Michael Hosny

I don't know where I have been but I have just now discovered (and devoured!) many of the articles you've written. Needless to say many bring back memories of growing up in the early sixties in Cairo. Incidentally why were "The Drifters", a band formed by the three Aboul Dahab brothers, Cherif Taher and a couple of ex AUC guys not mentioned as Cairo's "other band"? I left Egypt shortly after they started but I remember them being enthusiastic performers during a concert at the Gezira Sporting Club! I regret that I did not witness the rise of Tarek Nour (a childhood friend) in both the pop music and advertising worlds but am glad that Mick Jaegger legacy will be that he looked like "Ricky" Nour! Keep up the wonderful work. In my view it is the best way that all of us expats can cherish our roots and maintain our sense of belonging. With warmest regards,
Mazhar Hosny
Houston, Texas

---

From: Genie Trone
Subject: The Mass
Date: Wed, 18 Oct 2000 01:22:05 -0400 (EDT)

Hello...I'm delighted to find the egy.com site and had a rush of nostalgia when I saw your article re the Mass as I lived and studied in Cairo in those days and hung out with Laurie Castine who married Ricky .... and I eventually,and inevitably, became friends with Mourad, Ricky, Ashraf,Amr .... and Mouni. But! I'm so disappointed that you forgot to mention Amoun (Mouni) Mosharraffa who played guitar in the Mass. How could you forget Mouni!!??
Yours,
Genie Trone
In Cairo 1969-1972
PS Do I know you?

Email your thoughts to egy.com
© Copyright Samir Raafat
Any commercial use of the data and/or content is prohibited
reproduction of photos from this website strictly forbidden
touts droits reserves