egy.com suggests following articles
EGY.COM - PERSONALITIES
DEATH IN DOKKI
Contrived Accusations Push Senior Canadian Diplomat To Suicide

by Samir Raafat
The Egyptian Mail, Saturday, May 31, 1997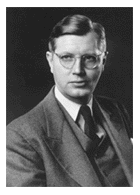 Canadian Ambassador jumps to his death from Dokki rooftop
IN MARCH 1994 I ran into an indignant Western ambassador who complained what I had written on this page the previous week was unwarranted (see "Canadians in Egypt: A glance at an absent community" Egyptian Mail, 5 March 1994).
Why bring up a 37 year-old suicide speculating it had been incited? Why did I need to inject my story with alleged conspiracy theories reminiscent of a Ludlum or Le Carré thriller? And WHY was I making such a big deal about Washington lobbies? Was I that desperate for parable, concluded my miffed interlocutor!
The piqued diplomat was challenging my expanded commentary detailing Egerton Herbert Norman's suicide, when Canada's then-ambassador to Cairo leaped to his death from a nine-story building on Dokki's Finney Street.
"Mr. Herbert Norman, the Canadian Ambassador to Egypt, committed suicide yesterday by jumping from the top floor of a block of flats to the street below," announced the Egyptian Gazette on its front page on Friday, 5 April 1957. After asking Costa his chauffeur to wait for him "Mr. Norman left his house at 9:30 a.m. and walked to the building where the Swedish Minister, Mr. Brynolf Eng lives. He took the lift to the eighth floor, walked up a few steps to the roof of the building, and jumped."
Herbert Norman's unimpaired gold wristwatch was all that was found on the roof neatly laid out on the sidewall. Not so fortunate was the Swedish minister's car parked below, next to the Shell gas station. It suffered considerable damage from the unexpected impact.
Al-Ahram also reported that a wallet containing fifty piastres and two letters addressed to Norman's wife and Mr. Eng respectively were found on the body. Both sported "a very shaky script evidencing the ambassador's severe stress when writing them" commented the Arabic-language daily.
The investigating district Attorney Sadek al-Mahdy had the body removed to the next door Doctor Ali Ibrahim hospital. In view of the personality involved and the lack of any evidence of foul play, there would be no autopsy.
Among the eyewitnesses who came forward was Naima Hassan Ibrahim, a sixteen year old hired help. "As I was dusting the carpet further way on the roof I saw a man stand on the edge of the wall looking as though he would fall overboard. I shouted at him to take care but the oblivious to my calls the man jumped."
A special memorial service was held for Herbert Norman the following Saturday at Saint Andrew's Church of Scotland on Boulak Street. Reverend Roy Stewart went the whole nine yards evoking the merits of the departed diplomat reminding everyone that he was man of God having grown up in a strictly missionary family.
During the ensuing investigation Mrs. Norman (Irene Clark), heavily sedated by her physician Dr. Halim Doss, remained unavailable to the clamoring international press. Nevertheless the embassy head servant Mahmoud Dawood Abdelrahman excitedly related to al-Ahram how the ambassador was agitated of late. "When I showed him his photo in the newspaper he replied that he had been wrongly accused of being a communist by the Americans in 1951. For the last three days he hardly ate or slept."
On Sunday Norman's body was flown to Rome, Italy aboard a RCAF. The only person accompanying him aboard the plane was Father John McNeil of Edmonton, a Catholic chaplain with the Canadian troops serving with UNEF (United Nations Emergency Forces). The body was cremated soon after.
Whatever the reason for Norman's suicide the tragic incident made world news at the time. Moreover it led to an unprecedented meltdown of relations between Canada and the United States, so much so that on 6 April 1957 US senator Richard Neuberger (D) of Oregon called for a special bipartisan committee to probe the matter. "The ties of friendship between Canada and the United States, in war and peace, have been so close and unquestioned that nothing should be allowed to strain them," declared the senator.
As is typical under such circumstances Washington went into an escalating finger-pointing mode: the Senate Sub-committee for Intelligence pointed its finger at the State Department. State Department through its spokesperson Lincoln White emphatically denied any wrongdoing and accused the FBI. The latter's director Edgar Hoover in turn claimed his bureau "had not made available to the Senate Internal Security Subcommittee any reports or files on information pertaining to the late Dr. Egerton Herbert Norman."
And while the name-calling charade continued for a while longer an embarrassed President Eisenhower personally expressed his regrets over Norman's suicide to Canada's ambassador to Washington, A. D. Heeney.
In Cairo, meanwhile, the ambassador's ill-fated exit was heeded as more than just a somber milestone in the prolonged record of diplomatic representation to this country. Succeeding Kenneth P. Kirkwood, the star-crossed Herbert Norman (1909-1957) was the second Canadian ambassador to serve in Egypt. A scholar and Japanologist, he had successfully represented his country in Tokyo where he participated in the prosecution of Japanese war criminals and helped draft that country's new constitution. His book Japan's Emergence as a Modern State became a classic and his treatise on an 18th century Japanese philosopher Ando Shoeki is still discussed today.
On the 40th anniversary of Ambassador Norman's death, a lengthy article appeared in The Ottawa Citizen (4 April 1997) discussing the events before, during and after his tragic departure. Much of the article is based on a Canadian Government report (a.k.a. Peyton Lyon Report) on the Norman case.
In 1990 Carleton University's Peyton Lyon was asked by Canadian External Affairs Minister Joe Clark to investigate all the relevant RCMP (Royal Canadian Mounted Police) and External Affairs files. In order to do so he conducted innumerable interviews on the lingering subject of Norman's innocence.
Furthermore, a movie is currently being filmed in Canada on Herbert Norman and the tragic reasons leading to his suicide.
Even though I haven't seen the docudrama or read the Peyton report, I can nevertheless relate some of the salient facts based on contemporary local reports and interviews with persons who had known Ambassador Norman during his brief stay in Cairo.
There is no doubt that Ambassador Norman's ill-fated exit was a first in the history of diplomatic representation to Egypt. What was it that had pushed the Canadian diplomat to such desperate action? His local treating doctor was baffled. True his patient was suffering from depression bouts. But on the other hand he was being treated with appropriate anti-depressives. Why hadn't they worked?
Later, that same doctor would hear wicked rumors that the anti-depressives had been 'doctored' by a colleague who was a prominent figure in the cocktail circuit. Furthermore, the colleague and his foreign-born wife were covert agents for some spook agency! It all started to sound like a Nile version of the then-budding Philby-McLean-Burgess spy saga. Cairo was a-buzz with rumors.
Meanwhile a lengthy investigation conducted jointly by the Egyptian government and the Canadian authorities revealed that suspicion surrounding Ambassador Norman's loyalty to his government had been the cause of his severe depression, which ultimately led to his death. The two suicide notes, believed at the time to have been left by Norman to his wife Irene and to the Swedish diplomat, reinforced the above findings.
Backtracking a few years to the McCarthy era, we discover that an American Senate Internal Security Sub-Committee had indeed investigated Norman accusing him of having belonged to a communist cell during his student days at Cambridge University where, by insinuation, the notorious Cambridge Four had conspired against King and country.
Also mentioned in the report is how Norman had later been recruited by the Soviet KGB.
But because nothing was revealed to substantiate these accusations, the Washington witchhunt remained inconclusive and the allegations shelved.
Why, then, had these old accusations resurfaced in 1957?
Remember that this was the heyday of the Cold War and official statements coming out of Washington following Ambassador Norman's suicide were quite inflammatory. According to Peyton, these included the "appallingly ambiguous" statement made by President Eisenhower which fostered many doubts. Reading between the Washington lines, Norman was accused of being a traitor to the Western Alliance.
Back in Cairo, experts on the diplomatic watch noted things differently. Norman's induced death had less to do with communist guilt pangs and more to do with the current Middle East stalemate: A few months before the suicide the Eisenhower administration had done the unthinkable when it declared it would support a UN resolution imposing sanctions on Israel if the latter did not withdraw from all of the Sinai peninsula and Gaza. Moreover, the US threatened to take away the tax privilege enjoyed by donors to Israeli causes. Israel had thus lost a crucial round against its Arab neighbors.
Hence in Cairo it was taken for granted that the timely re-surfacing of damaging accusations against Norman were linked to his support for Egypt's position during the July Suez Canal Crisis and his subsequent condemnation of the October 1956 Tripartite Aggression, when British, French and Israeli armies occupied Sinai and the Canal Zone.
Alas, another sympathetic voice from the West -- with whom Egypt had waning relations -- had been permanently hushed by a pervasive anti-Arab lobby in Washington. Gone was the man Peyton describes as having performed brilliantly the months before his death "winning the confidence of President Nasser and using it to assist in the establishment of UNEF, the first UN peacekeeping operation."
Across the Atlantic meanwhile what had begun as the suicide of an overworked and over stressed diplomat in far away Dokki-sur-Nil quickly deteriorated into a temporary rift in US-Canadian relations with accusations of "trial by suspicion," "conviction by innuendo," "murder by slander," and "shame of America," making the morning headlines of Canada's outraged press.
The matter of Norman's allegiance quickly became a bone of contention between the old and new establishment in both Ottawa and Washington. In his findings, Peyton concluded that for almost half a century, successive Canadian governments, both liberal and conservative, could not come up with "a tittle of evidence" disputing Norman's loyalties, or that he had been a Soviet mole. Even the Kremlin files made available thanks to glasnost, failed to reveal anything about Norman's alleged communist connections.
Rather than let the case rest, Peyton's conclusions were rebuked by some within the US intelligence community for suggesting that one or more members of the CIA had conspired in Cairo to blacken Mr. Norman's reputation by faking the two suicide notes. These were the same notes that influenced the derogatory statements coming out of Washington at the time of the suicide.
Senator Joseph McCarthy, the prime instigator of the Norman hearings in the mid 1940s, died 27 days after the Canadian diplomat's suicide in Dokki. Yet, forty years after protagonist and antagonist departed, the debate over Norman's suicide continues. Some academics like Jack Granastein, author of Yankee Go Home, are unwilling to let Norman's innocence rest. In their eyes he is still indictable and the case remains "open."
Whatever unexpected evidence may turn up in the future, Ambassador Norman's suicide proves that as mortals come and go, some more precipitately than others, institutions and lobbies will survive.
[Note: The building from which Norman jumped is still there only the street changed its name from Oswald Finney to Sad al-Aali.]

Email your thoughts to egy.com
© Copyright Samir Raafat
Any commercial use of the data and/or content is prohibited
reproduction of photos from this website strictly forbidden
touts droits reserves