egy.com suggests following articles
EGY.COM - PERSONALITIES
UNICEF EGYPT SHARES LOSS OF EXCEPTIONAL HUMANITARIAN

by Samir Raafat
Egyptian Mail, April 26, 1997
NICOLAS Luginbuhl, 44, a former Unicef international staff member in the Egypt country office died unexpectedly on April 14 in Cairo of congestive heart failure.
In my last article I related how friends came together on April 8 to celebrate the 92nd birthday of the doyen of the Swiss community in Egypt, Mrs. Warda Bircher-Bleser. Little did I realize I would put pen to paper a week later for the grievous task of eulogizing the passing away of one of its youthful members.
Egypt couldn't have found a better friend in either of these exceptional Swiss expatriates. Even as I write these words, I find it hard to believe the younger one has gone. Are there lessons to be learned here? That death is indifferent to age. That it is not an option. Or is it the simple but often difficult to comprehend reminder of 'now you see me, now you don't.
Before coming to Cairo in 1992 as Monitoring & Evaluation Officer with Unicef, Luginbuhl spent many years working for different international humanitarian organizations. In the 1970s and '80s, the gifted linguist with the engaging smile and Liam Neeson looks led a peripatetic existence shuttling between the world's worse hot spots. Whether as a member of the International Red Cross or as a staff member of the UN High Commission for Refugees, his itinerary took him from the foothills of Afghanistan to Lebanon's Sabra & Shatila refugee camps plus countless famines and insurrections in sub Sahara Africa and the Asian subcontinent. Luginbuhl was actively involved in every aspect of the welfare of children and youth, attentive to the needy and caring of the downtrodden.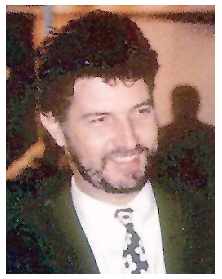 His early restless years over, he settled for a job with Unicef Egypt as Senior Program Officer for area-based projects with the objective of synchronizing and coordinating activities at ground level. His job often took him to the high flashpoint Upper Egypt cities of Sohag, Quena and Assiut when no one else dared go there and when not all Sai'dis were receptive to foreigners. But then his crossborder ancestry - German, Italian, Irish - made him more tolerant than the average khawaga. Few, if any, of his former colleagues had rendered himself as popular as he did.
A talented painter and gifted pianist whose favorites included Brahms, Ravel, Schubert, Sting and Gioacchino Rossini from whom he was descended, Luginbuhl would invariably spend his evenings devouring books - Baudelaire, Mahfouz et. al. - informing friends the following day "I spent one of the most enchanting evenings of my life." His love of the sea and coastal plains is perhaps why another favorite littérateur was Henri de Manfred who wrote Voyages Extraordinaires à la Mer Rouge.
"Nicolas had an eccentric comic vision of nature which he regarded as an encyclopedic publication full of adventures, teachings and magical imagery" says friend and associate Ihab Shafik. "He would return from his trips full of witty depictions that turned the dullest incident into a titillating escapade."
Fouad Sadek, a fabric designer relates how Africa was his freind's favorite destination; an inexplicable fascination which had its origins in Luginbuhl's teen years when Mogambo hit the silver screen. From then on there was this insurgent pull to south of the Mediterranean and Ava Gardner became the icon no other female superstar could compete with.
Unicef Cairo was followed by a French interlude in 1996. No sooner had he settled in Europe and Luginbuhl was planning his return to Egypt this time as a landscaper and art consultant. Drawing from his large reservoir of friends and acquaintances in no time he had set down a list of eager clients.
But old habits die hard for Luginbuhl was shortly to renew his relation with Unicef as part time consultant lending his vision for children in Egypt and his special creative talents to the design of new Unicef quarters. It was a matter of signing on the dotted line. Understandably, news of his unexpected and sudden death was a shock to his former colleagues impatient for his return.
";Luginbuhl left behind countless enduring monuments to his sense of humor. He enjoyed everything, and everything he did, he did with love. He was an extraordinary expert-administrator who never interfered and never complained" says international consultant Dr. Hoda Badran, president of the Alliance for Arab Women.
"Nicolas was the absolute humanitarian, he found humor in adversity and diffused prickly moments where others lost their cool. I must admit I envied his philosophy" recounts long time colleague Dr. Fatma Khafagi, Program Officer for Women's Development at Unicef . "He had many endearing qualities. I am unable to accept the fact that this sensitive, inspired man has gone."
Unquestionable feelings shared by countless others including the writer of these lines who looked forward to reading Luginbuhl's facetious E-mails on dreary mornings. In one of his last, a few days before he died and where he mentioned something about back pains, he quipped in characteristic zest "When will you write about me?" He was joking of-course because publicity was the last thing he cared for.
On behalf of Nicolas' many friends, colleagues, clients and all who knew him, I wish to express our deepest sympathy to the Luginbuhl family.
[A special memorial service will be held on May 3 at 15:00 at. St. Andrew's Chapel at corner of al-Galaa and 26th of July Streets].
THE LUGINBUHL LEGACY
In 1996, Nicola Luginbuhl launched a pilot drawing competition amongst Alexandria's disadvantaged children. His idea was to promote the recognition of the abilities and talents of this marginalized group in order that they be appreciated for the first time by the general public.
Luginbuhl rewarded the winners and had their drawings printed on commercial textile.
UNICEF aims at building on this experiment whereby a trust fund or special account will be opened accepting contributions or donations for the creation of an annual drawing competition amongst working and street children. The winning drawings will be printed on textiles and other merchandising products (towels, bags, mugs...).
One outcome of this project will be to encourage and build on the fresh and creative abilities of these children who heretofore lacked any venue to express themselves while building their confidence and self esteem.
Another outcome will be the sustainability of the project since a certain percentage of the revenue of the sales of these drawings will be redirected to the running expenses of the project. The rest of the revenue will go back to the children themselves. This provides them a direct return from their own creativity.
For more details on the fund contact Unicef Cairo.
Email your thoughts to egy.com
© Copyright Samir Raafat
Any commercial use of the data and/or content is prohibited
reproduction of photos from this website strictly forbidden
touts droits reserves