egy.com suggests following articles
EGY.COM - PERSONALITIES
THE FRENCHMAN FROM BRUSSELS
EU Mideast Mediator Team Parachutes Into The Flap

by Samir Raafat
Egyptian Gazette, December 14, 1996
A year ago we read on this page (De Tott a Magallon, December 16, 1995) a profile on Christophe Farnaud, 31. The tallest member of the French Embassy (2.02m.), also its rising star, has just been yanked out of his overbearing beat in Cairo only to be plunged head first into another headache-prone posting.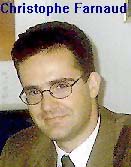 According to diplomatic sources as of this week Farnaud is a senior member of the newly formed EU Middle East peace team. We all know what this means: catching up on a century-old dossier--its size alone could easily account for the depletion of an entire rain forest, working the phones at 03:00 am, consumption of endless coffee and tea in Arab capitals, and living out of a suitcase for however long it takes.
Leading the Brussels-based team is Madrid's ambassador to Israel, Miguel Angel Moratinos who previously headed the Middle East and African Department at the Spanish foreign ministry.
The move to establish an EU peace office is a belated Europen effort to assert itself as a major player in a volatile region. To date, the show was the preserve of an all-Jewish troubleshooting brigade at the American State Department headed by Middle East expert Dennis B. Ross. The latter's involvement with the Middle East precedes the Madrid conference. In 1989 Ross was a Middle East staffer on the National Security Council and senior adviser to president-elect George Bush. Later, he was appointed US State Department policy planning director under secretary of state James Baker.
While Israel tolerates and sometimes welcomes American mediation, it is ill-disposed towards new arrivals. In a related statement made on the eve of French President Jacques Chirac's visit to Tel Aviv, Foreign Minister David Levy sharply criticized the Paris-backed idea of an EU Middle East peace coordinator. "We reject it completely" he told Israel Radio. "The two sides [Israeli and Arab] must reach an agreement among themselves. Any other method is the antitheses of negotiations free from outside pressure."
Translated into everyday language, this means several things. After the courtesies are over EU mediators will be discouraged from nibbling sweet pastries at East Jerusalem's Orient House. Portrayed as self-serving friends of neighboring Arab regimes they will be treated as second fiddle. And while Likudnik spoilers will stir things in Washington to the detriment of the European peace efforts, in Bonn or Berlin Zion & Co. will empower the allegedly pro-Israeli Kinkel (Dr.Wolfgang Kohler; Frankfurter Allgemeine Zeitung, 3.12.96.) against his moderate European counterparts. Naturally, there will be comparable quibbling and frustrating pussyfooting from the Arab side as well. "Ah! what a deadlock... Mon Dieu, what an impasse!"
Regretably for the new EU mediators their mission starts in the middle of 'the flap,' an odd period where the Middle East is neither in a situation of real peace and neither is it in a state of war. This is also a vague period where most of the nations in this area are in a state of self-perpetuating unrest.
But Farnaud and his new boss have been around long enough to conjecture. They understand ever since the 1991 Madrid Conference --which celebrated its 5th anniversary in November-- the peace process suffered major hiccups and indigestions.
Speaking of indigestion, Moratinos & Co. should know that even though to the West Halal and Kosher may seem similar in concept, you must not abide by Thomas Freidman's tongue in cheek hypothesis: no two countries that have a MacDonalds have ever fought a war against each other.
The six million dollar question is whether or not the burger-crazy Europeans going to replicate the American effort or do they have a surrogate and more imaginative approach in mind? On our part we must realize the EU team complements Ross Inc at a time when relations between the Jewish state and its Arab neighbors are at their lowest since that euphoric 1994 MENA-I summit at Casablanca.
With those words of encouragement we can only wish Christophe merde. He'll most certainly need it!
Email your thoughts to egy.com
© Copyright Samir Raafat
Any commercial use of the data and/or content is prohibited
reproduction of photos from this website strictly forbidden
touts droits reserves