egy.com suggests following articles
EGY.COM - PERSONALITIES
PRINCE HENRI'S MAADI SUBJECTS

by Samir Raafat
EGYPTIAN GAZETTE, October 5, 1996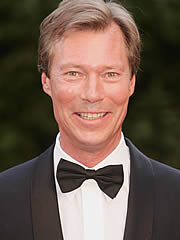 The hereditary Grand-Duke of Luxembourg was in town last week to attend the September 24 Cairo meeting of MENTOR, a non-governmental organization which specializes in the fight against drugs. Also attending was Queen Silvia of Sweden and Prince Talal of Saudi Arabia.
It was during his short visit that I had the pleasure of meeting Prince Henri. The venue of the encounter was a small amicable lunch at the Belgian ambassador's winning residence off Pyramids Avenue if one can still call this ugly street an avenue. But why, you may wonder, the Belgian Embassy? Well, it appears in the absence of a Luxembourg Legation in Cairo it is for either the Dutch or the Belgians - all three members of the Benelux - to look after visiting Luxembourg royalty. And since HRH is the nephew of the King of the Belgians, it was for Gaston Van Duyse-Adam to attend to this most pleasurable of tasks. Incidentally, Prince Henri is also related to all the monarchs of Europe, both present and former.
My on-going thought was, what does one talk about to the intelligent, unpretentious and engaging reigning crown prince? Had it been the Waleses before the world's most talked about couple split up, it would have been a piece of cake. One could simply have talked about horses and architectural heritage trusts.
For all intense and purposes, Luxembourg is unknown to Egyptians. We don't have much in common. Trade, cultural, social and historical relations are almost non-existent. With a population of less than half a million this landlocked European state wasn't one of the seafaring colonial powers last century. But what I do know is that Luxembourg is home to ASTRA, the famous satellite carrier that beams hundreds of TV channels to Europe but which regrettably we can't receive in Egypt. Also, the Grand-Duchy is home to many discreet banks which differ from their Swiss counterparts in that they do not share a dubious past involving money laundering, Wehrmacht bullion or undeclared treasures belonging to wartime victims. In fact, Luxembourg was twice run over by the Germans this century!
Over lunch we did however evoke the 1922 visit of Prince Henri's great-grandmother Queen Elizabeth of the Belgians. Together with Egyptologist Monsieur Capart, the queen had personally witnessed the opening of Tut-Ank-Amon's tomb. It was about then that I realized that I had actually grown up with two erudite Luxembourites (is that how you call the citizens of Luxembourg?), one of them a hobby Egyptologist, living practically a stone's throw away from my home in Maadi. To this day I had never given it a second thought, that they were from the Grand-Duchy... probably because I never knew I would one day lunch with their hereditary Grand-Duke. As far as I was concerned I regarded my almost-neighbors as Europeans who had gone native. They were totally devoid of your typical khawaga stereotypes. Both persons had fully integrated with their adopted surroundings, especially it's culture, flora and fauna.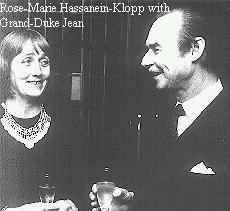 THE ARTIST ON ROAD 85
Rose-Marie Klopp-Hassanein came to Egypt after WW2 with the intention of pursuing an art career. She had studied sculpting in her native Luxembourg and spent some time at the beaux-arts in Strasbourg and the Arts et Metiers Center in Sarrebruck. Art was in her blood for Rose-Marie was the only child of one of Luxembourg's most famous contemporary artists, Nicola Klopp (1894-1930). A native of Kleinmacher and a student of architecture, Klopp pere devoted his short life to painting. He was considered part of the secessionist-modernist art movement. After his untimely death at age 36, several Klopp retrospectives were held in the Grand- Duchy last of which was the one celebrating his 100th anniversary. It was attended by Grand Duke Jean, Prince Henri's father as well as Rose-Marie Klopp-Hassanein who is not known to be one of Maadi's greatest travelers especially since their are no direct flights to Luxembourg. Nevertheless, she made the pilgrimage home to pay homage to the memory of the man who left behind such an important legacy to the Grand-Duchy's cultural scene. Her only regret is that Nicola Klopp never made it to Egypt which "would have so enriched his reach especially with Egypt's bright colors, its Nile, its feloukas and its unique paysage."
What was denied the father was more than compensated to his only child. Once in Egypt, Rose-Marie, who was ever so taken with pharaonic times, spent long days at the Egyptian Museum studying Ancient Egyptian sculpture. It was about then that she met her Egyptian husband-to-be, Hisham Hassanein, the grandson of Princess Shuvekar Ibrahim. Hisham, a great sportsman, was the son of renowned desert explorer Ahmed Hassanein Pasha who had been tutor to Egypt's Crown Prince Farouk when the latter traveled to the UK in 1936 in order to get a public school education. Later, Hassanein Pasha became the King's chief of cabinet. But Rose-Marie did not have the opportunity to live out the splendors of Hisham's high-born lineage. In 1952 the Free Officers movement had come in the way. Instead, it would be a life of hard work and Spartan frugality. It was also an opportunity to get on with art and sculpting. There were the lessons with Philadelphia-born Roberta Jacoby, the pottery classes and the exhibitions at the American University, and the 1962 Landesmuseum in Luxembourg where one of her works, "La Miseret" so captivated the attention of her countrymen.
Despite her being widowed in 1971 and the additional hazard of seeing her only son through college and university, Rose-Marie Klopp-Hassanein carried on with her art endeavors. Her most recent achievement is a 1997 calendar shortly to be released in Luxembourg featuring works by Nicola Klopp and Rose-Marie Klopp-Hassanein.
Although many years passed since Rose-Marie exhibited her works in Luxembourg, the Grand-Duchy has not forgotten her. In December 1989, at Chateau Berg, she was awarded by Grand-Duke Jean, the Order of Merit and concurred by the then-Prime Minister Jacques Santer, today president of the European Union. Shortly thereafter, Rose-Marie Klopp-Hassanein was approached with the proposal of becoming her country's honorary consul in Cairo. She declined. The assignment was too daunting.
THE BOTANIST ON ROAD 82
The late Dr. Paul Bleser was the other Maadi Luxembourite. By education and profession he was a geologist. Yet, after tying the knot with Mlle. Warda Bircher, Ph.D. his future Egyptian-born Swiss wife of almost half a century, he became co-manager of Egypt's biggest private botanical gardens. Prior to settling down in Egypt the couple gad been around the world - New Guinea, Java, Cambodia, Nigeria, Canada, Turkey, South Africa, South America - on fascinating geological and botanical exploits.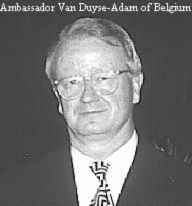 When he passed away in 1951, Warda's father deeded to his only daughter his lifetime achievement. During his sixty odd years of his life, Alfred Bircher had introduced and acclimatized a considerable number of tropical and subtropical fruit trees, timber trees and many other unique ornamental plants to Egypt. His treasure trove or Garden of Eden as some chose to call it was his botanical gardens in al-Saff. Bircher had single-handedly put this forgotten part of Egypt back on the international map.
It was now up to Paul and Warda Bleser to keep Eden alive. Were they up to the challenge?
Against all odds, in those very difficult days when traveling was restricted and the import of badly needed seeds and varieties practically impossible, the Blesers stood their ground. They succeeded where others had miserably failed. Because of the special character of their magical botanical gardens, these had been granted an exceptional status. The Blesers were allowed to keep them as a private property. Meanwhile, all of Egypt's other large landholdings, including those owned by foreigners, were taken over by the State in compliance with the newly introduced Agrarian Reform Act.
The Blesers remained true to the last their only forrays out of Saff being those which took them to Maadi where Warda owned one of the town's oldest villas. In their spare time - of which they had so little - the Blesers entertained international visitors who came to see for themselves this botanical wonderland. Despite their manifold responsibilities the Blesers had barely the time to compile and publish an invaluable 875-page botanical work entitled Gardens of Hesperides: A Book on Old and New Plants for Egypt and Similar Climes.
But time and age would take their toll. The demands of al-Saff grew rather than diminished. The Blesers had reached their 80s and it was time to retire to Maadi. The Garden of Eden was reluctantly sold off in 1990. Dr. Paul Bleser died soon after. Warda, meanwhile, at age 91 just published a wonderful book The Date Palm: A Friend and Companion of Man, (Elias Modern Press, Cairo, 1995). At the writing of these words she is summering in Switzerland, pondering on yet another worthwhile botanical work which she and Dr. Paul Bleser had staved off again and again.
---
Subject: your article in Egypt Gazette 1996 published online
Date: Sun, 27 Mar 2005 13:04:23 +0200 (Westeuropische Sommerzeit)
From: Famille Mousel
Good morning from Luxembourg.
I saw your article about Mrs Rosemarie Klopp Hassanein , very very interesting article- I love the painting of her father Nicolas Klopp . As I am researching family members of this family -as name of her mother -or name of her children , do you know perhaps the name of her children.
thank you very much for your help. greetings to you




Email your thoughts to egy.com
© Copyright Samir Raafat
Any commercial use of the data and/or content is prohibited
reproduction of photos from this website strictly forbidden
touts droits reserves