egy.com suggests following articles
EGY.COM - PERSONALITIES
On His Own
El Nabil Hassan Aziz Hassan
by Samir Raafat (unpublished July 1996)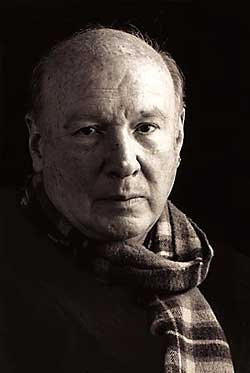 Hassan Hassan (photo reproduced from Ahram Weekly)
El Nabil Hassan Aziz Hassan did not show up last month at his sister's funeral. Everyone understood why. He is a special man with peculiar reactions to conventional situations
When Prince Ismail committed suicide in April 1961 his younger brother who by royal quirk enjoyed the lesser title of Nabil (a B-class prince), became the eldest direct male descendant of the Mohammed Ali clan in Egypt. "This was a responsibility that was beyond Hassan Hassan," claimed some of his local relations. "He is a very complicated man and at times his own worse enemy," remarked an ex-Ottoman princess who often spars with him.
For the last four decades Hassan Hassan shared an apartment with his sister (the late Princsess Khadiga Hassan) and her family in Garden City's Rustom Building on Salamlik Street Which is why today, like yesterday and most probably tomorrow, Hassan Hassan will not invite you to his home. Instead he will meet you at the Gezira Club, Patisserie Simond's on Zamalek's 26th of July Street or the Automobile Club on Kasr El Nil Street. He will reply to your queries in polite hushed tones giving an impression there was an unwelcome third person sitting in on the conversation.
Despite the years that separate us from 1952 Hassan Hassan still feels that being a disant relation of King Farouk he is under 24-hour surveillance, his every move watched, his every utterance recorded in some dungeon at the Ministry of Interior. Could this be the reason why he prefers to talk in perfect French or English? Not really, for if you heard him speak Arabic you may think he's just landed from Appelton, Milwaukee.
One day, our polite conversation led us to Ignace Tiegerman. This was the diminutive Polish director of Conservatoire Tiegerman where Hassan Hassan as a young man learned to play piano. "Aside from being my professor he was a substitute father figure," Hassan Hasan recounted furtively. "I cherished him. I was at his bedside at the Anglo-Egyptian hospital when he died."
I thought I detected a tear as Hassan Hassan made what amounted to a conspiratorial confession.
If he is better known as a painter Hassan Hassan could have become--had he wanted to--a distinguished pianist. Alas, he never performed in public. And if he played to friends, these were rare occasions indeed. Rare enough so that no one remembers ever having been present.
"My in-law did something to my piano. It is no longer usable" he complained one day. Was this an excuse not to play or was the beautiful grand piano in the elegant Rustom Building living room really out of order. In any case if Hassan Hassan is not a famous pianist today he is an unabashed music critic.
"Only one student of Tiegerman's passed muster and that's Henri Barda" declared Hassan Hassan with finality one day at the Automobile Club. I had invited the pianist-that-never-was (H. H.) to Barda's Ravel performance at the Opera weeks earlier. I knew then as I do now that this was a genuine homage from Hassan Hassan.
Far from dispensing with compliments Hassan Hassan is predisposed to brusque criticism. When another former Tiegerman student asked him for an opinion on the piano recital he had just given, Hassan Hassan's rebuke was unequivocal: "Sell your piano!"
Hassan Hassan grew up in a royal palace in Shubra under the tutelage of one of his many great-aunts, in this instance Princess Neamat Mokhtar. "Simply because she was Spanish my mother was regarded by family elders as inadequate for the job."
This tender age separation marked Hassan Hassan forever. Perhaps another one of many reasons--real or imagined--why he is so suspicious of others to the point of paranoia. It also explains why he avoids emotional attachments at all cost.
"My life is full of separations. To begin with I never knew my father, he died when I was one year old. Later, my paternal relations took me from my mother. In the 1950s the state severed my birthright. Then it was my brother who took his own life rather than cope with a hostile environment."
Somewhere along the way there was a separation from a very special friend, possibly the only companion Hassan Hassan ever had.
Today, except for ephemeral friendships with transient foreigners with whom he feels less vulnerable, Hassan Hassan remains a loner. If in his early adulthood he led a tumultuous existence, when the tide turned against his family he retreated into a shell of his own making. And however much you try to draw him out, you ultimately fail. Friendships with Hassan Hassan have a habit of ending in irrevocable breakups for no apparent reason. Feeling guilty you offended effendina you retrace everything you've said or done the previous encounter only to realize it had something to do with protocol or some tiny misplaced word.
But however small and unintentional the faux pas seemed at the time, the oversensitive Hassan Hassan has already turned it into a personal drama. Hastily, he takes refuge into martyrdom, a form of existence he feels quite comfortable with.
You try to explain. He doesn't listen. Instead he bustles off making unintelligible intonations. Then you ask yourself, how can you reason with someone who hasn't spoken to his live-in sister for 35 years.
El Nabil Hassan Hassan is indeed special.


part of the Prince Hassan Branch
---
Hassan Hassan's obituary in The Times (London, 4 May 2000)
Prince who remained in Cairo after the fall of King Farouk and chronicled the lives of Egypt's last royal house PRINCE HASSAN AZIZ HASSAN, painter and memoirist, was born in San Remo, Italy, on February 22, 1924. He died in Cairo, on April 17 aged 76.
A [third COUSIN] of King Farouk, Egypt's last ruling monarch, and a great-grandson of Khedive Ismail, who built modern Cairo, Hassan Aziz Hassan died shortly before the publication of his memoir of life inside Egypt's deposed royal family, In the House of Muhammad Ali: A Family Album, 1805-1952.
One of the few members of the fallen dynasty who did not flee abroad after the Free Officers' coup in 1952 which deposed King Farouk, Hassan was also among Egypt's finest painters and a gifted pianist.
He was a familiar figure at Simonds, the flagship coffee shop of the ancien regime in Cairo, where he would quietly sip his espresso while streams of Egyptians and foreigners from all walks of life swirled about him.
His few heirlooms from the family whose 147-year rule took Egypt from semi-feudal lethargy to dynamic - if often squandered and lopsided - development, were sequestrated by the Government. So to survive, Hassan sold his own art to private collectors. He was forbidden to exhibit in Egyptian galleries, and yet he managed to stage two shows (the second of them in 1997) at Cairo's Italian Cultural Centre.
Hassan's father, Prince Aziz Hassan, was a founder of the Wafd, Egypt's pro-independence party. He met Hassan's mother (who was then a Roman Catholic) while in Spain, one of the countries in which he made a home after being banished from Egypt by the British authorities during the First World War. After his death when Hassan was eight, Hassan's mother, being a foreigner, was not allowed to raise her own children, and so his uncle, King Fuad, sent them to the rural estate of his sister, near Cairo.
Hassan was then educated at schools in Izmir, Beirut and finally in England at a Quaker school near Reading. During the war he made his way back to Cairo via Cape Town and Sudan, by ship and flying boat.
At 18, fed up with having no say in his own future, Hassan broke with his father's family. Meanwhile, the monarchy fêted its way through its foggy final years, as the corpulent and gambling-addicted Farouk lurched from scandal to scandal until he finally alienated the only group capable of crushing him, the army, and was overthrown on July 23, 1952.
Farouk, who abdicated in favour of his infant son, Fuad II, then sailed into exile in his yacht to Italy. In 1953, the Free Officers ended the monarchy, confiscating the former royal family's property, right down to their lingerie. In 1961 Hassan's brother Ismail, a decorated Egyptian Air Force pilot, shot himself in despair.
Hassan, however, found solace in painting, and in music, for many years sharing a modest flat with one of his sisters and her family. They did not get along, but had nowhere else to go.
Journalists and other writers often visited Hassan, whom they tapped for background material on the old order. Few could resist mocking in print his clipped British accent and dignified air of decline. But none captured his graceful manner, erudition in several languages or his humane - if testy - wit. He chose to be buried in a private part of the decaying royal cemetery, in the tomb of an obscure prince of the past, upon which his own name is not yet engraved.
Email your thoughts to egy.com
© Copyright Samir Raafat
Any commercial use of the data and/or content is prohibited
reproduction of photos from this website strictly forbidden
touts droits reserves