egy.com suggests following articles
EGY.COM - PERSONALITIES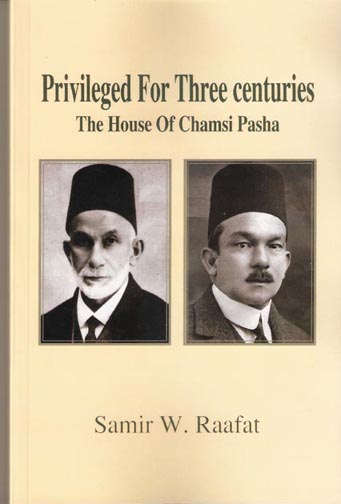 photo L-R: Amin Chamsi Pasha and his son Ali Chamsi Pasha
also spelt Chamsy, Shemsi, Shamsi, Shamsy
Published privately in September 2011 PRIVILEGED FOR THREE CENTURIES is primarily about Amin Chamsi Pasha, an Ottoman scion of the Tufenkjian, a military corps that dates back to the 17th century when Egypt was ruled by walis or governors appointed by the sultan in Istanbul. Wrapping up four generations of righteous Tufenkjian officers was Serwan-Pasha Mohammed Chamsi, aide-de-camps to Mohammed Ali Pasha.
In addition to his responsibilities as Sharkia's merchant provost and its recurring representative to the Egyptian legislature up to 1913, Amin Chamsi Pasha, the overwhelming patriarch of a bourgeois Egyptian family, was also a leading industrialist and head of the Ashraaf syndicate in his Delta province, which is probably why he was frequent staple in the local and international press. Described in the London Times as a despotic feudal lord in 1880 and two years later by the Journal de Geneve as dictator Orabi's wekil, or spokesperson-agent, Chamsi was soon enough imprisoned for his decisive support of the failed revolt which brought on seventy years of British occupation. Thanks to the novel appearance of syndicated columns the "rebel's" setback was reported as far away as New York and St. Paul, Minnesota.
As we navigate through the 19th century we bump into the offspring of soldier Ali Agha al-Alanya-li from the Albanian coastal town of Vlore (Alonya in Turkish). Destiny brought him to Egypt where he created his own mini Neo-Mamluk dynasty which now and then was victim of its own internal discords. Little did he suspect that over time his progeny would interlock at the highest levels with the nation's destiny.
The book is ALSO about a changing Egypt slowly awakening to nationalism and independence. For just as Amin Chamsi Pasha exits the scene we encounter his son and political heir, Ali Chamsi Pasha. His mission was to define the concept of a distinct Egyptian people blended out of a mix of Copts, Fellahs, Bedouins, Circassians, Turks, Balkans, Levantine, Kurds and Nubians. Exiled several years for his political convictions he returns triumphantly to cofound the Wafd Nationalist Party. In fact, Ali Chamsi MP took over where his father left off becoming in turn minister of finance and later education, as well as Egypt's earliest representative to the League of Nations. He was also the first Egyptian to head the National Bank of Egypt (functioned as a Central bank at the time).
This exposť later shifts tempo dealing briefly with three Amin Chamsi grandsons all of whom spent time in jail for their political beliefs. Hussein-Zulfiqar Sabry, a disillusioned welterweight prizefighter and brash WW2 military-plane high-jacker, strived for Sudan's independence prior to becoming the nation's de facto foreign policy chief. Wing Commander Ali Sabry poised at the epicenter of power, first as prime minister and later as party boss only to be outfoxed by his nemesis Anwar al-Sadat. Wahid Raafat, a civil rights advocate calling for a constitutional democracy and the return of the military to their barracks. Later, he would cofound the neo-Wafd and play a crucial role in the landmark Taba arbitration.
digitally printed and bound by Elias Printing, Cairo, Egypt
soft cover, 242 pages, 54 B&W photos and clippings, genealogy trees, index...
ISBN 978-977-716-083-4
price L.E. 70
available at a respectable bookstore near you...
For more details contact author

Email your thoughts to egy.com
© Copyright Samir Raafat
Any commercial use of the data and/or content is prohibited
reproduction of photos from this website strictly forbidden
touts droits reserves