egy.com suggests following articles
Several of my articles on Garden City were plagiarized word for word by novelist MEKKAWI SAID (winner of the Egyptian State price for literature!!!!) and re-published under his own name in a three-part series in El-Masry El-Youm daily in September 2015.
Cheers to our "talented" literature prize awardee. Your pain his gain !!!
EGY.COM - MAADI
REMEMBERING MAADI

by Sas Browne
Photos by John Samples
for EGYPT TODAY Monthly Magazine
January 1994
---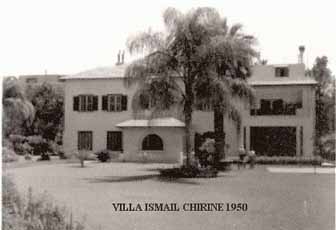 The "haunted house" stands forlorn, its garden dusty and dry but still a refuge for the birds nesting high in the old trees. A tree-house reminds curious eyes that children once played here and the small empty heart-shaped swimming pool evokes better times. The building shrouded in the familiar brown coat of neglect and old desert dust is "maintained" by a "guard" and his family who apparently live a simple life in the scullery.
This Maadi villa, and others like it have survived the glory years of Maadi told in a new book by Samir Wahid Raafat, tentatively titled Maadi 1904-62, A Social History of a Cairo Suburb. There are several areas of Cairo where old villas stand witness to a grander past, inspiring the casual observer to wonder about their history and the people who lived in them. Both Zamalek and Heliopolis have their share but Maadi, where the rush towards modern apartment blocks has not quite obliterated evidence of it more sedate past, has the heaviest concentration. A wild array of architectural fantasies were indulged, according to Raafat, a regular contributor to the Egyptian Gazette on historical and social issues and a marvelous raconteur. His publisher, Ian Portman of the Palm Press, declares himself so impressed by Raafat's tenacity as a researcher that he is considering commissioning further books.
Raafat has traced Maadi town back to its founding on a narrow strip of fertile land by enthusiastic developers of the Egyptian Delta Land and Investment Company EDLICO, who planned the streets and built the first houses. He tells of the personalities who made it what it became in its heyday a melting pot of nationalities united in their creation of a delightful garden town. Since then, Maadi's tranquil and organized past has been irrevocably altered by developers and speculators. "My book will carry an 'author's note' says Raafat bitterly. "During the 18 months I spent working on it 23 villas were destroyed in Maadi."
Raafat, the son of a well-known nationalist lawyer, Dr. Wahid Raafat, grew up in Maadi. As a child he played with the neighboring children, Henry Joseph and Micheline Zaidan in their garden with the heart-shaped swimming pool and tree house, on the corner of Road 84 and Mustafa Kamel Street. He recalls their pets, Spanny the dog and two horses, Nadia and Biscuit, who were kept in a small stable in the garden. He remembers the glamorous parties when their father, an automotive dealer with offices in Soliman Pasha Square, entertained Lebanese President Chamoun and all the local glitterati. He was saddened to watch the fate of the house after it was sequestrated and frustrated in his attempts to rescue it.
Raafat says that he and his contemporaries lived "in a paradise" but in blissful ignorance that the tides of change were working to destroy it. "We took it for granted. Maybe, had more of us realized what was going t happen, we would have resisted the change.. It came so gradually, So we sat back and allowed it to happen."
Raafat grew up during the Open Door years and has undoubtedly reaped certain benefits. His father bought a parcel of undeveloped land in 1973, and built a small three-unit apartment block on it, which has yielded Samir a steady income ever since. Built to conform to the construction regulations, it is now overshadowed by its monster neighbors.
But he has also borne witness to the downside -- the destruction of the beloved Maadi of his childhood. He had already had articles published in the Ahram Weekly and this encouraged to take up his pen again.
"I was sick of sitting around with friends complaining about what was going on, while nobody seemed prepared to do anything.
After President Sadat allowed people who could prove ownership to their sequestrated property re-possession albeit sometimes with sitting tenants, Raafat found himself helping "returnees" whose properties had been seized through Egypt's labyrinthine bureaucratic processes. "Going around the courthouses I [became] determined to write an article and the article mushroomed into a book. I was determined to at least document and describe the Maadi from 1900 to 1982 before it disappears forever beneath the bulldozers and high-rise apartment blocks."
Although many houses have been destroyed, Raafat hopes that his book will encourage a movement towards the preservation of those still standing. His story is of interest for a second reason: he tale is nominally Maadi's butt the social and economic aspects are a microcosm of Egyptian history from the turn of the century until the 1960s.
Raafat had little inkling of how difficult it would be to research the "blank years' between 1904 and 1034. After all, there are few people alive today who lived in early Maadi.
"you do not go into a public library and find what you are looking for. You do not go in the notary publish and find old titles and deeds. The National Archives were uncooperative. The Maadi Club and Maadi Company do not have any records.
"He describes his research as "painstaking," and found officials suspicious of his motives. It took him four months to gain access to the synagogue. He spent many hours in the "dungeons" of government buildings sifting through old papers written in English or French, quite incomprehensible to their current keepers. Many records have been lost or destroyed. While his original impetus came from returnees, has also traveled to Switzerland, France and the United Kingdom to interview former Maadites, who were delighted that someone was interested in their childhood memories. He has had an extensive correspondence with former managing-director of EDLICO Geoffrey Dale, now living in England, who has been able to furnish him with marvelous old photographs. He also visited the remarkable Denise Newman. Born in 1918, she lived with her parent James and Jess opposite the site where the church on Port Said would be erected. Her father worked for the Nile Cold Storage Company which imported meat from Australia. A strong swimmer, she was Maadi Sporting Club's champion from 1928-32, and competed in 1938 Olympic Games on the British team. "She became the first female skipper in the Royal Navy ad now runs a sailing school in Chichester [on the English south coast]," continues Raafat. "She has written a book called In at the Deep End which has a chapter about her youth in Maadi."
"The introduction of the railway to Egypt put Maadi in the map," says Raafat. By the end of the 19th century, only the land between the river and what is now the filled-in Khashab Canal was cultivated, planted with orchards and vineyards and recipient of the annual inundation. Beyond, desert and wadis stretched all the way to the Moqattam Hills. In t1904, the expanding Delta Light Railway Company acquired the existing Suares line. Meanwhile in true Wild West fashion with an eye on the future young Mosseri cousins were busy buying up land on either side of the tracks at the price of LE 42 -- LE 50 per feddan. In April of that year, the Delta Light Railway Company formed a subsidiary company the Egyptian Delta Land and Investment Company (EDLICO), and in December the Mosseris sold their 431 feddans to EDLICO at LE 200 per feddan. This not only heralded the brilliant career of 19-year old Eli Mosseri who went on to become one of the richest men in Egypt. It also marked the foundation of modern Maadi. These feddans now form its very nucleus.
In 1905, under the first general manager, Captain Alexander James Adams, a retired English-Canadian officer, EDLICO planned the new town. All the main streets radiated out from the railway station Square, which is now just a roundabout under a flyover. The main roads led to green roundabouts and all other roads were either parallel or perpendicular to the railway station. Seven of the main roads took names of Maadi's founding fathers -- Cattaui (afterwards al-Nadi), Mosseri (Orabi), Rolo (sad al-Aali), Menashe (Mustafa Kamel), Williamson (Wahib Doss) Palmer (Damascus). Today's al Nahda and Road 9 were originally Fouad al-Awal and Farouk in honor of the two kings.
Like Alexandria and Heliopolis, and other burgeoning towns, Maadi had a cahier des charges which controlled all construction work. This rule book specified precisely the colors for shutters (red or green), the ratio of garden to building per plot, the width of the sidewalks. It forbade buildings higher than 15 m. and shops on the east side of Road 9. The company recognized the importance of landscaping and greenery and planted many trees from foreign lands, such as the bauhinias, jacarandas, and flamboyant (flame trees) along the streets, for their beautiful blossom. They also lined the Khashab canal with Australian eucalyptus to repel mosquitoes and planted casuarinas as windbreaks. EDLICO employed Meyr Y. Biton to provide nurseries fro trees plants and to cultivate its fruit orchards, as well as the vineyards which were on the site of modern Victory College. A familiar figure, affectionately know as Old Mangoes & Bananas, he rigorously ensured that every street had its garden flooded weekly by rich Nile water, carried by the ingenious underground piping system which has bequeathed us those old concrete inspection holes. Maadi boasted many beautiful gardens often filled with English plants such as hollyhocks, roses, petunias and chrysanthemums, and Maadites regularly won prizes at the annual Cairo flower shows. Christians worshipped in a metal structure on Road 14; later the new St. John the Baptist church on Port Said Street was the scene for many a community wedding and christening, while Meyr Y Biton gave the Jewish community the synagogue which bears his name., It can still be seen on Orabi and Road 13, ignored even by the sleepy policeman whose detail is to guard it. Twice a year, however it revels in former glory as the small local community attends services, as driving downtown is forbidden on these feast days.
Until World War I, the new inhabitants to Maadi were generally Anglo-Egyptian, like the retired Captain Adams, whose house still stands on Wadi al-Nil Street beside the railway line, although the original plot has been subdivided. These Anglo-Egyptians joined the service of the expanding Egyptian government as senior members of the police force, bank controllers, health and customs officials. One such newcomer was General Drury Blakeney who had devoted his military life to "building railways for Her Majesty in such far-flung parts of the Empire as India, Burma and South Africa," says Raafat. He was appointed director of Egyptian State Railways during the Protectorate (1914-22), a very important cabinet-equivalent position. He occupied a beautiful English-style house encompassed by Road 12 with al-Nahda and 11 (just up from Tony Hilton hairdressers). During World War I this was temporarily the Australian Light Horse Brigade Hospital. Today, its gardens still inspire one to pick a croquet mallet and wonder if there will be cucumber sandwiches for tea. Despite the proximity to the flyover today, the atmosphere is pure forever-green England. Raafat laughs: "They came to build Stratford-on-the-Nile and to make gooseberry jam and marmalade." The house currently owned by the children of Hilali Pasha, Egypt's last prime minister under King Farouk. Judging by the state of its exterior, its days are numbered.
At this time there were many foreign nationals in Egypt who had what was termed an "Egyptian career," he explains. They spent their entire working life here, and expected to raise their children and eventually retire in their adopted country. They were of a pioneering mentality, willing to work hard to tame the desert and to construct whatever the community needed. "The jet-age two-year assignment was virtually unheard of," says Raafat.
For almost 40 years EDLICO was managed by such people. Tom Dale, born in Mansoura (Delta) where his family had settled in the 19th century, joined EDLICO in 1916. His son Geoffrey Dale succeeded him as general manager. Their latter day standard-English-colonial style house stood at number 46 Road 83, but was destroyed in 1970. The Amoco Center on Road 17 stands in part of the garden. Another character from this era was Mrs. (Henriette) Robert Devonshire known as "the grande dame of Maadi." She arrived in 1913 and later moved to No. 74 Road 15. She wrote many books, most famously Rambles in Cairo 1914, which is at the AUC library. "She was the first woman guide for the Islamic sites of Egypt. She was in demand as a lecturer from Cambridge to Morocco. One of her disciples was the world famous Arabist, K.A.Creswell who was her photographer, and later donated a library to AUC.
Although World War I temporarily arrested Maadi's development, by 1930 a new construction boom was underway and society was becoming more multinational: Greeks, Syrian, Swiss, and Italians built lavish new houses and contributed generously to the welfare of Maadi. One such house was the one with the heart-shaped swimming pool across the road from the Raafat home, later owned by Michel Zaidan. In 1934, the Jewish-Italian Alberto Carmona employed renowned architect Ayrout to create his house in a grand art deco style. Another house dating from this period was the Korean' ambassador's old home on Road 83, which favored the Italian renaissance style and disappeared into an ugly hole while this article is being written.
Maadi was not alone in attracting groups of foreign minorities often called "colonies". There were many Swiss in downtown Cairo and Alexandria, while Heliopolis boasted a very international society. One of the undoubted advantages of life in Egypt was that until 1949, a set of laws called the Capitulations allowed that no foreigner was liable either to Egyptian jurisdiction or to taxation.. The large Jewish community, often but not always originating from Ottoman provinces, acquired the passport or protection of an adopted country, such as Britain, France, Holland or Italy, in which they had never lived, in order to be eligible for these foreigners privileges. In fact, Raafat reckons that by World War II the Jewish community formed the largest single minority in Maadi. "The town's makeup reflected the makeup of urban Egyptian society in general. It is only more apparent in Maadi because it was a small community."
During World War II, Egypt was invaded by thousands of troops, some of whom camped out in Maadi. Between 1940 and 1946, maintains Raafat, Digla hosted 76,000 New Zealanders of the Eighth Army, the South African Survey Corps and the Polish Signal Corps. The Maadi Sporting Club, which by now had a gold course (hence present-day Golf Street and district), with its policy of "members and officers only," became more British than ever, while local shopkeepers served the soldiers;' needs by operating a lucrative black market. This "invasion" shattered the calm of the self-sufficient oasis and the war divided families against themselves.
After the war, the suburb welcomed many more Egyptian families, including that of Dr. Wahid Raafat, whose relatives (the Sabris) were already living there. Hassan Mazloum Pasha, who had joined the EDLICO board in 1930 as its first Egyptian member, became its first Egyptian chairman in 1945. With King Farouk's brother-in-law, Youssef Zulfikar, and Tewfik Doss Pasha, a prominent parliamentarian, also on the board, Raafat reckons that its collective power and clout would have seemed to ensure continued prosperity. History proved otherwise.
The Suez crisis in 1956 obliged French and British passport holders to leave. This included many Jewish families, who as citizens of Egypt's enemies, were obliged to leave the land of their birth. Raafat is adamant on one point. "It is a fallacy that all the Jews were thrown out en masse. Ironically, it was those who had worked so hard on getting French and English passports who had to recognize their horrible miscalculation.
As the country began experimenting with socialism many business people liquidated their assets and left. The once thriving synagogue closed. The church was almost empty.
In 1962, EDLICO disbanded. Raafat watched as new neighbors moved in. The Zaidan home was sequestrated and rented out as a boarding house for 70 girls from al-Azhar school. A new era had begun.
The book ends here but Raafat promises to write an epilogue. "I owe it to Maadi to write an epilogue," says the soft-spoken author. "It will be rather subjective because I lived the epilogue and I don't like what I see."
"There were two nails in Maadi's coffin," muses Raafat as we sit in his book-lined study in Maadi. The first was socialism when the government bought out the private sector, which led to an exodus of business people and the intelligentsia, creating a glut of properties for opportunists to acquire. The second was the 180 degree change of policy to capitalism in the mid-1970s which gave a free rein to market forces.
"Overnight it was no longer feasible to buy property and build a villa. You wanted a quick return on your investment and the prices were very high due to a huge demand from foreigners who had come to take advantage of the Open Door Policy." Within months, a decent apartment which rented for LE 200 a month was going for $1000. Naturally, everyone started building high-rises.
"I'm hoping my book is going to make people realize that Maadi is worth saving." He shrugs, accepting reality. "You have the uncontrollable birth rate and need hospitals and schools. You can't really say from now you only build villas -- what about the people who need somewhere to live?"
The pioneer mentality which built Maadi from a strip of green on the edge of the desert is gone, but what is surely missing now is that spirit of community and orderliness which not only controlled the physical growth of the new town, but also imposed its own code of conduct and building practices. Ideally, Raafat would like owners of architecturally distinguished old villas to look beyond the value of land on which their property stands. He would make them aware of their responsibilities as custodians of Maadi's historic past and as molders of its future.
"Now we are living with a ghetto mentality," hiding behind our walls while the wild dogs roam the streets by nigh scavenging in the overflowing litter dumps. Control has passed to the state and proddings from concerned residents can have only limited effect. He tells the tale of the woman who took a new developer to court because the new building next door was going over the statutory five floors. The developer offered her a cash payment to withdraw her suit and the building rose to seven floors.
As for the Zaidan house, a new home was found for the girls from al-Azhar in Nasr City in 1972. Michel Zaidan, now an old man, returned from Montreal and regained possession in summer 1992. "The new owner bought it at LE 1,700 the sq.m. last year. It now fetches LE 3,000 almost double within a year." So what does the future hold for it? "Oh, I expect they will pull it down and start building another high-rise before long."
---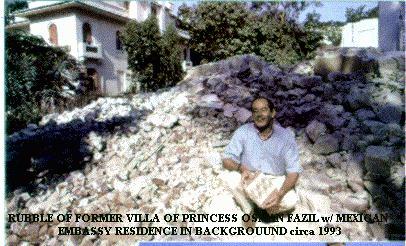 Samir Raafat on top of rubble of villa once owned by Emanuel Mizrahi Pasha, former lawyer to King Farouk of Egypt.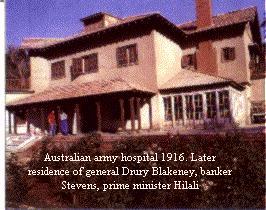 Villa used as Australian Light Horse Brigade hospital during WW-I, occupied subsequently by General Drury Blakeney director of Egyptian State Railways; Frederick Stevens, director of Mortgage Bank; Naguib Hilali Pasha, last prime minister in Kingdom of Egypt (1952).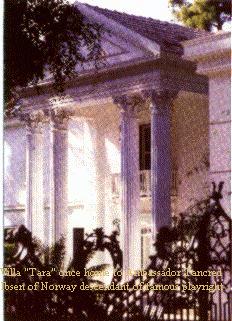 Entrance to villa once the residence of Tancred Ibsen ambassador of Norway.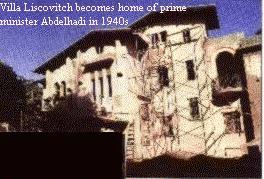 Villa of Jeweler Isaac Liscovitch, president of Ashkenazi community in Cairo in 1940s; then occupied by prime minister Abdelhadi Pasha. Now, owned by banker restoring it.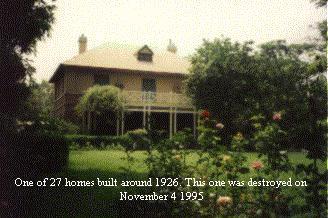 Typical Anglo-Egyptian colonial-style villa in villa. One of 28. Pulled down in November 1995 . picture by Samir Raafat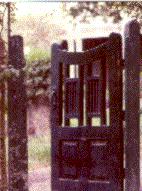 Door leading to villa in picture 5. Seen better days.

Maadi corniche. Entrance to once sleepy town. Picture by Samir Raafat

Email your thoughts to egy.com
© Copyright Samir Raafat
Any commercial use of the data and/or content is prohibited
reproduction of photos from this website strictly forbidden
touts droits reserves