---
Subject: Maadi 1933-46
Date: Wed, 23 Mar 2005 09:23:41 -0500
From: Frank R. Nissel

I lived in Maadi during its glory years from 1933 to 1946 and grew up there starting at Miss Ray`s school. You have my family mentioned under Niesel.

Your book recalled many fond memories of the many nice people I lived with at the Club and elsewhere. I was on the famous swimming team with Aly Sabri and I am standing next to him in the picture of the swimmers at the club. We lived in the Josipovici building Road 11 No. 16. During the war the apartment below us was occupied by the British Air Chief Marshall, Sir Arthur Tedder who got me into flying all over the Middle East. After attending the Lycee Francais in Bab el Louk I attended the newly opened English School in Heliopolis. During that time I was a member of the British boy scout team headquartered in a building right on the Nile in the Kasr el Nil barracks right where the Hilton is now. In spite of my stateless German origin my scout uniform is all that it took to walk right into this British headquarters.

We were among the evacuees to Palestine in 1942 when Rommel was in El Alamein. After returning in early 1943 I attended AUC under Worth Howard for whom I baby sat occasionally. Badeau was then the president and later the US ambassador. AUC bought our apartment for his use when my parents left in 1948.

I worked as the movie projectionist for the US Headquarters in Garden City where I made friends with the top brass who wanted private showings of the first run movies at their homes. This got me a medal and passage to New York on the last voyage of the Victory troopship NYU Victory.

I was back in Egypt once around 1965 on my way back from cholera infested India but they would not let me in due a lack of vaccination. My acquaintance with the health minister, the US ambassador and with the prime minister, Aly Sabry got me sympathetic phone conversations with increasingly incredulous customs officials, but no admission.

I was back again on a business trip with my daughter in 2003 and found the Egyptian hospitality to be the nicest that I have ever encountered. We were at a reception with Zahi Hawass at the U of P museum last Friday.

Thanks again for reviving such pleasant memories!

Best regards,
Frank R. Nissel, President
WELEX INCORPORATED
850 Jolly Rd.
Blue Bell, PA 19422 USA

---
Subject: Re: Maadi
Date: Sun, 20 Feb 2005 13:38:51 -0800
From: Paul Rupert

My grandparents were Max and Renee Rotschild. They had indeed two daughters: Emilie, called Emmy (my mother) and Elizabeth, called Lily. My father, Edmond Tatin was Max Morgenstern's step son. His mother Sylvie, nee Tatin, and Max Morgenstern lived in Heliopolis.

Max Rotschild had three houses built: his own on Midan Menashe, designed by Mr,. Schenoha, and one for each of his daughters. My mother's where we lived was at 36 Road 15, and my aunt's was just next door on Road 15. Across the street from the latter house was a large apricot orchard which also belonged to my grandfather, and where my father raised chickens (I recall some Rhode island reds, but he had several variety of chicken).

My friend Emmy Hettena grandparents Morris and Violette Gold owned a house at 29 Road 83. Her mother and she knew Annie Gismann quite well, and she has been very touched by your piece about Annie which appeared on the Internet.

Thank you,
Viviane Rupert nee Tatin
---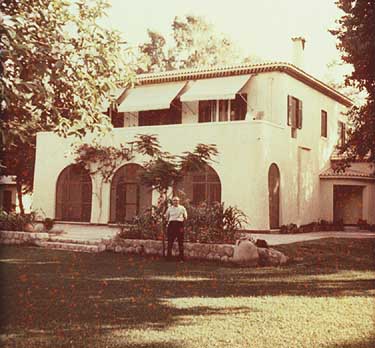 Above and below: Rolf Freidrich Villa (Maadi House) on Road 19. Sometime resident Mr. Alfred Bond in the mid 1950s seen in photo with gardener Alyan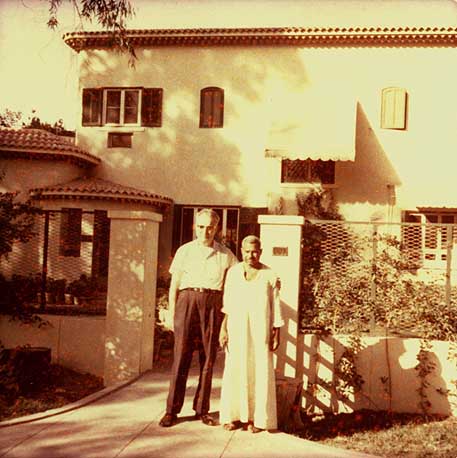 Subject: Maadi
Date: Tue, 22 Jun 2004 16:14:44 -0500
From: A. B. Bonds
I stumbled into the Maadi website and yours is the only address I could find. My family lived in Maadi in the early 1950's. We moved away permanently in 1956--though the word on the street was for Inglizis to leave, as Americans my Dad thought it prudent to vamoose as well. He was Alfred B. Bonds, Jr. and he was the director of the Point Four aid program, had an office in the American Embassy. We started out living in Garden City ('53) and moved to Maadi shortly thereafter, House 21, Road 19. This lovely villa is now known as Maadi House, it was subsequently bought by the Embassy. That is probably the only thing keeping it from the wrecker's ball, but I would note that as of my last visit the grounds have been severely diminished, with the stables, riding ring and garden now being occupied by a large apartment house. I and my older sister attended CAS (2nd, 3rd and a bit of 4th grade for me), my younger sister went to the Victoria College kindergarten. The family went to St. John's Church right around the corner.
My sibs and I occasionally get back, but during the last visit (1999) it was difficult even to get around the city due to high security. We were told to leave a number of times, and were even forbidden to take pictures. A sad business.
In any event I have a few photos and memories from the era (Ayed the bicycle man and Alyan the gardener...) that I could share if anyone is interested. The expat community was very well-developed and active at that time.
A. B. Bonds (III)
---
Subject: Letters to Maadi - An Answer
Date: Sun, 25 Mar 2001 13:38:20 -0500
From: John T. Boeck

It's the turn of the Millennium and I have only now discovered this internet site. I am a Maadi ex-pat also. My father was an embassy employee and we lived at Rue 150 for several years, across the street from my 7th grade science teacher, Mrs Mustafa Mameesh.
I am thrilled to read about the familiar places and see other's accounts and exploits. One in particular struck a VERY familiar, albeit bashful nerve. It was summer of 1961, and being out of school, two of my brothers and a friend were riding our bikes around town in search of distraction. Passing CAC, we came upon the abandoned home the one you describe is (the one in digla behind CAC) that later, I hear, became known as the "haunted house." In my days, the driveway, behind the gates was lined with abandoned trucks -- both for cargo and for oil/gasoline. Of course, this house had been an interest for all the young guys at school. But on this day the planets must have aligned just right, the winds must have nudged us, or the allure of some shade -- something-- convinced us to snoop around the house. After climbing on the trucks and seeing nothing much of interest, we went around the right side of the house. There, just above our heads was a window that did not appear to be fully closed. Boosting a brother up, he was able to push the window open far enough to slither inside. I followed. I stepped down onto a toilet top...we had entered through the bath. My brother had gone around to the front door and unlocked for the rest of the party.
The house had be abandoned for a long time. A sandy dust covered everything. The furnishings that remained were covered with sheets and everything we touched left evidence of our presence. I guess we expected to uncover something exciting but as we looked around all we saw was an empty home. No clues were there to suggest the presence of the little convoy in the drive. The adventure was becoming anticlimactic, but not to worry.
The Maadi police saved the day. To this day I don't know how they discovered our escapade but they did. About eight policemen and an officer arrived in their black wool uniforms (how could anyone wear wool in the summer?) with their sub-machine guns at the ready. It seemed like we were dangerous men for a few minutes. I remember a sergeant coming into the foyer, where we were surrounded, and pointing back into the bath. Our entry point had been discovered. In a few more minutes the discussion amongst our captors indicated that they saw that we had not disturbed anything but the dust. BUT that did not save our hides. No indeed. We were taken outside and loaded into a truck with our bikes. There wasn't enough room in the truck now for me so I got to ride in a motorcycle sidecar!!! This was turning out to be a better adventure. But the next stop was scarry.....have you ever seen the inside of the Maadi jail? For 5 young foreigners, children of diplomats, we knew that we were in for trouble....as much from mom and dad as from the cops.
At the time there was no reflection on the episode as an adventure...it only seems like one now. Our parents arrived, and amid profuse apologies to the police officer, we were hauled home. That summer we were to go on vacation to Alexandria, to the beach. That was the first punishment. It was as significant as the scolding that followed....but I can't say we didn't have it coming.
One can see why this is a bit embarrasing...admitting to being dragged off by police. It was then and is still, a bit. We just didn't run as fast as those young ladies in 1969. But we did uncover the mystery of that house. So there was a silver lining. The house had belonged to some citizens that did business with the army. But they were caught in illegal operations so the government raided the home. The purpetrators had fled the country before the raid. So the government sealed up the house and had some kind of watch on it in case the owners returned for their possessions. It sounds like the little convoy was subsequently removed, since by 1969 according to "JMDock", they were not in evidence. I cannot say that the above is fact, but it is what the police told my father at the time.
adieu
John T Boeck
9711 Wax Wing Pt
Centerville, Ohio USA
Project Manager Computer Sciences Corporation
p.s. Would you be so kind as to forward this to JMDock?

---
Subject: The Egyptian Gazette
Date: Tue, 25 Sep 2001 12:14:04 EDT
From: Ford

Greetings: We lived in Maadi from June 1981 until December 1984. I have been trying to pull up The Egyptian Gazette Newspaper. We so enjoyed our three and a half years in Egypt. I was superintendent over the Gupco warehouse in Rashakier. They say once you drink from the Nile, you will return. We are looking forward to that day. Thank you,
---
Subject: El Maadi site
Date: Thu, 22 Mar 2001 01:58:40 +1100
From: Aniece Hanna Fahmy

I am writing to you from Australia. we left El Maadi and indeed Egypt in 1968. This site brought back great memories as we lived 1st in 108 street 9 then moved to Degla.
One of my Sunday School teachers put together in 1961 (well before the destructionof many villas) a university project "photographic collections of Kosor el Maadi". I recall seeing the album with 8" X 10" black and white photographs, if this is of interest I will supply you with the name and phone number.
I have read the letters published on the site and in particular the one with from Subject: Re: Homes in Maadi Date: Thu, 11 Nov 1999 15:56:38 -0500 From: "JMDock"
I used to live in Street 209 Degla (near el Medan connecting streets 208, 209 and 210 across the road was the Fence of El Ameera Fawzya) now CAC.
The villa my father build in 1961 is still standing , thank to an order halting the destruction of villas in the area. The house as described in the letter by JM Dock did not escape my childhood adventures, I recall a big in-ground swimming pool at the place and a collection of Petrol Tankers outside the Villa (it was near Gamiet "cooperative" Awladi)
If this is the same site I recall the story of the owners and wish to share it with the writer, (I may have to confirm some details it with the many Maadi friend who live here in Australia.
On my last visit to Egypt, that particular place (three stories) has been re-devloped into flats (was still under construction in 1997), I think the grand children were allowed to resume ownership and develop the building without destroying the building. I shall be looking for the book, I may come across a copy in Australia.
Thanks for a great site
---
Subject: Maadi map
Date: Tue, 19 Dec 2000 22:19:12 -0500
From: Ellen Thorne

Have you ever read by EF Benson? He died around WWI, but his stories of people and their foibles in small towns are still funny and popular, even made it to BBC. I look forward to reading everything you put on the web --I loved your reference to the Fishing Fleet. My childhood family friend, Nabil Youssary, of 2 Orabi Street, told me that marrying a foreigner is (these are my words: like fish is neutral, not meat or dairy) accepted and judged only by their actions alone, not with the baggage of family status that is known to everyone. I remember some European/Egyptian marriages to Americans, and I remember also what was said about a former "profession" , so much for reputation.
It is sad to read about the destruction of old houses for apartments, something that can happen in every city that doesn't have zoning and population control. It happens everywhere, I tried to save the town's Victorian train station, which the town refused as a gift from the train company in the name of saving money. I did get it on the state register which prohibited an owner from deducting the cost of destruction. He tore it down and replaced it with a 2 story yellow brick office building. My nephew just got a job there working with databases, at least he can walk to work.
There was a large house in Maadi that was surrounded by a pit or dry moat and small walls. South end of Maadi, north of the Lycee Francais, perhaps near the road with the Catholic Church. Does this sound familiar to you?
On people, did you know Harry Hoogstrall? He was a friend of my parents. My father use to bring him tropical fish from India. Uncle Harry, as we called him, brought back a Leopard skin for my mother. I still have the cape. His work with ticks was interesting. I think he worked for the navy NAMRU? sounds like the name. Last time I saw him in 1983 I was visiting his lab. Either on that visit or back in the 1950's I remember feeding one of the lab bats.
My mother was a very good bridge player and as children we would go with her and either play with the other children or wander around. I remember feeding gazelles in a garden (near the train tracks, maybe police station, and south of the stores, at the house of Bakry Bey. I am spelling the name from sound. I remember my mother saying he was connected with or inherited the position as head of a large religious group.
Did you know the Doss family in Cairo? Dr. Haleem was our family doctor as well as friend. His sisters were with WHO and the UN. My mother once had a photo album of a house or palace that was in the Mokatam hills overlooking the Citadel. It looked like the pictures were professionally done and given to the guests as souvenirs. I will hunt for this and send you a scan when found.
Who were the little princesses that lived on Shara Fouad in Maadi in the 1950's? I would like to create a Maadi map from my memory, and then match it to your map for accuracy. Is there a way you can send me an email attachment of the old Maadi map? I would love to have an enlargement of it, and my photo friend at work makes me 3 ft wide prints for special occasions.
Ellen Morris
---
From: Rog Denis
86, Two Hedges Road
Bishops Cleeve,
Cheltenham, Glos.
England
Subject: Maadi Book "Maadi 1904-1962; Society & History in a Cairo Suburb"
Date: April 2000
Dear Carolyn,
Firstly, I would like to thank you so much for the Ma'adi book. I have thousands of books on huge variety of subjects, but not one--not even on my central interests--brought as much intense please as this one book. I don't know if your father explained the circumstances, but it's frightening to think of how close I came to never knowing of it.
Quite by chance I met your father in a corridor I don't often use. I remarked I'd not seen him in a while and his reply was he'd retired some years before surprised me. That we met on this one day in that one place is coincidence enough. To then find that you live in Egypt and not just that but in Ma'adi too, carried that coincidence to extremes. He only said he's ask you to send me a map, but when he produced a book as well...Serendipity doesn't begin to cover it!
That day I did little work and carried on reading at home that night. I started at the back, thinking there would be little of relevance prior to 1951. Notso! As I read from the front, it was answering a huge number of questions, that I had never thought even to ask my parents. In particular I found that the 1st WW ANZAC camp was effectively under Ma'adi and that what I was looking at in the desert was a 2nd WW camp. Also the College pool dated from the last war not the first. Then I read the acknowledgements. I suddenly had the potential solution to a 43 year dying hope. I could not beleive my eyes.
One of the sources Mr. Raafat used was Mrs. Jean Zaidan someone I have wanted so much to contact for over four decades. When my father finally left Egypt in 1956, he was allowed to take only two suitcases. Everything else was left-wedding silver, sports cups and medals-the lot. However he did leave our family photographs with Jean. Included in these were two wartime ones of my father's time in the Ardennes during the Battle of the Bulge. I remember them vividly, though I saw them aged eight and a half. I am now 52- a long time to fill the gaps im my family archives!!!
They lost so much that all my life I've wished to be able to recover at least the photos for my parents. Thus far I've kept the book a secret from them, intending that as a surprise, but time is marching on. The icing on the cake would be to recover the photo's, which she hopefully kept, but especially to put them back in touch with the Zaidans. I asked some oblique questions of my mother and she learned something new. In May 1951, Maurice, Jeans brother in-law, accompanied my father to meet us at Port Said. It is still a vivid memory, of my father coming aboard the "Oranje" and asking to see my brother for the first time. Dad had gone out in January 1951 and my brother was born in Febuary. However I had forgotten that Maurice drove us to Ma'adi. Years later, on a very chance day out in Southampton I could not believe my eyes. The "Oranje" was moored there. Serendipity again.
The photo of the Club swimming pool brought back memories. I tired of using a rubber ring, threw it off and jumped in the deep end! O course I had to be rescued. The map also showed Midan al Nahada, scene of another rescue. "Gamoussa" were grazed on the Midan and aged 4 or 5, I went up tp pat it. It promptly butted me in the stomache and I had to be pulled out from underneath! Deleving deeper, I missed another point at first. A comment about a "Gone with the Wind" house near Ma'adi Club and Kalil Reda's American wife. Suddenly it clicked. This was the mother of my best friend Kippy. Another chance presented itself for re-establishing contact. One person was something, but the chance of two was unbelievable. My grandfather was very ill, so we had to return to the U.K. in May 56 before term ended. As we expected to return, I never said any "Goodbyes" to my friends. Now there's a chance to say "Hello Again."
On a whim I made my first international'phone call and rang the publisher. We had an interesting talk and I complimented him on his English - my Arabic being almost non-existent now. Can you imagine? Primary schools here offer French if you pay for it. At the Ma'adi English School (by the Canal)I was being taught in three languages-English, French, and Arabic - before the age of seven. It was wonderful to see a photo of the place. I still have my blazer badge and all my text & exercise books, thought mum threw out the blazer years ago when I wasn't looking.
I then wrote to Samir Raafat, care of the publishers. I enclosed photocopies of the photos of Victoria (Victory) College and also a letter, with more photos, to Jean. That was way back in February. To date I've had no reply which has been a bitter blow to my hopes. Jean must be in her late 70's now and I was hoping against hope that she was still alive and I has assumed she might still live in Ma'adi and that the children would be around. Her daughter Georgette was a friend of mine (son Raouf was a toddler), as were Georgette's cousins Hanky and Zuzu Zaidan (both boys). I tried the international directory enquires. No go. Apparenttly you need to give three forenames for them to run it to earth. I only knew "Jean" and latterly "G" as a second initial from the book. So that fell flat too. As to Kippy, I've apparently to write to the Librarian at the American Embassy in London, just to start things of. However I'm worried that I'll find he went to Vietnam... I must still try.
Before trying anything even more involved, I'm therefore asking for your help. Can you ascertain an address or phone number for Jean Zaidan, or her family. If memory serves they lived in the area of Street 84, or 85, on the south side of the road. I know we used to go from Beit el Abeyat(The White House) on road 206, down 216 to the Midan Victoria, over the dykes and railway crossing and incline left. Then of course there was much more open ground, so the map is confusing, but they've probably long since moved. You never know though. It's also possible that the Reda family still live there. Then it was No.62, Road 18. I do hope you might strike lucky where I have thus far failed.
Even without the chance of contacting old friends, the book is a wonderful thing to have. You cannot imagine what it has meant to me to be able to read all about it. It has even outclassed a book on Sherborne, Glos (where we eventually lived from 1957) and two volumes on my old school (even though there's a photo of me it it!) To say "Thankyou" seems so inadequuate and I know my parents are going to be bowled over by it.
With many many thanks,
Rog Dennis

---
Subject: Arc in Maadi
Date: Sun, 10 Dec 2000 16:14:22 -0500
From: Ellen Thorne


It is with great pleasure to learn about Maadi where I lived from 1947-1956. I left when I was 12 so my memories are those of a happy childhood with a freedom to roam not only Maadi but the outer edges of the villages.
I was a student at the Lycee Francais from about 1949-1953, then my parents sent us to CAC, the American school. My brother and I spoke French and Arabic and were welcomed everywhere. We would walk by the house of the princesses on Shara Fouad and look through the gates, but they were not allowed to come outside.
I visited Maadi in 1983 and went to see the Lycee. I have a photograph of me standing under the arc and now thanks to you, I have the history of what it is and where it came from.
Even now, my heart is in Maadi's past. I admire the Islamic architecture. My father was Charles W. Thorne, a TWA navigator. He was a member of the Yacht Club and the Sporting Club in Maadi where he played tennis and golf. My parents knew many families in Maadi. I remember and have met again the Yussry family of (now) 2 Orabi Road and a lady who my mother knew and admired greatly, she was the daughter of a mayor of Cairo, and the widow of Mr. Sharif of the Jockey Club.
Your article brings back such happiness and a thirst for more information about Maadi and Cairo. Thank you,
Ellen Thorne Morris
Allenhurst, NJ
---
Subject: Greetings from Switzerland
Date: Mon, 5 Jun 2000 15:05:25 +0200
From: Viviane Hauf

A friend of mine ex-Maadi child like me, now living in New York, informed me of your book and gave me your website which I am very thrilled to find. She said your published a book which is out of print and says you did mention my late father Dr. Maurice Hauf. He practised first in Cairo and then in Maadi where we were living and where I was born in a house at Midan Suarès. I have very fascinating and vivid memories of my childhood years. We left Cairo a week before the Revolution and the house was taken over by the family of Hadr Bey Gabr who were the owners of it. It was very hard to adapt to Switzerland and I have never forgotten the memories and flavours : many people have told me : what is the first 10-11 years, why does it mean to you?
It makes all the difference, a world of difference, as my grandparents were already there it seems thr presence is much older than just my years. I) have batches of lovely old photos showing life in those times. My father was very well-loved by his patients and he treated poor and rich alike, was also the Royal Princesses doctor in Maadi and he took me to visit them. In case you are interested, I have lots of lovely anecdotes if you're interested. Like when I made my first return to Egypt in 1984 and visited Mrs. Gabr in our ex-house.
Hope to get a reply from you, I love to exchange memories of Egypt. Just the sound of the word Maadi makes me jump. I used to speak some Arabic and learned it at school Maadi English School and have retained quite a bit so that on my return I was able to make myself understood and all the people seemed so happy with that. In return I got the best treatment in cafés and restaurants and hotels. all the familiar words returned to me. I also went to Hurgada which is beautiful but not the same as I have memories there.
Best regards,
Viviane Hauf
---
Subject: Maadi
Date: Sun, 19 Dec 1999 18:26:21 EST
From: Peter Swift

It was a pleasure coming across your article. I was born in 1947 and my family lived on Road 10 in Maadi around 1951-1952 when my father worked for TWA. I have fond memories of our gardiner, Desoogi, who took imense pride in his workmanship. I also remember the great warmth of the Egyptian people, generally. My brother was born in Cairo in 1949. He traveled back there in 1989 to celebrate his 40th birthday. I look back to our photo albums of that period often and hope to visit again some day. That experience, by the way, had me study Egyptian Archaeology for a couple of years and still follow it as an avocation.
In fact, I am a Civil Engineer and Town Planner working almost exclusively with something called New Urbanism. This is a movement in this country attempting to bring back the dignity of turn-of -the-century mixed use, walkable neighborhoods based on the re-establishment of community. It is good to see that type of sensativity applied to a neighborhood I once cherished.

Longmont, Colorado, USA
---
Subject: Re: Homes in Maadi
Date: Thu, 11 Nov 1999 15:56:38 -0500
From: JMDock

I grew up in a vill that stood on the corner of road 17 and raod 83...its front door faced 83 but we always used road 17's kitchen entrance. It had a formal dining room a family room complete with fireplace with a formal living roomjust off it. behind the family room was a half bath, the formal entry vestibule, and a samller room that my mother used as an office because of the proximity to the telephone room. Down stairs there was a few rooms......one we used for my fathers tool; one we used fro the laundry ..and all the laundry ladys stuff, one was my brothers bedroom (complete with shower and toilet) the other was my father's study. Upstairs there were 2 full baths and three HUGE bedrooms...my bedroom and my parents room both had balconies.
The other side of the family room had huge glass and steel doors that let to a marble veranda that had Jasmine growing up it...it grew so high that more than half the roof at one time was jasmine until my father made Salem the gardener cut it back. A passion vine grew up my balcony....but it died in 1974 and was replaced with jasmine. Our back yard had 4 mango trees, 2 lemon trees, 2 orange trees, 2 guava trees...a rose bed, a lilly bed and lots of other folwer beds. Attached to the house was a 2 room & one turkish toilet gardeners house. there was also a garage.
We were known as the only white house with Yellow shutters for years..until the color yellow caught on. When we first arrived in Egypt all the shutters were dark green or black. My mother hated that and wanted Yellow...much to the despair of the painters who insisted she change her mind..which she never did.
---
I thought you would also like to know that in 1969, My friends and I broke into the Haunted house.(I am hoping that the one you describe is the one in digla behind CAC) The Caretakers at that time did not live on the premisis and we had to cut heavy wire that tied up the gates at the entrance. we had to climb up a drain pipe to a broken window to get in. We were the first ones in there for ages...the dust was about 3 inches thick and there was no foot prints. There was remnants of furniture coverd with sheet and a few statues covered in dust. In one room there was a safe on the floor in one room and photographs scattered around. All the was up on top of the building out onto the roof was these thin walk ways that led to small storage rooms...they had trunks and boxes in them...we did not open them. Out side anahied said she saw an old type car in the garage...I cannot confirm that because at that point we were seen by someone who threatened us with a stick and I was running as fast as my legs could carry me. I always wondered what happened to the peopel who lived there. did they leave in a hurry and could never come back to get all thier stuff. When I went back in as a teenager (and we did not explore very far) there was nothing there.....did it all get stolen or moved ...diod the peopel reclaim it???I guess that is a mystery I will not be able to answer......
(Erinne Kennedy back then...I was in Egypt from 1968 to 1983) The sounds of the creaking old house scared us silly and we left. The girls I was with were Anahied Milward and Kathy Weiss (all of are daughters of AUC staff)
Its nice to know that I lived in a peice of history. I too wish it has been preserved. My fondest memories were of that place and the jasmine scent that wafted thru my bedroom windows at 7 am. The other house across 83.....if I remember it correctly it had the only pear trees in the area...In fact I used to sneak into the yard and take them. there was a villa on road 17(a bit closer to the church) that had the best oranges to eat....every garden was known for something. Ours was the Mangos. (there was great villa near road 12 that has wonderful bashmallah fruit.... When i left Egypt I walked by the house and the garden was dead I was so sad.)
Erinne Kennedy-Dock
---
Subject: Richard Milosh
Date: Sun, 15 Feb 1998 20:19:44 +1030
From: Margaret Philp

Thank you for sending me the name of Jonathan Hyde with the possibility of borrowing your book on Maadi. I enjoyed reading your articles on http://egy.com. In the mid 1950's, aged about 14/15, my friends and I would get on the train at Bab el Louk station, for Maadi, and hire bicycles for half a day, and cycle in and around Maadi. We had Armenian friends who lived in Maadi, Matossian Margo.
A large mango tree shaded the back of their villa. I was attracted to her daughter, Jacqueline who was a few years older than me. On the first of January 1963, at Port - Said,at about 9pm we said good bye to Egypt and left the country of our birth for Australia. On that same night, Jacqueline boarded a ship going in the opposite direction for England.
By the way what happened to Princess Fawzia? Is she still alive? Did she ever remarry? And what happened to her daughter by her marriage to the Shah? King Farouk's son must be about 46/47 years old. What is he doing? and Where is he living? My mother was Armenian, Alice Artinian. Her father was Arakel Artinian who was also known as Monsieur Venus from the photogaphic studio at 25 rue Kasr el Nil opposite Salon Vert, on the second floor. My father backgound was a mixture of Dalmatian and Italian. Both my parents were born in Cairo, 1913 and 1917. I was born in Shubra, 1941. I have not been back to Egypt.

Email your thoughts to egy.com
© Copyright Samir Raafat
Any commercial use of the data and/or content is prohibited
reproduction of photos from this website strictly forbidden
touts droits reserves