egy.com suggests following articles
Several of my articles on Garden City were plagiarized word for word by novelist MEKKAWI SAID (winner of the Egyptian State price for literature!!!!) and re-published under his own name in a three-part series in El-Masry El-Youm daily in September 2015.
Cheers to our "talented" literature prize awardee. Your pain his gain !!!
EGY.COM - MAADI
QUEEN DINA STREET
by Samir Raafat
Cairo Times, 18 February 1999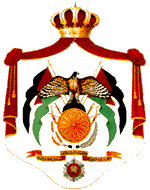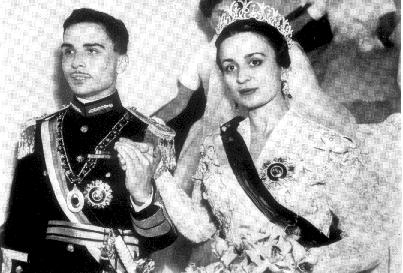 In pre-CNN days, when public opinion was hostage to state-controlled media, mega-eulogies and fairy tale weddings of foreign sovereigns were virtually unknown. So when King Hussein of Jordan came courting his Maadi belle in the 1950s, it was looked upon as a non-event. True, the suburb's blasé residents had seen it all before. Yet had audio-visual coverage been what it is today, with satellite technology and all, they might have had little choice in the matter.
The western educated bride-in-waiting lived with her uncles in a large Mediterranean-type villa, in what was regarded then as an exclusive suburb. At various times in its brief history, Maadi had been home to deposed princes and monarchs, including an ex-empress.
For it was also in Maadi that Hussein's uncle, Prince Nayef of Transjordan, wed a Turkish sultana ten years earlier. More aspiring than his older brother Talal, Nayef had taken a shot at the throne following the assassination of their father, King Abdallah. Had it not been for the resolve of the unshakable Zein --Hussein's mother--and the ingenuity of Prime Minister Tewfik Aboul Hoda Pasha, it would most probably have been Nayef's grandson assuming Jordan's throne today. Instead, Nayef was encouraged into exile, while his unassuming brother was declared mentally unfit.
Hussein, barely 17 at the time, became king.
Two years later Zein announced that a suitable partner had been found for her son. The prospective bride was Cambridge-educated and held a teaching post at Cairo University. Never mind that she was six years older than the groom. Being king would made up for any shortcomings on his part.
The choice had fallen on Al Sharifa Dina Abdel Aziz Oaun, a distant cousin. Through her father Al Sharif Abdel Hamid, her lineage--like that of King Hussein--could be traced back to Prophet Mohammed--hence her birthright designation of Al Sharifa (the Honorable).
By virtue of their Egyptian upbringing, the Cairo Hashemites were regarded as more urbane than their tribal cousins. Moreover, through her mother Fakhria Brav, Dina was also connected to Egypt's Circassian elite namely the Chirine family which itself produced several attractive consorts for Egypt's ruling dynasty.
Of course, there was the question of wealth. Whereas the Hashemite houses of Iraq and Jordan had benefited from British-made thrones following the ousting of their common ancestor from the Kingdom of Al Hijaz, the Cairo Hashemites came out empty handed. Nevertheless Dina's father and uncles claimed the right to manage a large ancestral trust (waqf) consisting of almost 2000 feddans in Upper Egypt.
The wedding was set for April 19, 1955.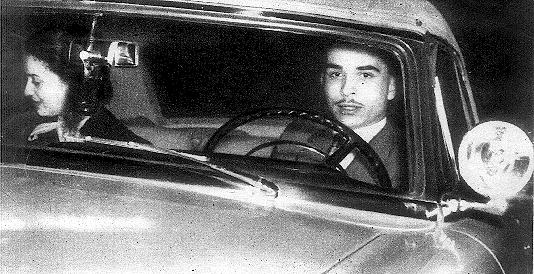 The couple's initial meeting took place at the home of a royal Iraqi relation in London. This was followed by brief encounters in Maadi, when King Hussein would go for drives with his fiancé in a large American car that made them both look even tinier than they actually were.
Aside from noting the fast cars and Groppi's yellow catering vans that frequently delivered sweets and pastries, the neighbors took little interest in the teenage ruler of what was then considered nothing more than a crossroads for desert caravans. And if one believed contemporary propaganda, Hussein's was a kingdom-by-default run by a British general, Glubb Pasha. Nasser, in a rising state of Arabphoria, had taken to lambasting Hussein's mentor on a daily basis.
A final pre-nuptial celebration took place in Maadi, where Dina gathered her friends, fellow professors and students to bid them farewell at a garden fete. The following week, the bride, along with her uncles, aunts and attendants, took off for Amman. There, a week of festivities brought together Hashemites from the four corners of the Arab World. On hand to entertain them at Zahran Palace was Egypt's foremost crooner, Farid Al Atrash.
But all was not going as planned. Except for common Hashemite blood, little else bonded the newlyweds. Differences became apparent and sometimes embarrassing. Even the arrival of baby Aliya did not help. Rather than decrease tensions, it made the presence of an omnipresent and doting Queen Mother intolerable.
Dina would learn of her divorce in 1956 while on a visit to Cairo. After a painful period of separation, Aliya was allowed to make visits. Likewise, Hussein would occasionally call on his Maadi relations.
As far as the suburb was concerned, the only thing that came out of this whole affair was that while the names of Egypt's own monarchs and royals were abolished from street signs, up came a sign on Road 78 announcing that this was henceforth Queen Dina Street.
The renamed street was kept in impeccable order--one never knew when His Majesty would pop in. But gradually, as the wily king substituted wives, swapped regional allegiances, and transformed his desert kingdom into a clean well-functioning state, his visits to Maadi became less frequent. The Hashemite villa and the privileged street decayed in tandem, and the ex-queen was seldom seen.
Today, except for deserted looking villas and faded street signs evoking a distant past, Queen Dina Street is just another rickety road. Like the rest of Maadi, it has fallen on hard times. C'est la vie.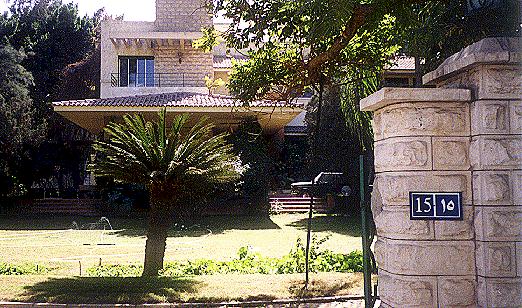 the Hashemite Villa
The Hashemite villa on Queen Dina Street was built in 1949-50 at a cost of LE 11,000.
Architect Yehya A. Moustafa designed the Hashemite Villa. He was also responsible for several other Maadi villas of the same type between 1949-55). An apprentice associated with Taliesin he obtained his M.Sc. from Illinois University in 1947.
The two-feddan plot was chosen at the recommendation of Queen Dina's cousin Hassan Amine Chirine whose mother Farida Brav was a sister of Dina's mother. The two-feddan plot was originally the HQ of a Hagana (Camel Police Corps) unit.
Also designed by Yehya A. Mustafa, Hassan Chirine's villa stood opposite the Hashemite Villa. Built in 1949 it was pulled down in the 1990s.
Between the mid 1950s-60s Villa Hassan Chirine was leased out briefly to Palestinian Arab League employee Fawzi al-Ghossein and later to the American Embassy (incl. the parents of Sonia and Tito Gutierrez.
Below are some of the street signs and signposts on Queen Dina Street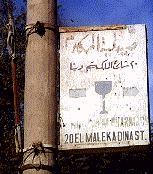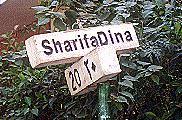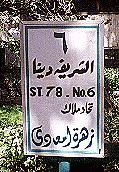 Reader Comments


Subject: Queen Dina Str.
Date: Sat, 13 Feb 1999 09:18:53 +0200
From: Arab Abdel Hady

I liked your presentation of former Queen Dina. I knew her personally and attended her wedding. You forgot to mention, or maybe you didn't know that she had invited some of her students. One of them described her when she appeared with King Hussein on her wedding day: as the Sunshine. True, she was the most beautiful bride I had ever seen.
There is much more to the story of her divorce. She was a real loss for the Jordanians as she had opened her door to the poor before the rich. She was very popular but unfortunate!! I am very much interested in your writings, if you do write on any subject, I'd be glad if you could forward them to me.
Email your thoughts to egy.com
© Copyright Samir Raafat
Any commercial use of the data and/or content is prohibited
reproduction of photos from this website strictly forbidden
touts droits reserves