egy.com suggests following articles
Several of my articles on Garden City were plagiarized word for word by novelist MEKKAWI SAID (winner of the Egyptian State price for literature!!!!) and re-published under his own name in a three-part series in El-Masry El-Youm daily in September 2015.
Cheers to our "talented" literature prize awardee. Your pain his gain !!!
EGY.COM - MAADI
MAADI RANGERS MOP UP TOWN

Samir Raafat
Egyptian Mail, Saturday September 27, 1997
---
A posse of T-shirted ,jeans-clad Maadi ladies, led by Venezuelan Neyita Bauder, drew a lot of curious looks on Saturday, September 20, as they stood on Maadi's midans (squares) handing out plastic gloves and large empty plastic bags. "Fill two bags with garbage and you win a free Clean Up The World T-shirt" was the simple message given by either one of the ladies manning the eleven cleanup stations set up in various locations in Old Maadi. Assisting the ladies in this unprecedented enterprise were school children, community locals, chief executive officers, taxi drivers, ambassadors, Rotarians and countless unannounced volunteers.
"Our aim is not necessarily to collect as much garbage as we can in a few hours, but more importantly to get a message across to the community at large: we must act now or drown in our own trash!" says Francine Loza, a long-term Maadi resident and founding member of the Maadi Rangers Association which organized the one-day Maadi clean up.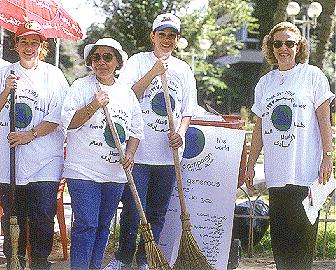 Bauder, Ragheb, Soliman, Aroussy, Namek et. al. had planned for this day since last July, when they first met looking for ways to improve Maadi's deteriorating environment. Sponsors had to be found, coordination with the authorities had to be arranged, distribution of responsibilities had to be assigned and volunteers had to be recruited. "God is definitely on the side of environmentalists because everyone came through. All who committed delivered on time!" exclaimed Nadia al-Kholy with a measure of surprise in her voice. Kholy, who returned from Canada where she and her husband had been living for the past decade, was shocked at the way Maadi had changed in a matter of a few years and at how things had altered. She wasn't going to stand idly by. But the big question remained: Can a patriarchal community, used to years of state paternalism organize itself? Clean Up The World Day was the acid test.
Soon enough, large plastic bags were coming back bulging with garbage of which the suburb has its untold share. According to Norma Rowe, the Peruvian Maadi Ranger who expertly manned one of the 11 stations, her young Egyptian and transnational wards from Shuwaifat School, mostly in their early teens, kept coming back again and again with bags full of garbage. "They were a very disciplined lot who knew there was a one T-shirt limit per person, so they were really doing it for the environment. If the rest of the schools could behave the same way, we would no longer need a cleanup day!"
The campaign which started at 09:00, ended successfully a few hours -- and several tons of garbage -- later. This was the first ever all-citizens attempt to clean up the town. The garbage and waste in Maadi in not unlike that found in other parts of up-market Cairo. Plastic bags and bottles, empty cans, Pizza hut boxes, decomposing vegetation, kitchen refuse, tires, dead cats, broken household items, tins, batteries, "you name it, we've got it," announced Vicky Mathews, a Maadi Ranger who specialises in environmental affairs. Together with her husband and three pre teen children, Mathews was on the road since 08:00, whipping up support from friends and neighbors.
What took place in Maadi last Saturday was replicated on that weekend across the globe as part of a concerted Clean Up the World campaign. This UN-backed global effort aims at bringing home the message that our environment is under serious threat from all sides, not discounting 'progress' itself. Clean Up the World day is a symbolic one day effort meant to warn, advise, and educate citizens all over the world to think globally and act locally.
In Maadi, the local town council was represented last Saturday by its Chief, General Said Kotb, who promised to provide technical aid to help campaigners dispose of the waste. Kotb and Cairo's Deputy-Governor Kadry Abu Hussein, commended the Maadi Rangers and their wide range of multinational supporters. "This is an excellent opportunity to bring across to the rest of the nation that the community as a whole - children, adults, students, foreigners and locals - is fighting pollution side by side with the state."
On the other hand, there were some disgruntled Maadiites who thought the town council had either reached the end of their tether. "We must act quickly to combat pollution. We cannot afford to wait for the indifference of local officials toward environmental protection which has been causing health problems and economic losses," exclaimed the widow of a former cabinet, now a Green activist. Great efforts are needed to "curb the deteriorating environmental trend".
Maadi's Green attributes much of the damage to the "loose or inadequate" enforcement of laws by local officials. "There is a big gap between the current state of the environment and the targets of cleanliness set by the government." Harsh words confirmed later in the day, when Nile TV arrived at the Town Council's offices off Road 77 to interview General Kotb, only to find the entire area covered with garbage. "The trash you see is not in Maadi. It is in Bassatine." explained an embarrassed General Kotb. "You see, my responsibility as Chief of Maadi's Town Council ends at Road 77 which forms the boundary line between the two districts." So much for think globally!
As the campaign came to a close and as tons of garbage were hauled onto large trucks provided by several of the campaign sponsors, people were already asking, whether this was a sign of better times to come. While it is too early to talk of next year's Clean Up the World Day, plans are in the offing to get the community to take matters in hand and launch a permanent antipollution and a major cleanup effort. With a hopeful smile, the campaign's chairperson announced to her colleagues that "We may have signed on for a lifetime job."
Sponsors for the Maadi cleanup were: Coca Cola, Xerox Corp, British Gas, Marathon Oil, Shell, Phillips, Otis Elevators, Heinz, Baraka Water, Apache, Morris-Knudsen, Seagull, CSA and Shouwaifat High School. To all of them a big THANK YOU from the Maadi Rangers and from all of Maadi's residents!

Email your thoughts to egy.com
© Copyright Samir Raafat
Any commercial use of the data and/or content is prohibited
reproduction of photos from this website strictly forbidden
touts droits reserves