egy.com suggests following articles
Several of my articles on Garden City were plagiarized word for word by novelist MEKKAWI SAID (winner of the Egyptian State price for literature!!!!) and re-published under his own name in a three-part series in El-Masry El-Youm daily in September 2015.
Cheers to our "talented" literature prize awardee. Your pain his gain !!!
EGY.COM - MAADI
MAADI'S ROAD 9 : ITS PAST IS ANOTHER COUNTRY
by Samir Raafat
Egyptian Mail, November 11, 1995
---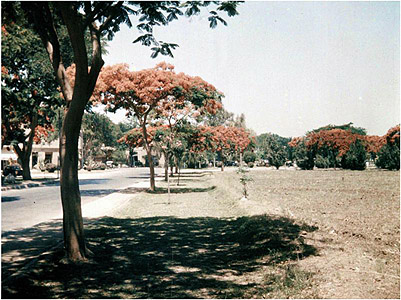 above: Mustafa Kamel (ex-Menashe) Avenue leading into Station Square
below: railway level crossing circa 1950 with second Maghrabi Bldg (left) and old post office and taxi shed (right)
photo courtesy Don Thomson, ex 5th Field Park Company, New Zealand Engineers Battalion


photo courtesy Don Thomson, ex 5th Field Park Company, New Zealand Engineers Battalion
TIMES are changing. We know it.
This country and by extension Maadi groans under the weight of its numbers. We know that too.
Yet the town's diminishing old timers claim Maadi was once a green paradise, a sort of Surbiton-on-the-Nile. Therein lies their pride upheld for so many years. But the same old timers are faced today with a terrible sense of loss and disappointment as it all comes crashing around them.
As though runaway cars, belching buses, insistent street vendors and pesky taxi drivers were not enough, strollers down Road 9 have to maneuver lethal potholes spread over diminishing pavements. How can anyone believe Maadi's elders when they say this was once a favorite promenade!
Most certainly they're a bunch of withered gagas. Can't they see the bleak natural landscape? Don't they sense chaos is everywhere? Can't they see the bursting water pipes, the untrimmed trees, or the emphatic inhabitants who think none of this is unusual!
But the old timers are right. It wasn't always this way in the Egypt of fewer than 26 million, forty years ago, when Maadi's citizenry was below a thousand.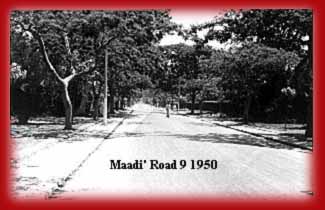 The old timers can go on dreaming. Dream about 'their' Maadi which was once a smart little enclave with a rural villagey feel, home to literati, artists, emancipated women, secular civil servants and upwardly mobile professionals from a bouquet of nationalities.
They can reminisce the days when a favorite local occupation was visiting the grassy Maadi Sporting Club to play golf, tennis or swim. Unlike today, the club was then a sports and recreational center. Now it resembles a roadside cafe or ahwa baladi.
They can look back at the days when Maadi's empty clean streets duplicated as cycling and walking tracks, when charting your daily stroll was influenced by things like, which had the sweeter fragrance or boasted more colors. Some streets had roses and jasmine, others fol baladi and hollyhocks. The choice was endless. An hour's promenade was an exercise in aroma savoring, something like what perfume merchants do for a living in the south of France. Today, you make lengthy detours for fear of drowning in sewage or tripping over construction material, or worse, being run over by a frantic Pizza Hut delivery scooter.
Long before jogging and loitering became fashionable you could catch the director of Egypt's National Bank trotting along with his dog at his side or the minister of finance clipping his green hedge. Security details marring the natural landscape were non-existent. The two bicycled Maadi constables were the only visible representatives of law and order. Maadi wasn't yet home to 26 foreign ambassadors and self-important ministers each with his own set of sluggish, polluting guards.
In the evenings, especially those starry summer ones, old timers remember eerie sounds of owls, crickets, and frogs. Almost nightly they ran into an errant fox. In those days there was no need for environmental associations and tree preservation societies. No one in his right mind would have considered axing a bush, let alone a date palm. The first to raise hell would have been Maadi's gardeners who took enormous pride in their profession. As for tooting horns, police car sirens and zipping around on deafening motorbikes, the wrath of Maadi's citizenry would have stood the culprit in his tracks well into the next millennium.
Even harder to believe that the commercial section of Road 9 was confined to two blocs starting at the southern end of the railway station up until it intersected Road 82. That it was once a neat orderly and efficient consumer's nirvana with broad shaded clean pavements full of greenery and always very, very quiet. It was especially sleepy during mango season when Maadi's small population was summering in Alexandria or in Europe.
During the first half of the 20th century the best place to shop was at the Nile Cold Storage Store run by an Anglo-Australian Consortium with outlets in the towns of Ismailia and Port Said. They were the purveyors of meat, fowl, beverages and other culinary essentials brought in from the UK or Australia. It was housed on the ground floor of the Maghrabi building, which at the time was considered one of the tallest structures in Maadi.
In its early days, the Maghrabi building (No. 84 Road 9) was surrounded by a garden separating it from its twin (No. 88) at the corner of Road 9 and what used to be the railway level crossing on Nahda (ex Fouad al-Awal) Avenue.
Maghrabi building's ground floor is today occupied by Gomaa Brothers Stores (there is talk that it will become a supermarket "Abu Zikry").
But before Gomaa expanded in all directions a Greek greengrocer by the name of Dimos Petzas had momentarily occupied these premises. In fact Mr. Dimos had been an employee at the Nile Cold Storage working directly under its director Mr. Perkins.
The second Maghrabi building was home to a bed and breakfast (B&B) pension run by Madame Valerie Zelle. On the building's ground level was the Maadi Station Store run by Christo who, like Dimos, was also Greek.
Over the years the two Maghrabi buildings and their adjoining gardens housed a variety of shops including a quaint pharmacy run by Greek-Cypriot Dimitri Ikonomakis and a fancy ladies hairdresser operated by Monsieur Zottos who was, you guessed it, Greek!
Another Maghrabi Building landmark was the impeccable Slovak-run shoe shop Bata. Next to Bata was an elderly Indian tailor whose owner looked more like a Persian Aga than an Indian Fakir. There was also the well stocked but short-lived bookstore that stood next to a bakery run by two Cypriot brothers called Mitso and Mike Gabrialides. Mitso and Mike were Maadi's only traiteurs with their all-in-one charcuterie, fromagerie, boulangerie and patisserie.
And there was Astra, Maadi's popular dairy shop itself a branch of the Greek-owned chain whose principal outlet was on Cairo's Midan al-Tahrir (formerly Ismailia Square). "Meet you in front of Astra" was a frequent rendezvous.
Maadi's Astra met with serious competition when Dr. Michel Guindi decided being a veterinary was not lucrative enough. As a vet he had replaced old Mr. Cullen, an Australian World War I veteran. Guindi's dairy outlet was tucked away in what was basically part of a one-floor ragtag construction at the corner of Road 9 and 81.
Next Guindi was a bicycle repair shop that evolved into Maadi's first mechanic and car-repair garage nicknamed "Farag" after its short stocky owner. Once they became teenagers Osta Farag's two boys joined him becoming clever entrepreneurs in their own right. Nearby in a tiny messy shack was Ayyad who, for a very long time, was Maadi's sole plumber. The greasy jeans-clad man would quickly become a favorite with Maadi's American colony in view of his limited English, which he spoke with a Texas twang.
Farag, Ayyad and Dr. Michel Guindi were collectively referred to as the High Street Copts. And since the rest of Road 9's merchants were either Greeks, Cypriots or Armenians, this left Gomaa Bros as the only Moslem on Maadi's High Street along with Al Hag, Maadi's old taxi operator.
The taxi stand was next to Maadi's ratty one-room post office located at the corner of the railway level crossing (where the Mosque is today). They both stood under the protection of huge mango trees. Behind them was a large green park stretching all the way to the rarely used second railway crossing (today the Maadi-exit flyover). It was at that point that Maadi's commercial district ended.
Near the quaint taxi stand was a bicycle shed where Maadiites parked their most popular means of transportation. From there they took the steam (later diesel) train into Cairo. Bicycle locks and chains were redundant. Maadi's vigilant bicycled constables knew everyone. This was a crime-free town.
In those days there were no trendy terra-cotta cafes or fast food outlets. If you wanted a cold Stella beer and French fries the choice was the Maadi Sporting Club or the Nilefront Greek-owned Diamantis Café located at the entrance of Maadi.
As for flower shops, no one needed them for Maadi's gardens were all year round producers. It would have been like selling sand in the Sahara.
The unique petrol station servicing Maadi's few American cars appeared on Road 9 in the early '50s courtesy of Socony Vaccum Mobil. Before that you had to make do with a manual pump located opposite Bata. And long before that, in the 1920s, there was a rudimentary pump in front of the Maadi Sporting Club's main door.
It was in the 1950s that Road 9's commercial section spilled over on the other side of the street when Maadi Photo Stores opened. It supplied the town's amateur photographers with Kodak, Agfa and Ferannia films. Many a Brownie camera was brought to this shop for refills. The Store's Armenian owner also sold adult and kiddy magazines which included Archie and Superman comics, and when Hugh Hefner brought it out, Playboy magazine!
Next to Photo Stores appeared in the mid '50s a seamy stationery store "Fouad" followed by "Angelle", Maadi's first ever fashion boutique (where Rano's jewlery is today). It was rumored that the flirty shopgirls employed by Mr. Fouad often worked "after hours."
Long before supermarket Massoud appeared in the 1990s, this used to be a modern supermarket inaugurated in the 1950s with much fanfare by Dimos whom we met earlier. He had ceded his original shop to Gomaa Bros preferring to open a newer one across the street. His home delivery service was second to none especially since he acted as the local agent for Groppi's, Egypt's leading caterer.
When you walked out of Dimos all you saw was the lovely palm-decked Station Square (today under the flyover) with endless gardens in the distant.
Dimos was a shifty character at best. When he skipped town in the mid '60s he left behind several debts and court cases. As it turned out three different people claimed they had purchased the shop from khawaga Dimos and they had the contracts to prove it!
When it opened in the 1970s, the Mermaid Restaurant-Pizzeria was Road 9's very first Road 9 eatery. Prior to that it had been a home improvement store run by a Syrian couple. Before entering into the tools business Monsieur Albert Masabni had been a sort of Mr. Fixit for his notorious relation Madame Badi'a Masabni, Cairo's reigning 1930s nightclub queen. Albert's wife Rose was Badia's wardrobe mistress.
The commercial district ended at the Road 82 intersection. Thereon Road 9 became an elegant residential area.
There were many architectural attractions and oddities to be spotted as you trekked towards the seldom-used Sakanat Railway Station. For instance at the corner of Roads 9 and 82 stood a large turreted house, which alternated between private residence and a Pension. Victoria Mariotti who ran Pension Victoria was the ex-proprietress of Pension Viennoise in Cairo. Her heyday came when Maadi's desert outback (today, Degla) was home to a large 76,000 strong New Zealand camp during WW2. Whenever they had a chance, officers and conscripts alike checked in at Mariotti's for a quickie.
At the next corner (Road 9 and 83) stood the homes of two of Maadi's oldest residents: A Syrian-Armenian insurance executive Mr. Elias Neama Tabet and Maitre Wassef Semeika Pasha a sometime Coptic Minister of Transport and Communication.
But all this has come to pass in agonizing stages.
By the late 1970s Maadi had transmogrified into a city district with only a few villas and gardens linking the town to its past. This was also when Maadi's refined character had started to disappear.
Although unapparent at first the decline began when the Delta Land & Investment Co. was taken over by Cairo's Municipality.
It had been the Delta Co. that created Maadi in 1904, effectively running the town well into the mid-fifties. With the emergence of the socialist laws of 1961 the company was dissolved and replaced by a public sector entity run by tunnel-visioned officers and corruptible agents. But even then the suburb managed to survive for a short while on its own momentum.
Yet in actual fact the cancer had already set in and Maadi was in concealed remission.
The last big nail in Maadi's coffin was the infitah (economic open door policy) of the late 1970s. It brought on the extraordinary land rush pushing the price of the square meter from L.E. 9 pounds in 1973 to L.E. 4000 in 1993.
But even before mercantilism reared its head the directives and charter that had so successfully spelt out Maadi's rules and regulations for half a century had been discarded. Indeed, the sacrosanct cahier des charges (town code) that had limited Maadi's commercial district to a predetermined part of Road 9 was history. The sharks, fat cats and rising rich-raff were re-shaping the suburb to suit their own taste.
A chacun son mauvais gout!
The new beholders were not into green. They were into greenbacks. To them villas and gardens while aesthetically pretty did little to improve balance sheets especially those belonging to "Engulf & Devour Co.", "Rapacious Incorporated" and "Gluttons Limited", all three being greedy conglomerates specializing in bottom lines.
The era of concrete apartment blocs, boutiques and fast-food restaurants had made it to Maadi. It was as if each building competed with the one next door. Which will be the tallest, the fattest and the ugliest! Which boutique or supermarket would gobble up more sidewalk or nibble at the adjacent property. Which flower stand would squat on Maadi's public squares.
Because the present is unable to live with the past the younger generation will never know what the gagas are talking about.
To the newcomers Cairo and its ex-suburbs will have always been a greenless hodgepodge of un-esthetique, disproportionate, inharmonious and un-scaled babble of depreciated buildings.
It is exactly as if the past of Maadi's Road 9 was in another country.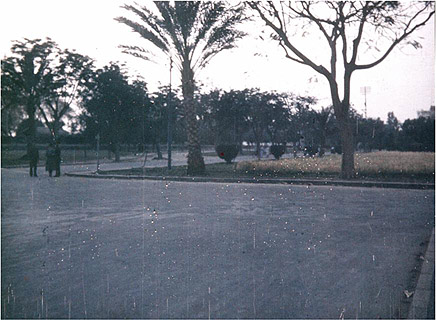 Station Square leading into Nahda Avenue (above) and villa Shaheen Pasha (ex-Spong) overlooking Nahda Avenue (below)
photo courtesy Don Thomson, ex 5th Field Park Company, New Zealand Engineers Battalion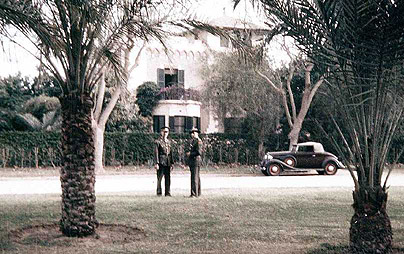 photo courtesy Don Thomson, ex 5th Field Park Company, New Zealand Engineers Battalion
Email your thoughts to egy.com
© Copyright Samir Raafat
Any commercial use of the data and/or content is prohibited
reproduction of photos from this website strictly forbidden
touts droits reserves