egy.com suggests following articles
Several of my articles on Garden City were plagiarized word for word by novelist MEKKAWI SAID (winner of the Egyptian State price for literature!!!!) and re-published under his own name in a three-part series in El-Masry El-Youm daily in September 2015.
Cheers to our "talented" literature prize awardee. Your pain his gain !!!
EGY.COM - MAADI
THEFT, BRIBES AND MONSTER BUILDINGS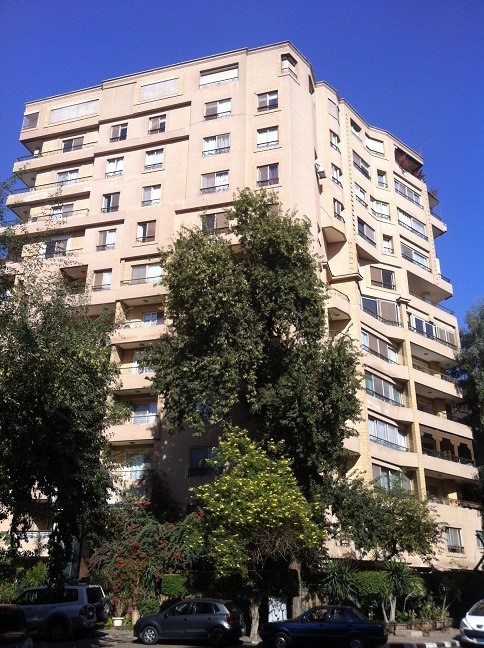 The "Monster Building" on Maadi's Mustafa Kamel (ex Menashe) Roundabout is a telling example of what took place since the 1980s. This is when the unthinkable started with 10-storey buildings and more cropping up across Maadi, disregarding residential by-laws, zoning rules and building codes that had earned this suburb its individuality.
One way or another, members of the Engulf & Devour brotherhood decided to milk the cow for all its worth for Maadi had become just that: a real estate cash cow. No one thought for a second by so doing they were choking the goose that laid the golden egg. But it was predicted Maadi's death would be a slow one, slow enough so that members of this menacing brotherhood raked in quick profits again and again.
And so it was. The real estate robbers landed and it was open season for land grabs. This was a time for squatting, bribing and forgeries.
Take for example the case of the Monster Building. It was built on an empty lot of land which for lack of proper papers stood empty until the 1980s. Its story is typical.
To begin with this lot belonged to the Egyptian Delta Land & Investment Company (EDLICO) which created Maadi in 1906. Lot 935 was eventually purchased in 1933 by the Abdelmoneim Rashad family. The Rashads left it empty presumably not wanting to build a home therein even though their relations owned two mansions nearby, one next door and another across Road 15. Perhaps due to a money pinch they finally decided to sell in 1944-5. A buyer presented herself. Sophie Isidore Apfel. From the name we deduce she was a Jew of East European descent, probably a long time resident in the former Ottoman Empire. Non-Egyptians had made multicultural Egypt their home during the 19th century, spilling over into the first half of the 20th century. Sophie was one of them.
The unsuspecting Ms. Apfel couldn't foresee a future where a Jewish state would appear smack in the heart of the Middle East causing three wars and indefinite instability in the region. Soon enough the future caught up with her and she left Egypt. She probably had no time to dispose of her assets or perhaps had forgotten about her empty piece of land in Maadi.
But the seller's heirs hadn't forgotten. They read the press and monitored the news. After the 1956 Suez War they realized Apfel was never coming back, so why not recapture the land? Who was there to contest the deed of sale even if it had been notarized in 1945 under No 4910 at the Giza Registry Department naming Sophie its new owner.
Wait and see…...
Months turned into years and no one claimed the empty lot. Time to repossess!
Soon after we see a billboard at the center of Lot 935 declaring "This property belongs to Rashad & Co and is not for sale."
For many years the sign remained at the center of a technically unsellable empty plot. From time to time it was repainted for clarity's sake fending off greedy real-estate middlemen.
Enter a leading member of Maadi's High-Rise Millionaires. He knows everyone at Maadi's corrupt town council. Times are hard and most government employees are on the take. Besides, our developer's in-law is an important legislator. Buying contested land is a breeze...
The rest is 13-storey-high history.
Email your thoughts to egy.com
© Copyright Samir Raafat
Any commercial use of the data and/or content is prohibited
reproduction of photos from this website strictly forbidden
touts droits reserves