egy.com suggests following articles
Several of my articles on Garden City were plagiarized word for word by novelist MEKKAWI SAID (winner of the Egyptian State price for literature!!!!) and re-published under his own name in a three-part series in El-Masry El-Youm daily in September 2015.
Cheers to our "talented" literature prize awardee. Your pain his gain !!!
EGY.COM - MAADI
MAADI'S OTTOMANS
based on Samir W Raafat's book Maadi 1904-1962; History and Society in a Cairo Suburb
(book first appeared in 1994)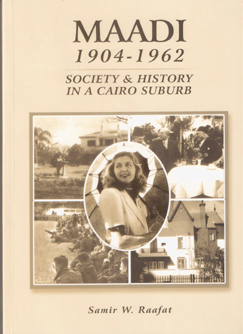 Kadria "Tata" Zaki featuring center of book cover
In the 1940-1952 days Maadi was still a leafy suburb with a population of just under 1,000, a safe haven for its multi-ethnic foreign residents who made up most of its population. But the build-up to WW2 would soon upset this idyllic yet fragile setting. Little by little, the town's heretofore homogeneous population polarized into different clans, each with its own center of gravity.
Maadi's French routing for de Gaulle met at the austere villa of Credit Lyonnais's Lucien Lefrere on Road 6. The German-speaking Jews meanwhile congregated at Pension Sporting run by the Istanbul-born Martha Hochstein and her Berlin-born brother in law Hebert Levy (changed to Lewy). The fascistic Italians congregated between Villa Capitani and Aurelia Zani's boarding school on Williamson Avenue. The omnipresent British had the benefit of the Maadi Sporting Club with its incumbent chairman John Crawford running the show. Known as the Duke of Maadi, Crawford was a senior administrator at the National Bank of Egypt and had friends in high places.
For a while, Maadi's Germans met at Dresdner Bank's Baron von Richter. It was reported that in April 1939 Goebbels had stopped by his smart villa on Avenue Fouad (renamed Nahda). The upbeat meetings at Villa Richter abruptly ended when the baron was sent to the Foreigner's Prison on Cairo's Malika Nazli Avenue (now Ramses Street) along with other German civilians. Meanwhile, to their benefit Maadi's noisy Greeks had the choice of any one of the local groceries, all of them sporting Hellenic names: Christo, Zottos, Gabrialedis, Ikonomaki, etc.
There was another group which also had its own meeting place yet hardly ever heard from. Perhaps it had to do with the members' lofty upbringing where voices were never raised especially in front of the group's elder who was in this case none other than His Imperial Highness Ömer Faruk Efendi (1898-1969), son of the last Caliph of Islam and a pretender to the Ottoman throne. He was without a doubt the incumbent figurehead and chef de famille of the large Ottoman Diaspora.
Having recently arrived from the South of France, Prince Omer Faruk and his wife, Princess Rukiye-Sabiha Sultan, opted for a Maadi villa, which besides adjoining Villa Crawford fronted the town's picturesque Khashaab Canal where it intersects Avenue Fouad. The villa's ancien regime Greek owner, Doctor Elie Vasilarous, was only too happy to be of service to a descendant of those who had ruled the Aegean peninsula for so many centuries. It was also there that Prince Omer's mother-in-law, Emine Nazik, wife of Sultan Mohammed VI Vahidedine, died on 26 January 1941.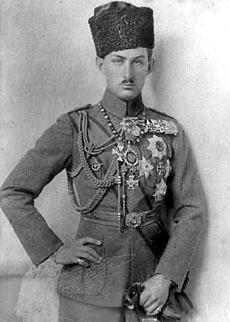 HIH Prince Omer Faruk son of the last Caliph of the Islamic World
also a brother in law of the Nizam of Hyderbad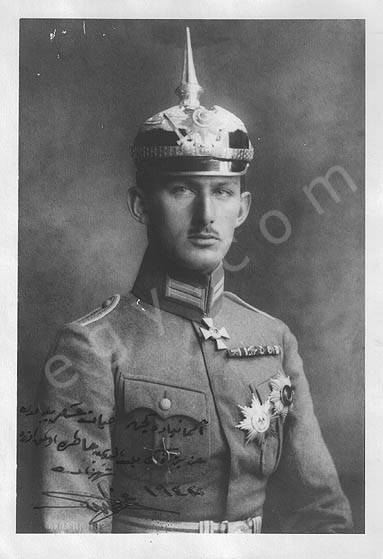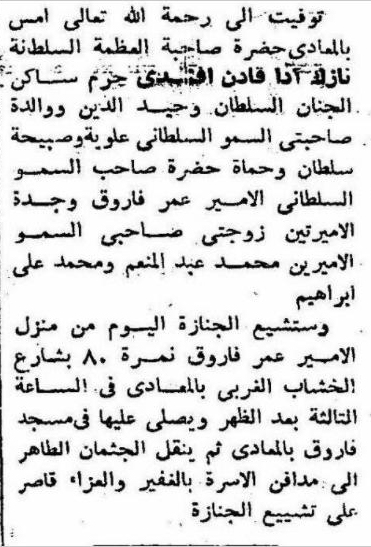 Shehzade Ömer Faruk at military academy in Germany. Photo (courtesy Kadria Zaki) autographed in 1942 in Arabic script to Maadi's Aziz Zaki Bey
(right) obituary in Al-Ahram of Nazik Kadin Efendi listing address as No. 80 Khashaab Canal Street, Maadi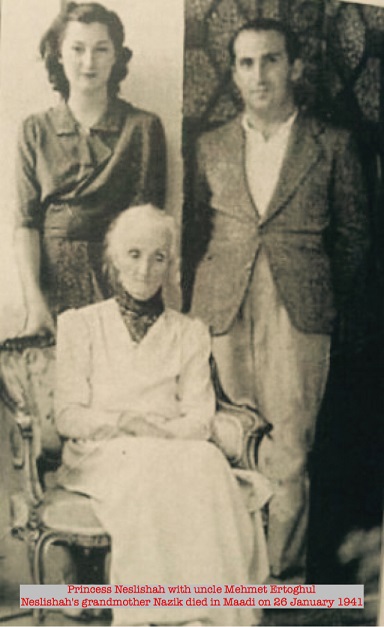 Rukiye-Sabiha Sultan who's betrothal to Mustafa-Kemal "Attaturk" was foreited in favor of her cousin Prince Omer Faruk thus missing her chance of becoming the first "First Lady" of the nascent Turkish Republic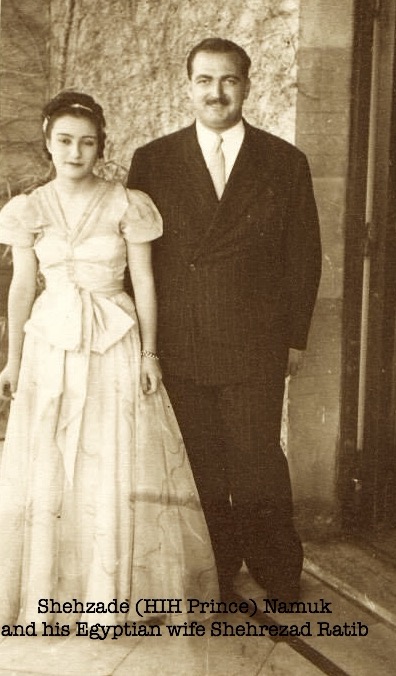 Prince Mahmoud-Namuk (Namik) who would later die in the nearby Torah prison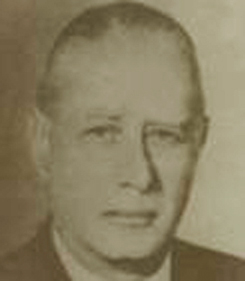 Ambassador Shamsetin Arif Mardin father of scholar Sherif Mardin
and uncle to New York recording mogul Arif Mardin and Istanbul PR celeb Betul Mardin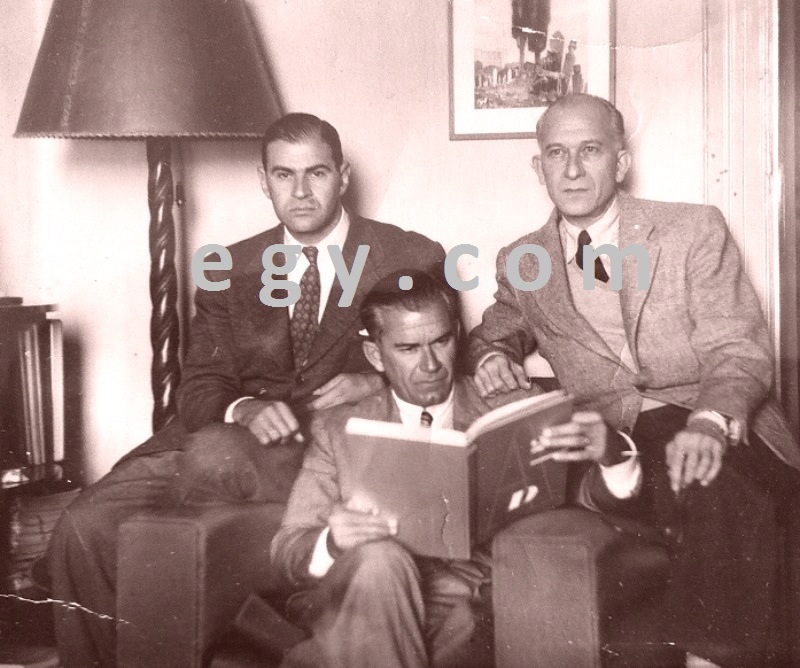 Khulusi brothers: Yavuz, Nihad, nephews of Ottoman-Turkish diplomats Maken and Layik Mukbil (photo courtesy Emine Khulusi-Gorey Selbes)
below: plaque at permanent "Ihap Hulusi exhibition" at Marmara University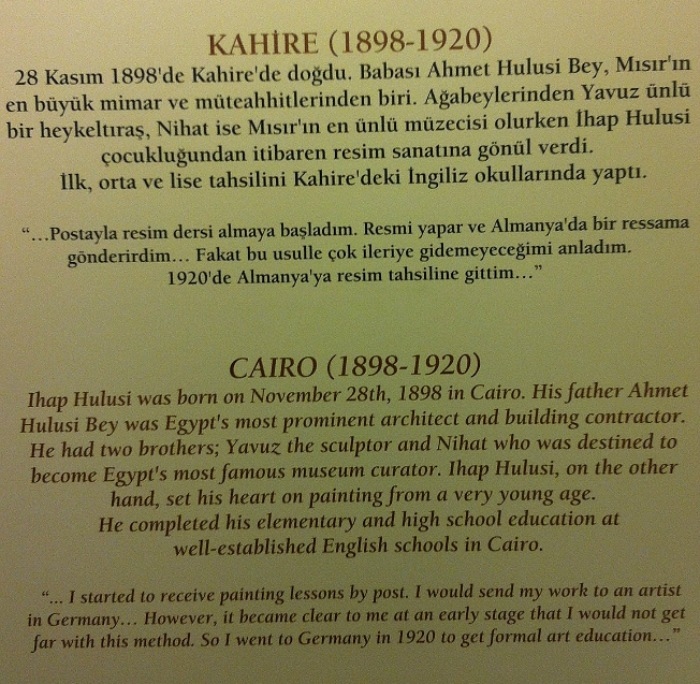 Another death would follow three years later when Omer Faruk's brother-in-law, Mehmet Ertugrul Efendi (1912-44), passed away. Before his untimely departure Ertu was often seen at the Maadi Sporting Club lurking in the shady alleys separating the tennis courts from the swimming pool. Certain wags claimed the prince hung around blind spots in anticipation of ambushing unsuspecting Maadi belles. In fact, the result of a failed ambush led to his suspension from the club for an entire month!
"Omer Faruk Efendi was a great sportsman!" exclaimed hobby photographer Yehya Arif Mardin Bey (January 04, 1906 - December 25, 2005). "We often went duck shooting together all across Egypt and in summer we would sail from Abou Qir Bay on endless fishing trips."
Yehya Bey and his brother Shamsetin Mardin were Maadi old timers. In more ways than one the Mardins represented Maadi's tiny so-called Turkish community. So called because the Khulussis, Murabets, Kanizadehs, Osman Sabrys, Chirines, Mussalems, Aflatouns, Seifullah Youssris, Zulfikars et al were in fact, second, third or fourth generation descendants of Mohammed Ali's officers and state administrators most of them imported in the early 1800s from the Rumeli provinces of the still vast Ottoman empire. Although only a few of their descendants spoke Turkish they were nevertheless regarded as Ottoman holdovers. Naturally, they were delighted Prince Omer Faruk had chosen Maadi as his new home. Representing this interesting Turco-Egyptian group at the Ottoman mini-court on Canal Street were the forever faithful Mardins.
Just like the Arif-Mardins and others with strong connections to Maadi, the Egypto-Ottoman Khulusis greatly impacted on modern Turkey's cultural scene. Ihap Khulusi for example is considered the father of poster art in Turkey. Born in Egypt in 1898 he studied in an English-language school in Alexandria. His first artistic adventure manifested itself in satirical cartoons for a Cairo-based opposition magazine. In the early 1920s Ihap traveled to Germany to perfect his drawing abilities leaving behind a family that was about to implode. With the breakdown of the Ottoman empire, the Khulusi family, like many others, broke up into two factions. Those members opting for the Egyptian nationality and those who preferred to become subjects of the new Turkish Republic. Ihap and his brother Yavuz thus became Turkish citizens taking on the surname Görey while their brother Nihad remained Egyptian tending to his responsibilities at the Agricultural Museum in Giza and looking after his beautiful Maadi garden residence.
Ditto the Maadi Mardins.
After he retired from the Turkish ministry of foreign affairs, Ambassador Shamsetin Mardin decided to return to his birth country spending his remaining years in Maadi. Years later he would sell his coquettish villa on Avenue Fouad and move into an apartment on Road 18 where he eventually died. In its heyday, Villa Mardin had been the venue for some of Maadi's more elegant dinners. "Shamsettin's wife, Reya, was by far one of Maadi's most refined hostesses," exclaims another Maadi old timer. "Whether as the daughter of renown Turkish publisher (Ikdam) Ahmed Gawdat or as the wife of a Turkish diplomat, she did her nation proud!"
As for Mardin's sprightly brother Yehya Bey who remained Egyptian all along, he lived on to the age of 100 occupying the ground floor of his smart villa, the same one that had been home to Baron von Richter on Avenue Fouad prior to WW2. By the time Yehya Bey died in 2006, his house had become a photo gallery reflecting Maadi's Ottoman days. Everywhere you looked you saw beautiful silver-framed photos of Ottoman and Egyptian royals. The piece de resistance however was that of a swaggering young Prince Ömer Faruk Efendi in full military attire. Next to it was a photo of the now much older prince standing in hunting gear with at least 80 dead ducks at his feet. Having failed to save his ancestral throne the fallen Ottoman Officer had waged war against Egypt's defenseless fauna! The hunting trips were temporarily suspended when the openly pro-German Shehzade was placed under house arrest in a çiftlig south of Maadi during part of WW2. The British high command in Egypt was not about to tolerate a fifth column in its backyard, especially in the English enclave of Maadi!
While Yehya Arif and his ilk were all admiration of Maadi's Shehzade, the latter's neighbor, the duke of Maadi, was not amused. Time and time again, John Crawford complained that Omer Faruk knew nothing about canines and treated them with utmost cruelty. This was confirmed by onlookers who noticed how the prince's three dogs crouched in fear whenever their master barked an order. Most definitely the prince was used to being blindly obeyed.
* * *
Even before WW2 and a few years after Maadi continued to be the elected place of residence for other sultanic exiles. Without doubt the most visible among them was Princess Lutfiye Sultan (1910-97), a granddaughter of Sultan Mehmet Rashad. Married to Hassan Kamal Bey, Lutfiye's husband was referred to among the Ottoman royals as Damat Kamal denoting his membership in that ethereal cast of Imperial grooms. Lutfiye's large handsome villa on Road 10 had been the wartime scene of a historic wedding when her younger sister, Mihrimah Sultan (1922-2000), wed Prince Nayef of Transjordan. It was as though the nuptials had turned into a summit meeting when three regional potentates—Farouk of Egypt, Abdul-Illah of Iraq, and Abdallah of Jordan—found themselves face to face in the same salon.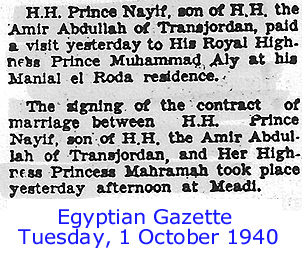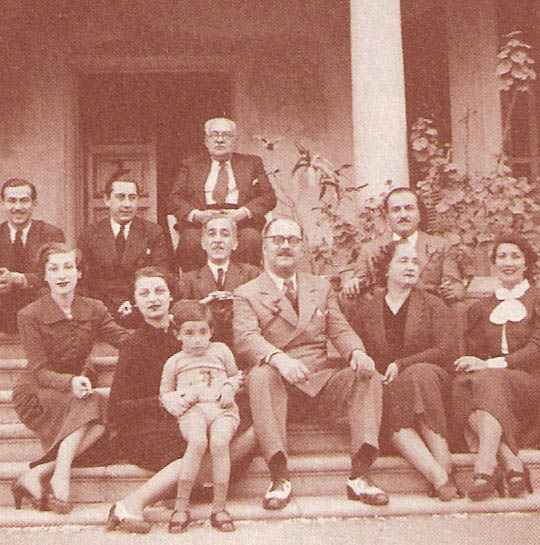 Osmanoglou family reunion circa 1938 at Villa Kamal in Maadi (at the corner or Roads 10 and 82 now several buildings) L-R front row: Princesses Lutfiye, Mukbile with child Ahmed Kamal, Prince Osman Fouad (great-uncle of bestselling author Kenize Murat), al-Sharifa Nimet Haidar, Shukriye Sultan...
L-R second row behind Lutfiye Sultan: Prince Nazim and Damat Hassan Kamal, Damat al-Sharif Abdulmejid Haidar, Prince Ali Vasib
seated back: Rashad Kamal's maternal grandfather HIH Prince Mehmet Ziaeldin (1873-1938) eldest son of Sultan Mehmet Reshat (photo courtesy Rashad Kamal)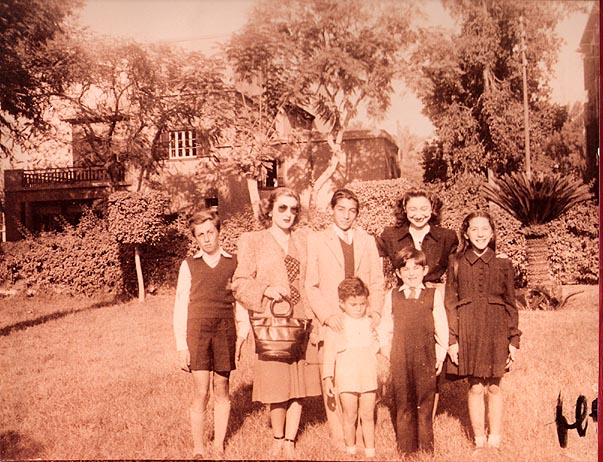 L-R: Jon Rashad Kamal, Princess Lutfiye, Ahmed Kamal, Princess Mihrimah, Perizad forefront: Princes Gengiz Nazim and Ali Nayef Transjordan location: Villa Kamal garden with villa of Princess Karima Halim in background later occupied by Princess Fawzia of Egypt ex-Empress of Persia (photos courtesy Rashad Kamal)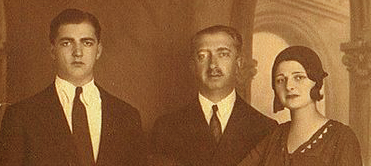 early exile years of Prince Namik and sister Mukbile Sultan with their father Prince Omer Hilmi (younger son of Sultan Mehmet Reshat)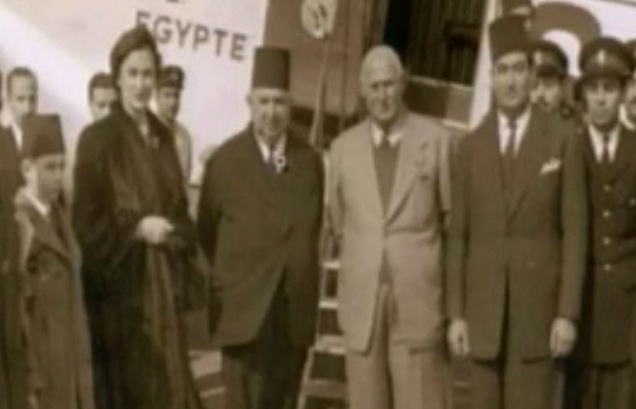 Ottoman royalty at Cairo airport L-R: Prince Abbas Hilmi, Princess Neslisah, Prince Abdel Moneim Hilmi, Prince Omer-Faruk
Whereas Lutfiye Sultan was frequently seen driven around Maadi in her American coupé dernier model, other Maadi Ottomans were not as fortunate. For instance, Princess Mukbile Sultan and her cousin-husband Ali Vasip Efendi (1903-83) had to make do with an unassuming apartment on Mosseri Avenue, right next to Maadi's Synagogue. In fact, their landlord was the temple's principal benefactor Meyr Biton, a close attendant to Haim Nahum Efendi, the Turkish-born Grand Rabbi of Egypt. Mukbile and Vasip later moved to Alexandria where their only son went to school. Decades later Prince Osman authored Bir Sehzadenin Hatirati: Vatan ve Menfada recounting his parent's exile years.
The portly Prince Mahmud Namik (also spelt Namuk or Namouk) and his beautiful wife meanwhile lived in an apartment situated nearer Maadi's entrance where mosquitoes were a nuisance during the town's long summer. "Despite his size, he was such an excellent dancer," sighs Maadi's pin-up Kadria 'Tata' Zaki as she reminisces Maadi's Ottoman days. "I shall never forget the late 1940s dancing soiree given by Leila Hanem Cherif, Yehya Arif's mother. It took place on the roof of their rented paquebot-style house on Menashe Avenue. As Namik expertly twirled Nabila Indji Amr Ibrahim around the dance floor, she was no more than a feather."
Tata's artist father, Aziz Bey, was a great friend of Ottoman artist Hedayet who spent days on end at the Zaki's English cottage on Mosseri Avenue which had become another Ottoman refuge.
"How ironic that Prince Namik born in Istanbul's Dolmabahce Palace by the Bosphorus should end so tragically in a godforsaken prison by the Nile!" Kadria Zaki was referring here to the illegal incarceration of Prince Namik by Gamal Abdel Nasser's thugs following the revolution that toppled the Hashemite throne of Iraq. For the Ottoman prince's utter bad luck, the bloody events took place just as he was setting up a business in Baghdad simultaneous to sorting out the approaching wedding of his niece, Princess Fazila Ibrahim, to Iraq's King Feisal.
Fate would have it that Prince Namik died in a prison built in the 1800s as an annex to the Ottoman Ikinci Alai army garrison. Located near Tora liman or port, the prison was just one kilometer south of Maadi.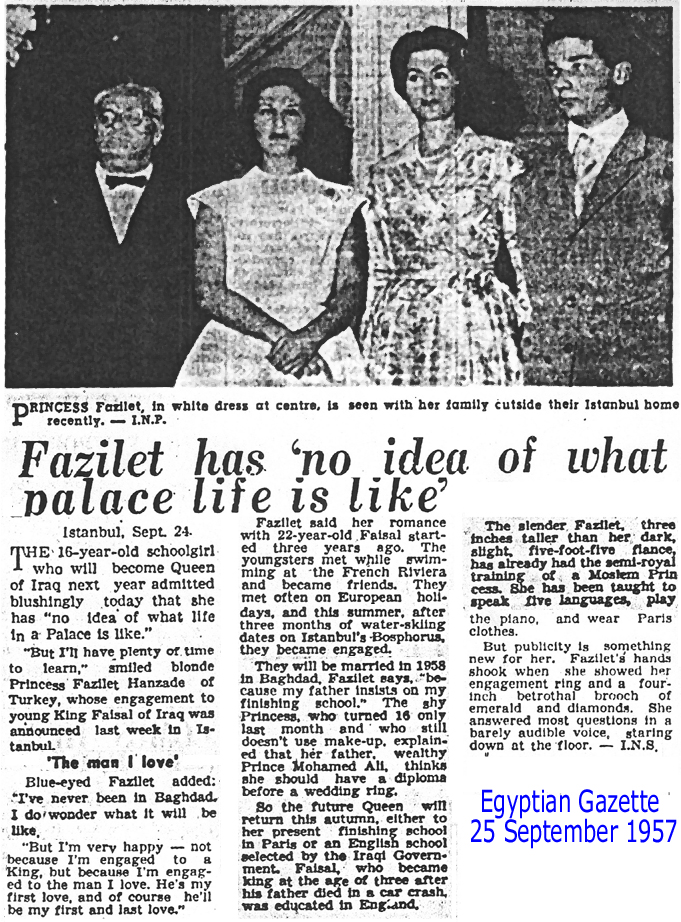 Egyptian Gazette engagement photo L-R: Prince Mohammed-Ali Ibrahim, Princess Fazila, HIH Hanzade Sultan, Prince Ahmed
Yenikoy, Istanbul at the summer waterfront yalisi of Maadi's Abou Bakr Ratib and his wife Djeda Gawdat (Ikdam), a sister of Maadi's Mrs. Shemsetin Mardin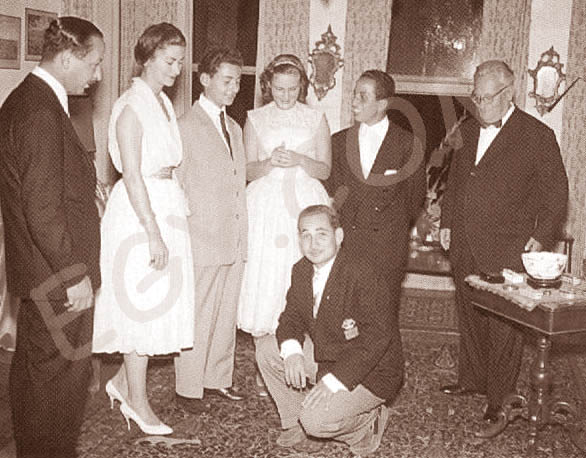 L-R: Prince Abdel-illah of Iraq, HIH Hanzade Sultan (mother of prospective bride), Ahmed Ibrahim, Fazila Ibrahim, HM King Feisal, Prince Mohammed-Ali Ibrahim of Egypt and kneeling Prince Raad of Iraq.
King Feisal was killed during the 14 July 1958 revolution that toppled his fledgling dynasty (photo courtesy Yehya Arif)
* * *
Tata Zaki was also a childhood friend of "Cocoche," the nickname given to Nejla-Hebatullah Sultan (1926-2006), Prince Ömer Faruk's youngest daughter. As it later turned out Cocoche was recipient of a wonderful Kavalla-style Koshk (today Arab League annex) on Maadi's Road 14 offered to her by Prince Amr Ibrahim, a dotting widower whom she dutifully married and eventually tamed.
By moving back to Maadi, Cocoche inadvertently increased Maadi's Ottoman population. Likewise, it was in Maadi that her sister Hanzade Sultan (1923-98) constructed her Moresque-style villa facing Maadi Sporting Club's first golf tee on what was then known as Maadi's Mango Groves. It was Princess Hanzade's daughter Fazila who was to have become queen of Iraq had the revolution not taken place in that country.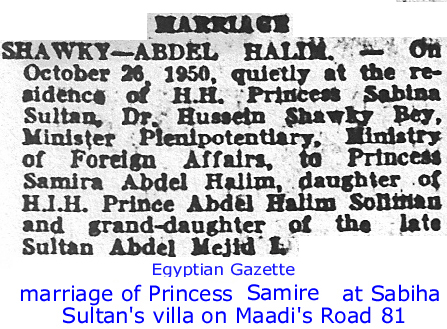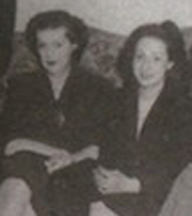 Samire Sultan (right) with Rukiye-Sabiha Sultan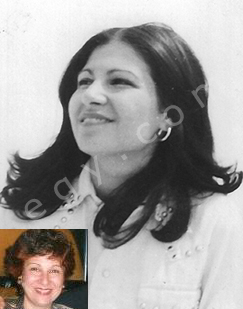 Samire Sultan's only daughter Negla H. Chawky born Rio de Janeiro; commended veteran of 38th floor UN Protocol Office NY
Having recently divorced from Shehzade Ömer Faruk, Princess Rukiye-Sabiha Sultan (1894-1971; daughter of Sultan Vahidedine) moved to a much smaller villa on Maadi's eastern fringe overlooking what had been the wartime New Zealand Camps in Degla. Sabiha Sultan's charming one-floor stone-house soon became a rallying point for other untoward members of her clan. From time to time it was also the scene of happy occasions.
In a retour d'age the Shehzade had meanwhile remarried Mihriban-Mihrishah Izzetin, a younger Ottoman cousin. More fortunate than her relations, Mihrishah owned a small apartment building No. 8 Road 11 off Menashe Avenue.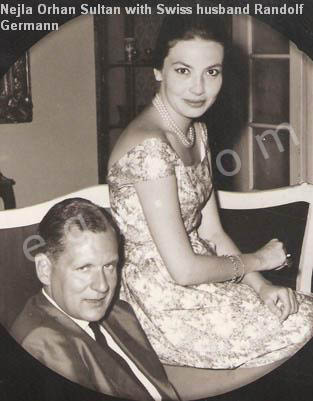 Another Ottoman marriage that ran afoul after a few months of maddening bliss was the one that took place at the quaint semi-detached Maadi villa cornering Roads 81 and 5. The couple concerned were Prince Mohammed Halim and Nejla Orhan Sultan, a great-granddaughter of Sultan Abdelhamid. Much older than his teenage bride, Halim went on to betroth three successive wives while the liberated sultana made do with only two consecutive grooms.
Not to be forgotten from among Maadi's Ottoman royals was the low profile Behiye Sultan who lived in a tiny villa on Road 13. Her neighbors, the Wahid Raafat family (incl. author of article), never saw anyone visit her. "No one noticed when she moved out. All of a sudden she was replaced in the small house by astronomer Professor Khayri, director of the Helwan observatory." recalls Mrs. Raafat. Sharing the same boisterous gardener 'Am Ibrahim,' the Raafats would send the princess home-baked kahk during Sheker Bayram. A few years later, by mere coincidence Dr. Wahid Raafat found himself wrongly implicated in an alleged royalist plot concocted by members of the sultana's extended family. He was subsequently imprisoned (without trial) for several weeks (see 30 December 1957 al-Ahram clipping below).
It was only after the Ottoman's precipitated departure in the mid 1950s that another Ottoman arrived to set up camp (no pun intended) in Maadi. The venerated Sirri Baba was accompanied by a few followers and a goat. The Bektashi sage of world importance had been unceremoniously evicted from his munificent quarters in the Mokattam Hills by the new military regime. Instead of a replacement home befitting his international standing, Sirri Baba ended up in what had been an Ottoman princess's garage. Its owner, Hebatullah Sultan, had already relocated to Switzerland following the 1952 military coup that toppled King Farouk.
The passing of Sirri Baba a few years later signaled the end of the Ottomans' fleeting passage through Maadi.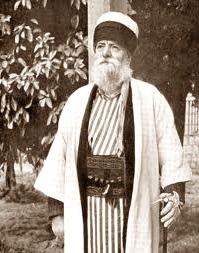 Sirri Baba; unfortunate occupant of the Nabil Amr Ibrahim garage in Maadi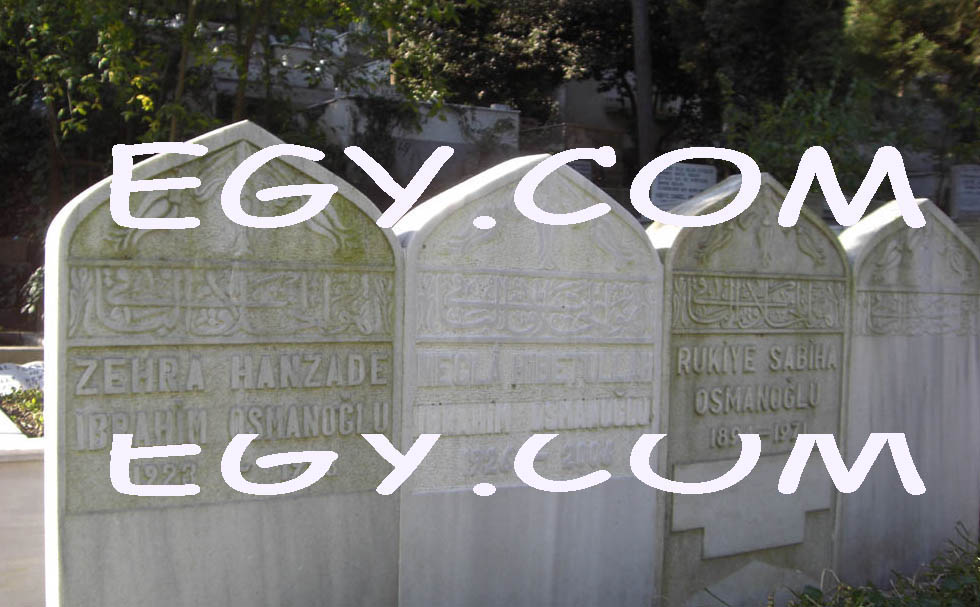 final resting place at Aşiyan Cemetery near Bebek, Istanbul of Maadi's sometime residents Hanzade Sultan, Nejla-Hebatullah Sultan and Sabiha Sultan. Fourth tombstone earmarked for the last surviving Ottoman sultana, may she have a long life...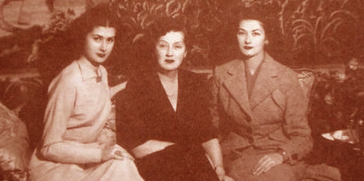 Their Imperial Highness Princesses Nejla-Hebatullah, Sabiha and Hanzade in Maadi (phtoto courtesy Rashad Kamal)
---
Clippings encapsulating the tragic fate of Prince Mahmud Namik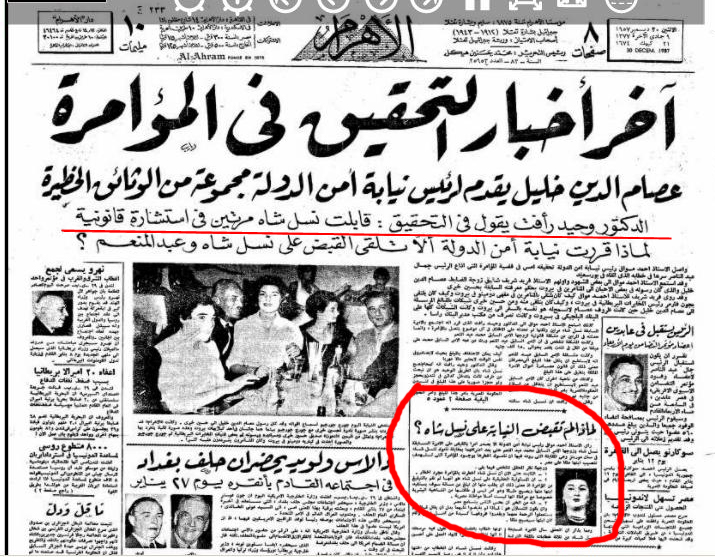 above: Al Ahram 30 December 1957 announces latest developments on royalist plot
Dr Wahid Raafat interrogated on his professional relationship with Princess Neslishah (also spelt Neslişah or Neslisah)
4th banner: "Why the prosecutor did not arrest [Princess] Neslishah and [Prince] Abdel Moneim"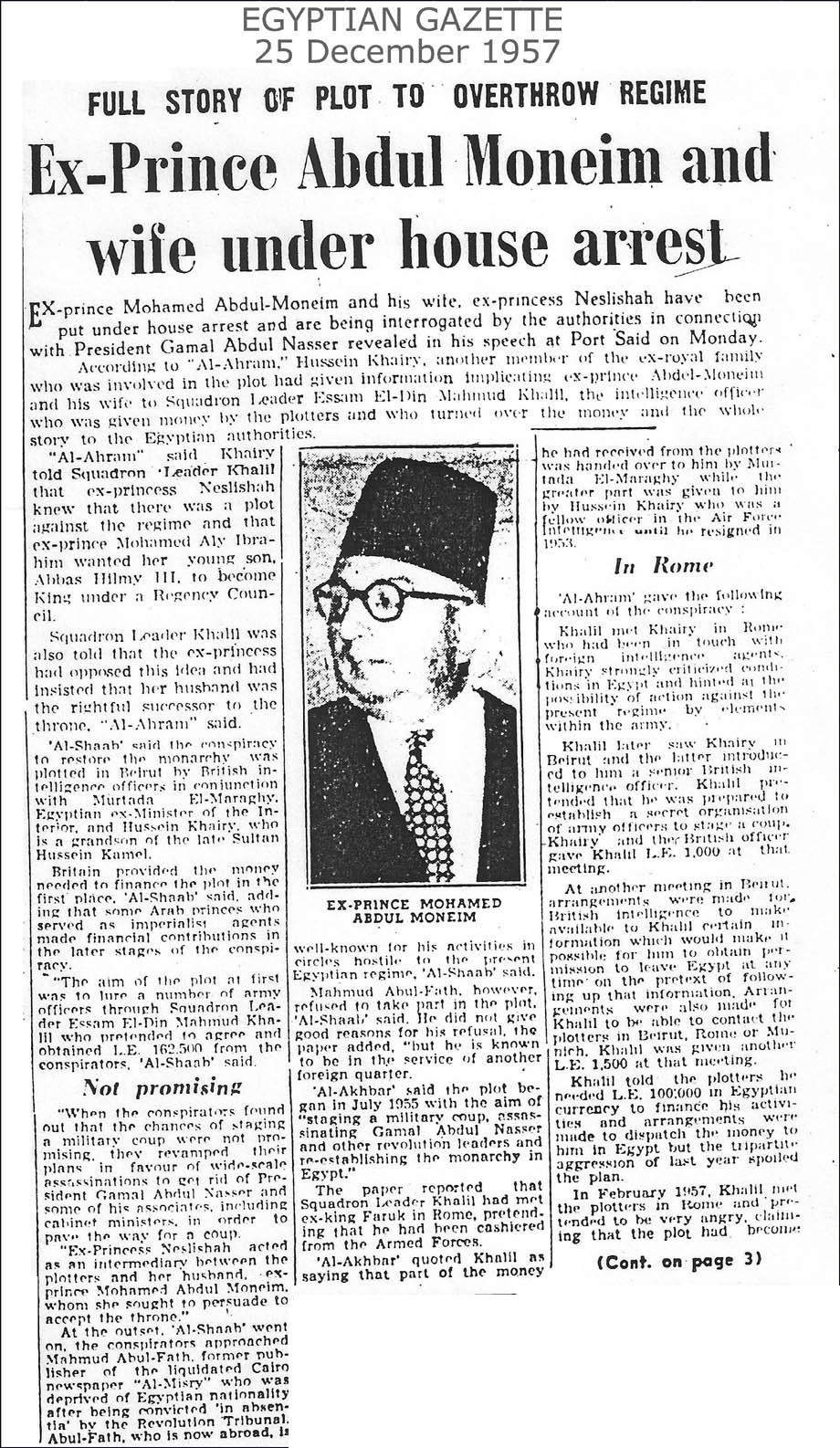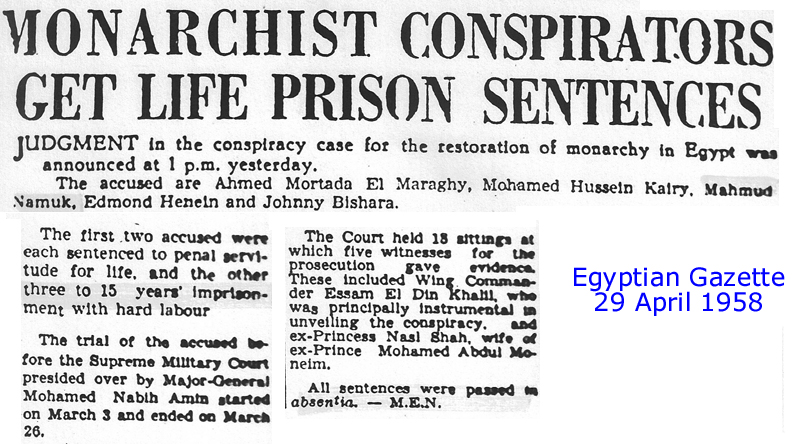 Captivating public opinion for several weeks the press was choc full of speculative articles on an alleged royalist plot to topple Nasser's regime. Al-Ahram's front page of 30 December 1957 reports that two members of the deposed sultanic Ottoman family were implicated, namely Prince Mahmud Namik and Princess Neslishah (Neslişah) Sultan (the eldest daughter of Prince Ömer Faruk and wife of the former regent of Egypt). "They reportedly met in St. Moritz the previous summer to identify the person who would be placed on Egypt's throne," claimed al-Ahram. Years later Julian Amery, a former British Intelligence officer and a Conservative MP advocating continued British presence in the Middle East, confirms in his writings that the prince, together with several Egyptian dissidents, had indeed attended anti-Nasser meetings in Geneva and the South of France in August 1956.
Also implicated in the supposed royalist coup was Maadi resident and former state counselor Dr. Wahid Raafat.
Tried in absentia on charges of plotting to place a Mohammed-Ali/Osmanoglou descendant on Egypt's throne, Prince Namik was sentenced to 15 years in jail on 29 April 1958. Luckily for him he was in Europe at the time
For his utter misfortune Prince Namik was in Iraq on 14 July 1958 when a bloody revolution broke out in that country. Mending fences with its republican neighbors, the new military junta offered the captured prince to a pitiless Nasser in exchange for improved relations with Egypt. Namik was thus flown to Cairo on 31 August 1958 to face retrial receiving a 15-year jail sentence. He died five years later aged 50.
Date of Namik's death coincides with the second Iraqi revolution which toppled those who had killed King Feisal.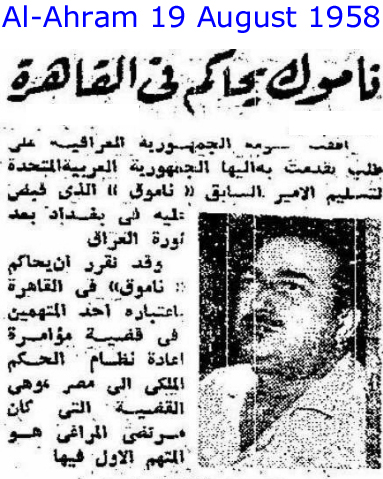 Al-Ahram announces Prince Namik will face retrial once deported to Egypt from Iraq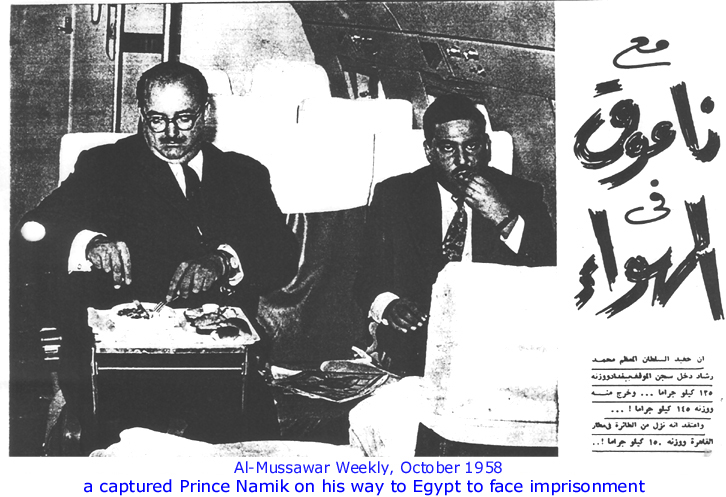 Above: Prince Namik (left) on plane bound for Egypt in custody of Iraqi security agent
below: arrives in Cairo airport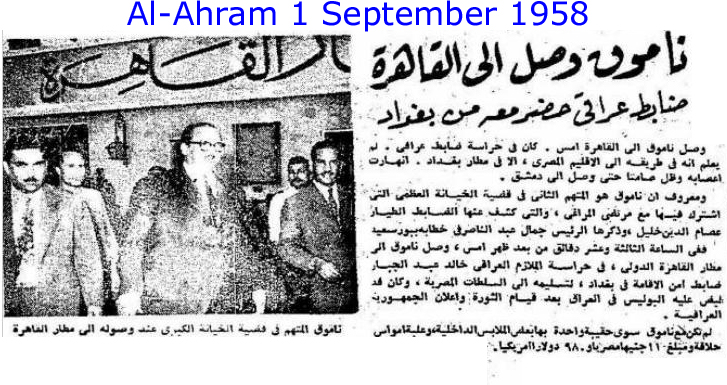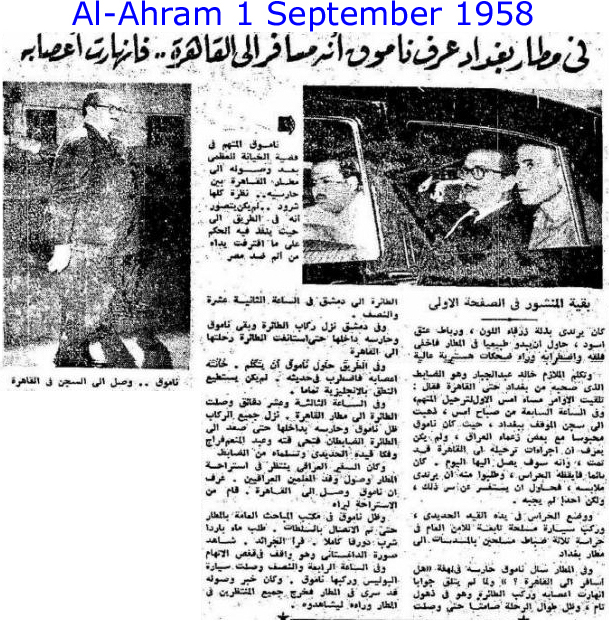 Al-Ahram: On his way to Baghdad airport Prince Namik learns of his imminent deportation to Cairo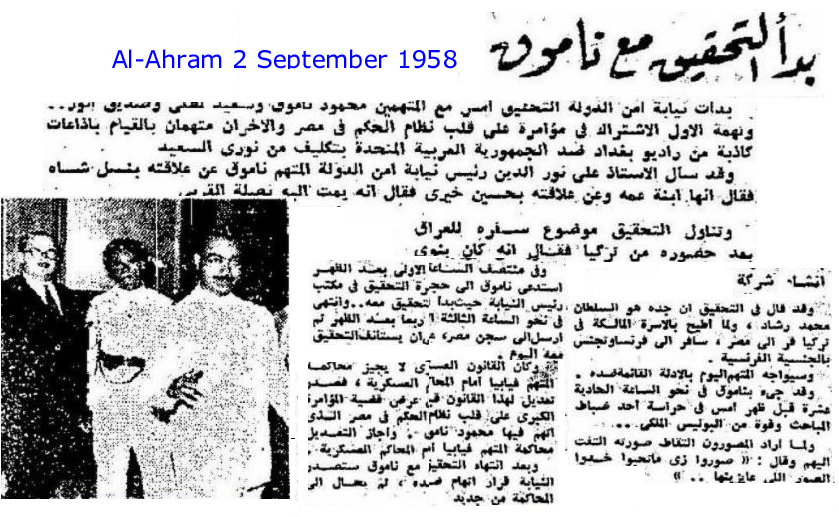 above: Prince Namik questioned by state security on his role in royalist plot
below: emotional meeting between Prince Namik and Princess Neslişah at prosecutor's office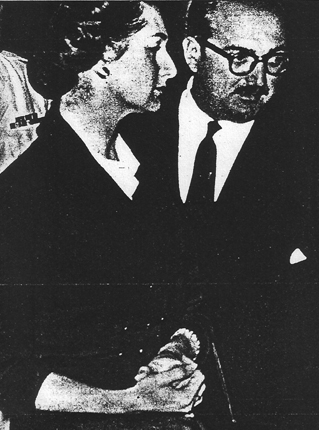 ---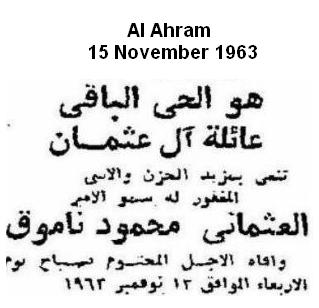 obituary of Prince Mahmud Namuk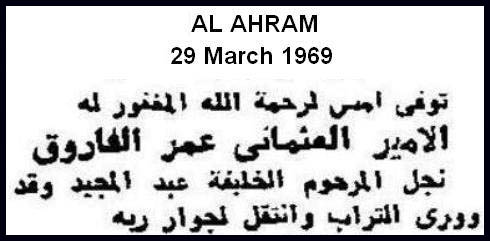 obituary of Prince Omer Faruk
heyday of Turkish and Egyptian republics reflected in the size of obituaries concerning former royals
many years later the passing of any Ottoman Royal would become front page news and extensive editorials
---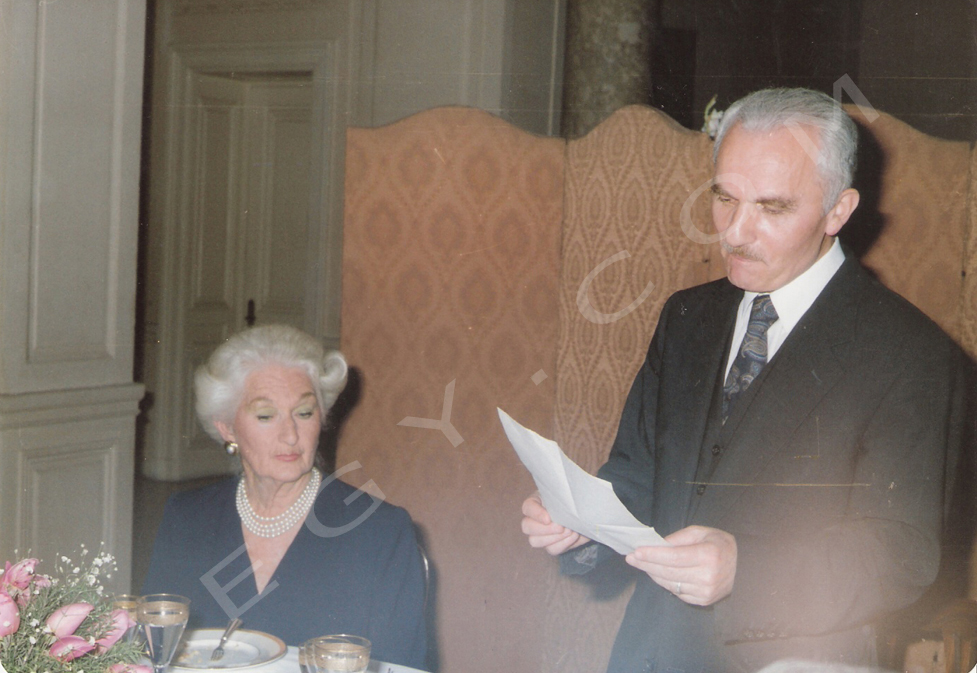 late 1990s: HIH Princess Neslişah with Ambassador Yaşar Yakiş (later Turkey's minister of foreign affairs)


Maadi-born Samir Raafat with HIH and Ambassador Yakiş
---
click here for a genealogy tree evidencing ONLY the descendants of the Ottoman Sultans mentioned in this article
also click on Neslisah Sultan 1921-2012 for retrospective
---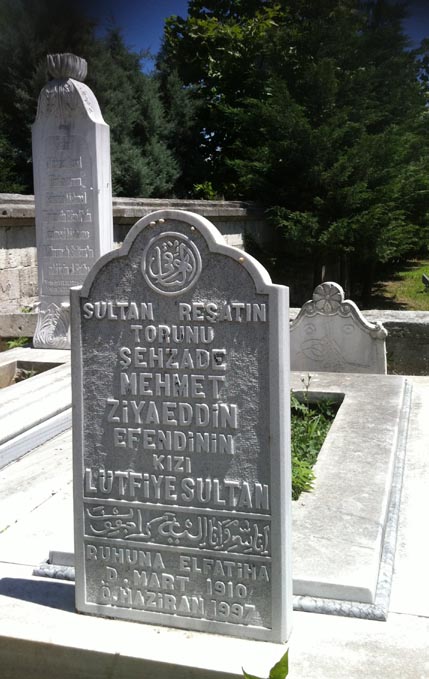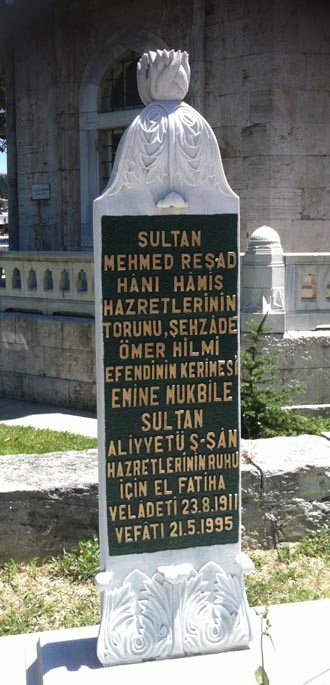 tombs of former Ottoman Maadi residents located next to Sultan Mehmed Rashad's mausoleum in Istanbul's Eyup district
below: tombstone of Mihriban Sultan at the Sultan Mahmud mausoleum in Cemberlitas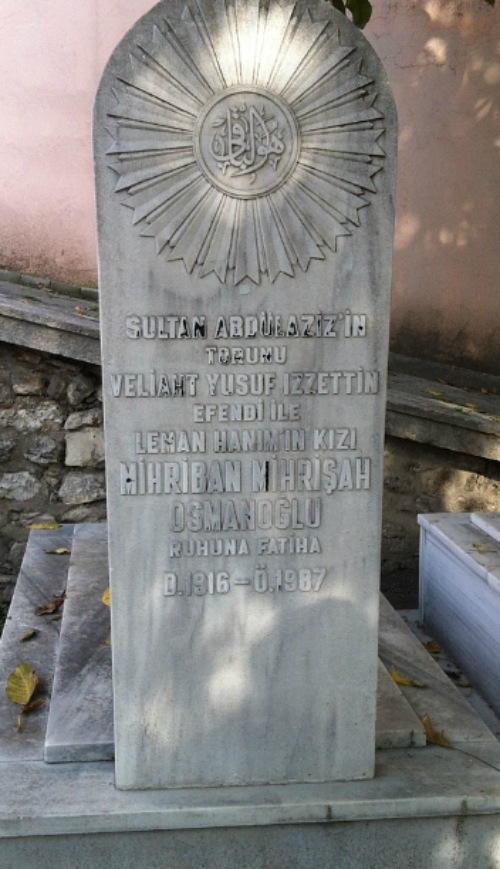 click Jon Rashad Kamal for more on the great-grandson of Sultan Mehmed Rashad
Email your thoughts to egy.com
© Copyright Samir Raafat
Any commercial use of the data and/or content is prohibited
reproduction of photos from this website strictly forbidden
touts droits reserves