egy.com suggests following articles
Several of my articles on Garden City were plagiarized word for word by novelist MEKKAWI SAID (winner of the Egyptian State price for literature!!!!) and re-published under his own name in a three-part series in El-Masry El-Youm daily in September 2015.
Cheers to our "talented" literature prize awardee. Your pain his gain !!!
EGY.COM - LANDMARKS - CAIRO - HELIOPOLIS
THE MOHAMMED ALI CLUB
by Samir Raafat for Community Times, March 1998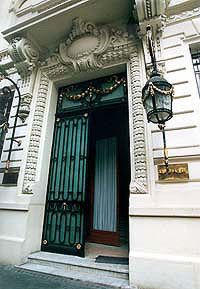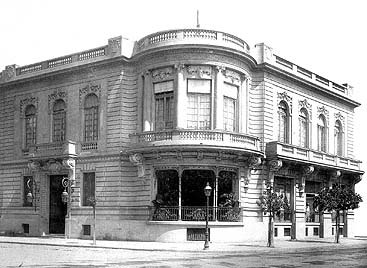 before cupola and after
Alexandre Marcel, already an acclaimed French architect, was allegedly commissioned in 1908 to build a downtown club exclusively for foreign-educated pashas and other Egyptian grandees. It would be the royalists answer to an equally exclusive but understandably resented Gezira Sporting Club where the British 'occupiers' looked down with contempt on all other races and nationalities.
Selected for the execution of the project were the Ambron brothers, Jewish-Italian contractors based in Alexandria.
The plot of land on which the club would be built was located in the budding Ismailia quarter of Cairo, not far from Kasr Al Bostan (today a multi-story parking building).
Choice of style for the one-floor-plus-basement building?
Decidedly French.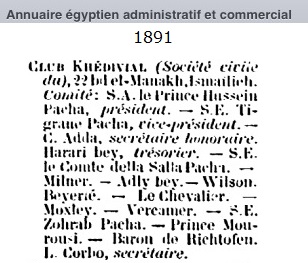 directors in 1891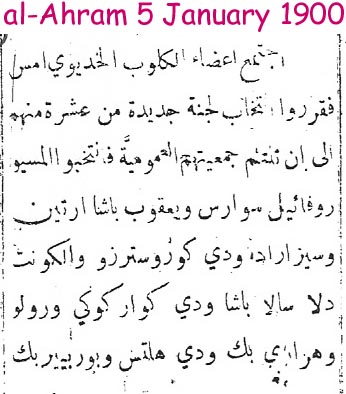 directors de novo prior to convening club's first general assembly: Raphael Suares, Yacoub Artin Pasha, Cesar Adda, de Corstrozo, Count de la Salla Pasha, Simon Rolo, Victor Harari Bey...
In actual fact a pasha's club already existed rendered famous by a Homeric altercation involving two members of the khedivial family.
On 7 May 1898, in one of the Khedivial Club's halls, Italian-educated Prince Ahmed Fouad, youngest son of Khedive Ismail, was recipient of a bullet which landed in his throat and would remain there for the rest of his life. Hence his incapacity to speak properly.
The aggressor was Prince Fouad's excitable brother-in-law Prince Ahmed Seif Al Din. In a fit of sibling heroics, the latter decided to avenge his sister on the premises that Prince Fouad had consistently mistreated her. Contemporary wags had it that the indigent Fouad was more interested in Princess Shuvikar's considerable fortune than her spare body. In any case, Fouad thought better of it and divorced his wife two weeks later.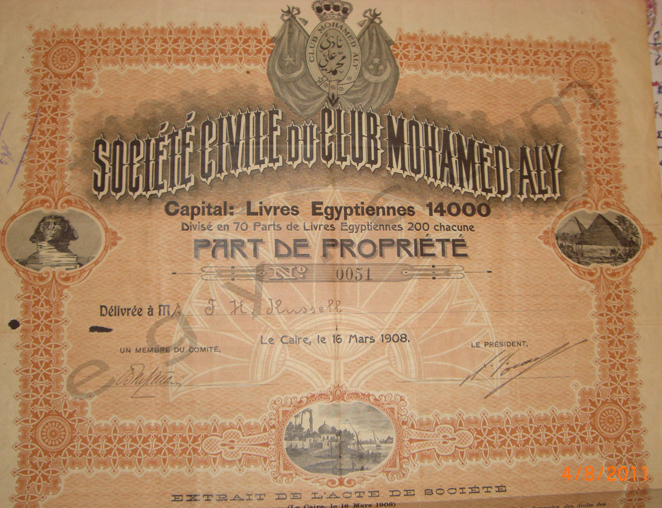 share certificate (courtesy Rochard Bacos)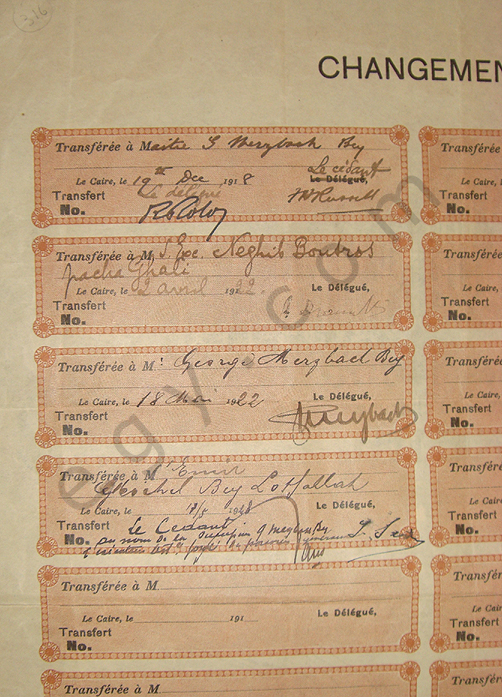 share certificate (courtesy Rochard Bacos)


successor to Khedivial Club launched, LE 10,000 raised, property identified, founding directors named
The Khedivial was succeeded by the Mohammed Ali Club so-named in honor of the founder of the dynasty that ruled Egypt since 1805. Not by coincidence the first honorary president of the club was Prince Fouad. Prince Ahmed Seif Al Din meanwhile was confined to a sanatorium in the United Kingdom. His fate was sealed even further when Fouad became Egypt's ruler in 1917, first as its British-backed Sultan and later as its first constitutional monarch.
Sitting on the club's founding board were several other members of the khedivial family along with two future pasha-prime ministers--Adly Yegen and Ismail Sidki.
The other board members included two Egyptian-Armenian pashas-- Arakel Nubar Nubarian and Yacoub Artin. Their respective fathers had occupied the posts of Prime Minister and minister of foreign affairs respectively. Moreover, Artin Pasha had witnessed first hand the above-mentioned altercation.
Also on board was Aziz Izzet Pasha later to become Egypt's first ambassador to the Court of St. James. With him on the board were two of Egypt's leading Jewish financiers, Adolphe Aslan Cattaui and Robert Simon Rolo. Both had direct connections to the palace.
All of the above were educated in Europe whether in the United Kingdom, France or Austria. They knew the meaning of a club and the concomitant prestige of belonging to one.
The club's foreign board members included the future head of the Federation of Egyptian Industries, Henri Naus Bey. A Belgian national, he was considered the father of the Egyptian sugar industry. His compatriot on the board was leading magistrate Maitre Carton de Wiart.
The third European member of the board was Sir Alexander Byrd, a token British administrator.
The inclusion of foreigners on the board was in itself a statement by the founders of the club that unlike the chauvinist Gezira across the Nile, the Mohammed Ali was multi-ethnic. The only requirement for membership, it seems, was that you had to be a prince, a pasha, comfortably rich and reasonably famous.
Title to the club belonged to its shareholders each holding one or more shares worth 200 Egyptian Pounds each. Since the declared capital was set at LE 14,000 this meant there were 70 shares in all. One such share, which is without doubt a work of art, can be found in the private collection of Ulvia Halim. Her father, al-Nabil (princeling) Abbas Ibrahim Halim, was a patron of the Mohammed Ali although decidedly more inclined towards the Royal Automobile Club of which he was its long-time president.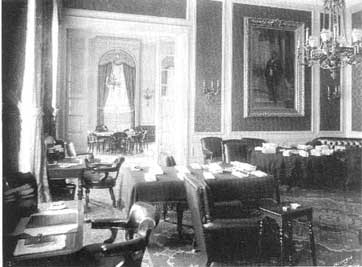 interior of club in 1930s
portrait of Khedive Ismail in background no longer in evidence today
With such an illustrious board it is not unreasonable to conclude that the Mohammed Ali was the most sought after social club in Cairo. If sporting facilities were non-existant, it more then made up in fine cuisine supervised by either French or Italian chefs.
Amid the club's well-stocked wine cellar and amply stacked library stood a classic billiard room, a bridge room, a fumoir and a gilded banquet hall. Most definitely, the Mohammed Ali was the Athenaeum of Cairo.
Although not lacking in luxury and stylish, members took to donating artifacts and objets d'arts to the Mohammed Ali including French orientalist paintings belonging to senate president and art connoisseur Mohammed Mahmoud Khalil Bey. Among these paintings are works by Prosper Marilhat, Louis Amable Crapelet, Jean-Leon Gérome and Louis Claude Mouchot.
As membership grew it was decided in the late 1920s to expand the club's premises. "Hence in 1930" says French architectural historian Mercedes Volait, "Michel Roux-Spitz was commissioned to add a third story and a corner cupola to the original structure." The cupola was an agreeable match to the Matossian building across Bostan Street.
The Mohammed Ali continued the course as Egypt's exclusive fraternity so much so that it was inevitably written up in countless reviews, social columns, wartime books and family memoirs. But the honor of being one of the first persons to mention the club goes to Sir Ronald Storrs referring to it in passing in his book Orientations as the 'Cercle Mahomet Ali', the word 'cercle" being the French equivalent of club.
At first women were seldom seen at the Mohammed Ali. But this would change during the interwar years when the more liberal Egyptian pashas hosted evenings at the club alongside their European wives. A typically revealing social announcement in a 1931 local newspaper says it all.
Ali Chamsi Pasha (former finance minister and Egypt's representative to the League of Nations) and Mme. Chamsi gave a luncheon party at the Mohammed Ali Club on Friday to the following guests: Sir Edward and Lady Cook, Sir Victor Harari Pasha and Lady Harari, Sir Robert Greg, Sir Otto and Lady Niemeyer, Adly Yegen Pasha, Wassef Ghali Pasha and Mme. Ghali, Henri Naus Bey and Mme. Naus, Mr. and Mrs. Ernest Trembley, Gabriel Takla Bey and Mme. Takla, Arakel Nubar Bey and Mme. Nubar, Mahmoud Khalil Bey and Mme. Khalil and Taher Bey El Lozi Bey.
Analyzing the clipping one notes the Egyptian pashas with Egyptian wives (Yeken and Lozi) were unaccompanied. On the other hand Chamsi, Ghali and Khalil's wives attended. They were respectively Swiss (Chamsi) and French.
Things would later change so that after Madame Chamsi unexpectedly died from pneumonia during World War II, the bereaved pasha continued to host his dinners at the Mohammed Ali with Siadat Raafat by his side--his multilingual niece had been one of the first young ladies, along with Hoda Shaarawi, to remove the veil back in 1919.
In its overall composition, the last pre-1952 board of the Mohammed Ali Club was not unlike the first. It included members of the ruling family, the usual pasha brigade and of course, the rich and famous. The difference however was that the average median age was much more advanced.
Another variance is that this time around it included a Copt. Back in 1907-8 Copts had their own club situated in the Prince Halim Building behind the (old) Shepheard's Hotel. According to a latter day publication, the Ramses Club, established in 1905 by leading members of the Coptic community, aimed at reforming the ecclesiastical, social and educational affairs of the community.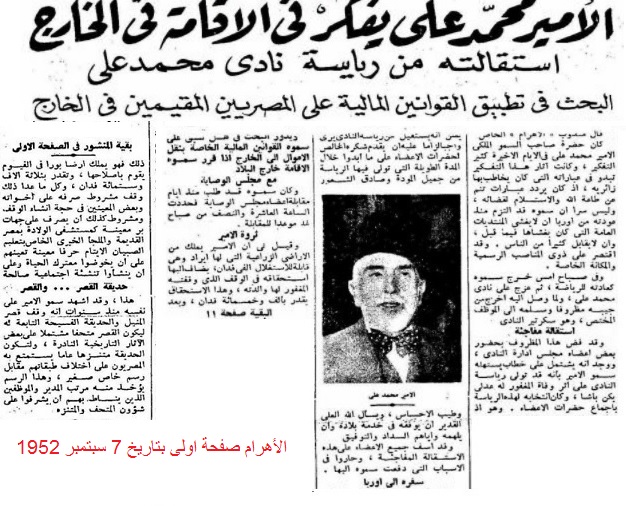 Prince Mohammed Ali Tewfik resigns as president of the Mohammed Ali Club - September 1952
After 1952 and as a result of the confiscation of all assets belonging to members of the Mohammed Ali dynasty, the state found itself in control of considerable shares in the Mohammed Ali Club. In an attempt to circumvent the new situation, the remaining shareholders elected a new board with Cherif Sabry as president, Hussein Sirry as vice president and Atta Afifi as secretary. The Club thus survived a few more years so that former pashas had a 'safe house' in which they could form hypothetical governments in the event they staged an imaginary comeback.
Regarded by the Free Officers as a stuffy refuge for royalists where the ancien regime held ambiguous conclaves, the Mohammed Ali Club's days were numbered.
In 1963 the Mohammed Ali was seized by the state only to reopen as the Tahrir (a.k.a. Diplomatic) Club. And since the new owner was the recently purged Ministry of Foreign Affairs, it came as no surprise that the club's new board consisted of a concoction of officers-turned ambassadors.
Understandably, the new 'Excellencies' had little in common with their tarboushed predecessors who in a sense, had now become homeless.
---
Last pre-1952 Mohammed Ali Club Board Members
Prince Mohammed Ali Tewfik - President (heir to the throne up to January 1952)
Cherif Sabry Pasha - VP (King Farouk's uncle and former-regent)
Ismail Sidki Pasha - Honorary Secretary (former prime minister)
Atta Afifi Bey - Treasurer (landowner and MP)
Mahmoud Hassan - Secretary
Board Members:
Abdel Aziz Izzet Pasha (ex-regent)
Abdel Fattah Yehia Pasha (former prime minister)
Parrissi Belleni (wealthy contractor & head of Cairo Greek Community)
Baron Louis de Benoit (French chairman of Suez Canal Company)
Aslan Cattaui Bey (Jewish CEO of several leading industrial/commercial concerns)
Hussein Sirry Pasha (former prime minister)
Sir Mahmoud Chaker Pasha (former head of Egyptian Railways)
Emir Michel Lotfallah Bey (prominent Syrian landowner)
Mohammed Bahy al Din Barakat Pasha (former minister of education)
Mohammed Mahmoud Khalil Bey (former senate president)
Mohammed Sultan Bey (landowner and MP)
Sir Thomas W. Russell Pasha (former head of Cairo Police)
Sadek Wahba Pasha (Coptic landowner)
Victor Zagdoun (renown Jewish industrialist)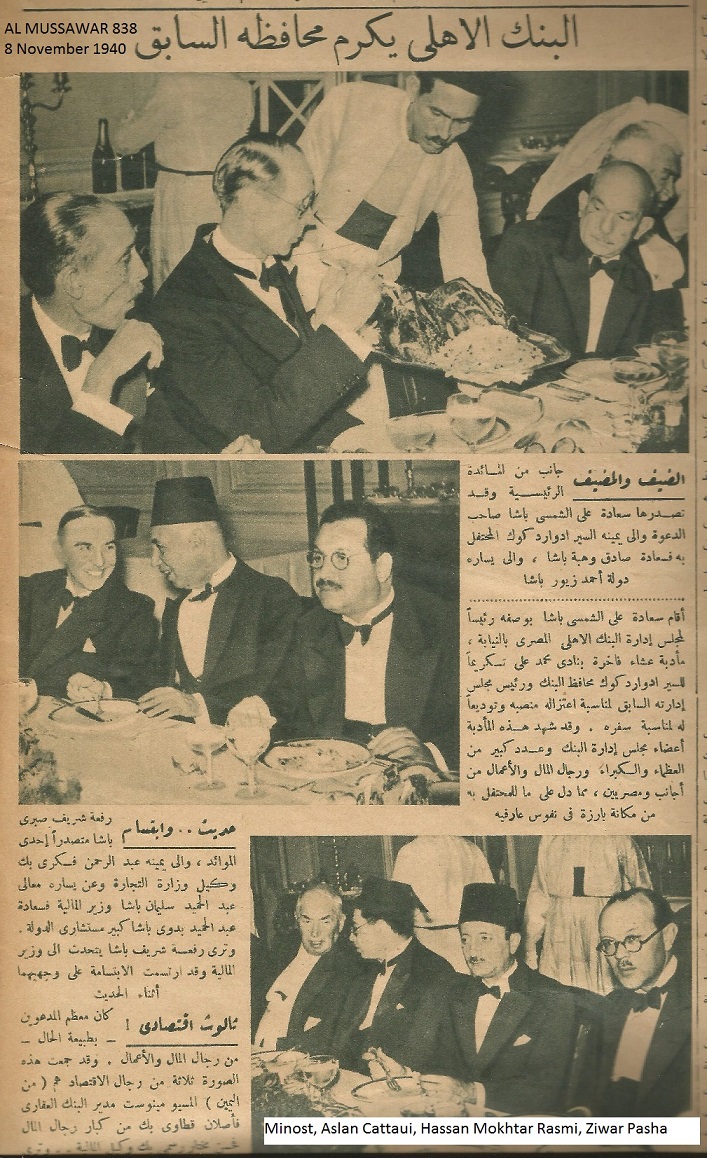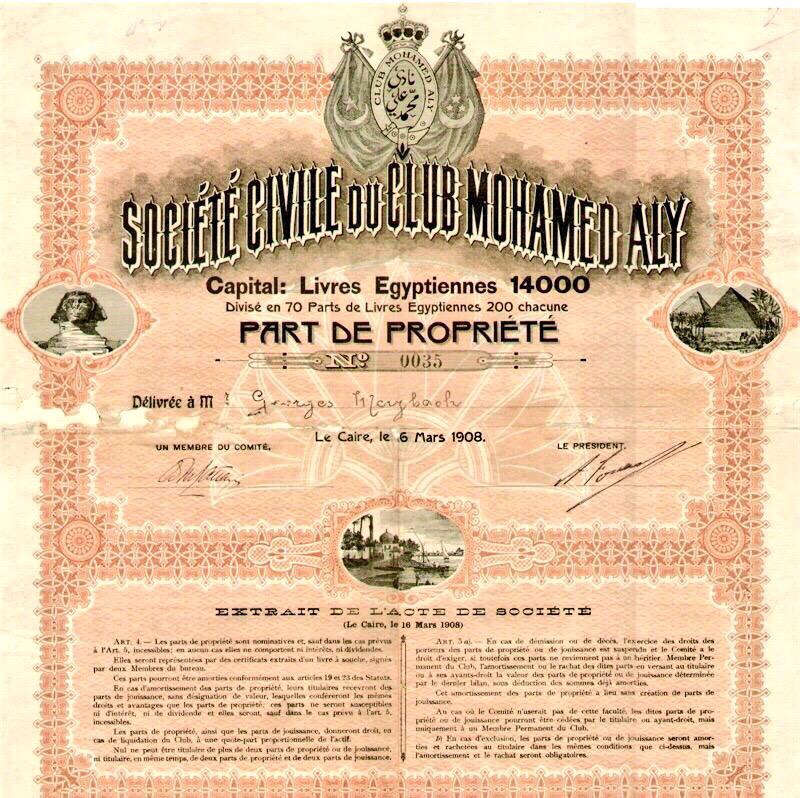 original share signed by Prince (later king) Ahmed Fouad
(photo of original courtesy Sherif Raafat)
Email your thoughts to egy.com
© Copyright Samir Raafat
Any commercial use of the data and/or content is prohibited
reproduction of photos from this website strictly forbidden
touts droits reserves