One word, "earthquake," summarized what she found upon returning to her downtown apartment building.
Marise Hilal, owner of Cairo's veteran restaurant Estoril, arrived jet-lagged from New York only to find that her limousine cab could no longer access the street shared by her building along with the nearby Cairo bourse. Indeed, the entire area looked like Beirut at its war-torn peak. Alleys gutted out covered by a mish-mash of debilitated electric and telephone cables. Murky lagoons fed by exposed water and drainage pipes. Scaffolding in evidence everywhere. And to top it all, a sinister blackout enveloped what had once been Cairo's Golden Triangle--that area which has the National Bank of Egypt on Sherif Pasha Street for a base and the Sednaoui Building fronting ex-Soliman Pasha Square, now Talaat Harb, for its apex, flanked by Kasr al-Nil and Sabri Abou Allam Streets.
All told, what the bewildered Hilal had before her was the perfect set for the remake of the blockbuster movie "The Day After." But what she would soon learn at a Marriott-held launch-party hosted by the de novo "Friends of the Exchange," was that the temporary undoing of her once-shunned mini-district was actually a gift from the heavens.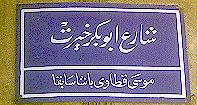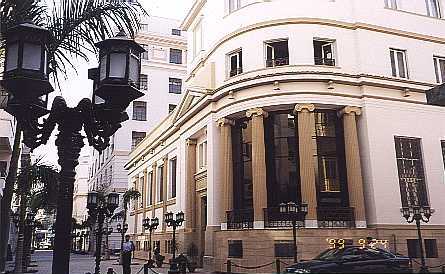 ---
In an effort to spearhead a hopeful trend the recently reincarnated Cairo Stock Exchange approached institutional Samaritans and several heavyweight businessmen, still new at the Philanthropist game, with the objective of galvanizing them into renovating Cairo's belle époque district. If in days gone by the Golden Triangle compared favorably with several Paris districts, decades of neglect, socialism and corruption covered it with thick grime. To make matters worse, eyesore shop signs and dirty rooftop shacks seem to stare back at you from almost everywhere.
But all this is expected to change within a matter of months.
So far, the principal espousers of the nascent restoration scheme are the architectural consultants Dar al-Handassa and Egypt's favorite contractor Osman Ahmed Osman where architects are in no short supply.
With the help of audio-visual gimmicks, the promoters went to great pains explaining to Hilal and others this was not going to be another wasted effort limited to removing garish neon signs and applying cheap make-up on the surrounding buildings. Apart from squeezing out sweatshops and printing houses their intention was to transform and upgrade as well as to reconcile the Golden Triangle with today's realities.
Several years ago a venture such as this one would have been laughed at. But today things are different. We are in the privatization era and everything seems possible. If Dreamlands, Utopias, Mirages and other new settlements have successfully mushroomed around the nation's capital why then not invest in Cairo's clogged up commercial and financial district?
With regards to a millennium-old capital the Golden Triangle is a relatively new district barely 120 years old. Its nickname came about in 1900 when Egypt's Central Bank (then known as the National Bank of Egypt) was erected at the corner of Sherif Pasha and Kasr al-Nil Streets on land previously owned by Moussa Cattaui Pasha, Egypt's leading Jewish financier.
The rest of the triangle comprised several buildings including a large palazzo--Palais Cattaui--surrounded by a garden punctuated with fountains, footpaths and a grotto. Upon Moussa Cattaui's death in March 1924, his elegant property was parceled out to make way for modern buildings including the bourse and Radio House (the Egyptian State Broadcast headquarters). Yet in order not to forget the area's original notables, two of the six small streets that emerged within the triangle were named after Cattaui dons. Today one still espies a street sign adjacent to the Bourse which reads: "Rue Abou Bakr Khayrat ex-Moussa Cattaui Pasha."
Now, at the close of the century, a grandiose project aims to re-assimilate this tiny section of Cairo into what it was. Moreover, things such as information technology and its collateral aspects are also being taken into consideration. Apart from fiberglass cables and outdoor screens displaying the latest online Dow Jones quotes, the Cairo Exchange seriously intends to set the pace with regards to urban resurgence.
Whether simply to challenge our imagination or to invariably echo things past, the Golden Triangle will host aesthetic lampposts, pint-size piazzas, cobbled pedestrian passageways and intermittent flora and trees. Indeed, townies will once again be able to enjoy their surroundings. And for those skeptics who prefer to gawk in disbelief, public benches will be available.
Also expected to come forth are one or two fancy bistros evoking the interwar Jockey Club of Egypt at No. 6 Cherifein Street and the two bars on Cherif Pasha Street (ex-Madabegh). While the Anglo-Egyptian was owned by a Theodoulas Tsambardas, the more popular Salonica Bar belonged to a Jean Juismos. It was from these chosen haunts that former cabinet ministers eagerly awaited the early editions from the nearbby al-Ahram publishing house on Mazloum Pasha Street. Hopefuls among them panted to learn whether or not they had been reinstated by King Fouad.
Another collateral benefit from the Golden Triangle's remodeling is that space heretofore accommodating 200 illicitly parked vehicles--courtesy of the car-parking Mafia--will be trimmed down to 30 assigned spaces thus improving the noise and toxic pollution. No mention has been made however as to WHERE the other 170 would end up!
Aside from the sexagenarian Cairo Bourse, other edifices expected to make a comeback are the baroque-ish Cosmopolitan Hotel, once upon a time the downtown flagship of hospitality king Charles Baehler. The inimitable neo-arabesque Asicurazione de Trieste Generale building and the more sober Spiro and Singer buidings are also slotted for a remake along with the Savoy Chambers. All three overlook Kasr al-Nil Street. Other architectural jewels within the Golden Triangle are the classic-style headquarters of the FORMER Shell House (now Cairo Broadcasting Corporation; Egypt's answer to London's Bush House) and the rococo Immeuble Sednaoui. Most of the buildings so far mentioned were designed by European architects including George Parcq, Antonio Lasiac and Guisseppe Mazza.
Another building that will undergo a separate facelift is the former command center of the National Bank of Egypt on Sherif Pasha Street. Once that is completed the Golden Triangle will once again become the most wickedly hot real estate section of Cairo.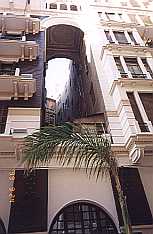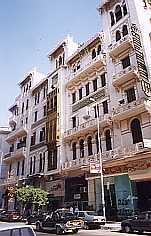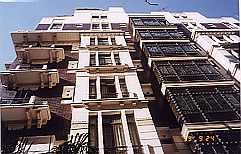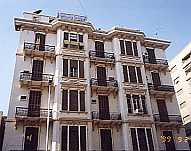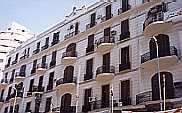 ---
for a complete history of the Cairo bourse click on
Cairo & Alexandria Stock Exchange
.
---
Click here for a 1914 map of the Golden Triangle and surroundings.
---
Email your thoughts to egy.com
© Copyright Samir Raafat
Any commercial use of the data and/or content is prohibited
reproduction of photos from this website strictly forbidden
touts droits reserves