egy.com suggests following articles
Several of my articles on Garden City were plagiarized word for word by novelist MEKKAWI SAID (winner of the Egyptian State price for literature!!!!) and re-published under his own name in a three-part series in El-Masry El-Youm daily in September 2015.
Cheers to our "talented" literature prize awardee. Your pain his gain !!!
EGY.COM - LANDMARKS - CAIRO - HELIOPOLIS
by Samir Raafat
Cairo Times, 5 May 1999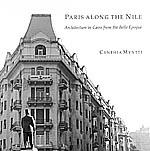 book cover
Although the newly published Paris Along the Nile: Architecture of Cairo from the Belle ƒpoque will invariably be categorized as a slender coffee table book, its American author, Cynthia Myntti, has not produced your usual sort of picture travelogue. She has not tried to give us a dispassionate assessment of contemporary Cairo or a reportorial tour of its "European" districts and neighborhoods. What she has put together instead is an unabashed visual love letter, an affectionate inventory of the virtues of a city she has come to know well.
Myntti has walked around the nation's capital, and with her camera, captured details and vivid evocations of that period we tend to describe as "khedivial," a.k.a. La Belle Epoque. As she hopscotches around the legendary districts of Garden City, Zamalek, Ismailia (downtown Cairo) and Daher, Myntti shares with her readers awesome architectural tidbits from the inner city.
The book includes a map for readers who may want to do the same--wander about looking for telltale indications of a Cairo that was. Rest assured, Myntti is not exploring imaginary places. The buildings, the artwork, the baroque balconies and wrought iron gates are still there. The question is, for how much longer?
Indeed, Paris Along The Nile serves a dual purpose. First, to bring to the reader's attention that there can be a lot of pleasure in going beyond the Pyramids and Islamic Cairo, that there's a wonderful city out there craving recognition. Second, to point out that if nothing is done with regards to our architectural heritage, there might be none of it left by the year 2020 except perhaps for Cynthia Myntti's pictures.
Probing with her camera, Myntti cuts across ethnic, cultural and architectural divides, indeed across everything that distinguishes the khedivial city and all that gave it so much richness and diversity. As her zigzagging itinerary takes us through time and through developing aesthetic styles, it's as though we are getting fleeting glimpses of things about to disappear.
As Paris Along The Nile elucidates Cairo's elusive rococo khedivial style, you can sense the author's pleasure in the discovery of new places and of sensibilities she hadn't previously known existed. "I simply took pictures of what I like, what struck me as charming, grand, and amusing," she says. And lest the reader think that this is the result of a point-and-click or snappy-snap affair, Myntti also gives us some insight into the predicaments involved. "I spent two months in the streets taking pictures and talking to people as I went through my work. Initially many bystanders were suspicious. Was I photographing the ugly, trying to show Egypt in a bad light?"
But Myntti, a professor of anthropology at the American University in Beirut, quickly brought out the best in her would-be detractors, and they were the ones who ultimately became her guides. "Schoolchildren helped figure the best light," she recounts. "Old men showed me their favorite buildings. Porters opened gates and doors. Women invited me in for tea, even when they themselves were observing the Ramadan fast." It was also during Ramadan that I met Cynthia Myntti. She had finished taking her pictures and was in the process of putting names and captions to places.
The growing Cairo-historian tom-tom having brought us together, we immediately realized that our interests were complementary. While I was researching the history of Belle ƒpoque Cairo and its various landmarks, Myntti had actually documented some of them in black and white. In a sense we were both (if I may use Internetese) digitizing a slice of the millennium-old city.
Aside from all that, I do strongly believe that Paris Along The Nile is most definitely a welcome addition to the growing numbers of books that can be found in the Cairo section of any respectable bookstore. If you've been a keen follower of this column, then go out and purchase this book. and take a closer look at the architectural legacy of modern Cairo's formative years. You owe this much to Umm Al Dunya.

Email your thoughts to egy.com
© Copyright Samir Raafat
Any commercial use of the data and/or content is prohibited
reproduction of photos from this website strictly forbidden
touts droits reserves