egy.com suggests following articles
Several of my articles on Garden City were plagiarized word for word by novelist MEKKAWI SAID (winner of the Egyptian State price for literature!!!!) and re-published under his own name in a three-part series in El-Masry El-Youm daily in September 2015.
Cheers to our "talented" literature prize awardee. Your pain his gain !!!
EGY.COM - LANDMARKS - CAIRO - HELIOPOLIS
by Samir Raafat
FINANCIAL TIMES 11 May 1955
VITALITY, CHAOS, HISTORY, CORRUPTION MEET HEAD ON IN THIS COMPELLING METROPOLIS.
During a Greek holiday interlude two California graduates flew to Cairo. After three days of exhaust and exhaustion, one decided to eject back to 'civilization' while the other is still here 22 years later.
Then, as now, their views on what makes a city attractive couldn't be more diametrically opposed. Welcome to Cairo, a city of stark contrasts with no apparent geometry.
For sure, much of the contrast is in the mind. If on the one hand weary, media-prone tourists wonder whether a bomb might be hidden on a bus or café, others who lived here long enough confidently wander off into Cairo's grimy streets past midnight without fear of mugging, foul play or being run over. For a city the size of Cairo (pop. 16 million) crime rate is surprisingly low. [And with cars, trucks and rickety donkey carts outnumbering streets, bridges and tunnels, Cairenes are facetiously described as impossible drivers. How is it they continuously miss the plethora of undisciplined pedestrians? Could it have something to do with pollution sharpening reflexes instead of dulling them?]
Surrounded for most of this century by a collection of ragtag military camps, collectively nicknamed 'the khaki belt,' the burgeoning capital had one way to go. Hopelessly vertical. The outcome is that where the Nile dissects the nation's capital into two sister cities--Giza and Cairo; each with its own mayor (governor)--emerges a virtual glass and aluminum canyon.
While from their minaret-studded citadels or pyramid-shaped mausoleums, potentates of the past gazed across the sleepy valley at a timeless desert searching for caravans or invaders, now the same vantage points afford a view across miles of ragged concrete soaked in static brown smaze (smog + haze).
Yet, to simply focus on Cairo's degradation is to miss out on its many achievements.
Because of surfeit up-market riverfront constructions, inner city dwellers that are severed from the father of all rivers can now travel beneath it. The second country to introduce rail travel in the 19th century, Egypt recently inaugurated the third phase of its Cairo metro transit system, the only one of its kind in Africa and the Middle East.
Any diehard soil engineer will ascertain tunneling Cairo's underground railway was no small feat. The city not only straddles a rising water table but it also rests atop what is considered to be one of the world's largest treasure of undiscovered antiquities.
Just as ambitious Ancient Egyptian dynasties maligned their immediate predecessors defacing their monuments, latter day regimes are prone to doing the same. 'Pharaoh Complex' we call it.
Which is perhaps why Cairo should be treated as an urban history catalogue authored by several mighty pharaohs and not as a city which evolved from a process of civic evolution.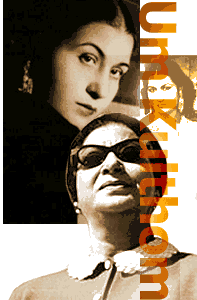 A short trek through the city's Old Quarter takes you past Coptic, Jewish, Fatimide, Mamluk, Ottoman and Khedivial eras most of them atop one another. Children digging for clots of camel dung may just as likely come across a Maria Teresa, a Venetian Ducat or the foundations of a 4,000 year old working class quarter. Never a dull scavenge.
And never a dull sound one may add. In a city where construction equipment is as much an integral part of the landscape as are the salacious billboards featuring local starlets, a muezzin's prayer call--heard five times a day--has to compete with digitized jingles, techno-Arabe music, deafening car horns and street vendors' shrieks.
Cairenes will unanimously agree however that the only antidote to this never-ending Cairophony is Um Kulthum's soothing voice. Each afternoon at 17:00 her songs can be heard from almost every taxi and coffee house radio. Notwithstanding the average national age being circa 19, the Diva--who died in 1975--is as much adored today as she was in her heyday when even Nasser took time off to listen to her.
To all Egyptians Um Kulthum represents everything that is good and pure about the nation. She's tantamount to a national opiate. It therefore came as no surprise when her public condemned the state for having sanctioned the destruction of her house in the fashionable district of Zamalek.
Ecological threats aside, destruction and construction have become Cairo's catchall. Structural adjustment and big money are invariably threatening Cairo's fragile architectural heritage.
And even though the city is expanding horizontally as new satellite cities and fancy gated communities with fancy town houses, swimming pools and 18 hole golf courses came to replace the futile khaki belt, construction and development persist within the city's old boundaries.
Not far behind and despite efforts to the contrary, squalid squatter settlements are also on the rise stifling the city and pausing an ecological and pandemic time bomb. Under the crush of population growth and the perennial disparity of incomes Cairo seems to be mutating into different directions. But will they ever meet? Will they mystify coming archeologists when they uncover the shards of Cairo 2000 AD.
"Unlike other megacities and despite several Cairos living side by side, one is never lonely here" says the Californian who remained behind 22 years ago and who subsequently became a photographer.
"Cairo is where vitality, chaos, history, art, corruption and unplanned opportunities meet head on. I intend to be here in 2022."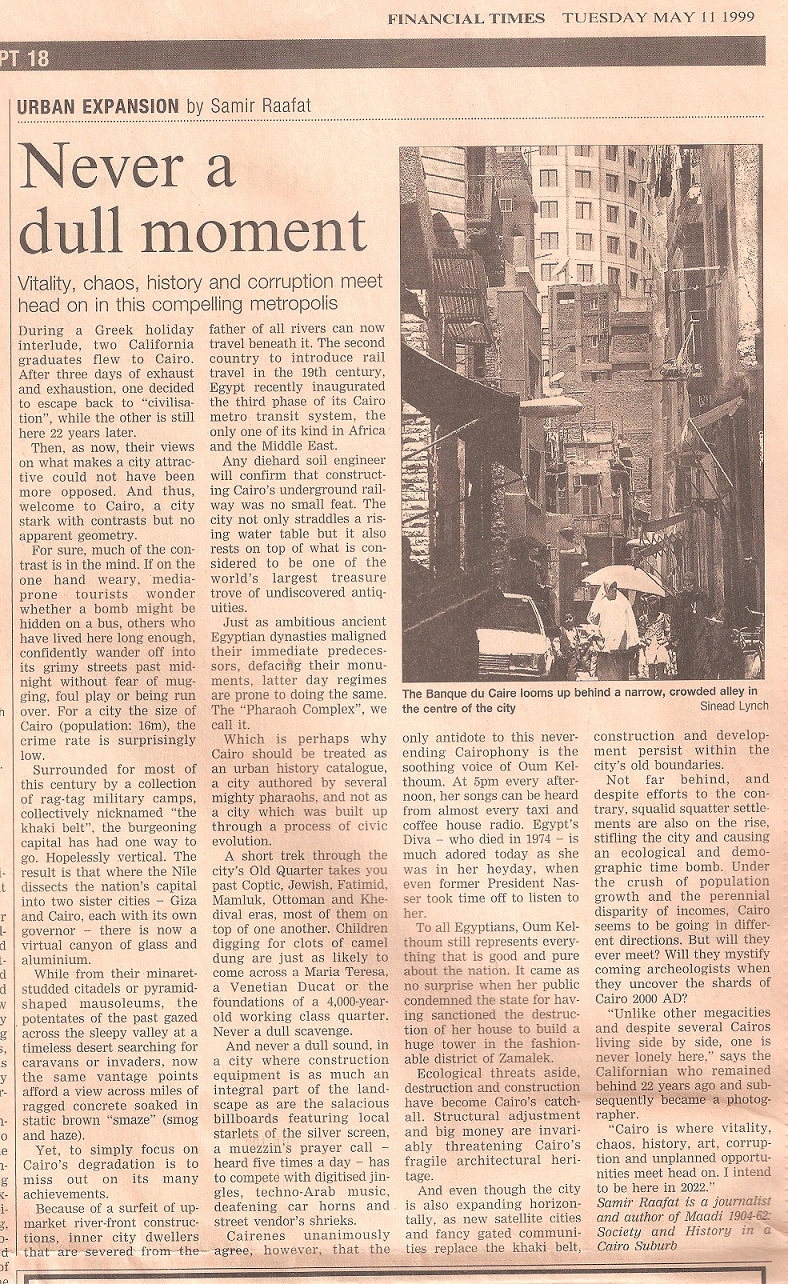 Email your thoughts to egy.com
© Copyright Samir Raafat
Any commercial use of the data and/or content is prohibited
reproduction of photos from this website strictly forbidden
touts droits reserves